If you haven't perused them yet; days
one
and
two
.
I woke up early knowing we had a long day ahead of us. We had packed for four days, saying we would camp a third night at Salt Springs Reservoir, then paddle the five miles out in the morning if need be. We were wishing that day three would be easy read and run rapids, then Fantasy Falls, the Island Drop and the Final Slide, and the lake. We all knew that we were dreaming because there was a committing gorge directly below our campsite, known as the Rifleman's Gorge. Wake up call came quick while running our first rapid of the day, what appeared to be an innocuous class II drop from the scout, which turned out to be a class IV boulder garden.
Trying to drive left and end up in the center…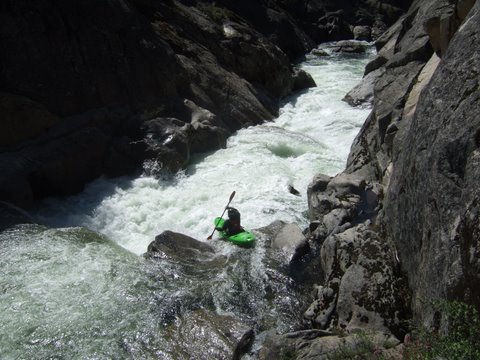 Thanks to Kevin Smith for sharing images.

The line on the first rapid seemed relatively simple, start center or right and try and drive left to avoid a pocket on the right. Never one to stand around this early in the morning I decided to probe it, came nowhere near getting as left as I wanted and ending up going through a large but soft hole near the right wall.
Kevin Smith with an early morning boof.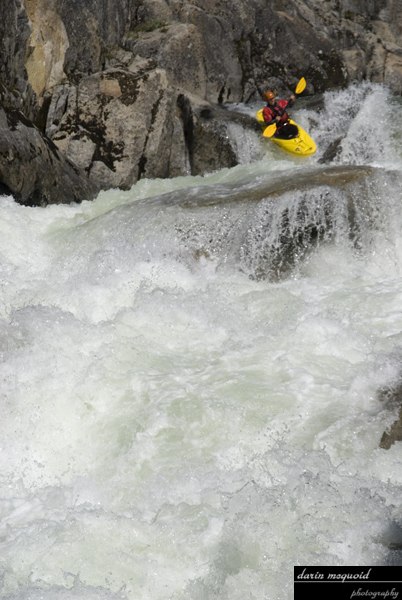 Chris Korbulic
exiting the first of many great rapids on day three.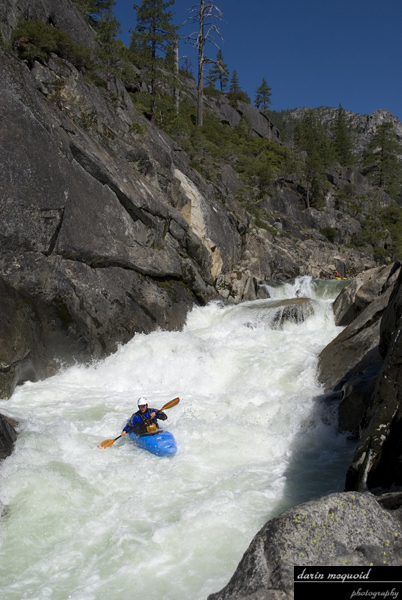 Down in the gorge we were able to read and run one more rapid, and gave a quick one person scout to two long boulder gardens that led to the exit of the Rifleman's gorge. Mellower boogie water led us quickly downstream to another class IV lead into a walled out gorge. Playing it safe we opted to send one to scout and were glad to have done so. Below us lay the rarely run, highly marginal, and completely walled out "good to go" third gorge.
Chris scouting the loast rapid in the third gorge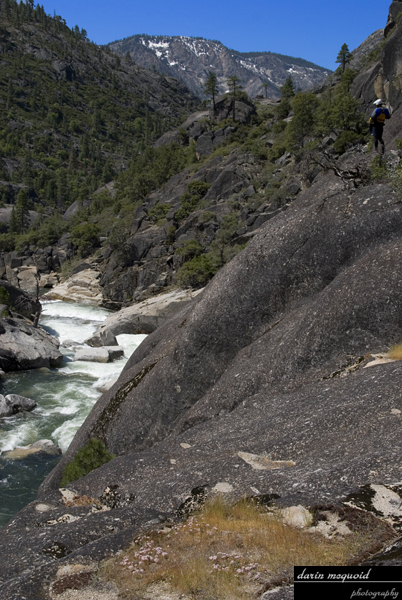 The North Fork Mokelumne really has more than three gorges, and on day two we had accidentally portaged one that is run fairly often, but also portaged fairly often too. The third gorge, nicknamed the "Good to Go" gorge is rarely run and is a bit of a gamble with a narrow, undercut twenty footer starting things off. This gorge actually looks much better at low flows, the undercut is out of play and the holes don't look nearly as bad. Still V-V+
Gorge three lies just around the corner from this drop. I'd suggest portaging on river right just below this drop if you notice it in time. It's worth noting the log is gone as of 2010 too.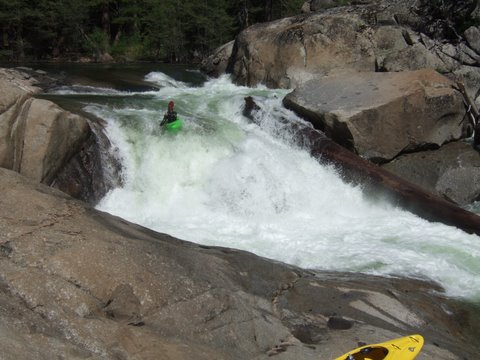 The tempting lead in to gorge three, we portaged up and over on the left the first time, and on the right since then.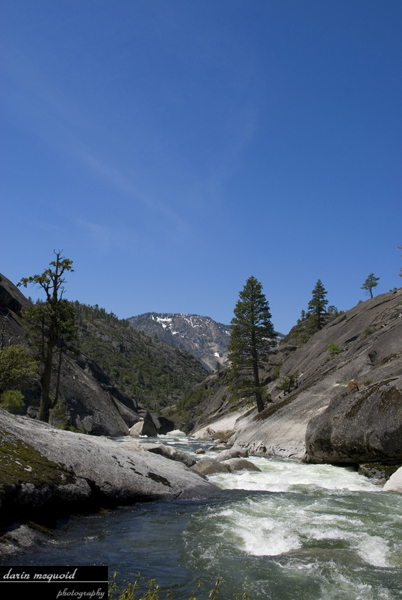 Portaging on the right. Either side works fine. Ryan and Devin Knight.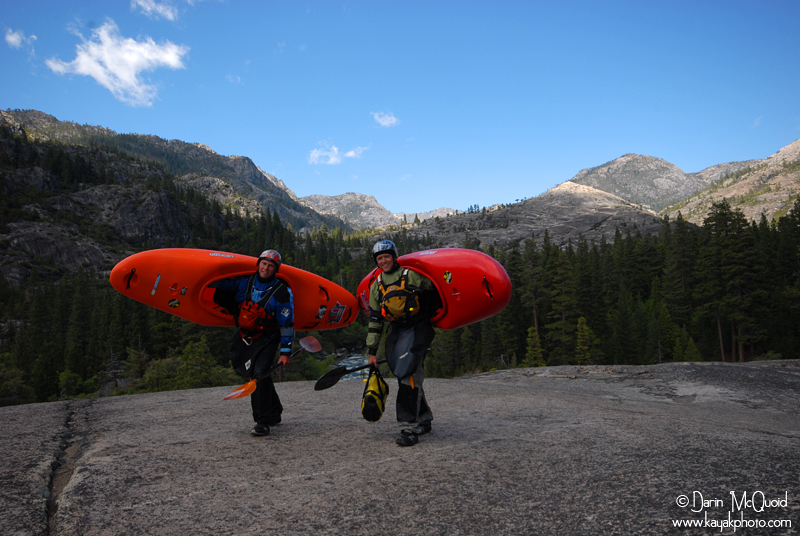 Just after the portage was a sweet mini gorge we ran on beta from Chris. Eventually amongst boulder gardens and too many drops to remember we portaged a waterfall with a very unfriendly log in the landing. It looked good to go, but if you missed the line the consequence was more than we wanted to deal with, knowing we had a lot further to go.
Jonas Grunwald runs the aformentioned falls in 2010.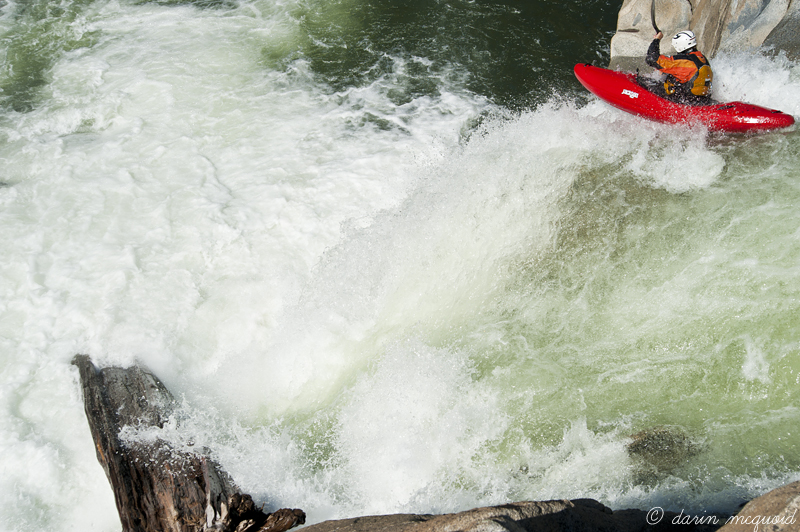 Devin Knight running said drop in 2008, medium flows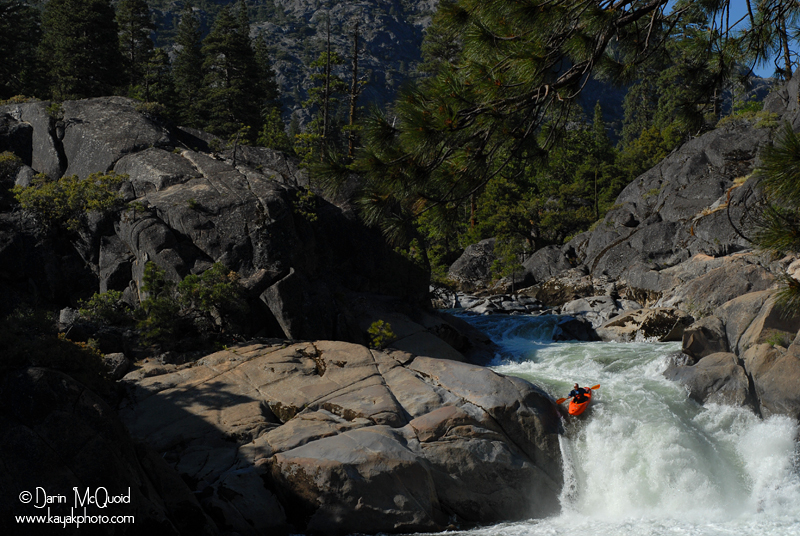 Another gigantic horizon line reared up only too soon, and we got out to scout a very questionable drop. In the name of making time and safety we decided to portage right away, going up and over on the left. To put the picture and flows in perspective, the initial drop in this one was twenty-five to thirty feet high. While no major forks or tributaries enter the North Fork Mokelumne this high up, a constant inflow of small side streams had the water levels up to 1000cfs by day three. It might have gone…maybe…the only un-run rapid on Fantasy Falls.
The Untouchables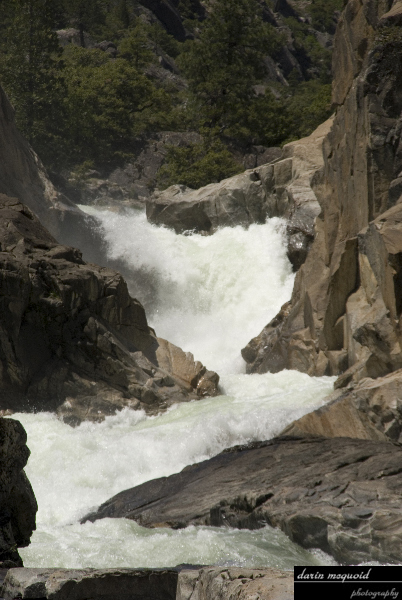 Google Maps Market for "The Untouchables".
Scroll down to green arrow.
No one was voicing it, but by now we were exhausted, in the middle of a portage fest, all known major drops still downstream, and a five mile paddle out to top it off. We took a nice long lunch break after portaging, and decided that the run was going to turn back into read and run goodness when we put back on.
Below The Untouchables is a great campsite on river left, a standard spot to camp on a three day trip.
Sure enough once back on the water the river turned back into top notch boulder gardens. Or perhaps I should say boulder garden, because from our portage down it was really a mile long boulder garden all the way down to the top of Fantasy Falls. There were no pools but plenty of eddies all the way down. Besides fantastic whitewater, the scenery is breathtaking.
Gareth Tate dropping Fantasy Falls.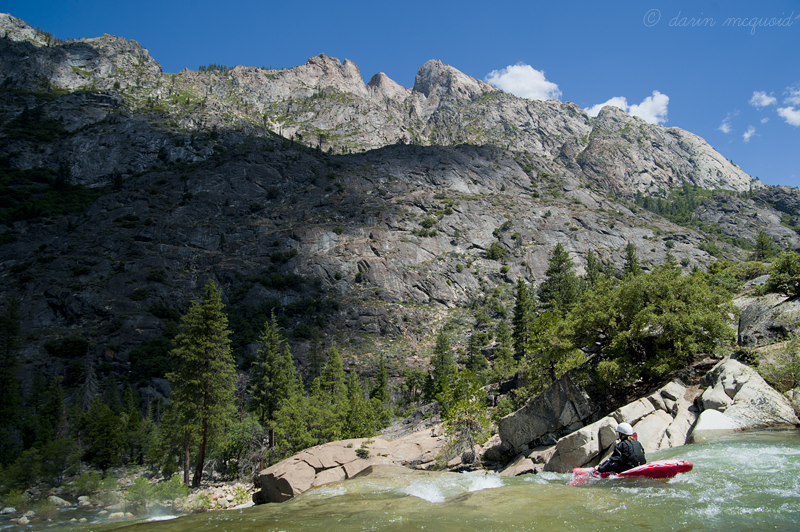 Amazing that a mile long boulder garden leads into this.
A clean thirty footer in one of the most beautiful settings I have ever seen, Fantasy Falls is aptly named. All the portages fad into memory as you line up this beautiful drop.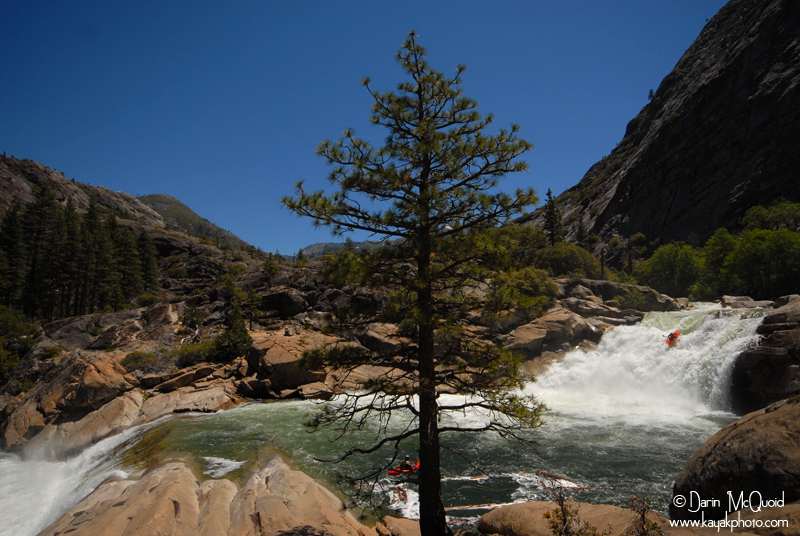 Chris enjoying the plunge on a chilly day.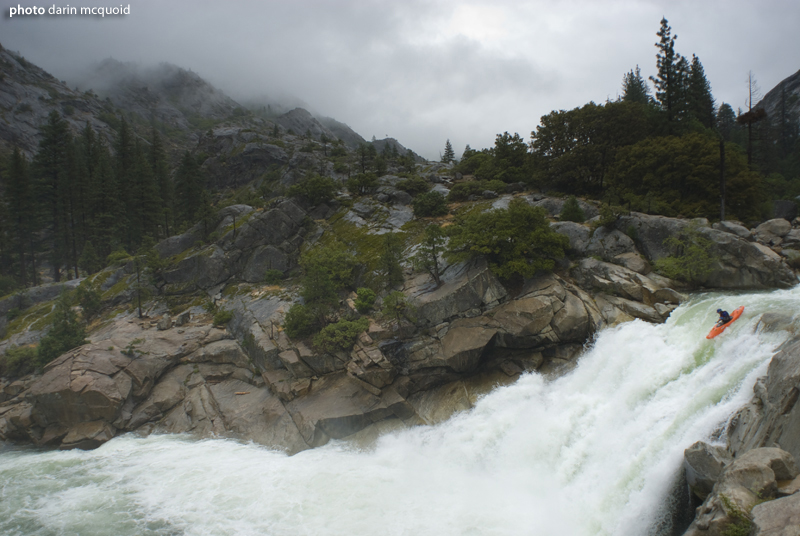 Fantasy Falls has a large recovery pool that ends in yet another perfect waterfall. Chris on the equally clean fifteen footer.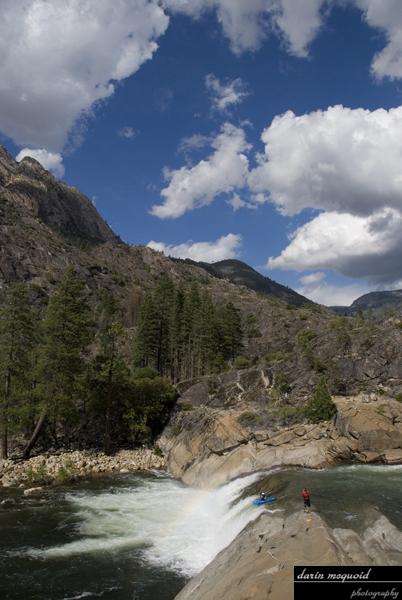 Grins plastered on our faces, we headed downstream from Fantasy Falls knowing we must be getting close to the lake and the last two major rapids. Eventually we arrived at the island slide around 6:00 in the afternoon and flows were coming up fast. Chris gave Island Drop a good look, I didn't think it looked nice at all, and we all ended up portaging down the middle and seal launching in. I demonstrated some poor slide running technique after seal launching and managed to land myself in the bottom hole completely sideways and got taken… from the right channel hole all the way into the large not so friendly hole in the left channel, eventually working my way out on the far left wall. I think this was my longest distance hole surf ever, all told a fifty to sixty foot long surf between the two holes. Chris and Kevin had some motivation to style the bottom right slide and did so with no problems.
Incredible views upstream from the Island Drop.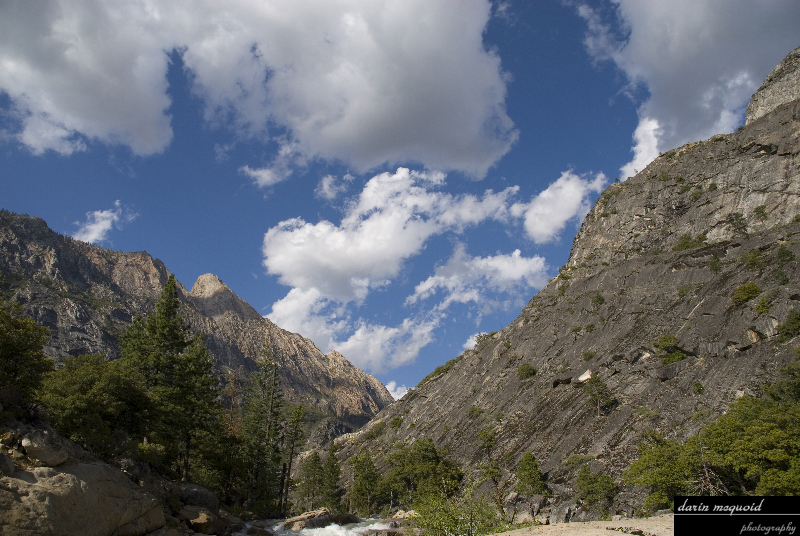 The Island Slide entrance rapid at lower flows. Surprisingly complex.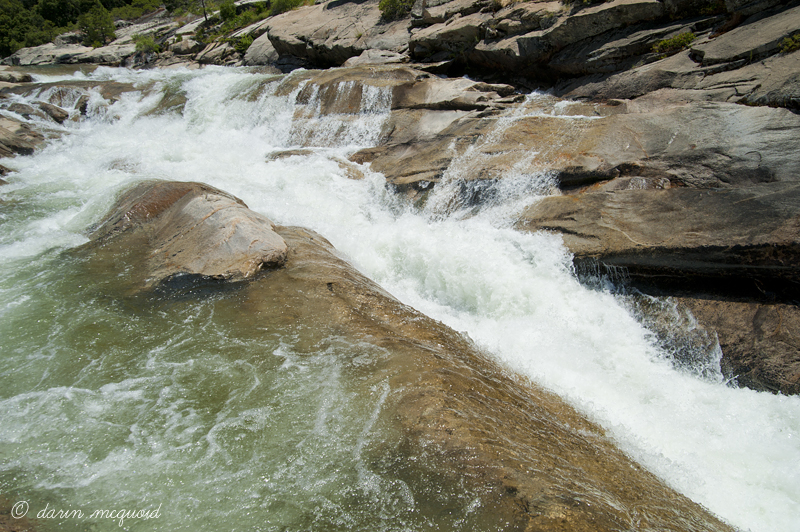 Jonas Grunwald about to get a face full of the big Island Slide pillow.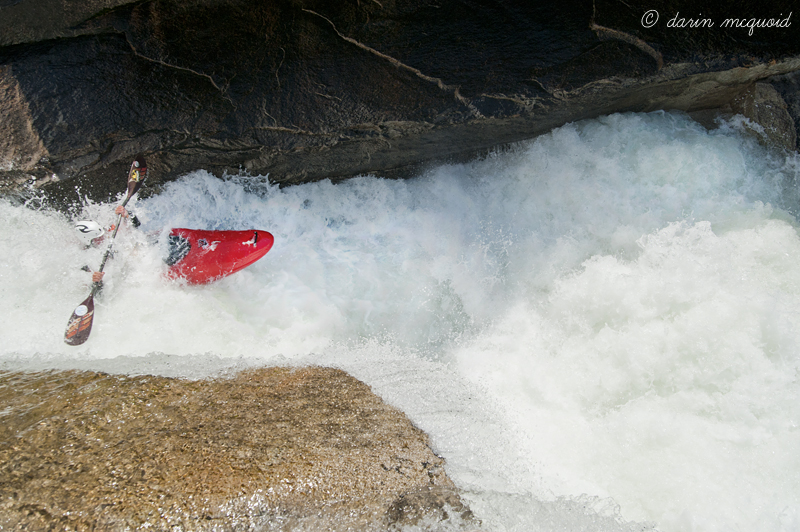 Ryan Knight, some bottom inbetween good stuff.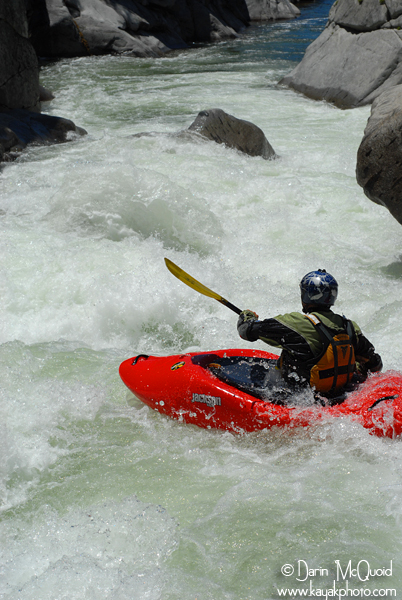 More read and run rapids with a portage or two mixed in, and to our relief we were finally at the notorious final slide. This slide is responsible for two of the most classic whitewater quotes ever; Brette Valle's "So mellow, just go down the middle and punch the hole at the bottom" and Daniel DeLaVergne's "F—kin' easy, California class three". Dustin Knapp said that years ago, lake people had spray painted "Show me your tits" on a rock at the bottom of this slide, and thus this rapid carries a name that is somehow befitting...
Like all things in life, this slide is a lot bigger in person than in video. We also managed to arrive at 7:00 pm, pretty much peak runoff for the day. Chris and I both knew we had to run it. For such a large drop this slide has incredibly little consequence, a large pool at the bottom and is only a few hundred yards above the lake. Traditionally the bottom hole is absurdly sticky and loves to make some of the best kayakers in the world swim. With our late arrival and high flows the bottom hole didn't look too bad, but oh boy was the entrance rowdy.
Chris scouting up show me your tits.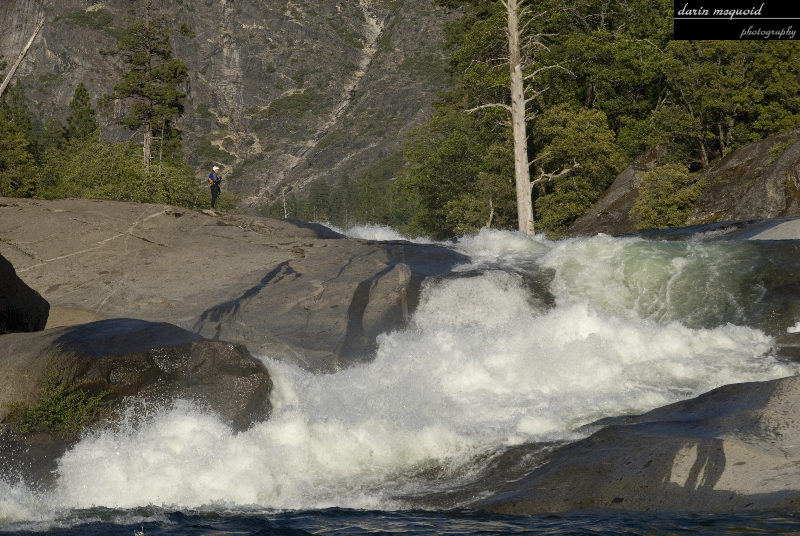 I took my normal role for the trip and opted to probe. I also opted not to scout too long, because the slide wasn't going anywhere and I wanted to keep motivation up. Heading into the rapid I never really gained the momentum I wanted, and at the very top where I expected water to be pillowing off the wall, it wasn't. I leaned into the "pillow" only to find myself upside down after leaning into the lack of pillow. I quickly rolled up while going over the first big drop in the slide, went through the "thing" completely sideways but managed to keep her upright and ran the rest of the slide backwards, subbing out deep and long at the bottom, resurfaced upside down and rolled up, clear from the hole and quickly heading to the island in the middle.
Chris styled down through the entrance, disappeared through the thing, resurfaced upside down and ran the rest of the slide upside down, taking a big melt at the bottom and rolling up with a big smile.
From the top, medium aka swimmers flow, the author gives it a go.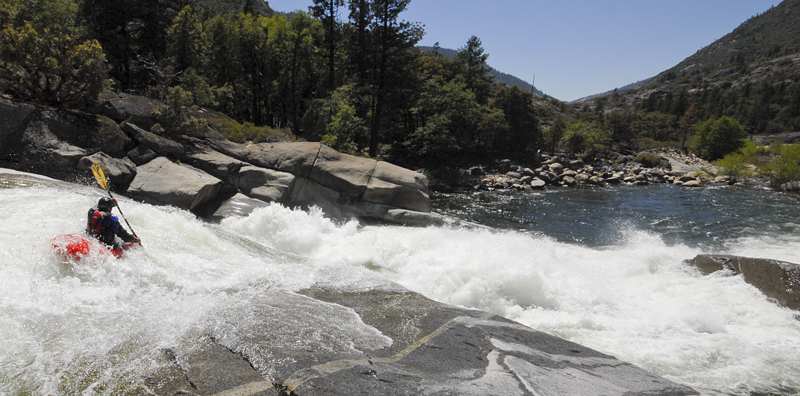 Don't worry it's bigger than it looks...Nate Garcia.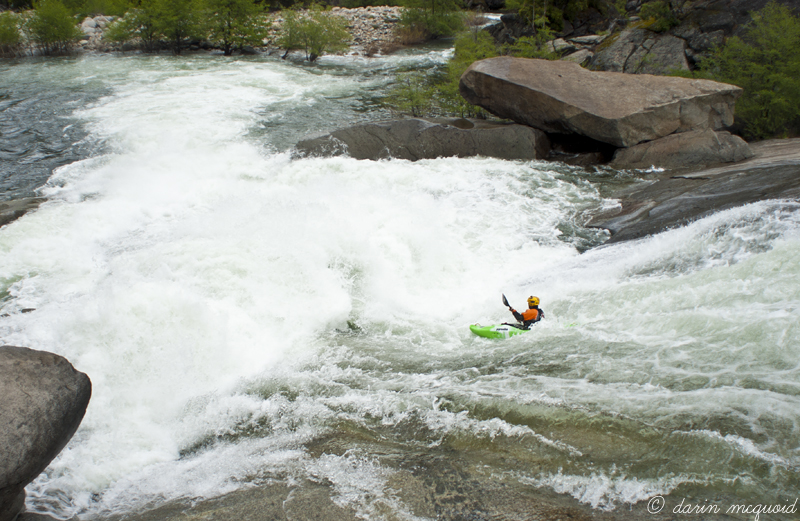 Ryan Knight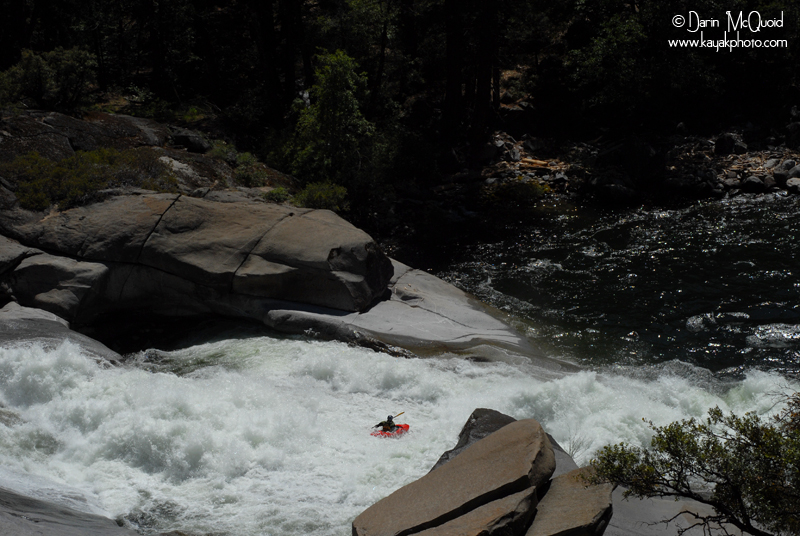 Chris getting into the meat of it.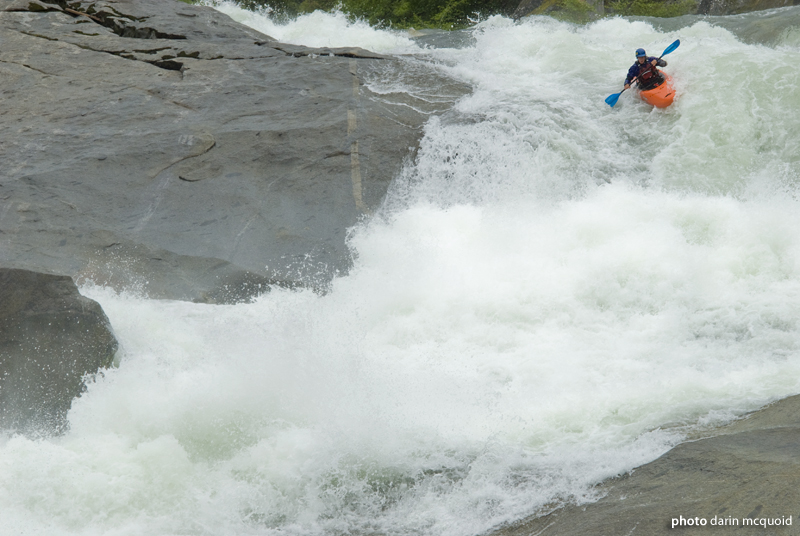 The sun disappeared over the horizon as we pulled out from the eddy below the final slide. On the lake we pushed through a light headwind, and led by Chris's machine like pace we reached our car an hour and a half later. Fantasy Falls lives up to its legend as one of the best runs in California. This three day trip is full of scenery, rapids, big drops and its fair share of portages. Everything about Fantasy Falls is world class, I know I'll be back for it again.
Caliproduct's
video
of Fantasy Falls. It's also in
Good 2 the Last Drop
and
NBN II: AMPED
.
Flows:
An old rule of thumb known by many is that low at the put-in is the correct flow for Fantasy Falls. This has changed, and you do not want it boney at the put-in. Every year Fantasy Falls is run with more and more water. What was high five years ago is now medium, and today's high is yesterdays flood level. Now the first mile not only goes, but if you have decent mank tolerance it's quite enjoyable.
For reference last year a group put in at the top orange mark, and three days later took out at the lower orange mark. They found it to be high, still fun and all the normal drops were run.
We put-in about 3" below the bottom orange mark.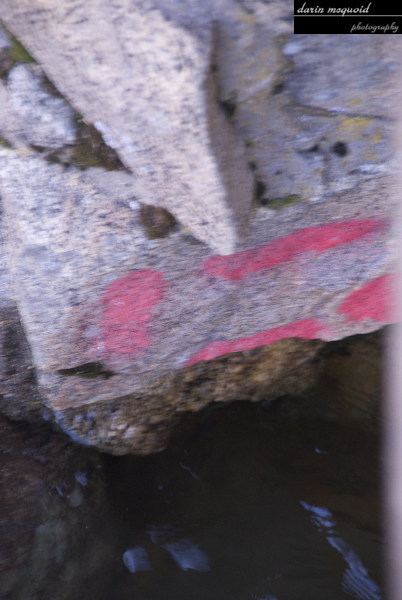 Three days later it was down another 3" for a total of 6" below the bottom orange mark.
We thought flows were perfect for our first time down, we were able to run the first two miles that turn into pure mank at lower flows, but didn't have too much water in the gorges downstream. Kevin hiked in to recover a broken paddle, the same day as the above picture, and said the first mile looked horrible at lower flows.

Ben Stookesberry's TR and Video from '08
Video from our first trip.
Salt Springs on Google Maps.
Scroll down to green arrow.