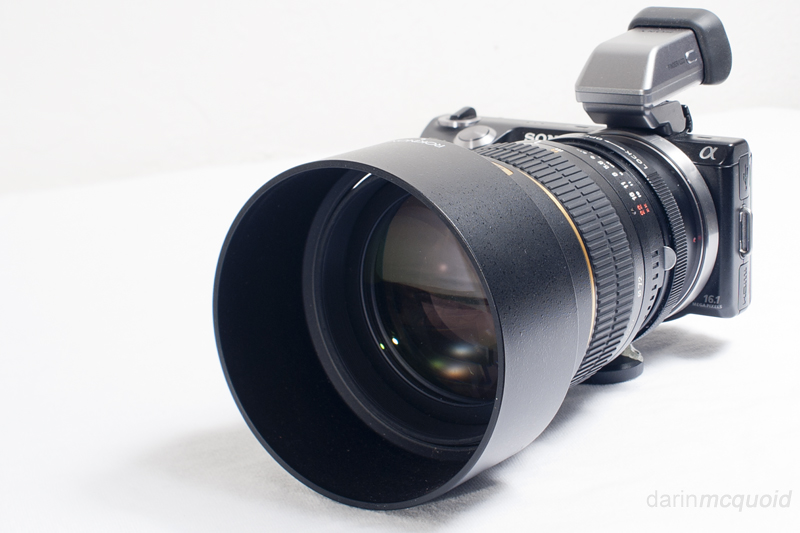 Samyang 85mm f/1.4 IF
Weight: 20oz
Filter Size: 72mm
$275
S
amyang 85mm f/1.4 IF on the Nikon D700
should be browsed first. This review is just applicable to the lens and its' performance on the Sony NEX-5N.
Mounted onto an APS-C sized sensor camera, the Samyang 85mm f/1.4 suddenly becomes a 120mm f/1.4. For my taste, perhaps the perfect portrait lens when combined with the wonderful focus peaking of the Sony NEX-5N. In some ways better than an auto-focus lens, because with the razor thin depth of field it's common for AF lenses to hit focus in front of the eyes. Since eyes are the highest contrast part of the face, this combo should be perfect for nailing focus on the eyes while shooting at a large aperture. Should be.
The Samyang 85mm f/1.4 is noted for having very low contrast, a benefit while shooting portraits. Unfortunately the contrast is so low that in any kind of soft lighting the focus peaking never works on a human face at f/1.4 or even f/2. This makes focusing very tough, especially for subjects that move small amounts like people. Which is truly a shame, because wide open the $275 Samyang 85mm f/1.4 rivals the $1,400 Nikkor 135mm f/2 DC for sharpness.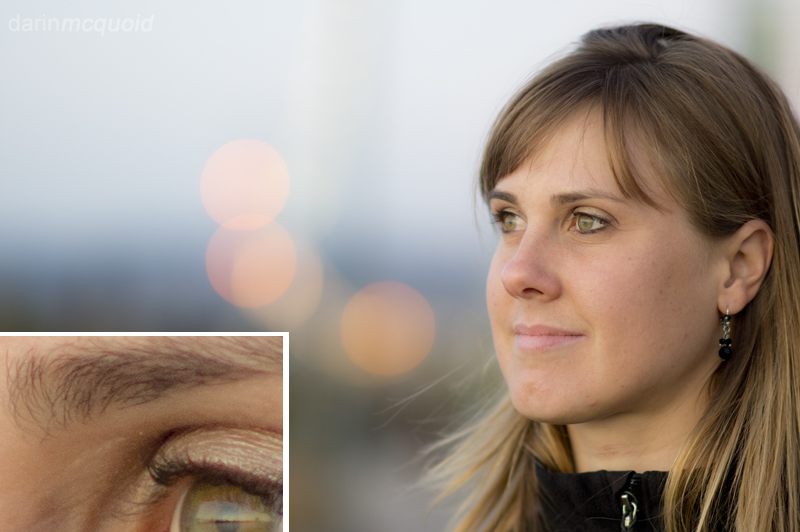 Sony NEX-5N, Samyang 85mm f/1.4 @ 1/320 f/1.4 ISO 200
Build: 7/10 -

Nice mix of plastic and metal. Could use a better lens hood, it has to be aligned perfectly to attach. Would be nice if it could focus closer.


Handling: 7/10 -

Not much to handle, the AF ring is too stiff for my taste, but it does have a nice long throw.


Performance: 8/10 -

Nearly as good optically as the expensive Nikkor 85mm f/1.4 portrait lenses.


Value: 10/10 -

Far and away the best value for a new portrait lens.
Overall: 6/10 - For the price, the optical and build quality is staggering. The lack of contrast makes focusing on something like the Sony NEX-5N too tough to rely on.


Practicality for kayaking: 4/10 -

it's just not something you're going to use on the river a whole lot, unless you live somewhere absurdly dark. Plus on an APS-C sensor it's a bit long for what you're probably shooting in low light work.

Almost the perfect portrait lens for my taste of focal length on a cropped camera. I'd probably love it on a D7000 but unfortunately the lack of contrast hits it hard. Without focus peaking it takes too long to achieve accurate focus, and by then the person you are photographing has probably shifted an inch, throwing your focus off.
Other links:

Photozone
LensTip Review
Samyang aka Rokinon 85mm f/1.4 on the Sony NEX-5N without the lens hood attached.