We drive up from Chico and Spanish Creek is not on our minds. We're in route to check out the more well known Indian Creek with its "waterfall". As we approach Indian Creek, there is road construction due to slides and no access at all. It makes more sense to reroute than get in the way of construction crews. We decide that seeing something new is what we're really into, and if we can't do this half of the North Feather, we'll do the other half; Spanish Creek.
Spanish Creek resides outside Quincy, California and it is half of the North Fork Feather River. We know it's supposed to be class II-III with one portage that may or may not be runable.

Even without having done it we can tell it's a run of contrast. Spanish Creek flows through a deep wooded canyon, yet is between the highway and train tracks. Remote yet not. Water quality is good, yet it's below a town so there is bound to be some garbage. The top section looks very flat, and to avoid that we put in at a bridge on Keddie Resort Road.

The best "children at play" sign on Keddie Resort Road.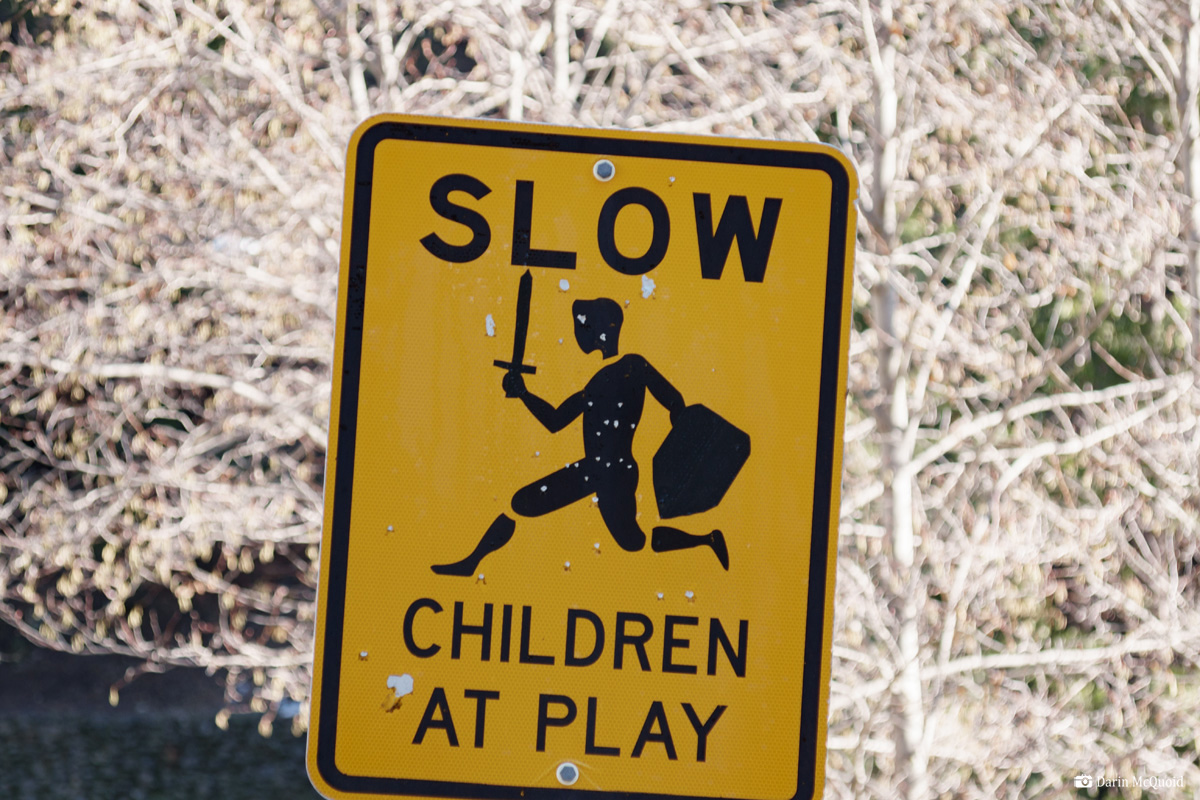 Regardless of roads and train tracks, it's a nice wooded canyon. Scott Yoder heading downstream.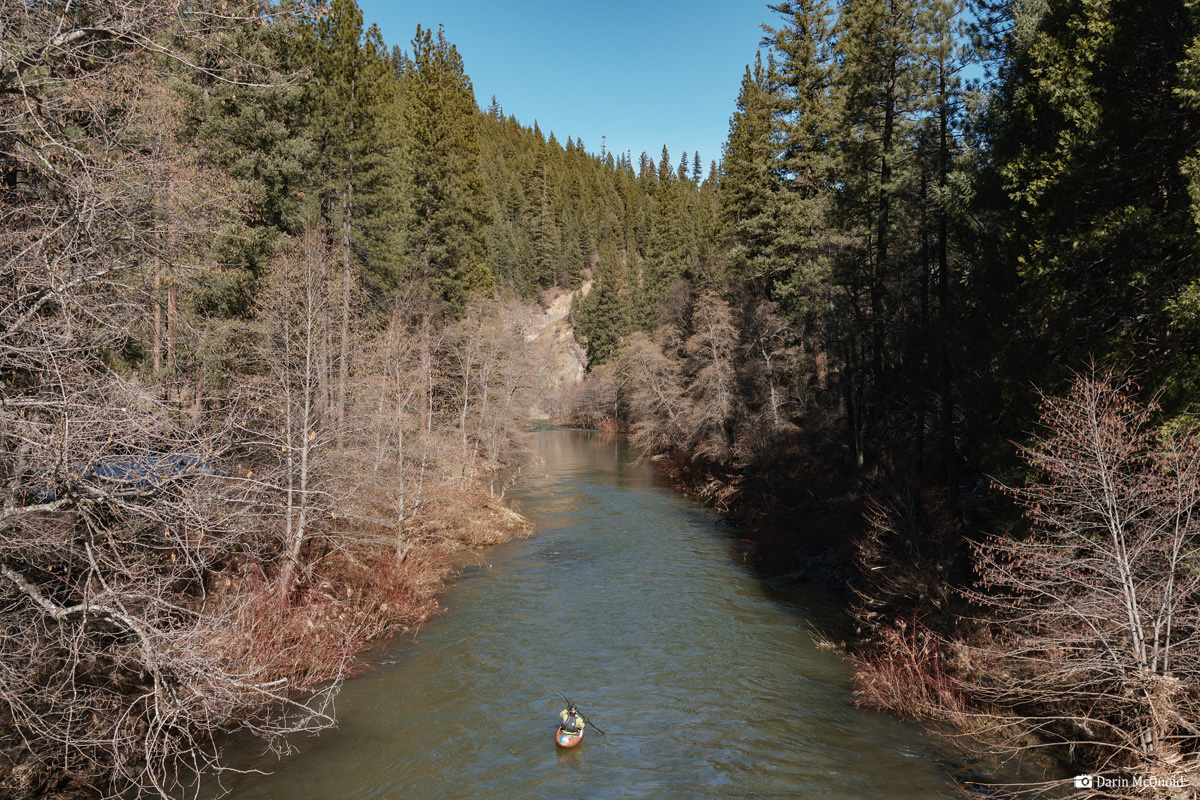 There is a good amount of class II with one that verges on III. Passing under the Highway 70/89 bridge is impressive, it's a fine erection that has seen many a log hit it at high water.

Scott in a typical Spanish Creek rapid.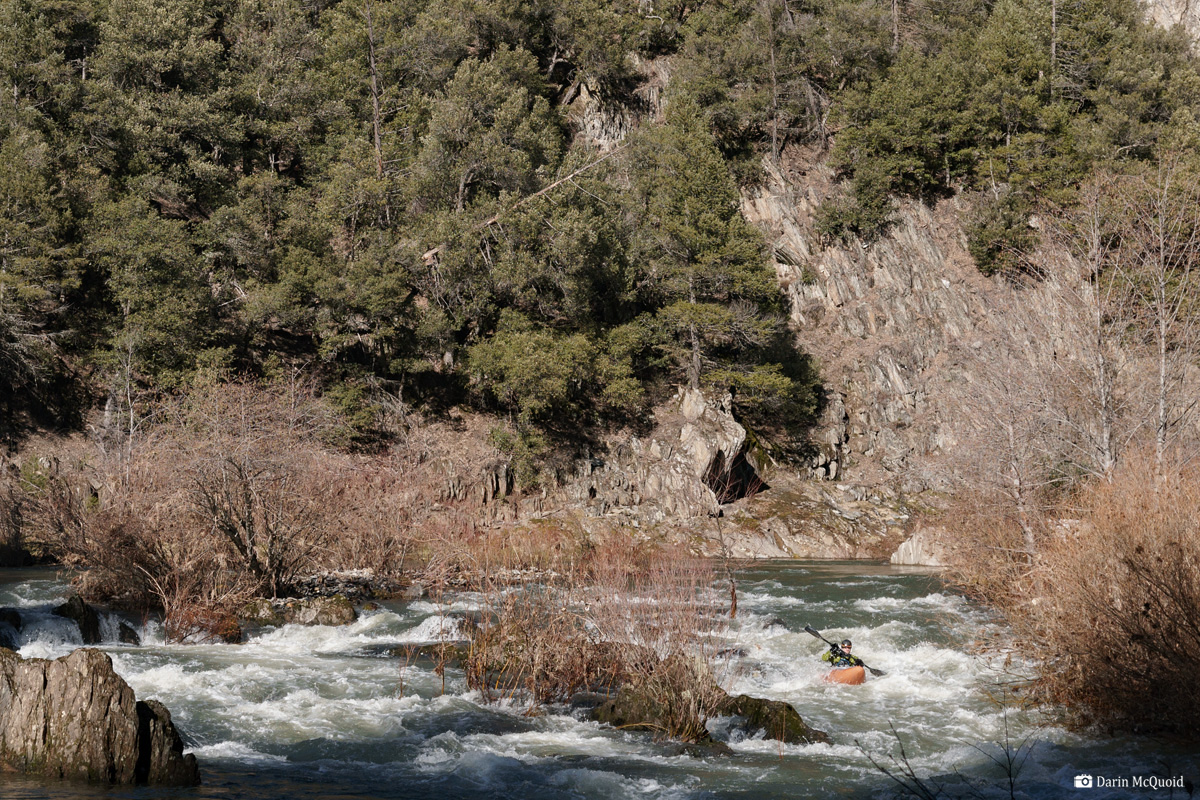 The road is up there somewhere, but most of the time you wouldn't know it.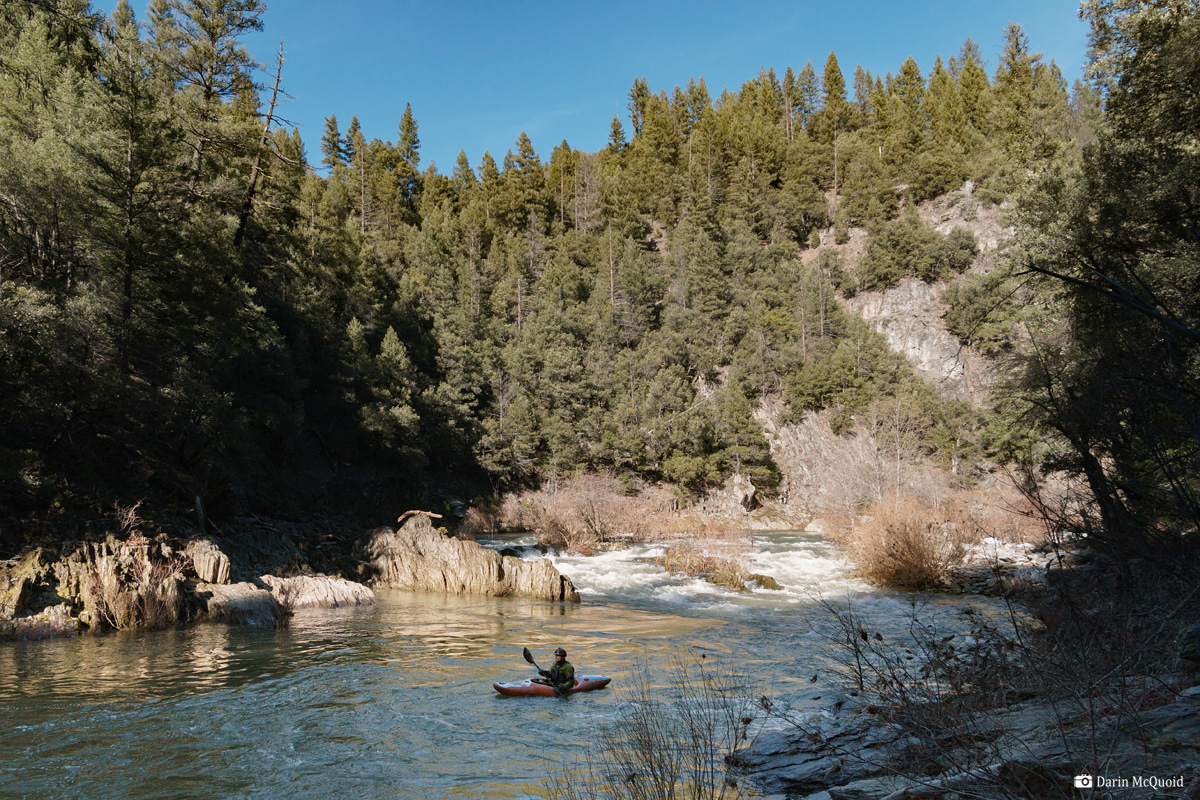 Around each corner we wonder if it's the portage, will it be a portage, or does it even exist. Deep in the shade we round a corner and it's obvious that this is larger than anything else on the run. We hop out on the left to scout and it takes a while, this deep in the shade there is ice everywere and footing is treacherous. With the ice on the ground, maybe it's safer to run it than portage? Even with ice the portage isn't too hard, yet at this flow the consequence of the rapid would be some bruises, mostly to the ego.


The author approaches the crux move of the rapid.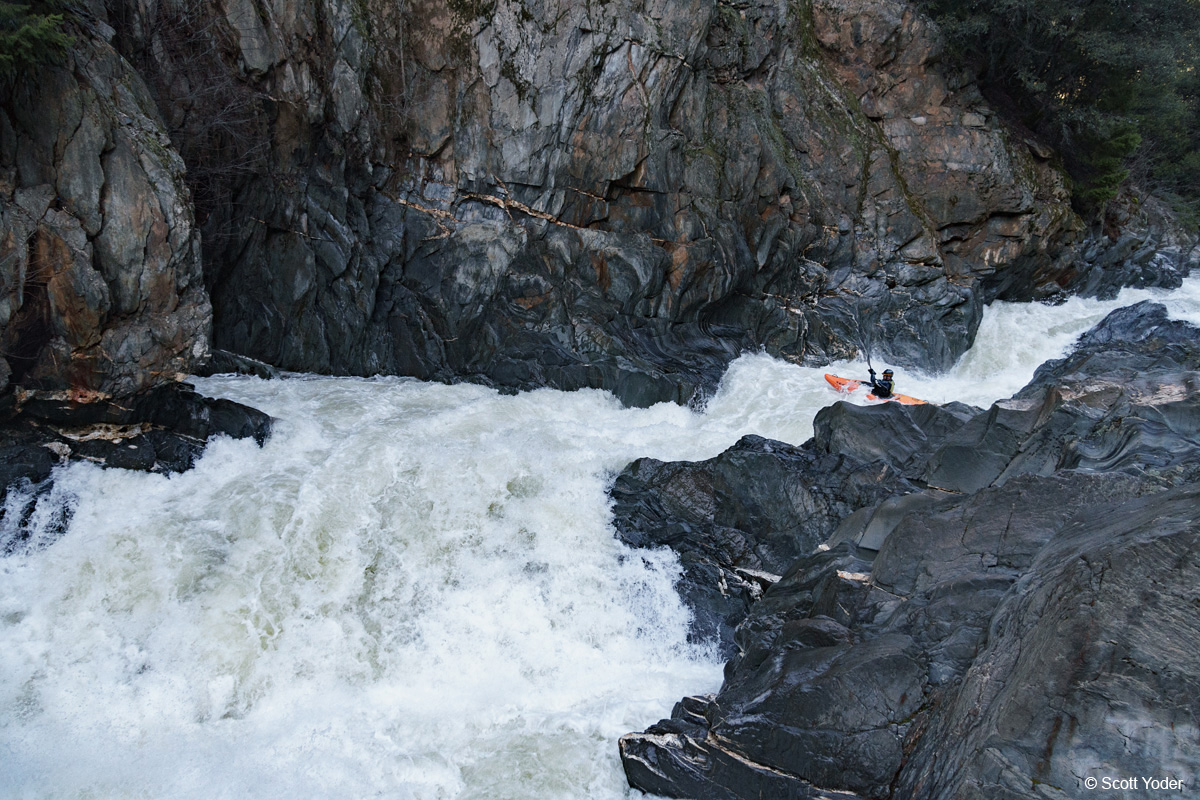 Don't worry, I styled it with a switch inverted oregon tuck - upside down and backwards.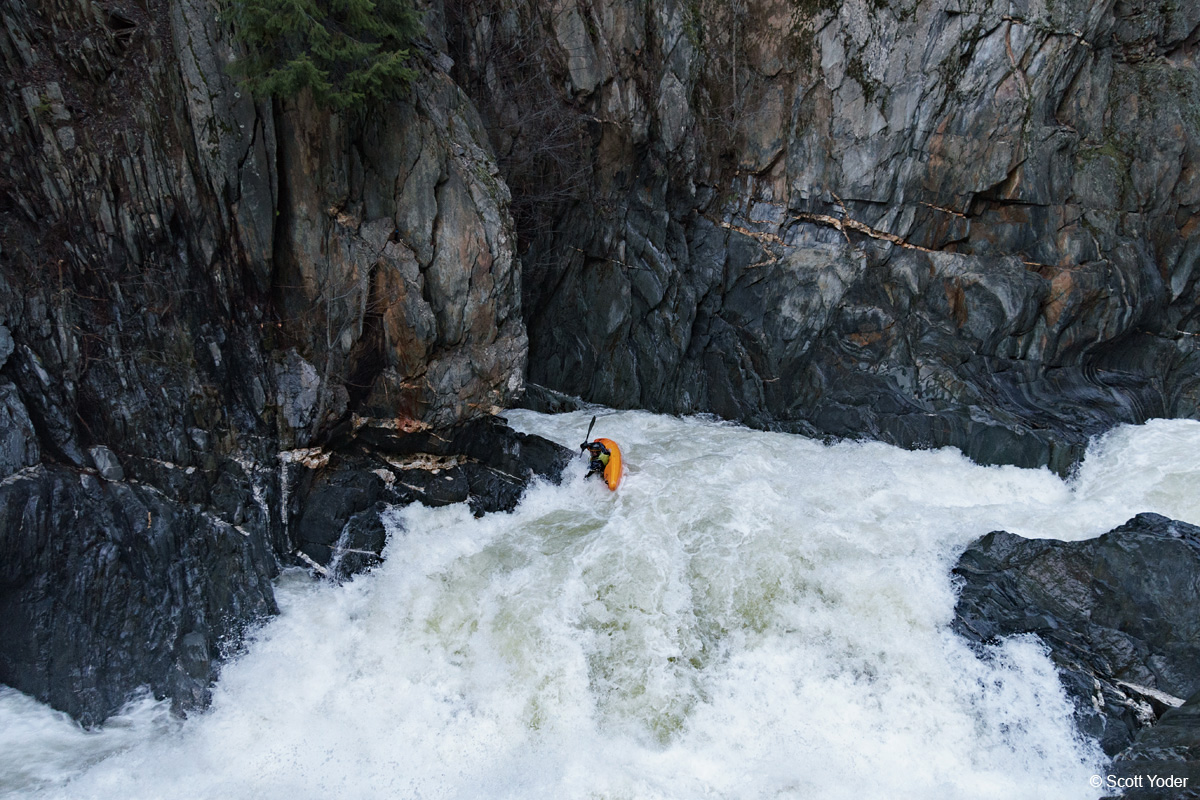 Below the portage it was back to a few nice class II and the welcome warmth of the sun at take out.