The Box Canyon run of the Sacramento River is the classic kayak run for Shasta area boaters. From a testing ground for newer boaters, to an after work run for experienced boaters making the "challenge moves" this run has something for a wide range of boaters.
I think my first trip was similar to a lot of people's first trip down The Box. I remember the being very nervous about doing a run that was in a boxed in canyon, and that was compounded by the notorious put-in. I distinctly remember being gripped on the put-in the first time I went down it, clipping a borrowed creek boat onto the rope and slowly traversing the cliff. Kayak this run enough and next thing you know you're cruising down it in flip-flops with a playboat on your shoulder. From Lake Siskiyou head down the trail on river left, and when you see a big clear spot head off to the right and follow the small trail to the steep part.
Turn right when you see this big opening.
Thanks goes to everyone who did work on putting the rope and ladder in.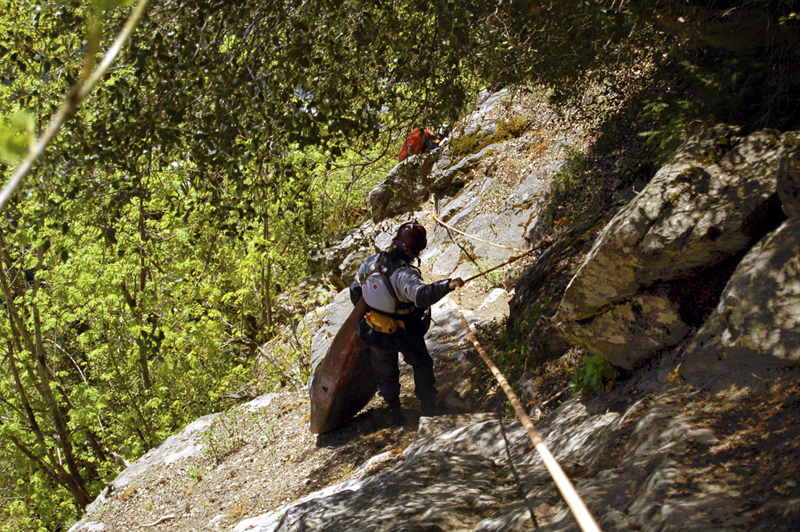 The put-in for this run lies directly below Lake Siskiyou, and gives quite a view if it's spilling and you glance back upstream from putting in.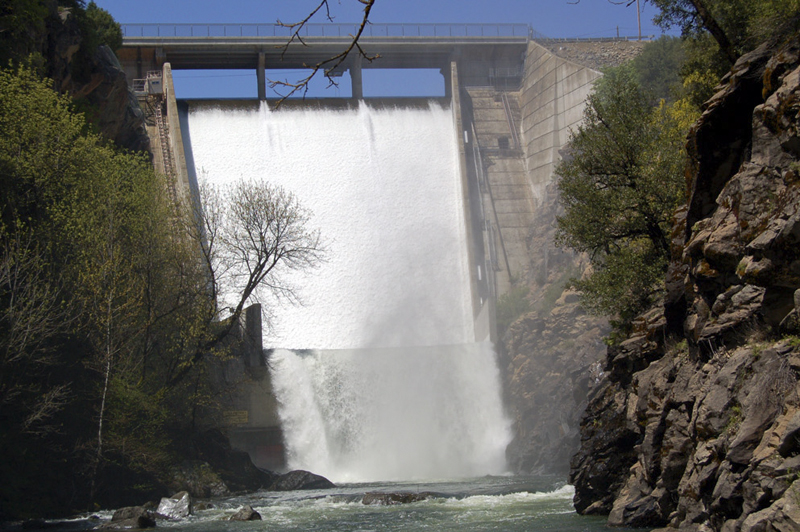 It's often cold and dark in the deep canyon only minutes from Mount Shasta.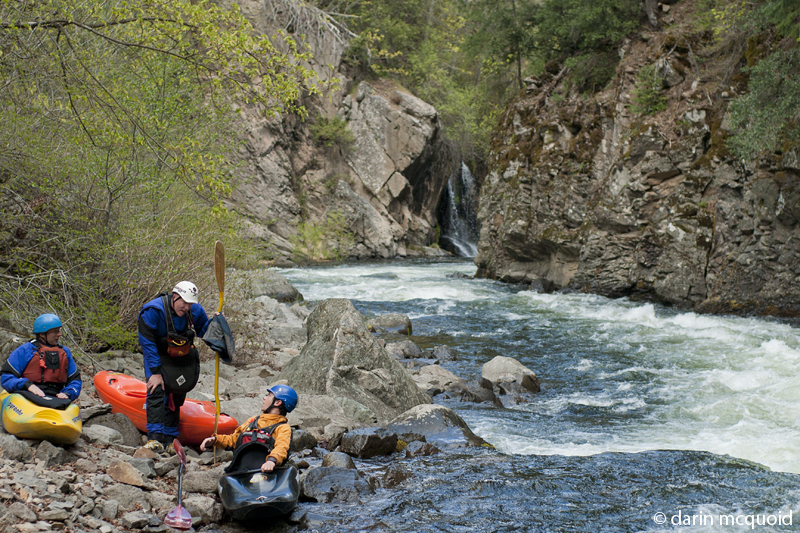 Box Canyon generally runs from mid winter into late spring, and although there is no online gauge, there is a stick gauge just upstream from Cantera Loop river access. The run is generally more class III around 4'6", moving into class IV around 5' and IV+ once it's around 6'. It still goes at 6' and above, everything goes but there are some macking holes at high flows, nothing terminal though.
The rapids on this run are surprisingly hard to remember, but some key features stick out. This rapid has a great boof and is just after a drainpipe comes in, and is known affectionately as "Brown Trout" or "Sewage Rapid". We were running it at 5'3" when all these pictures were taken.
Scott Yoder boof stroking it.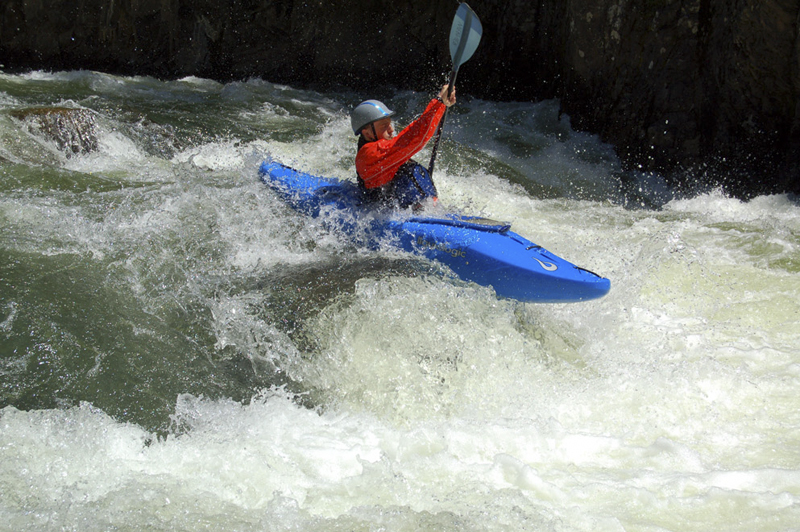 Marty Cronin boofing the Brown Trout.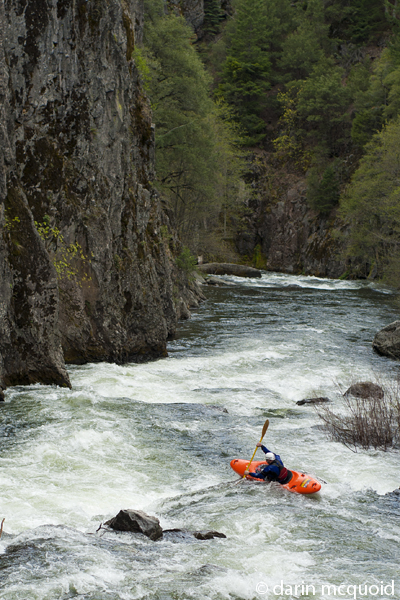 At higher flows Box Canyon gets fairly continuous through the canyon, this rapid leads into a ledge hole and the final slide.
Jon Vengley followed by Scott Yoder, shows the character of the run at good flows.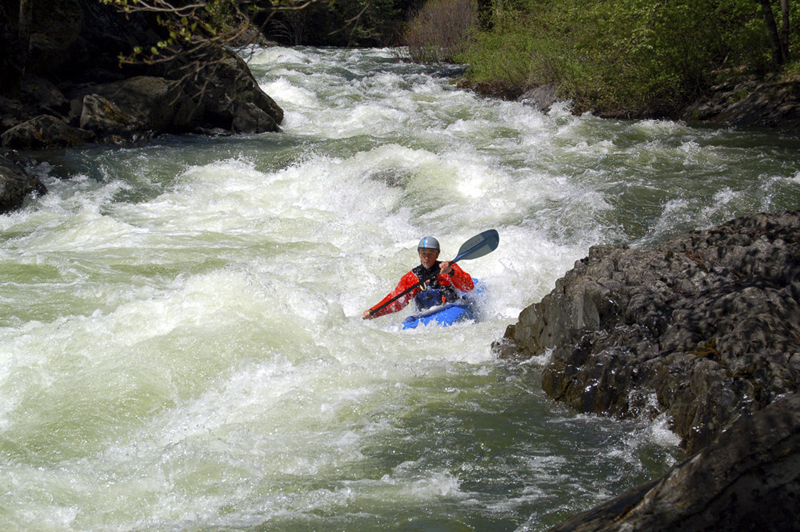 Scott Yoder takes the left boof on the ledge hole.
Right after the ledge hole is the last rapid of the gorge proper, Eagle Slide has many different routes but is generally run in some combination on the river right.
Scott Yoder on Eagle Slide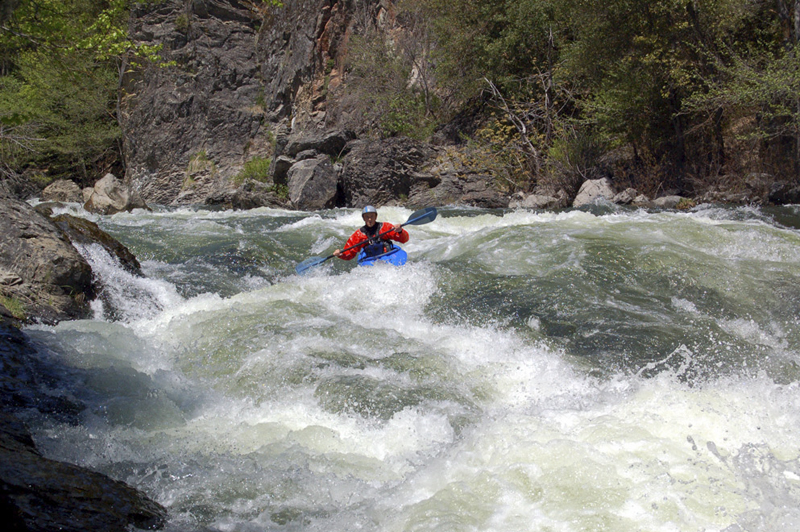 After this rapid there are only two more rapids of decent size before Cantera Loop access, one of which has a sticky hole at the bottom center when the run is between 4-5'. Most locals do the short run and take out and Cantera Loop and do laps if motivated. Occasionally we run all the way to Dunsmuir, as we did this day. This was only my third time down to Dunsmuir, the run stays quality, but you want levels to be above 5' or it gets a bit too rocky for my taste. The lower section has less distinct rapids, but rapids also link together making in some ways a tougher run than the actual canyon. There is one rapid that stands out in the lower run, a big boulder garden with a few sieves that are marginally in play.
Jon and Joel Vengley blue angel the boulder garden.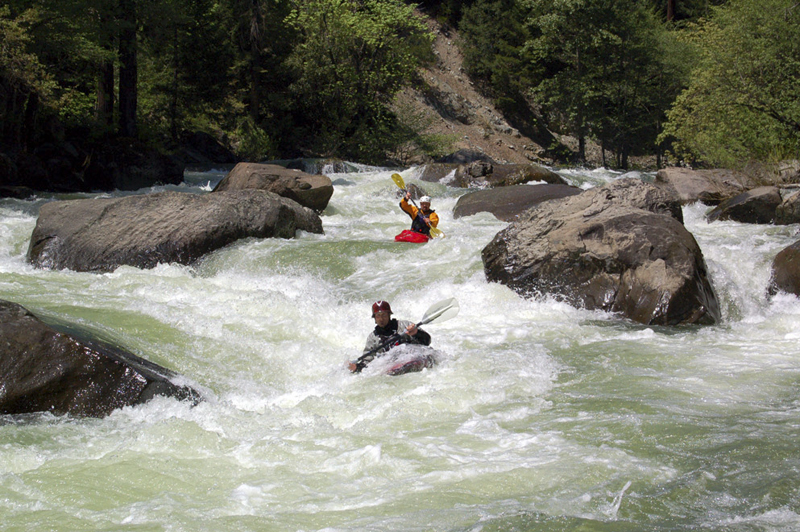 Scott Yoder brings it home through the garden.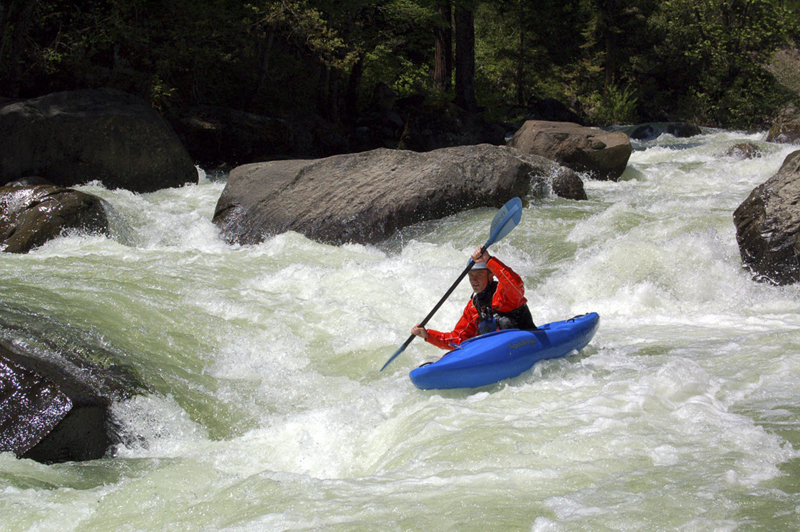 Paddling through Mossebrae falls is an experience never forgotten. It's best to stop and soak it all in; Shannamar Dewey.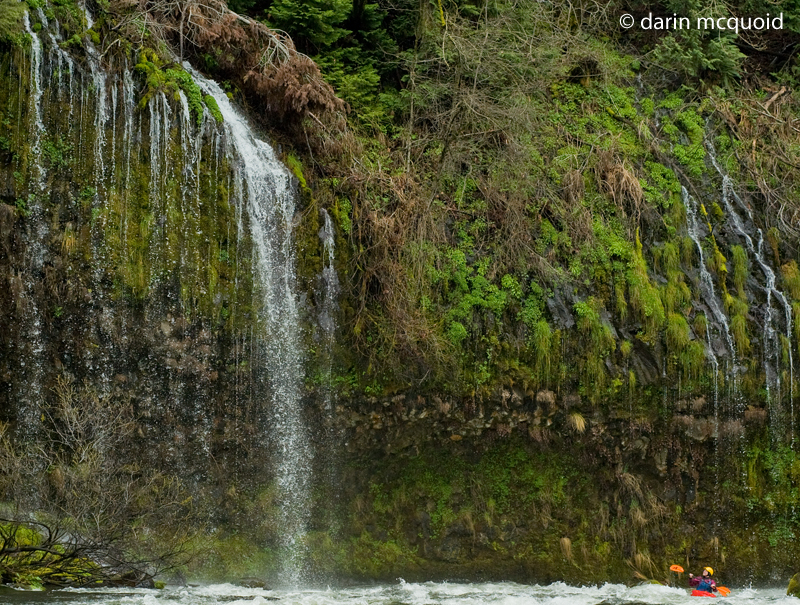 One of a kind experience.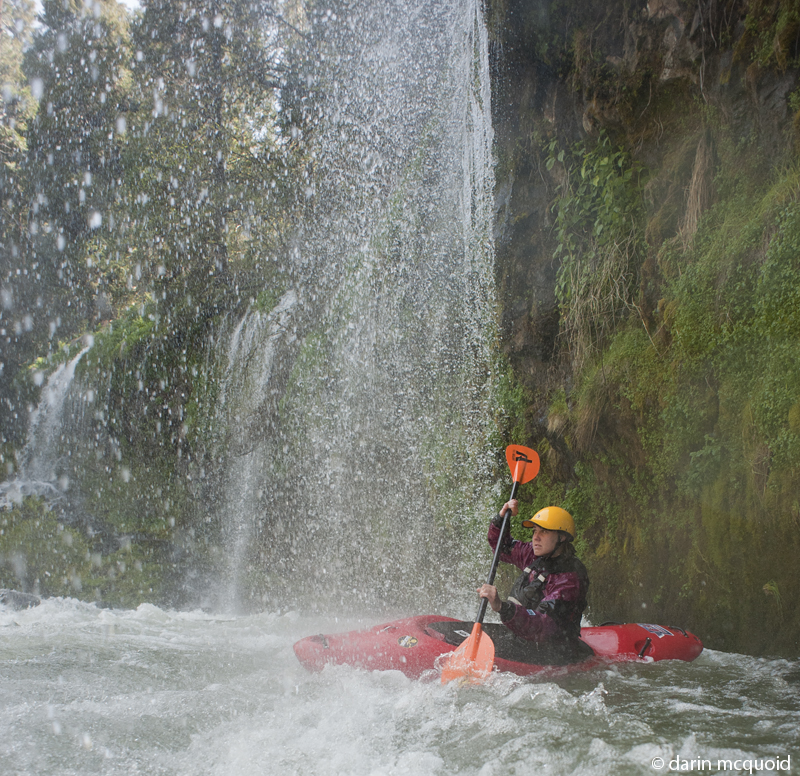 About a mile of boogie water lies downstream, and you are at the takeout in Dunsmuir soon enough. We always takeout at river left just below the bridge. Take a respective right or left turn at the Chevron gas station and follow the road to the river park. Once you know the lines the gorge can be done in a half hour, including the hike in, if flows are above 5', making it a perfect run to do if you're driving by. Box Canyon is by far one of my all time favorite runs.
View of Mt Shasta from the shuttle drive.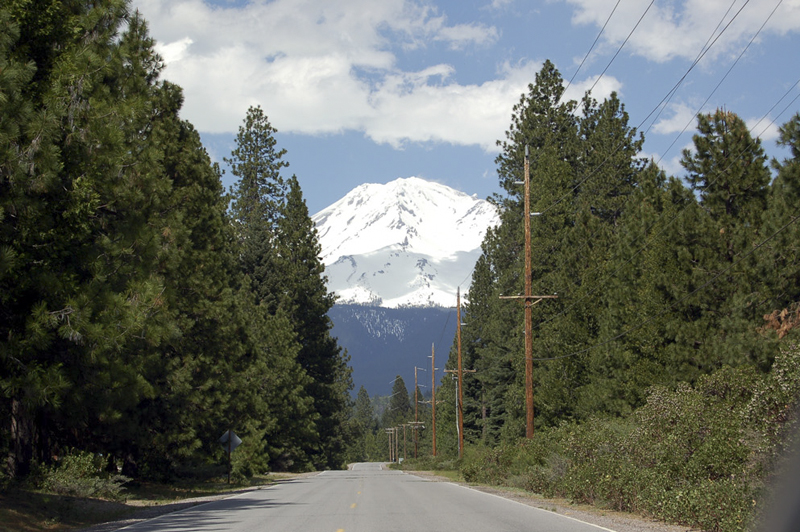 There has been a gauge for years, but the information was never shared. That all changed in 2011 when the gauge went live on the
Siskiyou County website
, making it much easier to plan a trip for the Box Canyon of the Sacramento. The gauge is in cfs, where roughly 450 equals 4'6" on the stick gauge. Logistics are simple and can be done via google maps or an AAA map. If taking out in Dusnmuir the best access is on Prospect Road, just off the first exit when headed south.