Before I started kayaking I lived in Redding for a short time, and we used to hike around the Brandy Creek area fairly often since it was so close to town, and beautiful. I'd never really thought of something this small being kayak able when I started, but over the next year had heard of people kayaking on this small creek.
Cacreeks
has a good
write-up
of this run, although it makes it sound really hard and intimidating. So hard and intimidating in fact that I hadn't really thought too much about running it. Jon on the other hand has had this run on his list for a while, and with recent rains I made the drive to Redding for the run.
Caliproduct
also has a good video of an upper section on this run, it looks really fun.
When Jon and I arrived at the run we found it to be slightly low but certainly flowing. Thankfully the gate on the road was open, it was closed most of the winter. Dropping off Jon's car at the takeout he mentioned he had enough gas for shuttle, but perhaps not enough to get back to town. We were just going to do the lower run due to schedule issues. Work, always getting in the way of kayaking. We headed up the dirt road and put-in at trailhead that accesses the upper section. "The first 0.5 miles drops 240 feet, giving boaters a 480 foot per mile stretch to warm up on." This warm-up steep section really isn't too bad, mostly classic north coast mank, which consists mostly of pinballing through steep boulder gardens and hoping not to pin. Eventually we came on the first horizon line worth scouting, this fun narrow drop that had another good ledge shortly below it. We both tried to boof but there really wasn't anything to boof off of, and we plugged without any problems.
Here Jon runs the first drop. Some day I'll buy a real camera and get good low light shots.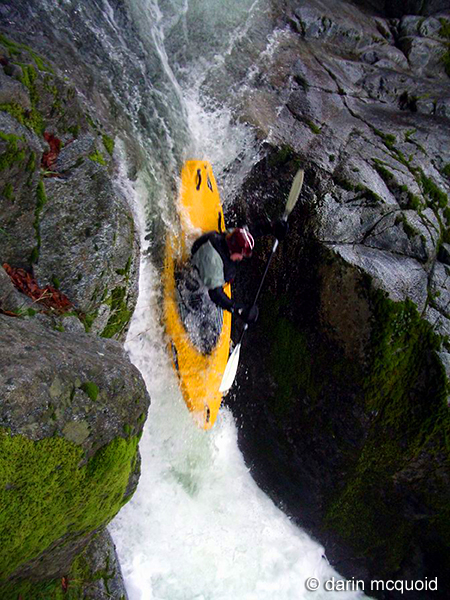 I am assuming this rapid is the entrance the section described as; "After this start, the run begins to get serious, the lower two miles is where the big waterfalls await." This run has plenty of fun drops, but nothing that I'd classify as a "big waterfall", or even a medium waterfall to be honest. With Jon leading in a bombs away style on par for the norm we blazed through the run. I'd normally scout something like this a lot but I was able to see him go through and pop out at the bottom of most the rapids, so we only scouted a few more times. This was the largest waterfall on the run. It appeared to have an auto-boof flake in the middle, but was deceptive. We both plugged it through a crease after sliding off the flake.
"Split Falls"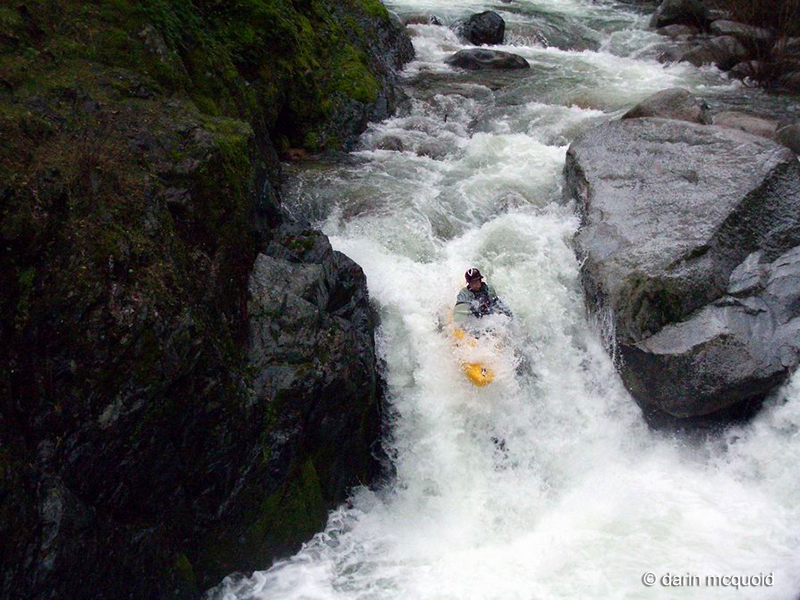 A narrow mini-gorge ensued immediately after, and warranted a quick scout. I'd assume the two holes in this drop would get rowdy at higher flows.
Jon got spun around at the top but managed to drive through the bottom two holes with no problems.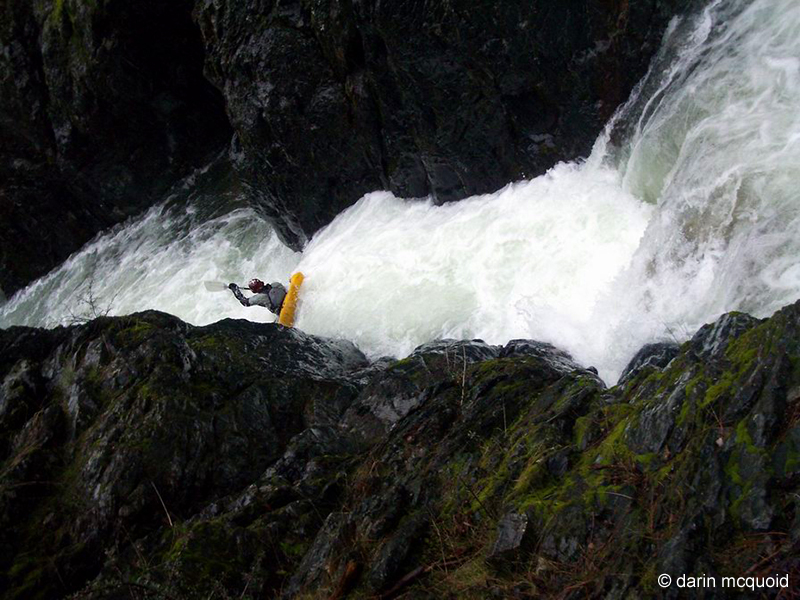 After this mini-gorge it was mostly back to mank again. Really the only carnage of the day was myself paddling with several gallons of water in my boat and suffering a brief pin. I was in denial about my boat being broken, but it didn't help keep the water out. This run is very doable in a modern creek boat and isn't too well suited for duckies. I'd give it a medium class V creeking rating, on par with Slate Creek or similar. There are currently several downed logs on this run, one of note right above the Sheep Camp Bridge, and several more downstream. We only had to get out to portage one near the end of the run, and were able to scrape by two or three other logs. If you don't mind a little boat abuse I'd recommend this run, I'll be on it again. It rarely, if ever runs off snow melt, and needs around an inch of rain in the area to get it going.