Welcome to the waterfalls.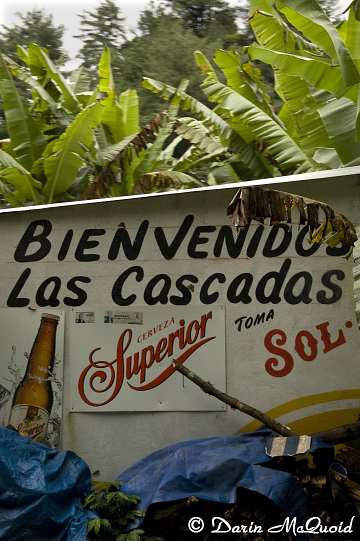 Cascada de Tomata is a waterfall that lies directly below the bridge over the Alseseca which changes it's name to Rio Tomata, a common occurrence for rivers in Mexico. Cascada de Tomata has a little entertaining history to it. It's without a doubt a big waterfall, and years ago was first descended by Tao Berman, who claimed it a new world record at 84'. Several years later Scott Lindgren was in the area and measured a claimed 61', a far cry from 84'. At least this is the story I was told. Tomata Falls has been run by several groups of people since the first descent, and is in
Burning Time
,
No Big Names II
, and To Boof or not to Boof.
We ended up here the day after running the
Upper Upper Alseseca
, because water was still too high to continue the expedition on the Middle Alseseca. On arrival at the falls one of the first things we did was measure the falls, and in the process managed to lose Heather Herbeck's throw-rope. We measured it around 65' for the record.
Cascada de Tomata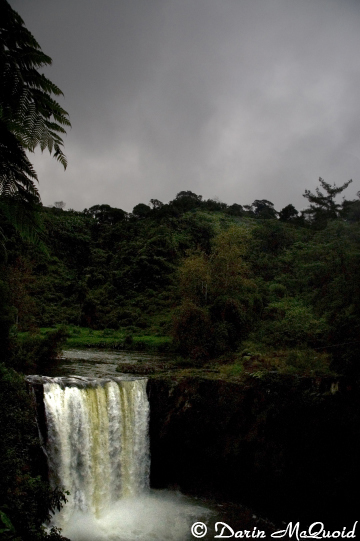 This late in the trip exhaustion was starting to show, and I fell asleep while scouting/measuring the falls. With my largest all vertical drop of around 25', I was having doubts about the waterfall and had pretty much written it off by the time I fell asleep. Someone was kind enough to wake me and say that people were gearing up. I ended up gearing up knowing deep down inside that I would end up running it. I was also slightly concerned about my boat on this one, as I traded the much-disliked Burn for a loan on a Huck, a boat I had never paddled before.
From left to right, Phil Boyer, Eric Seymour, Thayer Wallace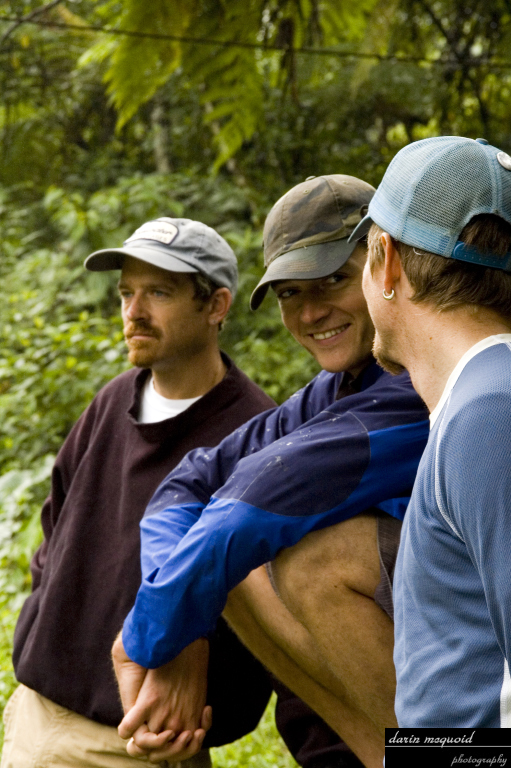 I geared up and grabbed my camera to get some pictures of Ben and Rafa, who were planning on running it for sure. They quickly got into position to scout from the other side.
Scouting Cascada de Tomata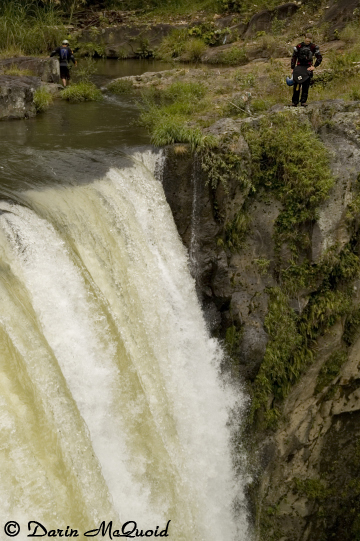 Ben got on it quickly after scouting, and ended up with a nice line paddling all the way to the bottom.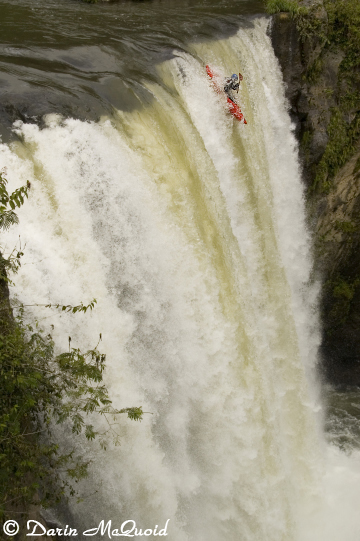 The high level of the river showed as Ben got surfed for a little bit in the base of the waterfall, but he worked his way out with no problems.
Rafa Ortiz, Cascada de Tomata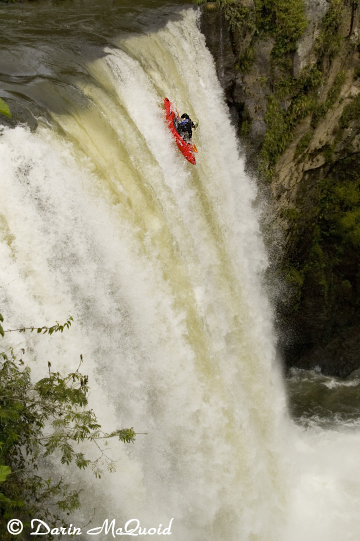 Rafa resurfaced downstream of the base, but had lost his paddle on impact and started several hand roll attempts. Eventually Ben was gracious enough to give him his second or third "hand of god" on this trip.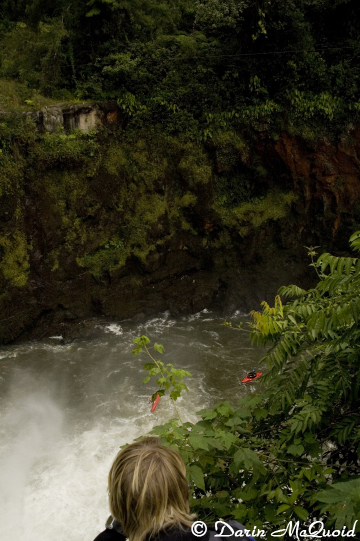 Heather Herbeck and I headed for the water and quickly got in our boats, I got out to scout on the left while Heather lined up for the drop. On a waterfall of this size there are several key elements to a nice landing. One is your entry angle, with 85 to 95 degrees optimal for avoiding a hard hit. On some waterfalls this is easy because the lip "rolls over" and sets you up automatically. Cascada de Tomata isn't one of these drops, and naturally wants to put you forward and upside down. To counteract this a stroked is needed just past the lip, just enough to keep the bow up enough to be vertical at the bottom, but not too much or you'll get a back-breaking boof. The classic "Oregon Tuck" is the preferred entry position, but you have to tuck in nice and slow or you'll pitch over vertical from the sudden movement. On top of this all, speed is another major factor, just fast enough to be moving faster than the water and have nice control, but slow enough to get in the falling water of the falls. Needless to say this is a lot to think about while paddling up to a horizon line this gigantic. Heather ended up coming in a little hot and separated from the falling water in the falls, but thankfully had a great entry angle that saved her from a major hit, although she was pulled out of her boat on impact.
I had honestly never set my angle on a drop like this, but mentally knew what I wanted to do and felt like I could get all the elements right. I got into my boat and paddled down to the eddy right above the lip, knowing this would give me a second to focus and be easy to set my speed and angle from. I was thinking of Pat's line off Lower Heath on Royal Gorge, in
The Seven Rivers Expedition
, a beautiful shot of good waterfall form.
As I approached the lip my speed felt perfect, and as I dropped to vertical I gave one nice, long smooth stroke, looked down and thought "holy shit that's big", and slowly got into my Oregon Tuck position.
Thanks to EJ for the picture; Cascada de Tomata.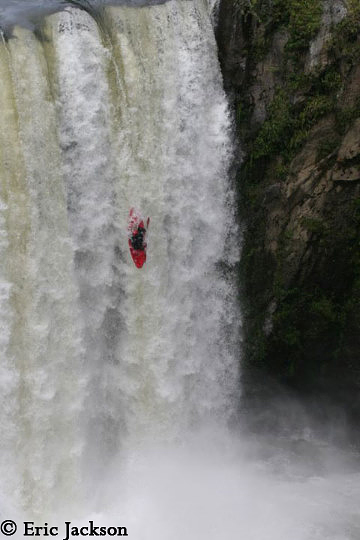 The impact was amazingly soft, a lot softer than all my bad landings the day before, so I guess I nailed the line. On impact my paddle was ripped out of my hands, and I resurfaced in the middle of the falls. I tried a few hand rolls but was getting nowhere with all the water crashing down on me, and after about ten to fifteen seconds I flushed out upside down. Several more hand roll attempts were made, getting really close on one, but eventually I swam right next to where Rafa was standing on a rock. I got out quickly and emptied my boat, mentally kicking my ass for swimming and for leaving my camera up top. Nick Troutman followed next, ended up over vertical and instantly ejecting from his boat, but suffering no injury. Glad to have run it and that the whole group was ok, we moved downstream and up the steep take-out above the Box Canyon of the Tomata, which only Ben wanted to run but we all knew was a bit too high, and we were too tired. He is the most motivated paddler I have ever met.