In most aspects of life we curse flies. When it comes to kayaking road trips there is one fly to rule them all; the rain fly. Water droplets patter on ours all night long. We've crashed in the Campertogno campground in Val Sesia, Italy. As I'm fully along for the ride on this trip I really have no idea where it is except that it's in the Piedmont region. Good thing for google maps.

All is still quiet when we wake. We quickly pack up not knowing where the day will take us. Gear stuffed in the van we walk over to the camp headquarters as rain continues. Camping in Europe is a whole different experience. They are ready to deal with the rain. There is a cover cooking area, bathrooms with hot showers (at no extra charge) and a real restaurant. It's a very civilized affair. We head into the restaurant to get some delicious coffee. As the Austrian's love to say, the Italians know how to do coffee, according to them the best in the world, and one euro per cafe. And all along I thought Starbucks was overpriced before experiencing this...

Fueled by cafe and panini it's obviously time for us to go kayaking. The Gronda is a river that needs rain to have enough water, and lucky for us it's in. So we head that way, up river from where we are.

Campertogno campground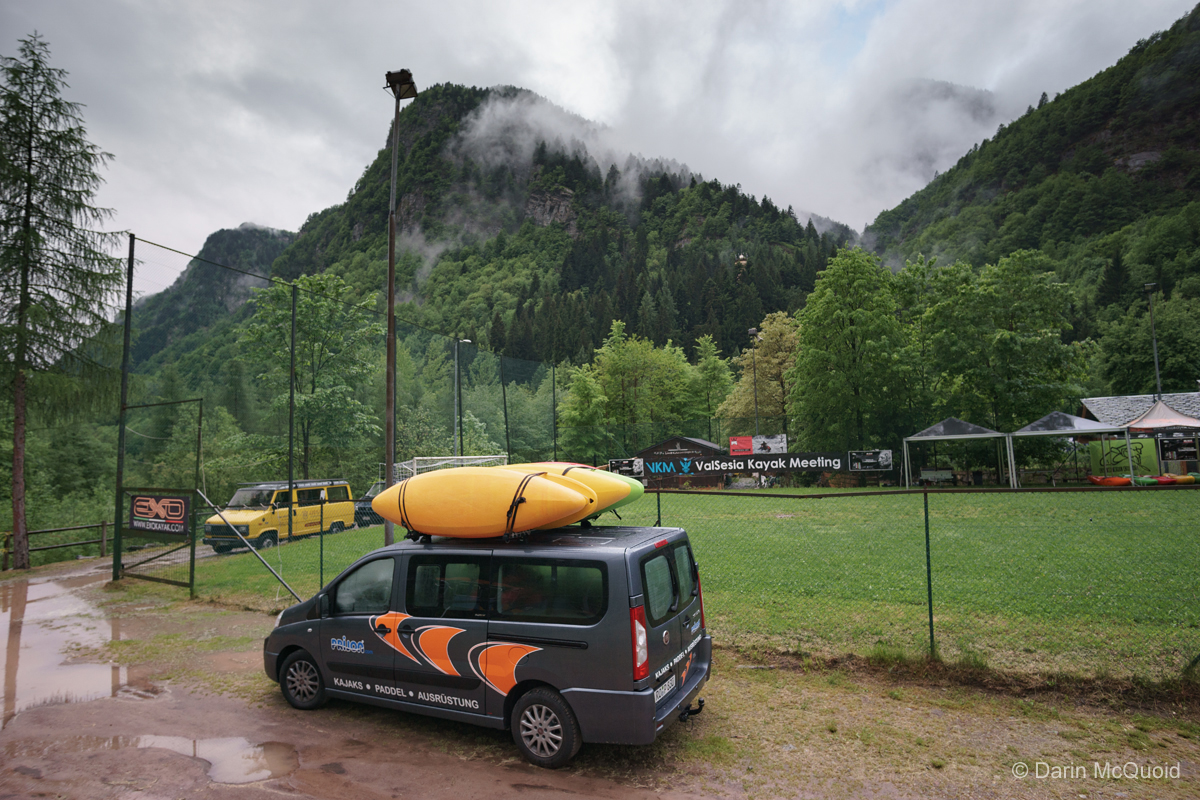 Sony A6000, Samyang 12mm f/2
What people typically run of the Gronda is only about half a kilometer long. It also flows right through an old town that has several bridges over it. Truly incredible and unlike anything we have stateside. As we pull into town the rain turns into hail. A few paddlers say it's too high but we think it looks pretty good. So we gear up in the hail, which gets large enough to be downright painful. The shuttle for this one will be easy enough, we just walk up the road to the standard put-in above town. I take an umbrella to facilitate keeping my camera alive.


There is no warm up, we're straight into some low volume creeking but with good flow. Gerhard Braune on the first rapid.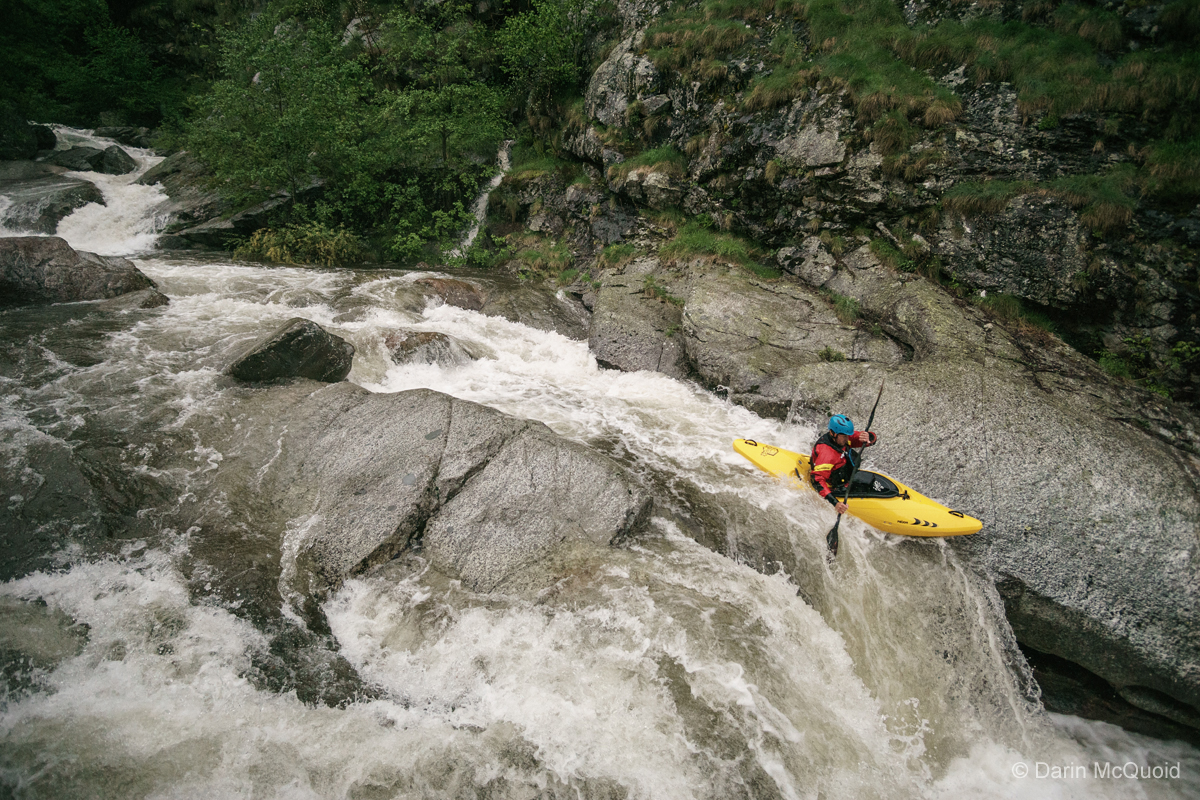 Sony A6000, Samyang 12mm f/2
It's mostly bedrock, pool drop, but more like British Columbia pool drop than California pool drop. Rok Sribar heads into the second move of a nice combo.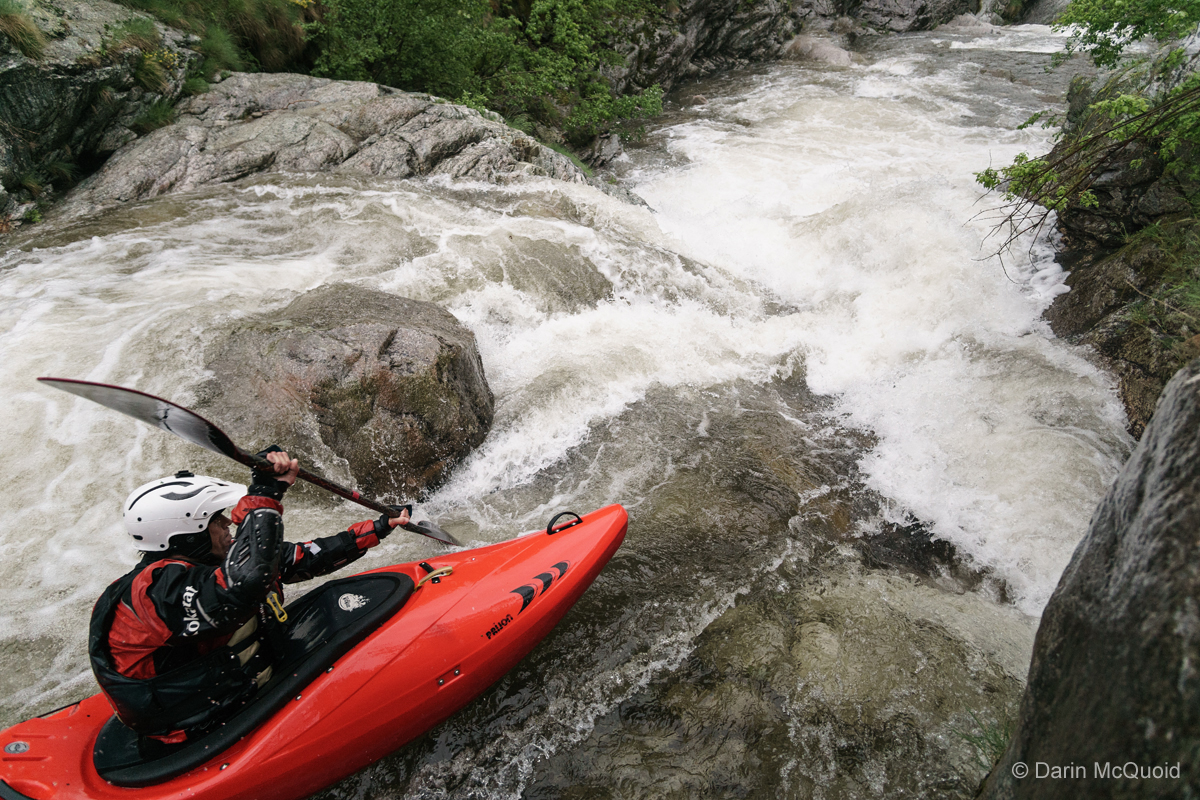 Sony A6000, Samyang 12mm f/2
The above combination links perfectly into another set of sides, which in turn link into the town rapids. Really a nice series, although we're experiencing something more typical of European kayaking; a traffic jam on the river. There are a couple groups out here at the same time, and we appear to be moving the fastest but don't know the run well enough to "play it through' which makes the pacing a little awkward. Sacrificing gratuitous photography opportunities we bomb through a few slides to get ahead and into the town section.

Gerhard Braune boofs into town on the Gronda.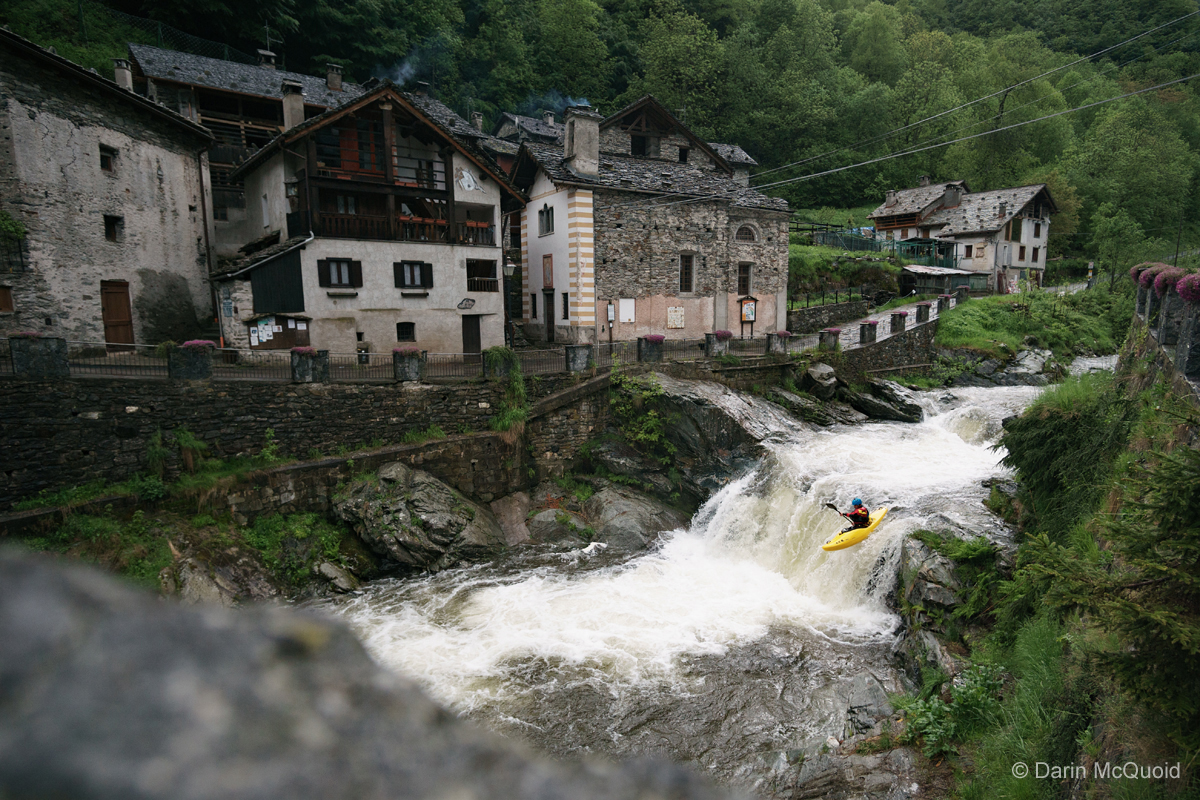 Sony A6000, Samyang 12mm f/2
The town section was too much for me, and I'm sure the other guys quickly grew tired of waiting for me to get new shots. Still, we just have nothing like it and I was just loving the mix of historical buildings and whitewater in the same scene.
Rok Sribar boofs under the bridge.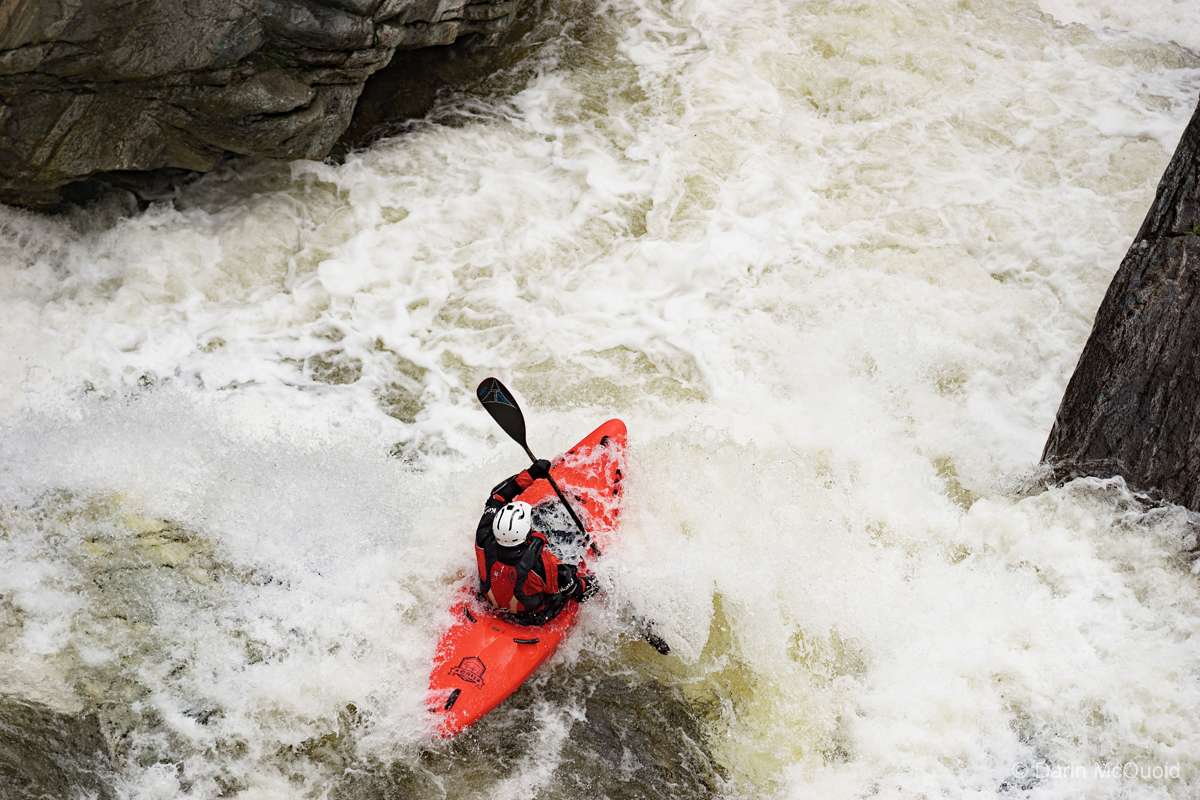 Sony A6000, Sony Zeiss 55mm f/1.8


Perhaps my favorite image from the day, this one takes a moment to enjoy. The house up the steep river canyon at the top really adds depth to the photo. Gerhard Braune.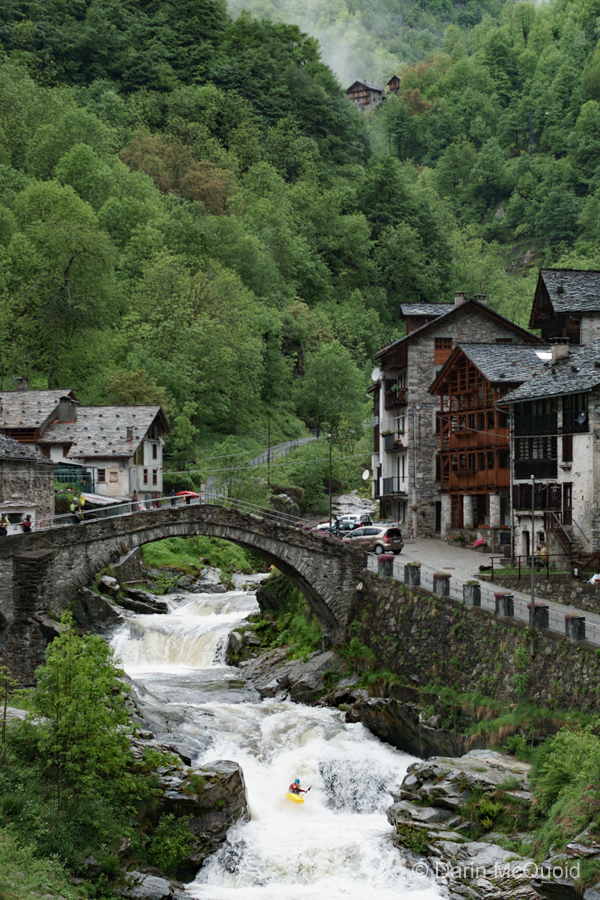 Sony A7, Sony Zeiss 55mm f/1.8
They were kind enough to lap the bridge drop while I took photos. Little bird in the top right!
Gerhard Braune
.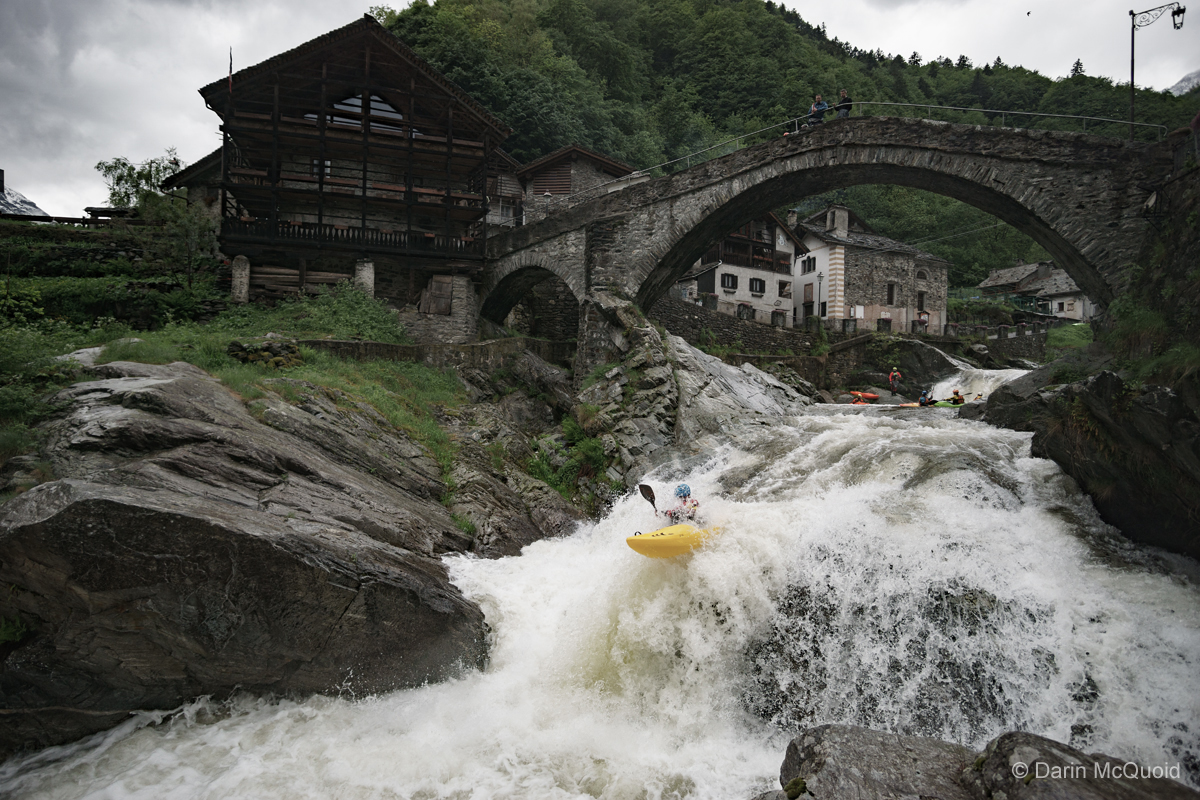 Sony A7, Nikon 16mm f/3.5
Below the bridge rapid we portaged channels and put in on a tributary because it gave us a better downstream view.
Gerhard Braune again.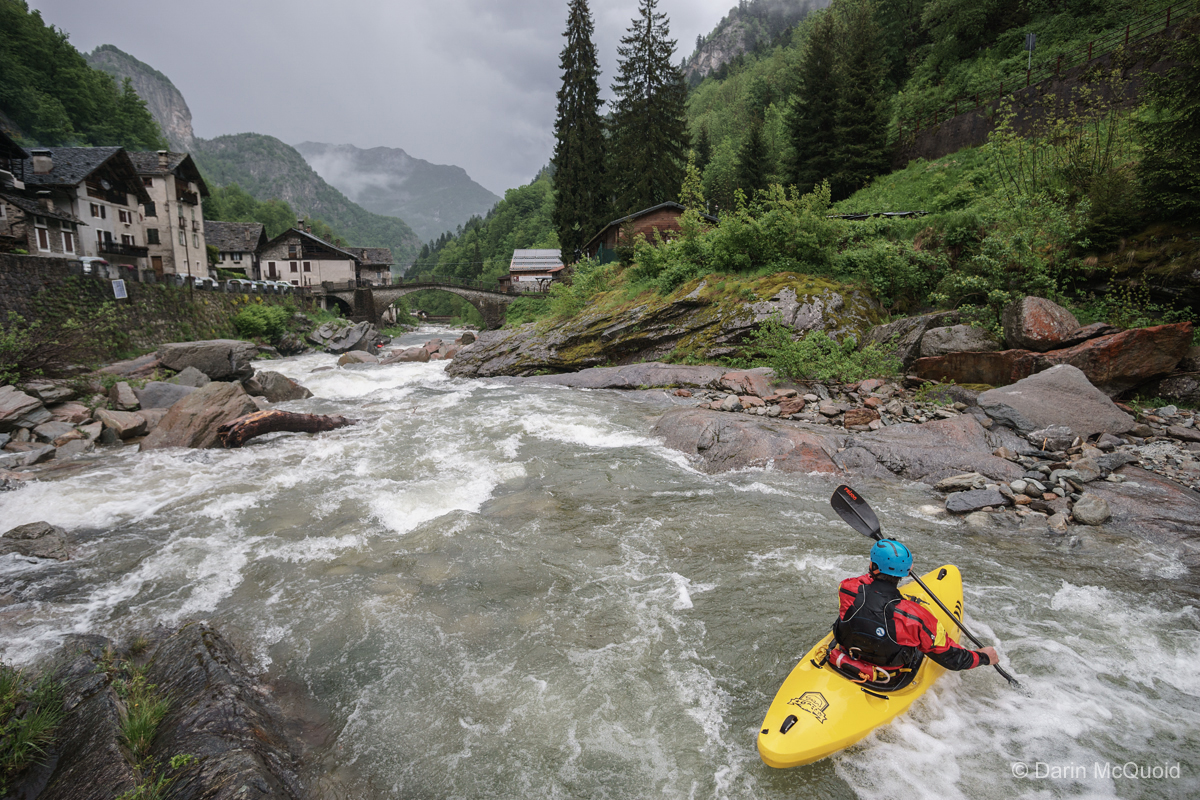 Sony A6000, Samyang 12mm f/2
The run was so good we hiked up to do it again. Toni Prijon.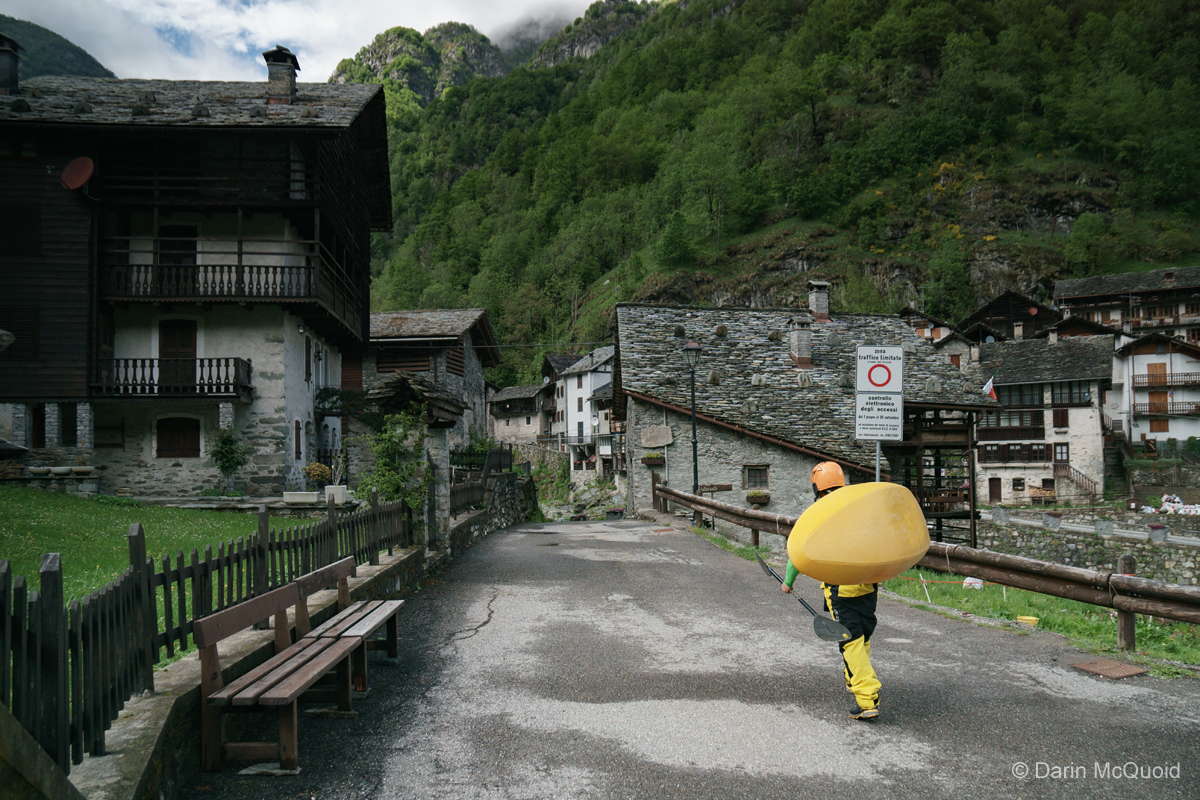 Sony A6000, Sony Zeiss 16-70mm f/4

The sun came out on our second lap. What a charming setting. Toni Prijon and Gerhard Braune.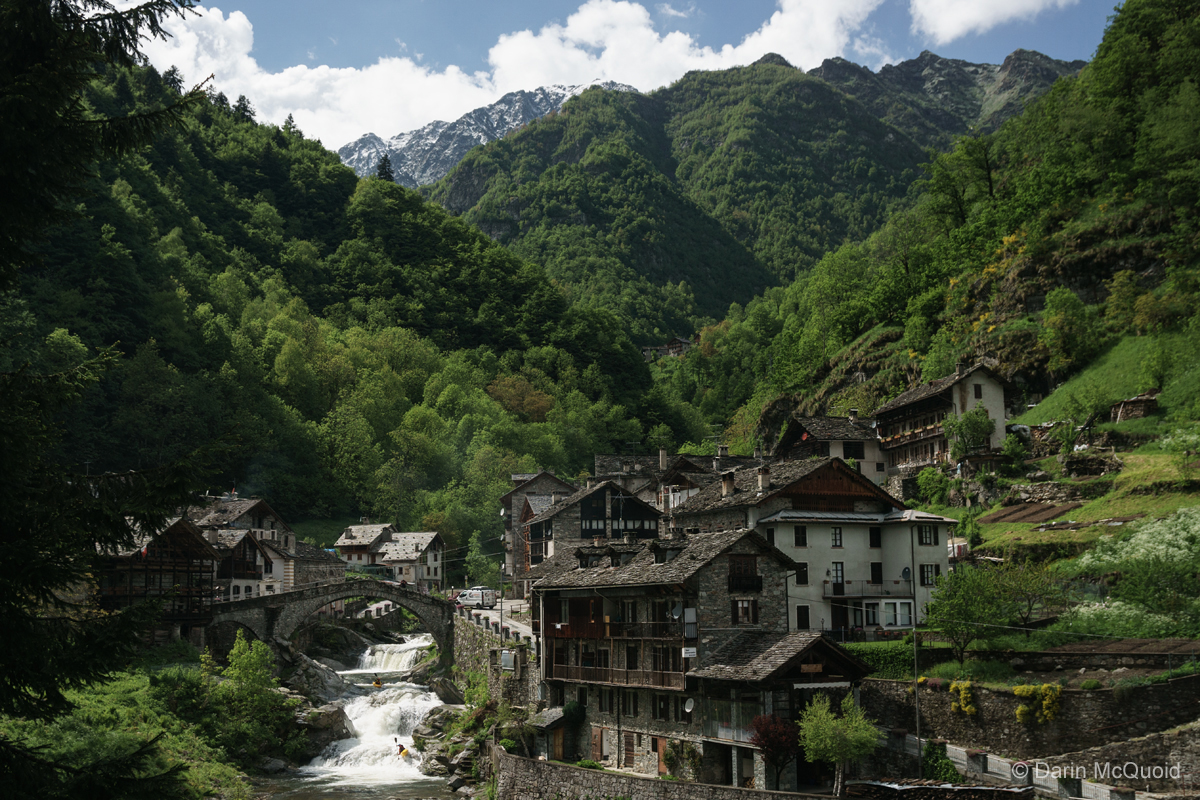 Sony A6000, Sony Zeiss 16-70mm f/4

Rok Sribar, on the second lap it was just us and the locals.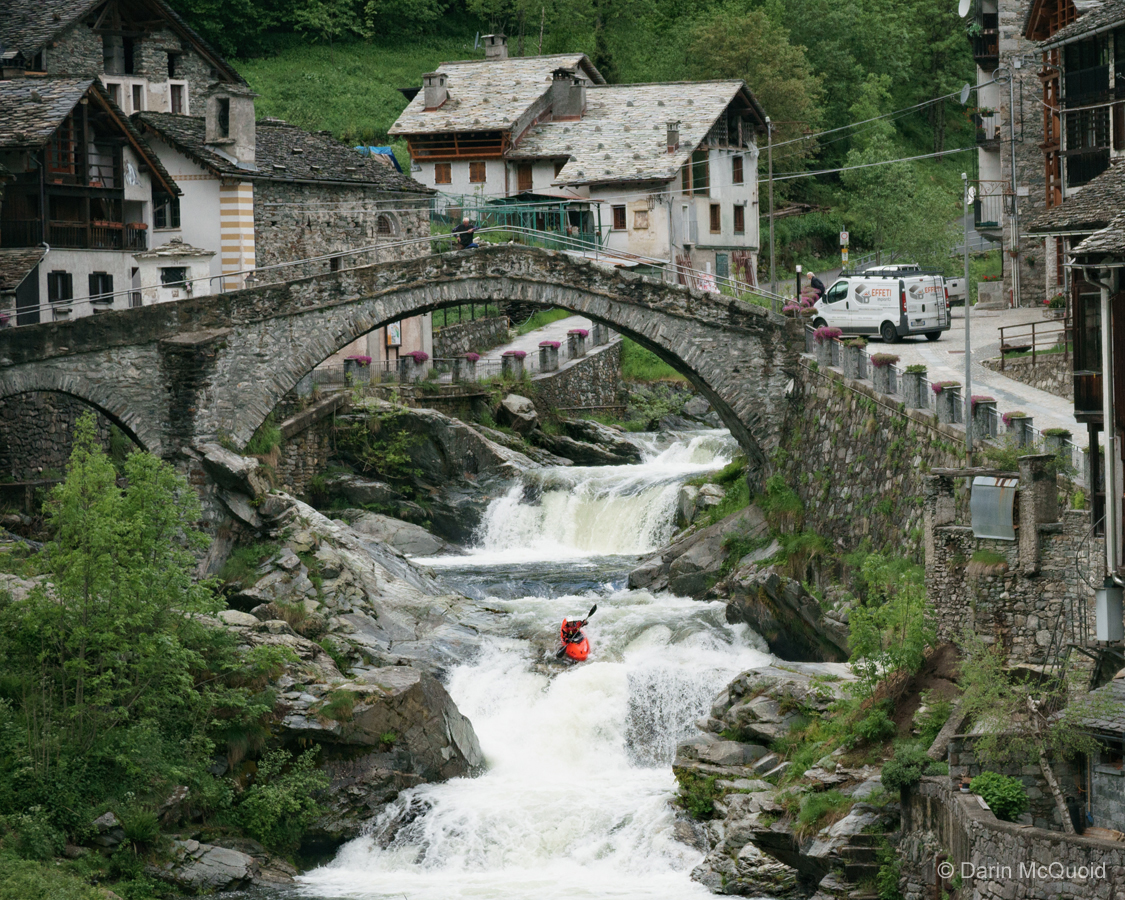 Sony A6000, Sony Zeiss 16-70mm f/4

There are a few big slides just below town, and on our second lap we decided to run those. Toni Prijon enters the triple set.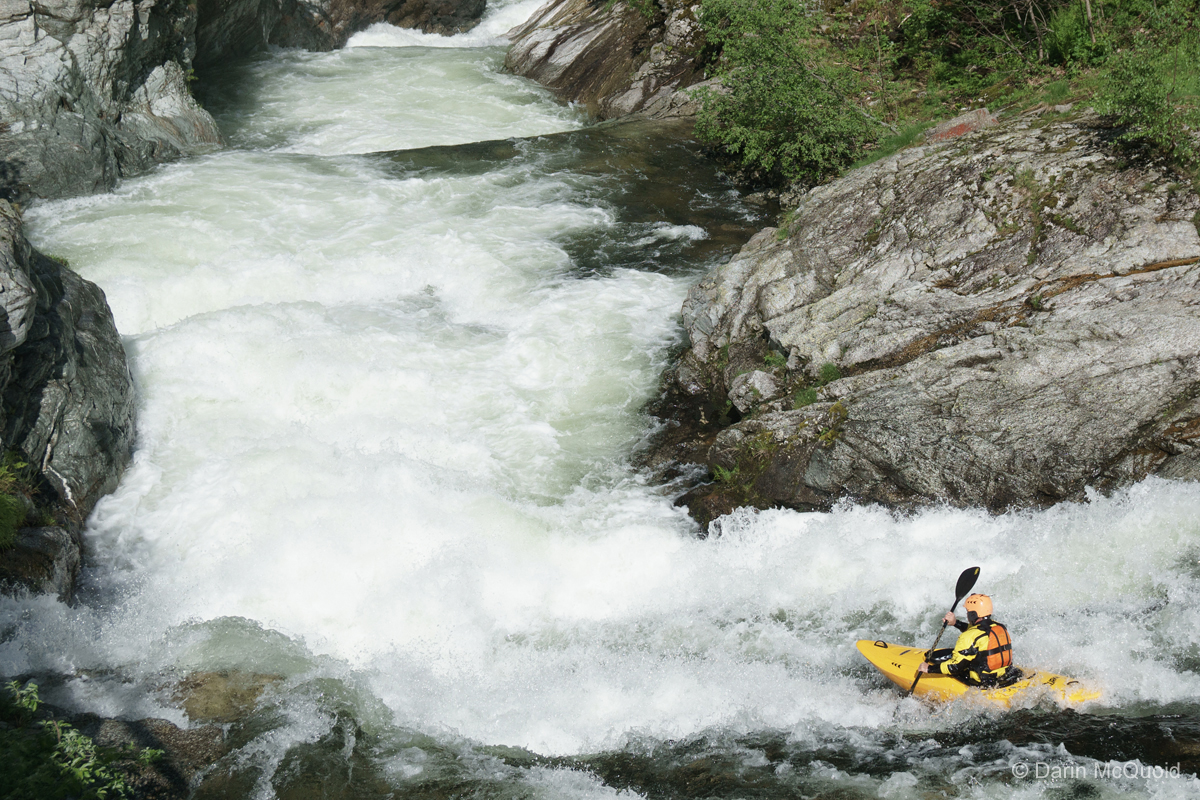 Sony A6000, Sony Zeiss 16-70mm f/4

Rok Sribar heads into the last slide as Toni and Gerhard wait below.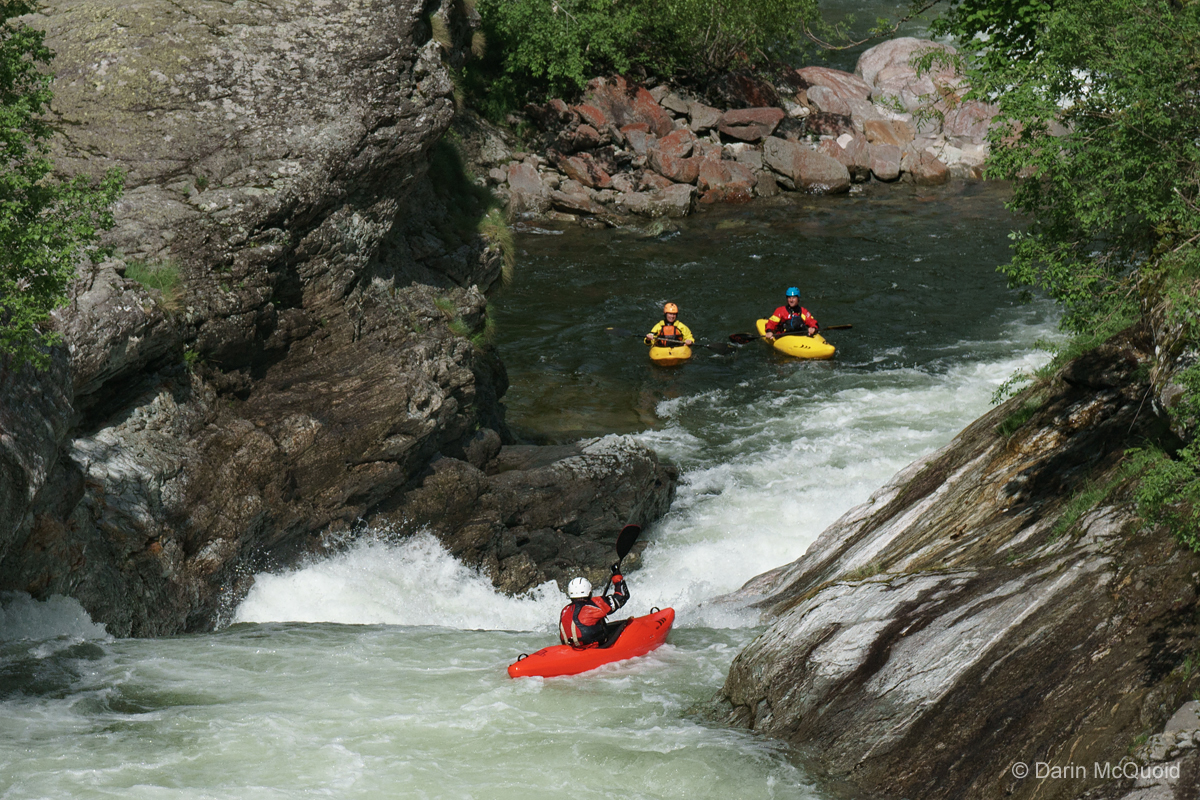 Sony A6000, Sony Zeiss 16-70mm f/4


There is a small restaurant in town. You have to make reservations around noon, but it is well worth it. Nothing like this is able to exist in the states because of all our regulation. A true family run business, the daughter serves food while the mother takes orders and the grandmother cooks, all in their house that has been converted to a restaurant.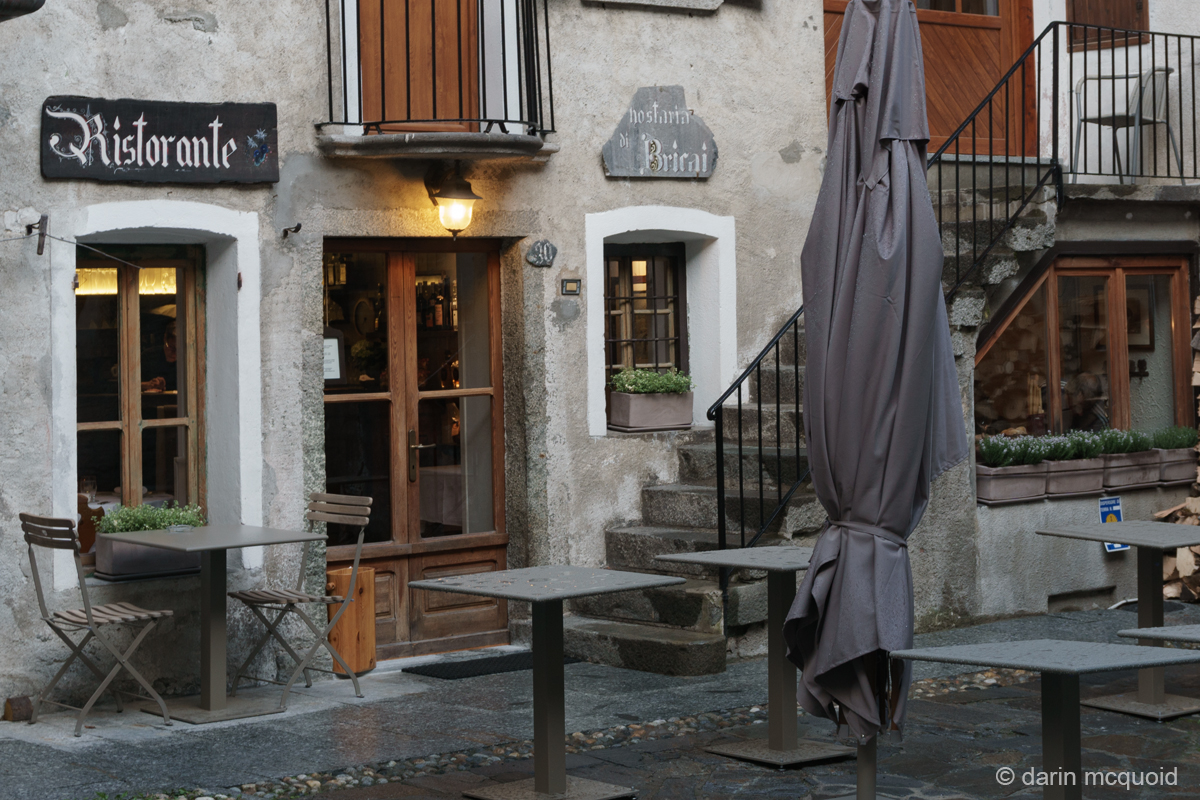 Sony A6000, Sony Zeiss 16-70mm f/4

I had to run out during dinner and capture a few moments in the beautiful town.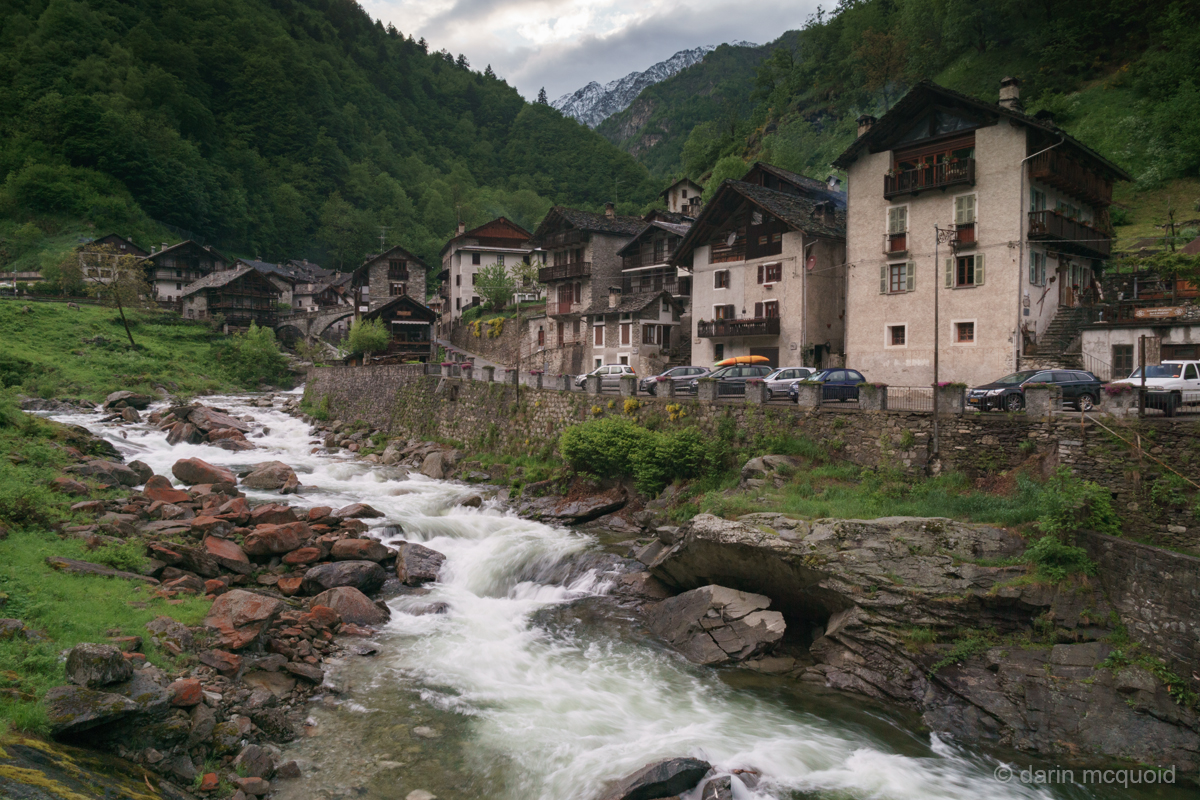 Sony A6000, Sony Zeiss 16-70mm f/4

Night sets in as we enjoy some fine food and company.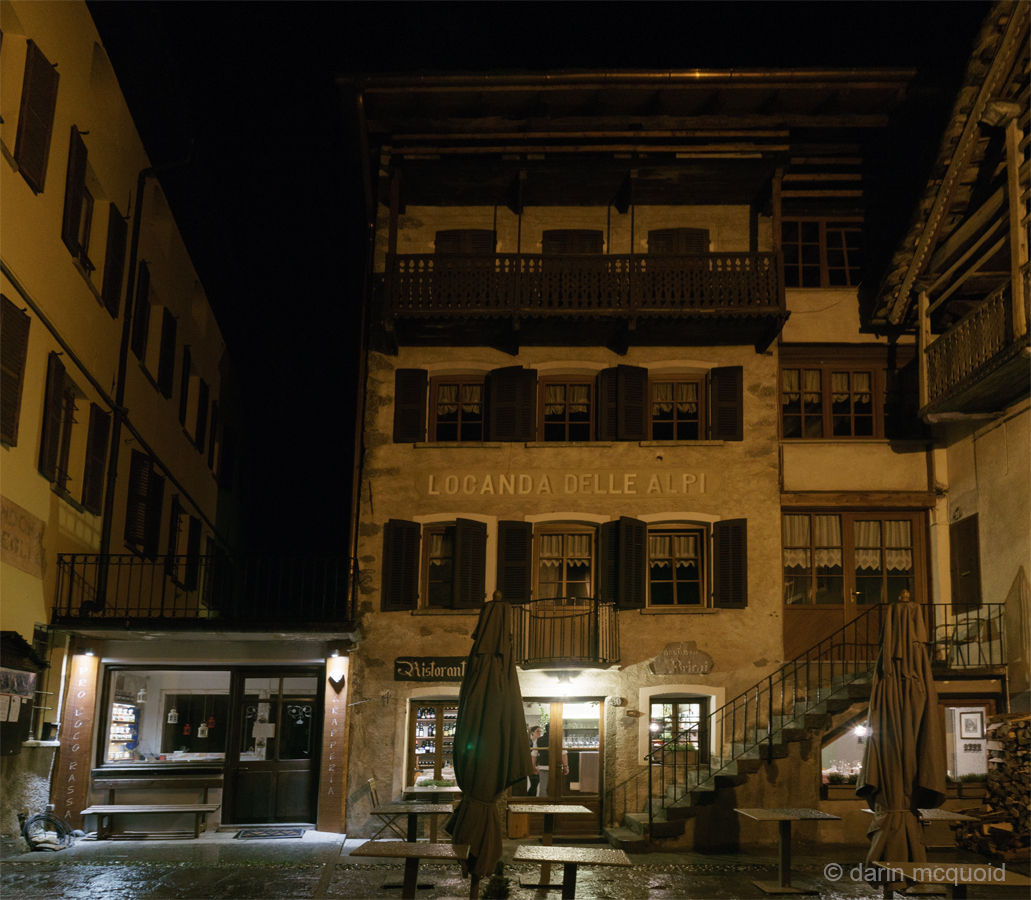 Sony A6000, Sony Zeiss 16-70mm f/4
On to Valsesia 2