Fordyce Creek is a wonderful run surrounded by well intentoned but
outdated beta
and hard to find water flows. Of course his beta is far better than mine for shuttle. Flows are best for hardshells from 300-500. Thanks to
American Whitewater
, Fordyce is back after a several year hiatus from scheduled releases. This run is a wonderful introduction to High Sierra boating, and a nice introduction to class IV-V if someone in the group knows the run well. Scenery and rapids similar to many of the classics, without committing gorges or a remote location. Portaging is always fairly easy and generally consists of "granite sidewalks" with some bush whacking. Getting to the put in varies from year to year, depending on how recently PG&E has had to do work on the dam at Fordyce Lake. As of 2009 the road was rough, requiring a four-wheel drive vehicle. (better in 2010)
Taylor Cavin
squeezed his Subaru Forrester up the road, but higher clearance is advised, I bottomed out my trusty '89 Nissan truck.
A long seven miles of rough roads leads to rewarding views at the put-in
.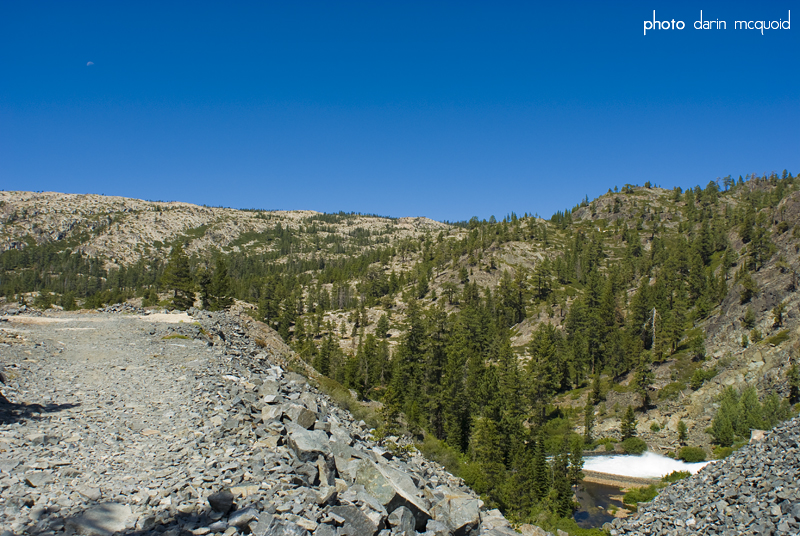 Ten minutes or so of hiking and you are at the heli-pad and gauging station, aka the get in
.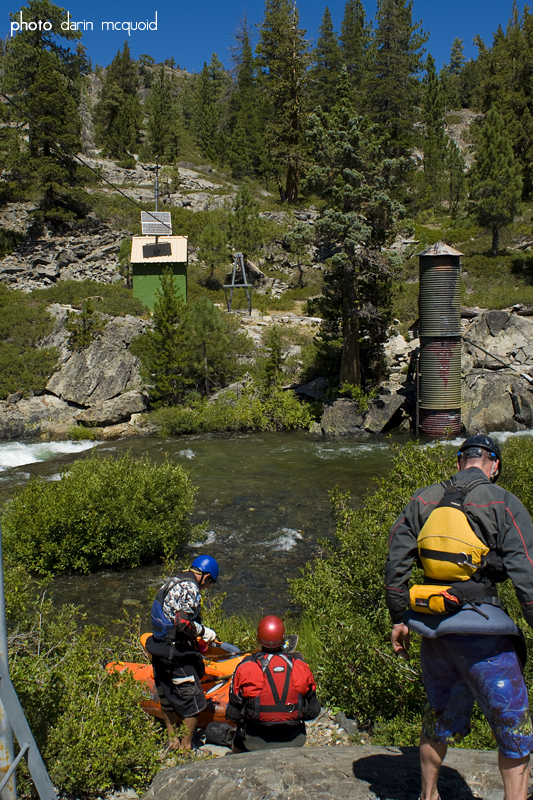 Just around the corner is a log across the river, avoidable on the left, which sets you up just right for Eraserhead, the first and longest slide of the run.
Robbie Hogg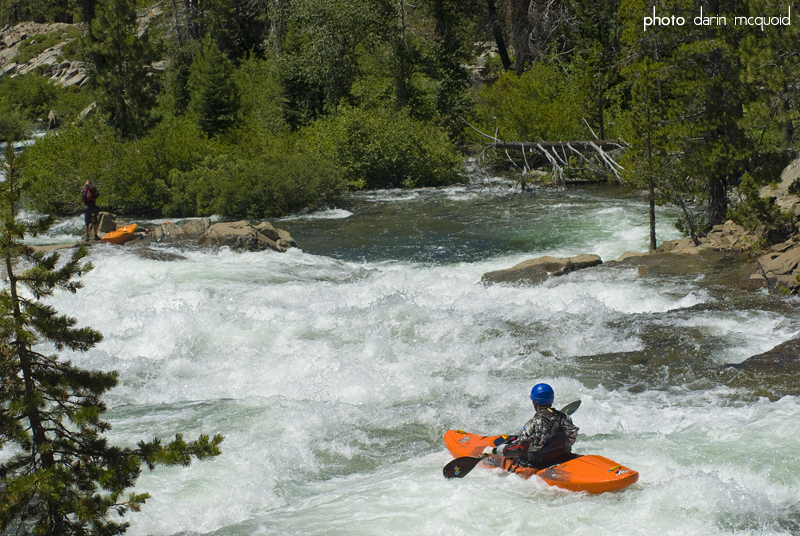 A nice train down Eraserhead.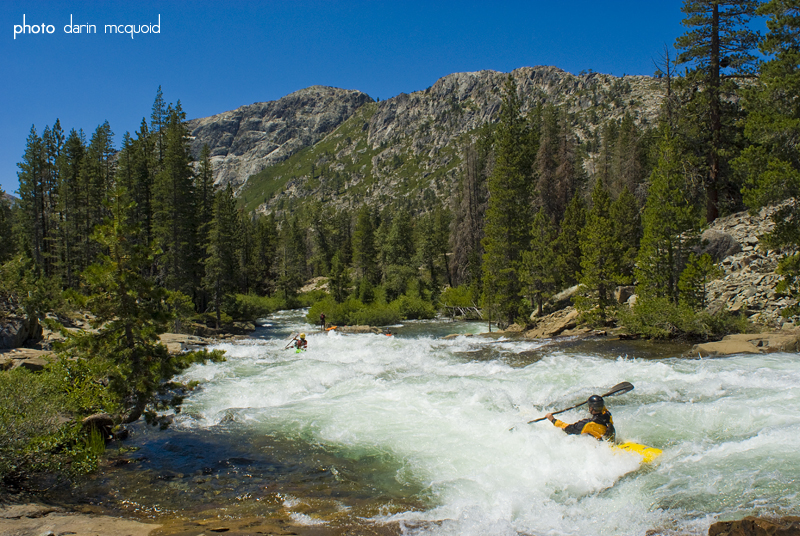 Below Eraserhead is a exciting stretch of IV-IV+ that links together at higher flows. Eventually it mellows out into a large pool above Atomic Piton, which can easily be portaged on either side. Atomic Piton is the most rarely run rapid of Fordyce Creek, due to its namesake, a shallow ledge at the bottom.

Charlie Center boofs over the ledge
.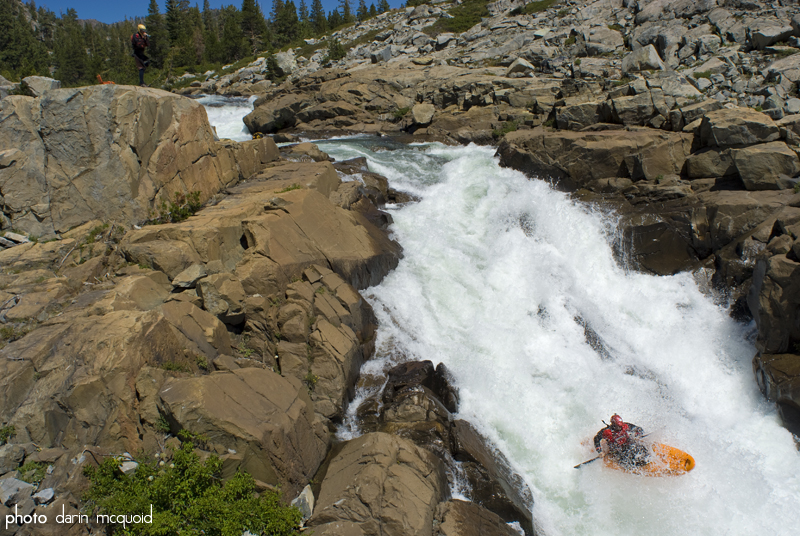 Taylor Cavin on the same.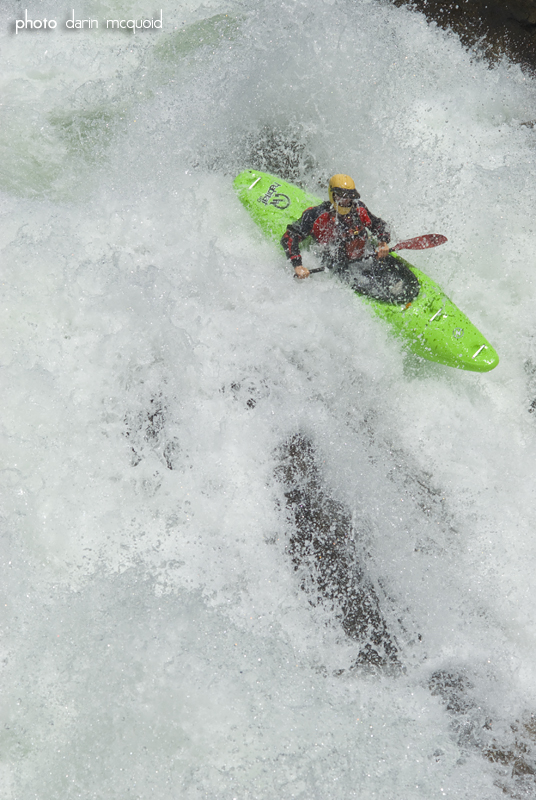 Typical boogie on Fordyce downstream of Atomic Piton.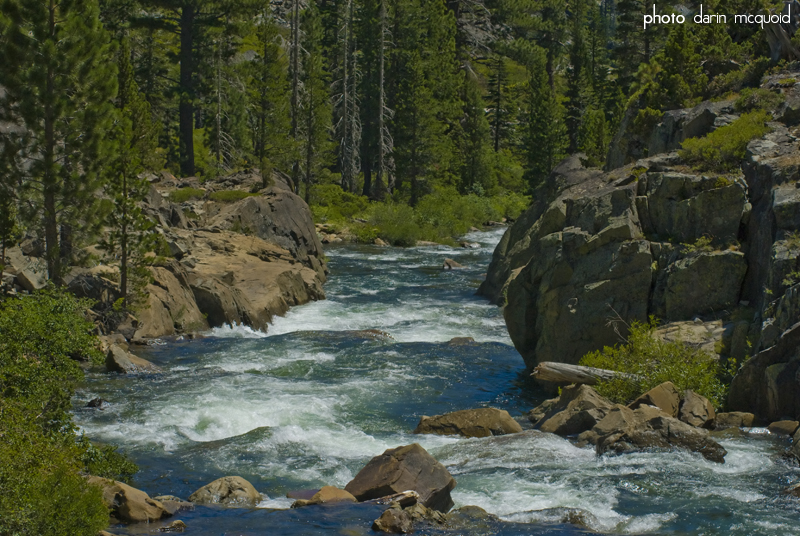 This nice rapid leads into Bishop's Balcony, which is generally run on the far right, and occasionally on the tougher left line. Bishop's Balcony goes into a fun mini gorge that class IV boaters will want to scout and or portage from above Bishop's on the left. Exiting Bishop's mini gorge, the river takes a steep bend to the right and maintains class IV character right to the lip of Rotator Cuff, a clean but potentially sticky slide to vertical fall. Eddy, scout and or portage on the left.


Taylor Cavin demonstrates a nice boof over Rotator Cuff.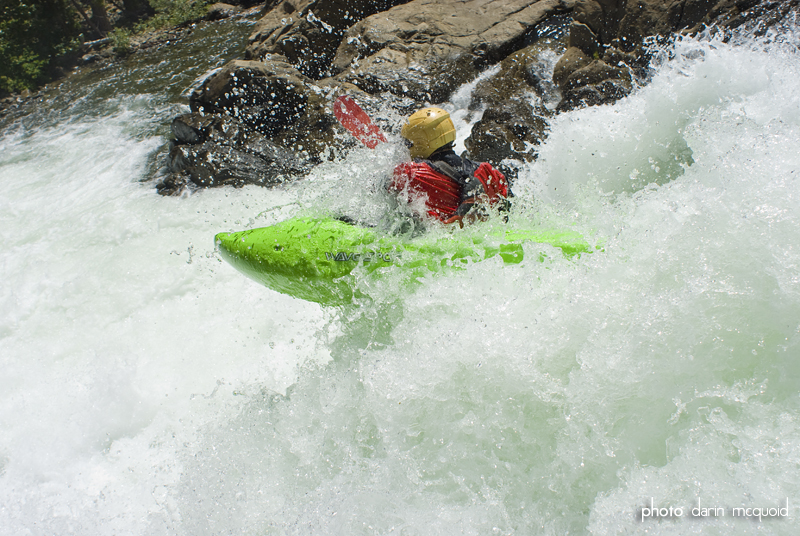 Once past Rotator Cuff the gradient eases off, with a few nice drops mixed between several miles of meandering meadows.
Shannamar Dewey scouting one of the larger meadow rapids, "Big Squeeze", free of logs in 2010.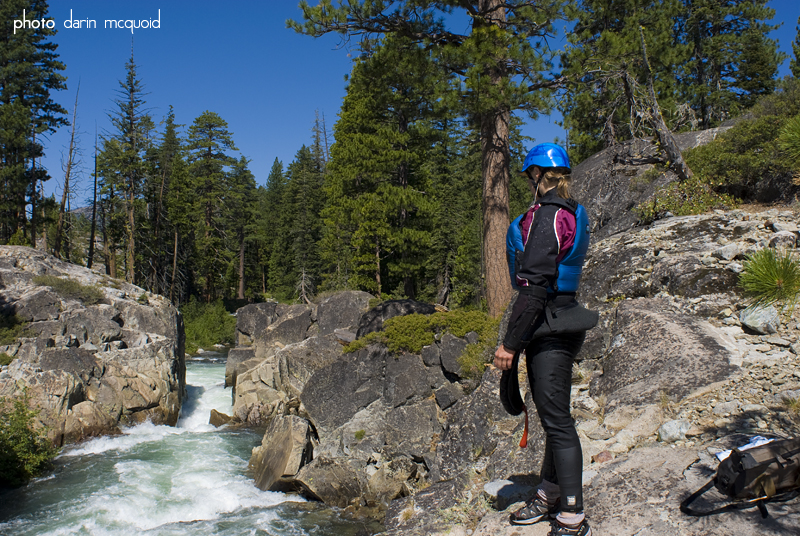 Taylor Cavin getting left on "Where's Barry", also wood free as of 2010.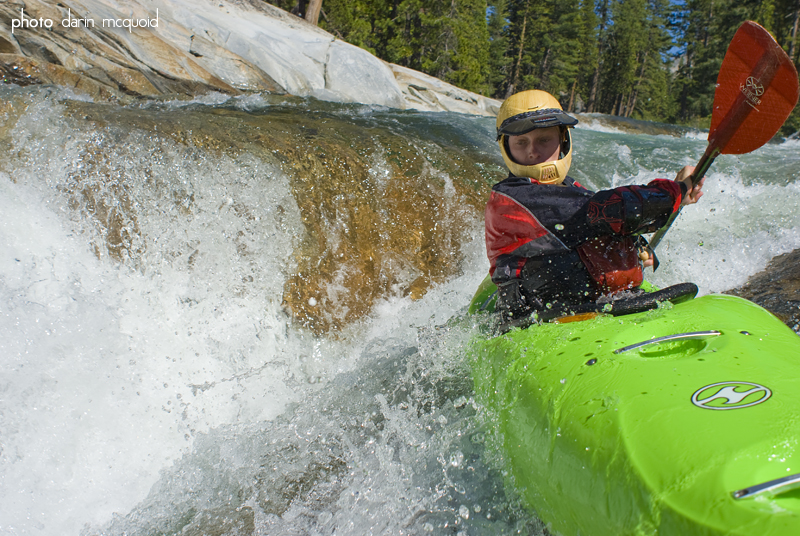 A mix of rapids and flats lead to Insanity Falls aka Bad Seed, commonly portaged on the right. This drop is run more often than Atomic Piton and goes better than it looks.
Charlie Center.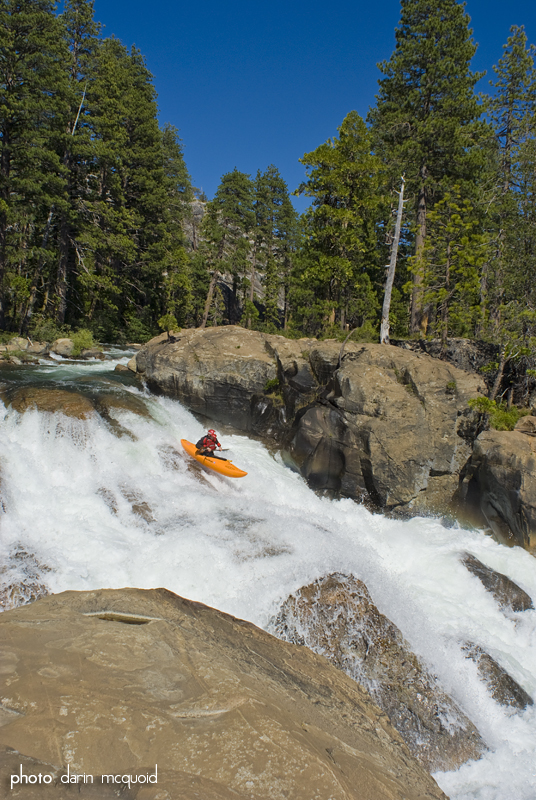 Flat water maintains with a few rapids for the next mile or so, until the pace picks up with some fun slides leading into Fordyce Falls aka In Your Face. A class IV entrance leads to a wide and fun 10' falls that should be finished on the left.
Shannamar Dewey on the entrance.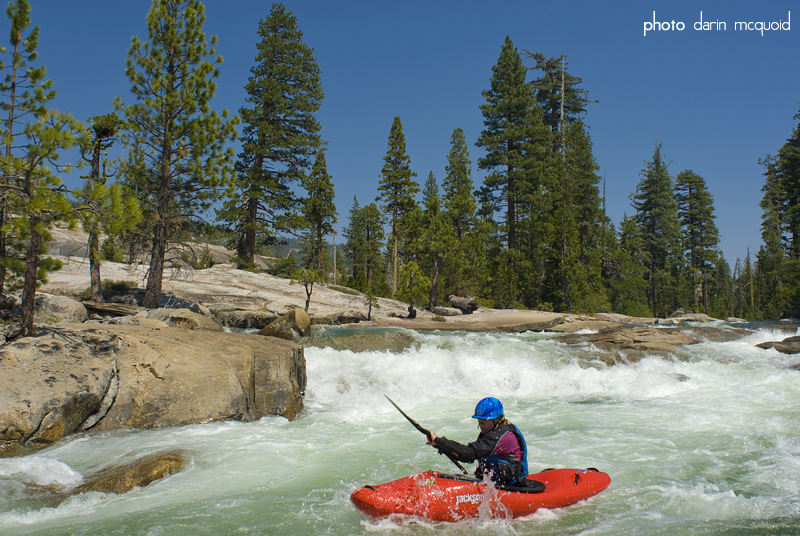 Shannamar Dewey enjoys the final plunge.

Just a few rapids lead into Split Falls, which can be portaged on the right but has proven to be cleaner than it looks and is normally run.
Taylor Robertson enjoying one of the best on Fordyce
.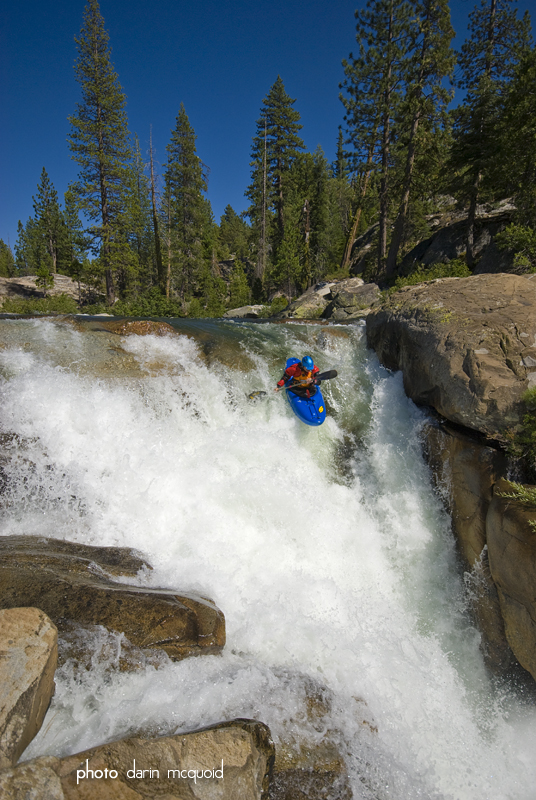 Showing how split falls got it's name.
Jesse Shimrock
.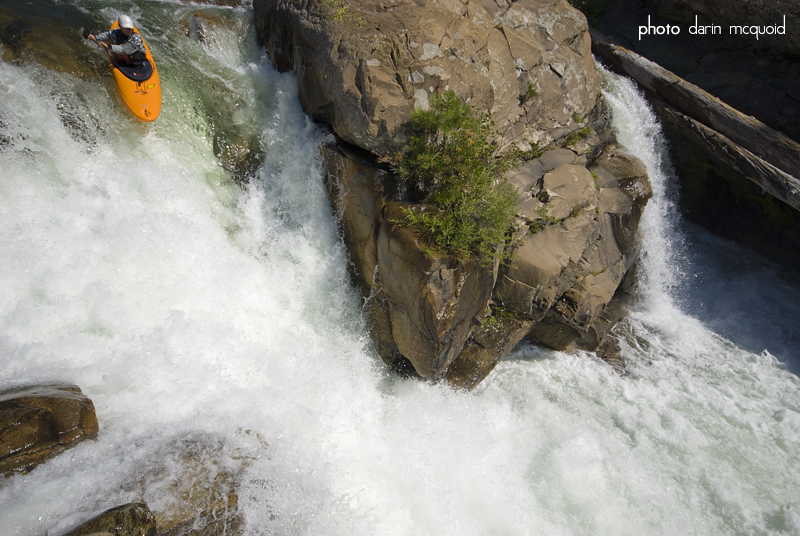 Bending through a meadow with nice pool drop rapids, the river picks up gradient again as it plunges over "The Hole that Ate the Donner Party". Terrible at low flows, the line opens up beautifully at 500cfs.
Getting left on the hole that ate donner.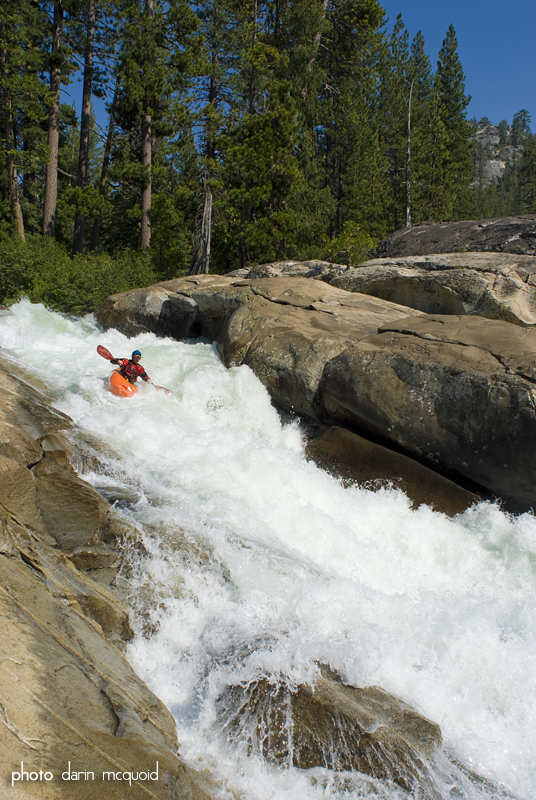 Knobs lies below Donner, a solid class V rapid that can be portaged on either side, or run with a strong middle to left move. The run out from Knobs leads into Just a Big Class IV, a fun slide before the mank begins.
A legend runs a legend, Deiter King exits Just a Big IV.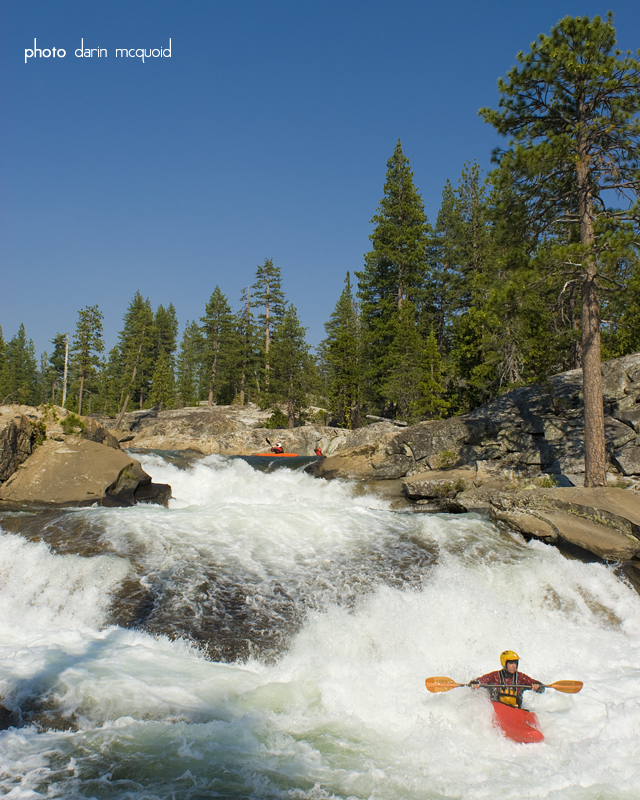 Devin Knight on the same.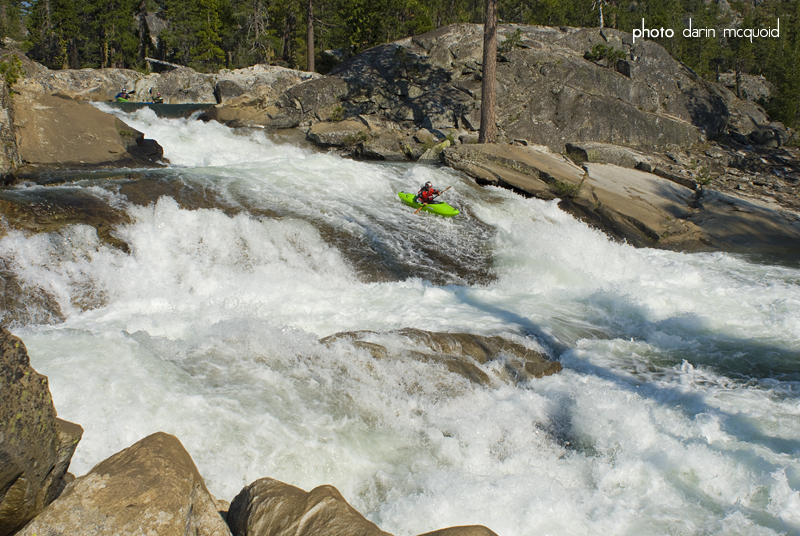 Just a Big IV marks the end of the good stuff, and the river turns into a manky boulder garden until reaching Spaulding Lake. It can all be run, or portaged via a trail on the left. From the confluence it's a two mile paddling across the lake to the boat ramp.
Getting done with a great day on Fordyce.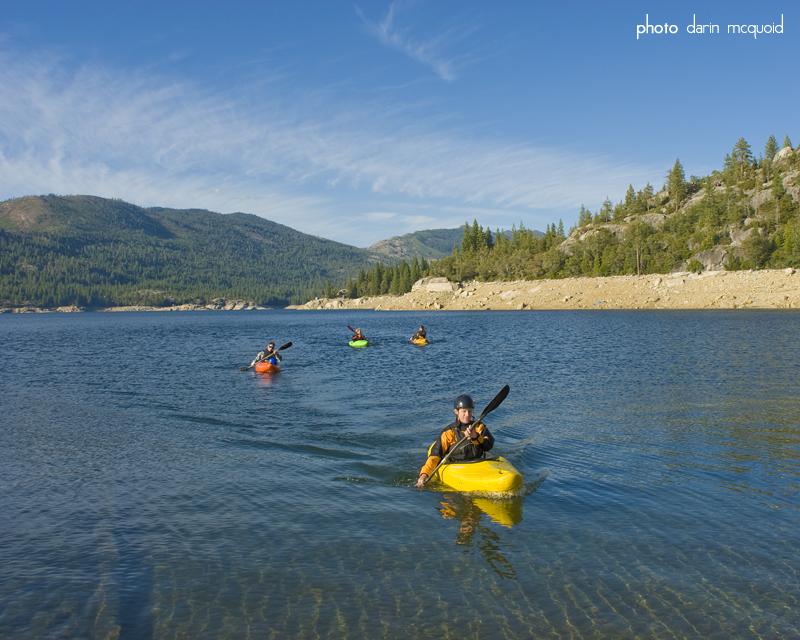 A bonus to the summer weekend release is close by climbing for those who find it to be too mellow of a day...