Chris Korbulic and Ryan Knight planned to blue angel the slide, but the hole disagreed and spaced them out. Chris Korbulic.
Devin Knight.
Ryan Knight.
It just keeps going, with "Little Niagara" wrapping around a bend into a boof - Chris Korbulic.
Little Niagara is occasionally portaged due to a cave awaiting paddlers who fail the boof. At lower flows it's a pretty easy boof though, and we couldn't resist more blue angels. Ryan Knight and Darin McQuoid.
A few read and run rapids led into one more slide that dropped us in the pool where we previously put in. Devin Knight.
Here we are unloading boats a little ways downstream from the normal Hospital Rock put-in. Putting in here takes out the steepest section of the run.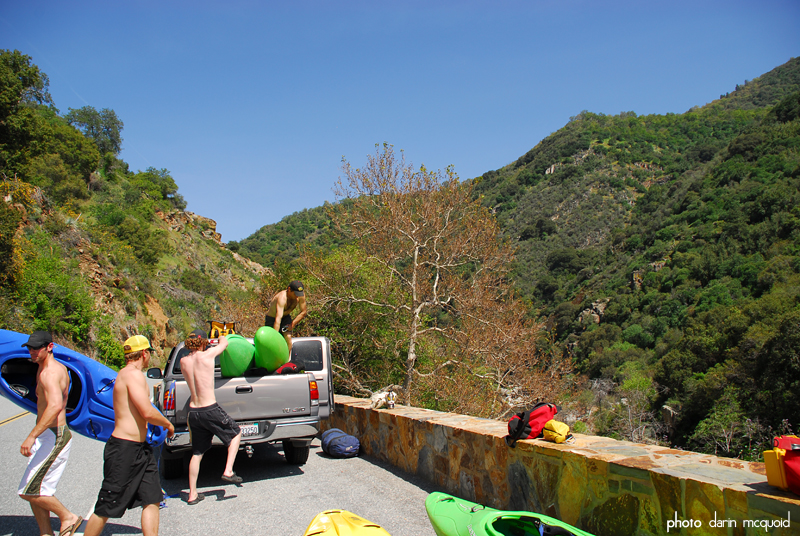 Holbek & Stanley state: "This section of the Kaweah isn't a classic…" and the
Kaweah River Log



says "Be reminded that this section and the continuence of the Middle Fork to the park boundary is very difficult and dangerous whitewater and should be attempted ONLY by experts under the most favorable conditions in strong groups."
These sources and the long driving distance had been enough to steer me away from the Kaweah drainage. Word of mouth made the Kaweah drainage sound a lot better, and a lack of water anywhere else had us heading down to the Kaweah Drainage. We had medium low flows of 650 @
Three Rivers.
Traffic was bad on our drive down, so we arrived late and lazed around in the sun at
Three Rivers Hideaway,
some boater friendly camping right outside the park.
We put on late in the day at three thirty in the afternoon. Taylor Robertson was leading the charge on the water, and with his uncanny ability to remember all the lines on an astounding number of runs, we made quick time down Hospital Rock. We made one quick portage and stopped to scout twice, one of the times being the "420 Gorge".
Upstream view from the scout.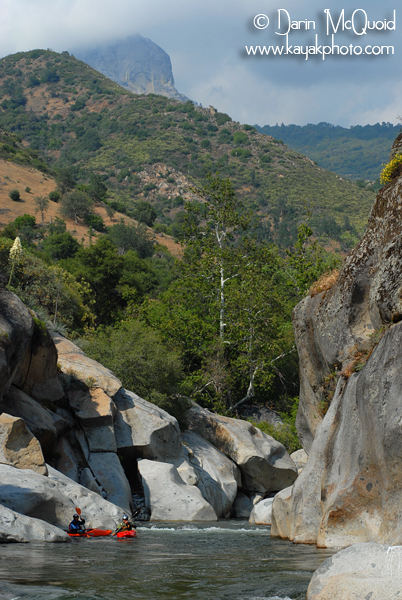 Ryan and Devin Knight running the fun gorge.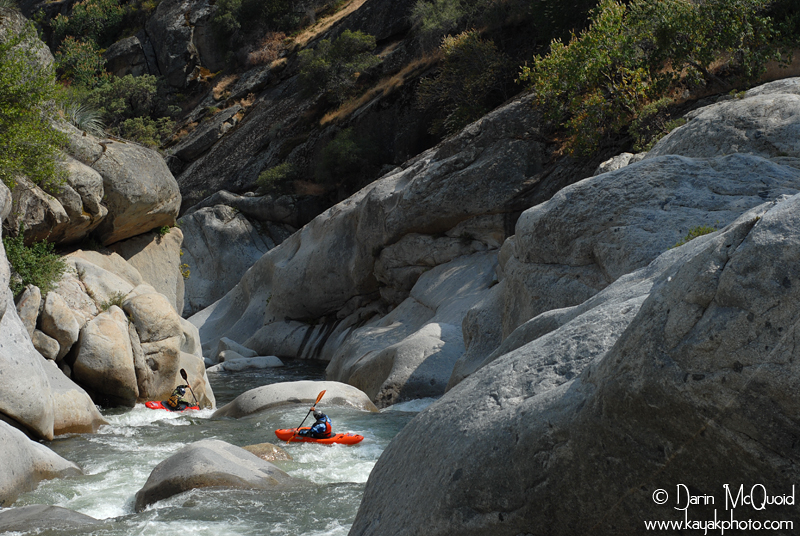 You can't really scout the last move that's on the left, but just drive back to the right side of the left channel.
Standard Hospital Rock fun...Ryan Knight.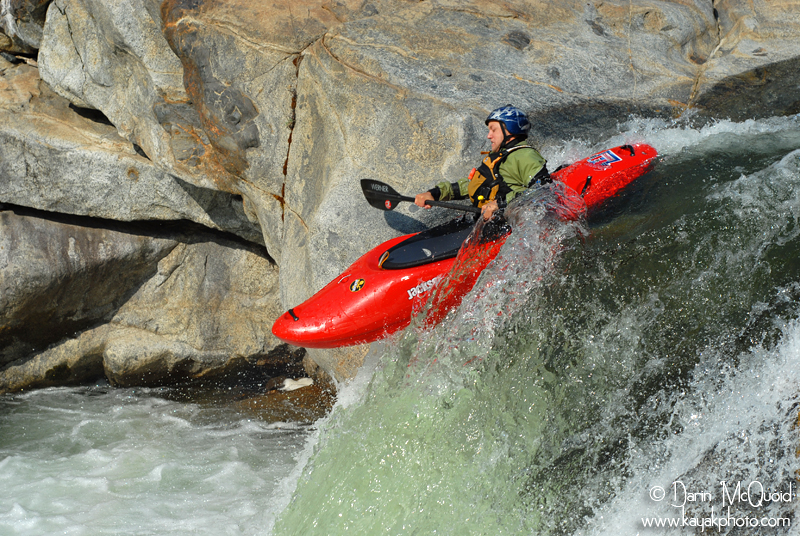 We ran a lot of class V blind with good instructions from Taylor, and soon enough arrived at zero to sixty, the most famous rapid of the run where he told us to scout while he probed away. This is a great drop, but not as large as I had mentally pictured it to be, as it's not the drop named "0-60" in the Doc's Proplugs ad.
Shon Bollock running 0-60 from an upstream view.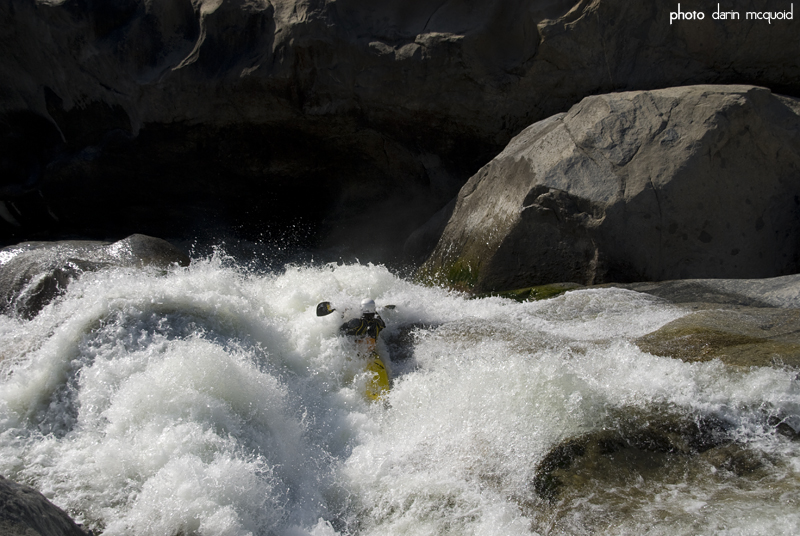 The major hazard in zero to sixty is a cave on the right, although at lower flows people can paddle out of it. Devin got in it his first run and hiked back up for a redemption run.
Here is Devin Knight getting redemption with Taylor Robertson in the foreground.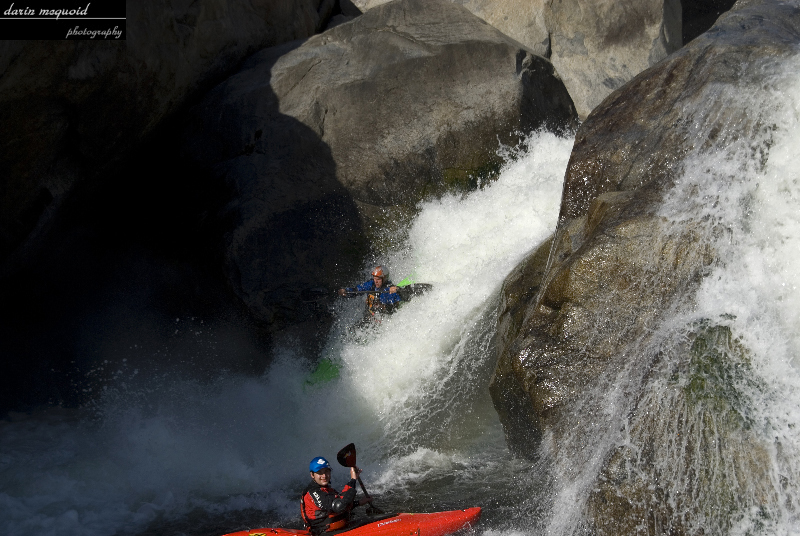 And one more view from a different trip with similar flows.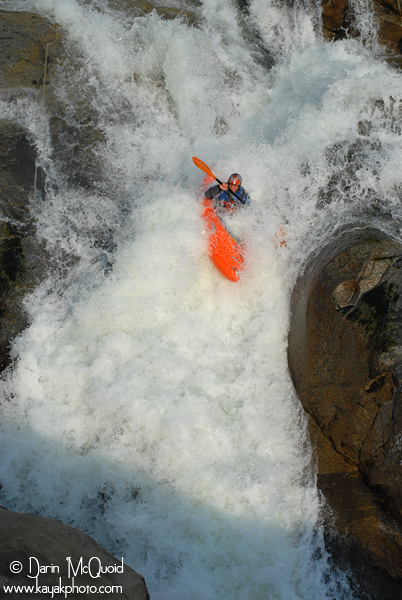 Hospital Rock is a class V classic that generally has a decently long flow window in the spring. If you don't have someone in your group that knows the run, plan on a full day with lots of scouting and a portage or two where necessary. We took out at Potwisha, but the run stays high quality class V for a long ways when flows are higher. At lower flows it's just a bit too boney to make continuing on worthwhile. All logistical info can be found in The Best Whitewater in California, or a AAA map. This one is easy to figure out. You will have to pay to enter the park, either $20 for a week long pass, $30 for a year or $80 for an all year all parks pass.