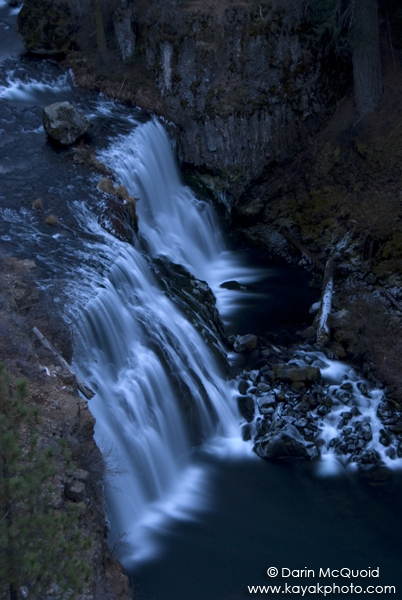 For Mount Shasta kayakers, McCloud falls is a common sight seeing stop while embarking on a standard McCloud River run. Early on I had written off middle falls as an un-ideal waterfall due the combination of a tricky shallow slide leading in, an abrupt lip and forty to fifty foot free fall, way too big for me.
Ryan Knight finishing off another epic South Branch run.
Ending another epic day on the
South Branch Feather
in mid May, we weighed our options and drove over halfway to Slate Creek of the Yuba before camping out on the South Fork Feather. It's not always paved roads with easy park and hucks.
Wood on the road?
Snowbanks, and we thought snow pack was lower than this.
And even more snow…no problem.
We ended up turning around and taking an alternate route.
Waking up relatively early, we rallied to Slate Creek and found flows to be slightly less than optimal.
Driving all the way out to Slate Creek had ruled out Big Kimshew from our list, so we opted to check out a local secret in the Pit River drainage, but after three hours of driving were skunked again, and decided to continue our loop up through McCloud falls to check the flows. I have since retured to
Slate Creek
at the right flow now that there is a gauge.
Where is the water at?
Not knowing how flows we looked, we called in friends and family for a nice Sunday BBQ at the Upper Falls. While everyone pulled in we scouted both Upper and Middle Falls. Initially the Middle Falls looked low, but from the base the four foot high boil looked plenty inviting, so we were off to Upper Falls.
The McCloud Falls are interesting because although they are located in close proximity, they all differ vastly in character. Upper Falls has a fifty yard long box canyon leading into a two tiered thirty foot free fall, Middle Falls is a low angle slide into a fifty foot free fall, and Lower Falls is a ten foot falls with a gigantic undercut.
We all agreed about one thing on Upper Falls. Flows were really high, and we all felt that we had at best, a 50% chance of coming over the lip upright. Since the falls drops ten feet onto a slab before free falling another twenty, we quickly wrote it off and headed up to picnic.
Picnics tend to be relaxing, and in a beautiful setting like the McCloud river, the mellow picnicking was killing any ambition of running Middle Falls. Eventually as the food settled we slowly moved towards our gear, without anyone promising to actually run the falls, we put in at the base of Upper Falls and tried to ignore the impending horizon line just a quarter mile downstream.
Middle Falls has an interesting lead in rapid. Not particularly challenging in size, the rapid runs out into a low angle, very shallow slide that continues right over the falls. Due to the volcanic nature of the rock, slides on the McCloud are hard to move around so we portaged down to an eddy at the top of the slide, and commenced scouting.
Scouting Middle Falls on the McCloud is absolutely terrifying! First we scrambled across exposed scree fields to an outcropping twenty feet above the lip of the falls. Uncomfortable with heights, I took once glance over from the exposed ledge and called it good. I instantly felt like I'd rather run the falls than stand at the brink. The downside was from my one brief glimpse the falls looked terrible, an abnormal shallow slide right to the lip of a massive drop, with no clean ramp and minimal green water to speak of.
I also noticed that due to lighting, there wasn't a shot I wanted to get from the lip, so at least I wouldn't have to lean over trying to get a photo, all the goods would be gotten from downstream, one more reason for me to probe.
Devin Knight on the lead in to Middle Falls on the McCloud.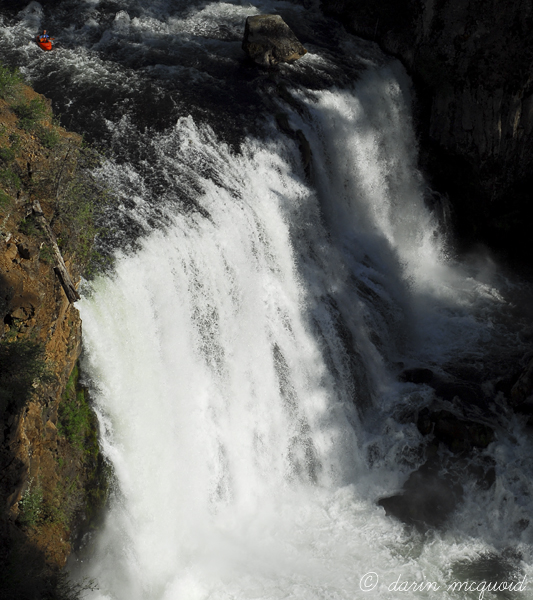 Hiking back up I got my boat positioned to launch in the eddy, gather several logs and gave them a toss to see how hard the slide was pushing to the right. The first log I threw into where I assumed my line would be, and it was quickly pushed all the way into the right wall by the time it reached the lip. I threw the next one in two feet to the left, and it went over right where I wanted to be, about four feet off the wall. This was looking like a narrow line, but there were two nice tufts of grass sticking out of the water, and they marked the entrance perfectly.
Confident in my ability to go over the correct spot at the bare minimum, and willing to deal with going over vertical into the (relatively) soft landing, I got in my boat and focused on my line.
From the eddy I received the good to go signal, splashed some cold water on my face and peeled out into the shallow slide. Coming in I was worried about being too far right, and after goal posting the grass tufts, I felt like I was too far left, and only a few feet from the lip took two back strokes as an upstream ferry to move me a little more right, then I pitched over the lip, took one long stroke and slowly tucked forward, feeling myself go to vertical and just a little past before melting into the boil at the bottom. I resurfaced downstream and quickly rolled, adrenaline and relief rushing through my body, with a huge smile on my face.
One probe unit about to go deep.
Running up to a rock outcropping high above the falls, I got setup to get shots of Devin Knight running a perfect line over the falls.
Devin Knight lost in the mist at the base….
Matt Thomas enjoying some California sunshine.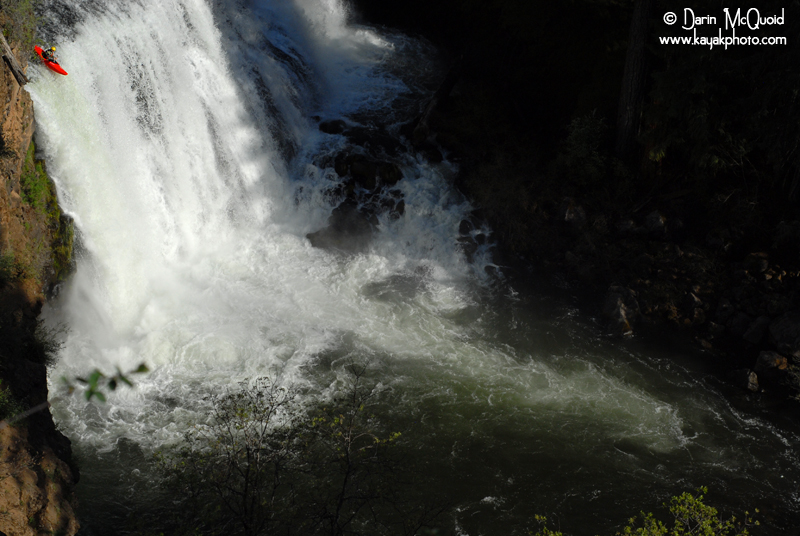 Ryan Knight staying on top of it on McCloud Falls.
Middle Falls was exceptionally rewarding for those of us who had grown up looking at its beauty, and we were glad to have everyone emerge safe and sound from such a consequential drop.
We had flows of 1150 at
McCloud Reservoir.
Shannamar Dewey runs "Fowler Falls" at normal summer flows.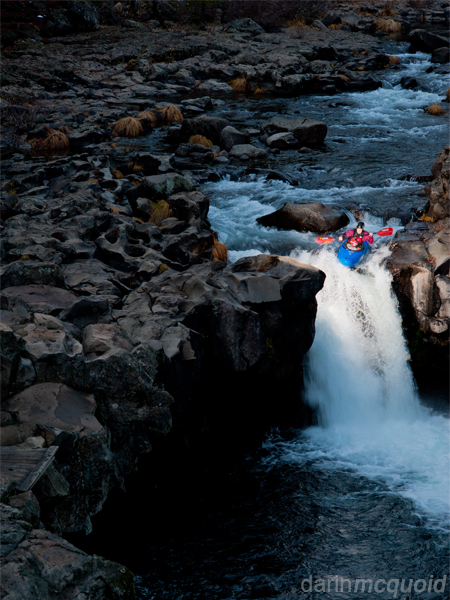 The author on Upper McCloud Falls at late fall flows.