Is this it?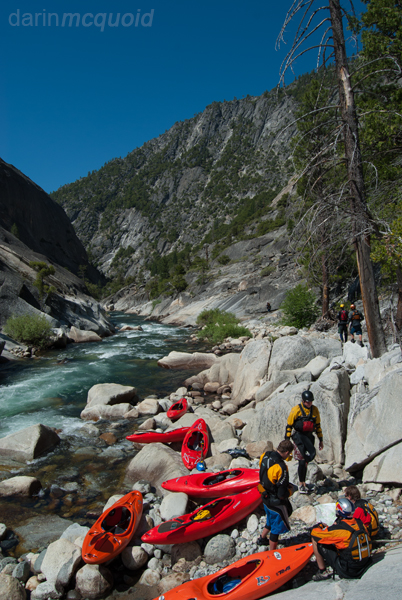 An hour or two of warm up read and run IV-V rapids led into a massive gorge downstream of camp one. Was this the notorious Crucible? We knew we should be seeing Balloon Dome, but was it just hidden behind the large gorge walls?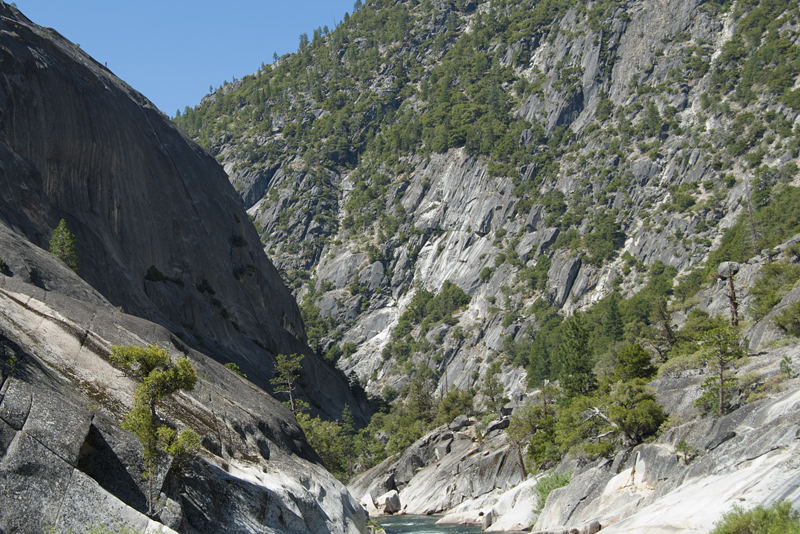 Scott, Evan and Tyler scouted while the rest of us poured over the map and debated on the likelihood of this being the Crucible. By the time the scouting party returned we had decided this wasn't the Crucible, which they confirmed. Over the next two hours Taylor and Charlie led the charge with some of the best boat scouting I have ever seen. Despite running many class V drops I didn't have to get out of my boats all morning, and as a group we only had to send out a scout three or four times.


2008, even higher flows in the "class IV" section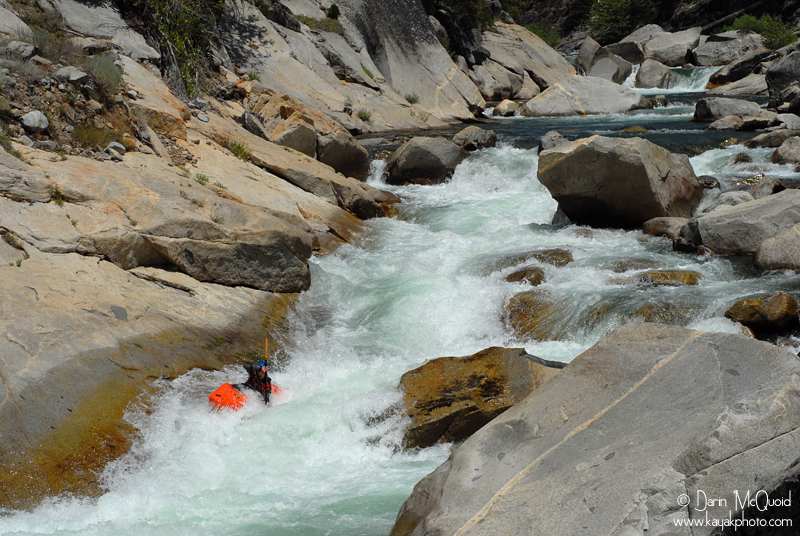 From left to right: Ben Brown, Rush Sturges, Evan Garcia, Tyler Bradt and Scott Ligare.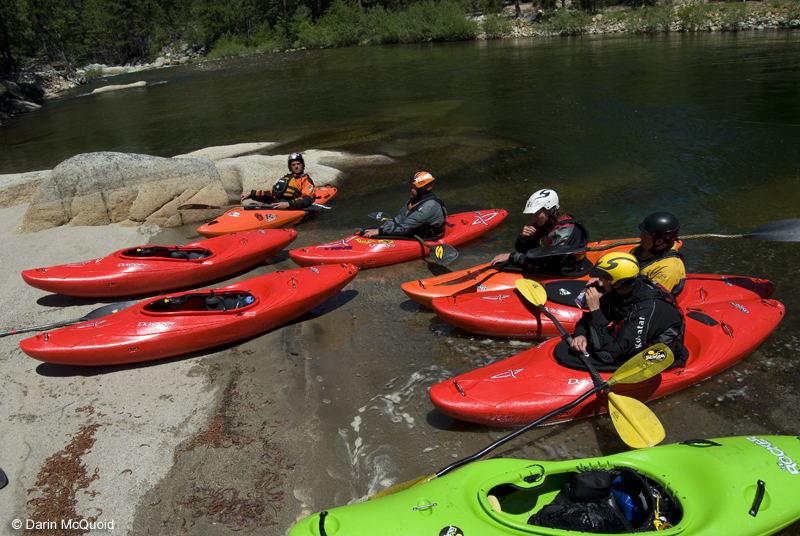 We had reached Miller's Crossing, an old cable crossing on the San Joaquin. The old gauging station here has fallen into neglect and is somewhat abandoned, as is the trail to Miller's Crossing. Walking up the beach I found Taylor pumping a local backpacker for all the knowledge he had of the area, which could be boiled down to the Cassidy crossing being another four miles downstream and the Crucible within another mile of the Cassidy crossing. And that we were past the edge of our only map, making it completely obsolete.
Taylor Robertson and Charlie Center talking to a local backpacker who was rather surprised to see us.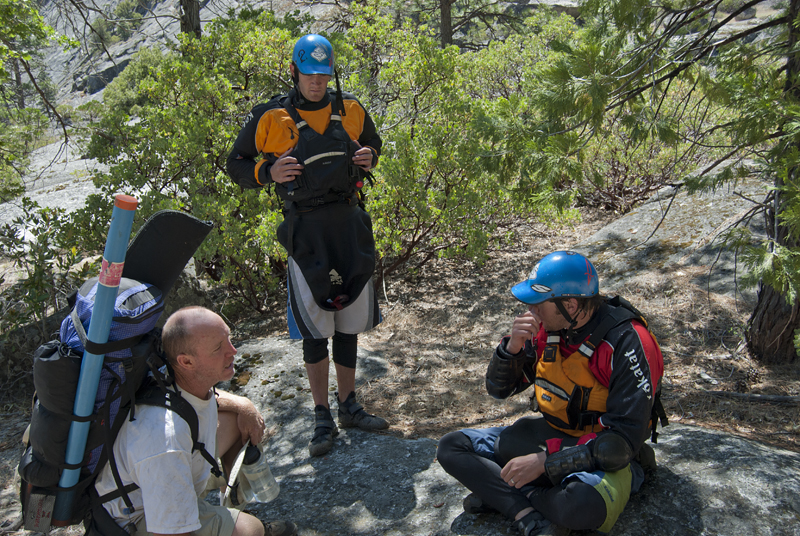 Four miles of read and run rapids behind us and we got out for lunch at Cassidy crossing, a bridge erected in 1956 to connect backpacking trails. For the previous mile Balloon Dome had been in and out of our perception as the river twisted and turned. A large gorge started immediately downstream from Cassidy, and after some debate we decided to take a half day, and save the Crucible and paddle out for our third day. We had a great camp site and didn't want to end up in the "Purgatory Camp" like the folks from the Seven Rivers Expedition.
Our beautiful camp site at Cassidy Crossing.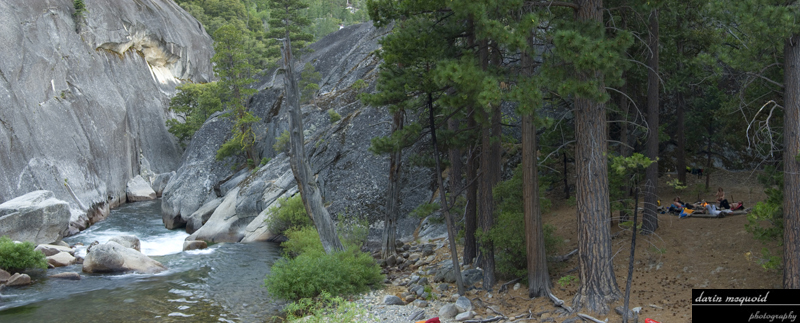 Charlie, Rush and Ben gazing out over the gorge upriver of the Crucible.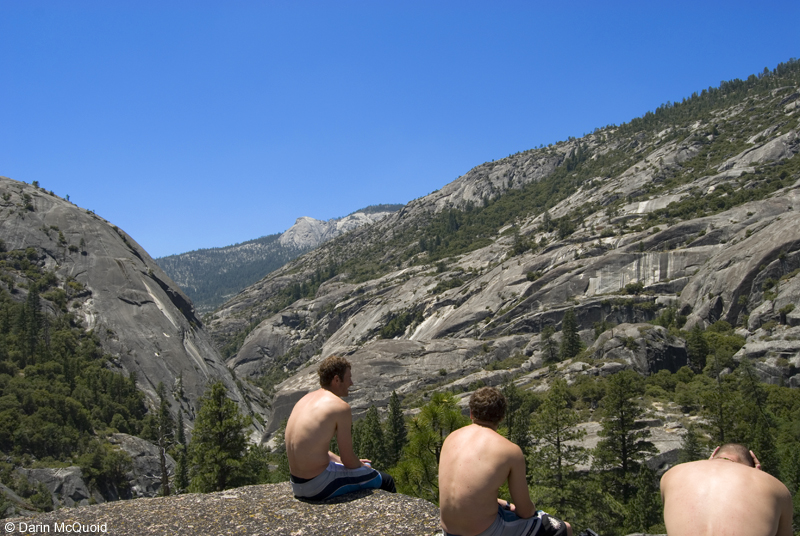 Evan scouted a mile further down the river, and came back with news that we would be starting off the next day with several portages before entering the Crucible proper. Warm California sun helped us split our time between afternoon naps, bridge jumping and taking turns fishing.
Charlie Center cooks up some dinner.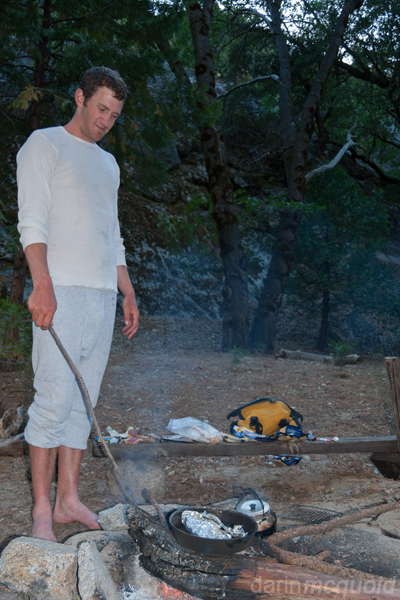 As another balmy night set in we went to bed trying to ignore haunting thoughts of the Crucible while dozing off, knowing we had a hell of a day lying front of us if we wanted to get out tomorrow.
Go to Day Three.