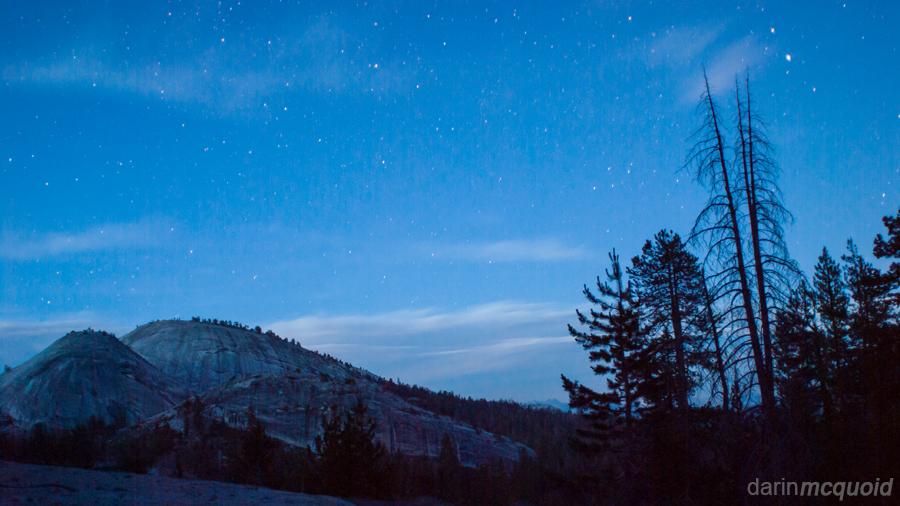 A small amount of dubious beta existed for the North Fork Kings above Wishon Reservoir. From three different sources we didn't have much to work with. Two said simply "it looks good in there" and when they checked it out flows were either too high or too low. Our other source said they had done the run, it was class IV except for one gorge which they portaged, but at the end of the portage they looked upstream and the gorge was good to go.
Earlier in the year we had consider the run, but through some misinformation came to believe the
Wishon gauge
would reflect water levels in the North Fork Kings above Wishon. It doesn't, as the hydro project is of the more complicated variety. Courtwright and Wishon Reservoirs are in close proximity. There is a powerhouse at Wishon, powered by water from Courtwright. There is also a powerhouse downstream at Black Rock Reservoir, powered by water from Wishon. Straightforward stuff. Except that Courtwright is also used as a fore bay for the Wishon powerhouse, and in the hot summer nights, PG&E will pump water from Wishon up to Courtwright, so they can make more power when people down in the valley switch on their AC in the afternoon, aka peak demand. Thus, the gauge below Wishon isn't much of a reflection on the inflow to the reservoir.
This lack of flow information is the most likely culprit for lack of exploration on the North Fork Kings. Upon arrival at Courtwright we hiked two miles cross country to get a glimpse of the river.
Somehow we decided that dropping over this dome would be a nice quick route. Perhaps a little too exciting, Charlie Center climbs down in flip-flops.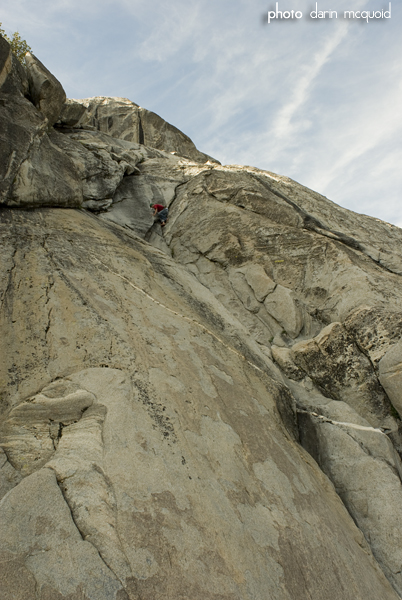 Rush Sturges
overlooking the North Fork Kings and John Muir Wilderness. The river flows through the shadowed crack to the left.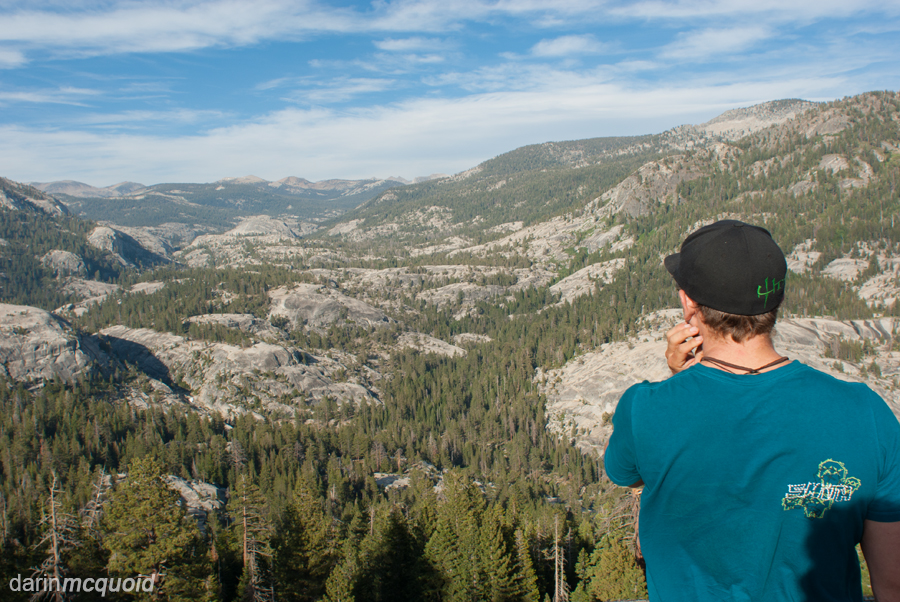 The closest section of river visible was at least a mile away, if not too. A little zoom action and we thought flows look ok.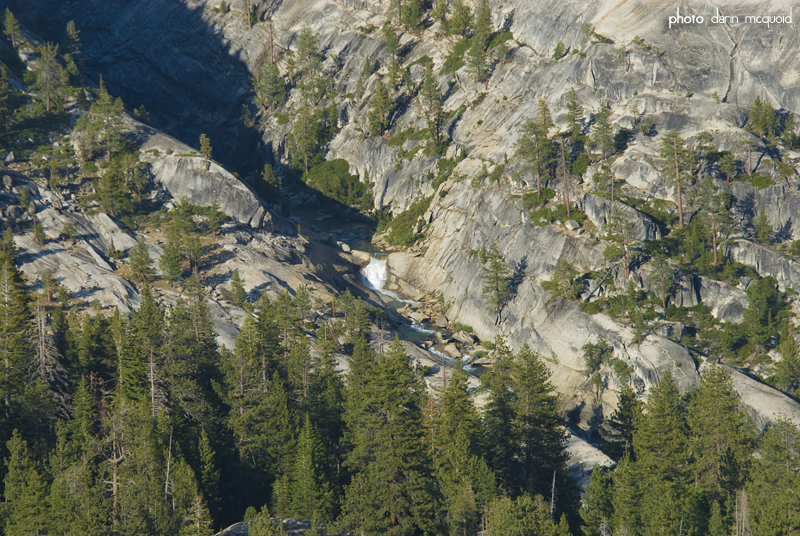 On our way back to the car we opted to skirt the big cliff face, then drove up the road to Maxon Trailhead. From the trailhead map we estimated a six to eight mile hike was ahead of us the following day, so we found a nice campsite and called it a night.
Amazing place, you can drive to 8,000' and enjoy some nice views.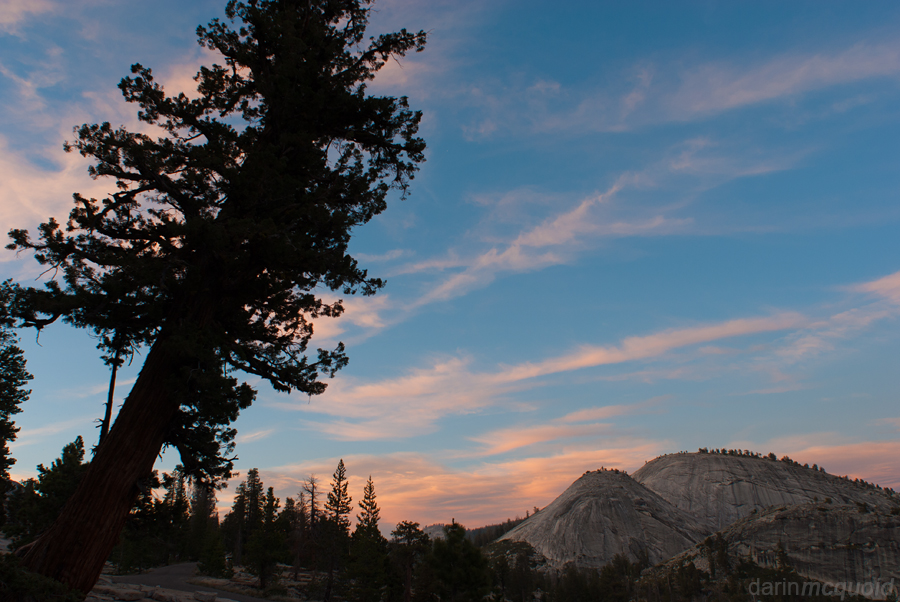 Hiking, we all hate it, but sometimes it has to be done. Rush Sturges getting his system setup.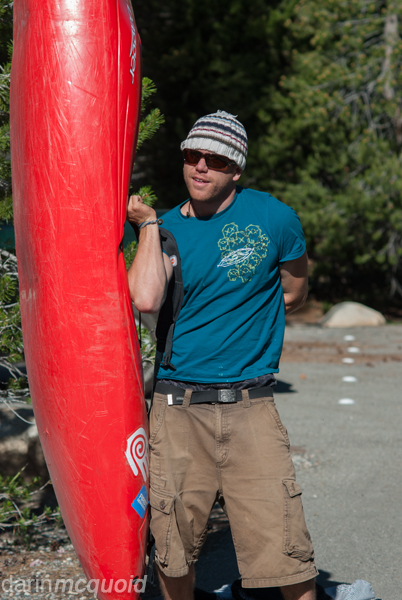 Although we didn't get an early start, we were making good time and continually looking for a fork to the right at Post Corral Creek. We didn't have a map for the area and were relying on the Gazetteer and trailhead map. Five or six miles into the hike we decided to take a break with a group of boy scouts in this beautiful meadow.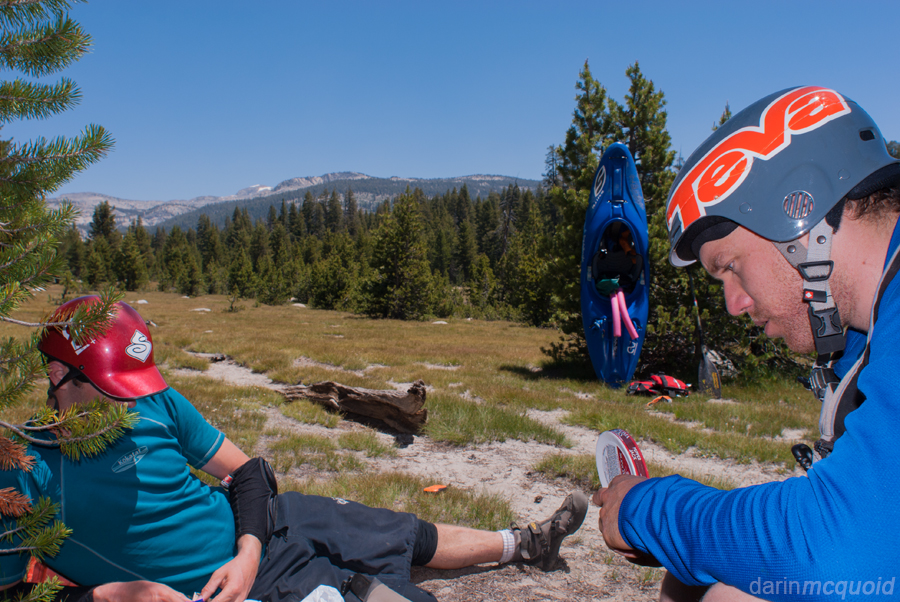 One of their leaders had done the hike before, and said we had six miles to go. A little disheartening since we thought we were within a mile or two of the river. Most of the hike is perfectly flat, but there was one last climb before we finally got to drop to the river. I thought the hike was a lot like Upper Cherry, a touch longer but flatter too. As easy as hiking eleven miles with a fully loaded boat can be. It's not easy.
Only too glad to see the river, which looked a bit low. But hey, Post Corral Creek confluence should only be a mile downstream and it's a major tributary.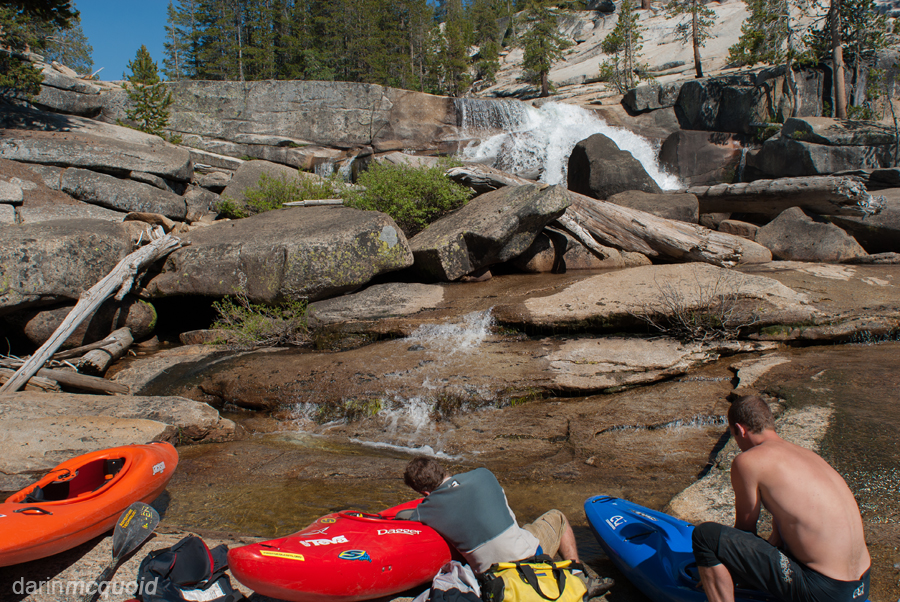 Glad to be on the water, we were all dismayed at how much scraping we were doing, but optimism remained high and within minutes were standing at a large horizon line. So much for the class IV, it was on. A multi-tiered slide that looked like more flow would pad it out nicely. Having cracked my boat the week before I opted to walk due to potential (mandatory) boat abuse the slide dictated.
Charlie Center probes the first larger drop of the North Fork Kings.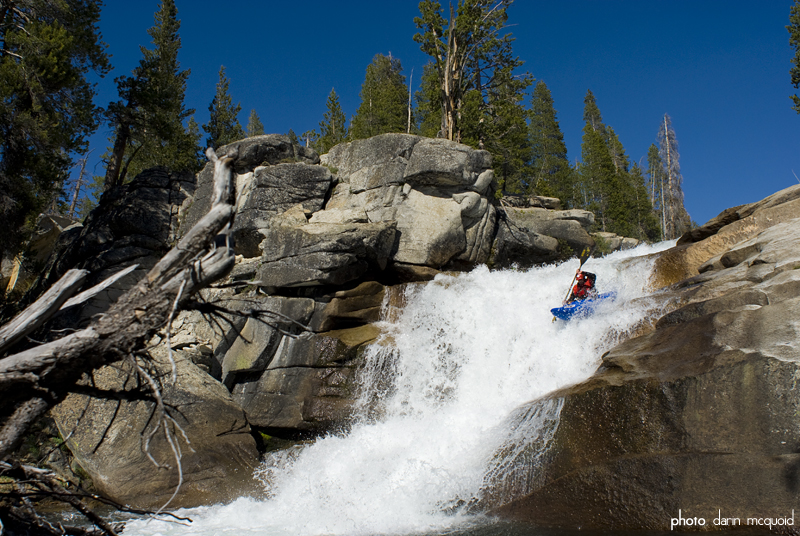 Rush Sturges on the same bouncy slide.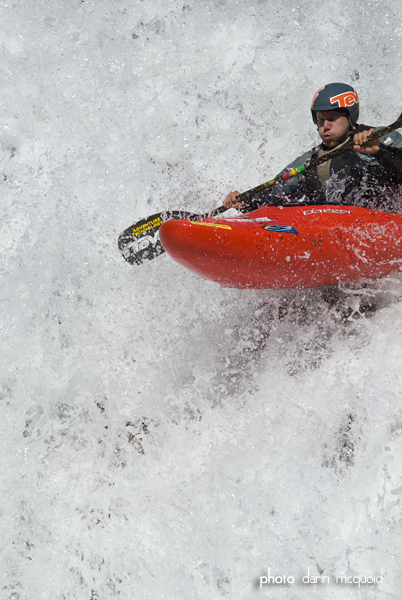 We pushed our way through many low water boulder gardens, able to stay in our boats but doing a fair amount of gorilla boating too, until we hopped out at an even larger horizon line. Scouting the drop we were all sure of one thing, that it would be epic with about four times the flow. Once again citing the cracked boat as an excuse, I portage again.
Rush Sturges probes the second bedrock drop.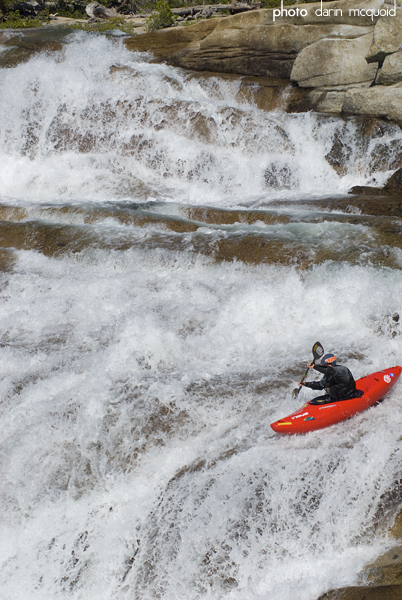 Rush has a great line, and Charlie Center follows.
The boulder gardens got considerably steeper, but with the low flows we were able to stay in our boats and aggressively boat scout our way down another half mile of river. Class II culminated into a tough drop that had a narrow three foot wide goal post move at the bottom. Missing the line would be a massive piton, and not wanting to risk ankle damage we all portaged down the right, putting in right above Post Corral Creek and what turned out to be a beautiful camp site.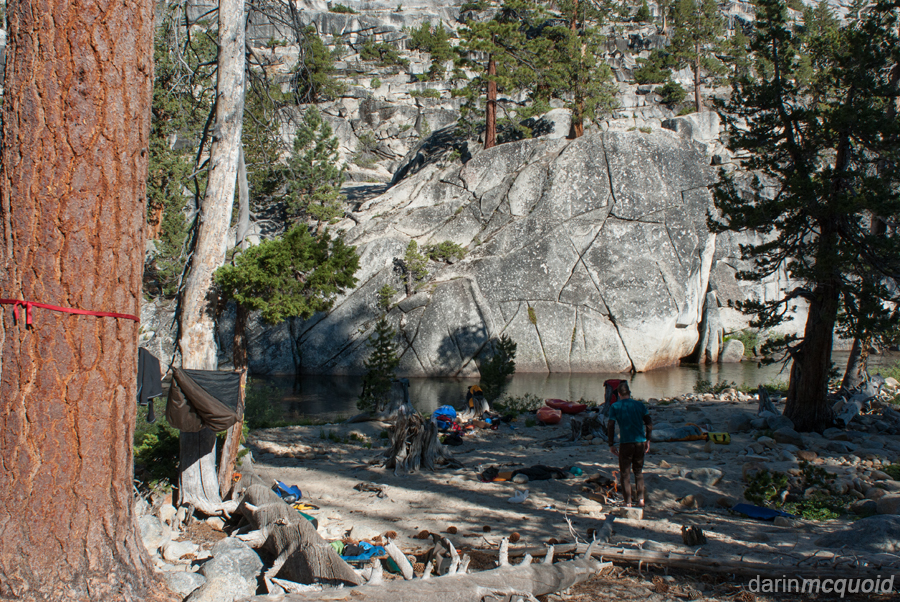 Up and out of camp we were forced to gorilla over more boulder gardens. If the North Fork Kings is low, Corral Creek equally is. To our relief after only a short bit of boulder gardens the river entered a gorge.
Charlie Center soaking up the scenery.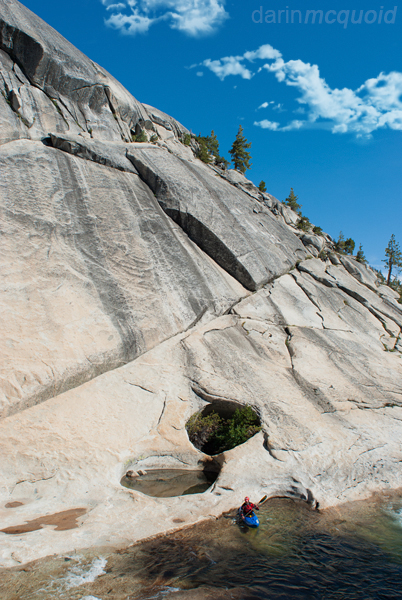 I'm sure that at higher flows the gorge would have been pretty tough, but have no mandatory portages. As it was, the slides were fun but some almost covered sieves required portages.
Charlie Center making a splash.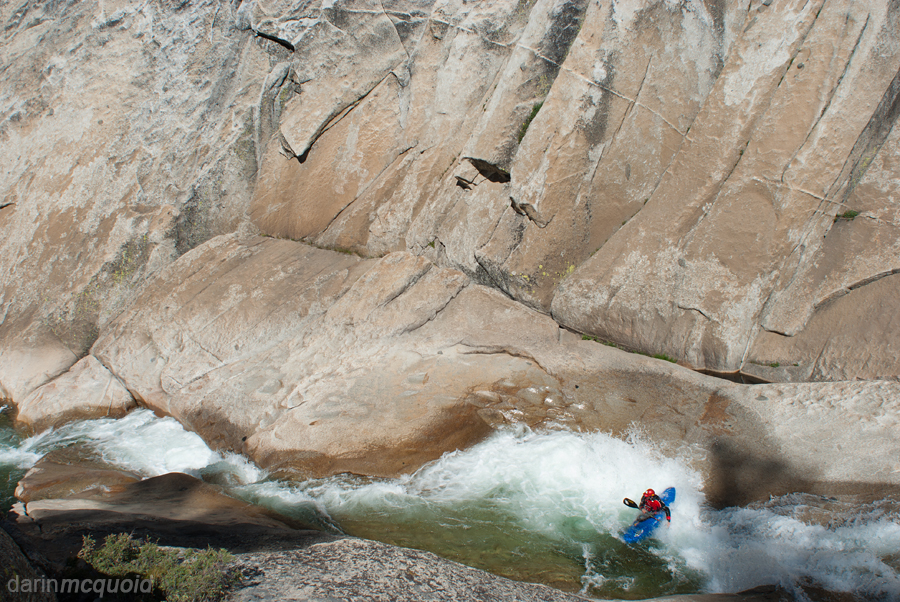 A quick sieve walk...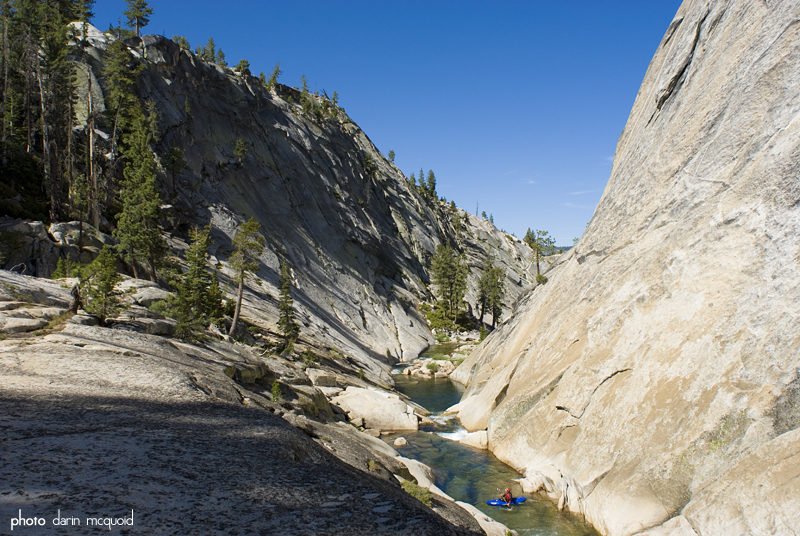 As we pushed deeper in, the gradient accelerated, tragically flows did not correspondingly increase.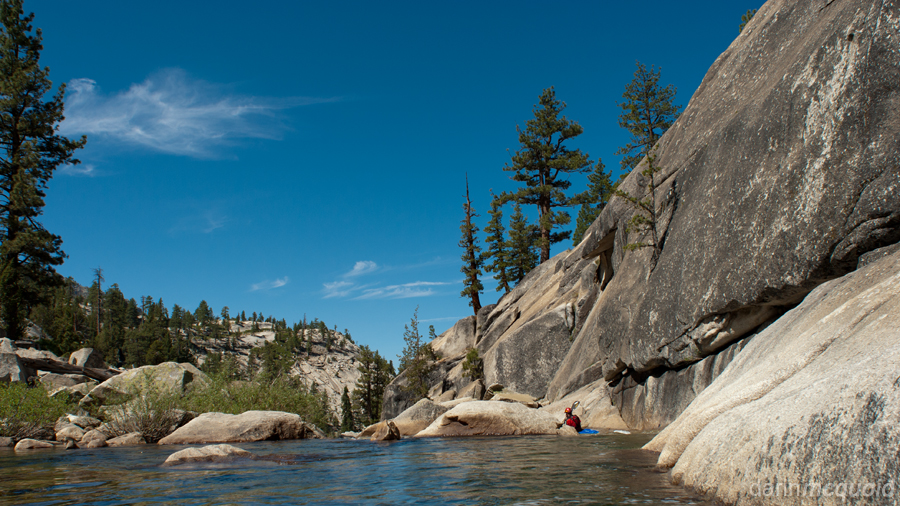 We couldn't help but imagine how fun this section would be at the right flow. As it was, the deep crack stole all the water.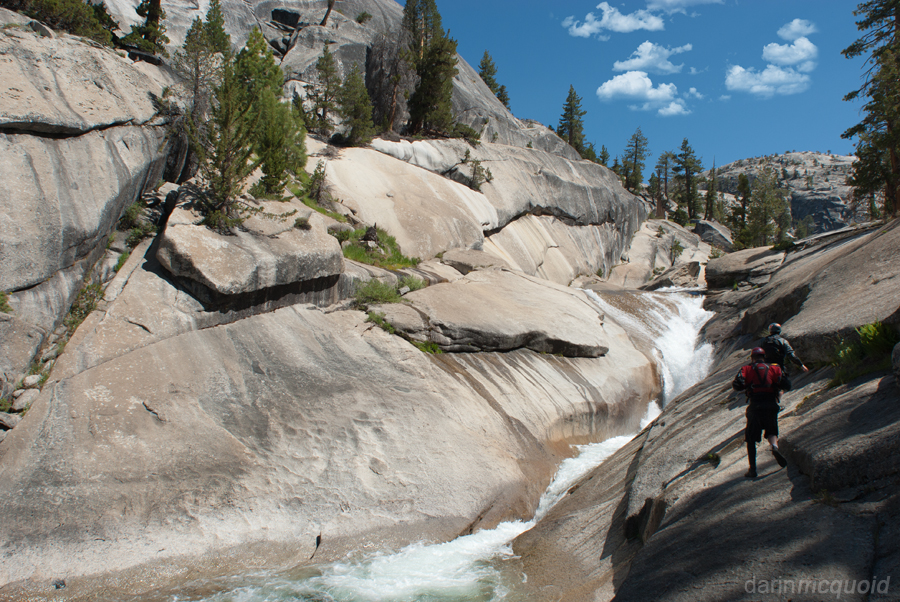 Some cracks were wide enough though, and this one offered up more slides and pinches than a day in grade school. Charlie Center.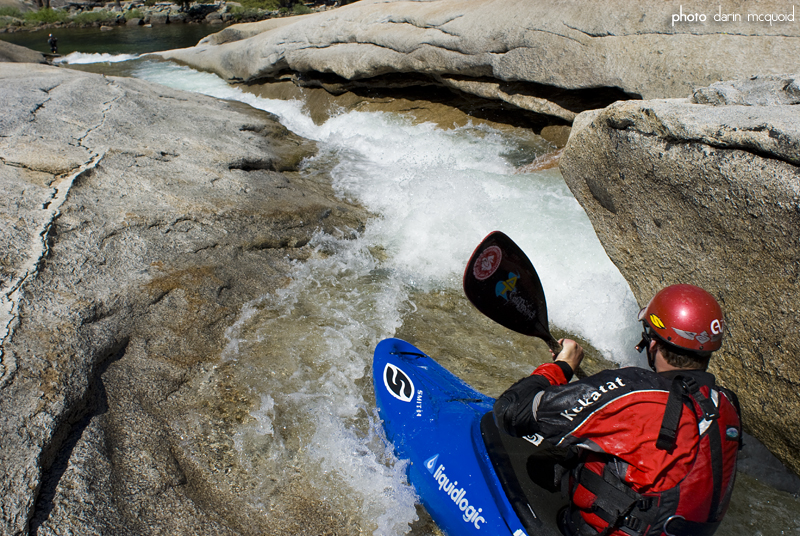 Post pinch slide, the gorge walls scaled back and we entered over half a mile of Upper Cherry styled low angled slides. With the low flow Charlie led a read and run charge, but I had to hop out for one quick picture for posterity's sake.
Charlie Center enjoying some low stress slip n slidin.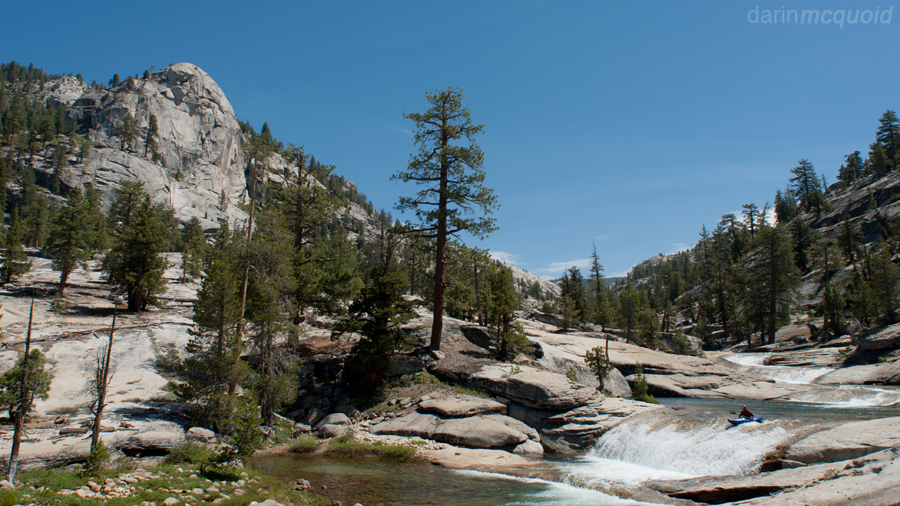 RKS.scenery.NFK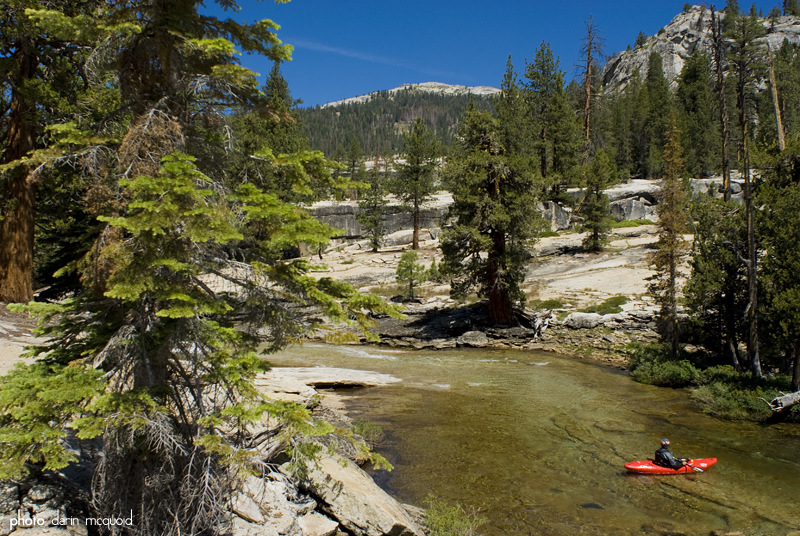 A little more low angle slide action and then Charlie hopped out, signaling down the middle with a big thumbs up.
Charlie Center enjoys the slide to free fall.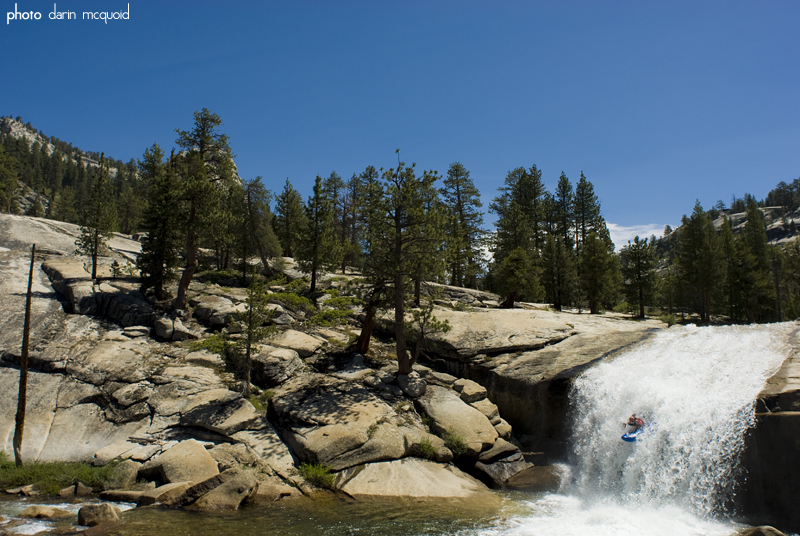 We were on our toes for the gorge we had heard about, it always seemed to be looming around the next bend. Thankfully there were a few fun ones mixed in with boulder gardens.
Rush Sturges about to auto boof a nice ledge.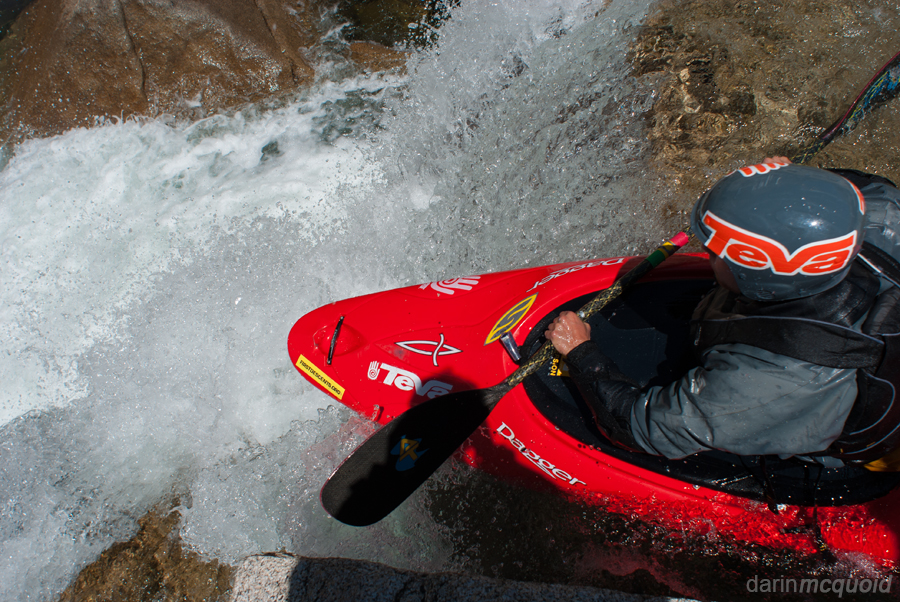 With a wall only on one side, Rush below the boof.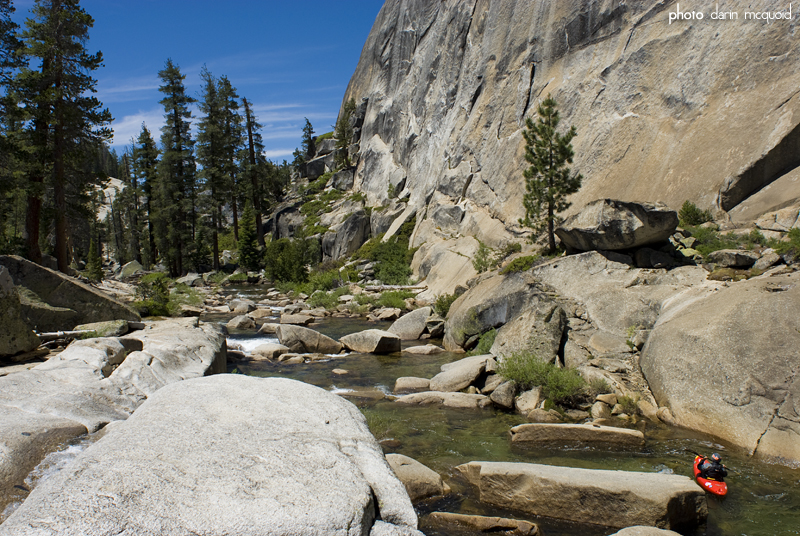 As we floated around the corner, the gorge uncloaked itself and was every bit as intimidating as we'd imagined. Below few technical boulder gardens we were scrambling out at the last access point to reconnoiter the situation. Immediately below us was a portage, but we could work around it just above river level. After that the gorge looked manageable, and besides, we had certain beta that the last cascade was "good to go". Of course, our inaccurate beta also indicated that everything above here was class IV...
Portaging into the heart of the gorge.
Rapids are always look flat from above, and the mellow section was more challenging than we had anticipated.
Charlie Center gets up and over while Rush Sturges sets safety.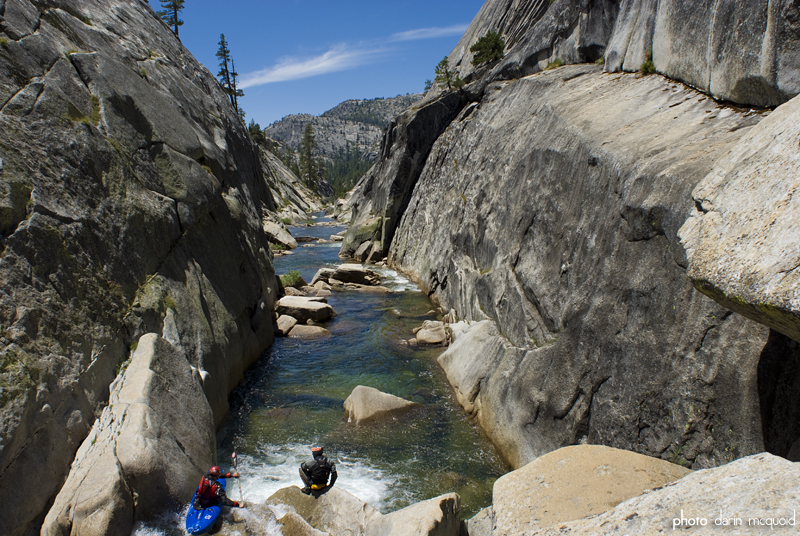 Scurrying into eddies above the gorge's final drop, things looked dubious. None of us particularly like crack drops. Hmmm...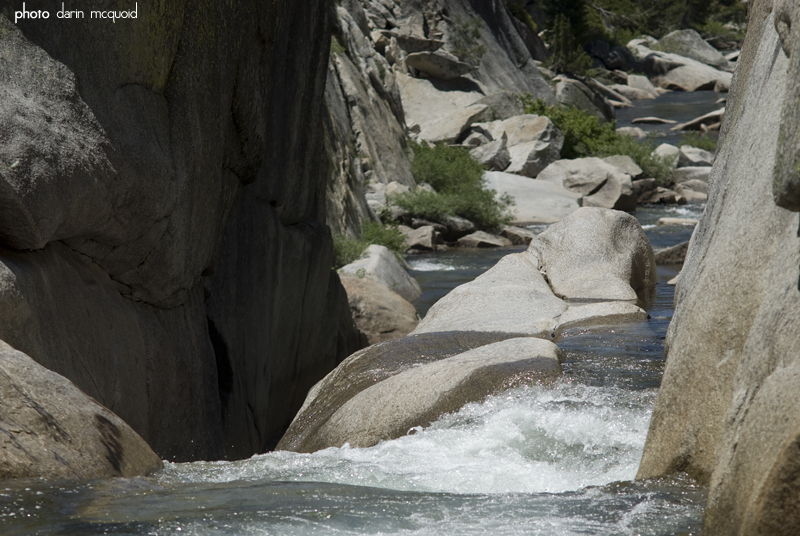 Scouting unveiled a crack worse than we had feared. After dropping fifteen feet into a crack marginally wide enough for a kayak, the river stayed in the crack for another twenty feet before exiting into the pool. The good news was that you wouldn't need your paddle for the whole rapid, it was too narrow. Not wanting to lose a boat into the "crackamole" we passed boats up to a ledge on the right bank and portaged into a nice throw and go below the niche.
Beneath the throw-n-go gorge walls spread open and we got out to scout the cascade we'd seen two days before while scouting. From a few miles away it looked like the line was on the left, but we weren't surprised that at river level the line was quite different.
Rush Sturges skips down the smooth granite.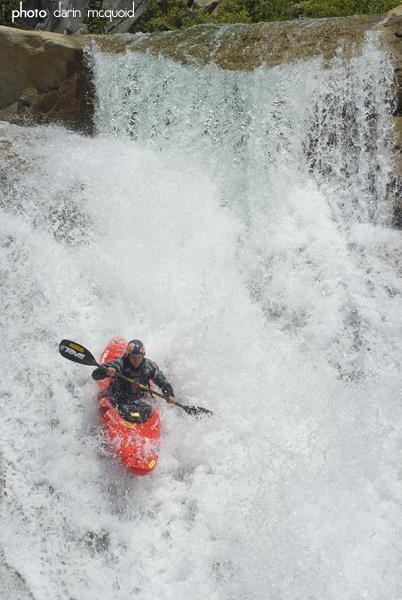 Charlie Center lines it up.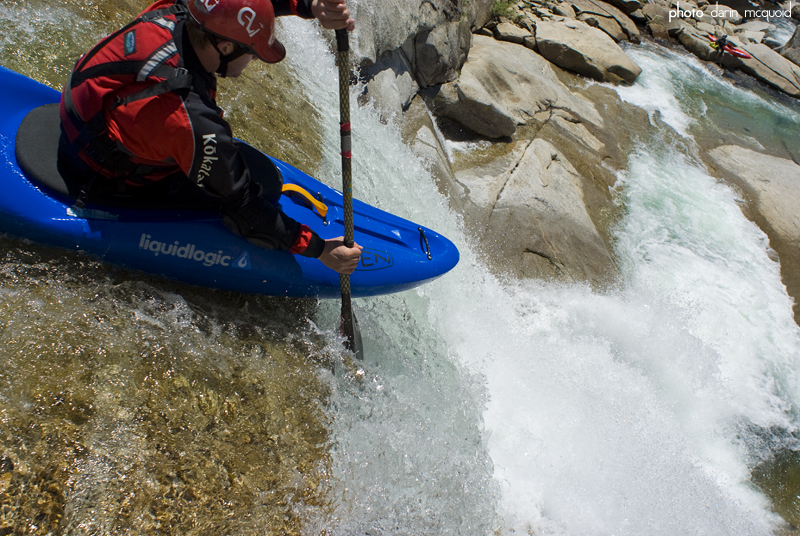 It was obvious that several drops lay in quick succession downstream, and we hopped out to scout the series. As we walked further down river, our grins grew proportionally with each slide scouted. Amazed that everything was good to go, we took turns linking all the slides and getting footage.
Rush Sturges on the entry drop that could use a little more water.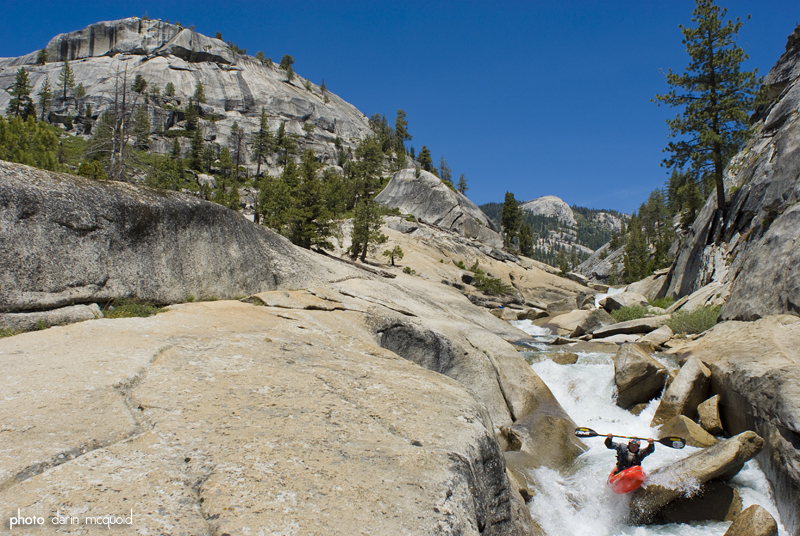 Clean enough that flows don't matter, RKS.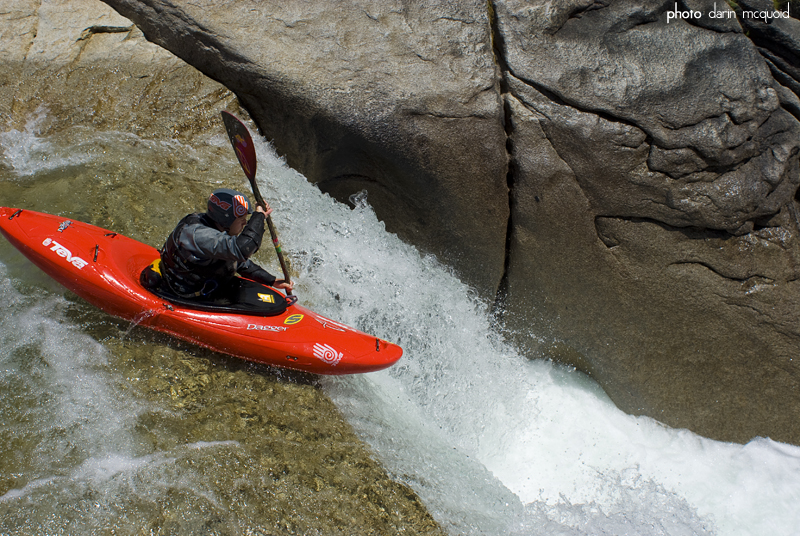 I went next and was grinning ear to ear by the bottom, and got setup while Charlie hiked to his boat.
Charlie Center boofing the best of the North Fork Kings.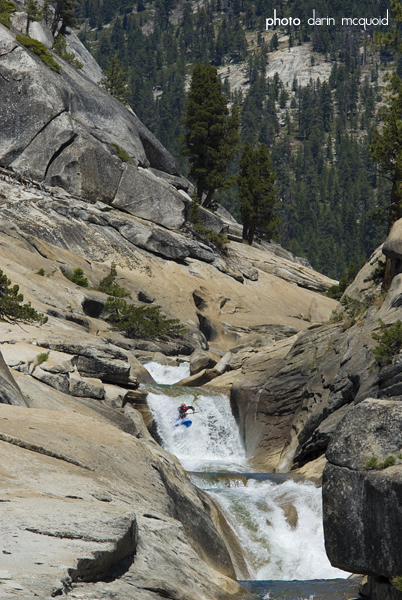 Celebration slide - Charlie Center.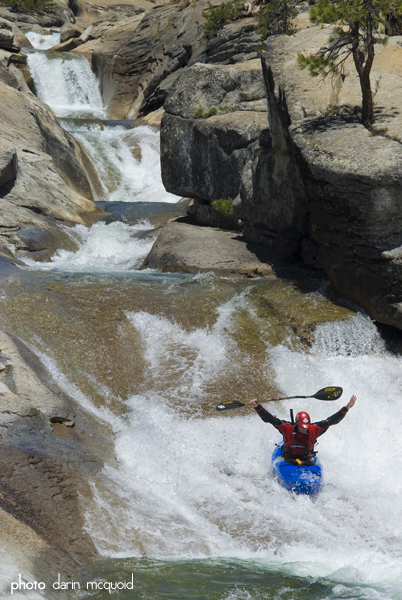 Mellow boulder gardens set the tone below the slides, until Helms Creek added in a paltry 20cfs and we got to enjoy one last bedrock drop.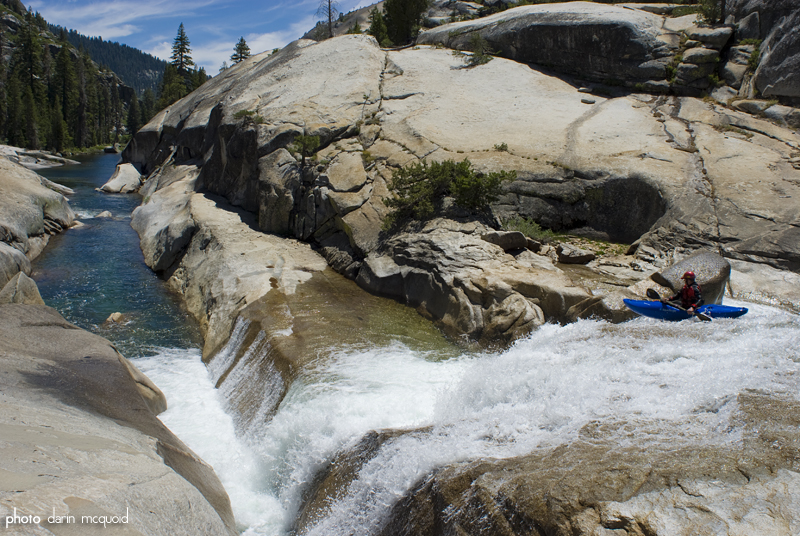 Once again a few more boulder gardens were scraped through, and we were on Wishon Reservoir early in the afternoon. We exchanged waves with fisherman on the mellow paddle out, glad to have explored the North Kings. As Rush embarked on the odyssey of hitch hiking the shuttle we commiserated about the flow window for this section. A consensus was reached that when
Upper Cherry Creek
was at or around a "perfect medium flow" that the North Kings would be at a similar perfect flow. Another classic like this should hopefully spread out the user load on Upper Cherry, or at least be an alternate for those looking for great whitewater with a bit of solitude.
Video by RKS