This is a run I had heard surprisingly little about considering its a IV/IV+ run in Southern Oregon that flows all year. I wont say too much as there are good writeups on Oregon Kayaking, written up as the
Takilma Gorge
and
Natural Bridge
run. There is also a good writeup on
Dreamflows
of both runs. We did both in once day since we were driving up and camping. We put in at Natural Bridge and ran the first V since the cave was pretty much out of play with the low flows. Here is a short video of Jon getting it done, a little messy but finishing well. It's easy to put in below this rapid if you are just looking for the class IV section.
Jon in the first rapid
Southern Oregon kayakers scouting "Karma" in 2007.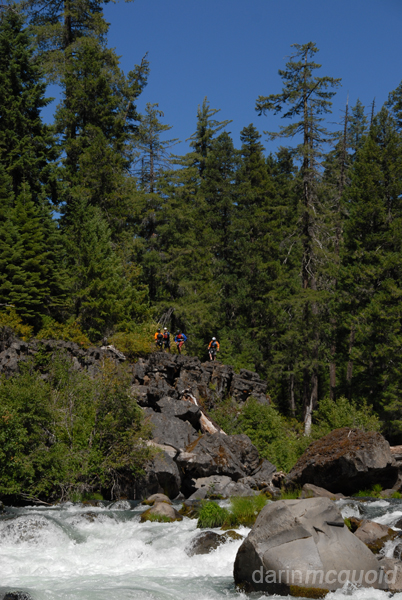 With the low water the run was a lot more class III than IV, and we were able to get down to the portage at Knob Falls fairly quickly. I started carrying right away without looking at it, and Jon scouted and felt it was a go. He scouted quite a while and went back up to his boat while I got my throw rope and camera ready. Jon came down through the quick entrance to the rapid and tried to boof off the center rock, which ended up stalling him long enough for the current to grab the tail of his boat and flip him, allowing me to get this great carnage shot.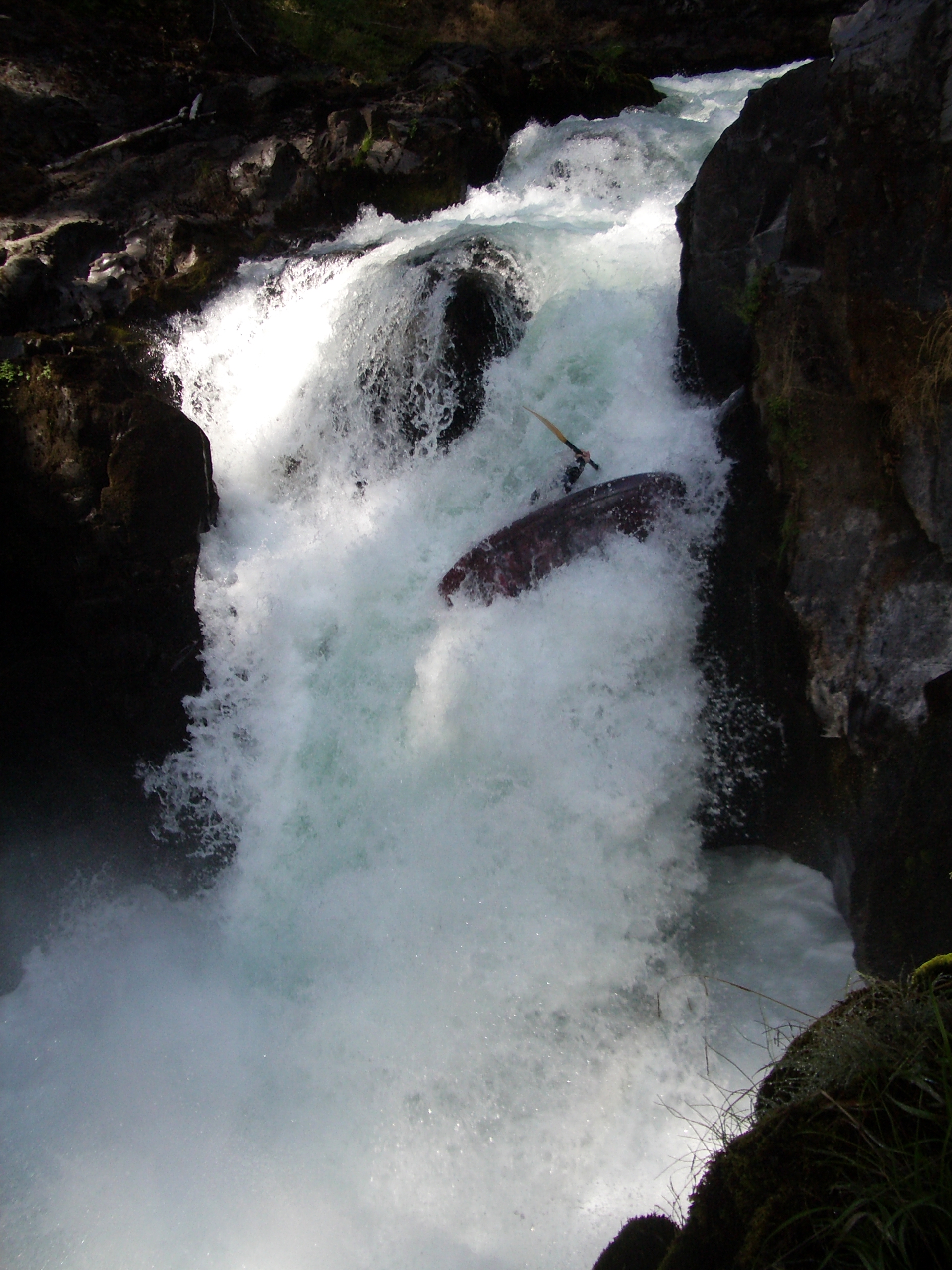 Jon hit the water with a loud splat sound and vanished for several seconds going very deep, and thankfully resurfacing on the river left wall instead of the cave behind the falls. He quickly rolled up and paddled away while I finished the portage.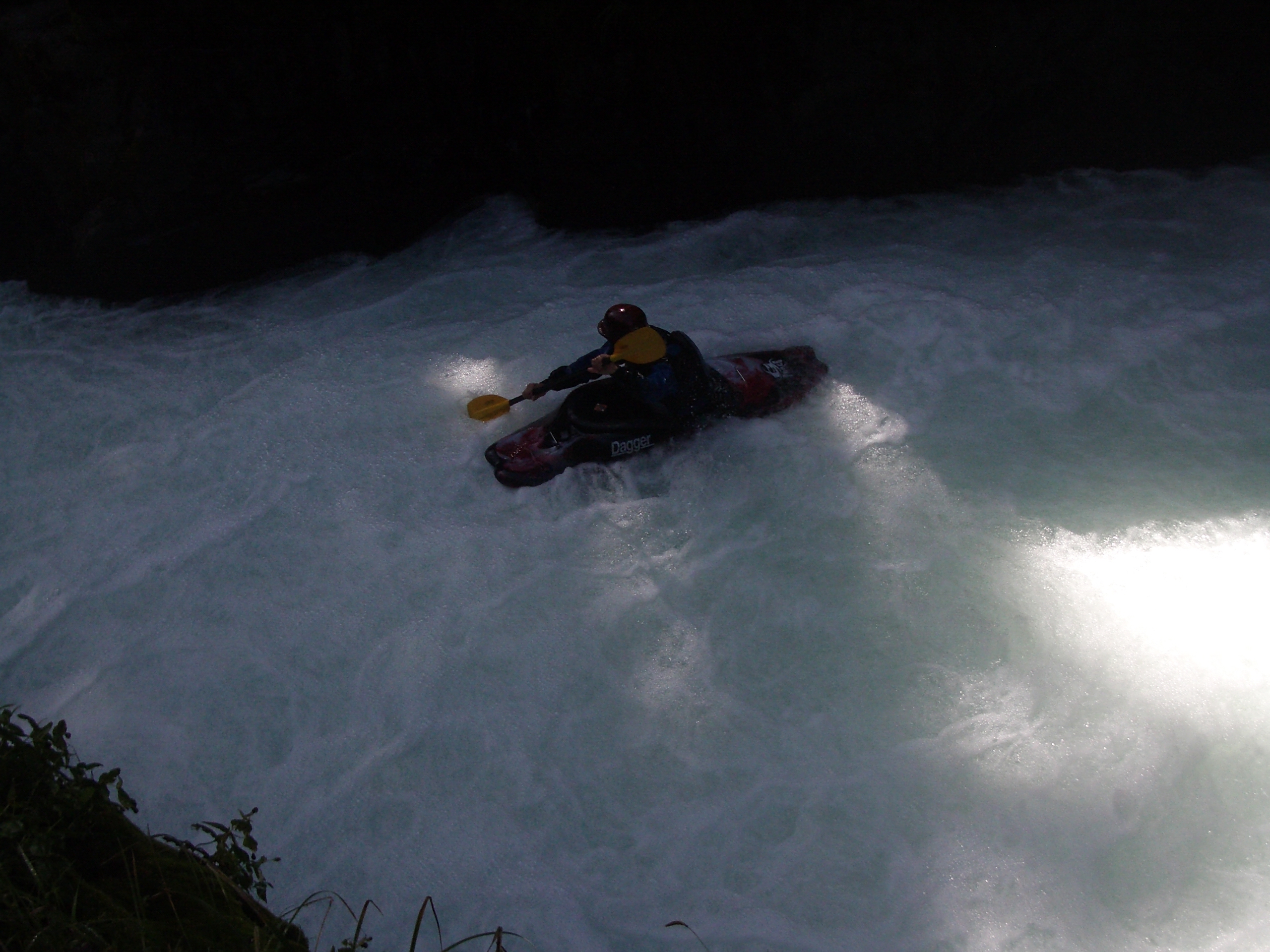 Post falls the run really mellows out for several miles with only a few rapids between it and the Takilma Gorge. We were able to paddle all the way down to right above the gorge before scouting. we had a steep scramble up a loose bank to the trail and proceeded to scout the next 1/2 mile or so gorge. This part of the run is a highlight, with quality rapids stacked on top of each other. With low flows we were able to do a sketchy log duck under the river wide log on the right side. Here is a view back up into the gorge.
Bryan McQueen on the next to last rapid of Takilma Gorge.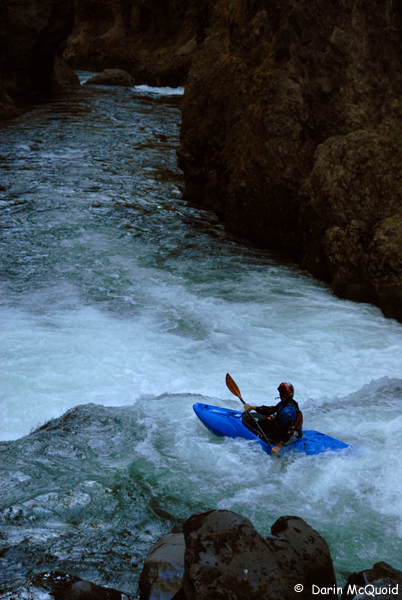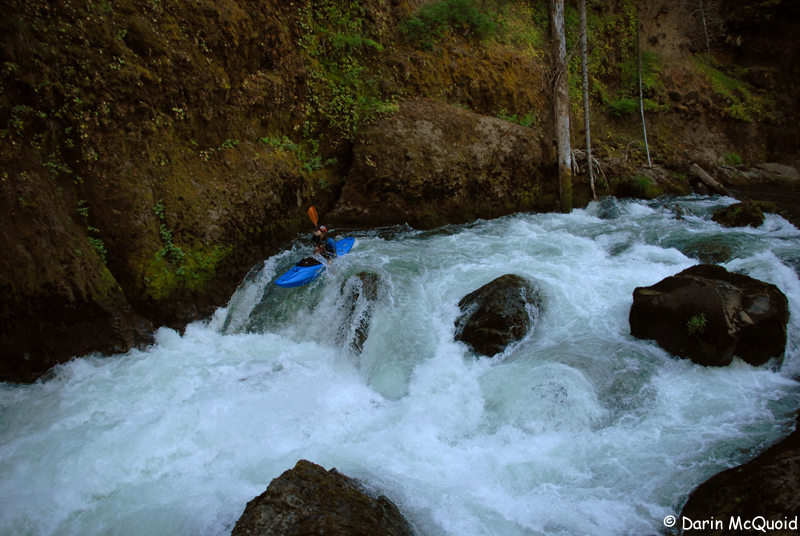 I'd say with low flows this run is ok but not epic, several long flats at low flows that would probably be more tolerable at higher flows. I doubt I'll do it again at low flows with the Upper Klamath and
Burnt Ranch
being closer to me for summertime "I need to run something" runs.