Chris Gabreilli stands by the sieved out camp rapid.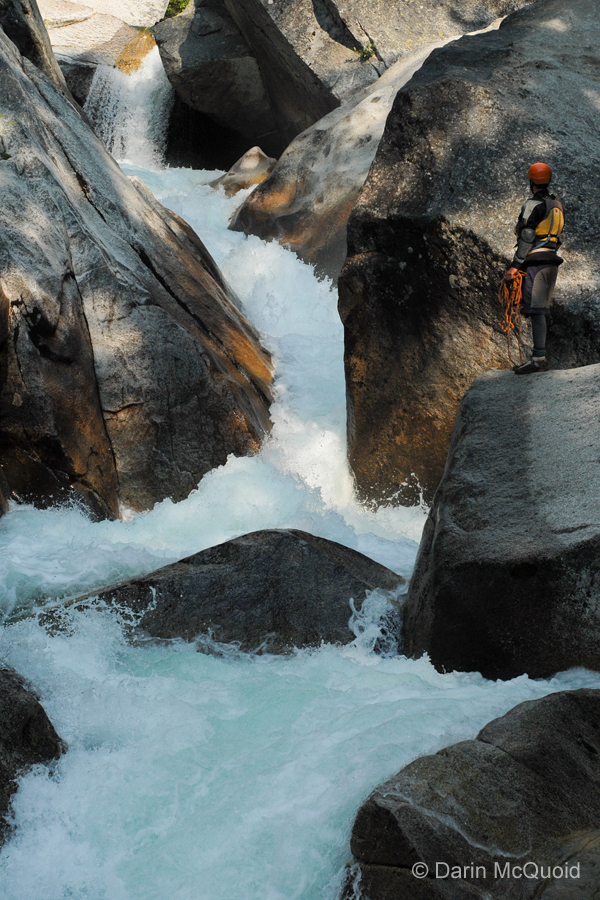 The next horizon line looked like it was going to be a bad portage, but when we delved into the options a little deeper we found a seal launch that looked exciting.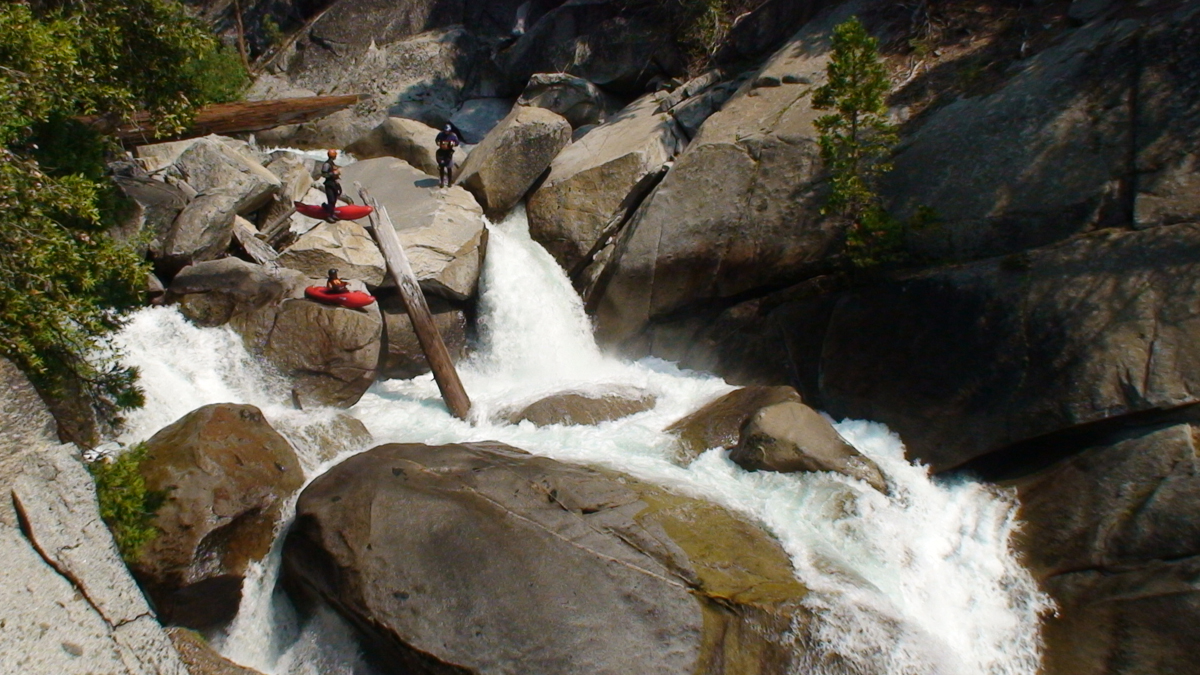 Chris Korbulic lends a hand for Chris Gabrielli's seal launch.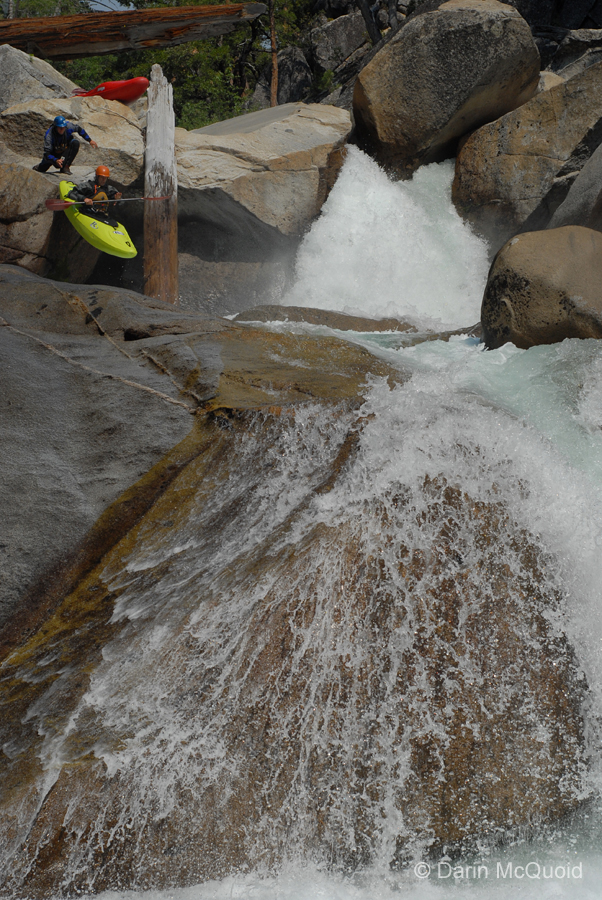 Chris Gabrielli cleans up the bottom of the seal launcher.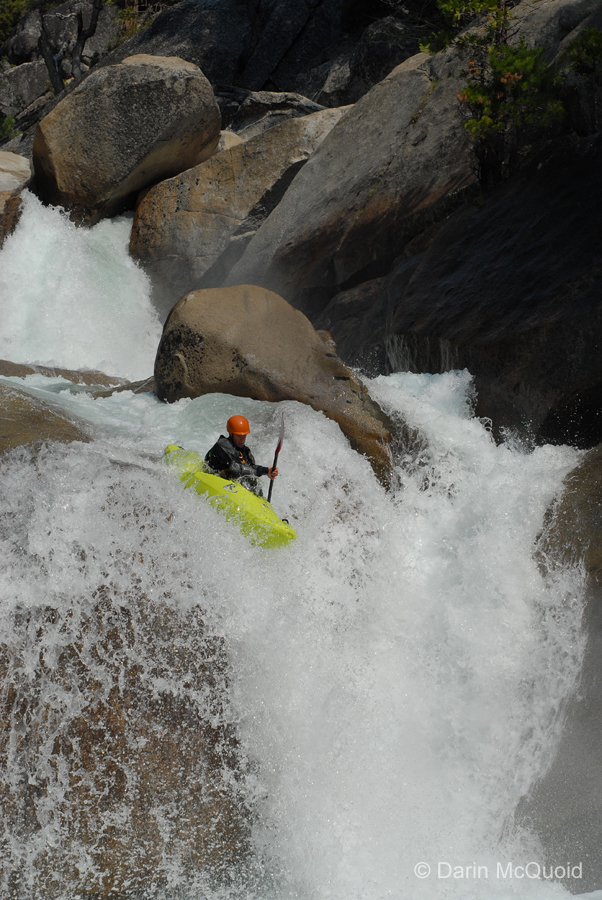 Ben had gotten up on a ledge to scout the bottom drop and film, and when it was time to seal launch in, he was the last one. The seal launch was sketchy without a push, because it fell off a triangle shaped rock, and the ideal spot had a tree in it, and if you went too far right it pushed down a narrow slot onto a pile of rocks. From below Ben's angle looked good, but then he disappeared behind the rock and we started getting nervous…we were hoping he was just fixing his skirt or dealing with some minor outfitting issues…and then he suddenly popped out in the rock pile and paddled out with a big smile.
Ben Stookesberry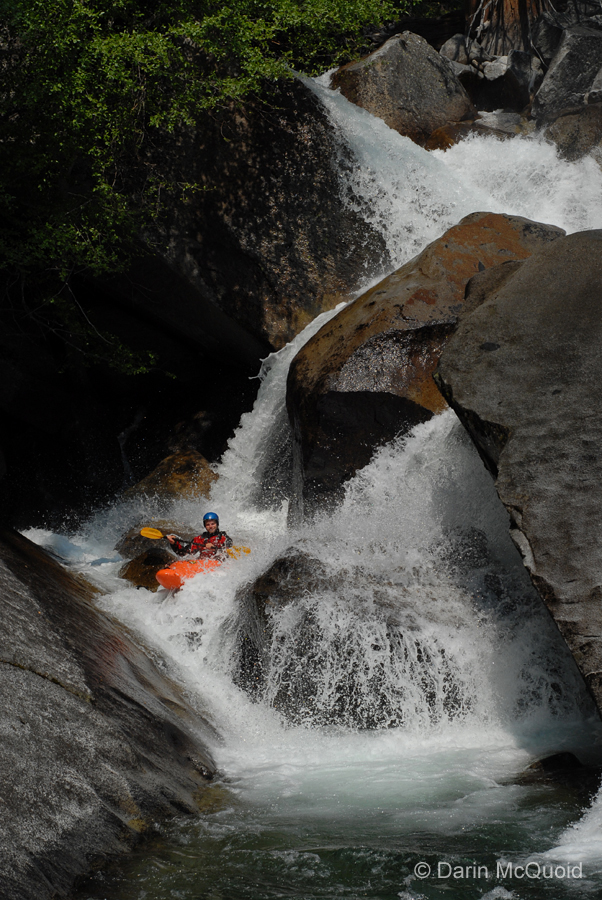 While scouting from the right Ben had noted that it wouldn't be the end of the world to get pushed down the slot. Seal launching in, he resurfaced with his bow under the log, and the water quickly started pushing him down the narrow slot, so he fought it for a little bit and then decided to go for it, and get all our heart paces up.
The gorge walls tapered off but the drops continued on. Lots of boat scouting and several big boulder gardens set the pace for the day.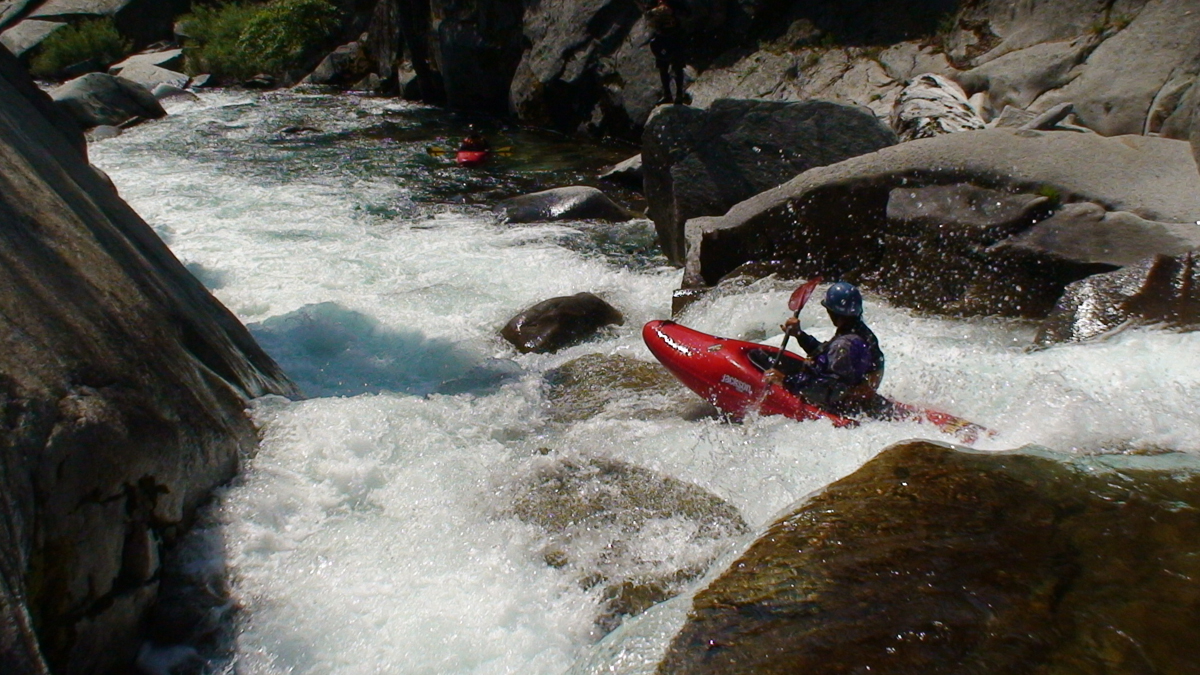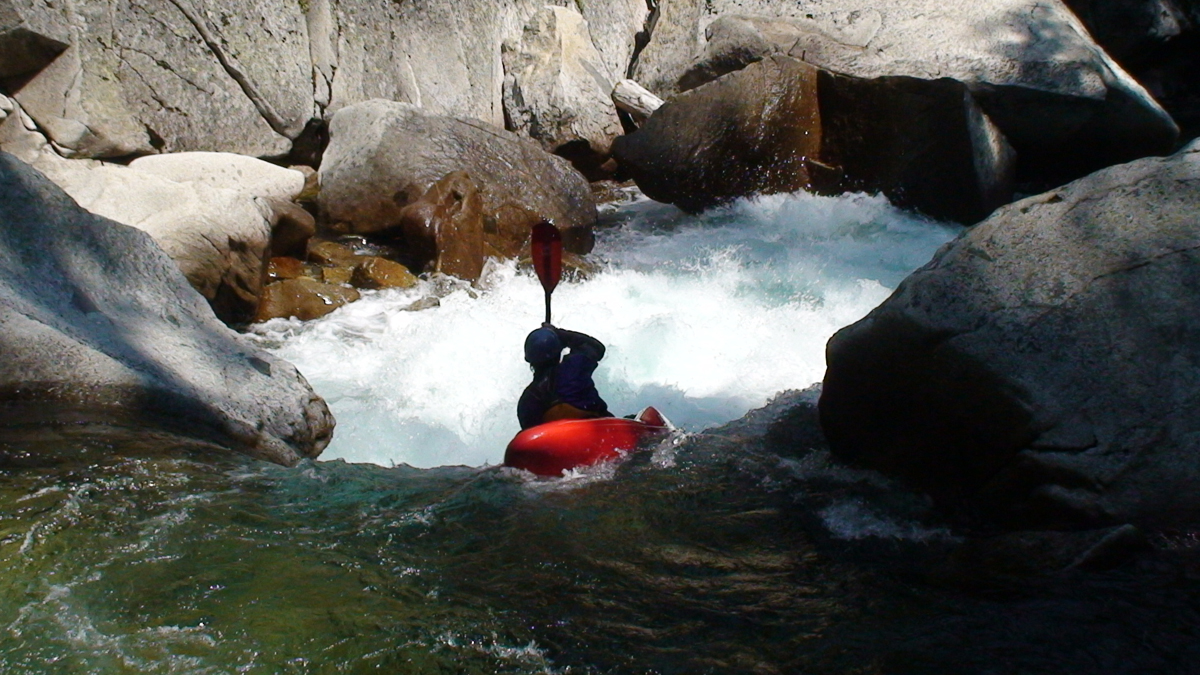 Countless high quality drops filled the river.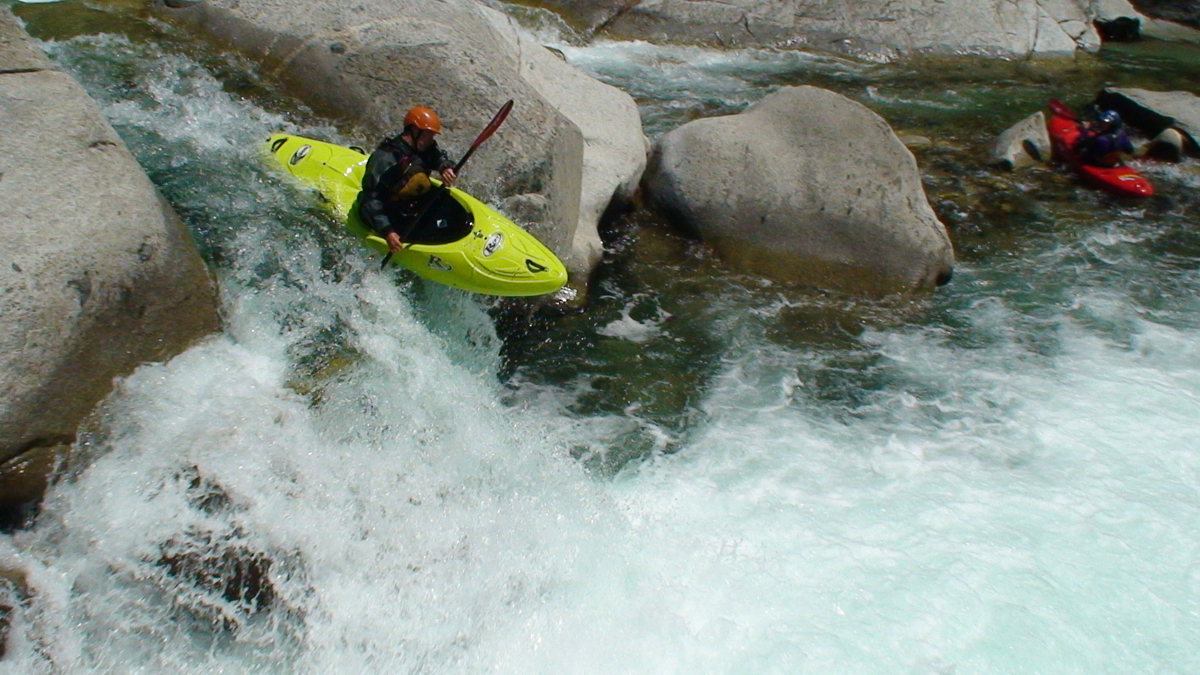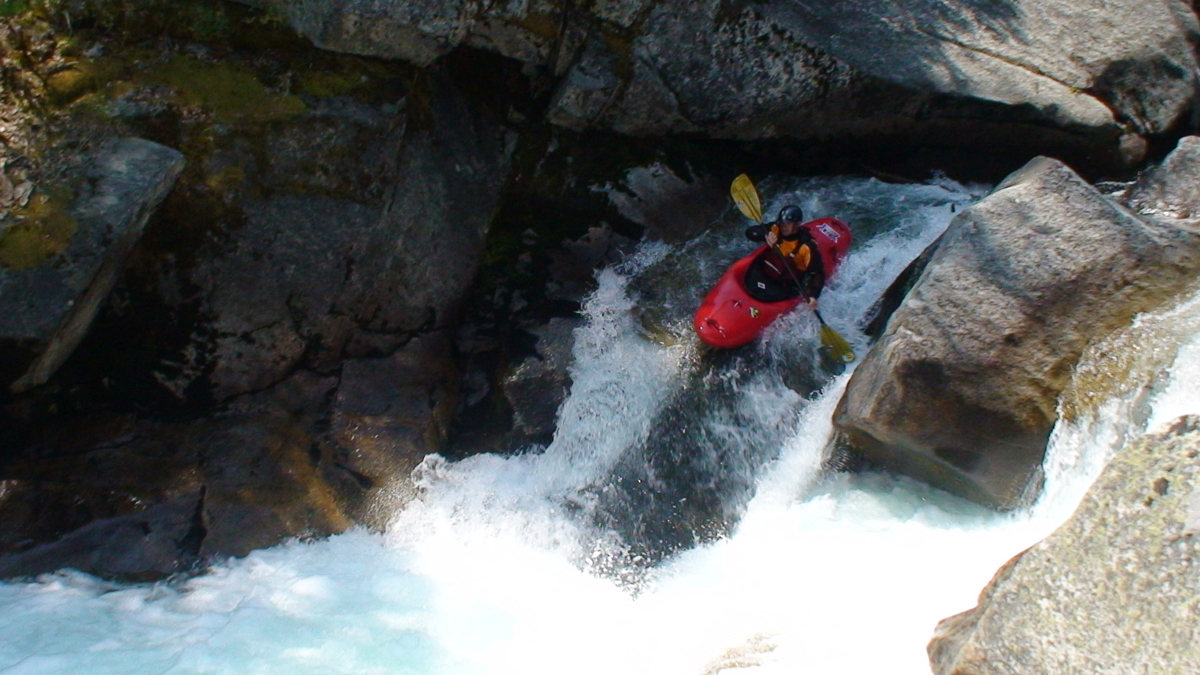 Canyon walls widened even more and the drops still weren't letting up. The cold water was still amazingly clear, the NF San Joaquin is a pristine watershed.
Chris Gabrielli in one of my favorite boulder gardens of the run.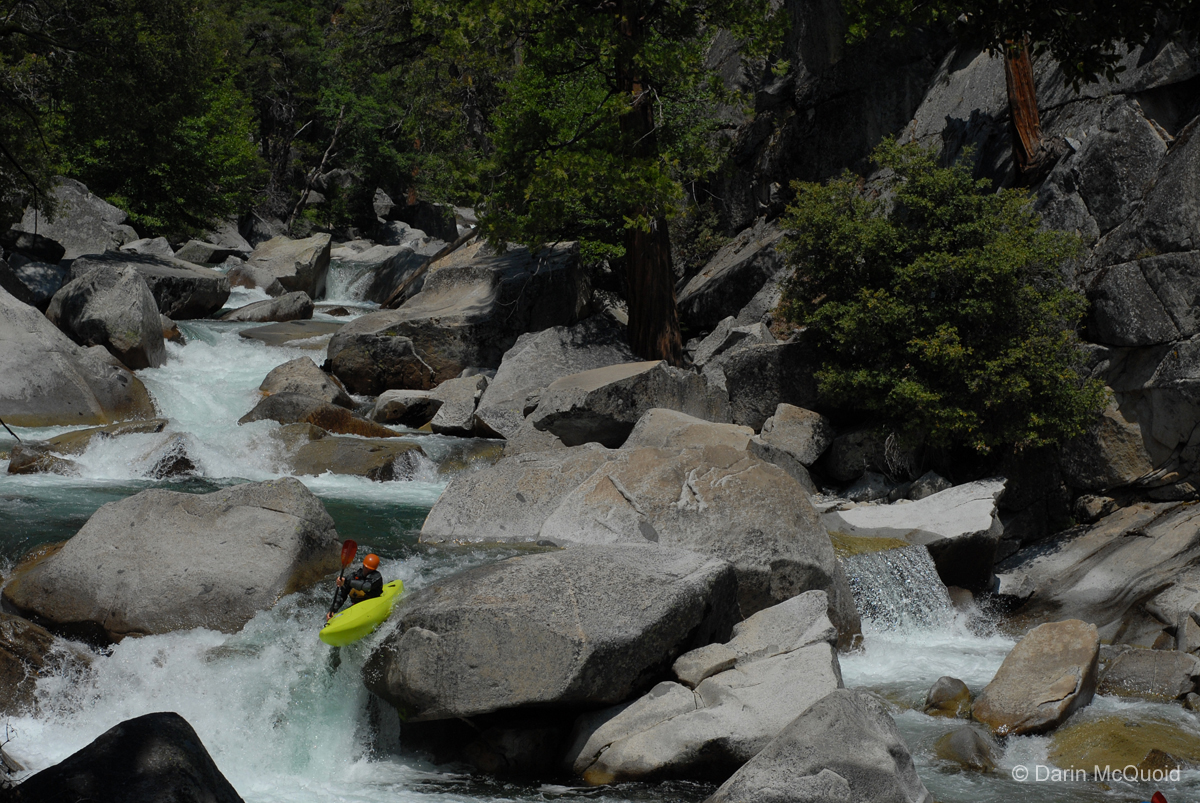 The whole run we had been waiting for some granite bedrock, dreaming of slides and waterfalls. Above the confluence we finally had one, and it was nothing that we were expecting at this point, and a very unusual drop.
I decided to go right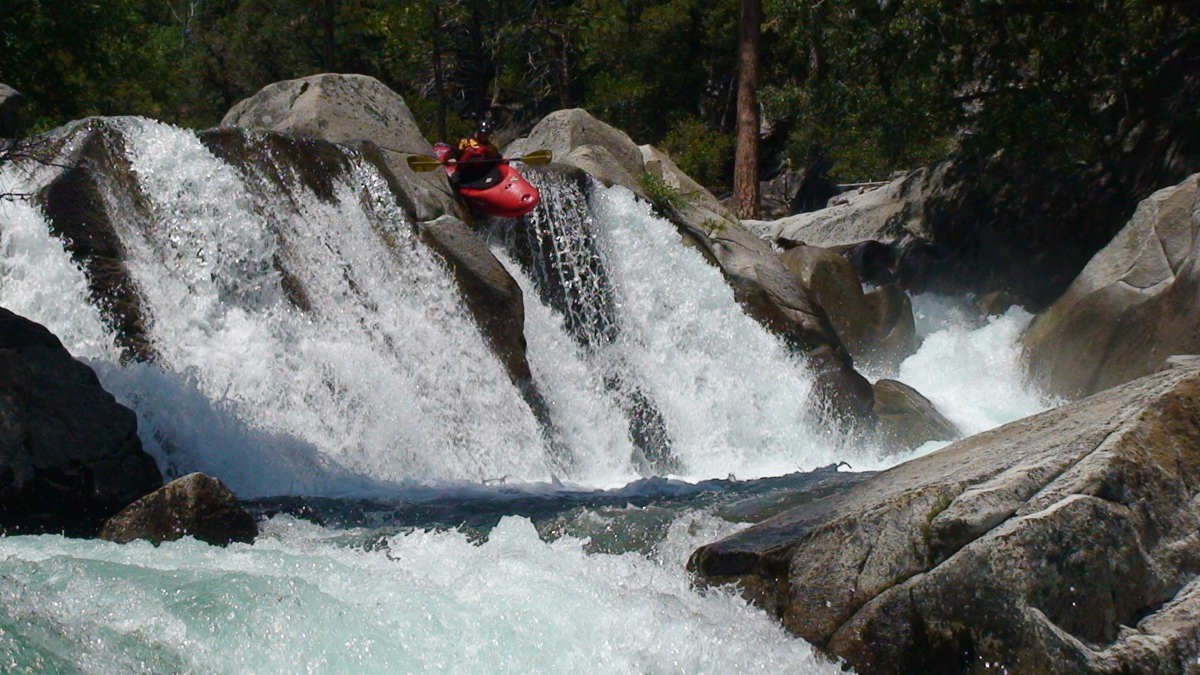 The small falls marked the end of the North Fork San Joaquin, as directly below it tumbled through a few rocks into the Middle Fork San Joaquin. Once on the Middle Fork it was apparent flows were really high, the class IV gorge demanded a full scout, and was full on fun big water class V.
This one is normally a technical boulder garden…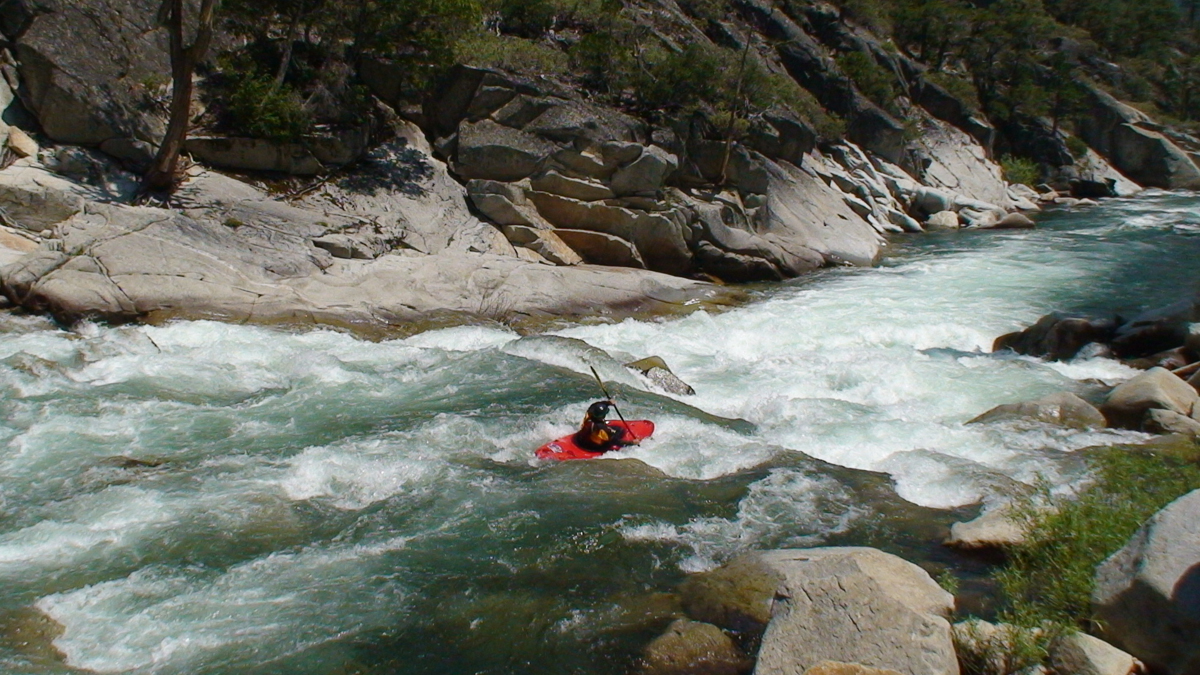 Only a few large rapids are between the gorge and Cassidy Crossing. The meadow section was exceptionally beautiful and fast moving. Only too soon we were at Cassidy, roasting our leftover hot dogs, and about embark on the climb.
When setting shuttle Ben and I hiked out a little ways to get a view of Balloon Dome, and I wasn't sure if we were able to see it or not, because the only thing we could see was a ways below us. From the river Balloon Dome rises 3,000' out of the river. Wishfully thinking, I figured there was no way we could be that high up, and Balloon Dome must be obscured by one of the hills near us.
Chris Gabrielli with Balloon Dome in the background.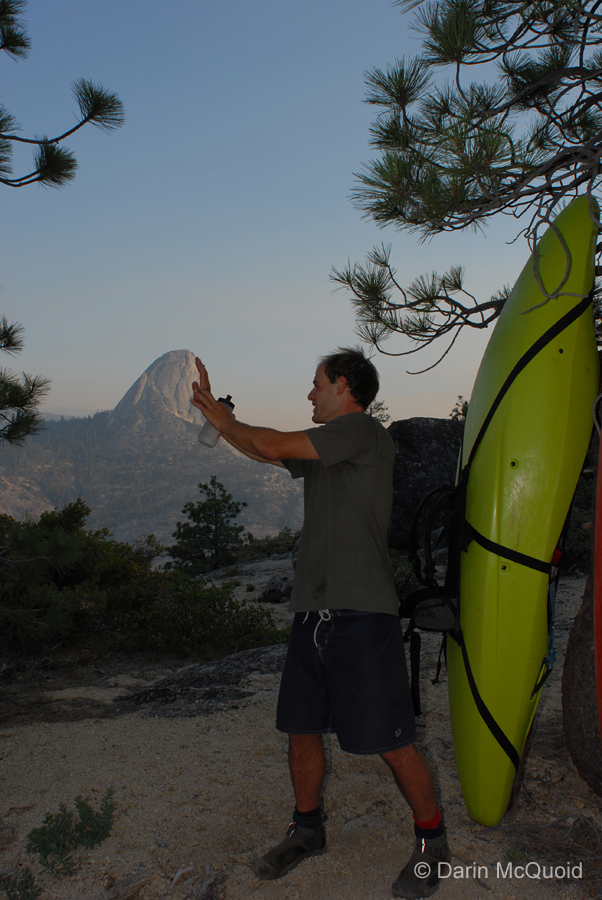 The trail does climb up higher than Balloon Dome. All on switchbacks, and steep ones at that. There were many occasions that I thought I wouldn't be able to make it, and I stumbled into the trail head just as darkness became complete.
The hike out is heinous, but the North Fork San Joaquin is a fine, high end piece of river to kayak. There is no gauge near by, but when we put in the Tuolumne was around
900 at Hetch Hetchey
.