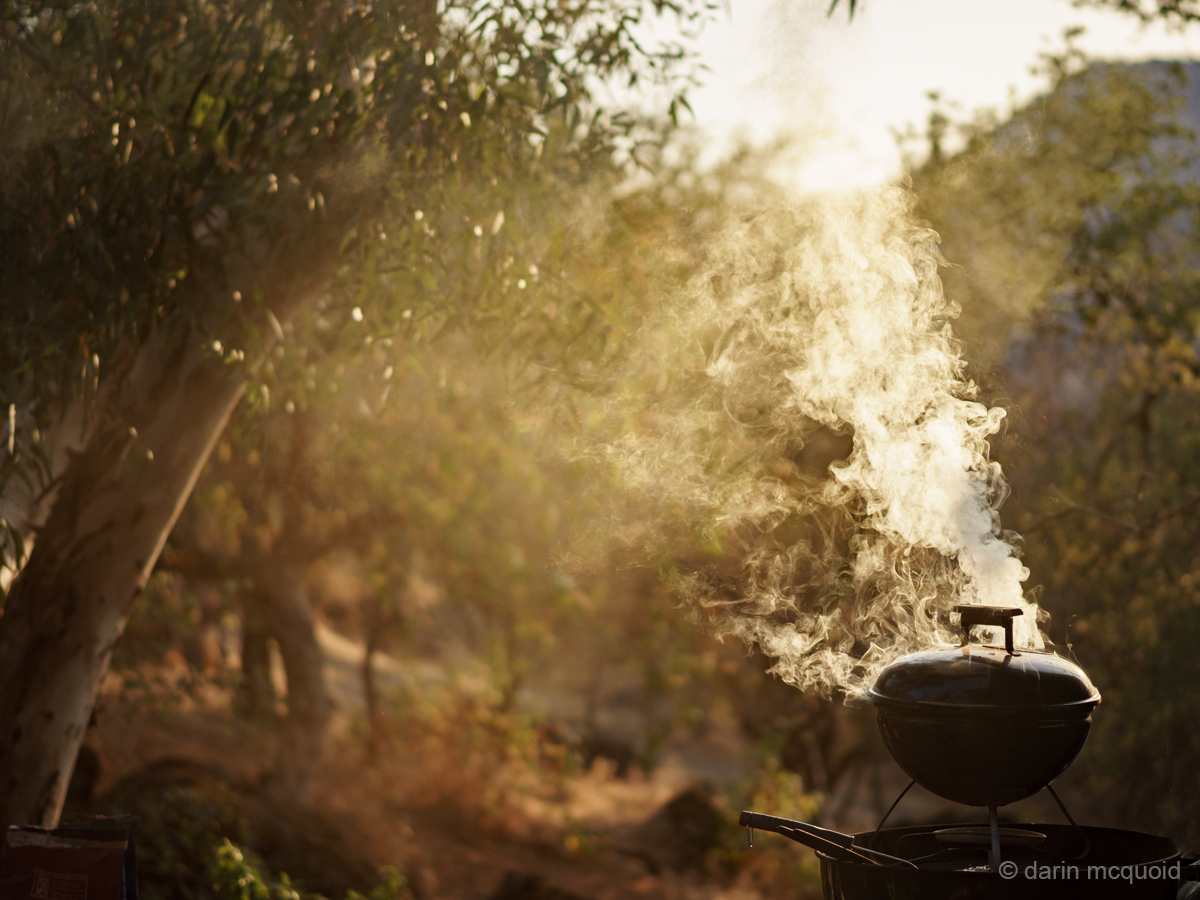 Sony A7 and 55mm f/1.8
California to Oregon, then on to Idaho and Montana. That's what we've packed the van for. There is one rule that stays true in kayaking; operational schedules are determined daily. As our wedding wraps up other plans are set in motion. Prijon is a sponsor of the Special Olympics which are happening in Los Angeles this year. The kayaks they for this event are in Auburn and need transport. In return for transporting the kayaks down to LA we'll get some compensation but also have a vague agreement to use that compensation to travel to Europe.
First we have a little time to enjoy the Mount Shasta area before delivering the kayaks.
Lake Siskiyou and Mount Shasta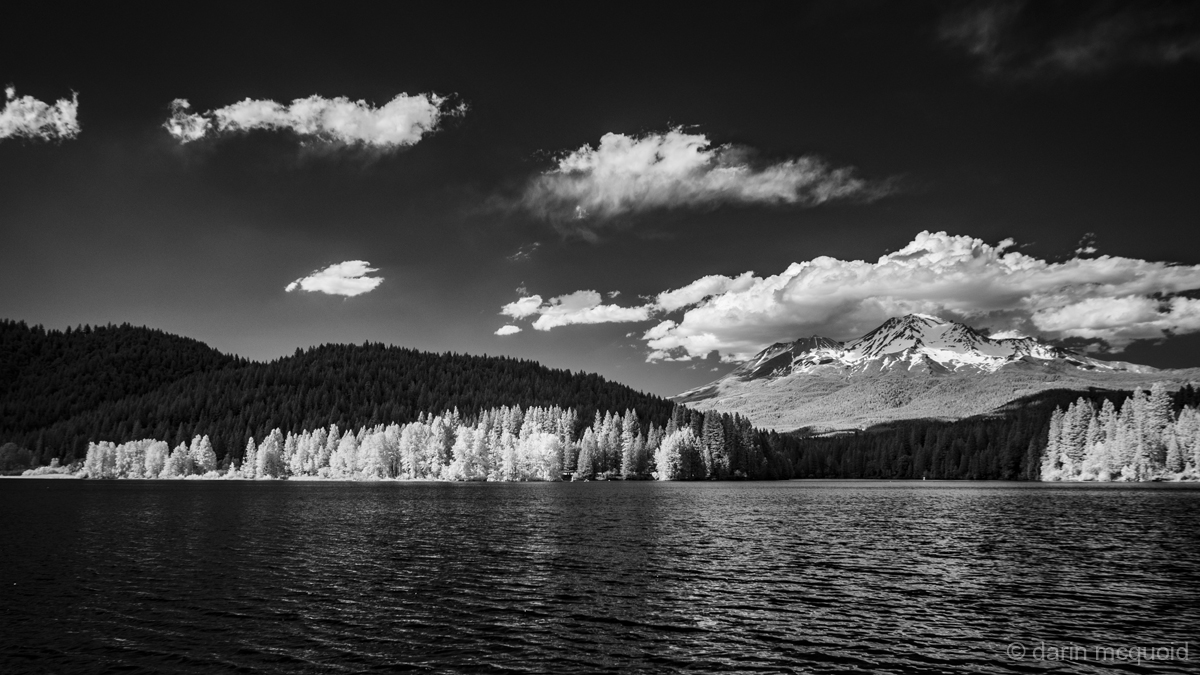 Sony NEX-5R 720nm Infrared and Sony 16-70mm f/4
Swimming in the sky.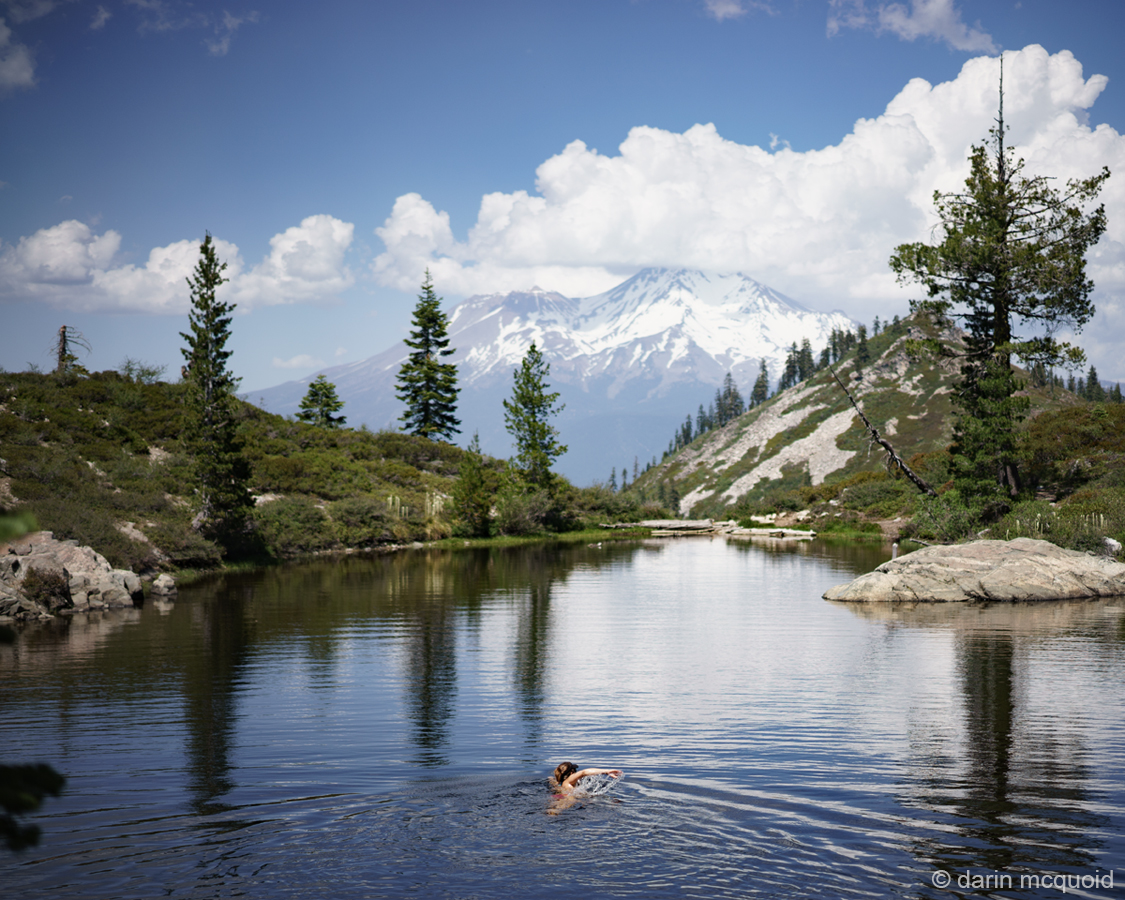 Sony A7, Sony 55mm f/1.8
Norway is our destination, they have incredible snowpack and time there will give us a chance to catch up with friends and do some exploring with just the two of us before joining our kayaking friends. It's not so much a work trip so less camera gear comes along. The majority of my images are shot in the "mid range", so I decide it's time for a chance of pace and bring the A7 with an old Nikon 16mm f/3.5, Pentax SMC 28mm f/3.5, and Nikon 105mm f/2.5. We land in Oslo and spend a few days catching up with friends before having a plan. We've heard great things about trekking in Norway and decide to spend a few days doing that. A friend of a friend suggests the Dovrefjell National Park as an area that shouldn't have much snow, which is what we're looking for as we don't have proper snow equipment.
Dovrefjell is
also just off E6, the primary highway where we'll be meeting our kayaking friends.
The local trekking association office
DNT
informs us that four our length of trip there is a fantastic hike which starts at Kongsvoll then basically circumnavigates Snøhetta, which at 7,500' was once thought to be the highest peak in Norway.We join the club to gain access to the cabins. I'm curious to see what the cabins are like, all previous wilderness cabins I've been in...lets just say we preferred having a nice tent and our own pads. We're not sure if there are alternatives and decide to go for the cabins, but bring our pads and sleeping bags just in case their mattress are of poor quality or dirty. Our rough plan is to spend three nights out in the wilderness and return to E6 on the fourth day. First we catch a train to Oslo, then from Oslo to Kongsvoll. Catching a train in Norway is a bit strange for us because the public transport system is much easier to navigate than that in the United States. It's very straightforward and easy to figure out how to get where we want to go. Unfortunately for us it's a popular train and we don't check until the night before. The morning train is sold out, but we can catch one in the afternoon.
Color skewed by the train window, what a beautiful landscape of farms and rolling hills in Norway.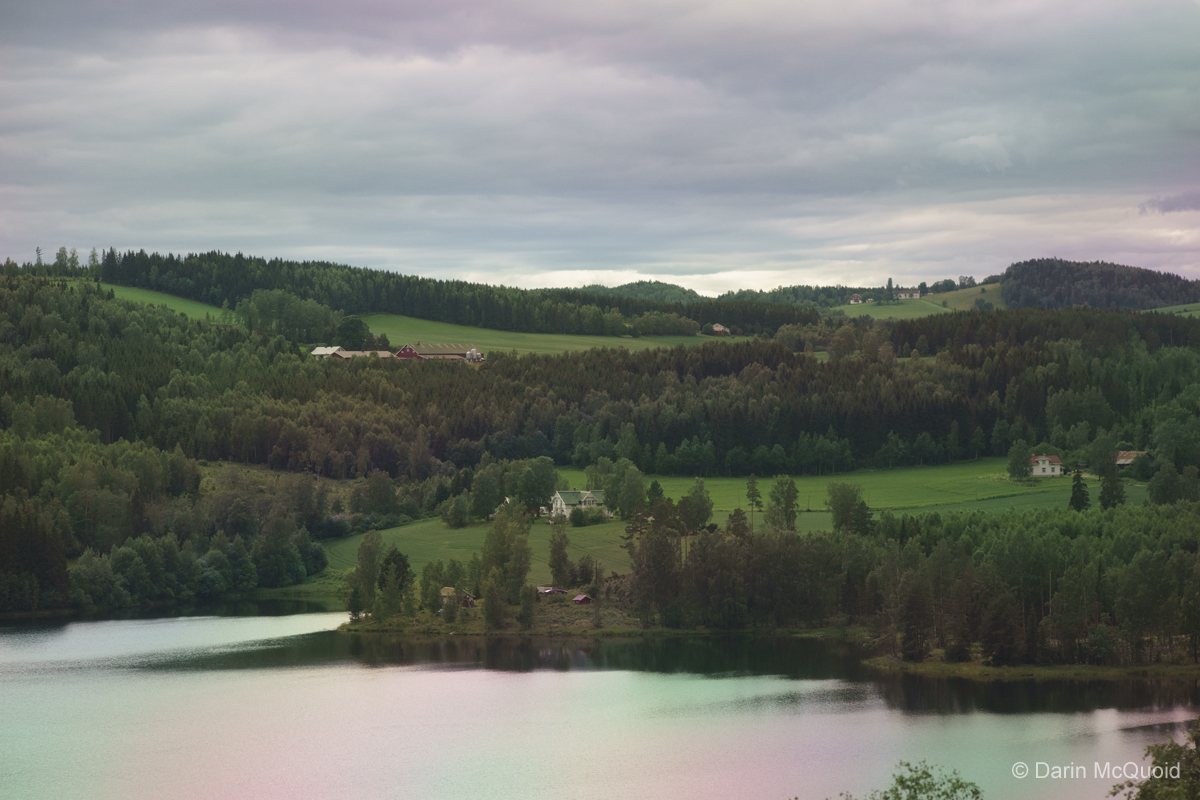 Sony A7, Nikon 105mm f/2.5
Although we'll arrive after six in the evening it should be no problem. Our map shows the hike as a four hour trek, and we're used to maps being overly generous for hiking times based on our past experience. We unload at the Kongsvoll station which is a bit less of a town than expected. In fact it's just two buildings between the train and E6. It's pretty amazing that you can fly to Oslo, take a train to the central station, make one transfer and then unload at a trailhead.
Beautiful architecture at Kongsvoll.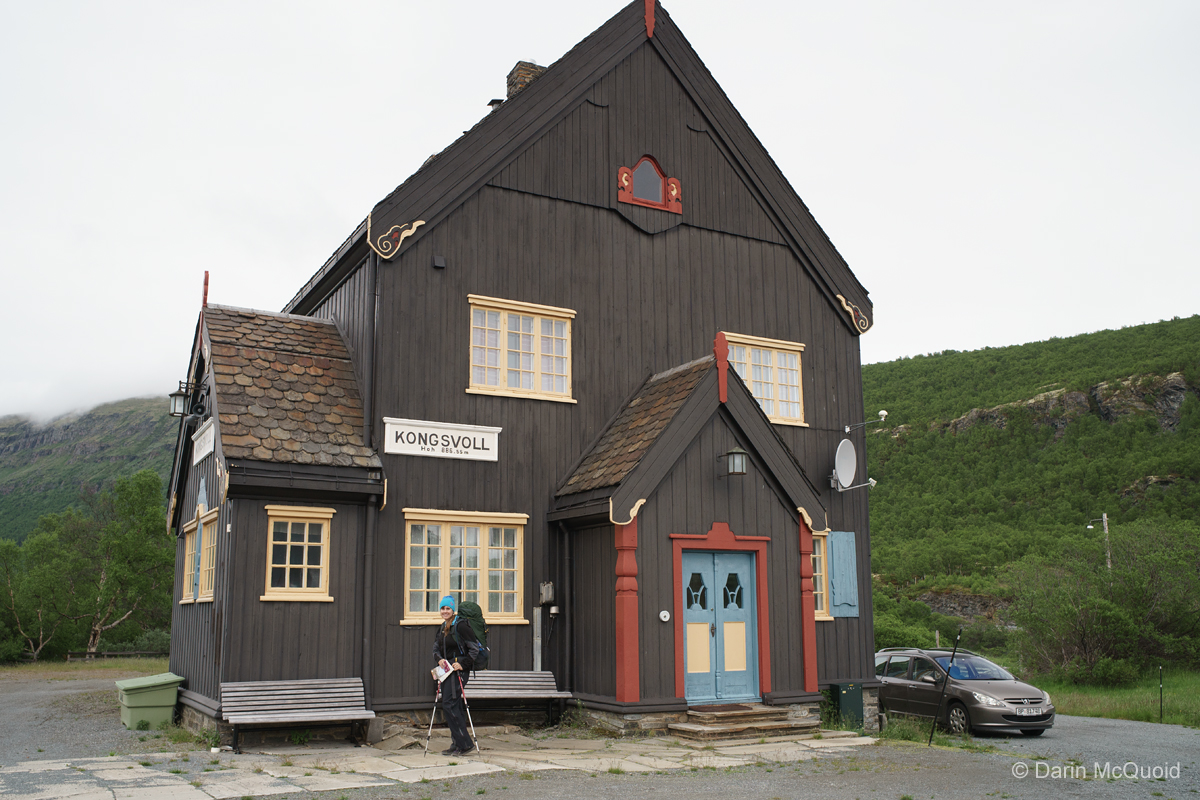 Sony A7, Pentax 28mm f/3.5
The trail climbs steeply and at our time of year the foliage is nice and lush.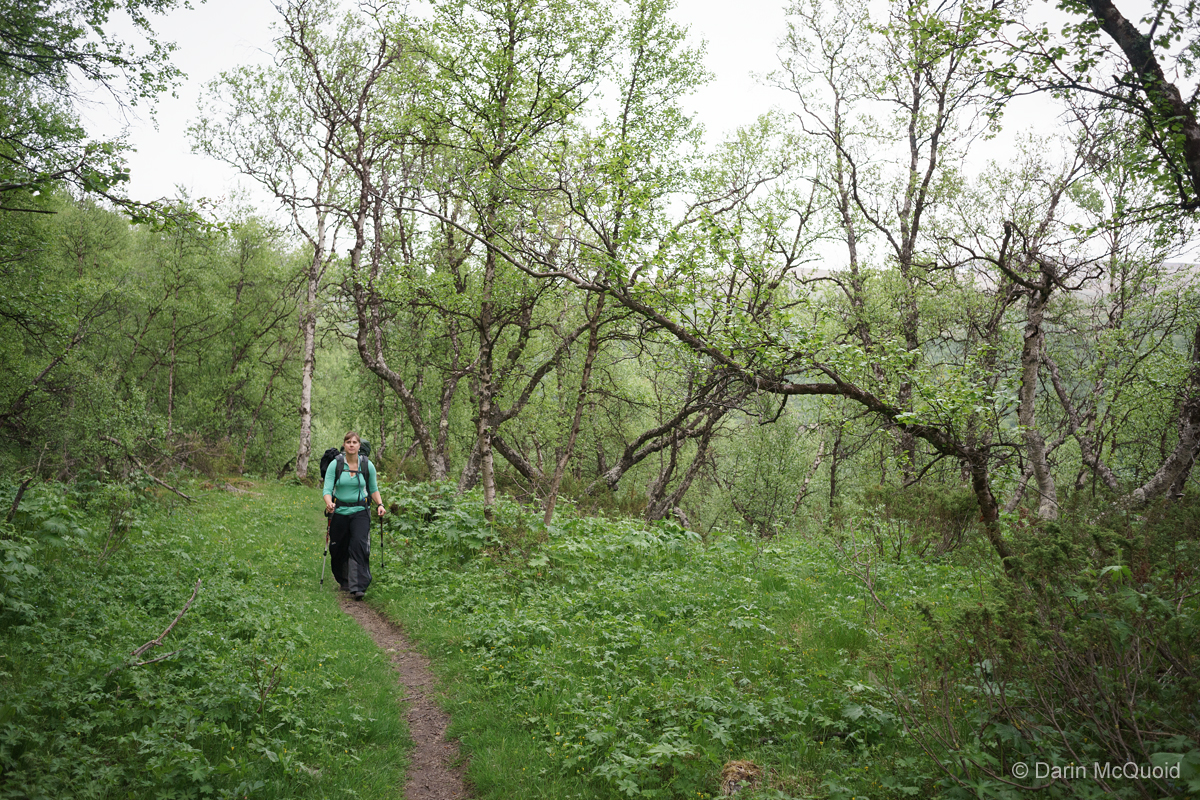 Sony A7, Pentax 28mm f/3.5

We take our time hiking, soaking in the views and getting photos. It's just a four, aka probably two to three hour hike anyways right?


Shannamar Dewey approaches tree line.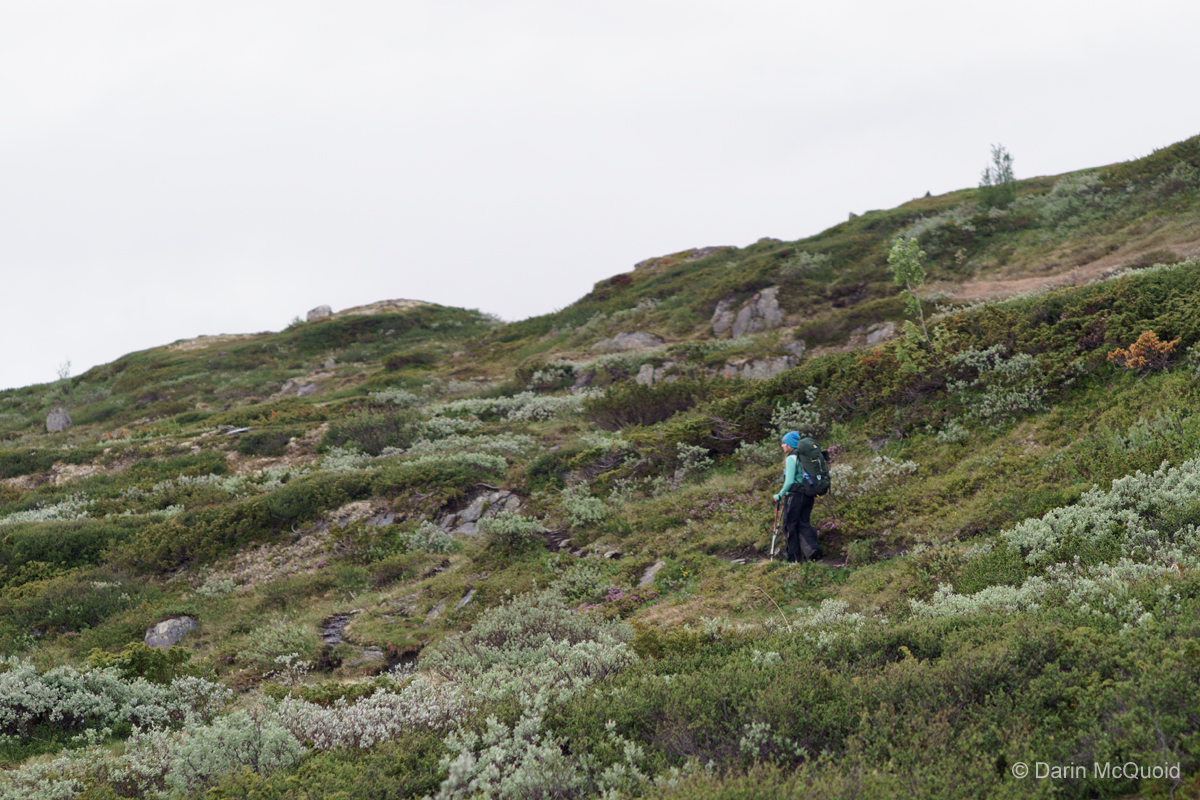 Sony A7, Nikon 105mm f/2.5

We had to stop for a cheesy pose once above tree line.

Sony A7, Nikon 105mm f/2.5
An hour and a half later and we reach the first sign. The ground is very wet and saturated. We turn right and head up towards the Reinheim hut.
Great trail marking thanks to the DNT.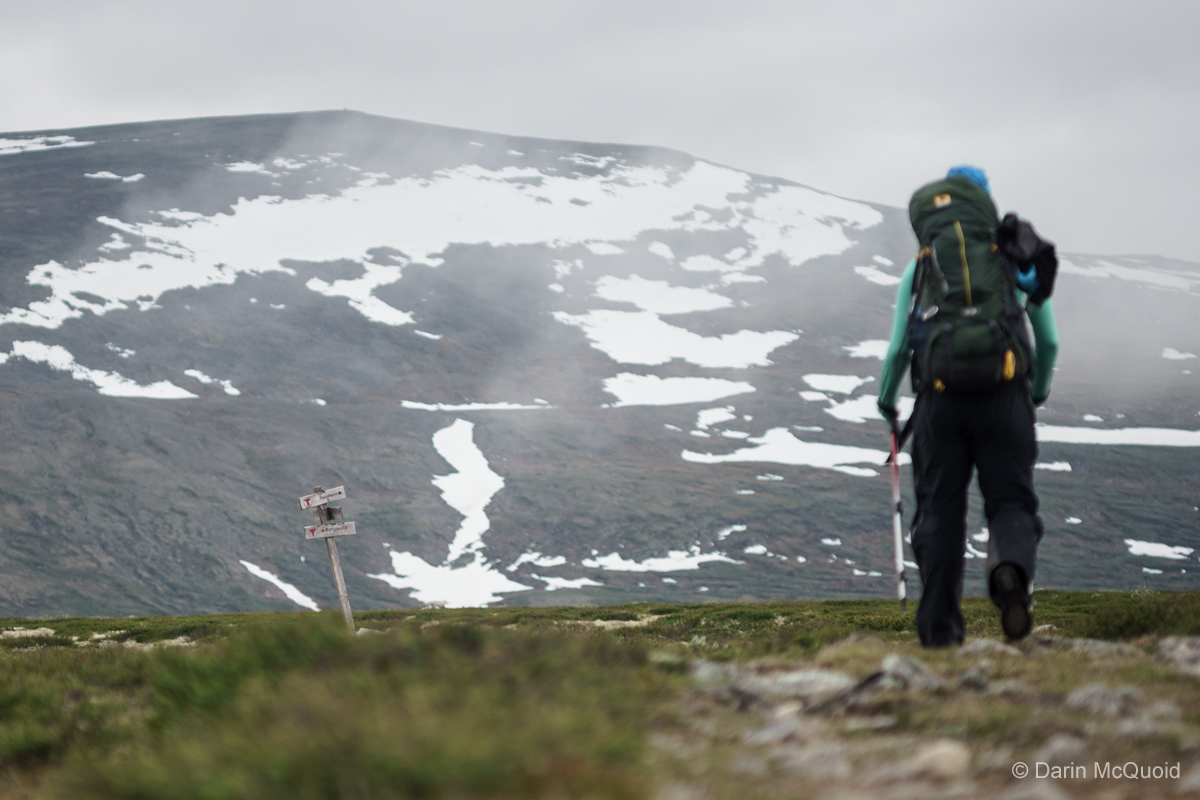 Sony A7, Nikon 105mm f/2.5
Somewhere between eight and nine the sun starts to set as we go up the river valley.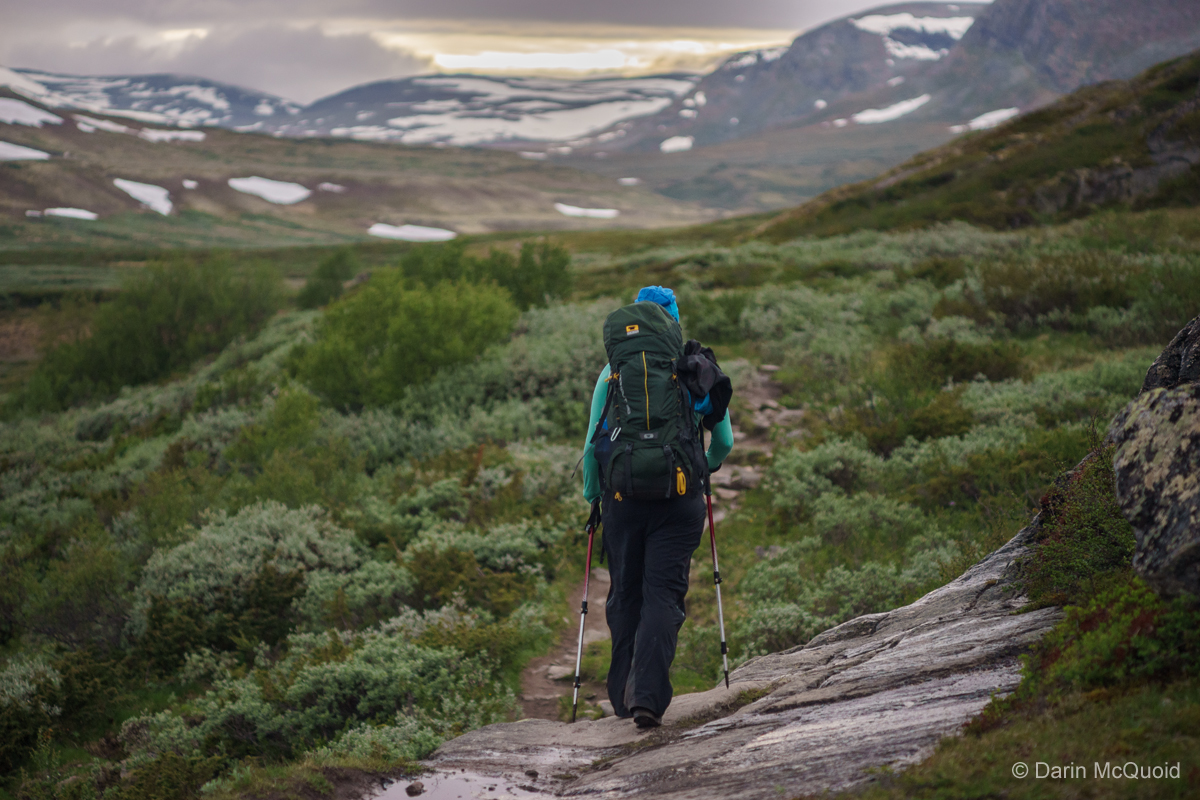 Sony A7, Nikon 105mm f/2.5
No views like this in the continental United States.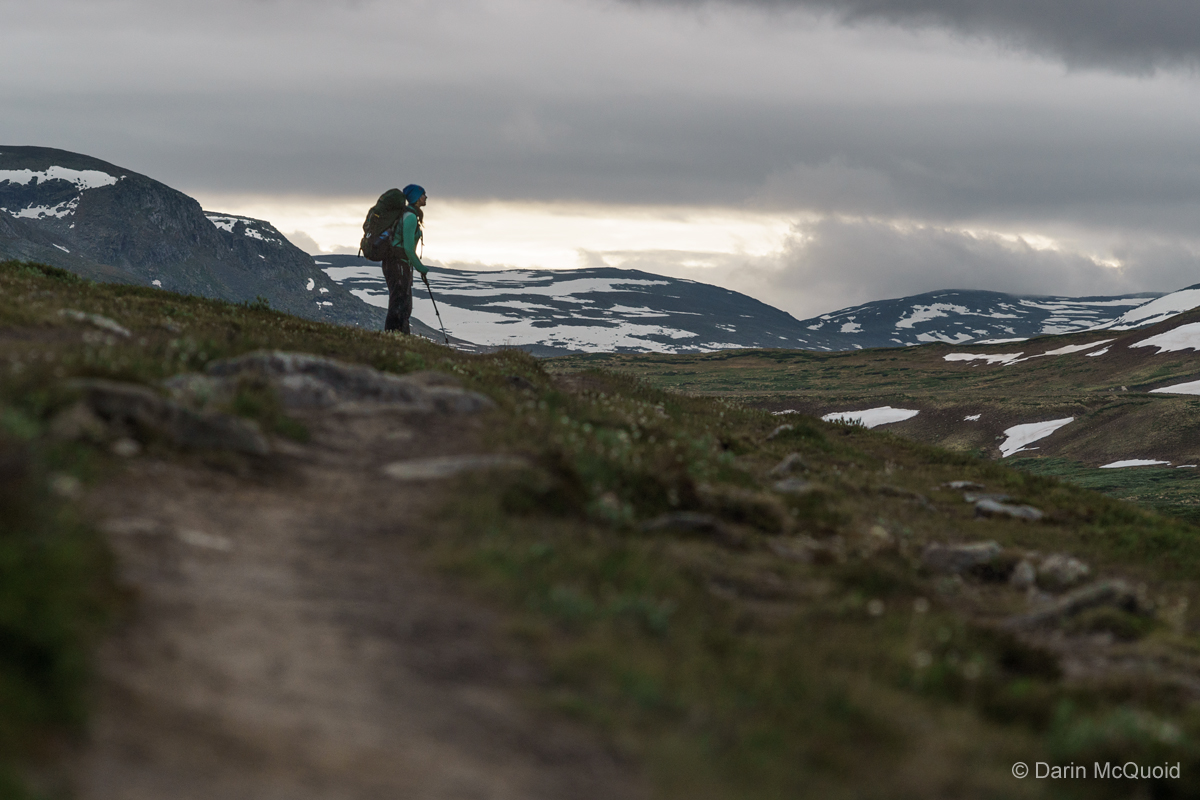 Sony A7, Nikon 105mm f/2.5
Looking at the map the cabin should be up there under the snowfield on the left. Still a ways to go, distance is hard judge with no trees.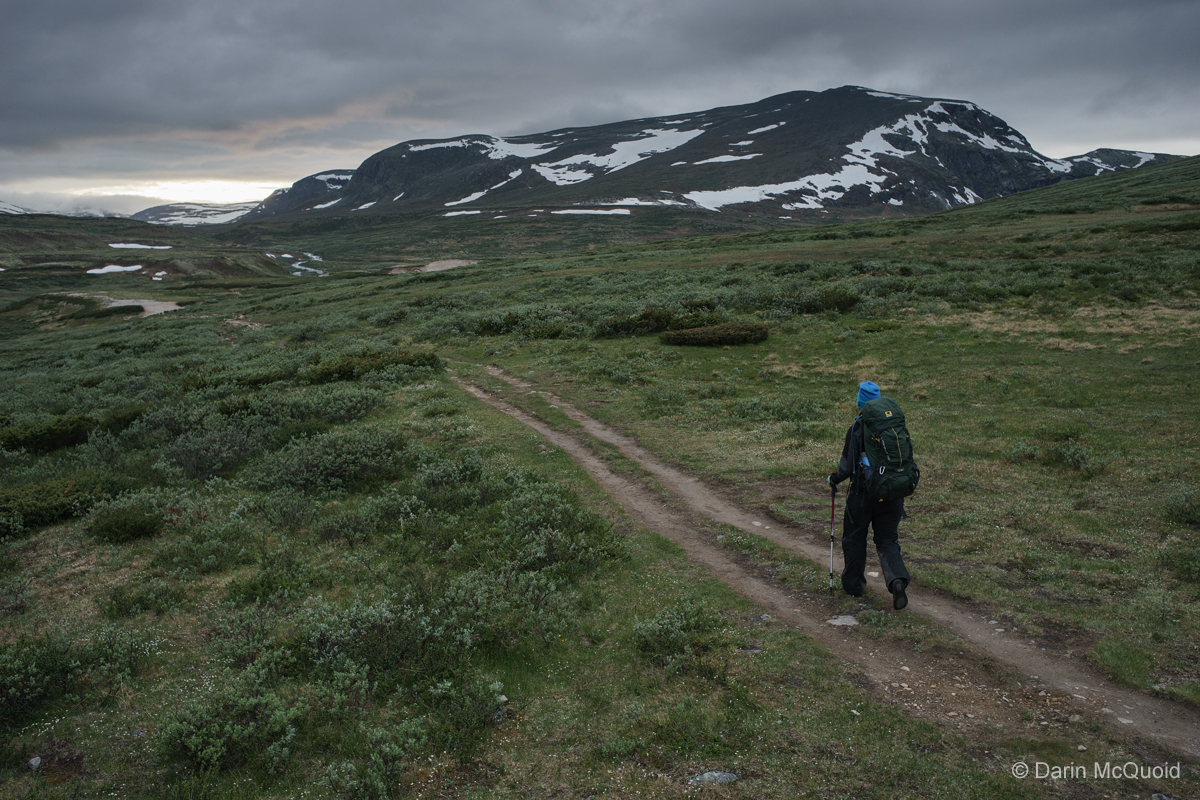 Sony A7, Pentax 28mm f/3.5
Before the hike we'd heard about wild Muskox yet we're surprised to see them as we approach a creek crossing. We don't get too close as they are not always the most friendly and after a few photos we're making progress again.
Norwegian Muskox.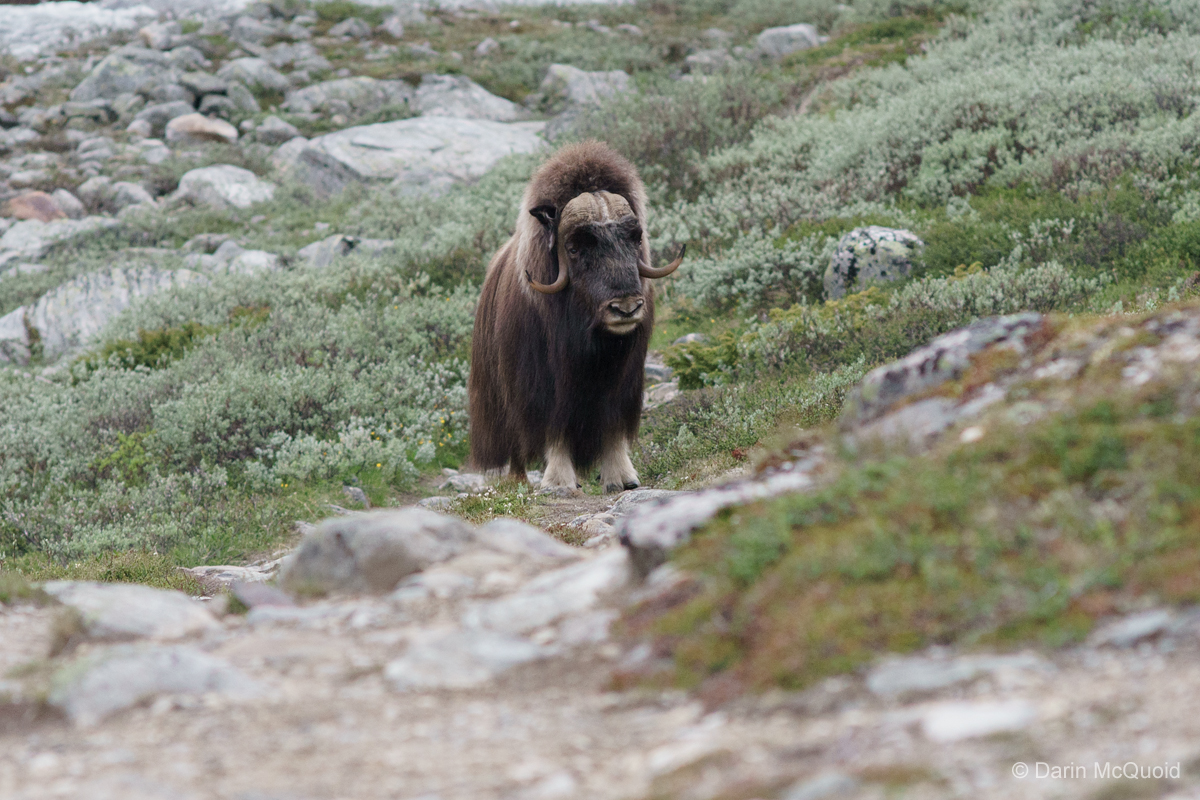 Sony A7, Nikon 105mm f/2.5


Stopping for a break we get out the map and it's apparent we're not knocking any time off the four hour rating. Water on the trail has slowed us down as we hop rock to rock attempting to keep our feet dry. Looking at our map we have quite a ways to go and hit the trail hard. Progress is slow as there are streams crossing the trail, and water is unusually high for this time of year. So high we end up wading knee deep across one stream that's normally casual rock hopping. Thankfully it doesn't fully get dark, but it certainly is dim out. We push on up the trail, taking a break for food and wind shelter at a private cabin. It's quite cold, hopefully the
Reinheim
cabin will be warm. It's almost midnight and we still have a kilometer to go. It's as dark as it will get now, no need for headlamps but close to it as we head up the trail trying to avoid standing water and mud, eventually just giving up and trudging through. Near one in the morning we finally reach
Reinheim hut, glad to feel heat from a fire as we slip into the cabin.
On to Åmotdalshytta