Big boy duly noted on the drive to Skardu.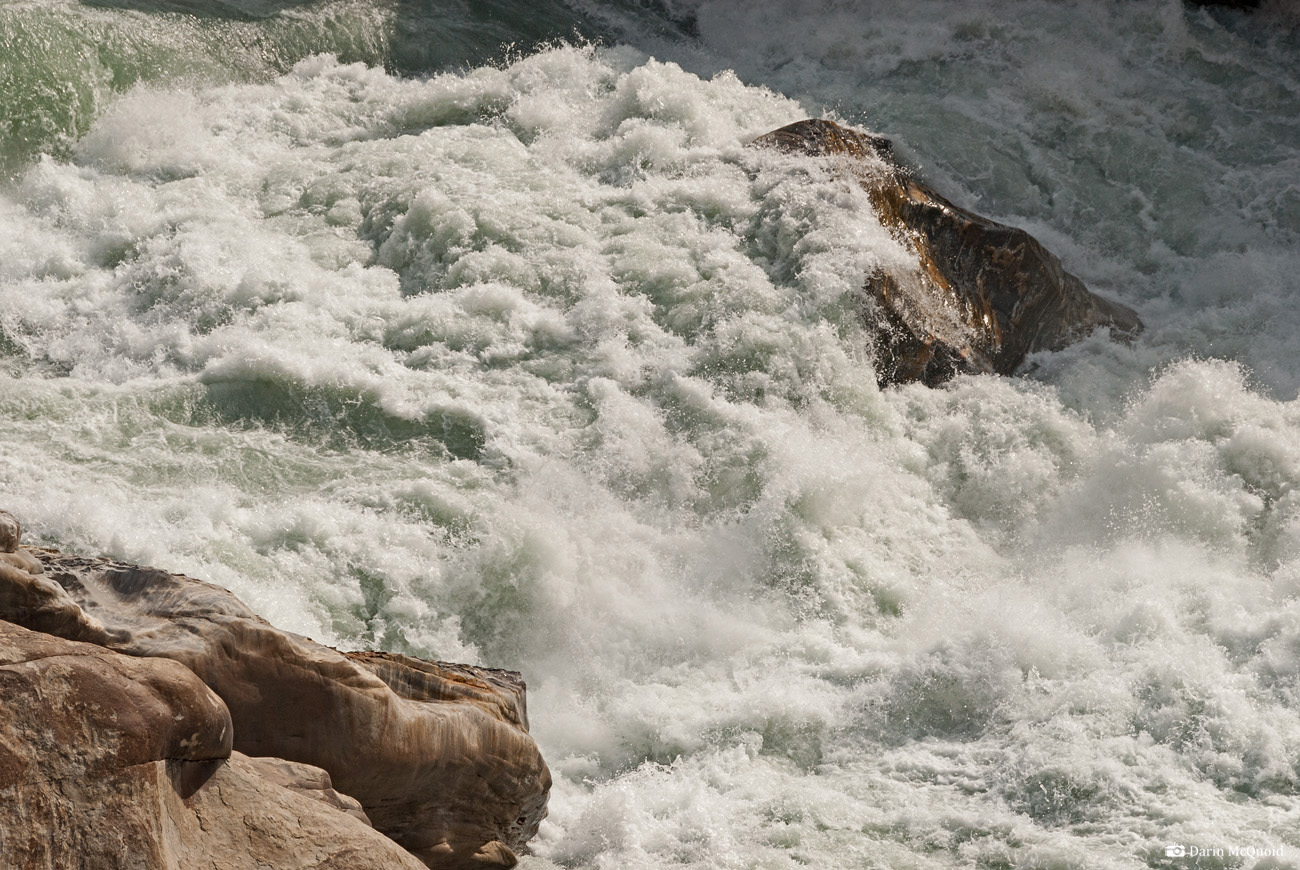 Now that we are approaching the Haramosh Valley on the river, we know it's time for our anticipated visit to the school. Roland and Chris had visited the previous day and read two English books owned by the school.
School is just starting as we arrive, so they go through morning assembly, including a beautiful rendition of the Pakistan National Anthem. Most Shiite schools in Pakistan teach girls and boys, unfortunately in the more conservative Sunni districts, woman's education is uncommon.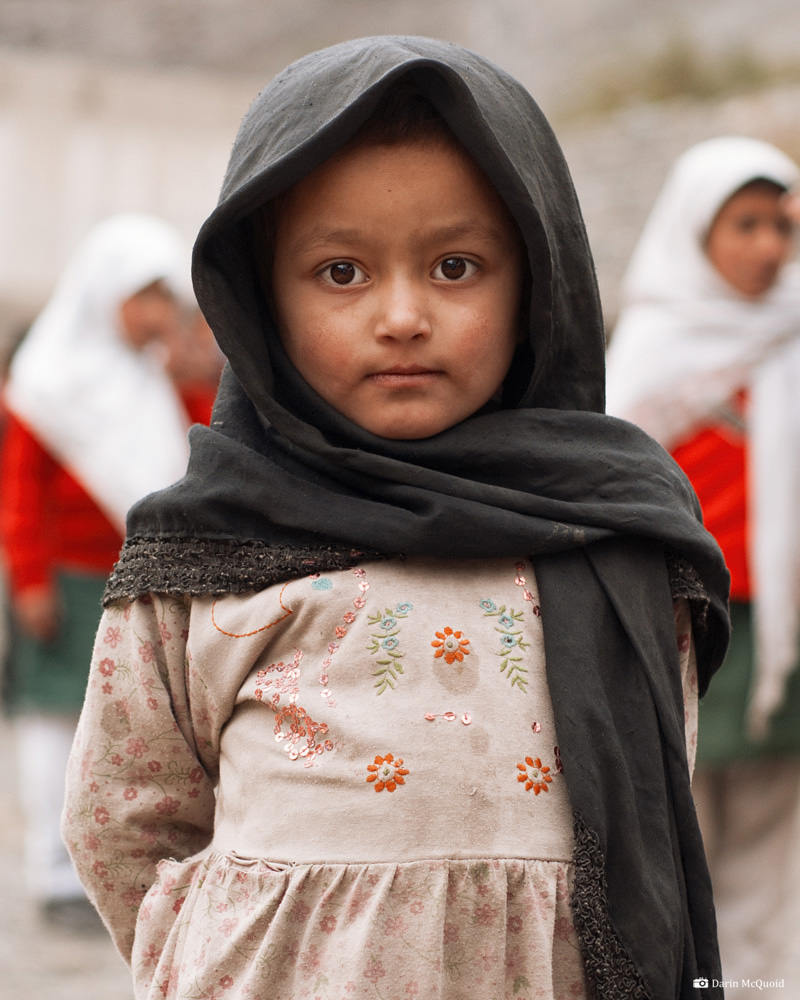 Three Cups of Tea
covers Pakistan's education problems in depth, and is a wonderful read. Peace Through Education. We are only too glad to give a little time to the school, and I personally felt hypocritical while talking about the importance of a multilingual education, something still overlooked in the United States. After we all gave a brief talk, the school resumes its normal schedule and we get out of their way, and on the river.
Big time rapid, and we have no warm up, because we had taken out above this beast last night. And to think at one point we thought it just looked like a wave train.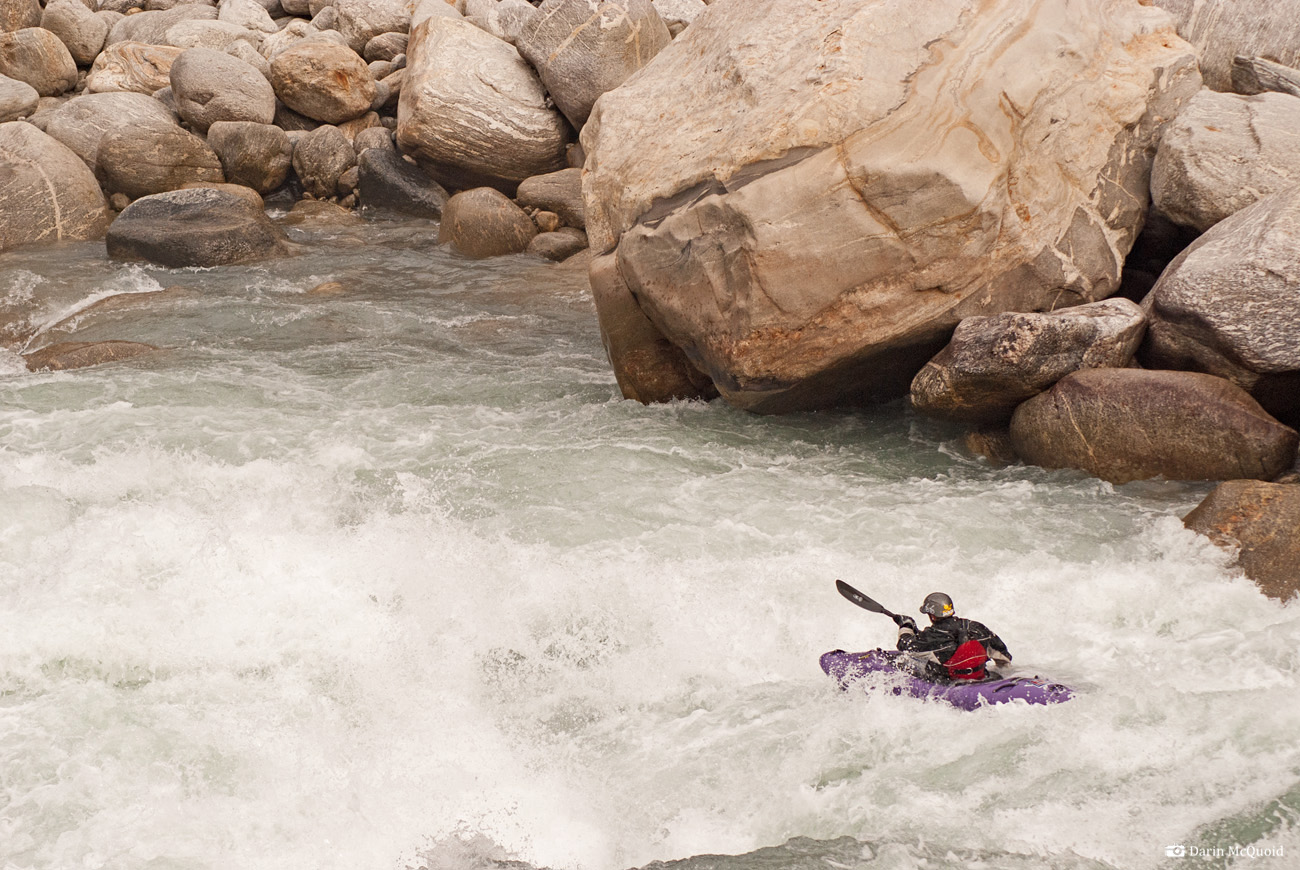 It is yet another long boulder scramble to see what the whole rapid had to offer, and it had plenty. It appeared initially the right side was easier, but would require a big move to make it far to the left at the bottom. The other option was a harder initial move left, followed by some boogie down the left to finish.
Rolling up quickly, Phil was already too far downstream to make it left, so he lines up for the meat of the rapid.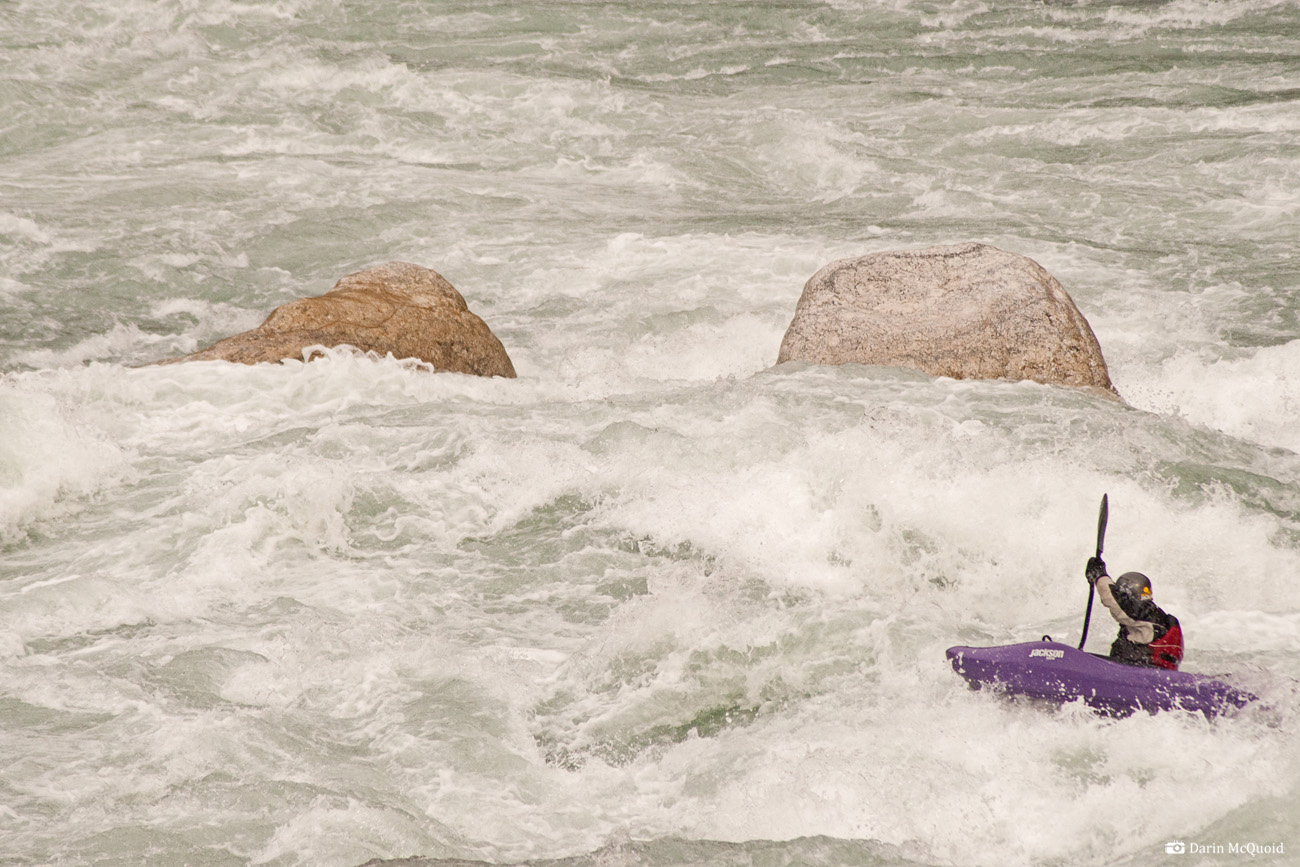 Phil emerges unscathed, and we feel some relief about the rapid, perhaps too much. From the scout I had liked the left line, a little more technical to start out with, but easier once the top move was made. Hiking back up I took plenty of time to scout my entrance move, noting a wave hole that would serve as a marker for me to start my drive left, and once in my boat I quickly peeled out. Coming down the initial wave train I was glad for time spent scouting this move in depth. Visibility was limited due to wave height, but as I passed the wave hole I put the heat on and scurried left of the rock; whew, glad the hard move was past. Now just to finish up down the left Now where exactly was I going? Dismissing the bottom move I had made a large mistake, in a river of this size small holes are larger than named holes than most rivers. I came down the left side not really sure where I wanted to be, semi-confident that it didn't really matter. As I dropped over a wide but seemingly benign hole, I back endered into it and started getting my surf on.
No big deal I told myself, it didn't look too bad so I should flush pretty quickly. I rolled up only to still be in it, and proceeded to get a few ends and surf more, starting to get short on breath and more than a little concerned about the situation. An attempted blast out the side got me nowhere, and I was pulled back into the maw to flip again. I decided to wait upside down a little longer this time to make sure I would flush, and as I felt the current get less chaotic I rolled up, confident that I would be moving downstream. My concern about the situation skyrocketed once I had rolled up and the hole pulled me back in from over a boat length away. I couldn't help but think that this might not end well as the hole pulled me back into the meat and a quick series of enders. Rolling up again, I was very surprised to be clear of the hole and still in my boat, not really sure how I had gotten away with that one.
Insult to injury followed with another brief surf in a downstream hole, then I was clear of the rapid, glad to have that one behind me.
Now that we had that behind us it wis just a few hundred yards down to perhaps the single largest hole on the river. It had looked big on the drive up, but someone in the team and proclaimed that it would get run. Standing at the lip we aren't so sure about that claim.
The lead in is a stout enough rapid on its own merit, but the final plunge into the hole iss something that I am not articulate enough to give justice to. My stomach turns over just contemplating the power. Suffice to say if it was a warm sunny day, and you were as fired up as can be, then just maybe you would consider running it. Or, if it's just above freezing, you're in a third world country half-way around the world from home, hours from any kind of help and you name is Ben Stookesberry, you'd fire it up.
Lining up the entrance move.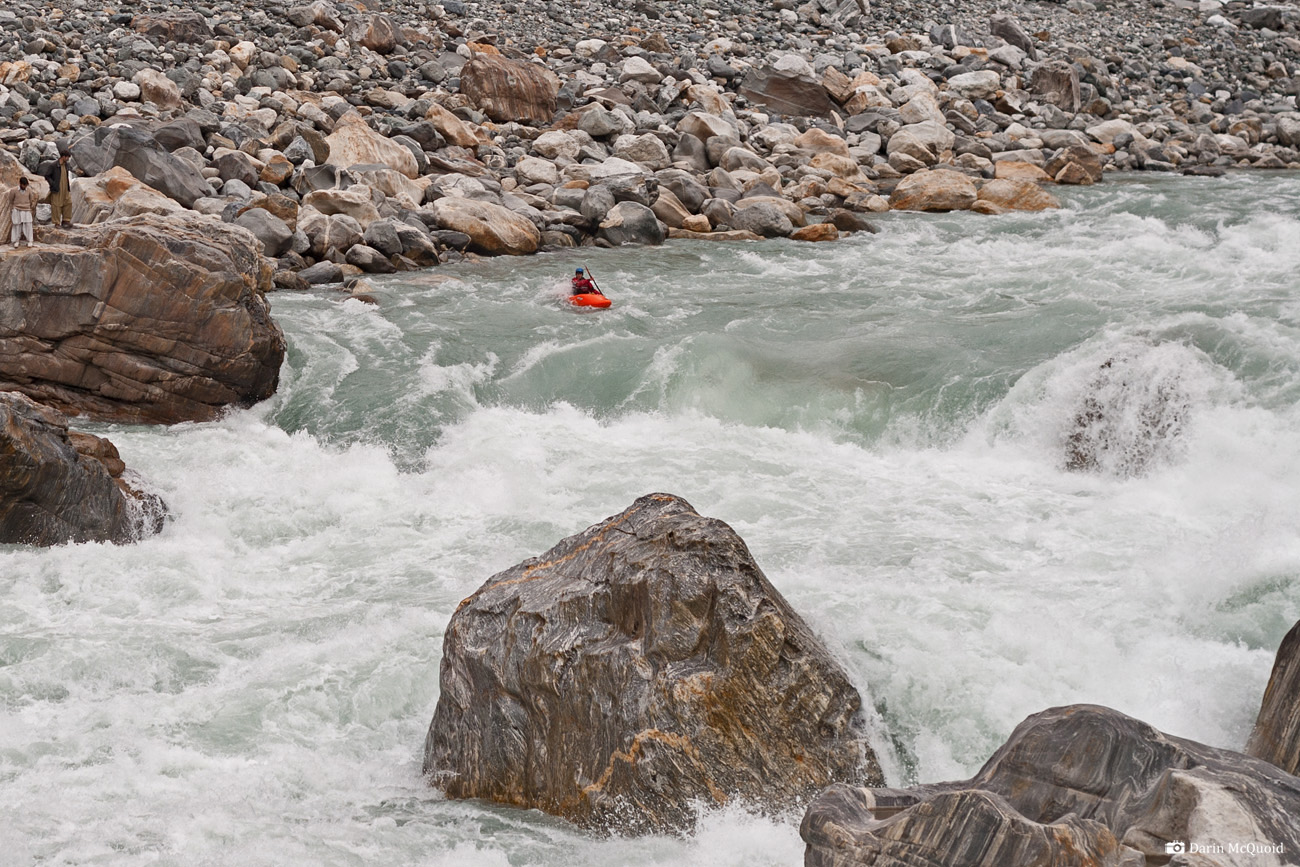 Ben Stookesberry "taming the Lion", beautiful shot by Roland Stevenson.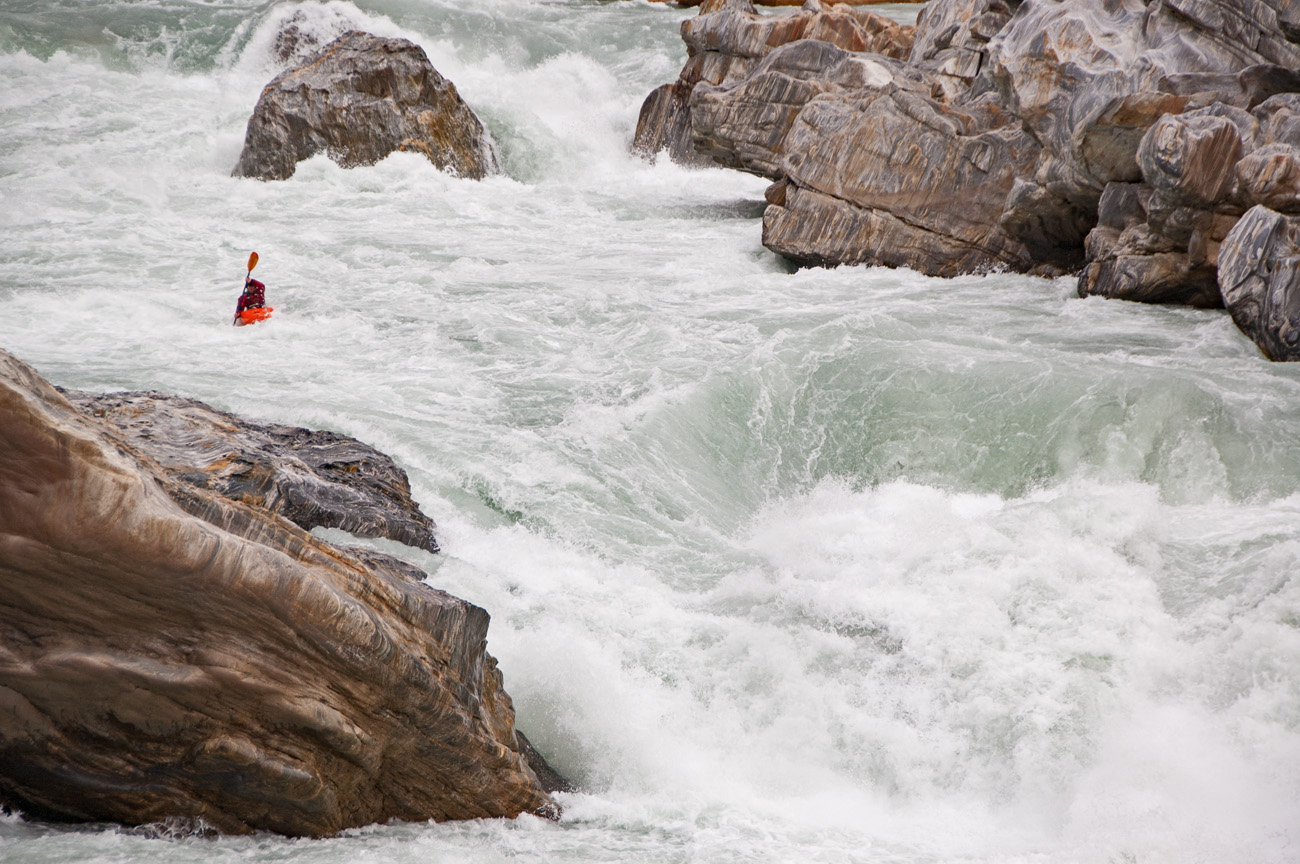 "It felt like running a big waterfall."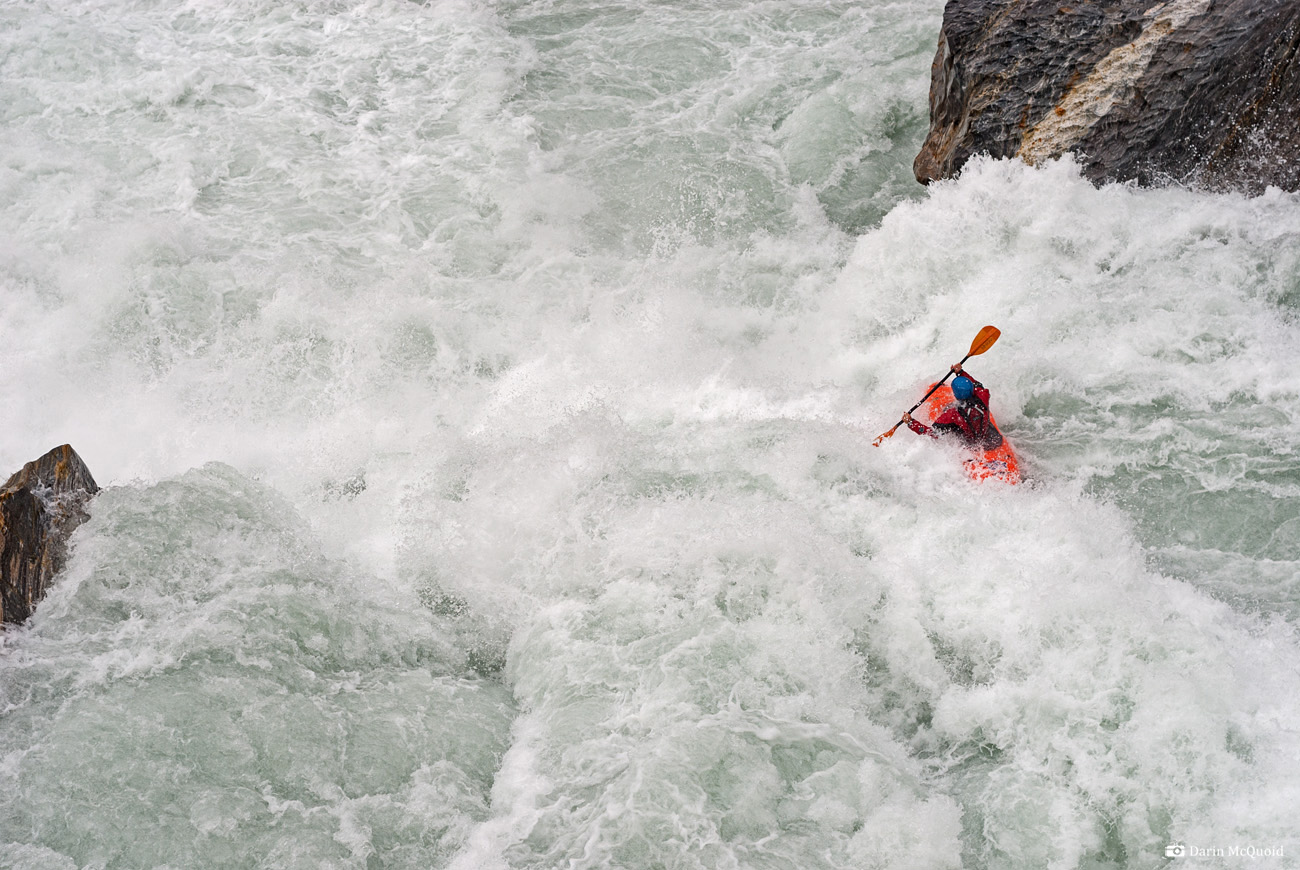 Everyone holds their breath as he melts into the hole and submerges deep in the flow. Smiles all round as Ben eventually rolls up.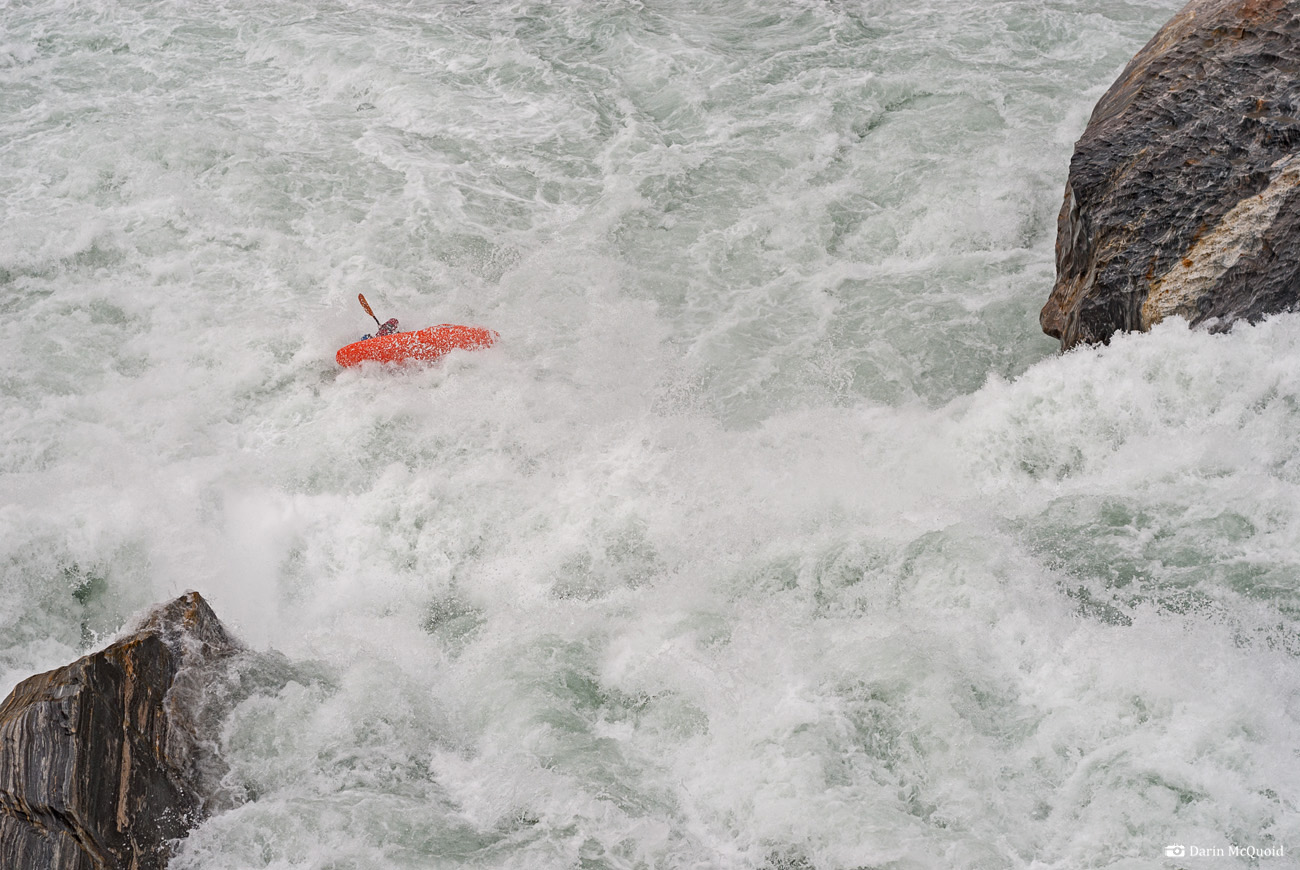 Magnificent sculpted rocks showcase the rivers beauty in the run-out.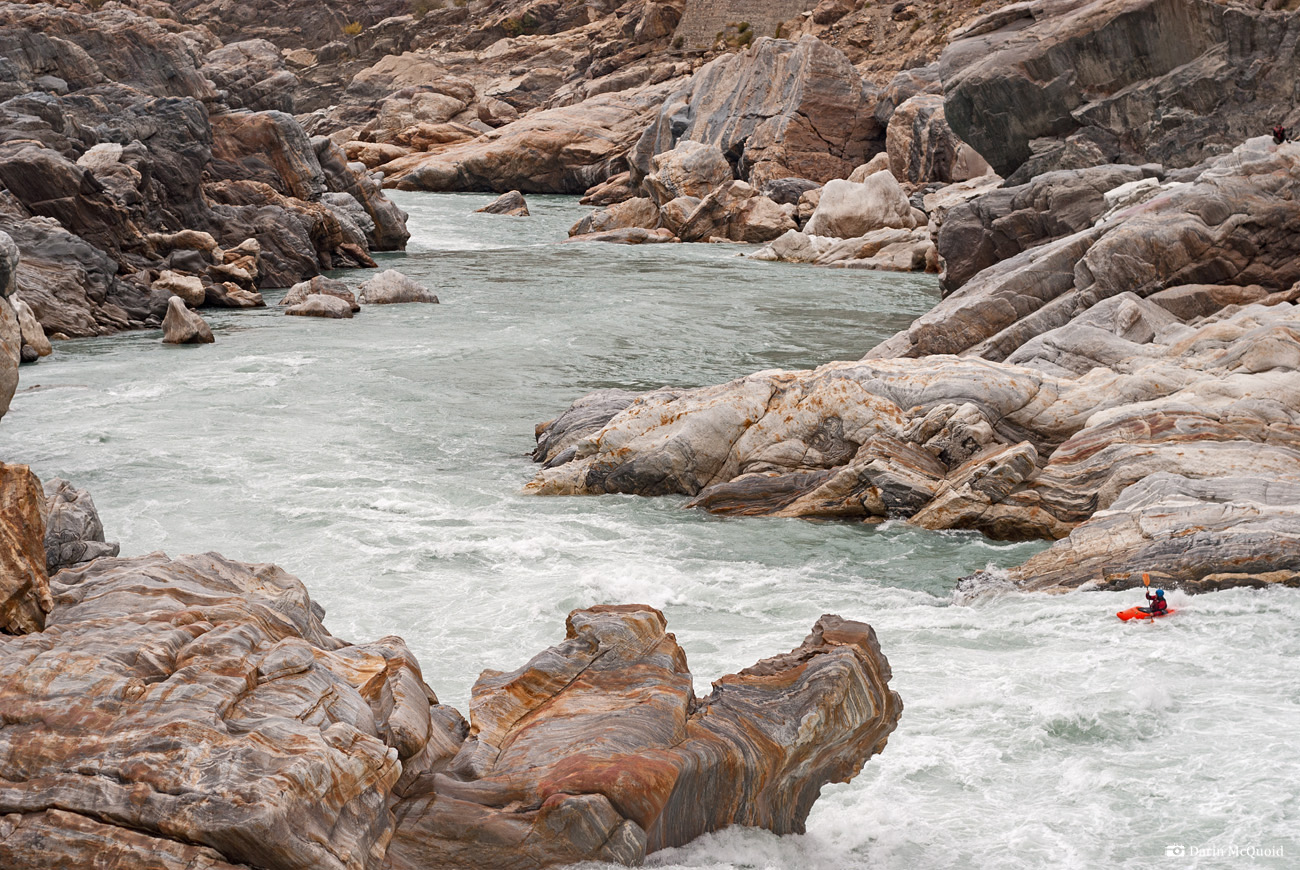 Ready to get out mileage on, or should I say kilometerage. Either way, we were ready to make some downstream progress.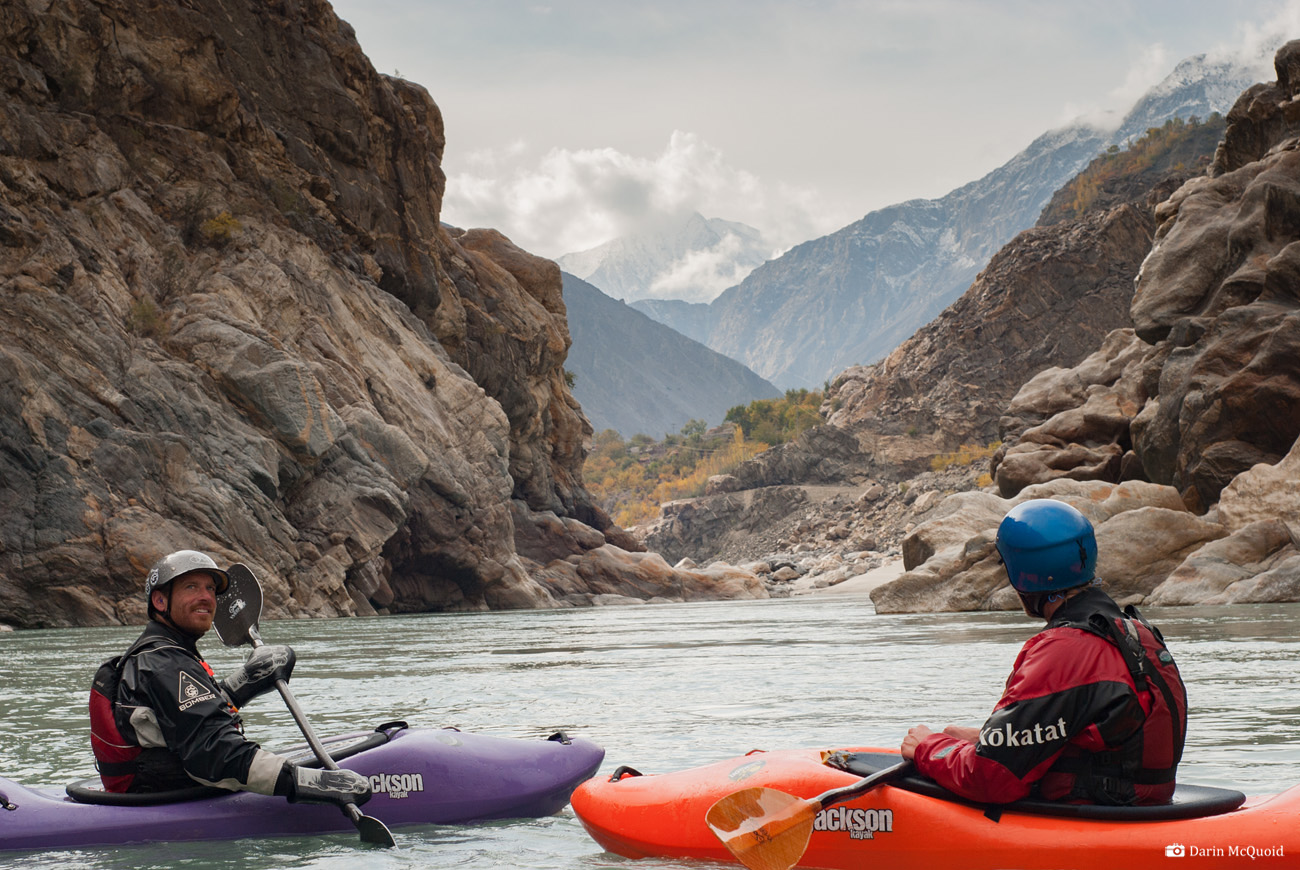 A quick shore scout and Phil Boyer probes another Indus gem.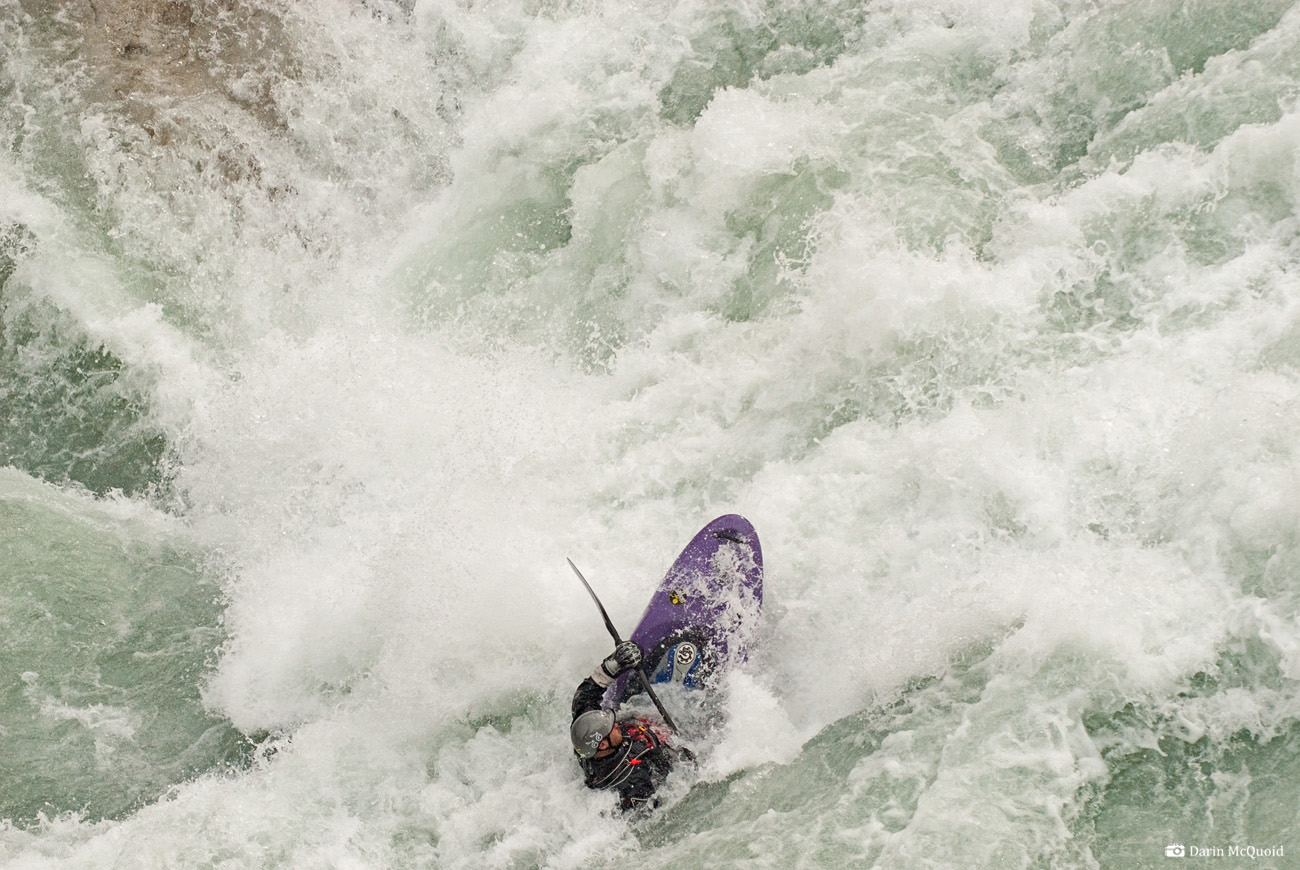 Swell forecast on the Indus - overhead to double overhead.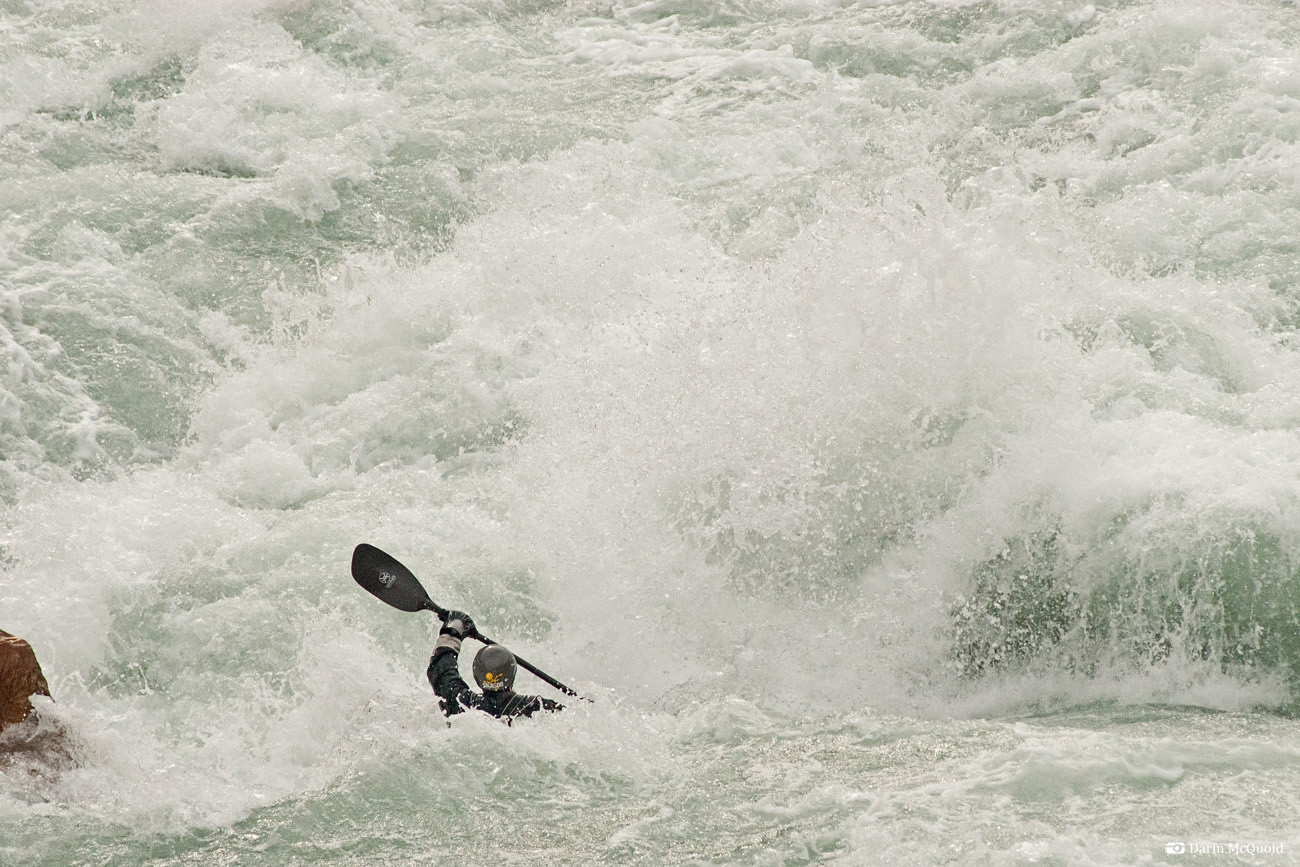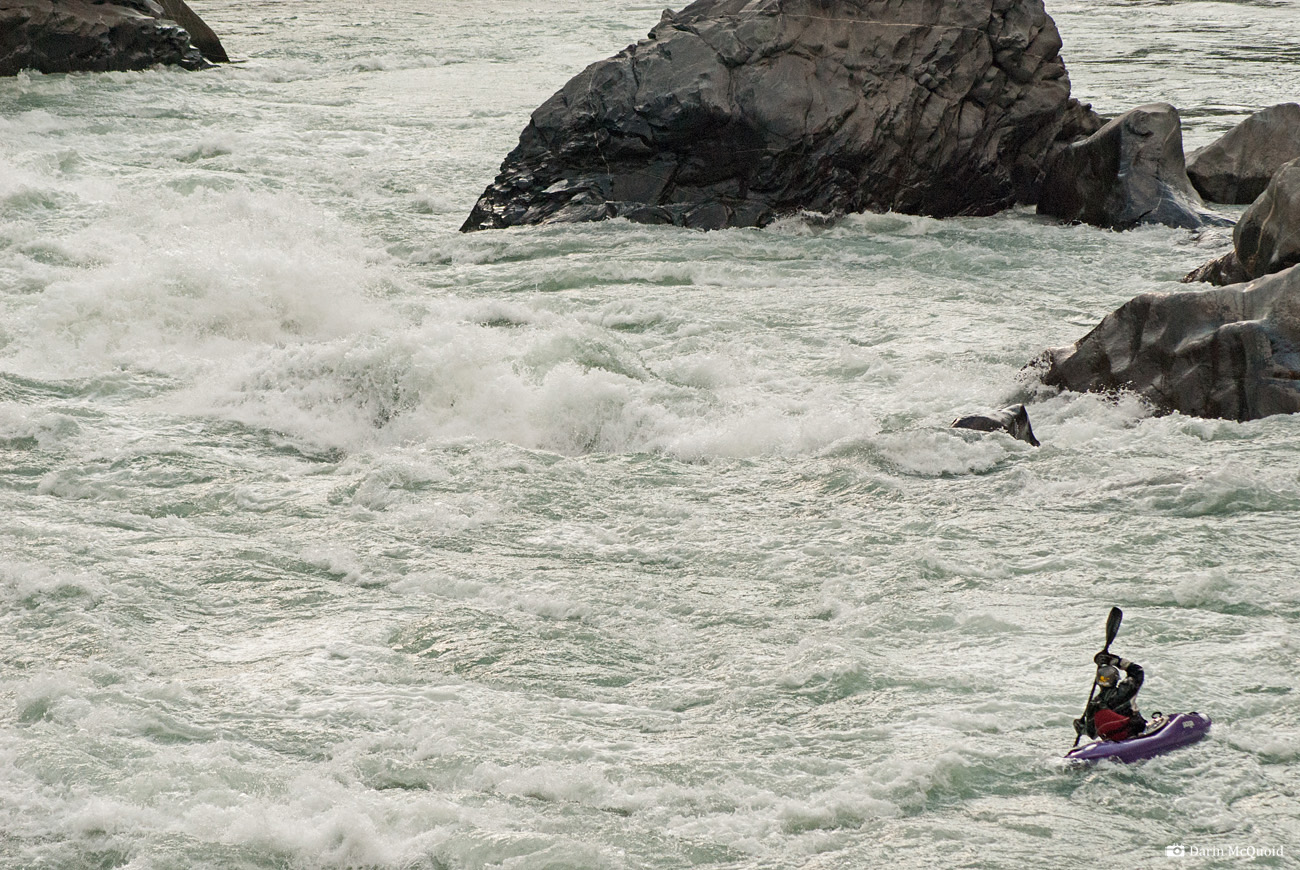 Ben Stookesberry nearly lost in the radiant Karakoram.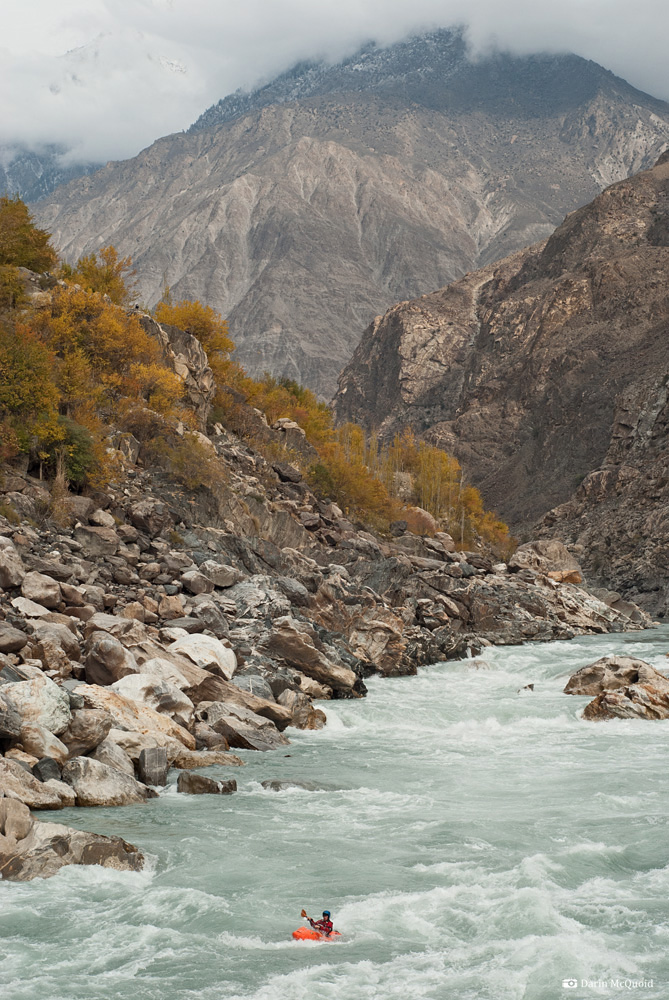 Rounding the corner we were greeted with celebrity status by the students of the Haramosh Valley School. We pulled over to talk with them for several minutes before heading on.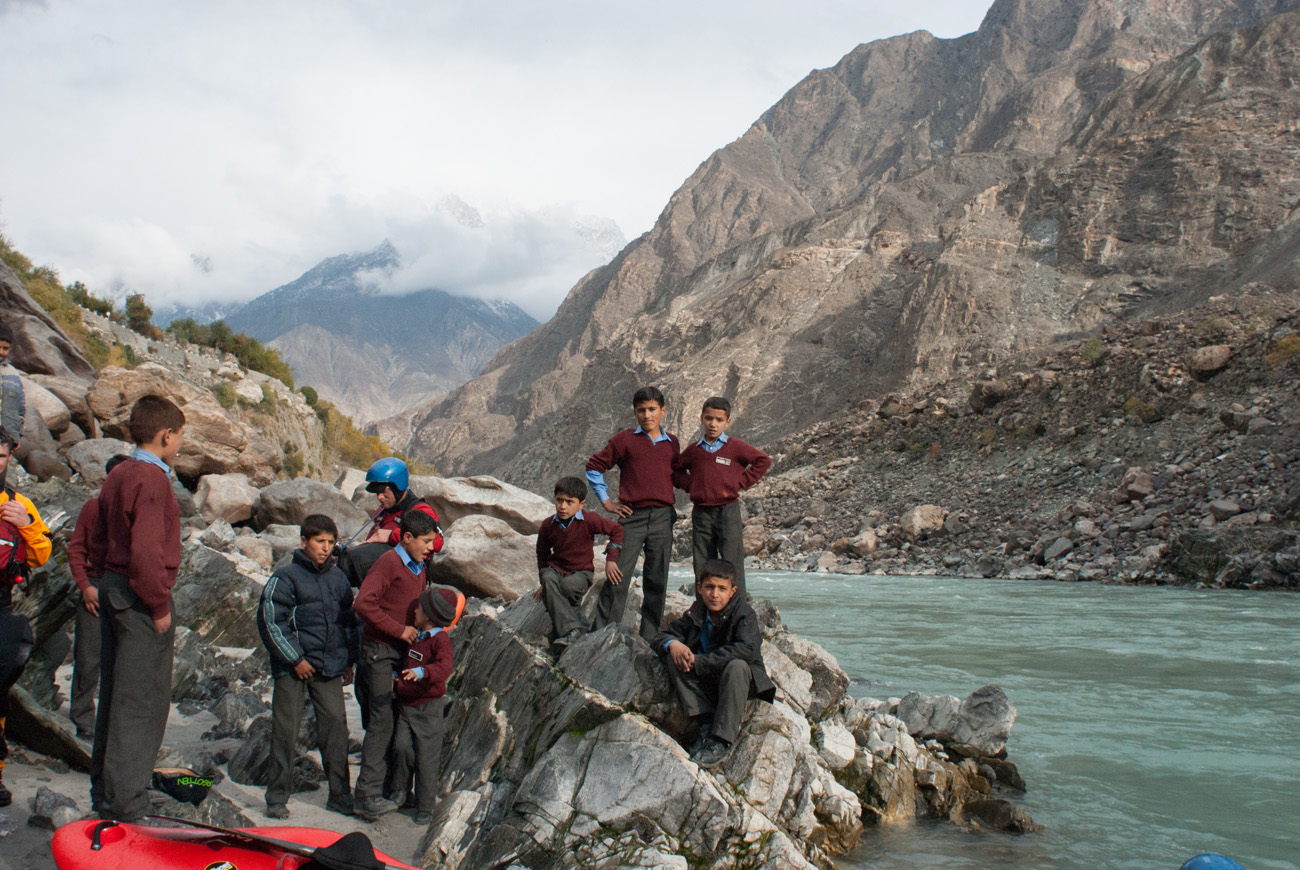 Deep in the canyon, the sun would drop over the horizon in a matter of minutes, sending us scrambling to find a camp site remote enough for privacy, or a trail to the road. With the sun over the horizon Ben Stookesberry cleans up a representative hole filled rapid.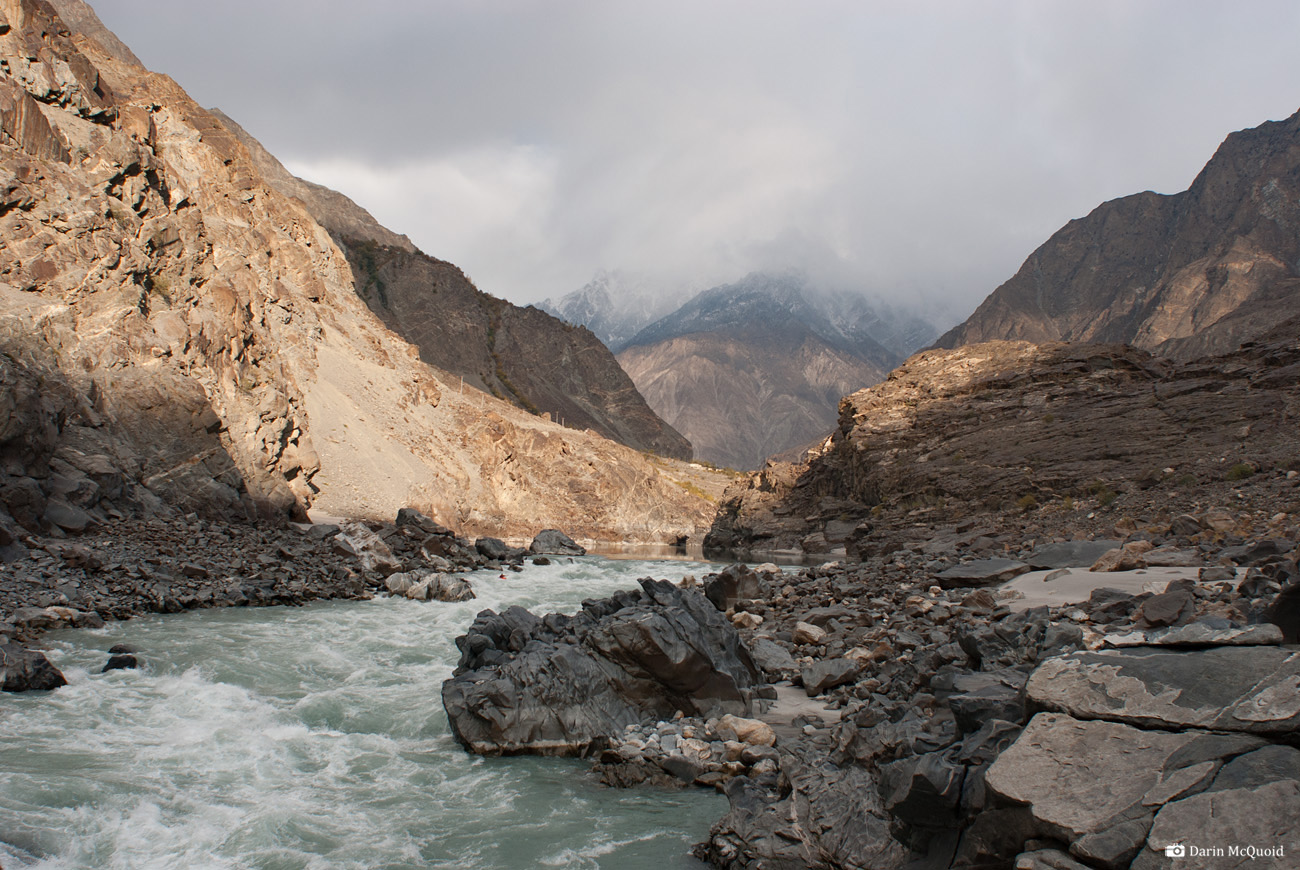 In the eddy below the rapid we conversed about camp options. On a plateau there were a few sandy spots mixed into a boulder field, or we could gamble and push downstream further. The deciding factor was an abundant supply of driftwood, we couldn't turn down a campfire opportunity as the temperatures dropped quickly.
Minutes into setting up camp we were greeted by a large convoy of locals...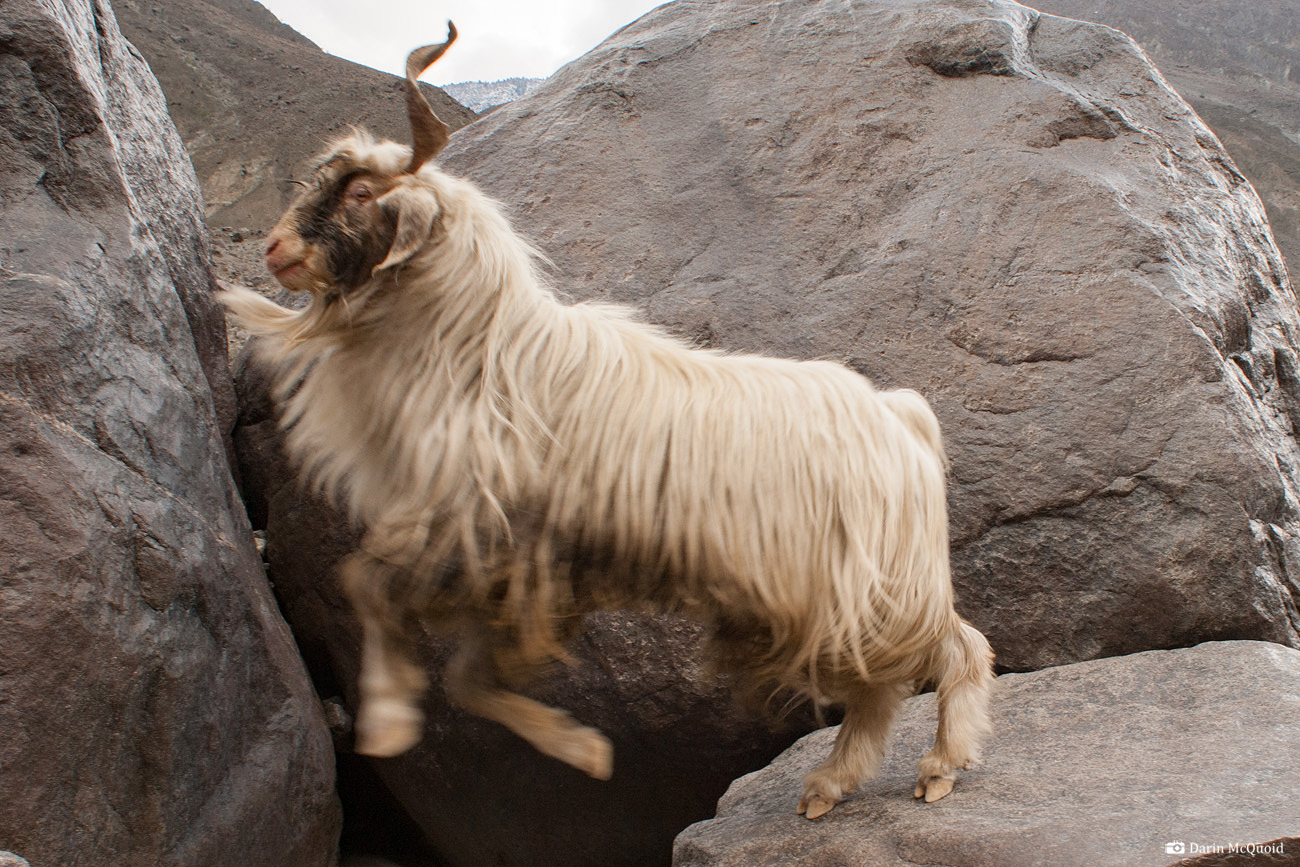 We quickly gathered around a glorious fire as clouds rolled in overhead, promising a strong chance of rain, rare this time of year in the high desert setting.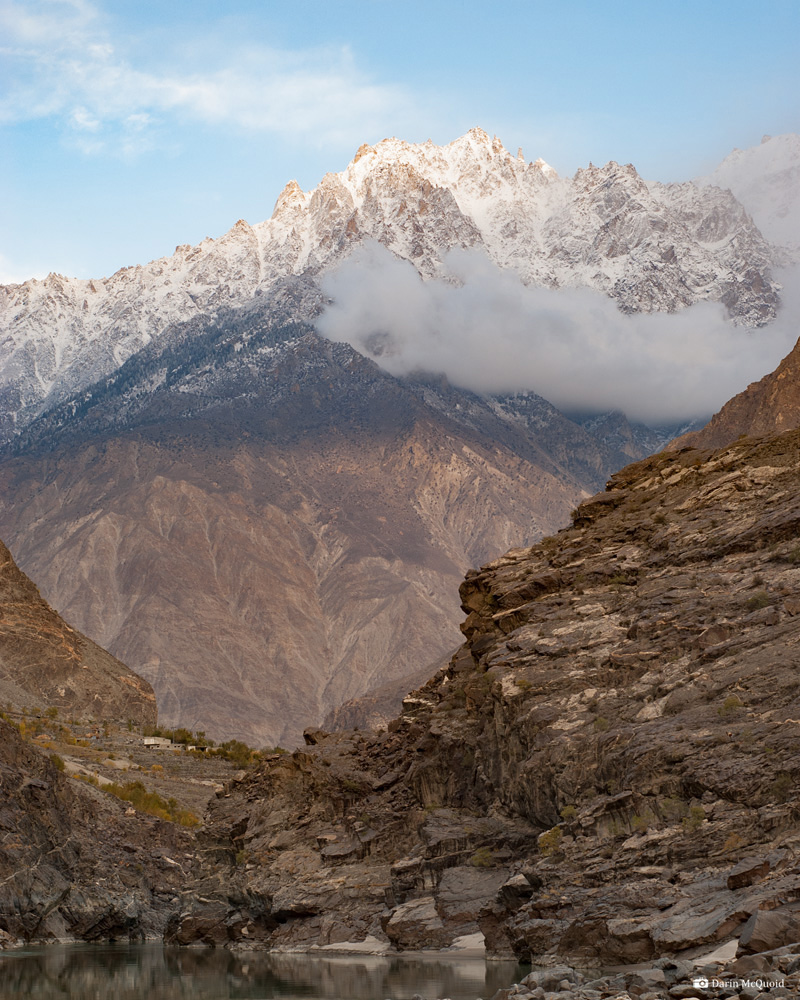 As we warm up by the fire, the topic of discussion is both our previous ten days on the river, and the following. Surly this is one, if not the best river any of us have ever been on. Consistent rapids every day, class V almost all day, every day. What looms even larger is the promise of making to the confluence tomorrow. I for one always look forward to take out; warm cloths, plenty of food, external heat and rest, and that's after just one day on the river! After ten days of cold, challenging whitewater, I hope the confluence would be attainable in one more day.