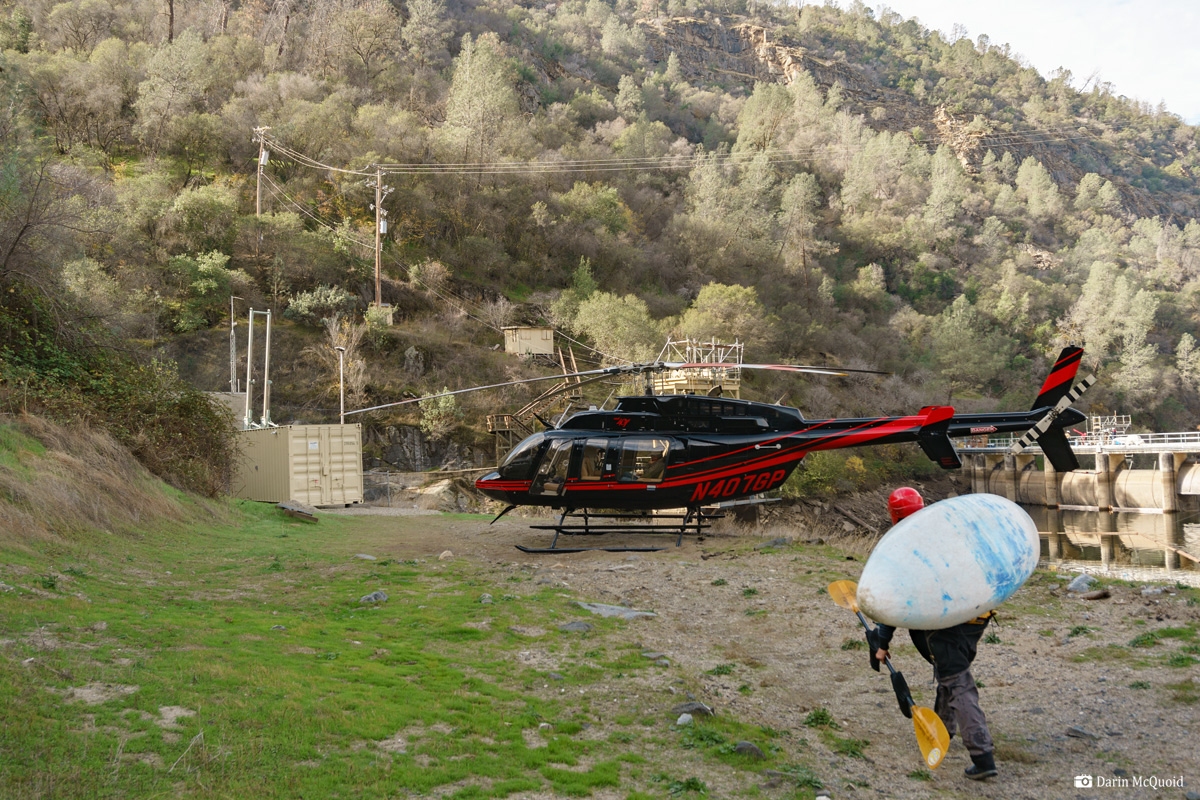 A nice ladder system allows for relatively easy access below the dam. Shannamar Dewey takes a look downstream.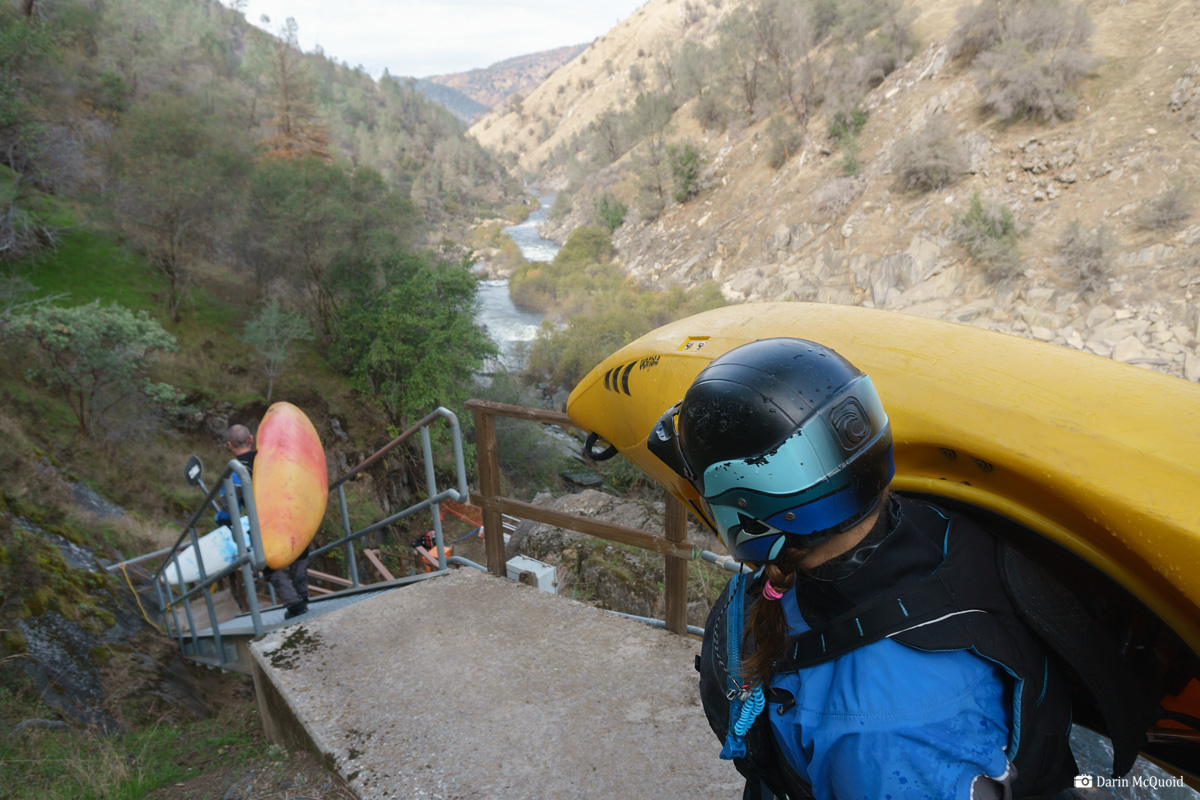 The downstream view into a nice canyon.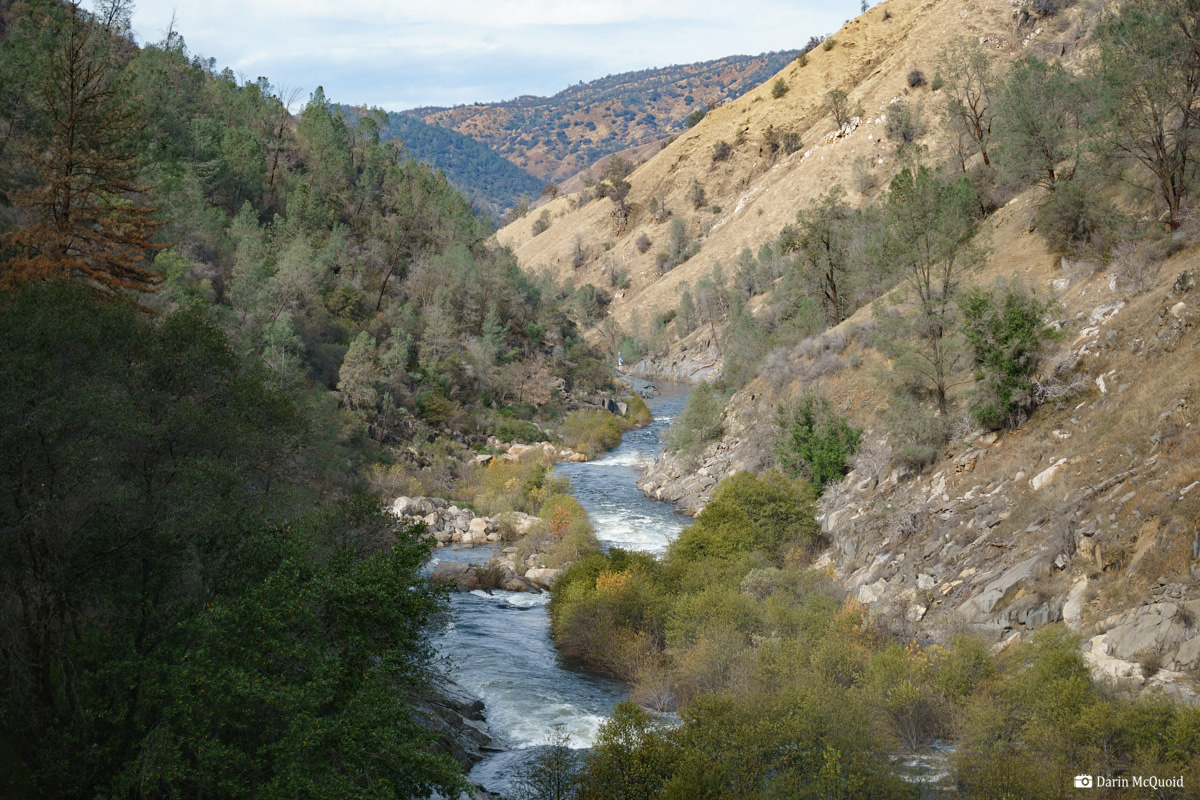 All the water in the river is coming over the spillway.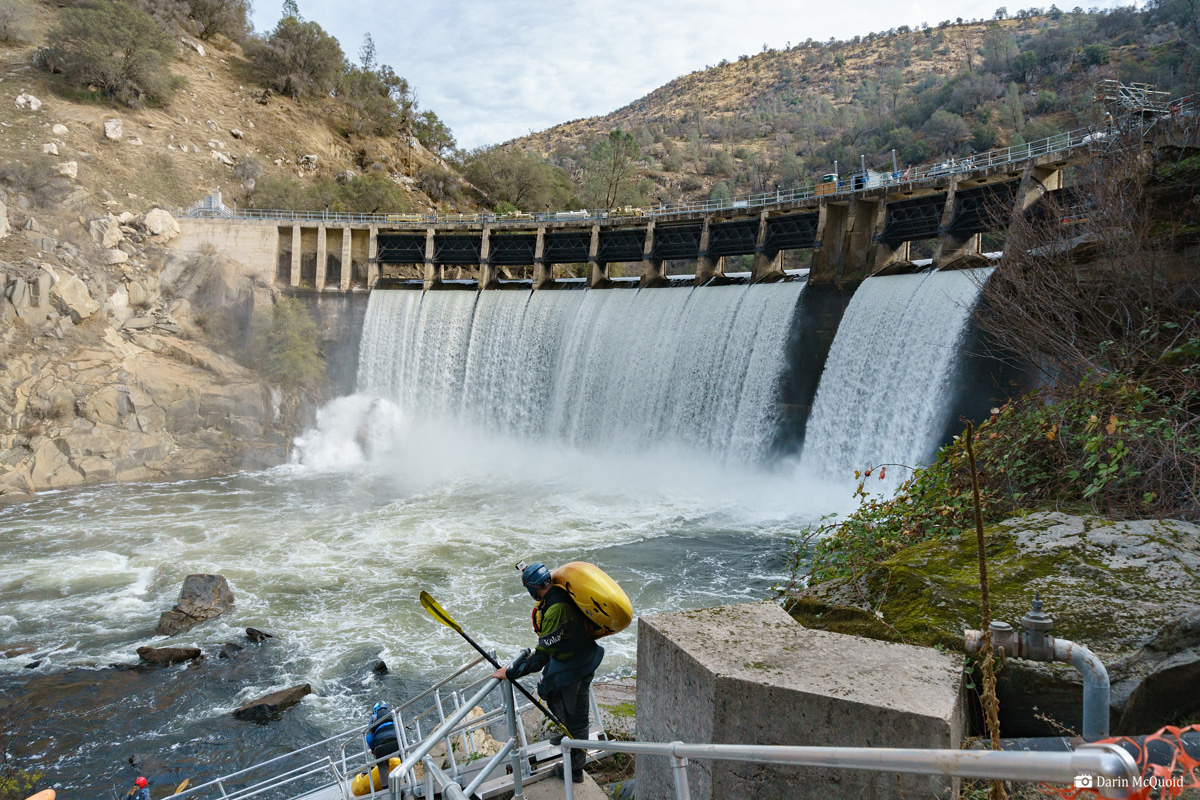 About 5.8 miles pass the dam, we encounter the first class IV rapid (in the background). Daniel Brasuell enters the first rapid that seems to what's referred to as "a particularly ugly rapid" in the AW writeup.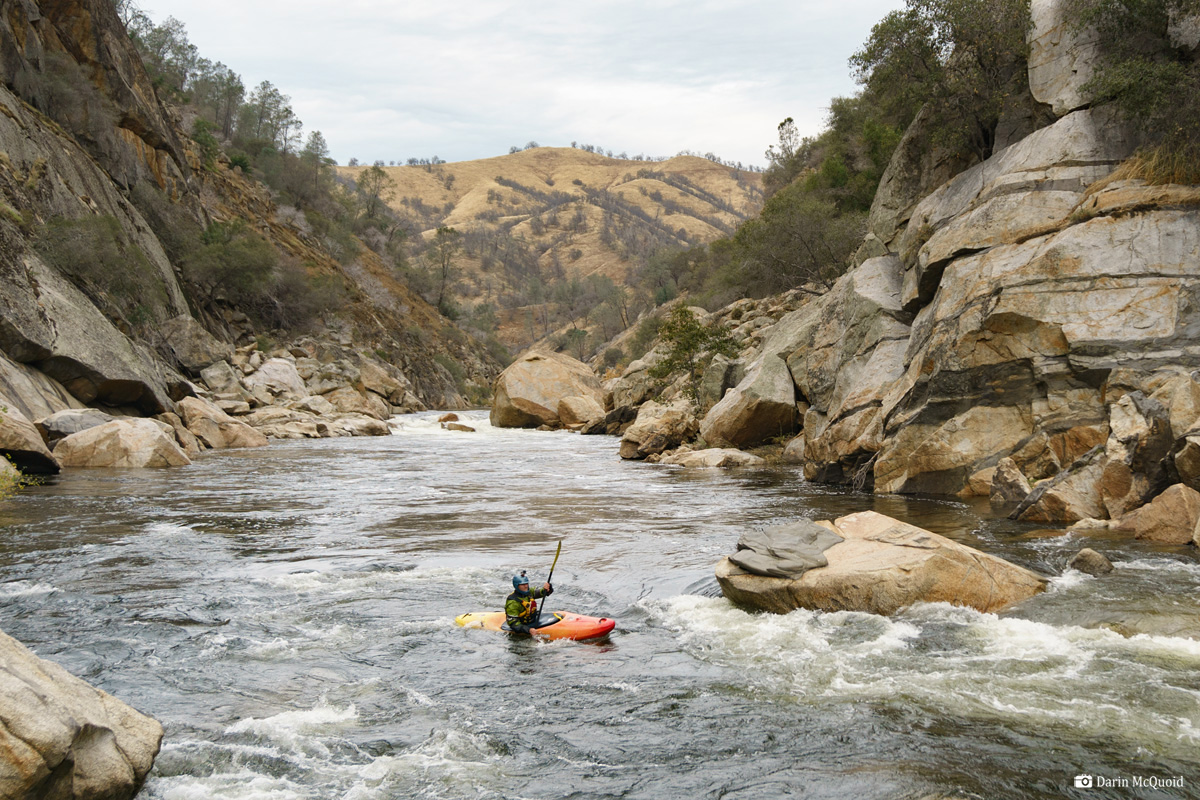 Daniel Brasuell, driving left to boof around a hole.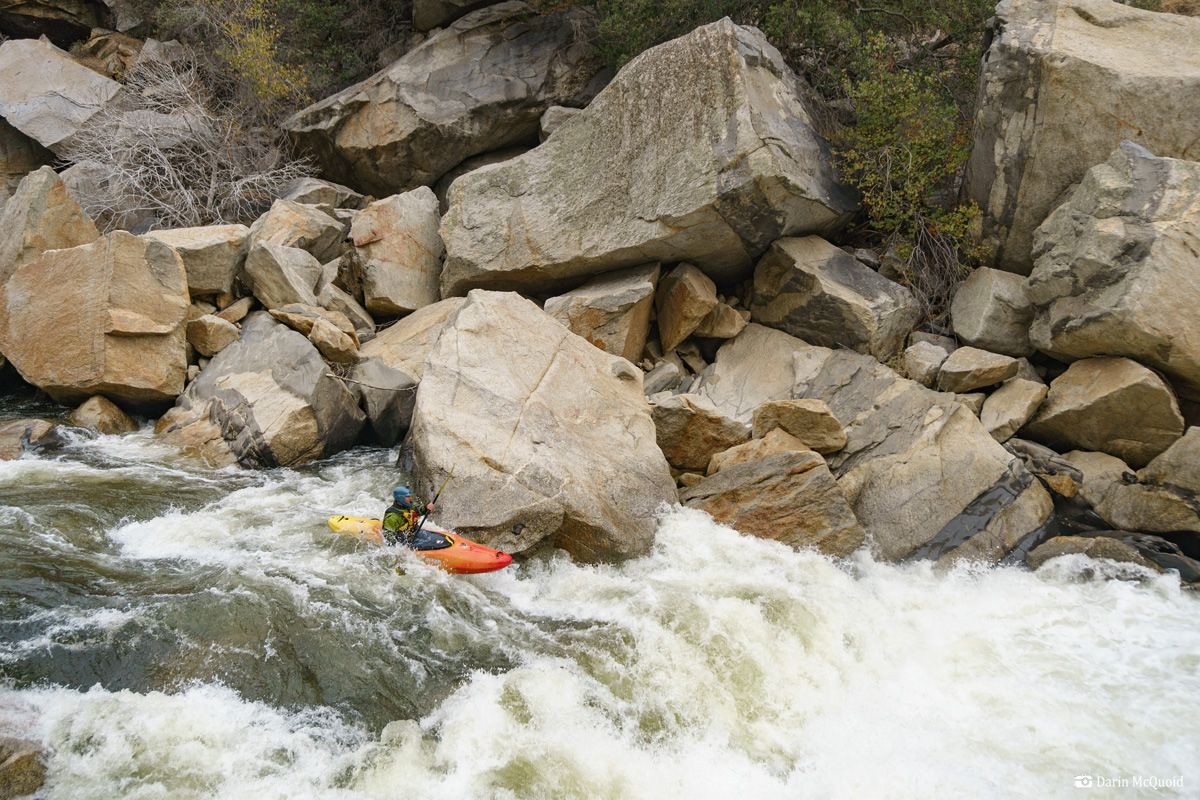 It's key to get left around this hole, it looks sticky and feeds into a siphon pile on river right. Shannamar Dewey gets left.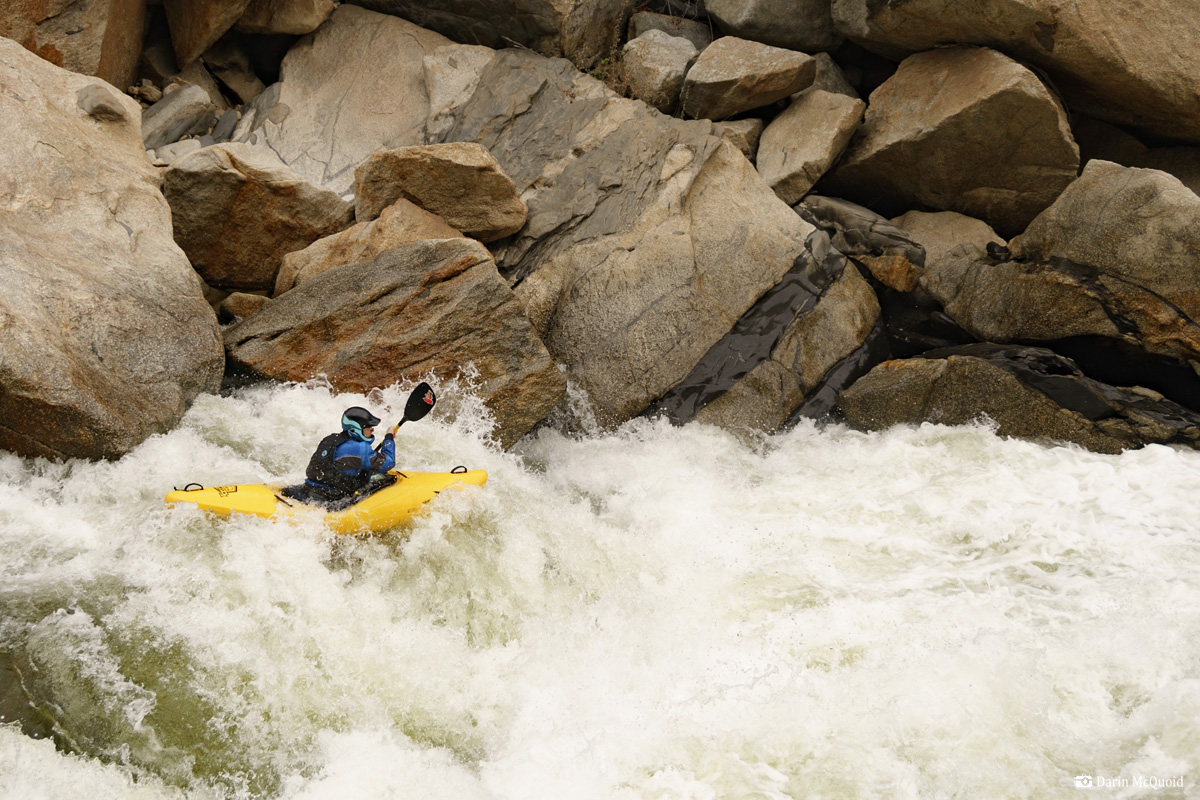 In the foreground you can see the pile of rocks that a lot of water flows under. Jeff Wheeler lines up for the final hole.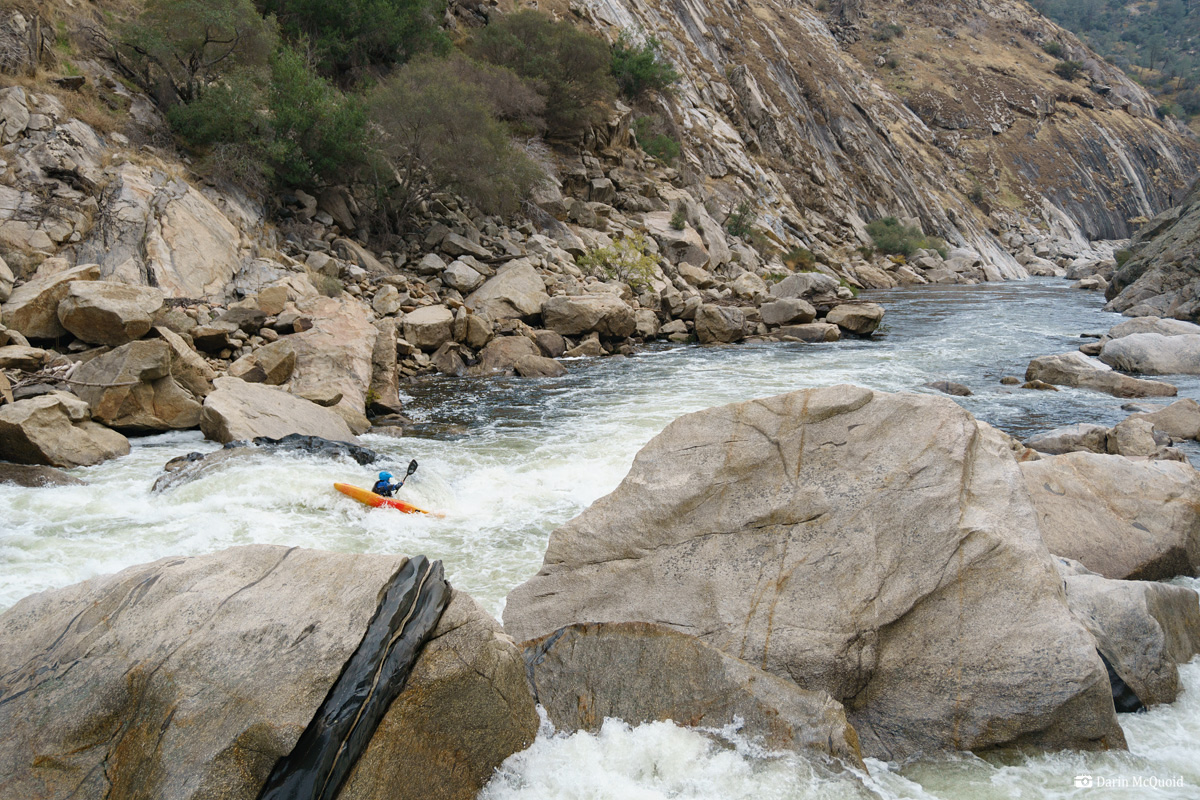 Shannamar Dewey making the final move.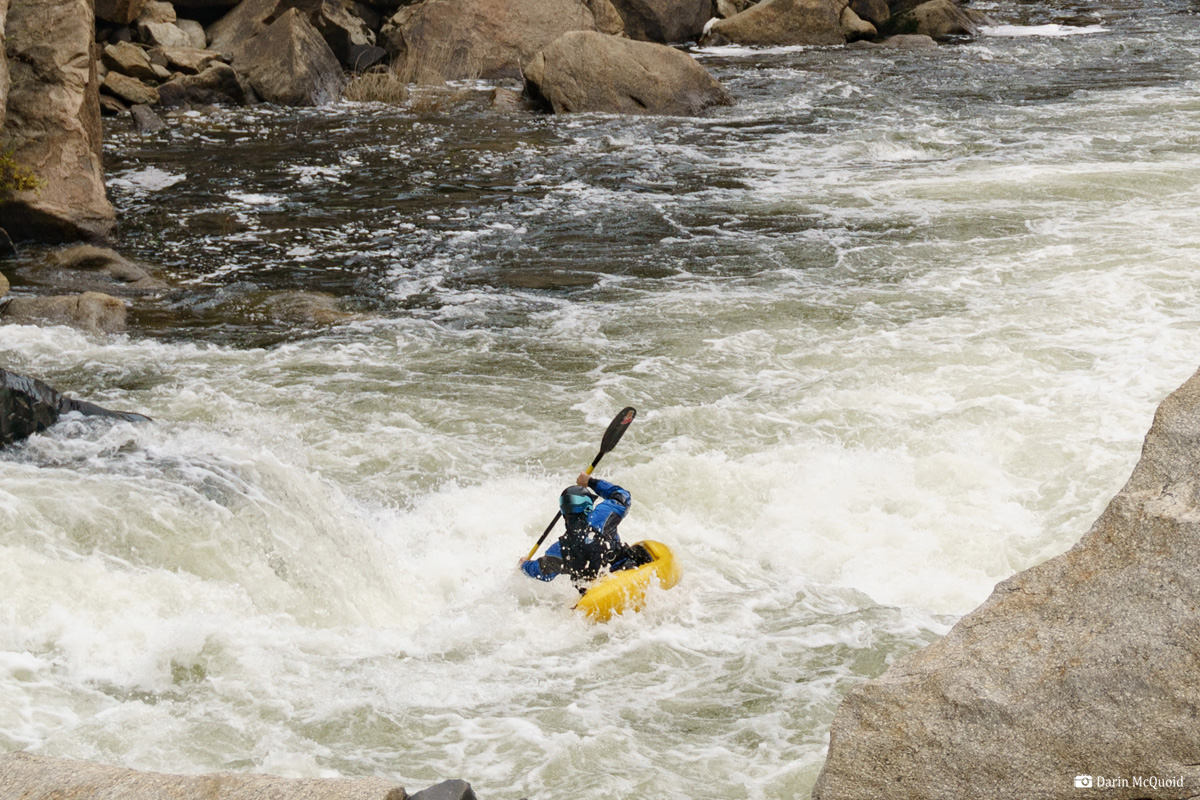 Looking back upstream at the same rapid. Classic San Joaquin boulders of immense size and sieve creating properties.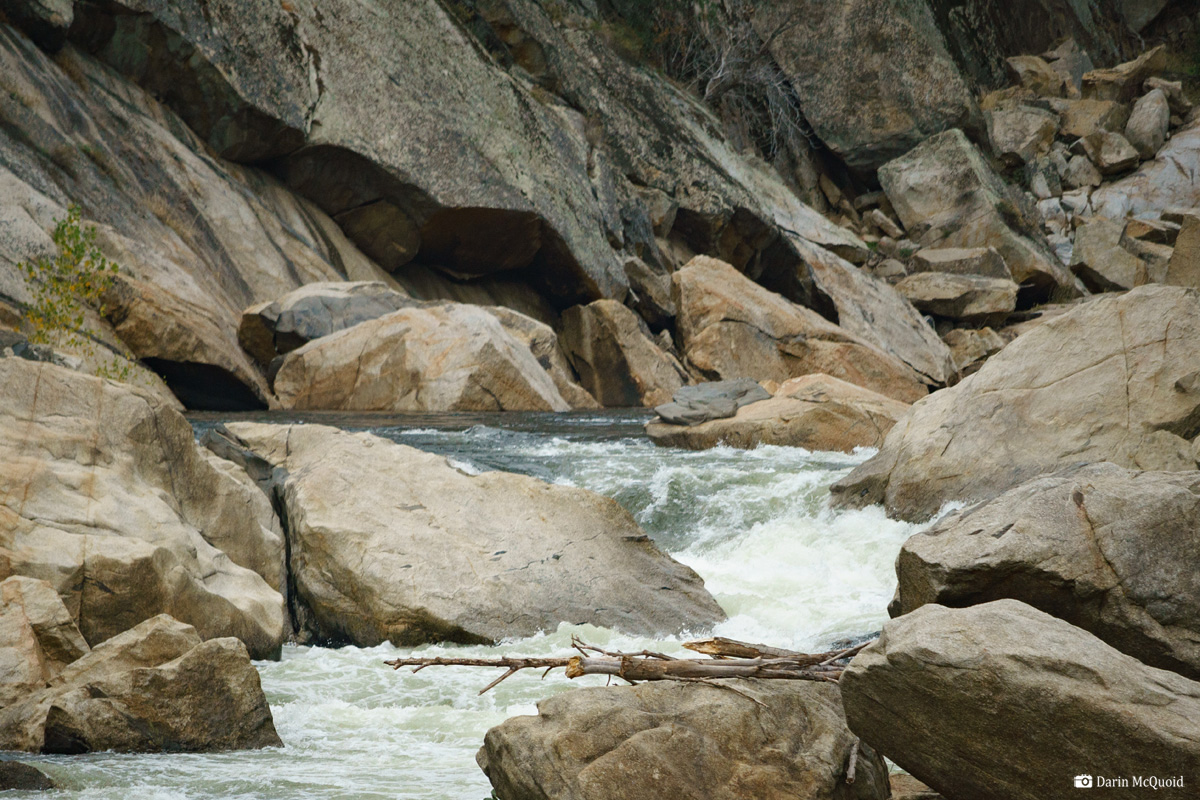 We're on our toes and out to scout the next rapid, yet no need, it's a strangely clean boof with no consequence. Haven Livingston. Nice fall colors -
in the water
- a classic example of a river that rarely gets water.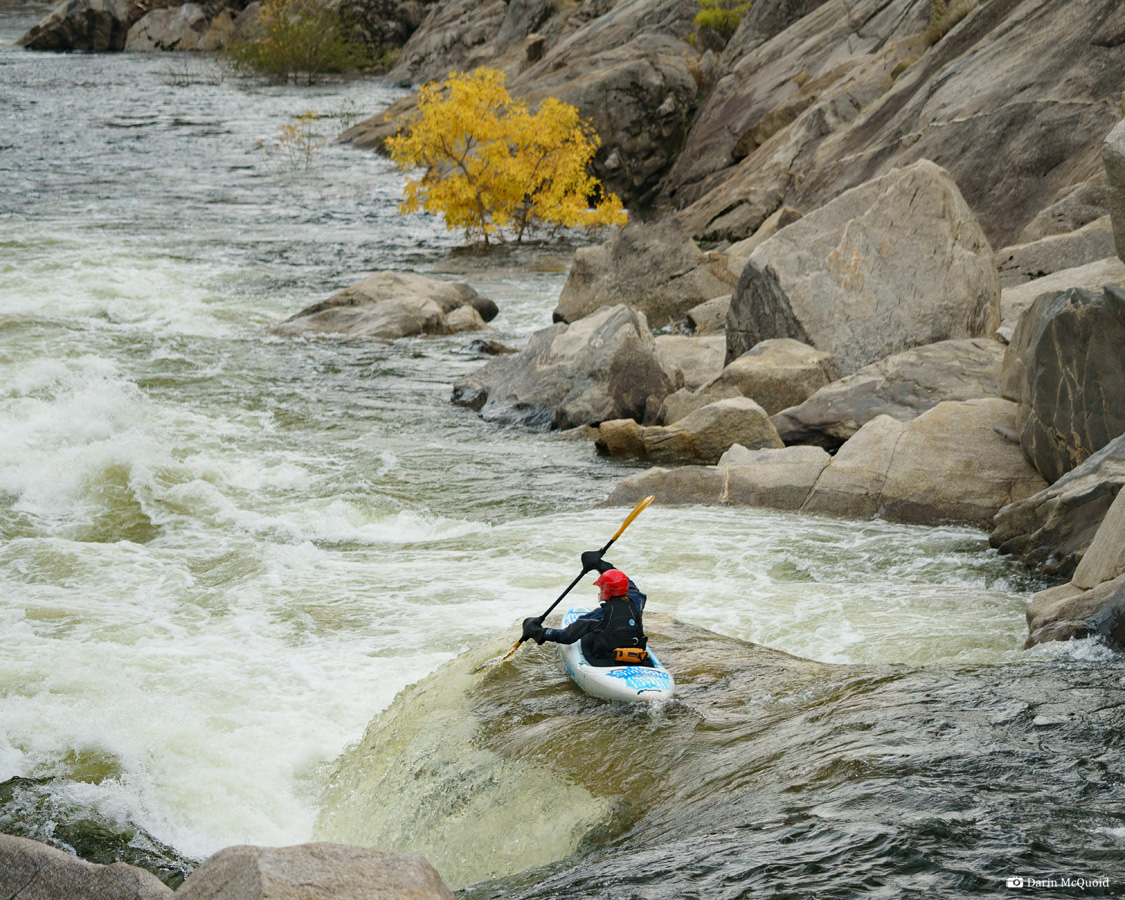 Daniel Brausell, aka Daniel "Hand of God" aka Daniel "The Human Landslide" lines up the same boof.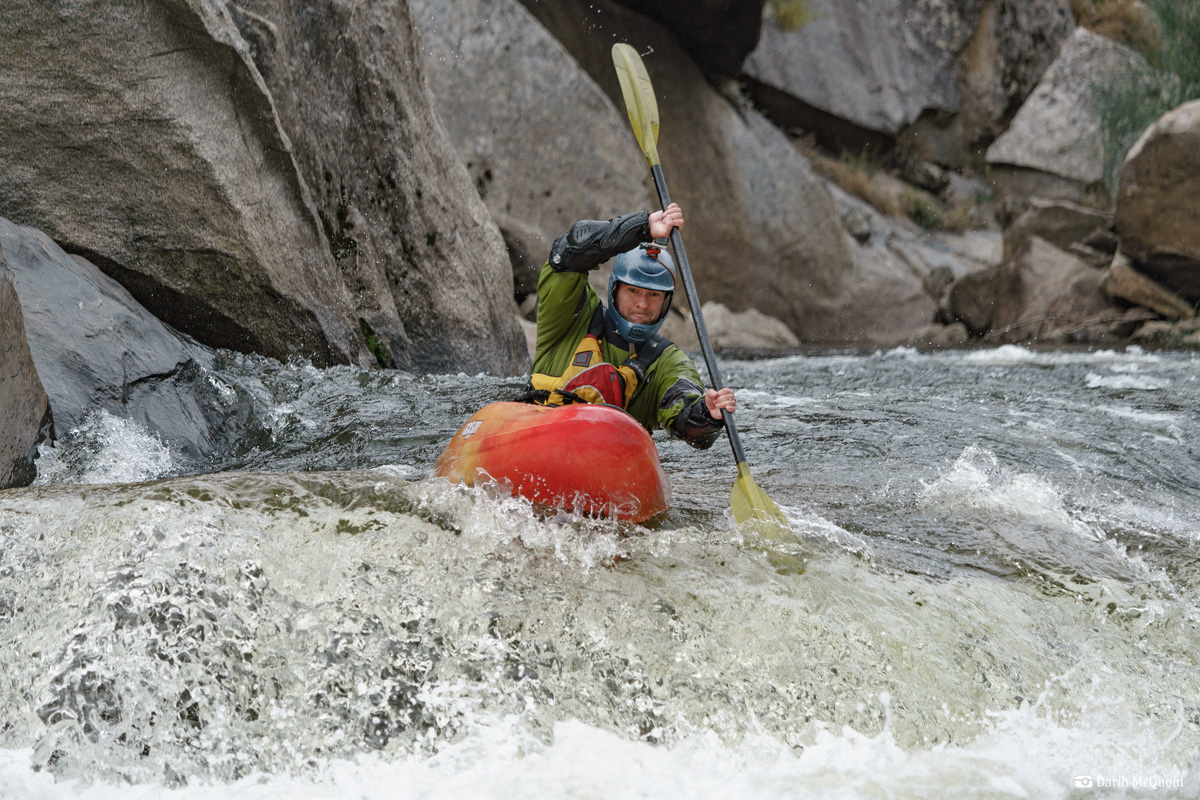 "Binocular" is everything that it's hyped to be. A huge pile of rocks on the left makes portaging unappealing. The center hole also looks unappealing. We decide the portage looks worse. Shannamar Dewey ponders.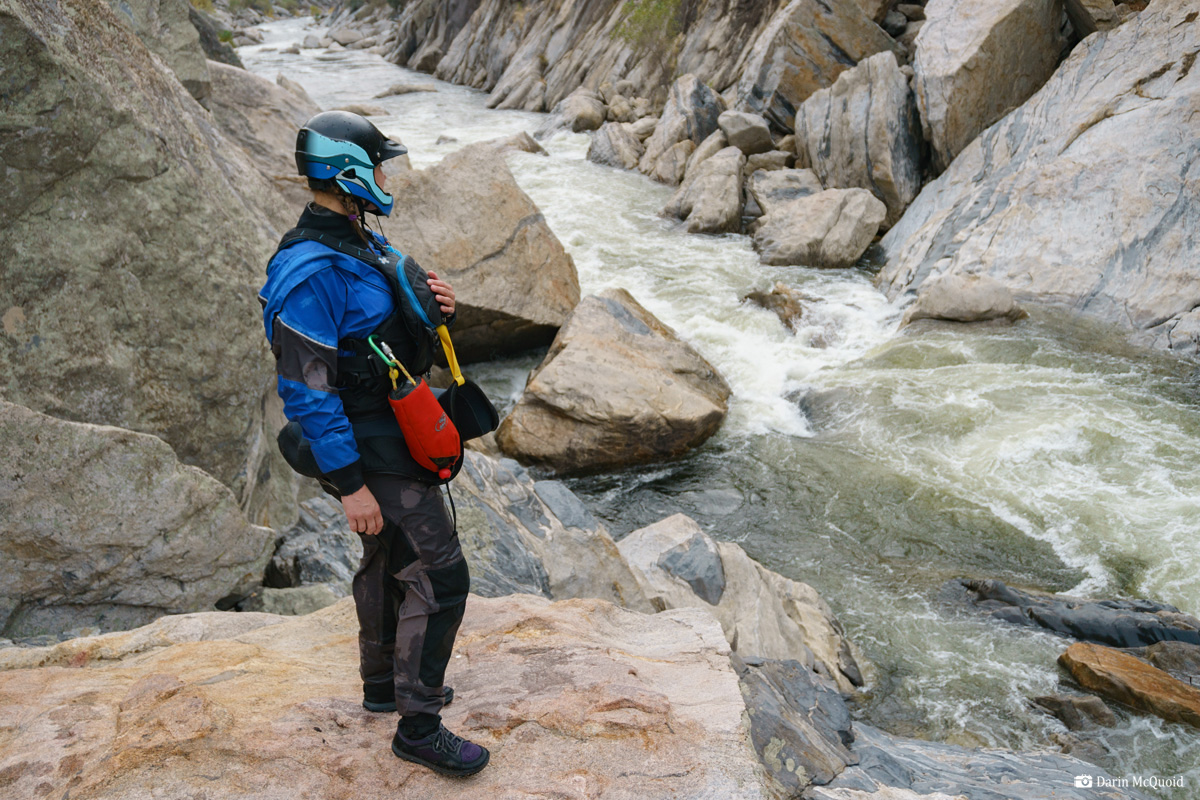 Daniel Brausell doing his best to match the fall colors.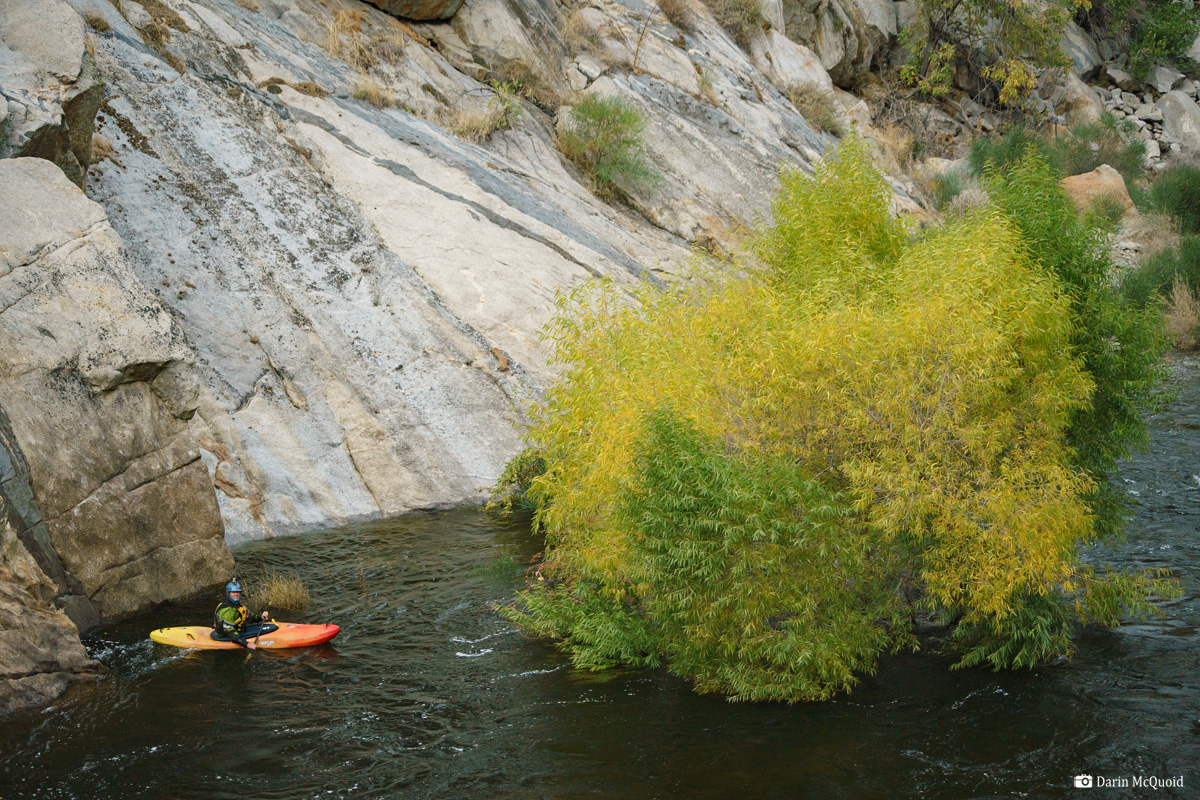 We all underestimated the first move. It looks like a nice wave, yet the river actually drops a few feet into a pretty good hole. Jeff Wheeler.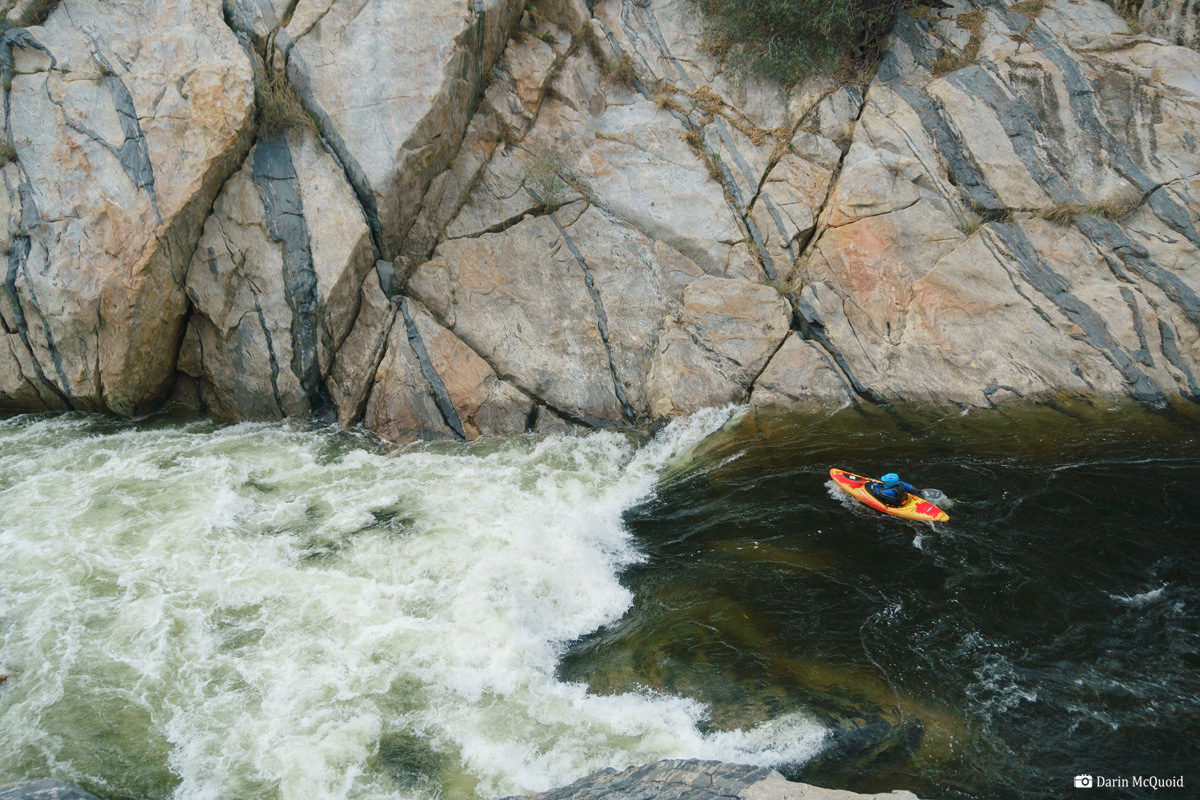 Daniel Brasuell strokes into the main move.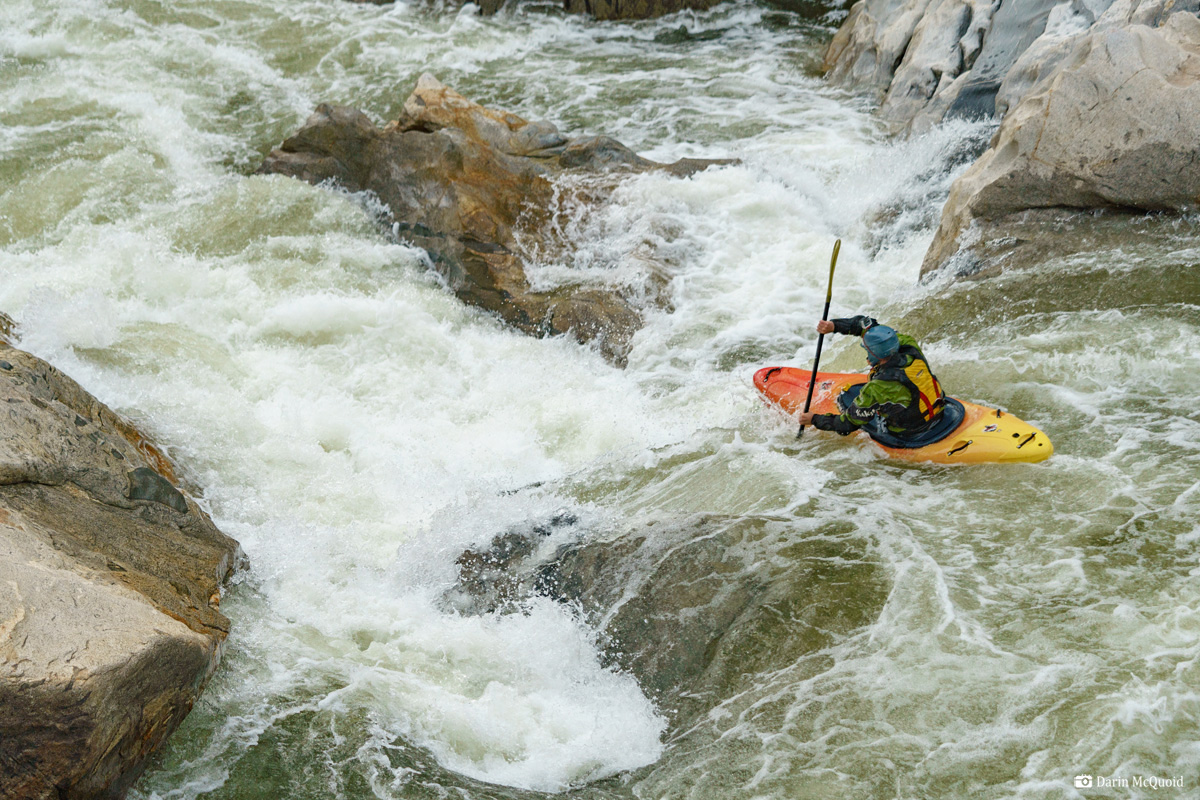 Remember kids, tips up! Jeff Wheeler comes through the main move of binocular.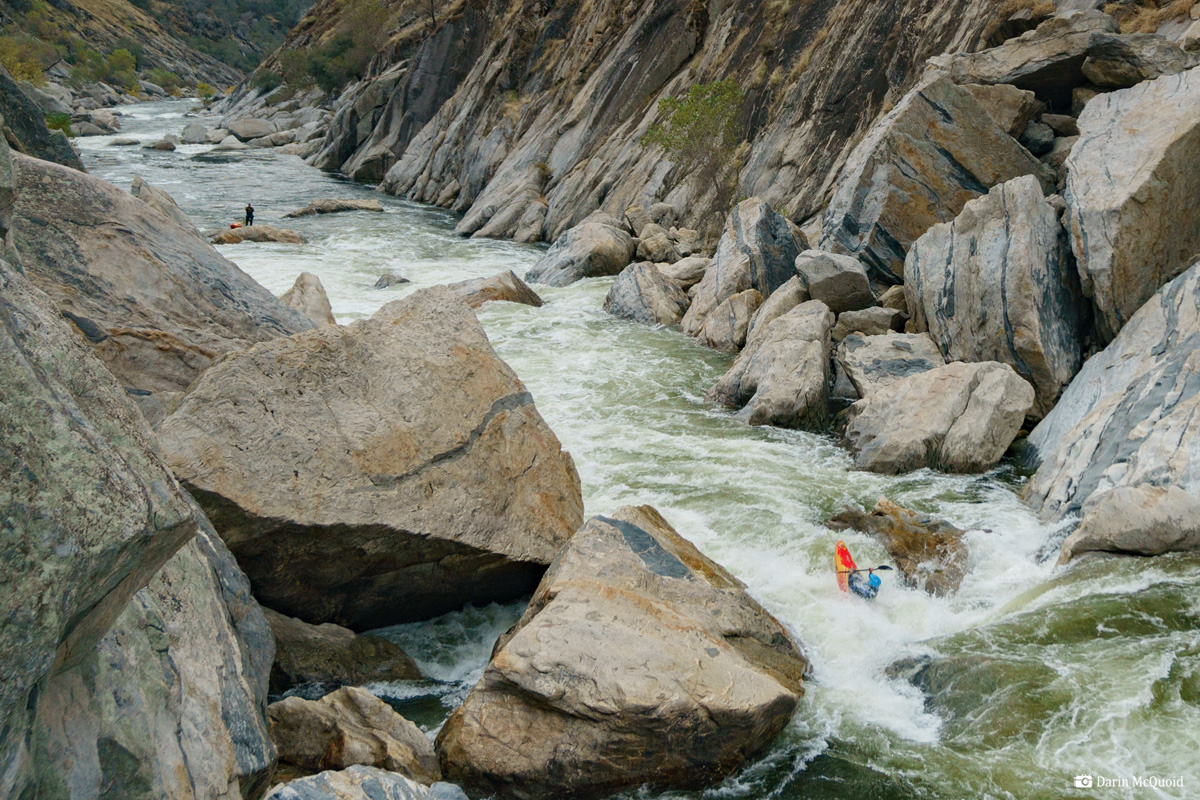 About those flows. On the San Joaquin you never know what you'll get. We put on with a steady flow of 2,000cfs. As I come through the bottom move of binocular, two of the team are out taking photos, yet I see a boat floating off downstream. I sprint after it but can't manage to get it out before the next rapid where it goes into a cliffed out sieve. Not terribly wedged in there, yet not easy to get out. As we know the water was turning off in three days, we decide that the safest thing to do is leave it until then. We all wonder how he was so careless as to leave his kayak in a position that it could float off.

We continue downstream and the water seems to be a bit higher than yesterday. As it's afternoon now, we're getting tired and take a break for food and water. While on shore for ten minutes the river rises at least six inches. Or are we just seeing things? The second we paddled into the next rapid it's obvious that flows have spiked, and getting out turns to be a bit of a survival experience for the group. Flows have come up 1,000cfs in thirty minutes, that's why the once on shore kayak floated away earlier. Now it all makes sense.


Our first day we park just above the old Kerckhoff #1 Powerhouse and do some cross country scrambling to get to the water. Footing is very loose.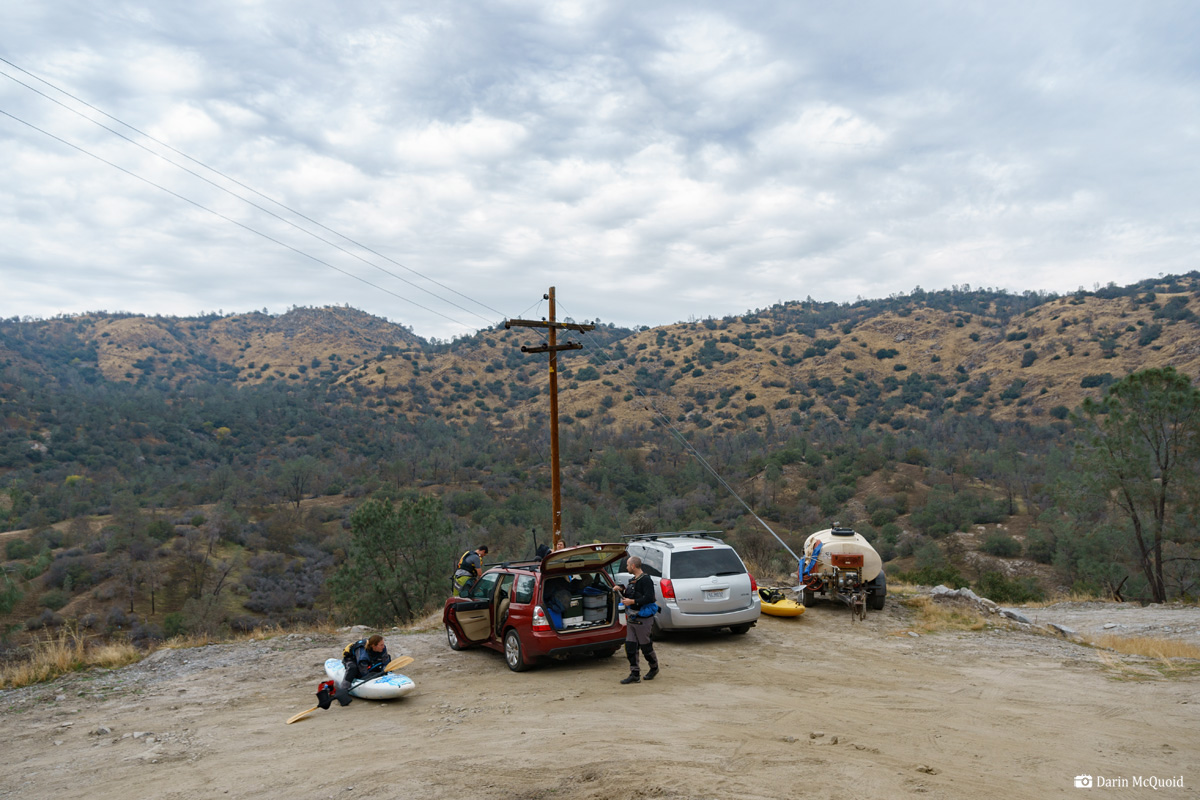 At the river just above the powerhouse.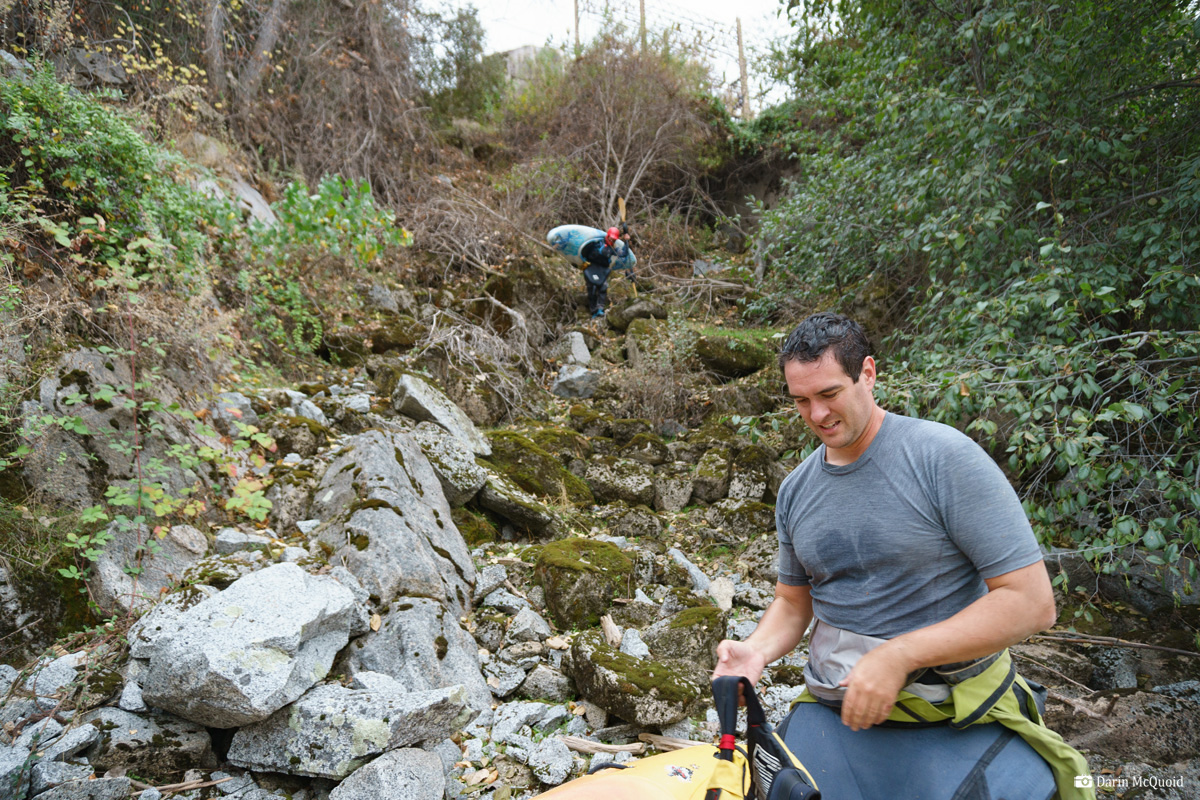 Shannamar Dewey paddles past Kerckhoff #1.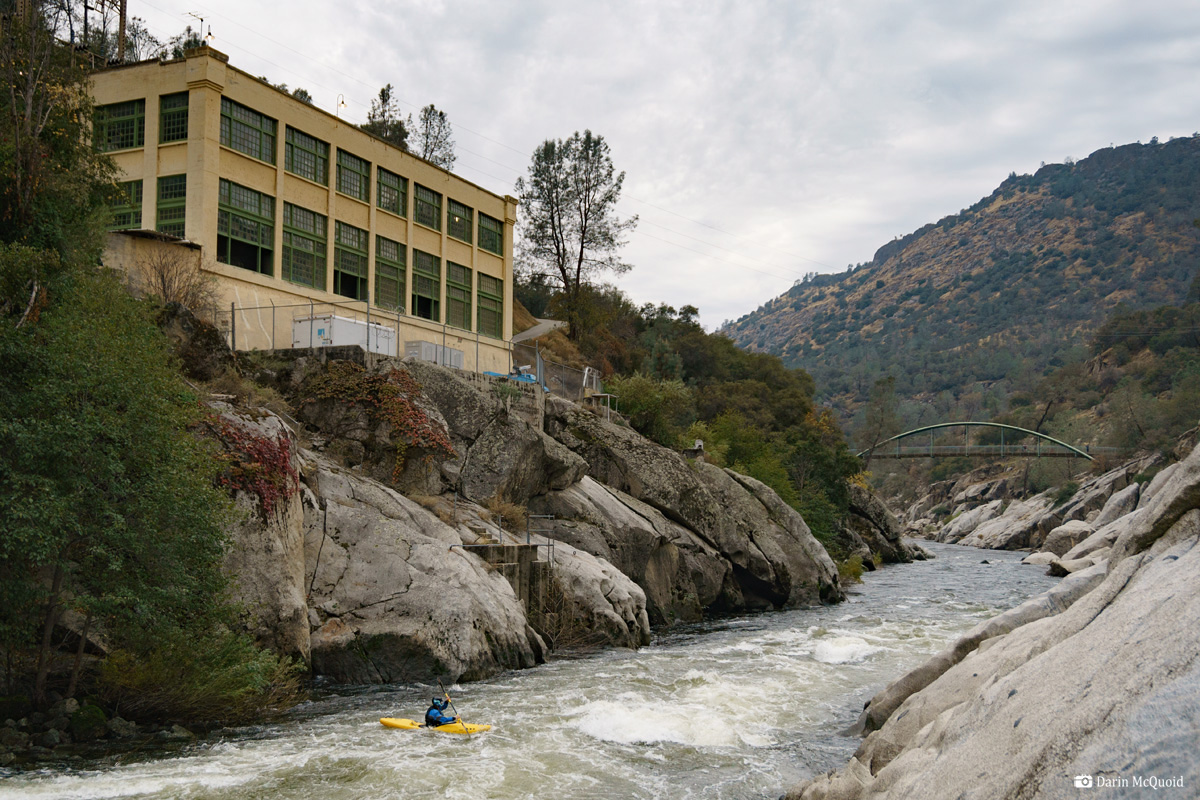 Over the last decade a nice trail system has been developed, part of which is this beautiful footbridge which crosses the San Joaquin just downstream of the Kerckhoff #1.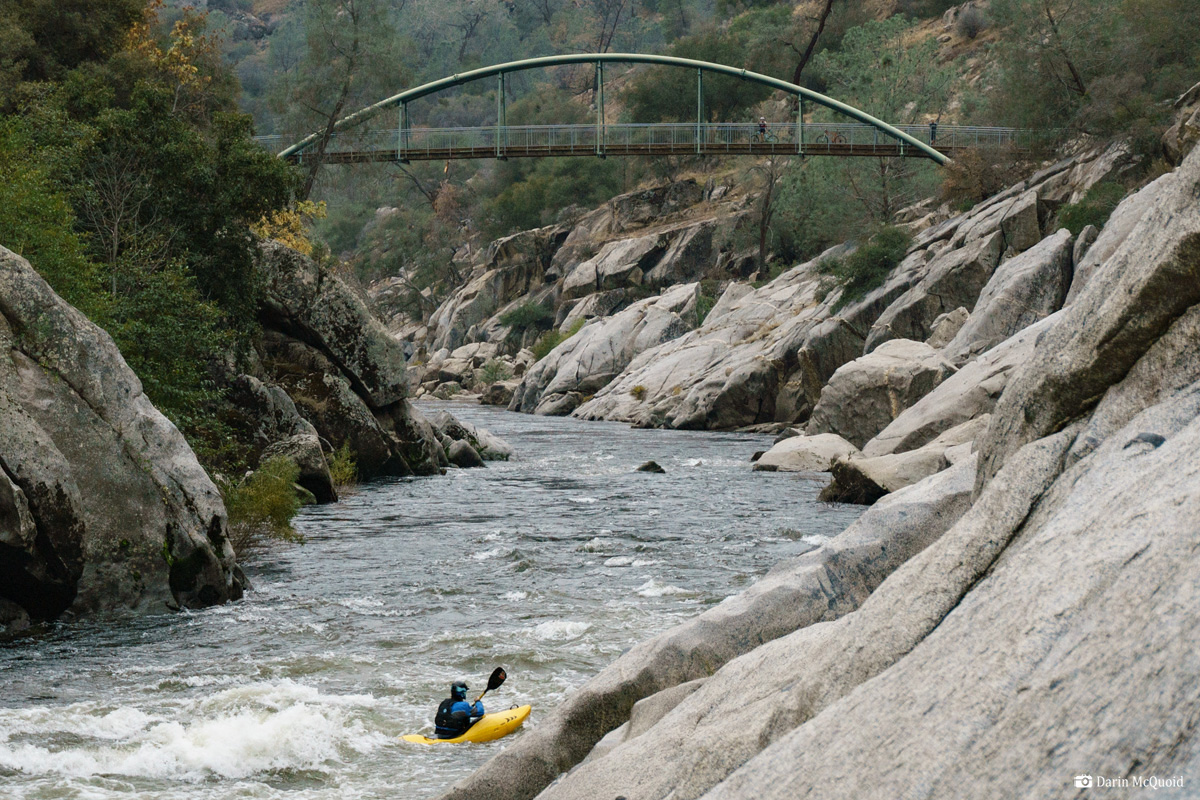 Jeff Wheeler enters Upper Squaw Leap.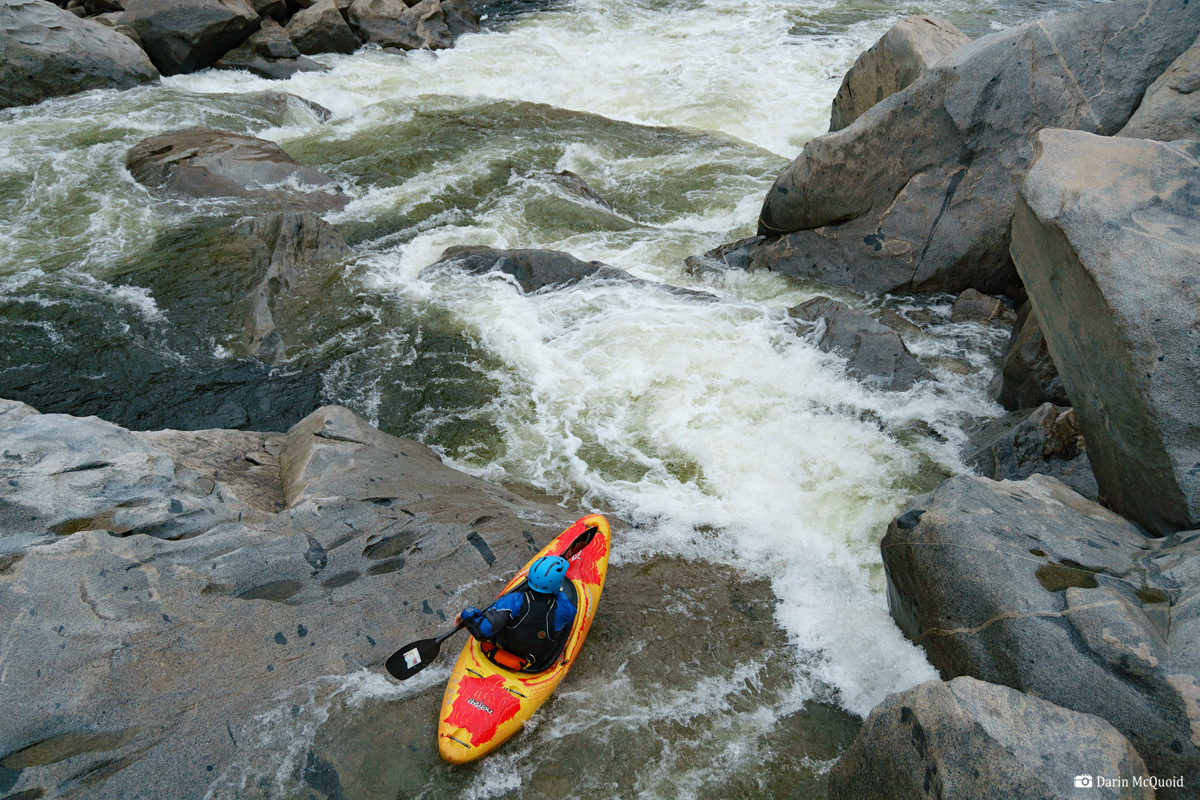 Jeff Wheeler punches a river wide hole at the bottom of Upper Squaw Leap.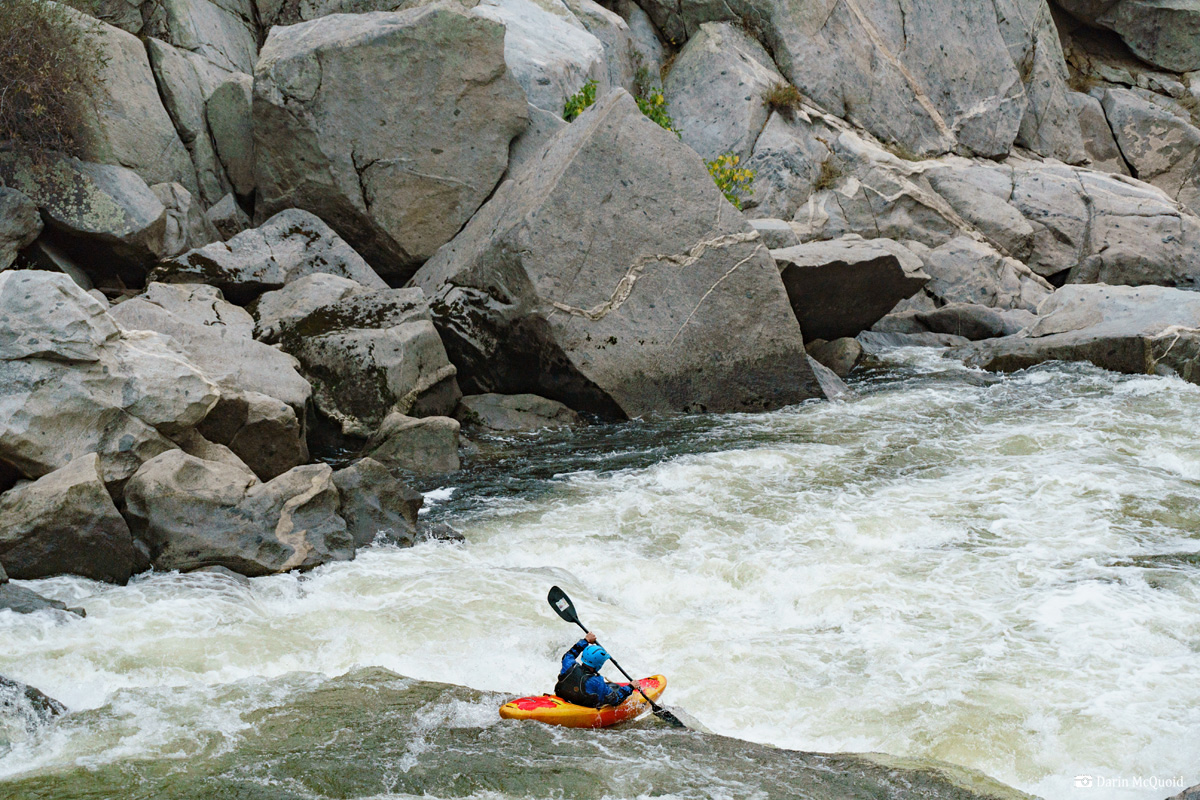 At flows around 2,000cfs there is a nice recovery pool between Upper Squaw Leap and Lower Squaw Leap, as well as a good spot to get out on river right at Lower Squaw Leap. When flows peaked to 3,000 it wasn't so easy to get out on river right, although the higher flow actually makes the rapid easier than at lower flows because the bottom hole washes out.


Daniel Brasuell at the top of Squaw Leap.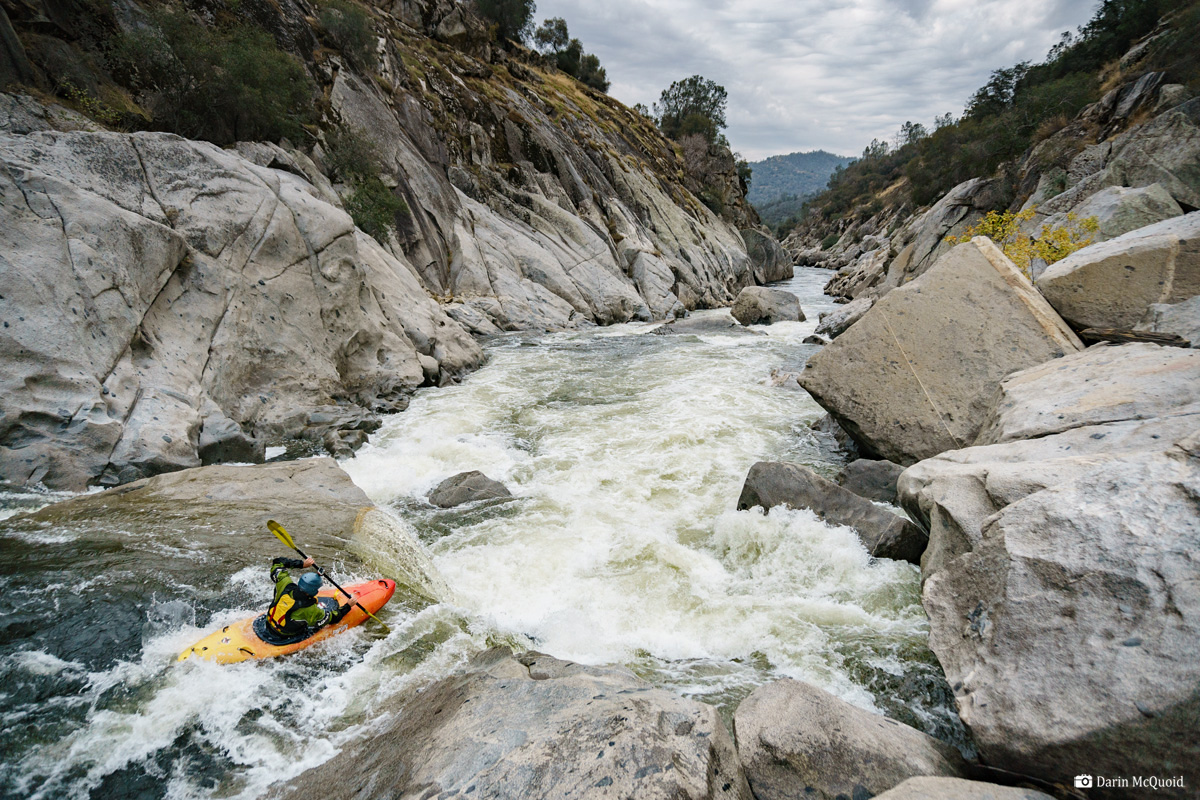 We looked at a variety of lines, I thought the center boof would rob too much speed, but Jeff Wheeler proves me wrong with a nice line.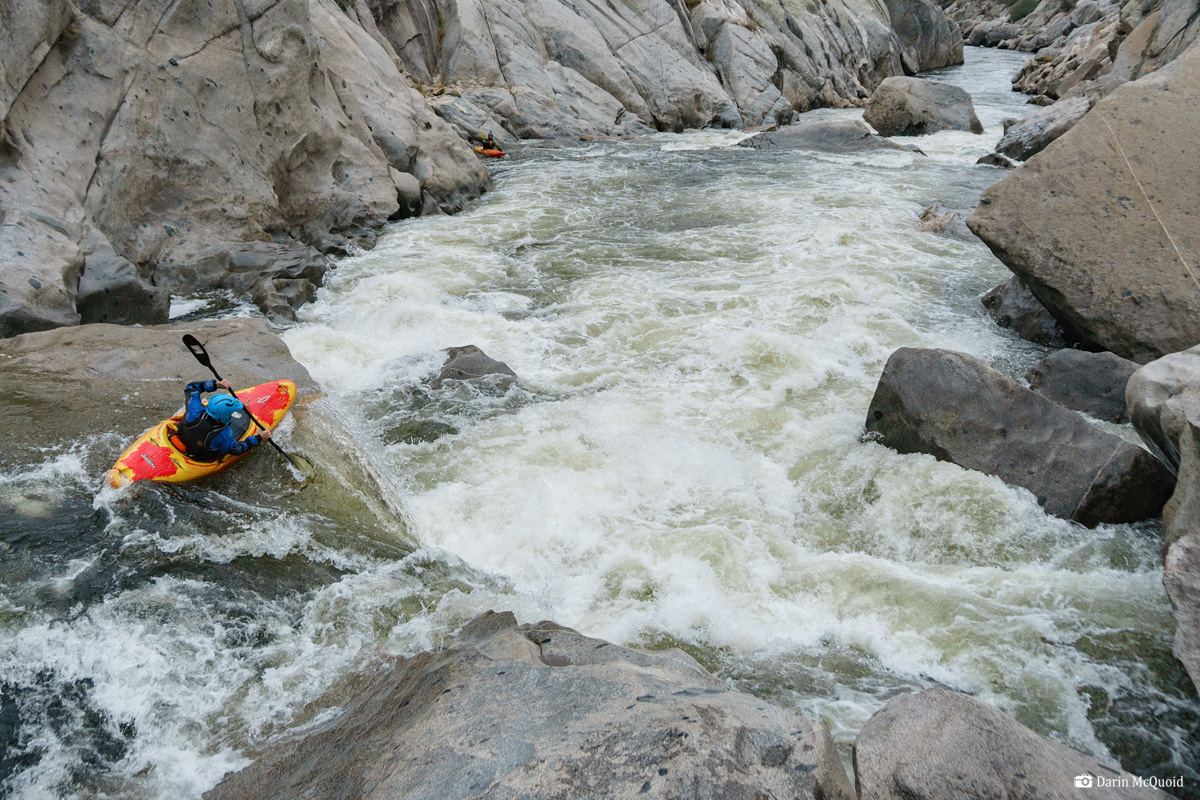 Getting left is key in the second half of Squaw Leap. The right channel is not very nice, on top of all the chunky rock, a good portion of water goes into a siphon out of view on the far right...below the siphon that is visible. Classic San Joaquin.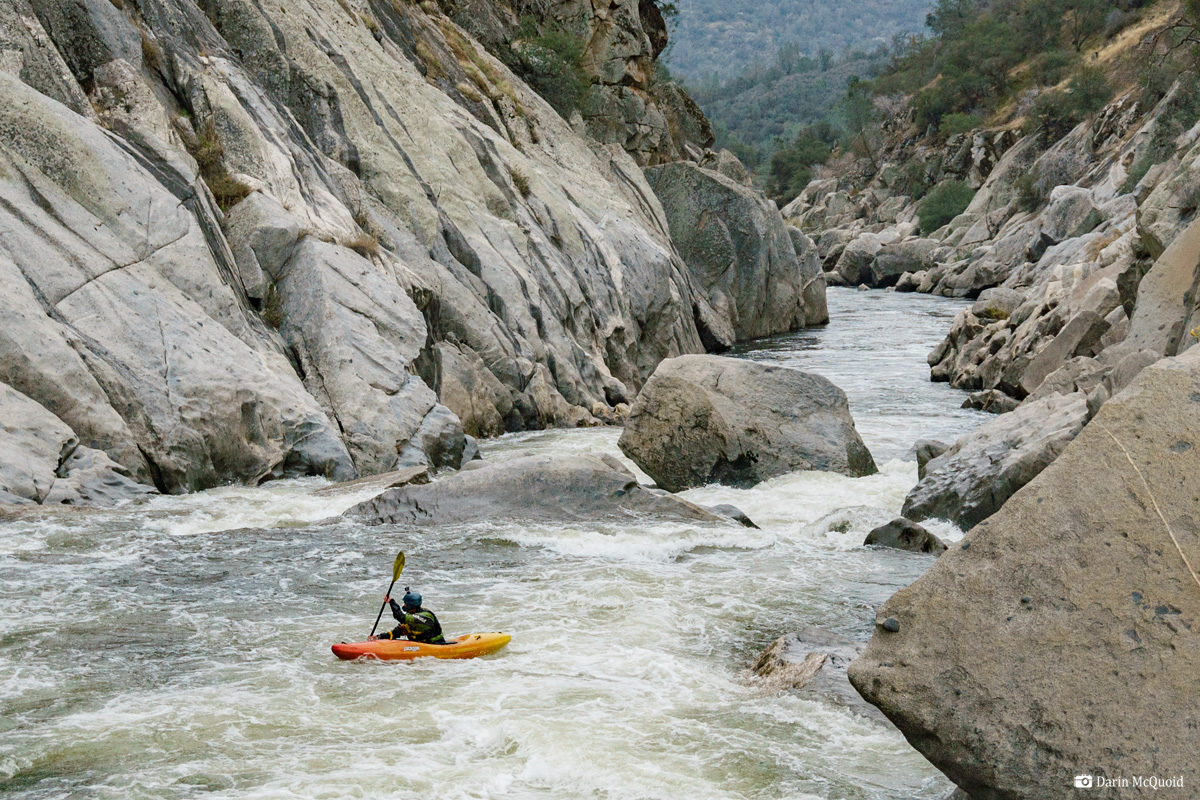 The hike up felt a bit longer than we expected, but probably only took about 15 minutes.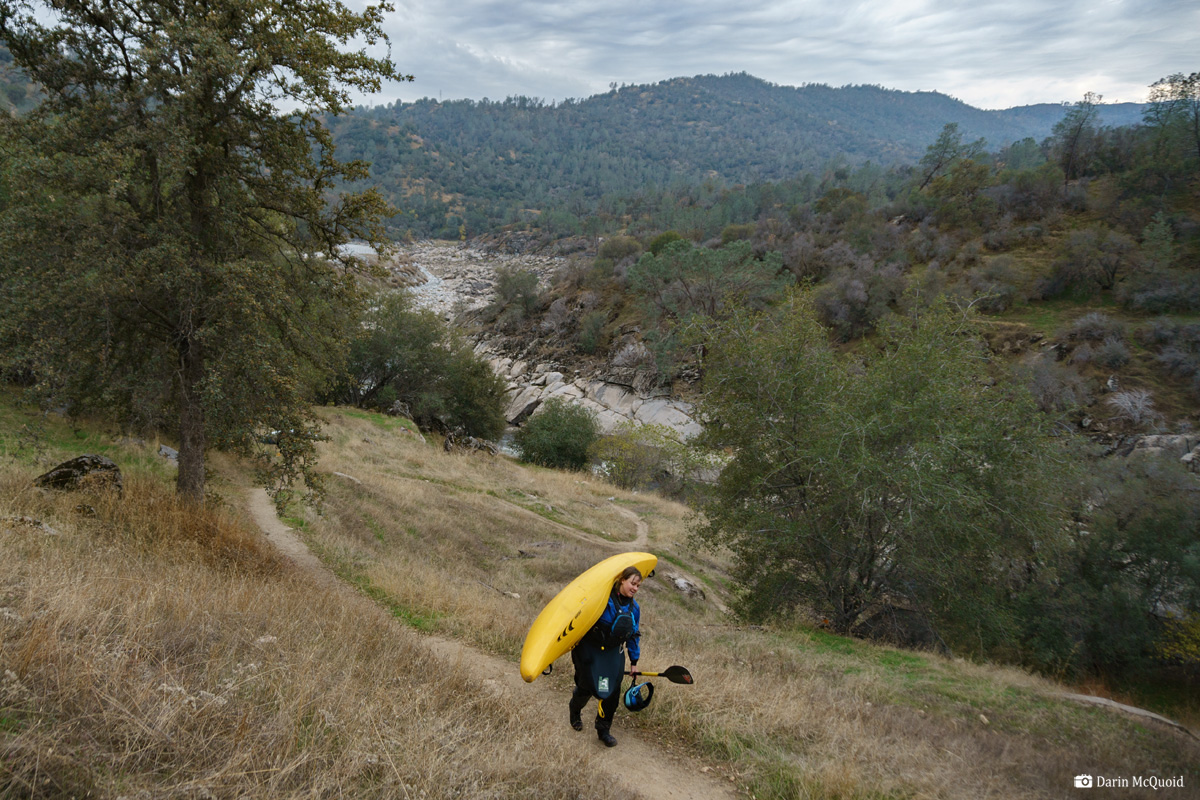 Some great fall weather and cloud formations.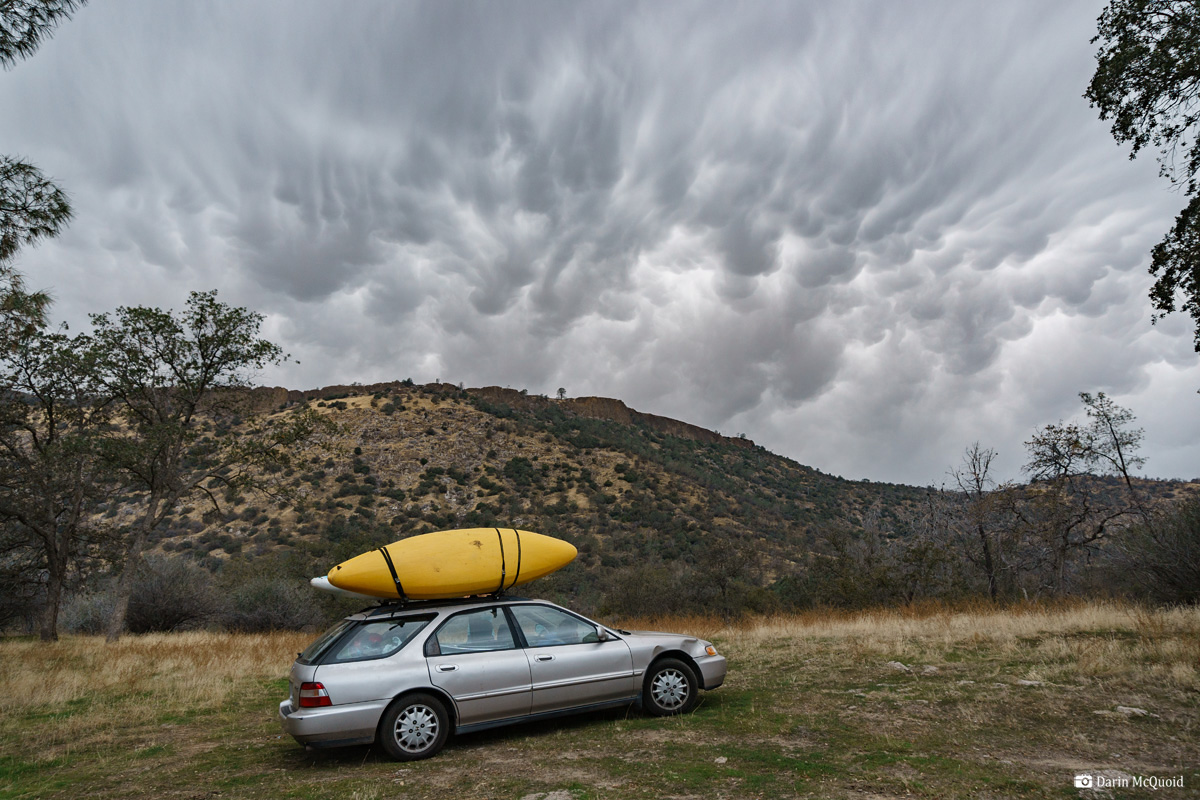 Put In and Take out Via Google Maps.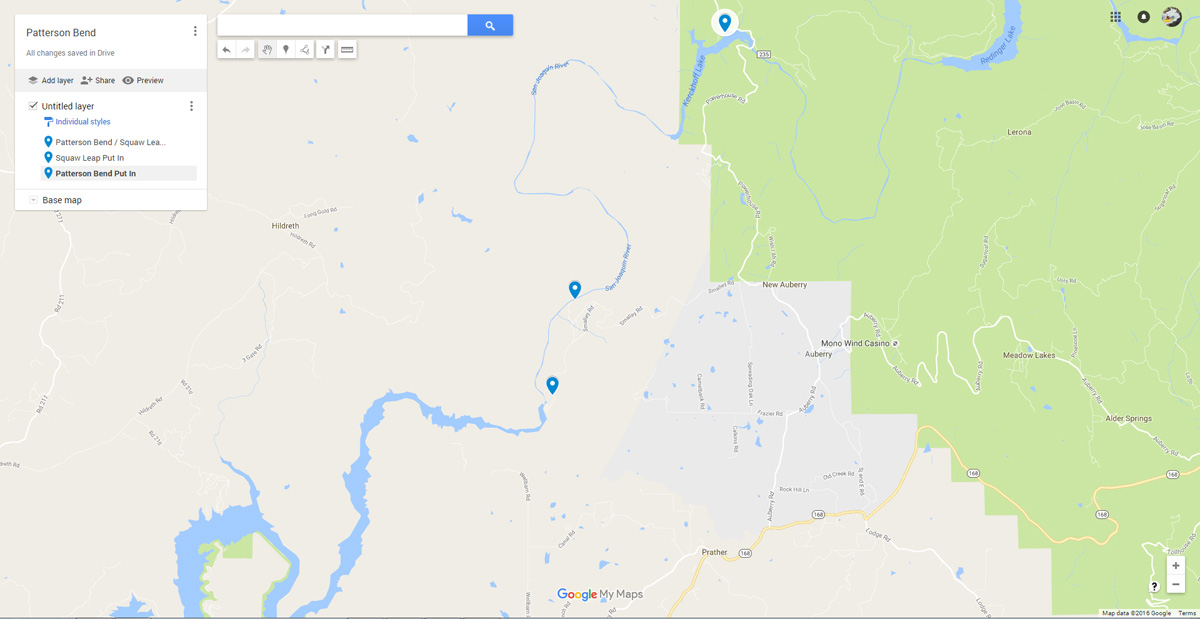 Overall it's hard to define the Patterson Bend section of the San Joaquin. It has good scenery, gorges that feel like they belong in the High Sierra, unreliable flows, and difficulty that can vary by the minute because of those flows. While it wouldn't be ultra classic with reliable flows, I do think it would see a lot more use if the flow was at least consistent for the daylight hours. As it is, I find it hard to recommend. Too much flatwater for the class V crowd, yet too hard to portage around what could be hard class V if flows peak on a IV+ group of paddlers. That's all of course, if the river actually has water in it when you show up, or if it gets turned off while you are on the river. Well worth doing once a year.
San Joaquin at Patterson Bend Gauge.
We had 2,000 for most of the photographs.