The Rio Alseseca originates outside the town of Altotonga in Vera Cruz, Mexico and flows into the Filo-Bobos near the town of Tlapacoyan. This section is the most well known of all the sections of the Alseseca due to superb rapids and easy road-side access. It's often referred to as the Classic Section, the Roadside Section or simply the Upper Alseseca. This run is the very definition of bedrock, as every major feature is a bedrock rapid, and all rapids are easy to scout and most are easy to portage. If there is a run every creek boater traveling in Mexico needs to do, this is it.
Before making it into Altotonga we had to meet up in Mexico City, the second largest city in the world with a population estimated between eighteen and twenty-two million people. This was quite a change for me, as I grew up ten miles outside a town of five hundred people.
Rafa Ortiz
and
Ben Stookesberry
picked me up at the airport and Rafa drove us over to his family's house in the city.
We had an unusually large group, and loads of gear.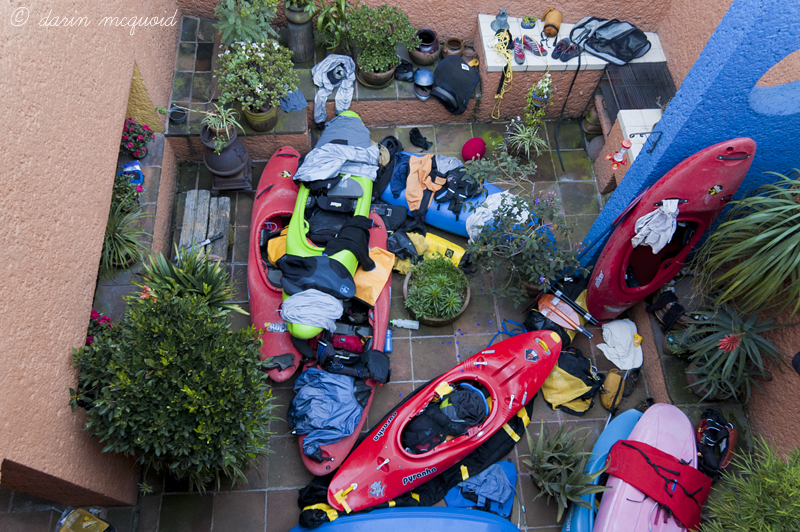 One thing we knew we needed for the whole expedition was a good Topo Map, and we stopped in Atzalan to get one, and through the work of our shuttle driver Israel we also acquired local government permission to cross any private land necessary while exploring the area. Atzalan town square, and the little Nissan was our trusty vehicle to hold boats and people for the whole trip, great except in rain storms.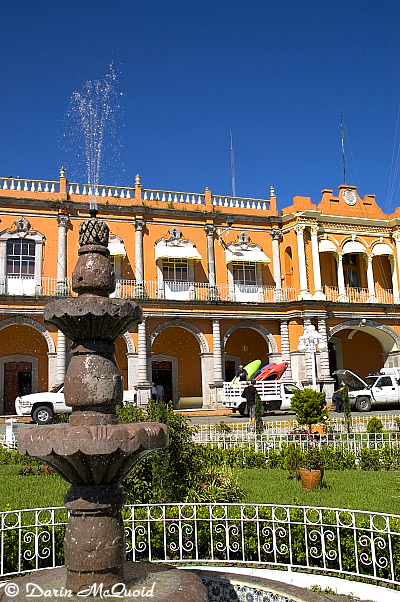 I'm not covering detailed put-ins and take-outs for any of the runs we did, because to be quite honest I was somewhat lost the whole time and speak a minimal amount of Spanish. One of the great things about Mexico, is that opposed to the States where the land owners would be chasing us off with shot guns, the land owners in general welcomed us with open arms. Eric Seymour and Nick Troutman on the drive to the put-in.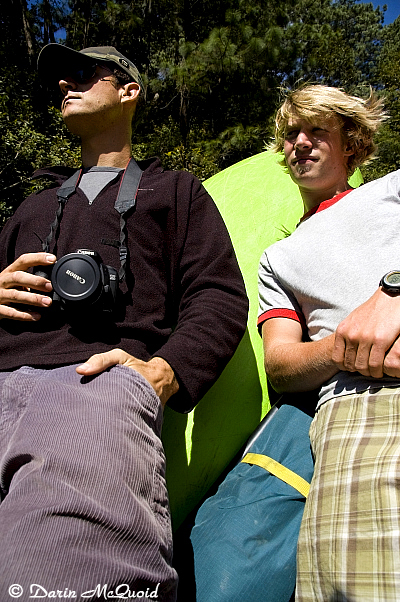 We hiked upstream a little ways to run a fun drop that led into a narrow low angle slide. Rafa Ortiz starts the day off.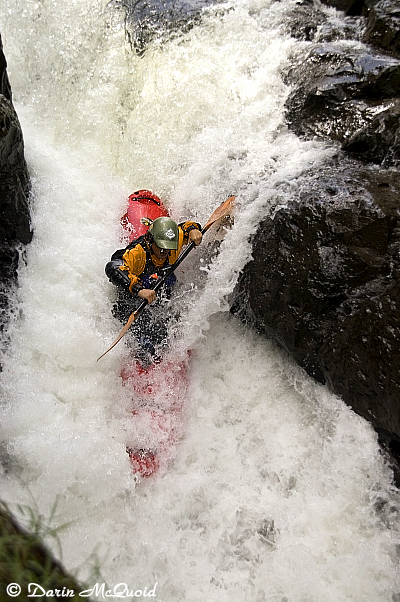 Nick in the same entrance rapid.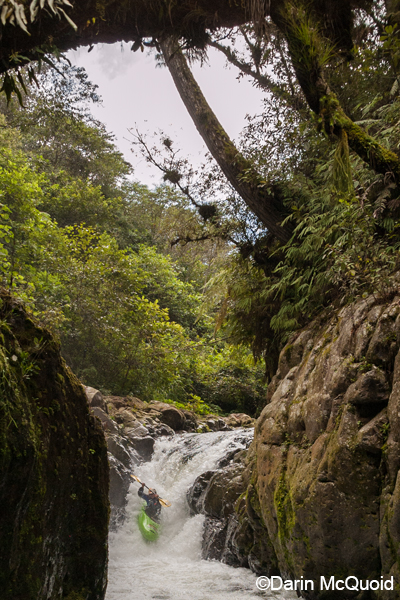 Nick Troutman
entering the narrow but mellow slide.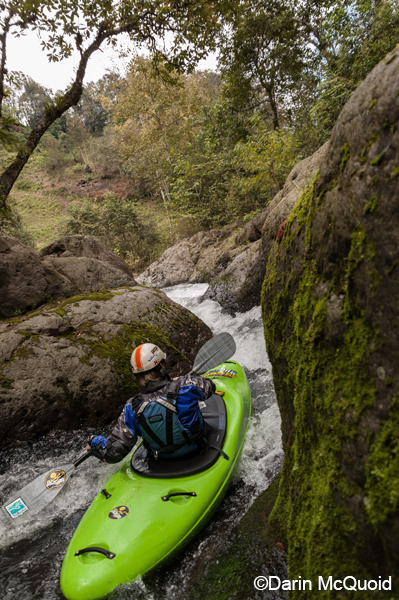 This start off pretty mellow on this run with a few fun bedrock drops that are a bit blind entering but are nice and clean, including one double drop that drops 10'-15'. After the brief warm-up is the first waterfall, a nice, somewhat clean 20-25' drop that has a bit of a rock in part of the landing.
Eric Seymour making it look good.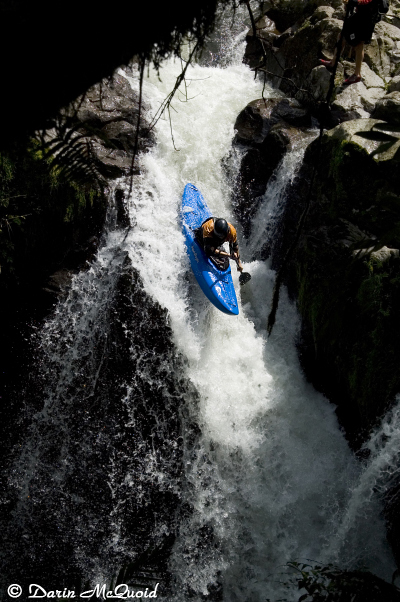 Phil Boyer stomps the same.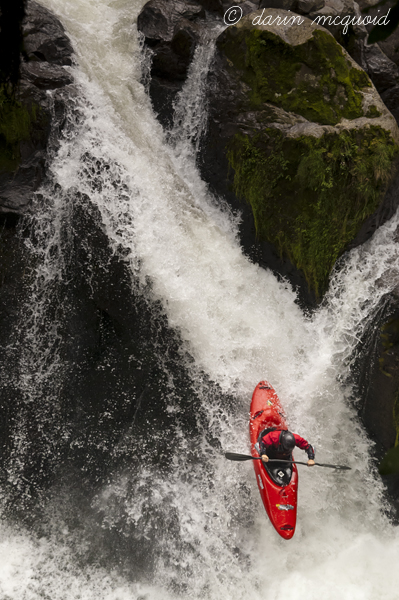 Classic rapids continued as we journeyed downstream, I won't go into too much detail here, there are hardly any rocks in the riverbed and tons of good slides.
Eric Seymour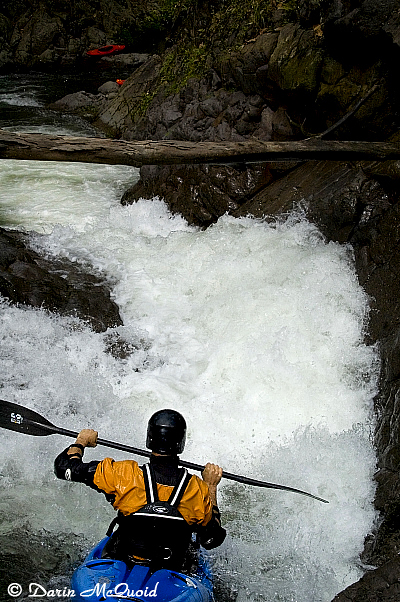 Below this we ran the nasty looking hole that is quite sticky, but we had a nice team rescue on Phil Boyer.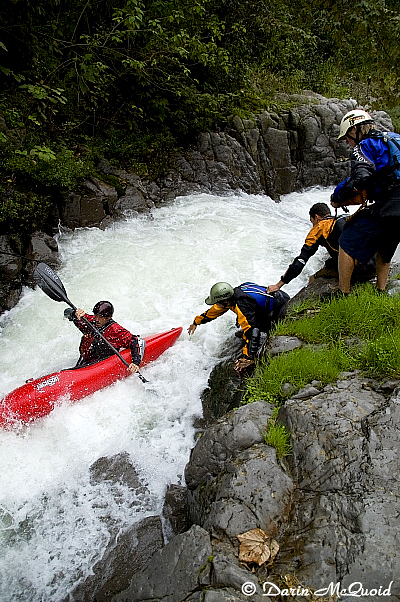 This little rapid is above one of the most memorable drop of the run, and it surprised quite a few of us with a nice slam into the right wall, not nearly as mellow as it looked.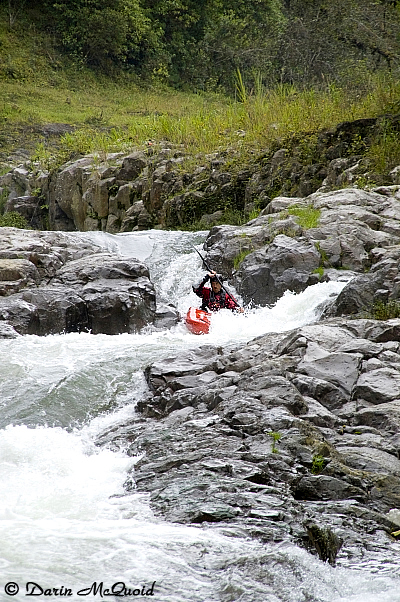 Next up was one of the most memorable drops from
No Big Names II: AMPED
. I remembered this drop with great clarity from the video, Eric talks about "getting it" and then they drop this big twisty drop. In person it's not any more mellow than it looks in video, and the general recommendation was to not bother scouting because it wont look good, but I had to get out to get some pictures, and thus had to scout it. It's a lot longer than it looks in pictures, after the S-Turn there is a forty to fifty yard long run-out down a narrow alley way.
All lined up for the scout.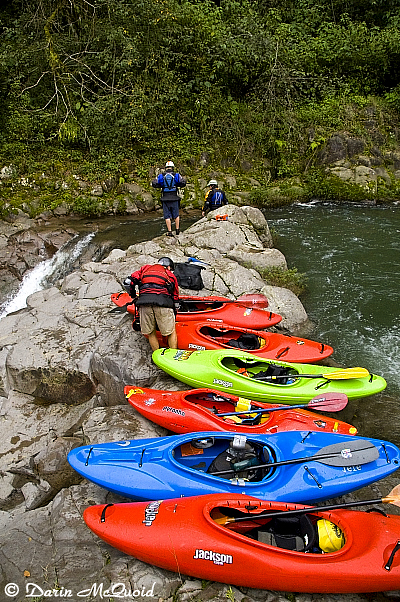 Nick Troutman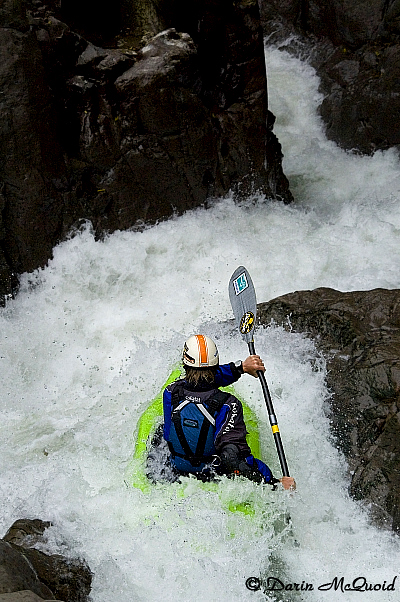 Phil Boyer in the entrance and the first corner.