The hazard is that it's a complex lip. A large curler on the right wall pushes most of the flow back to the left. In the left side of the landing a rock outcropping sticks out into the base of the falls, creating a pocket and significant piton potential. Will has a great line and Cody Howard gets ready to give it a go as I change lenses and it starts snowing.
Cody Howard boofs it out.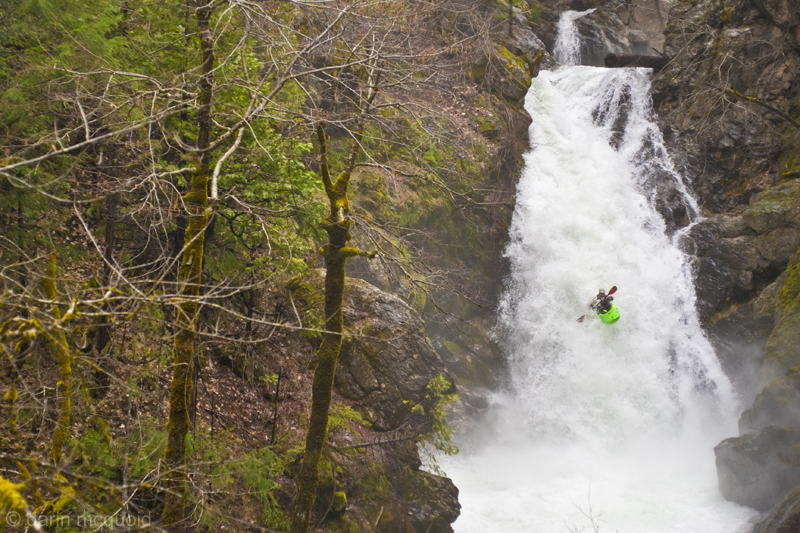 Cody has a great line, boofing a bit more but it's quite aerated so all is ok. I pass my camera to Justin Patt and scurry up the slope for a run as the snow falls down. There is no time for deliberation, but it's a tricky falls with a seal launch at the lip and cross current making it hard to get a good angle on the curler. A few hard strokes, a big turning stroke and I accelerate down the falls. A bit further left than I'd like, but I tuck up, come screaming out the bottom and splat the left rock on my way out. Whew, glad that one is over. We quickly pack our gear and hike to the cars so we can get out before the snow is too deep.

Austin Nickell and Cody Howard throw the boats on in thick snowfall.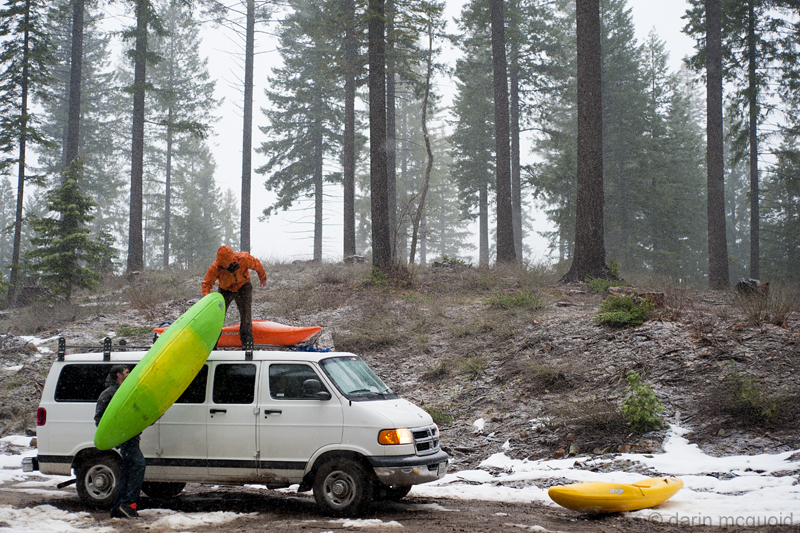 Thanks to Justin Patt and Austin Nickell for logistical and moral support. Look for heavy rainfall and everything else to be too high for this to be in.

From Highway 49 North, take Broad Street Exit. Make a right from the offramp and follow Broad Street until it makes a slight right and becomes Red Dog Road. Follow Red Dog Road until a "Left" (it's really straight) onto Quaker Hill Road. Stay on Banner Quaker Hill Road for eight to nine miles until you can see a large pull out on the left. From the pull out hike down the gully until you hit another road (which is gated). On this road head right until you hear the falls. Look for the fairly obvious trail down the falls and enjoy.