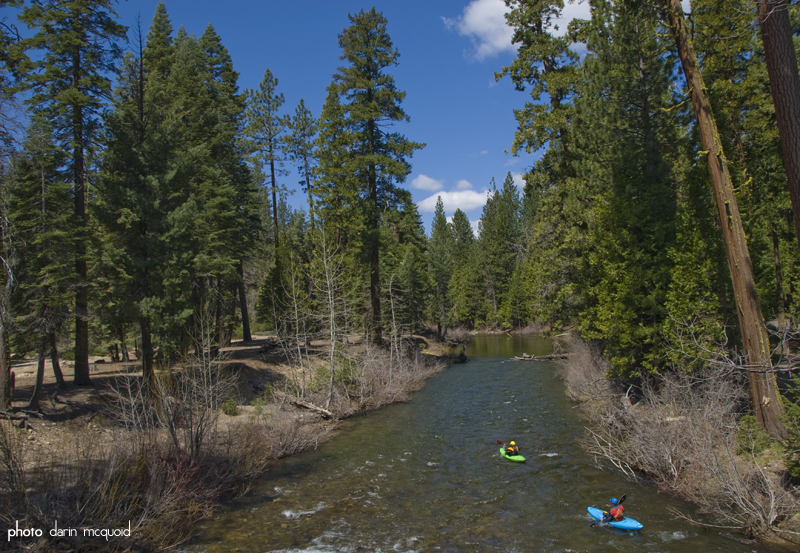 All kinds of opinions float around about this run, from highly positive mentions of big rapids and some slides to dismal stories of a steep, sieve filled boulder gardens. The latter reports made the run low on my must run list. Matt Thomas and I were camped off Icehouse Road, a little sore from a full day on
Golden Gate
. We decided it would be nice to take it easy the next day. In the morning we met up with Scott Ligare and Thomas Moore, somehow fooling ourselves into believing Silver Fork would be a quick easy day...
The shuttle was nice and quick, and a picturesque put in had us in a relaxed frame of mind, except perhaps Thomas, who was aware of what we were about to drop into.
Matt Thomas scouts the first rapid of Silver Fork.
As we came to the first horizon line two things were rapidly ostensible. It was a big rapid, and flows were high. I was still recovering from a sprained ankle & bruised heel, and relied on beta from Matt Thomas.
Thomas Moore was willing to probe, and sold us on the rapid.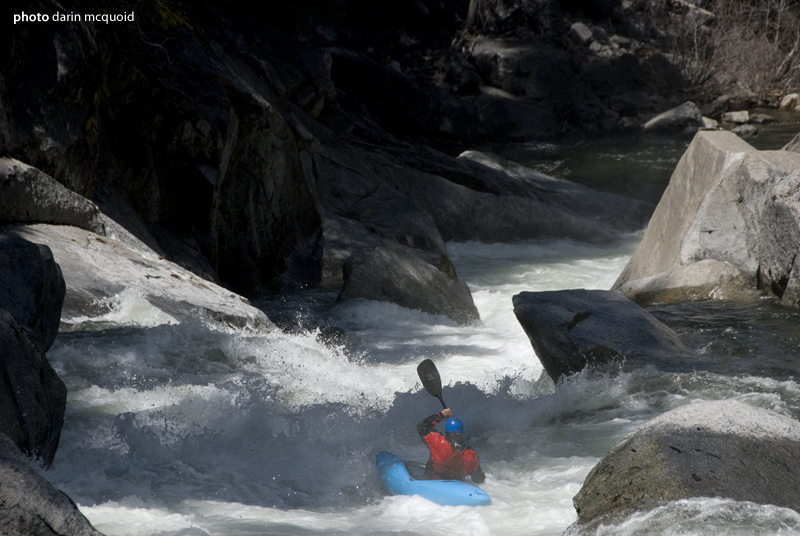 Matt Thomas finishes the first rapid, it was considerably larger than it looked from the top.
A short pool vanished around the corner, and as we made the turn gradient picked up and we bombed through a set of slides, trying to avoid large holes when possible and melting through some mandatory seams.
During a brief surf Thomas realized the river was higher than he had ever seen it, and the lines weren't the same. Scouting more drops was in order, and we quickly portaged around a nasty hole.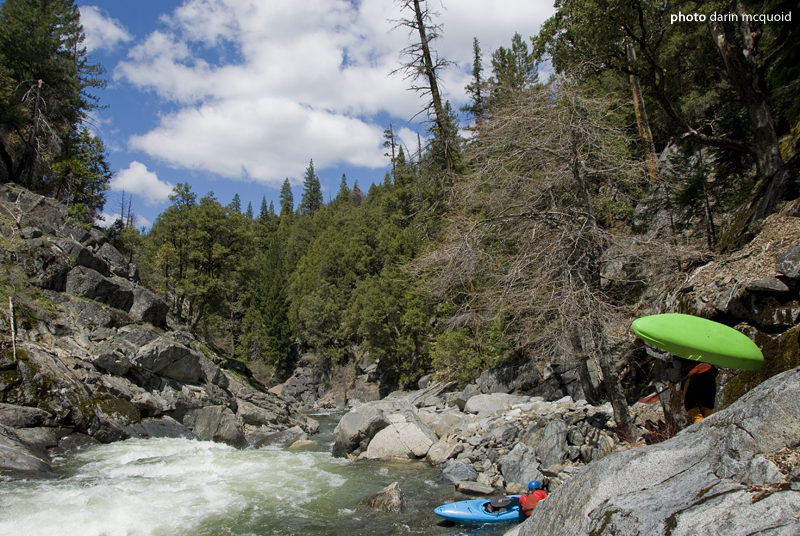 Once done with our portage, the river dropped over an unusual slide with a big toilet bowl eddy on the left, and then dropped again.
Thomas Moore lines up just left of center for the toilet bowl slide.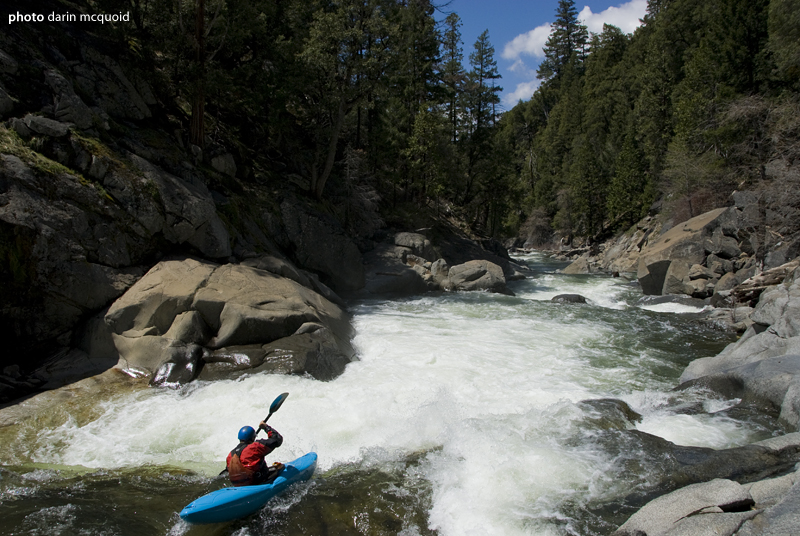 Matt Thomas carries momentum into the second part of the drop that hides a somewhat retentive hole.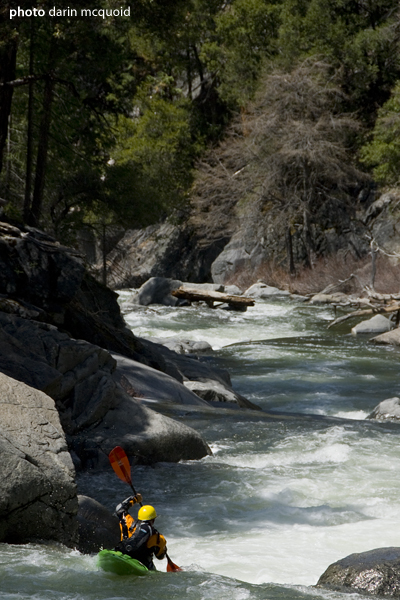 We made a quick portage around the next rapid due to the high flows creating a massive hole just upstream of a sieve, it might have gone but the risk vs reward factor was too low for my taste.
The river took a quick bend to the left, then got incredibly steep and not clean. Thomas mentioned that with less water you can push down into some lower eddies, but we deemed it prudent to start our portage a little higher up.
A quick ferry avoids lots of extra climbing in the steep section, and Matt Thomas gets it done.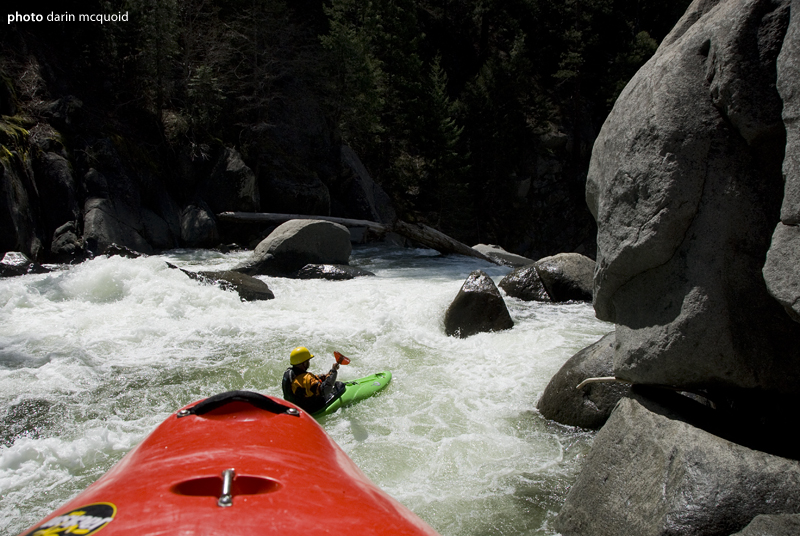 Looking back upstream at Carwash. There is a big rapid leading into this, and according to the rumor mill the whole set has been run, but no one has stayed in their boat either.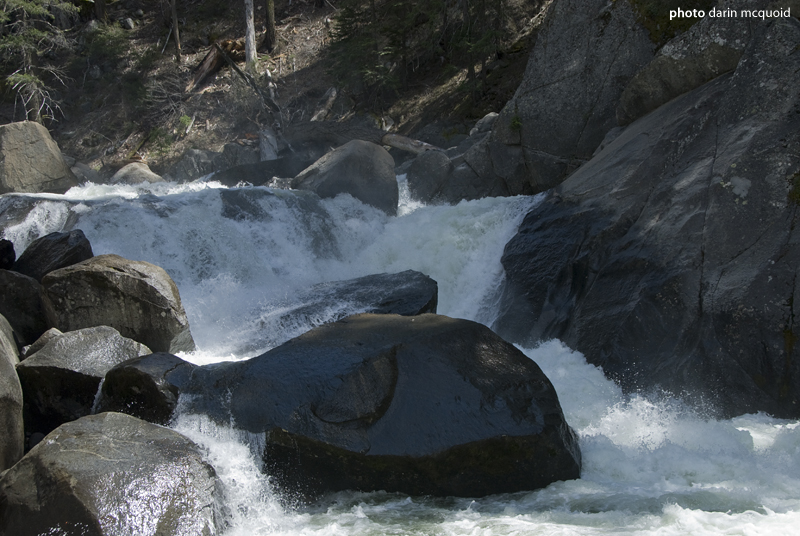 "Bruised Balls Falls" is immediately downstream of Carwash. It has been run many times, but is notorious for a shelf in the bottom, and famous for a run that resulted in a broken bulkhead and damaged goods.
Matt Thomas and Thomas Moore debating the line for bruised balls.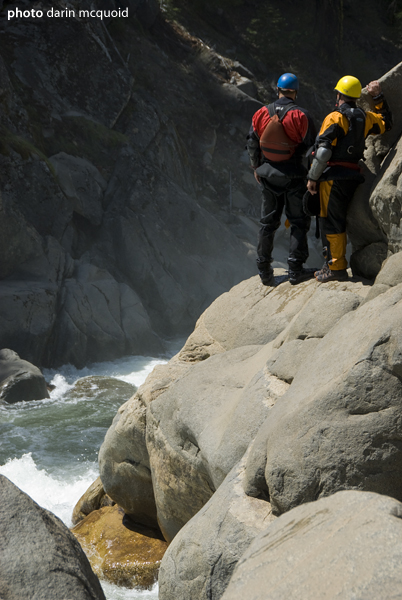 We all decided to play it safe with the high flows, although arguably the waterfall might be safer with more padding.
Looking back upstream with the falls at the top of the photo.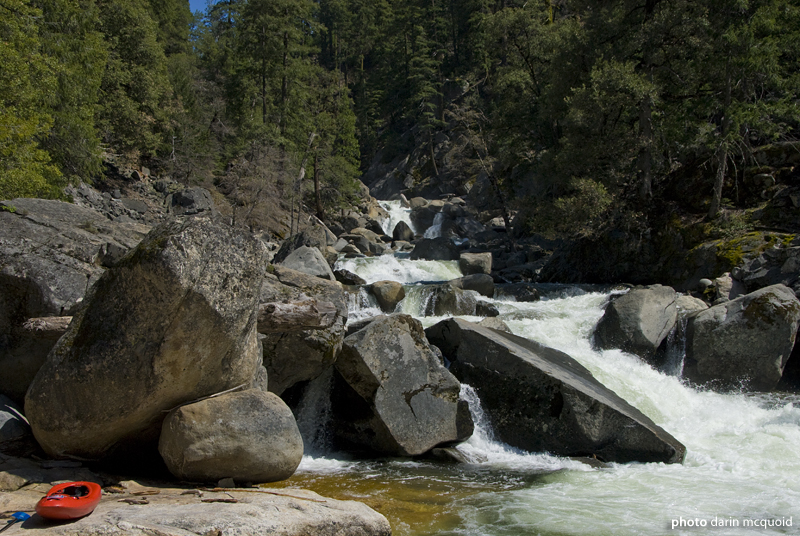 Below Bruised Balls we were able to stay in our boats for the majority of the run out, which consisted of steep mank and not so steep mank, all the way to the confluence with the South Fork American. Somewhere in the mix of the boulders was a very exciting slide to auto boof over a meaty hole, quite fun and out of character.
Thomas Moore firing away in the steep boulder gardens.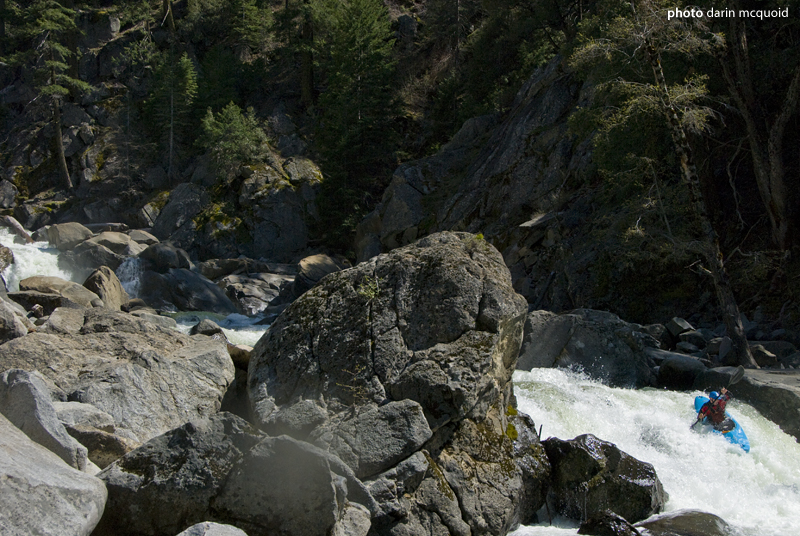 I know I will be back on Silver Fork again, yet do not consider it classic. Some do. Because of water levels it was not the quick run we were expecting, the three miles and change took us longer than eight had on Golden Gate. If flows are medium and a group member knows the line it is reportedly a quick run.
If I remember correctly we had around 800cfs at
Kyburz
.
Silver Fork Put-In
Silver Fork Take-Out