Clear and cold. Really cold. During the night I had awoken and had to use the little boys room but didn't want to get up because it was so cold. Now mind you I am in a 10 degree rated Feathered Friends sleeping bag. These are expensive, hand made in the US sleeping bags that are honest to their ratings, I'd had my 30 down to below freezing before and was okay. I am slightly cool in my ten degree bag, and wearing a wool bottom layer too. In the morning I get up and quickly relieve myself before walking around camp. The first thing I notice is that once out of my sleeping bag it's really cold, and everything is frozen.
Not just frosted, but true, cold, ice. Solid ice shoes.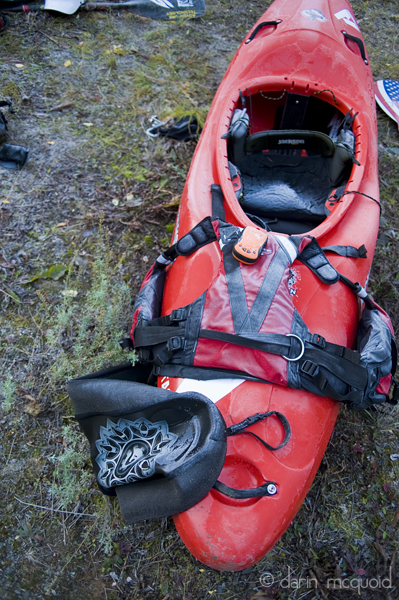 In the evening we'd talked about getting an early start, so soon enough everyone is up and thawing gear. Charlie Center having a great attitude even though he has no footwear and his elbow pad is frozen to his skirt.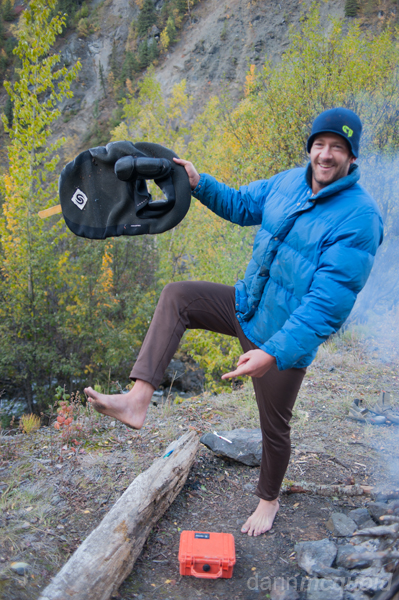 At least I have pogies...one with the ice in my kayak.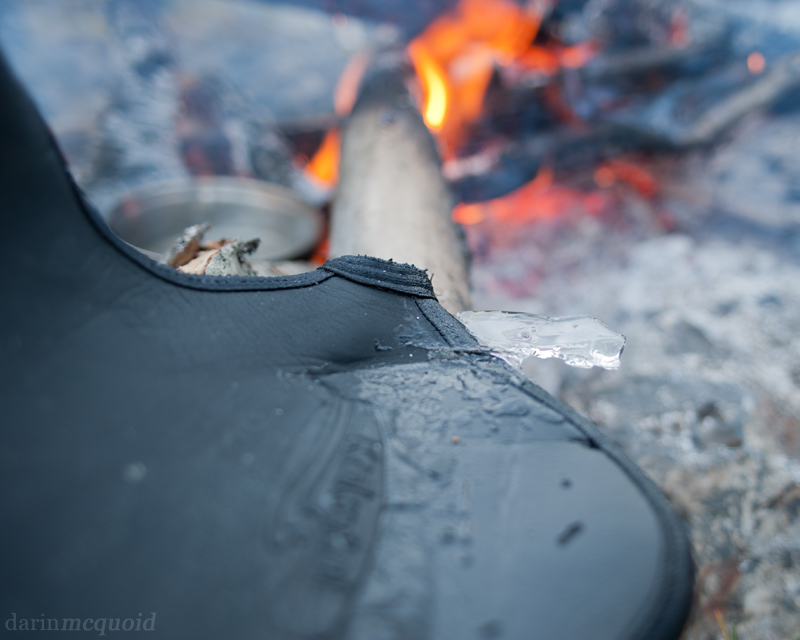 Everything needs to be thawed so we begin the slow process. After thawing my drysuit to a tactile state, I pack up my sleeping gear. Gear in the boat I return to my drysuit. It's solid again. At nine in the morning. It's not an early start and it's not inspiring us to start any sooner. On the other hand the Site Zed portage should be better in the cold. The only mandatory portage of the run, walking Site Zed has two routes and takes around an hour give or take. The high route is faster, less work and more dangerous because much of it is on an exposed scree field. Rush and I head for the river level route, which is over rocks but less exposed. We're hoping to run some of the bottom of Site Zed.
Jonas Grunwald, typical Site Zed portage material.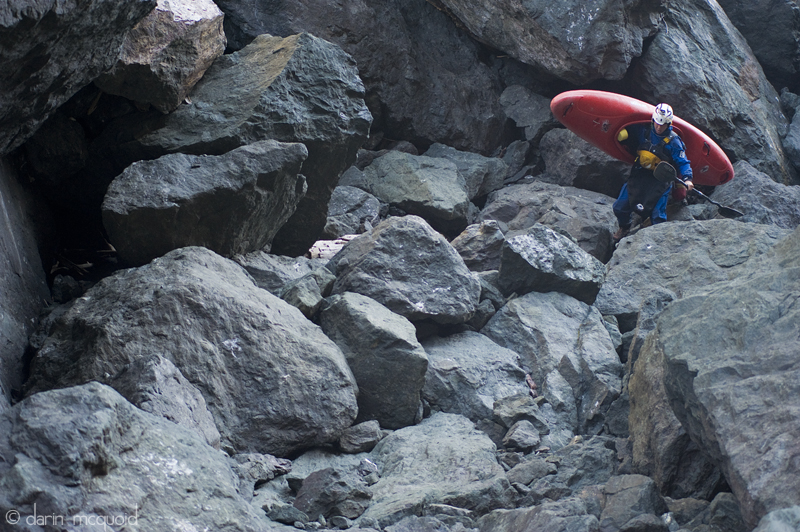 At lower water the bottom move of Site Zed is closed out. There is also a better eddy to put in for the "hairy ferry". Win some lose some. Rush Sturges finishes the walk at river level.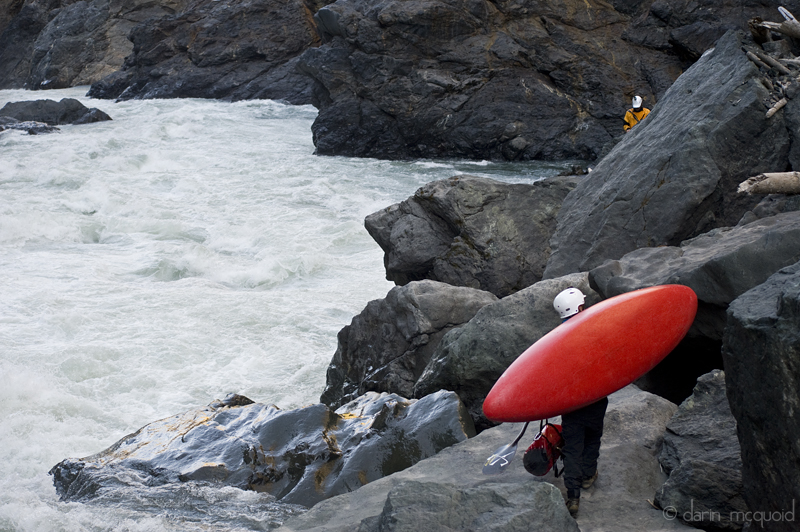 Hairy Ferry is exactly what it sounds like, a tough ferry out of the bottom right eddy of Site Zed. The ferry is away from both the right wall, and a large pocket hole that forms off its furthest edge. I consider it to be one of the crux moves of the Grand Canyon. In and of itself the ferry is tough, but below is one of the most continuous and walled in sections of the river. Good fun if you are in your boat and bad news without it.
Jonas Grunwald has no problems avoiding the pocket hole.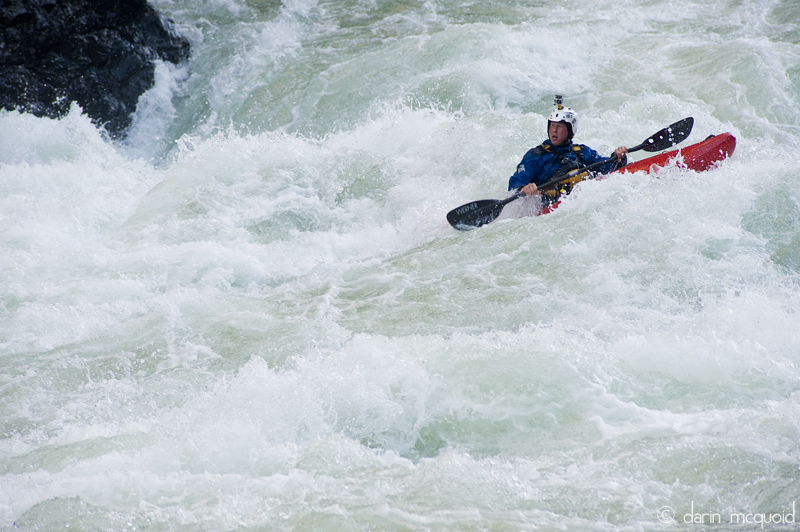 Rush Sturges starts the ferry out.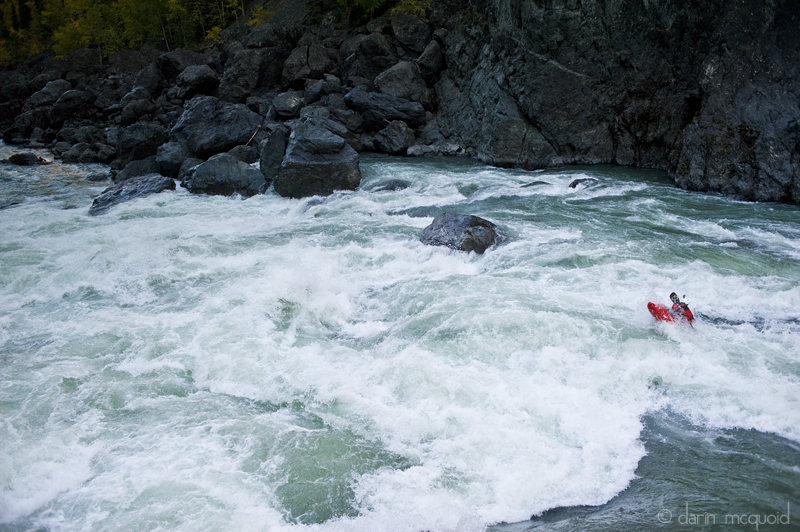 Many rapids are contained in the next few miles, but none required us to scout and we made quick time to a break in the gorge and nice but of sunlight that helped us stay warm.
Corey Boux in some typical Stikine boogie.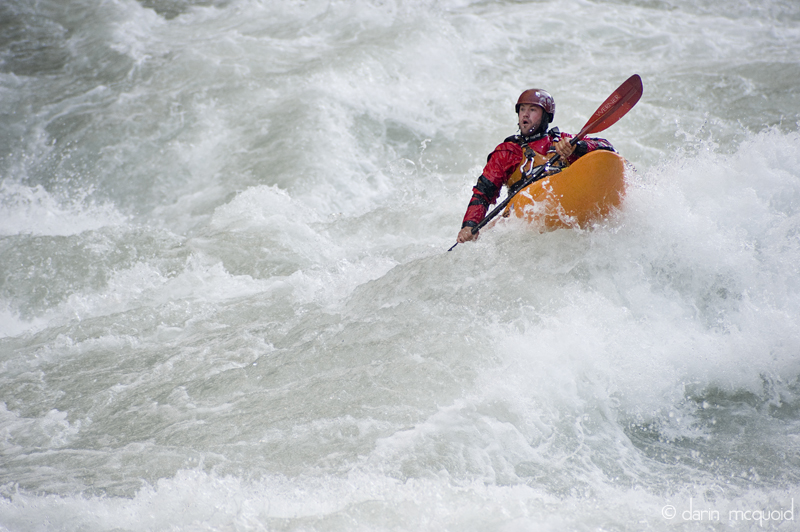 Gorge walls rise again as the team gets ready for some whitewater excitement.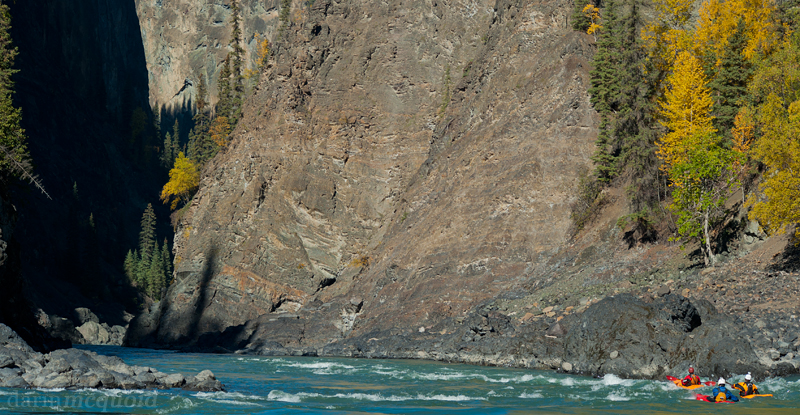 The inescapable. Somewhere in here is a AFP. Always a fucking problem is just that. At all levels there are big holes, so we maintained vigilance and scouted.
Rush Sturges taking it down the gut.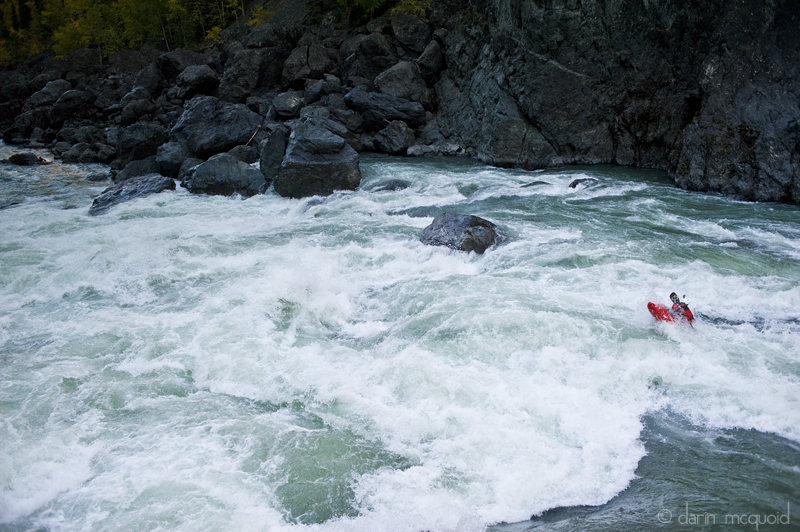 I'm rather fond of overcast days for taking pictures of kayaking. The cloud cover helps the light spread out nice and evenly. I took it for granted that would be the conditions for us, but it was sunny and very tough in the deep gorge. Either dark shadow or blaring sunlight, typically half and half.
Corey Boux, AFP.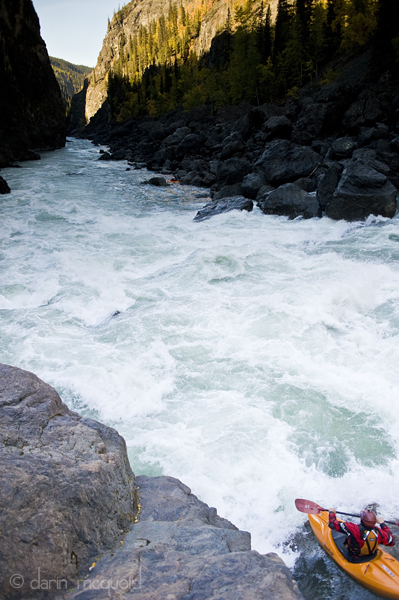 Deep in the canyon we got out to scout The Wall. One of the largest "un-un" rapids of the Stikine. Un-portageable and un-scoutable. Groups have tried to hake out here with no success. We scouted the lead in and ate lunch while contemplating how much the rapid might have changed with lower water.
Even in the sun it was colder just sitting around, so we downed our meals. Charlie and Corey went first, and from above it looked a bit rough...like there was a big hole on the left in the normal line. Not that we could really tell, since all we could see was paddle blades after they dropped in.
Charlie Center: The Wall.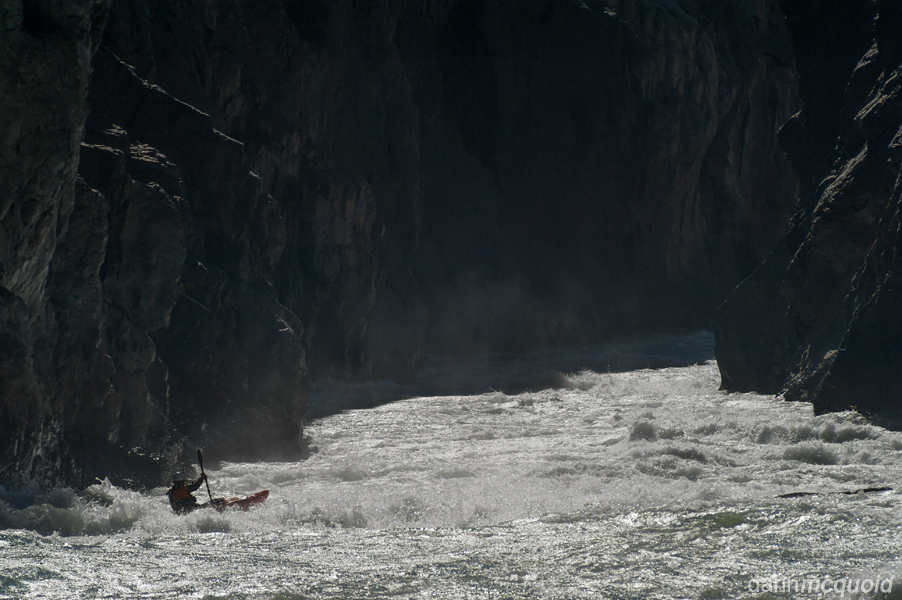 Jonas and I ran the wall together. We tried to say slightly more to the right of the previous line but still caught the very edge of the hole, flushing out wide eyed downstream after getting typewritered but avoiding the backwash.
Downstream of The Wall the canyon widened out again, and we gave Garden of the Gods a quick scout. Garden of the Gods is unique to the Stikine, it's one of a few true boulder gardens on the run. For some reason it is often sunny too.
The key is a move Rush makes to the left around a hydraulic.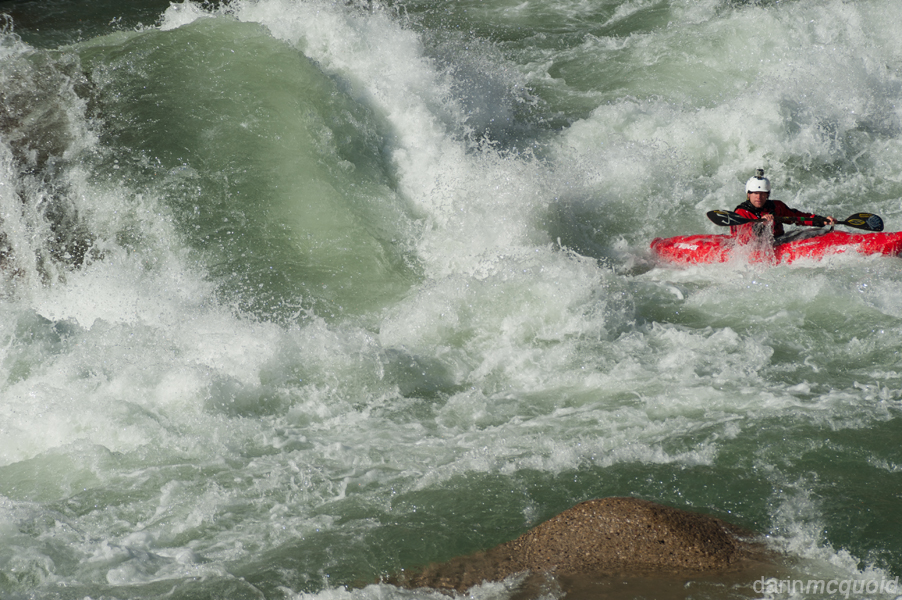 Only a short ways below Garden of the Gods is campsite two. A large beach greets tired paddlers, and up above an overhang provides extra protection and warmth. They day had only taken us four hours on the water, so we had time to stretch out and relax.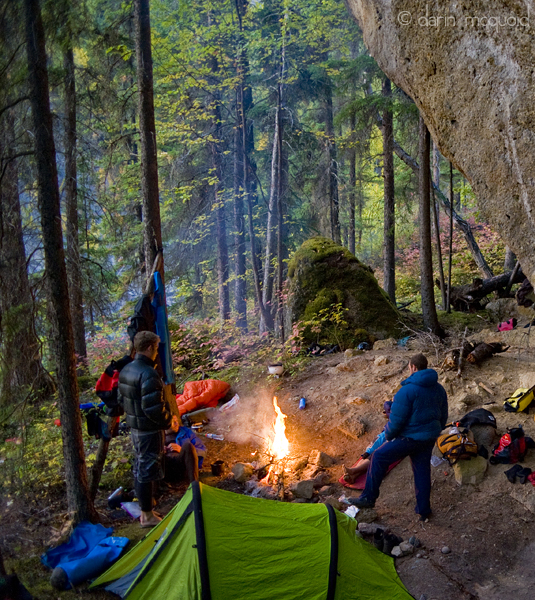 That evening Rush and I set up time lapses, but the below freezing weather made quick work of our camera batteries.
An hour at night on the Stikine in a few seconds.
Best viewed in full screen.