A fun portage with the occasional rapid, Upper Brush Creek would be an absolute classic
if it had no wood.
That's a big if. The joke at the end of the day was that on most rivers you count your portages. On Upper Brush you count the rapids you actually get to run between portages. Believe it or not that description is not inaccurate.
If you are early in the season the road will be gated, necessitating an extra mile of hiking. Will Stubblefield parks by the gate.
At least it's scenic hiking.
Daniel Brasuell
warming up.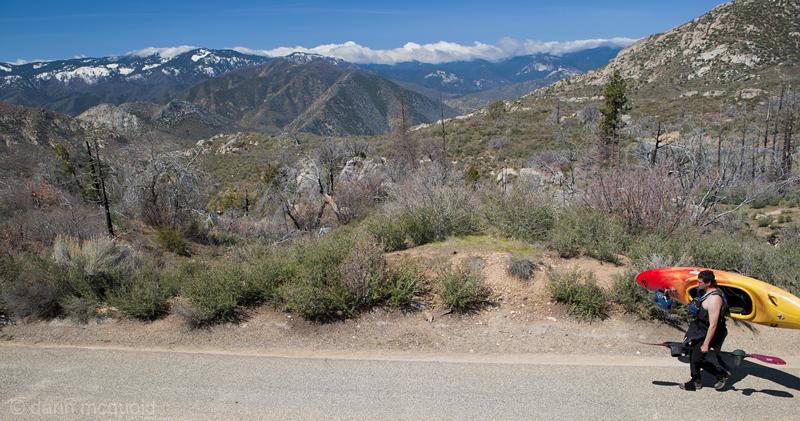 Kevin Smith and Diane Gaydos drop in.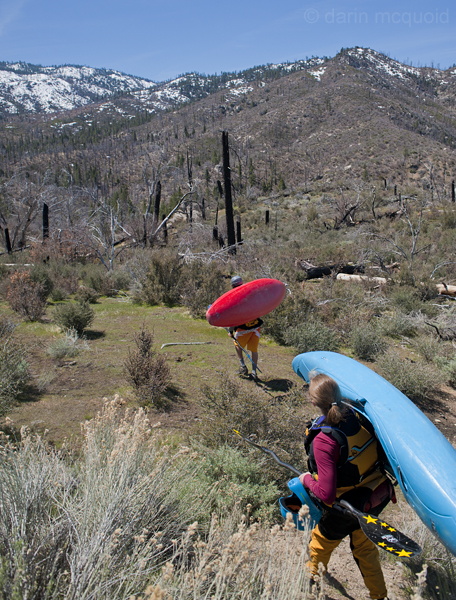 Upon reaching the river we quickly portaged a few logjams to seal launch in at the first rapid. I quickly ran the rapid and found myself scrambling for shore to portage a log immediately downstream. Little did I know this was to be the story of the day.

Austin Nickell
ducks a bush to run a fun rapid. Downstream you can see the team portaging the next log.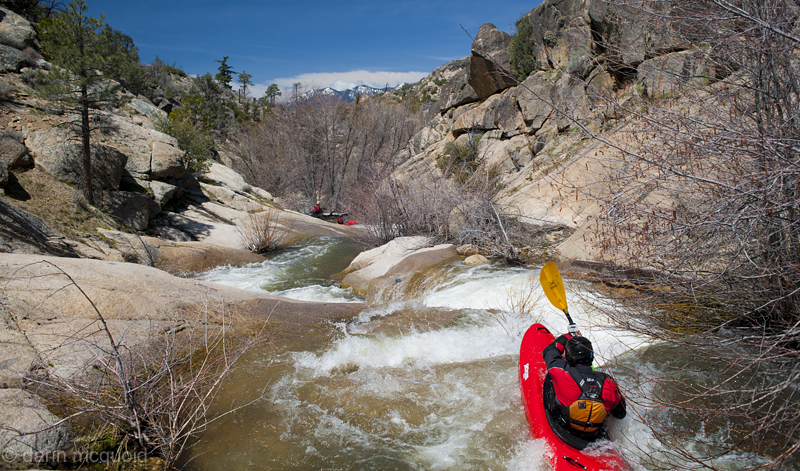 Will Pruett charging in a Corsica, bold move!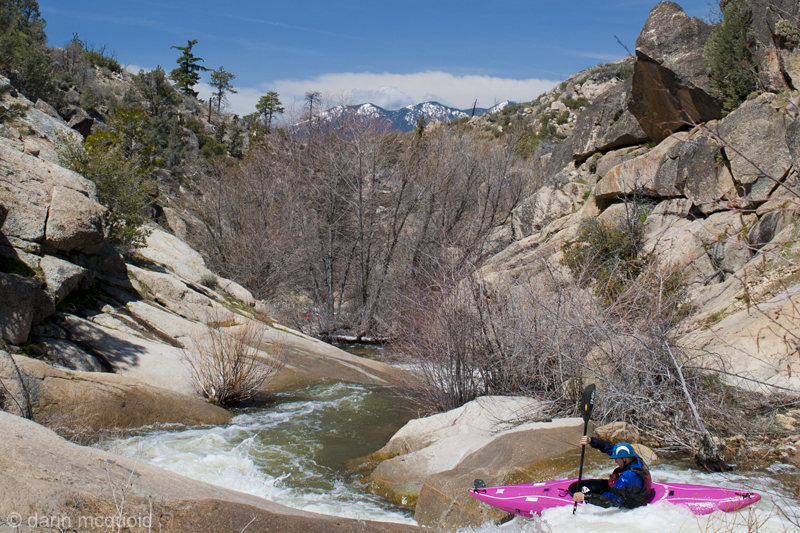 Daniel Brasuell in nearly a hundred and fifty feet of log free river, only a bush or two to duck.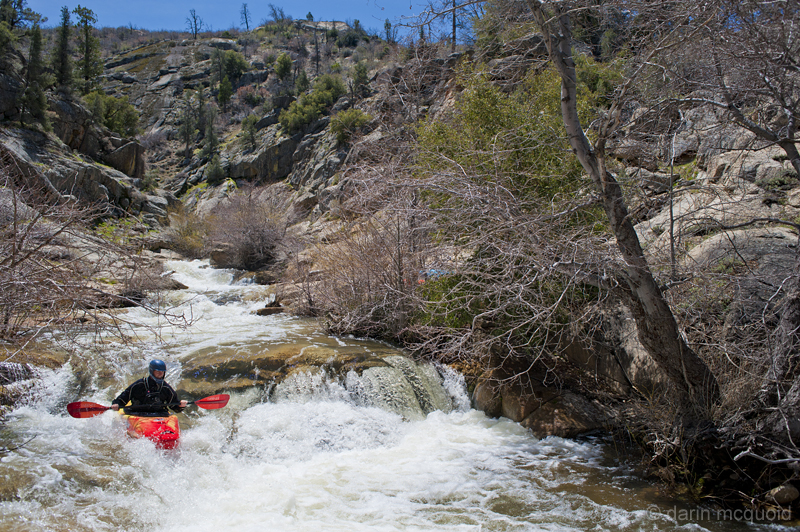 Upper Brush has some nice drops but they are hard to photograph, because there is brush everywhere blocking the shots. Mr Pruett charges off a nice ten footer before his Corsica nearly carries him into the next log jam that's visible at the bottom of the pool.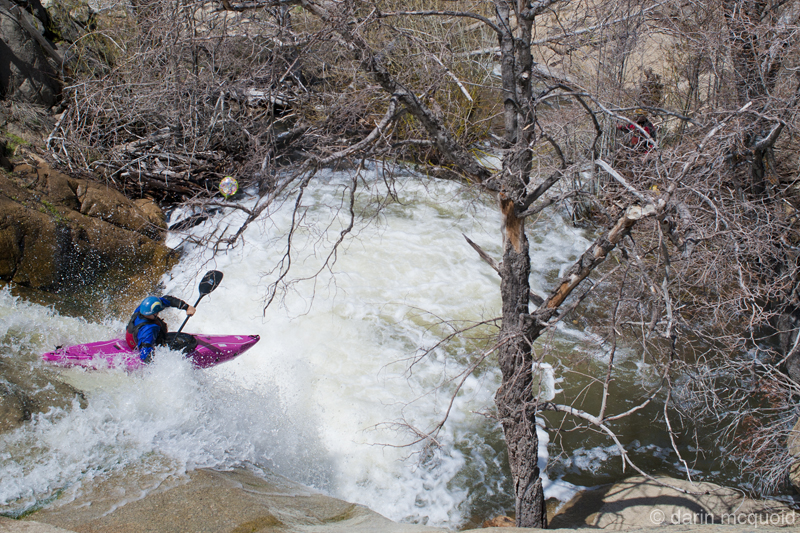 A few portages later and we had a nice waterfall. Well mostly nice. It required seal launching through brush, scrambling to get a stroke at the lip and then making sure to get right to portage a new tree with lots of branches in the creek.

Daniel trying not to stress about the tree just out of sight.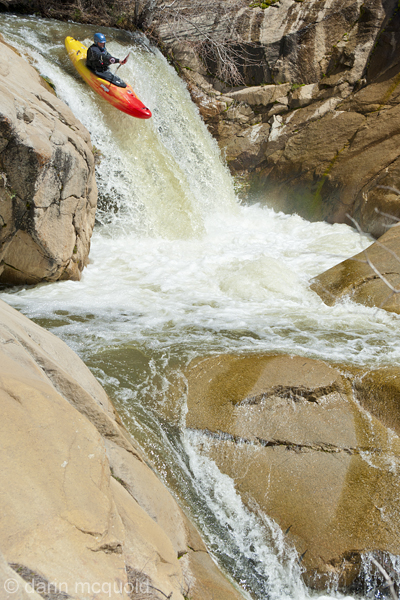 A few portages later and Steve Schmitt gets a good drop in.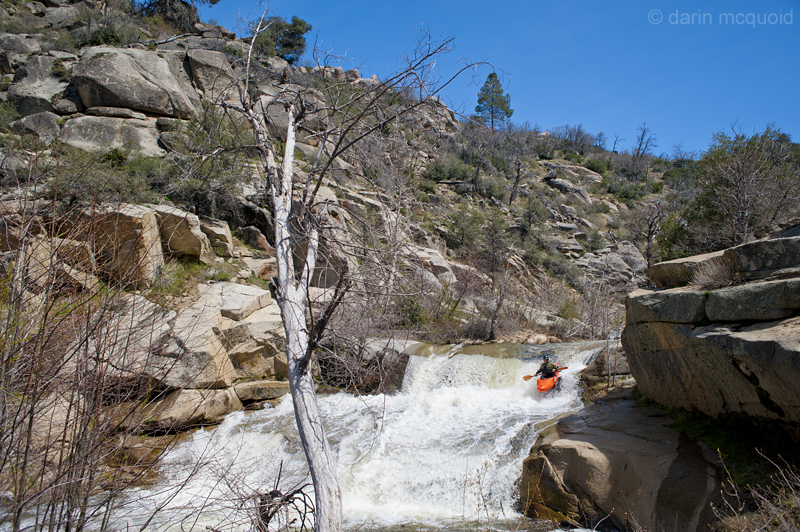 Two larger drops mark the start of the crux of the actual rapids. The first is a slide to eight foot drop to reconnect occasionally piton. Tired of portaging Austin and I fired away.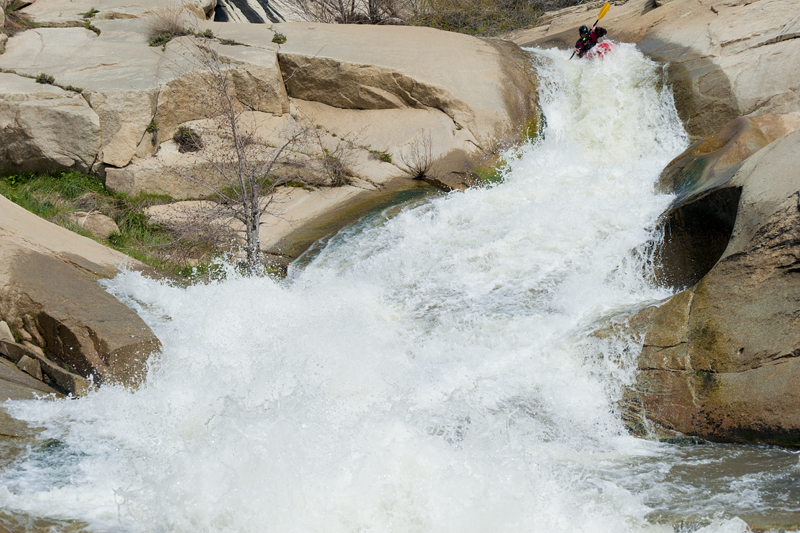 "At least this bunny suit breathes"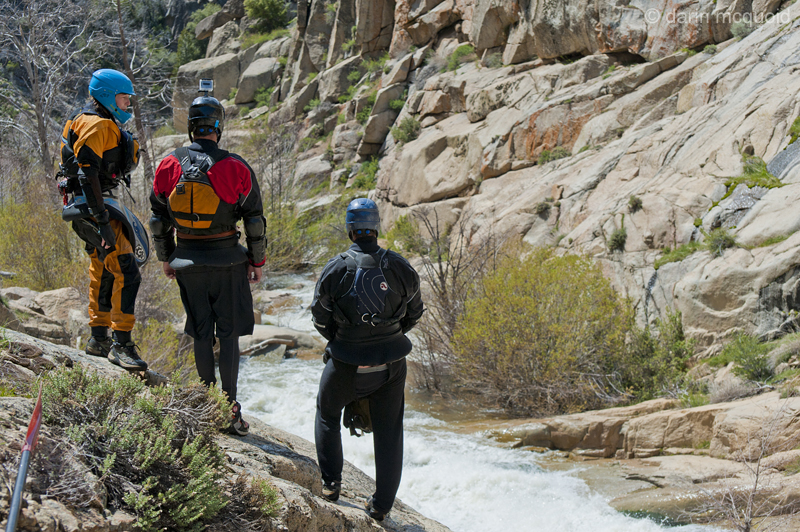 The second large series looked a little dubious, but Kevin Smith showed us the way.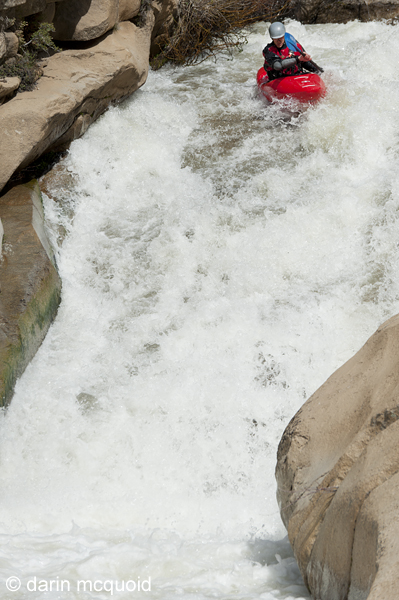 Kevin charges left, this one goes better than it looks.
Diane Gaydos in the same.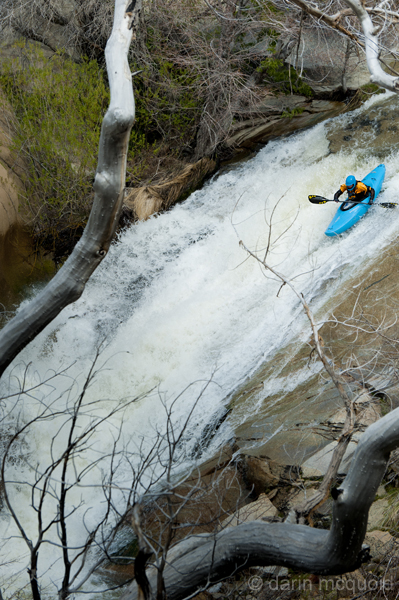 We were in the ultimate section of Upper Brush Creek. We'd just run two great rapids in a row, portaged two and now got to run two more in a row!
Kevin Smith enjoying the goods.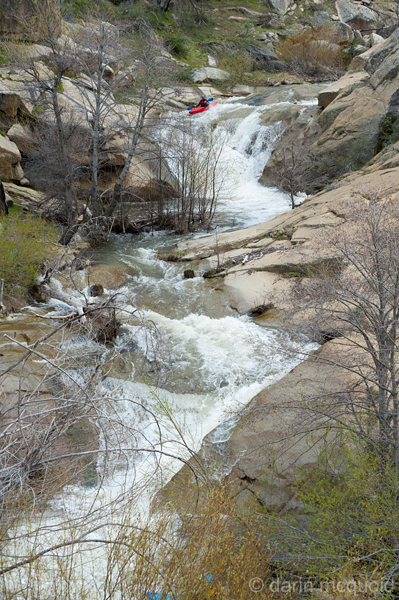 The goods led into the longest single portage of the run. It takes about twenty minutes higher on river right, but finishes with style.
Will Stubblefield getting a good one in before (surprise!) another portage.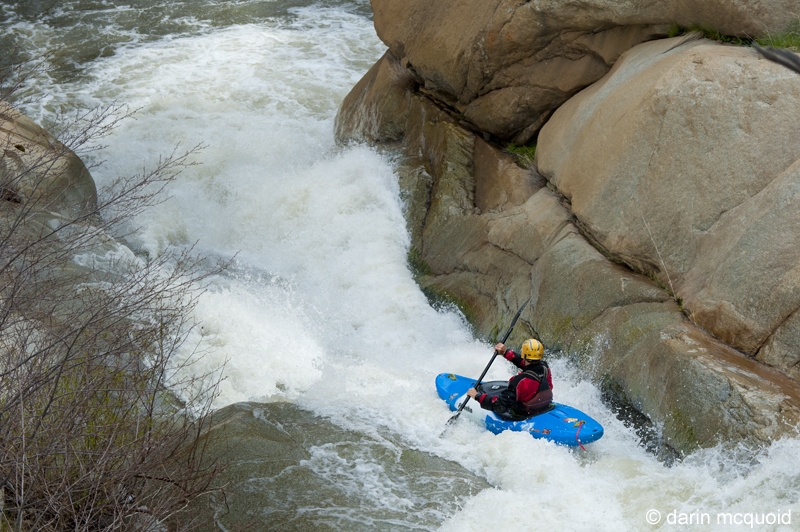 Diane runs one last good boof.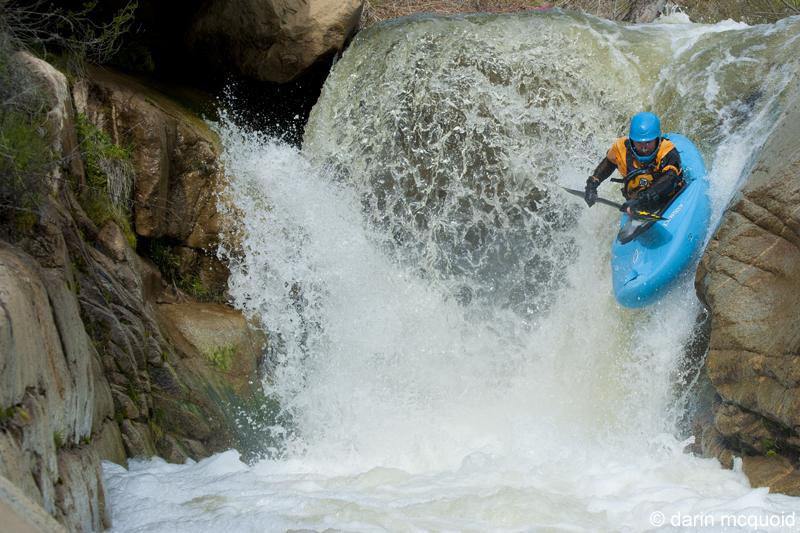 Below the drop shown above is perhaps the most sketchy eddy of the run, for yet one more log portage. We tried to stay in the river for a while below here, but the locals beta is quite correct. Once you've had enough of it, just walk the last mile or so to your car. It would take longer and be a lot more effort at river level. Ahh, hike in, portage over twenty times and hike out. Classic?

Daniel really captures the feeling of what a good time the hike out is.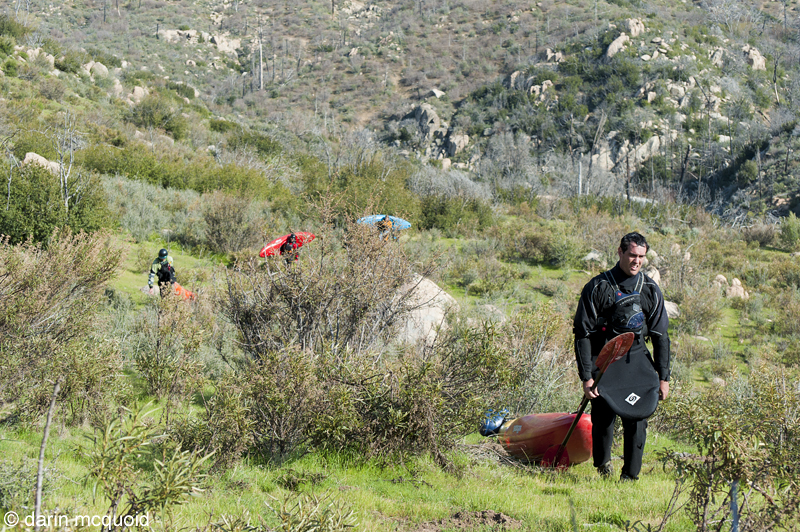 Seriously we're just glad to be at the car after hiking about 2x what we ran.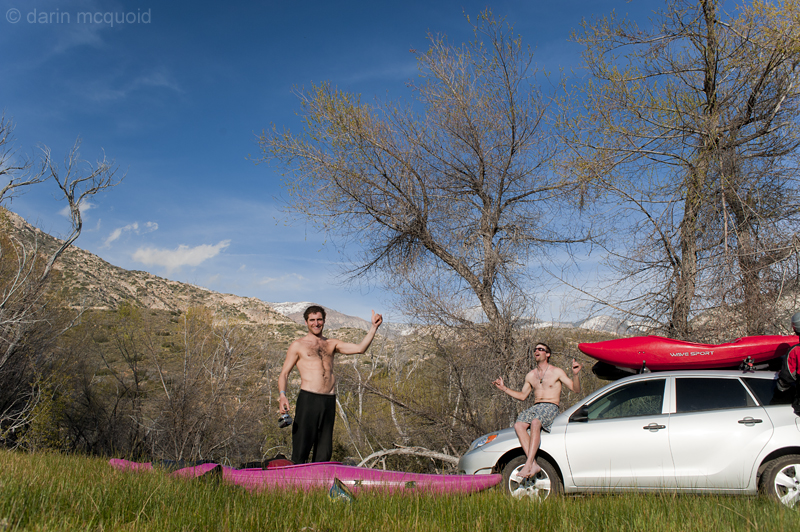 The day of, I thought I'd never do Upper Brush Creek again with the portage and hiking ratio. But memory is a tricky thing. I know in a few years I might just be lured back. Then again I might not. It really is a scenic portage with a few rapids..every good one is documented here.
"This is an amazing run and I would classify it as a must do if you are in the area." The only way you're going to say something like that is if you are
from Colorado
. People that actually live and kayak in California know better.
Logistics: Go to the normal
Brush Creek
put-in and continue down the dirt road on the right. Retrace your steps to the paved road and drive upstream until you see the road to Big Meadow. If it's gated, hike about a mile until it looks like the river too far away. if it's open, you should probably hike anyways just to get a feel for the run.