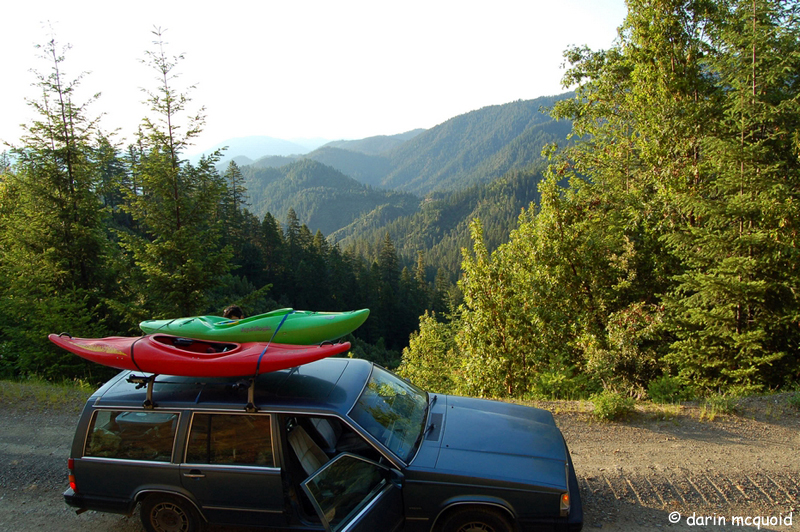 Bridge Creek is the most talked about kayak run in the far Northern California area. Oregon Kayaking has a
video of Bridge Creek.
I was curious if Bridge Creek would hold up to all the hype about the epic put-in, manky mank and big clean drops, all combining into amazingly long day that has caused more then a few hike outs. To rehash some information, the run entails a 2.5 mile hike in, 1.5 which is flat and 1 mile that drops around 2,000 feet. This is followed by a three mile run down Bridge Creek that alternates between 400fpm and as high as 800fpm in one section. This is followed by nine miles of class IV-V big water notorious for causing swims. All these details and statistics are from outside sources, so don't quote me on it!
I woke up Thursday morning wondering how exactly I had managed to get to the put-in for an 11 mile wilderness run.
Gearing up.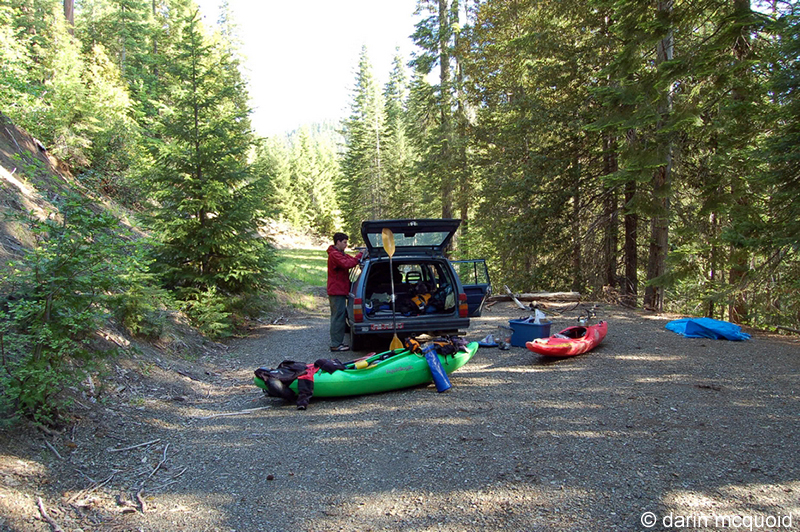 The hike-in for Bridge Creek is everything it's rumored to be. The downhill was about as steep as I had imagined it to be, lots of controlled sliding and some uncontrolled sliding down steep slopes. Somehow I had pictured it as 200-300 yards of steep downhill, not a full mile of downhill sliding and hiking as it really is. By the time we hit river level at 11 Tristan and I had been on the trail almost two hours, surprising to both of us by how long it took.
Somehow Bridge Creek has an ability to attract abnormally large groups of kayakers, with six being normal from all reports. The previous week a group of seven had six swims, something that was definitely on my mind with poor swimming ability due to previous shoulder injury. We managed to have a normal Shasta or Ashland sized paddling group, just Tristan Ragsdale and myself. Upon seeing the water Tristan declared it to be on the low end of medium, which I was happy to see. From the start the run is steep, rocky, and contains it's fair share of mank and wood. Eventually we came to a cleaner section and I was just following Tristan down and was surprised as we ran a 50 yard sliding lead into a 10'-15' waterfall, followed by a clean 20' waterfall, some of the larger stuff I have run blind but amazingly clean and fun. This fun double drop came shortly after the two aforementioned drops.
Tristan Ragsdale running a double drop slide.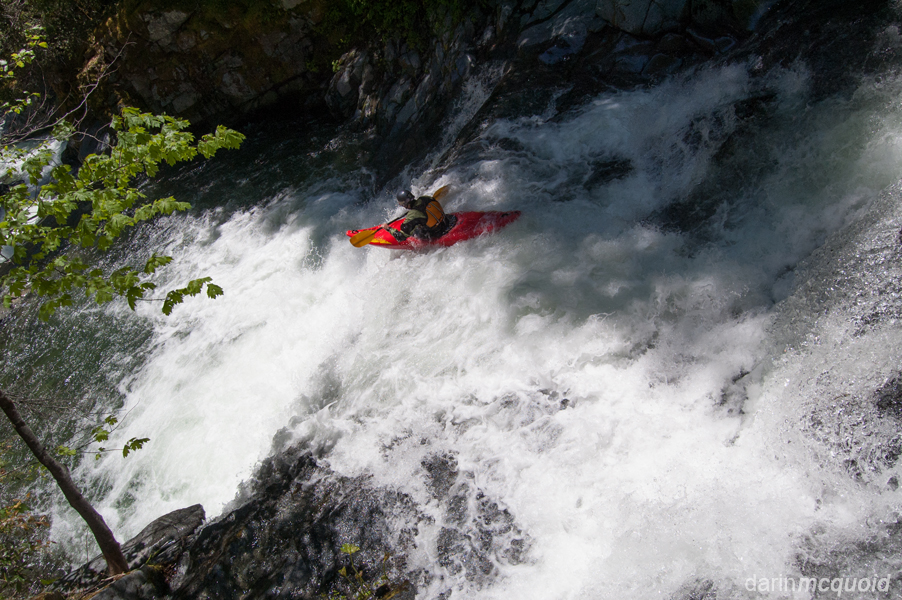 More mank was the norm for a short bit, then we scouted this epic slide that has a great boof at the bottom. Hands down one of the highest quality, exciting drops I have ever run. Ear to ear grin on landing the boof. You gain so much momentum on the 20' slide before the boof you go flying off and land past the tree.
The author getting his boof on.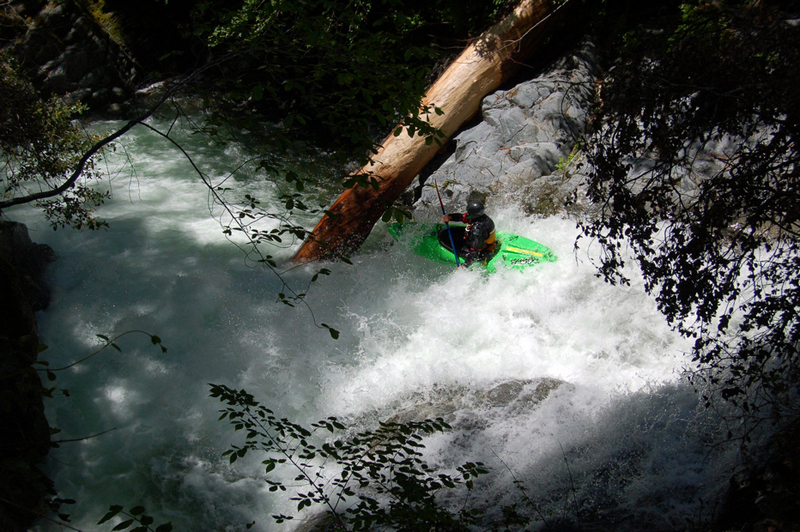 There is so much on this run my memory is vague, the next sizeable drop was this beautiful waterfall.
Tristan Ragsdale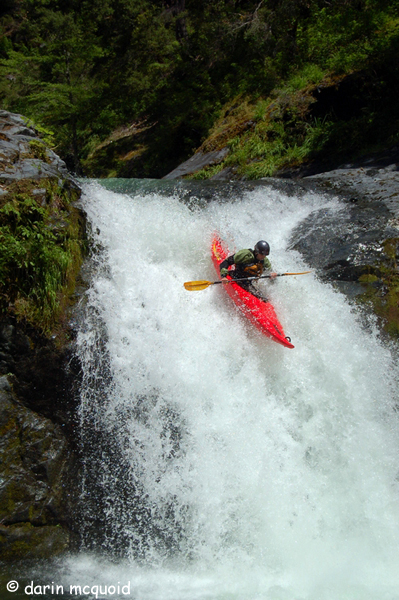 It required landing with a good river right angle to avoid a mandatory log jam portage directly down stream. Tristan Ragsdale sets the angle right.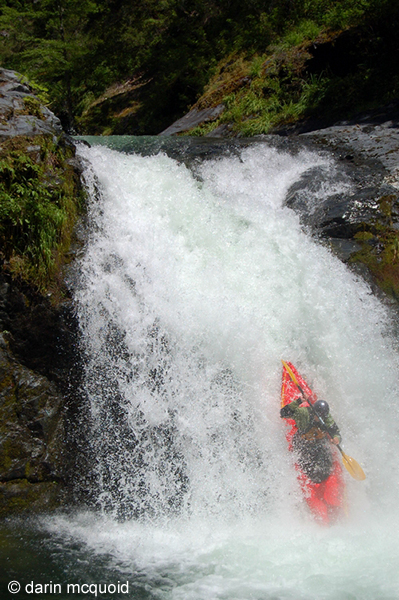 The portage below the waterfall was a second 15' throw and go portage, more fun then your average portage. Sometime below this we portaged a drop that Tristan thought was "Penalty Box". Penalty Box is a rapid notorious for giving a combination of beat downs and life changing experiences due to it's borderline terminal retentiveness at certain flows. Before doing the run I had already made up my mind to portage the drop, wanting to save my shoulder from any beat downs, and myself from life changing experiences.
Mank filled the middle of the run, with lots of broaches and each of us suffering brief vertical pins that we were able to work out of. We got out to scout a sliding drop that had a funky recirculating eddy on the right, and while we started at it for a while Tristan threw a log in. The first log flushed through, and I didn't think the rapid looked that bad. One more log was thrown in and got stuck in the depression, but for some reason it didn't bother me and Tristan set safety and took pictures while I ran the drop.
The line here is to come down the middle driving hard, and a little bit left with a big boof at the end.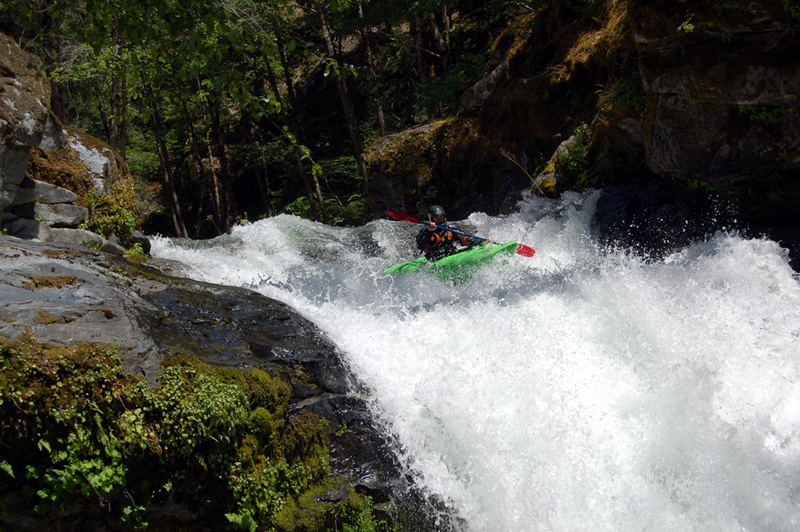 I felt like I made the move but was still fully submerged when I hit the water. Note the large depression on river right. I'm in there somewhere.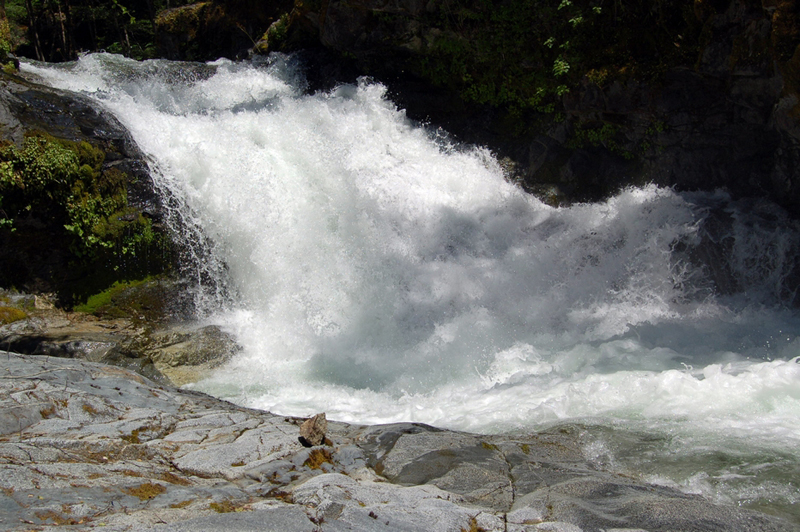 I resurfaced in the depressed eddy, swirled around perfectly to try and paddle out and did so, but didn't get very close to making it out.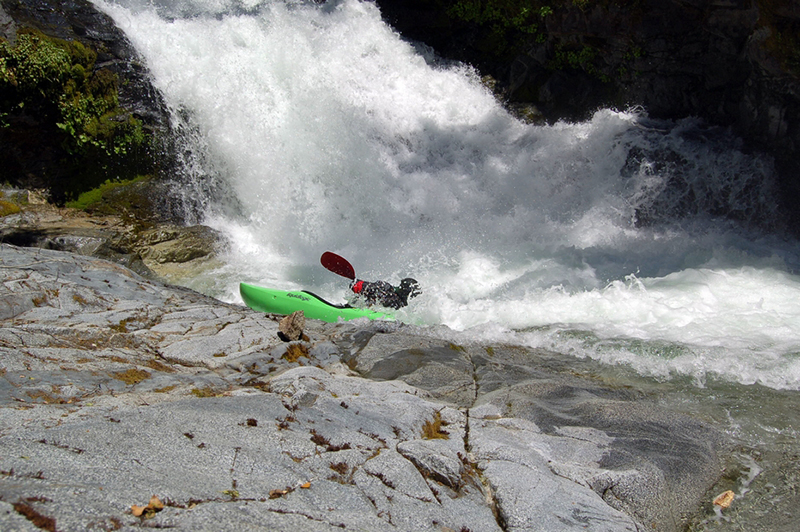 Thanks to Tristan for the great safety on this one, he got the rope to me perfectly while I was in my boat, and I bailed out and was pulled up the slope of slippery rock. My boat proceeded to wash in circles through the eddy, along with the small log we threw in several minutes before I ran it. Eventually my boat came within reachable distance and I grabbed it. I was standing on the rocks with my boat 90% out of the water and was working on getting it drained when all the sudden surge hit the boat and it started to slide back in. Because I was below the whirlpool I held on and swam a thankfully smooth slide with the boat and shoved it into a downstream eddy. Huge overall idiot move on my part.
We took a refreshing lunch break, followed by another large dose of ibprofen and we were on the water again. Just a short ways below this slide I was following Tristan a little too far behind and he went around a corner in a small mini gorge and I followed. It was only a 4 ledge, and I noted a sweet boof on the right while I went down the middle. Next thing I knew I was upside down and getting pummeled by water and up against a wall. I tucked up for a while trying to save the shoulder, then tried a painful roll and didn't get too far on it because I was still getting worked on the wall. Running out of breath I had the cursed thought of "am I going to swim?". One more roll got me up, and I was relieved to see I was flushing downstream and away from my own beat down in the Penalty Box.
In a short amount of time we were above the last drop on Bridge Creek. The last drop is a sweet 15' slide into a 15' waterfall, very clean and fun. This picture does it no justice.
Tristan Ragsdale kayaking the last waterfall on Bridge Creek.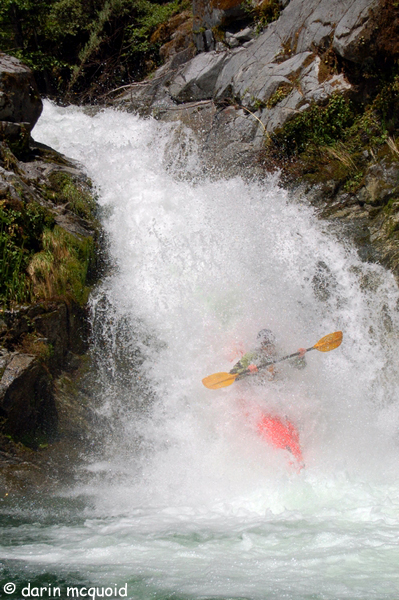 Tristan and I were equally glad to be on Wooley Creek and off the mank sections of Bridge Creek. Bridge Creek took us a lot longer than expected, partly because of my situation and multiple portages. Overall kayaking Bridge Creek took just under four hours with a lunch break included. Now we only had nine miles of class IV-V read and run big water creeking left. I was feeling pretty good at this point and stoked to be in deep water. The first four miles flew by filled with class III rock garden rapids stacked on top of each other. The Wooley Camp Association cabin marked the turning point in Wooley Creek, as the first gorge lies just downstream. I had done the
lower section of Wooley Creek
with Jon Vengley two years before, and thought the larger rapids were in the bottom gorge. I thought wrong, and was surprised at the size of the rapids on Wooley Creek, and started getting tired quickly. At one point I was rolling in almost every rapid, and just barely rolling at that. Eventually we got to familiar territory from our previous trip, and I was able to suck it up for three more large rapids. I think being in my boat at the bottom of "Fat Lady Sings" was one of the most relieving feelings I have ever had on the river. From there on out it was class III paddling into the Salmon, then a short paddle to Brannon Bar river access. This is where Tristan blew me away and did a full eighteen-mile uphill shuttle on a mountain bike after a full day kayaking Bridge and Wooley Creek. What a savage!
Bridge Creek is one of the greatest kayaking adventures in Northern California, but also one I don't think I would do more then once or twice a year. Shuttle was surprisingly simple considering the roads going everywhere. Take the Forest Service road that is a left turn just a short ways up Salmon River Road from Somes Bar. Follow the signs to and past Camp Three Campsite. When you pass Camp Three continue on to following signs to Black Mountain Trailhead, and eventually take a left fork and you'll be right at "Let-er-Buck" trailhead. This is the second picture on the page, the road is only 200 yards long before it dead ends. The hike starts here on the road directly downhill from the trailhead, hike to your right on the decommissioned road and follow it for about a mile and a half before you drop down the steep trail to the river. Better then all directions is having a friend who has done this run before, it would be an impressive achievement to complete the run in one day without an experienced person.