Quite a while ago I had read a
description of this run on dreamflows
and promptly forgot about it. I met up with Ben Stookesberry in Chico ready to boat whatever was flowing, because once out of familiar territory I instantly become clueless on water-flows and runs.
Friday morning we headed out still not sure of what to run. Eventually we settled on the
"Yuba Gap"
run that flows out of Lake Spaulding. Phone calls were made adding Lizzie and Gabe Forsythe to the roster for the day. Arriving at the put-in for Yuba Gap and observing 50cfs flowing through the river bed we quickly changed plans to check flows for the "Spaulding Run" aka "East Meets West" run on the South Fork Yuba.
Retrospectively I'm really glad there wasn't water, I would have been way over my head on Yuba Gap.
Ben and Lizzie agreed that flows were in the low to medium range as they had both done the run at separate times with much higher flows. Everyone was slow to put on dry tops in the June heat, but we eventually got on the river and started moving downstream through the slow moving water. The first drop, "Three Blind Mice" came up quickly with myself wondering where the mank was to warm up on. This is the large slide that you can see from I-80 when headed to Reno. Lizzie fired it up first after a quick scout and had a great line down the right hand side.
Lizzie English "Three Blind Mice"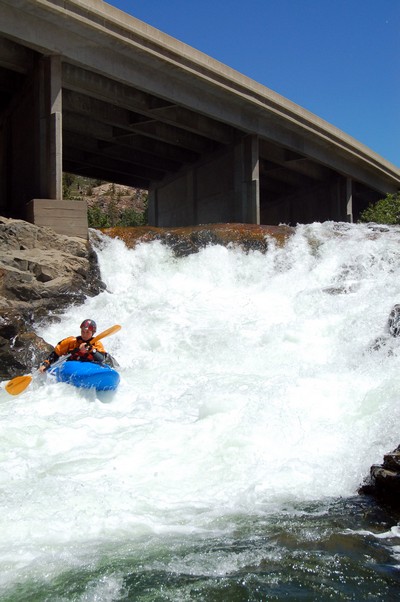 Ben and Gabe came into Three Blind Mice in true kayak "Blue Angel" style, but split up at the top with Ben taking a sliding left line and Gabe headed through the right.
Ben Stookesberry sneaking "Three Blind Mice"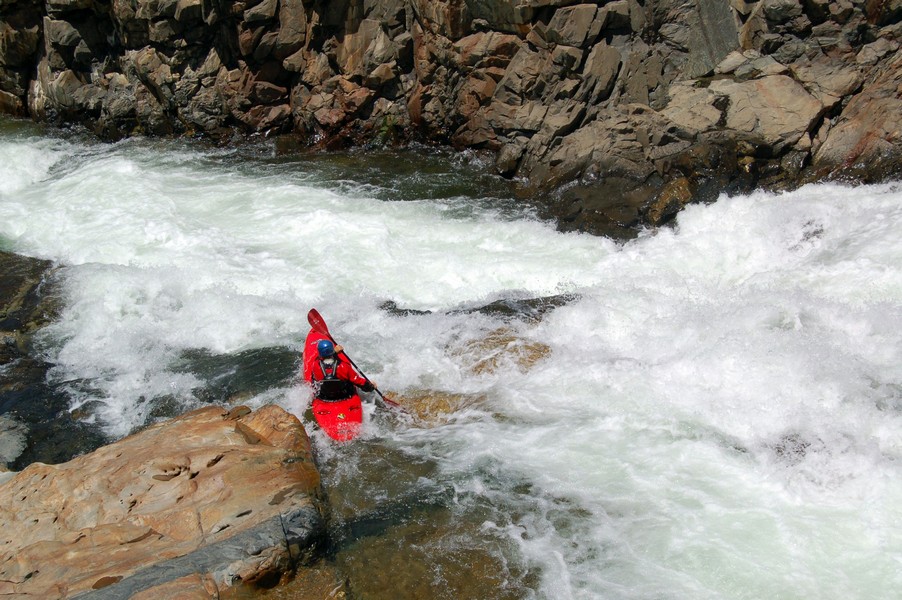 I wasn't feeling too hot without a warm up and took the left line through the top. This was followed by another fun drop downstream that isn't named to the best of my knowledge. We ran it with some fun lines, Lizzie flipping early on in the drop and motivating a different entrance line, and myself going through the bottom backwards.
This section of the run reminded me of Fordyce a lot, with very open scenery. Except the freeway of course, which is impossible not to notice as cars fly by on I-80 while you scout drops.
This is most obvious while scouting the next large rapid, "Goonie".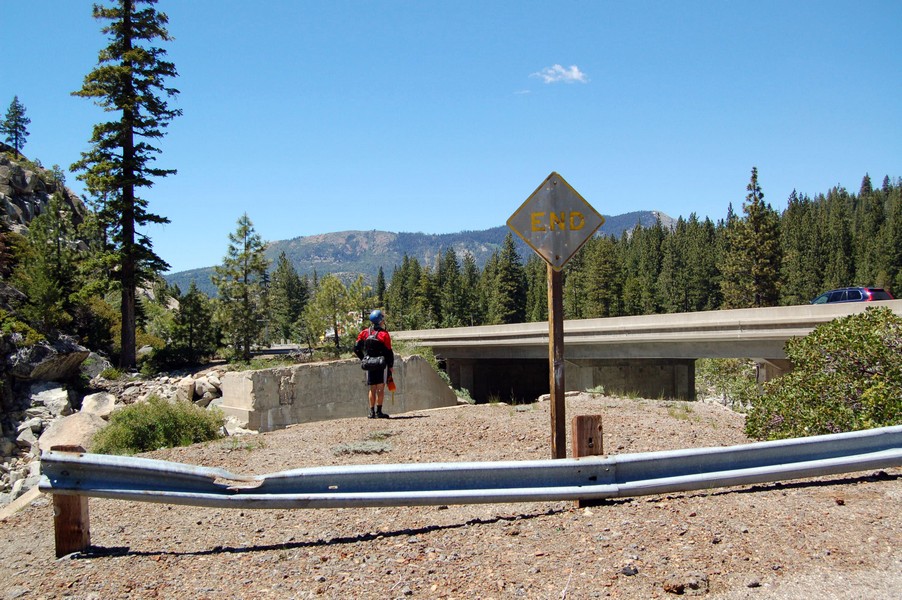 Most of the group wasn't feeling Goonie, because at the lower flows the funky fold at the bottom left was unavoidable. I was fired up to be back on the water and ran it, will have video at some point. We portaged the next rapid after Goonie on the left, as it didn't have enough water to avoid a hideous waterfall into crack combo. Several fun but not exceptionally notable drops followed, and then we were out to scout "East Meets West". East Meets West has a long lead into a 20' waterfall that has a boof which isn't available at low flows, and looked to have a rather shallow landing at low flows. Stephen Wright checked it out at fish flows and said it still goes, despite how it looks at low but boatable flows.
Ben Stookesberry and Gabe Forsythe standing above East Meets West.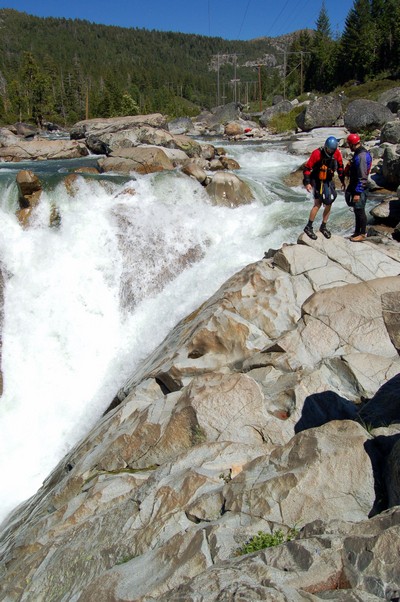 We made a quick portage down the left side and seal launched in. As a bonus this run has a fun seal launch at the bottom of most portages. Next up was a fun drop that required a strong boof while driving left get over a hole and then down a fun ramp. The hole feeds into the right side which is a sieved out mess. Gabe had a small moment where he tripped up at the top of the ramp and took the whole ramp upside down, but rolled up at the bottom like a champ. Sorry for the glare in the picture, I was too lazy to hike up and get a better angle.
Ben on the ramp.
We read and ran the lead in to the next portage and ran a bit of a tricky hole right above the portage. After a quick scout Ben and I both thought it looked possible, but neither of us wanted to try it and we all portaged down the left.
Fordyce like scenery followed and I-80 was far away, this part of the run was beautiful and had many sections where you were basically floating through big meadows. Some time through this section we came upon the next scout "Funnel" a 25' crack drop that we all assumed would be a portage. I thought it went after a quick scout, and went back up to my boat. Lizzie and I both thought you could just "float in" and then move left to ride a big pillow to the bottom. The lead was surprising and had some funky water coming off the wall that wanted to flip me, but thanks to myself being 145lbs and my boat having 75 gallons I was still able to climb onto the pillow with relative ease and ride it to the bottom. Back up on the rocks much debate followed while I got my camera ready, and eventually Lizzie and Ben decided to give it.
Lizzie nails the entrance but slides off the pillow.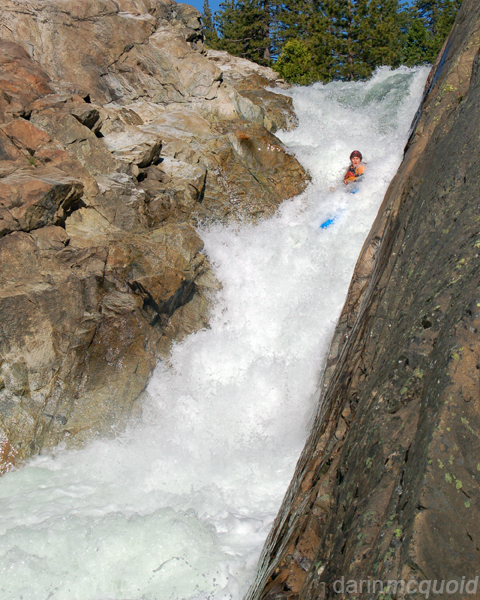 She goes deep for a brief moment and emerges in a gigantic stern squirt.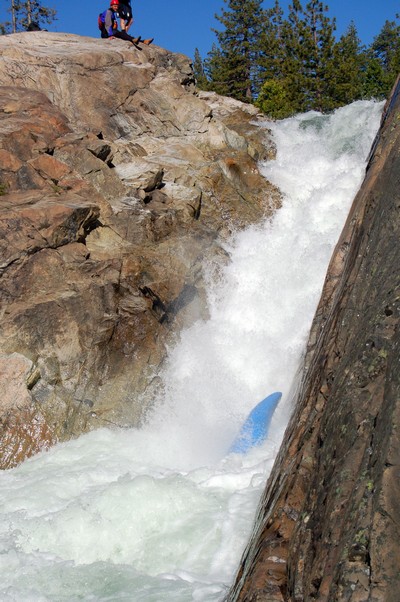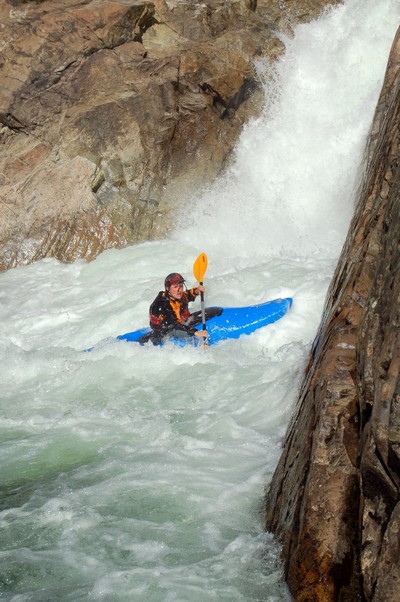 Ben disappeared for so long I stopped taking pictures and had a brief moment of concern about just how deep the bottom was, until he resurfaced and rolled up quickly. I'm sure at some flows this rapid gets pretty ugly, but it was surprisingly mellow at lower flows.
A bit of read and run followed for a good ways, then a quick scout for a sliding rapid that was near the lake. None of us really liked the slide as it looked a little painful for the rear end, and we all portaged down the right. The last rapid before the lake also deserved a quick scout, and proved to be a fun drop through two munchy holes and basically landed in the lake. I thought this run was worthwhile and isn't quite a classic but is very fun. Dreamflows and Best Whitewater of California have shuttle directions and flow information. Use the
South Yuba near Cisco gauge.