In the spring of 2015 I'm faced with a tough decision. It's natural to resist change, despite it being a necessary component of keeping life interesting. There is comfort in the known. Working for Confluence Outdoors as a Dagger athlete has been quite enjoyable. I've been enjoying the Nomad 8.5, although it's a bit small for multi-day rivers. Which is an interesting aside, because when the Nomad was released I would have been in a small one at 5'6" and 170lbs. How things have changed; by modern standards the Nomad 8.5 is medium-small. Outside of the kayak it's been a pleasant experience, nice people to work with and relatively low expectations keepimg stress levels low.
That tough decision. I'm thirty-three this year and realize that there is little future as an athlete in a sport far from rapid expansion. On top of that I suffer from an uncanny ability to break kayaks. Fifty days on the water is the longest one has lasted and the average is much shorter. That's just life paddling California class V in a roto-molded kayak I guess. Many of our runs are multi-day affairs in the wilderness. Fixing a boat around the campfire every night is not too relaxing. As I do research the new opportunity makes too much sense. A family owned and run business, all parts sourced within sixty miles of the solar powered factory, organic colors and stabilizers in the plastic, and the cherry on top; kayaks with considerably longer lifespan thanks to the blow-molding process which allows the use of HTPE plastic. The ethos of a company like this is too much to ignore and a partnership is formed. Rok Sribar and I will import Prijon Kayaks as
With a little groundwork done and a container of kayaks somewhere on the ocean we fly to Germany to meet Toni Prijon and "produce marketing material". Basically it's a good excuse to make new friends and go kayaking. It'll be an incredibly short trip for the distance traveled, just five full days in Europe. I wonder how much paddling can we accomplish in five days? As a photographer it's a tough call. It's a work trip, so it makes sense to bring the best gear possible. It's also a short and fast trip, so I'm inclined to travel light. In the end the work aspect comes out on top and too much camera gear is brought "just in case".


In the air on a flat light day in early May. Being behind the engine is always bad for photography as heat waves distort things.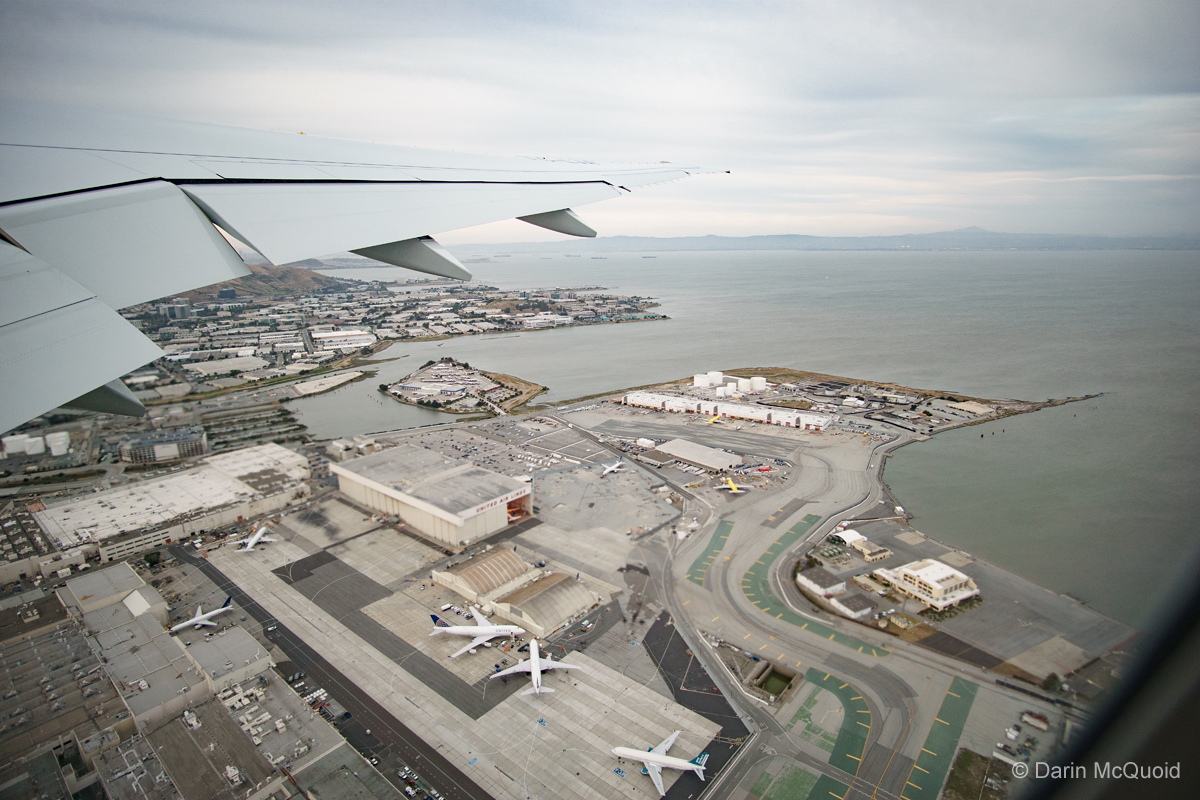 Sony A6000, Samyang 12mm f/2
Strange things happen during high speed flight, here we caught a quick glimpse of hell and I managed to get a photo.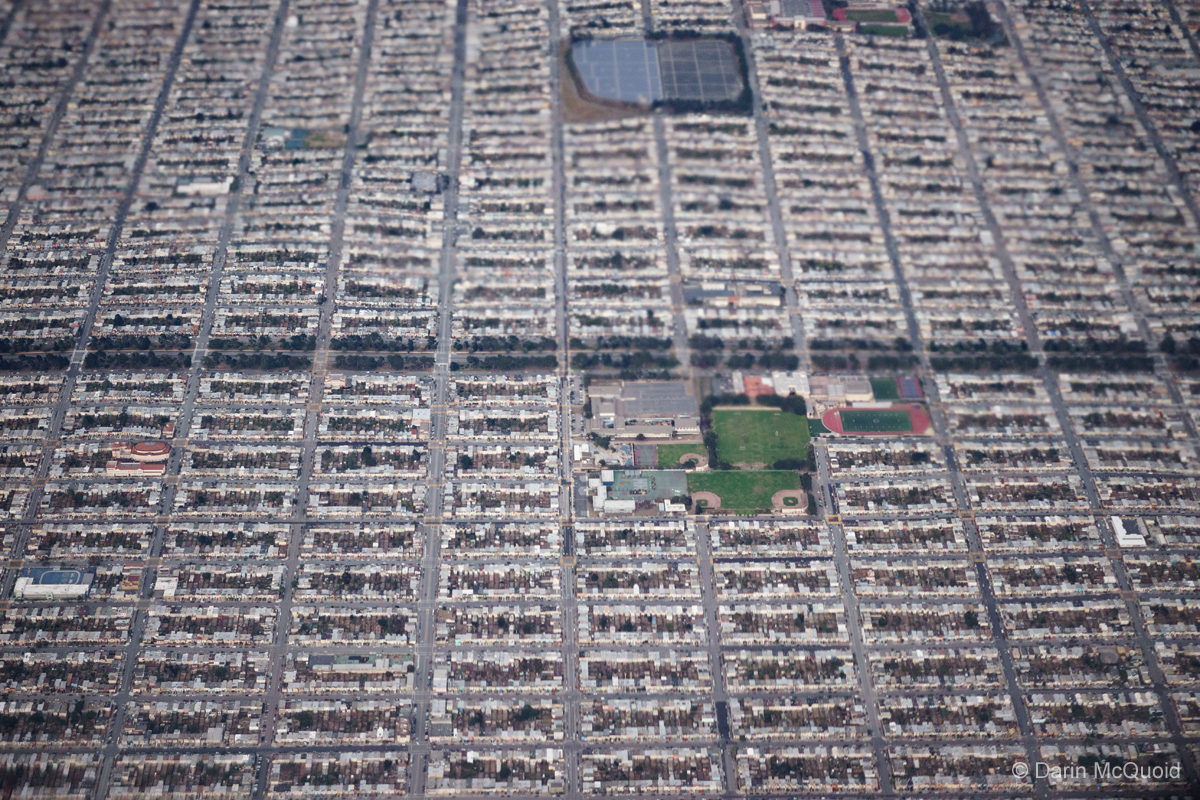 Sony A6000, Sony Zeiss 55mm f/1.8
Then back to reality; Golden Gate Bridge and Park.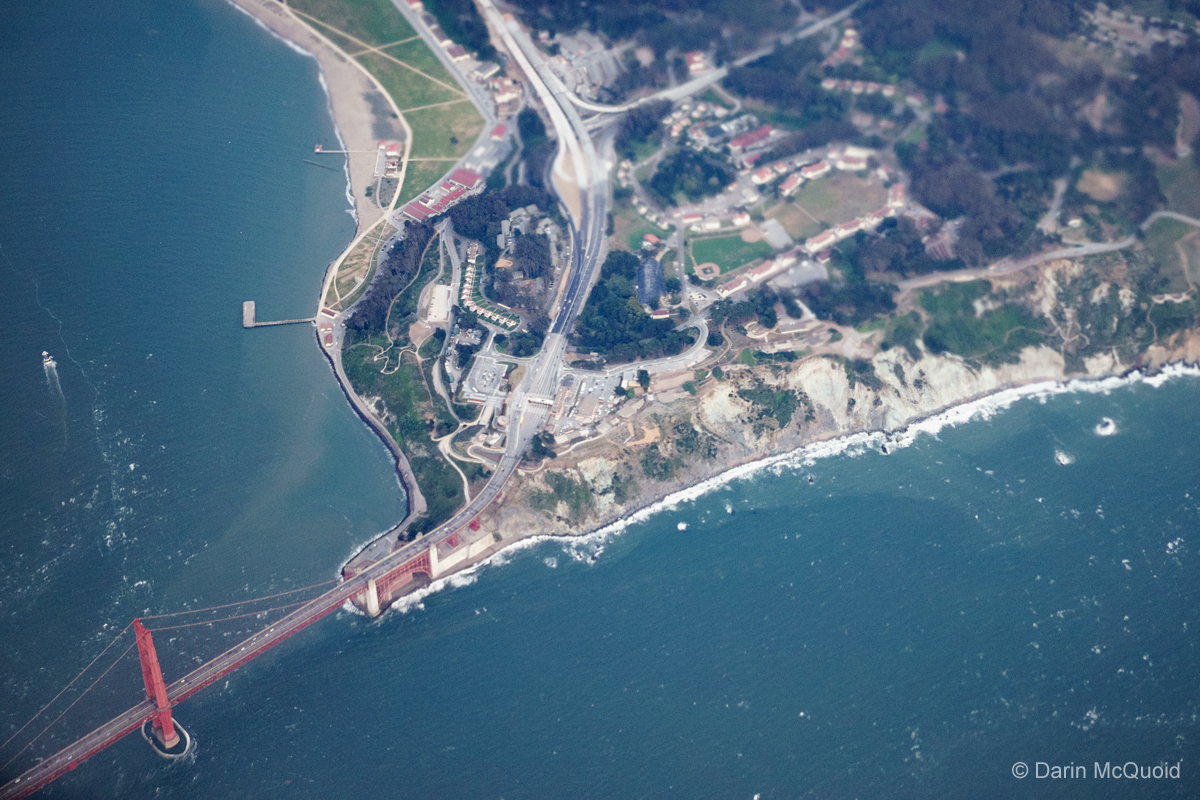 Sony A6000, Sony Zeiss 55mm f/1.8

We land late at night in Munich and crash at Toni's house, forty-five minutes away in Rosenheim. Rising early in the morning we pickup demo kayaks from the factory next door and and calls are made to figure out water levels. It rained overnight and rivers are up in Austria, which has a great run just over an hour from us so we hop in the van and hit the road for the Tyrol region. Brandenburger Ache is a well known run to Europeans but totally off the radar for us, I'd never heard of it before. This tributary to the Inn River has several sections and we'll do a few of them sections back to back as water is decently high. We swing through town and pick up local paddler Gerhard Braune who knows the Brandburger Ache like the back of his hand.

Toni Prijon and Gerhard Braune walk to put-in.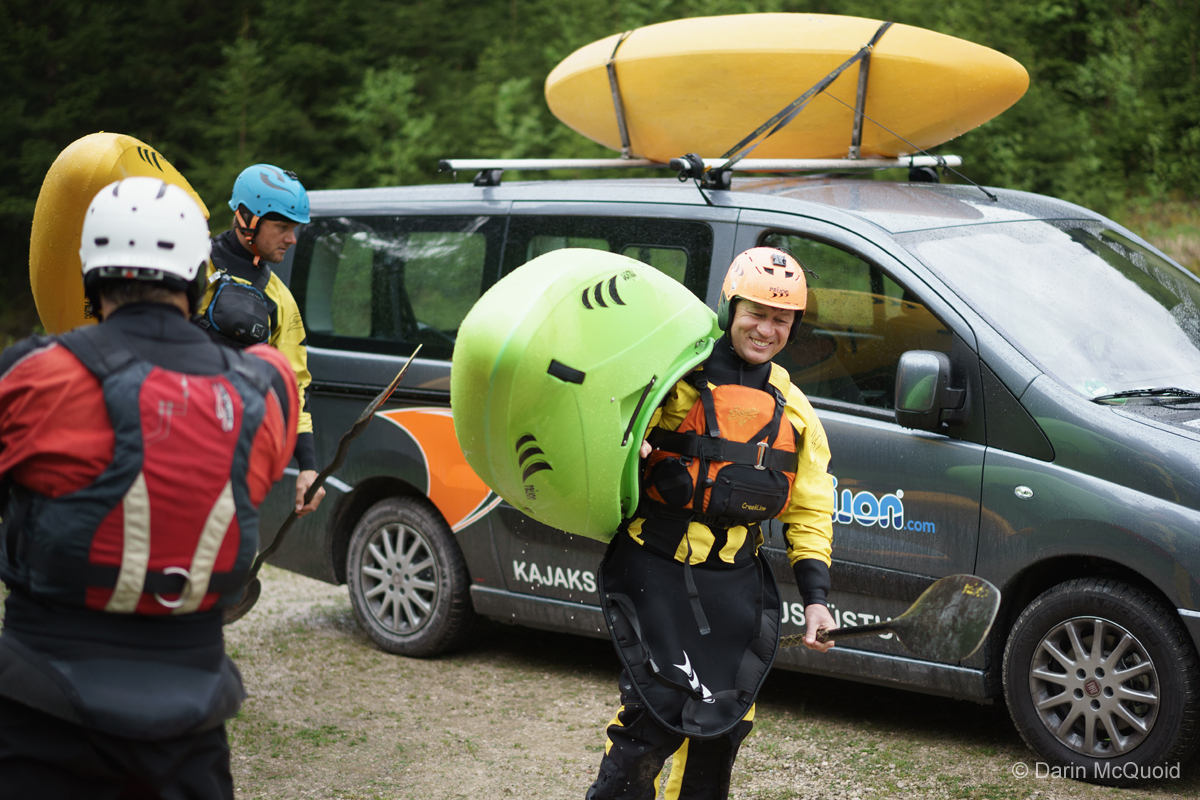 Sony A7, Sony Zeiss 55mm f/1.8

On the water we move quickly as Gerhard gives us beta. The run has several fun gorges with quality moves for a few kilometers before getting to the crux of the run. With the high water it's impossible to get out for those first few gorges, which is a shame because they are incredibly photogenic. Lots of nice warm up behind us we get out to scout in what I believe is the Tiefenbachklamm gorge. Scouting is nice as there is a quick scramble up to a trail. This river would actually be a joy to hike and photograph. We scout the line, which at this water will certainly keep us on our toes as the river goes around a bend with a lot of chaotic water, followed by a five foot drop through a significant hydraulic.
Toni Prijon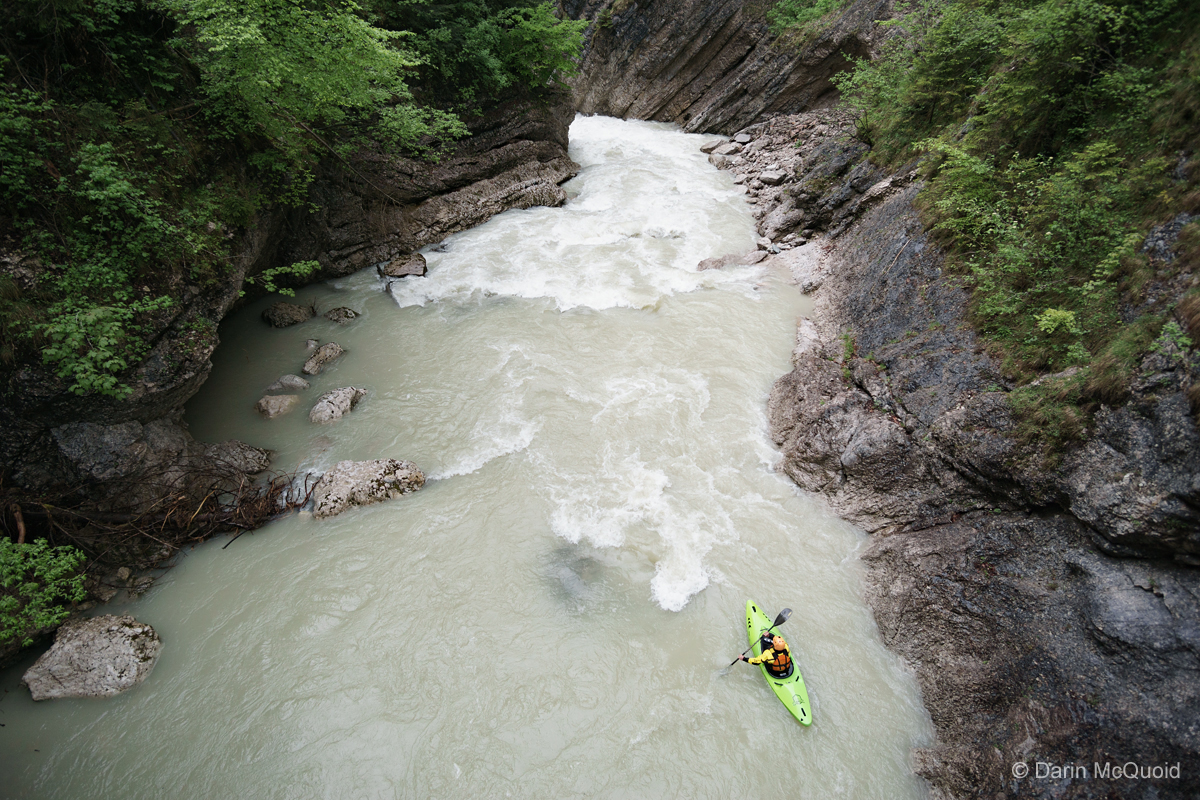 Sony A6000, Samyang 12mm f/2
A quick switch of cameras to get a different shot, what a beautiful gorge.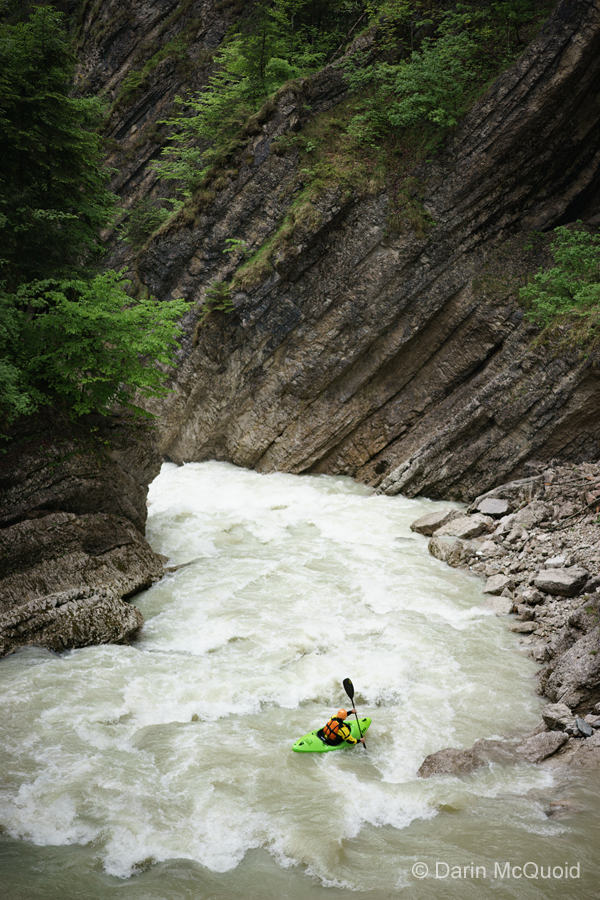 Sony A7, Sony Zeiss 55mm f/1.8
The river was so good we made a second lap, here is the same rapid with different light as the sun peaked out for a few minutes.
Gerhard Braune
.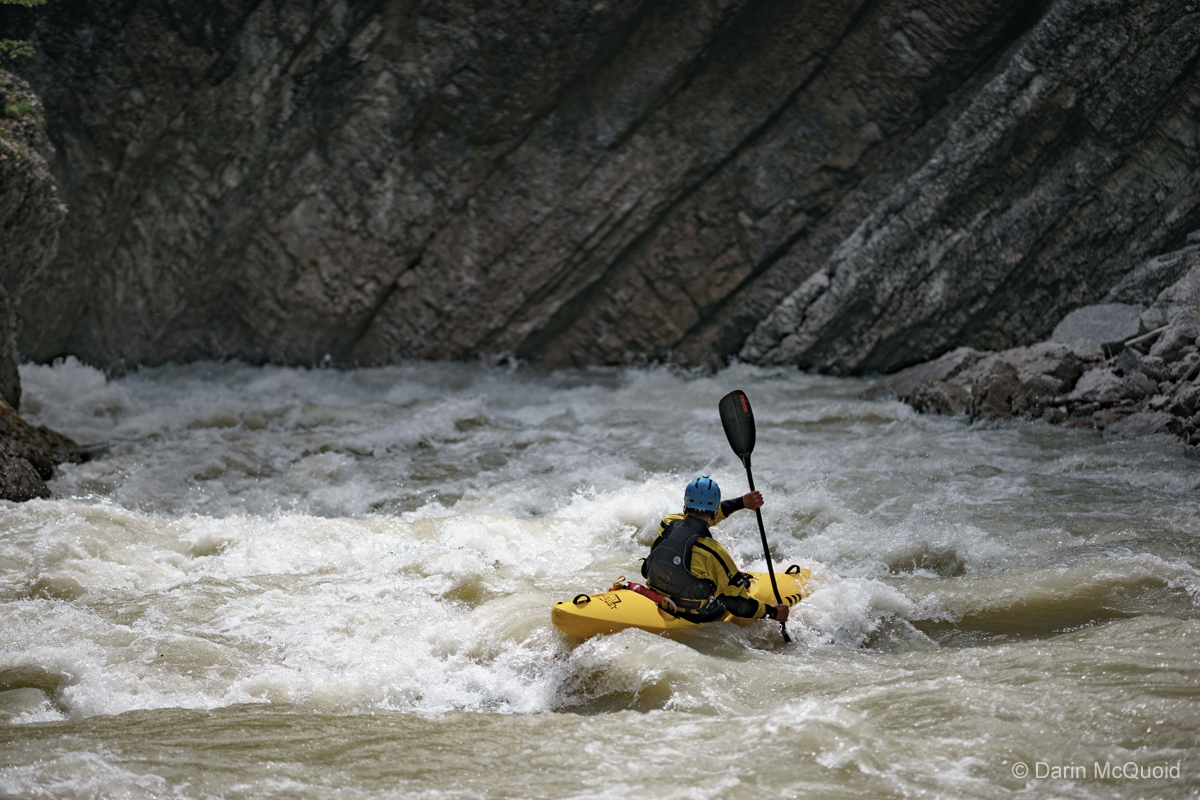 Sony A7, Sony Zeiss 135mm f/1.8
Downstream the sun shined on us again, but I don't remember rapid names and we were enjoying kayaking too much to take many photos.
Gerhard Braune again.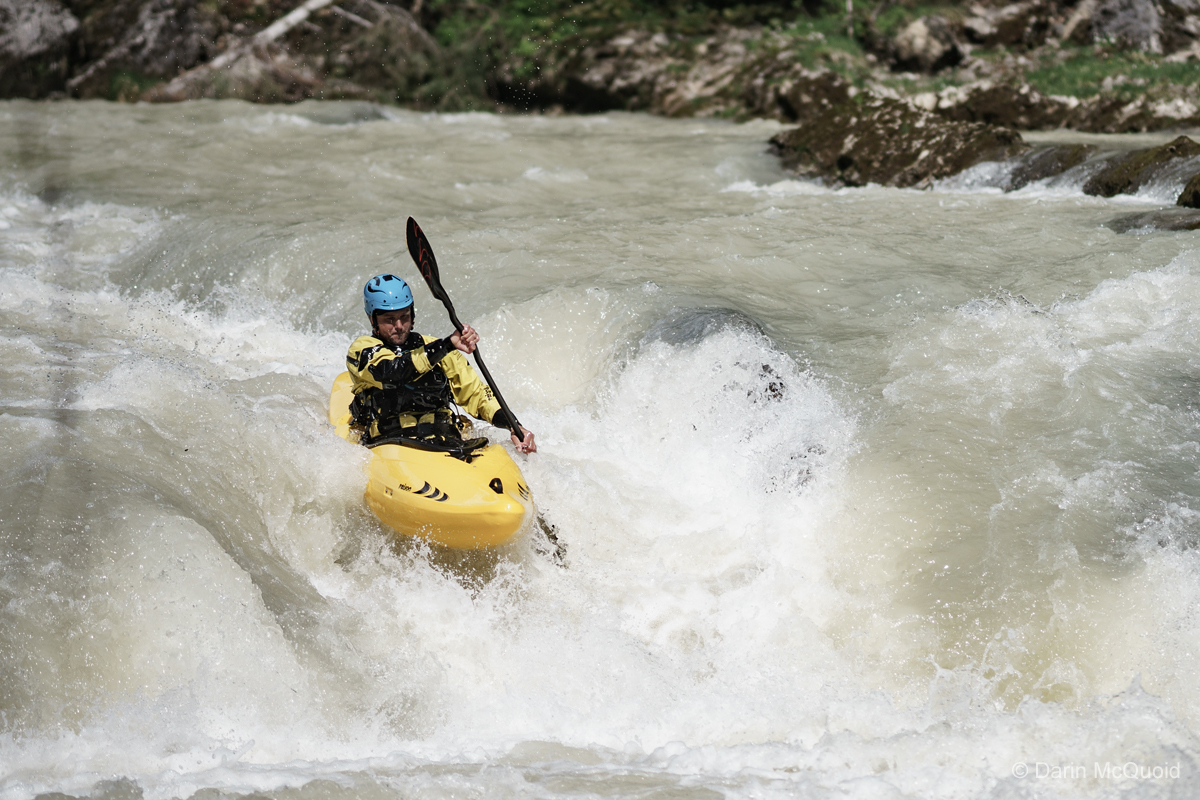 Sony A7, Sony Zeiss 135mm f/1.8
Getting off the river we met many nice people at the local paddling club, something totally foreign to me. On most rivers in Europe there are paddling clubs. The one here had a lovely little building with a fireplace for cold winter days. What a great idea, and they help the sport by teaching and having loaner kayaks and gear. Speaking of gear, we loaded ours up to make headway to our next destination; Valsesia in the Piedmont region of Italy.
When in Italy...this restaurant actually had an incredible setup next to the river. In cool weather the roof closed and glass doors could seal out the wind. In summer it could be open and pleasant. We enjoyed a glorious meal before driving long into the night to reach Valsesia.
Sony A6000, Samyang 12mm f/2

On to Valsesia