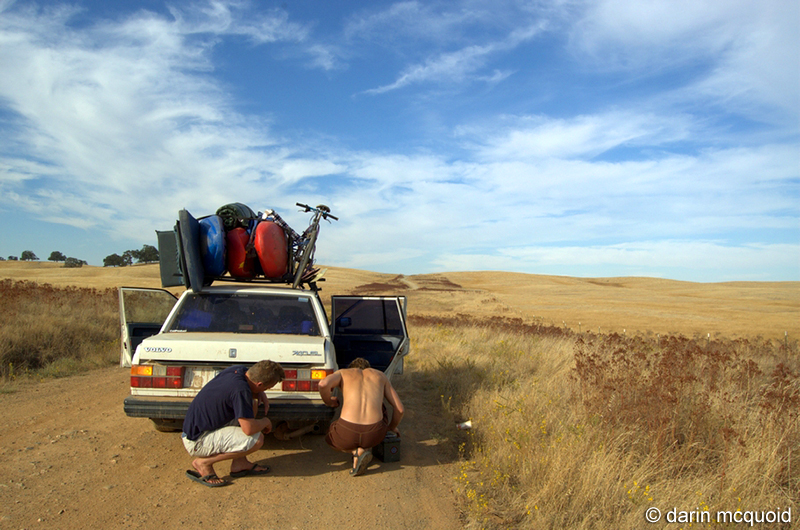 The options are a bit more limited in California during the fall months, and this year was no exception. With a four day weekend ahead I met up with Paul Gamache and Alex Wolfgram in Redding and headed for the
South Fork Feather
, Cherry Creek and NF Stanislaus.
Loading up the car for some kayaking, somewhere in Redding.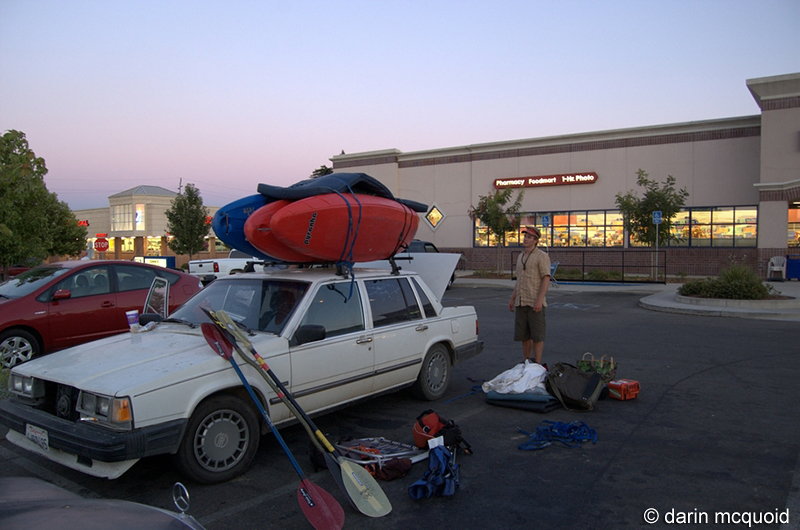 I won't go into details, but off the water this is what a good bit of our trip was about.
Sunday morning we set out at a decent pace for the ¾ mile hike-in down the North Fork Stanislaus until the confluence with Highland Creek where we would hopefully have enough water to kayak.

Paul Gamache hiking through some beautiful granite scenery.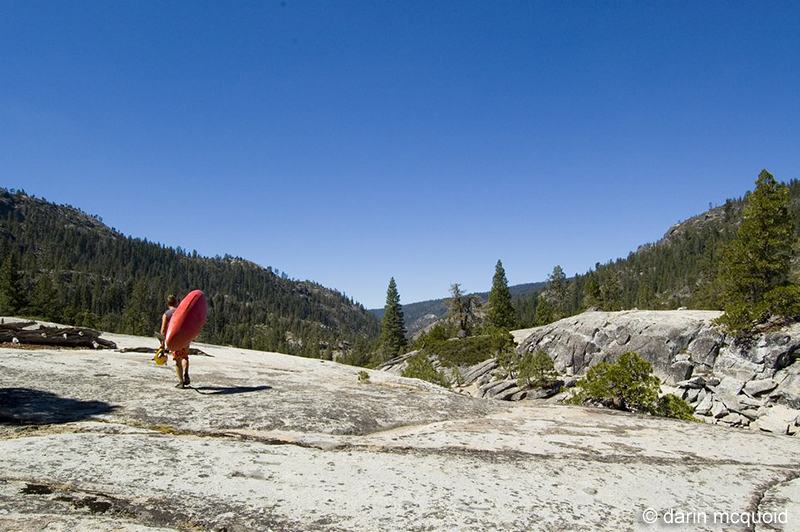 We made decent time and here is a downstream view above the confluence with Highland Creek, around 10:30am.
The first thing we noticed was rather low flows, perhaps 250cfs compared with the previous 400cfs that Alex and Ben had last year. This necessitated a few extra portages, as the majority of the water went under rocks in places. Most portages were short and quick, but eventually after some clean bedrock drops we reached the first major portage.
Rok Sribar runs a fun early bedrock section at 500cfs.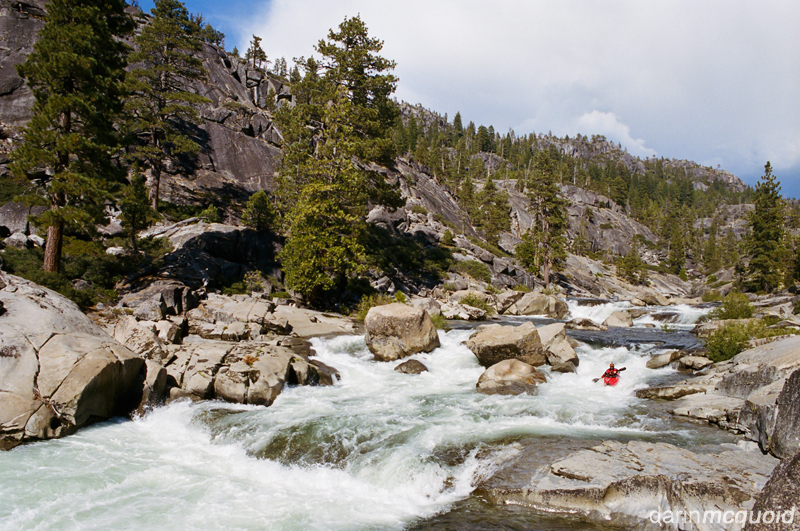 Bigger flows, bigger holes, Rok Scribar punches one.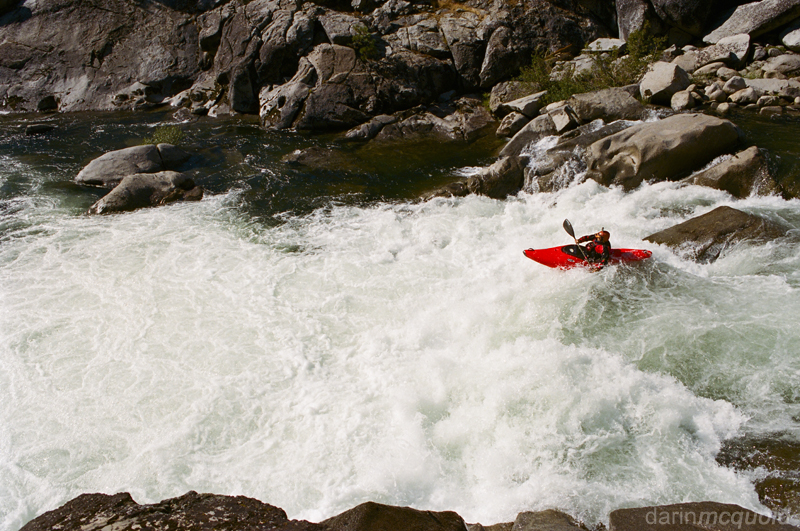 David Ernst starts the big portage.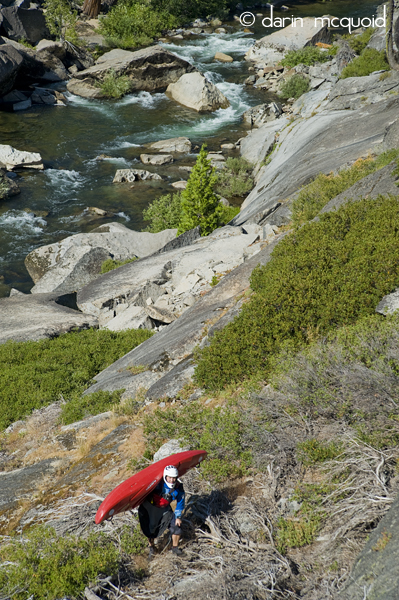 Ben Hawthorn, Alex Wolfgram and Paul Gamache below the first major portage, plenty of sieves in here.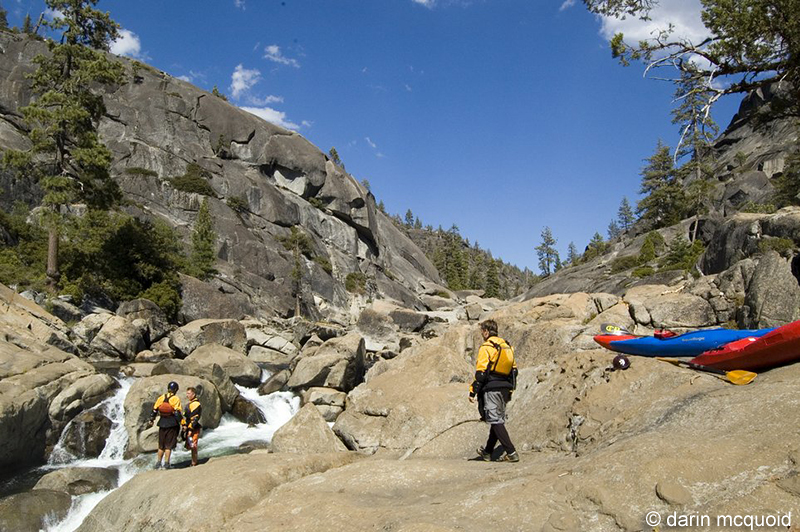 The portage is a rather long traverse that ends in a nice seal launch. Of you can seal launch in and run the "Psychotic Lover" pictured in the background.
Several of the largest drops in the river come quickly after the big portage. I always think they'll look better at a different flow, and they never have. Looking back upstream at quadruple drop.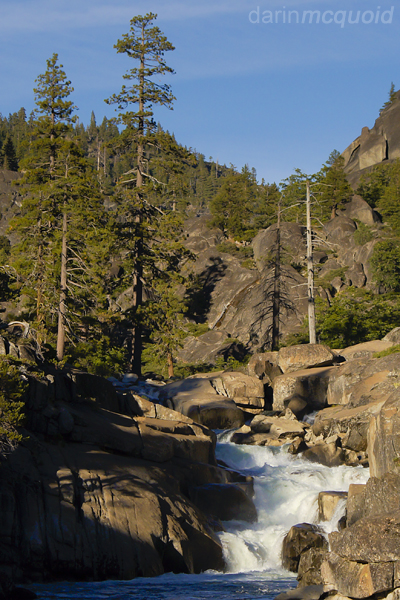 Jason Craig hits a nice boof above Portage 24. This one is spicey at higher flows.
Portage 24 always looks better in the memory or picture. A twenty foot falls onto a shelf, with a slide and a pocket on the left at higher flows. It's an easy walk on the right or left.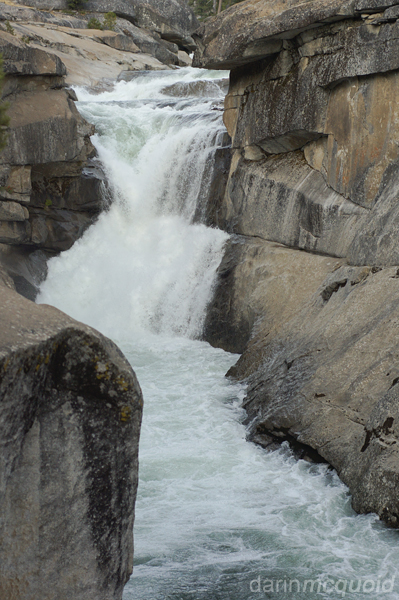 There is a beautiful camp site on river right below Portage 24. David Ernst and Jason Craig enjoying the wilderness.
Ah, caveman TV, my favorite station.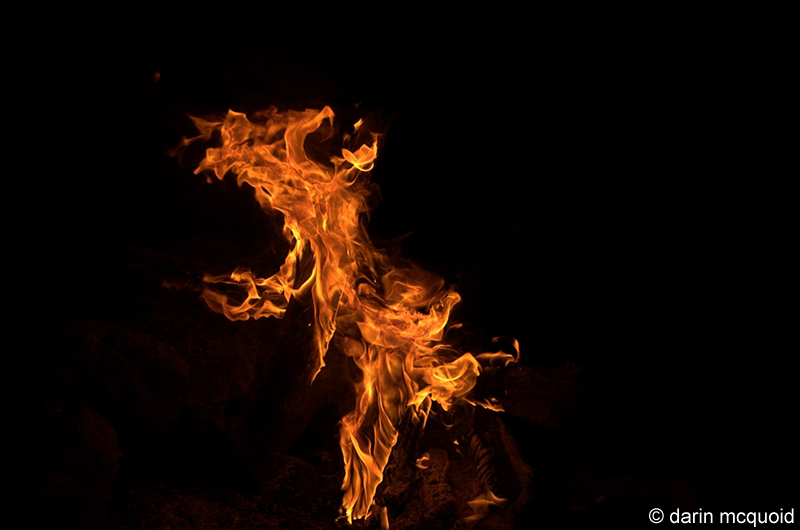 Good morning river lovers.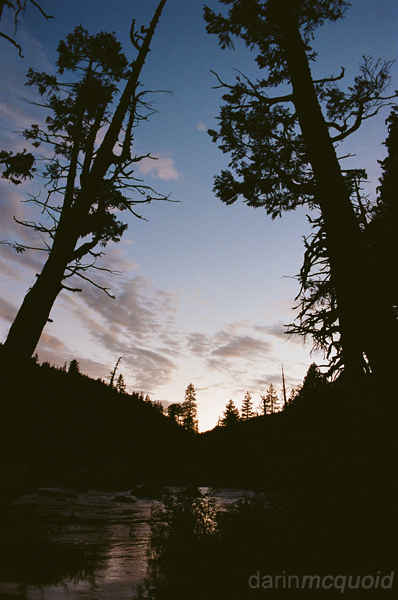 After Portage 24 the character of the river is reallly good for about a mile. Full of bedrock slides and a few big holes. Stay on your toes and scout as needed. The section culminates in "Mini-Curtain" aka the "Perfect 20" which is just what it sounds like. A near perfect twenty foot falls with a significant IV+ lead in to keep you honest.
Jason Craig drops in.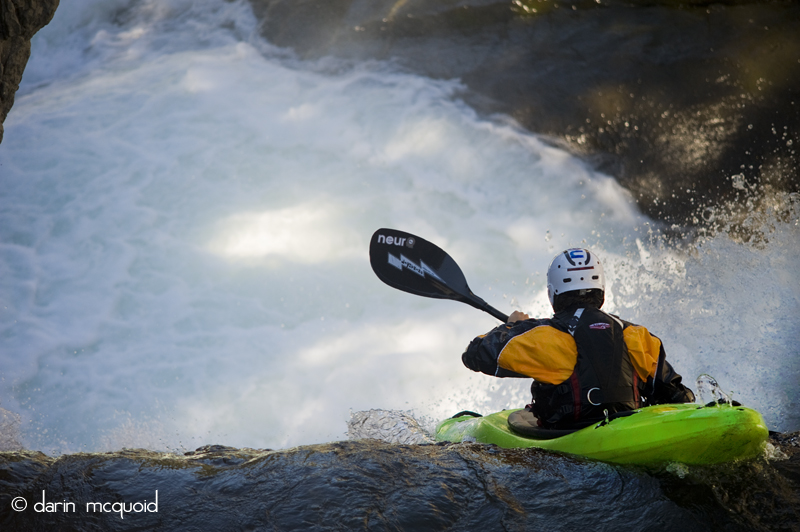 Stay on your toes after the Perfect Twenty, I make two portages within a short duration, although both can and have been run. To my surprise the vast majority of rapids in Hell's Kitchen are boulder gardens, not clean granite bedrock drops. Most are long read and run affairs with the occasional portage for mank that cleans up with higher flows. On my first trip as evening set in we reached the meadow above the Ramsey section and paddled through the gorgeous meadows to our campsite above the first rapid in the Ramseys section.

Early in the morning David Erst probes a rapid above Ramseys.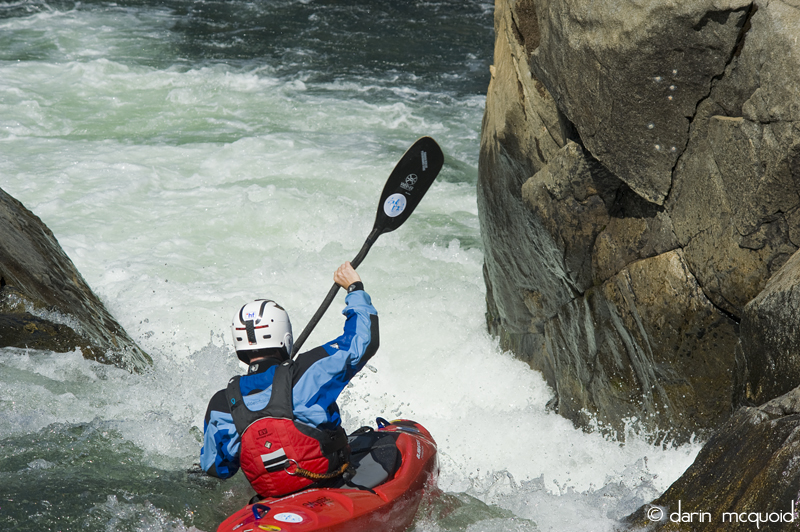 Rok Scribar drops into the same at 500cfs.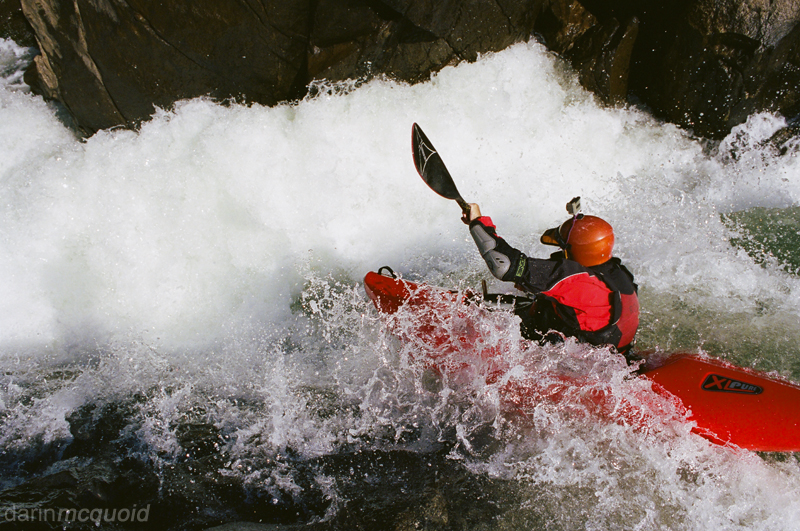 The morning saw us up at a decent hour and we started off with a quick portage around the first post-meadow rapid; it goes but has a major sieve. The following section is one of the steepest and best on the run, one mile long mix of boulder gardens and ledges. Eventually is a nice slide directly upstream from the third named rapid, "Astrobiologist Creep".

Paul Gamache on said unnamed ledge drop.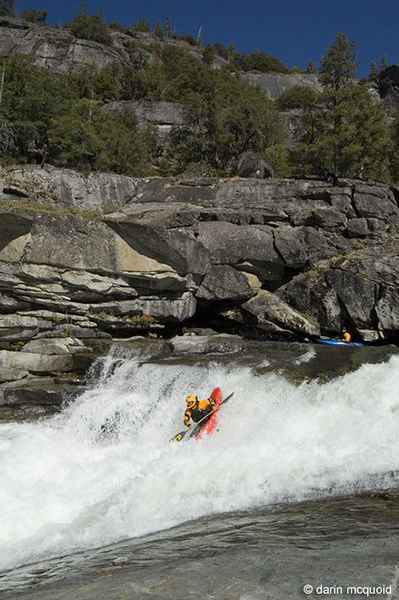 Alex Wolfgram boofing the same drop.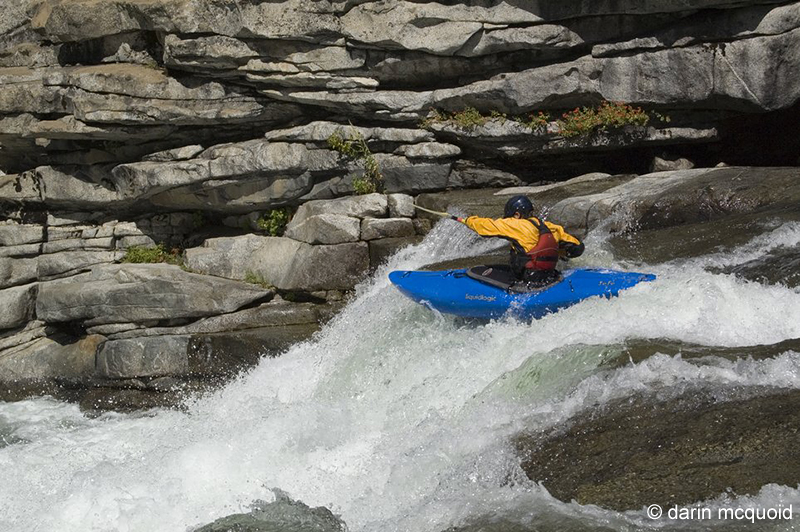 Obviously the next drop is "Astrobiologist Creep" aka "Hourglass Falls".
The boys scouting it up.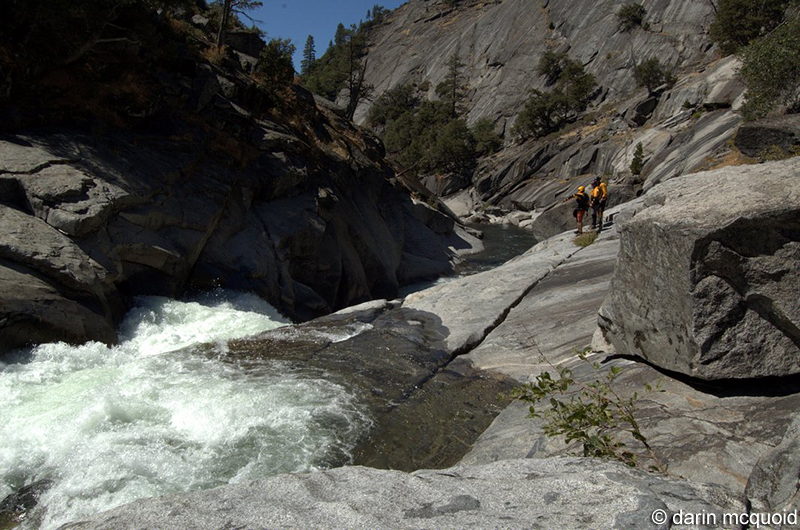 After a quick scout I gave it a go and had an ok line getting a little sideways at the bottom but punching through. The climb up the cliff to get a shot of Paul running it was scarier than the rapid, at least for someone as scared of heights as I am.

Paul passes a boat to Alex on the portage for Astro.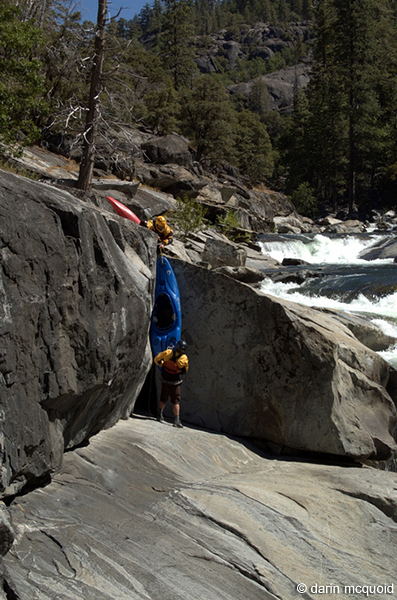 While Alex finishes portaging Paul Gamache runs "Astrobiologist Creep"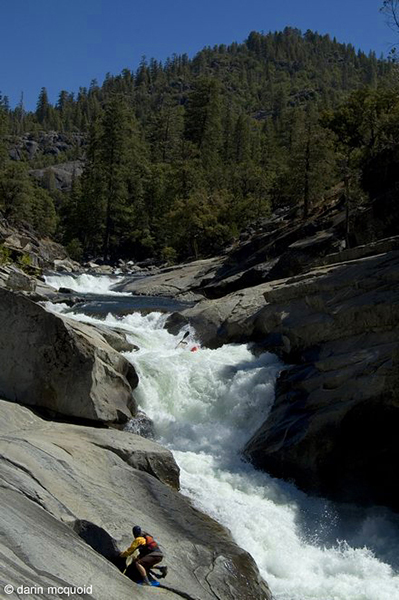 Jason Craig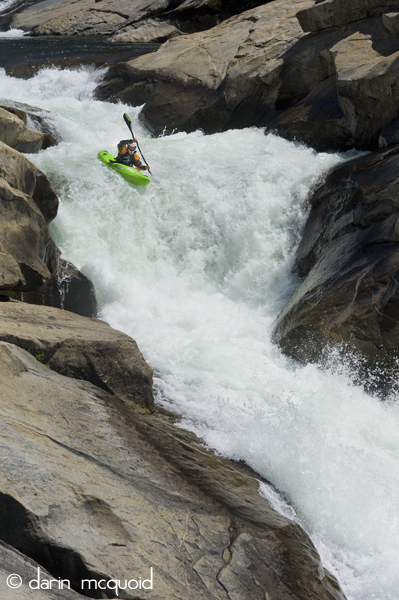 David Ernst, note the big cave on the right.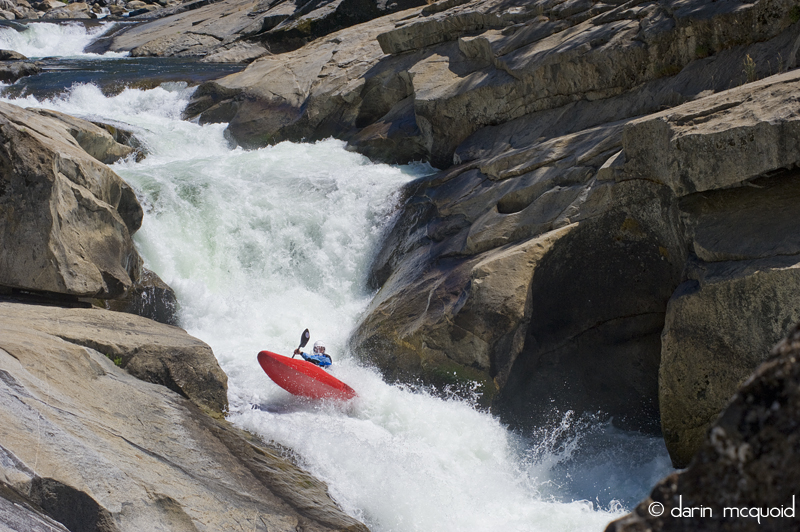 We hit up a lot of read and run after this for quite a ways, eventually we portaged on the right around another large sieve that should have been portaged left. More boulder gardens followed and we got out to scout a drop that at low water was a 5' slide that went into a rock with a boxed in, recirculating eddy on the right. Paul probed and pitoned at the bottom but managed to get out left, while Ben drove from right to left and still got pushed into the rock at the bottom. Alex was portaging on the left, and I found myself getting lazy. I hopped in my kayak and put-in where Paul did instead of carrying back upstream to get the right to left movement. I ended up pitoning in a similar manner but got pushed into the boxed in eddy that was about 5' wide and 10' deep with vertical rocks on all sides, and the water jetting down the slide to block the exit. I was stable and upright so figured no big deal and tried to blast across the jet, only to get blown up against the rock again and flipping upside down. I tried roll attempts on both sides but wasn't getting anywhere as it surfed me up against the rocks, and eventually while I was trying my fifth roll it surfed me back into the jet of water where I was finally able to roll, but suffered a partially blown skirt. I knew I had to get out quick and started ferrying back across, leaning hard into the rock and disappearing underwater as I made my way across the jet of water. Thankfully I made it out before my boat was fully inundated with water and sinking while I was still in it. A short break followed and we were back into the read and run boulder gardens, eventually getting out on the right to portage a large jumbled mess. This whole run is pretty vague in the memory due to numerous long boulder gardens that we were able to boat scout, but eventually after many rapids and a portage or two we came upon one of the few distinct rapids mixed in a boulder garden. It had a nice 5' ledge at the top followed by a long multi-move finish.


The last bedrock slide below a ~10' waterfall.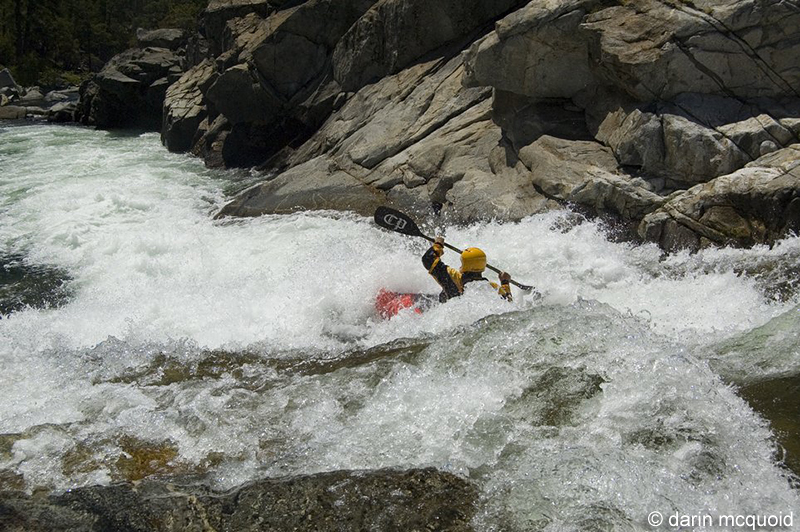 Here is Paul Gamache on the initial drop of the final gorge.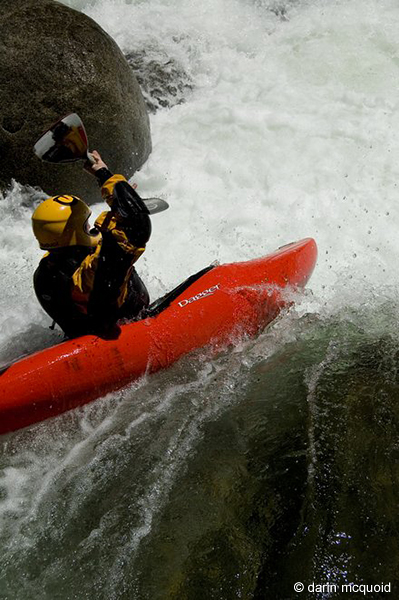 Paul Gamache on unnamed but fun rapid.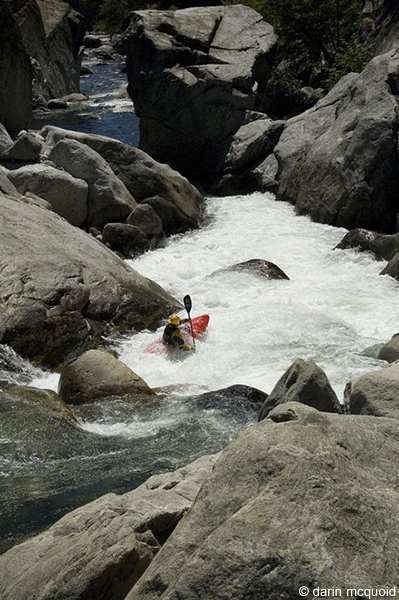 It's larger than it looks in the above images, Rok Scribar a tiny speck at the top.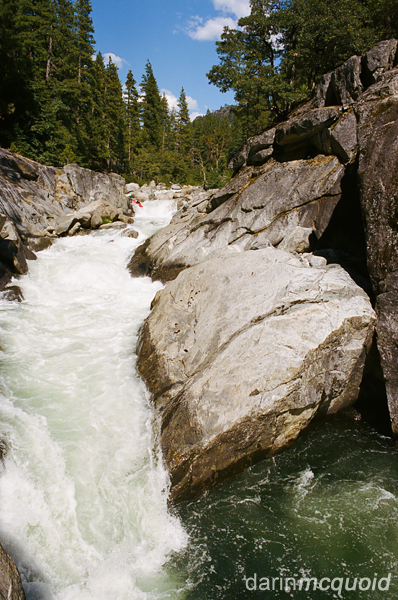 Rok finishes the final boof in good style.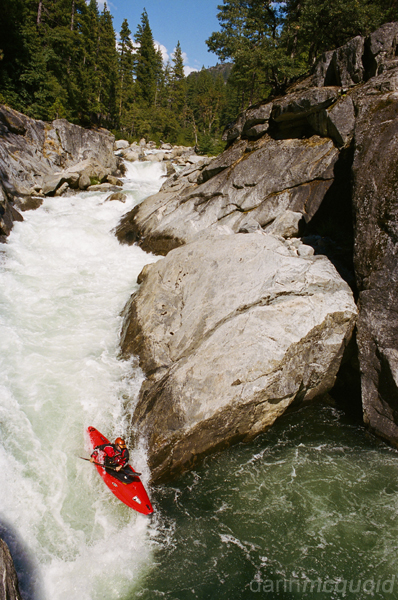 It seemed like a fairly short time after this that we started seeing people on the banks and eventually arrived at the popular Sourgrass campground, our take-out.

It's not classic, but it is good fun, and quite a bit of exercise due to many portages. It's certainly worth doing at least once in a year for the scenery, occasional large rapid and quality portages. The Ramseys section offers up a better one day run with more action and notably less portaging, although you do miss out on Mini Curtain. Flows for Hell's Kitchen are quite an issue, while you can count on having some water you'll never know how much until you get to the bottom of Highland Creek. You could also go from low to high water overnight. This graph illustrates the issue with highly fluctuating flows from the release.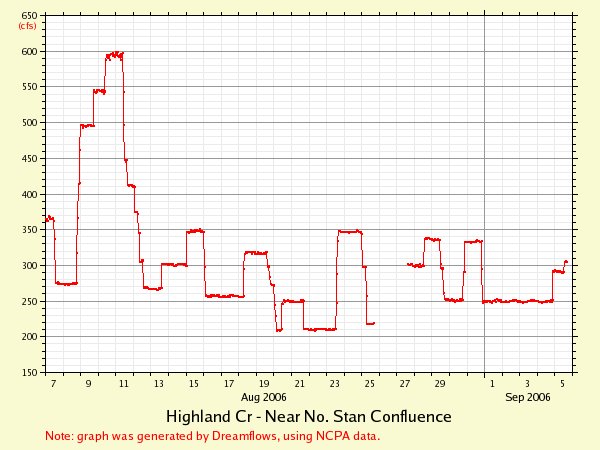 Shuttle directions are in Holbeck & Stanley's book "Best Whitewater of California".
. Daniel Brasuell also put together