Onion Valley Creek is a tributary to the Middle Fork Feather River in Northern California. It has, yet has not, been on the radar for a first descent for many years. Who knows, maybe it has already been done, but we don't know anything about it. Onion Valley Creek comes into the Devil's Canyon run at the first harder rapid of Franklin Canyon. It flows downstream into the river, right when you're making a move to avoid a gigantic sieve. Because of that, it often goes by unobserved. Yet it has been observed by several groups, but there is another major obstacle to Onion Valley Creek; and that's access. It's technically road to road, but the put-in is closed when there is water in the creek. Hiking in would be no small challenge, about nine miles, on a road, probably in the snow.
Onion Valley Creek is also nothing more than a trickle where the road crosses, and filled with willow bushes. The one positive is no matter how terrible the creek, the paddle out is one of California's most classic multi day adventures; the
Devil's Canyon of the Middle Feather
.
In 2010 we're camped on the South Feather and looking for something new after a few laps. We decide it's time to drop into Onion Valley Creek and see what it has to offer. Chris Korbulic, Cody Howard and I make plans for a quick one night trip. In our minds it's just a steep, short little tributary of the Middle Feather. We have about 1,800 on the Middle Feather at Milsap bar. Good thing for us that logistics fall apart; Onion Valley Creek has an average gradient just over 250 feet per mile for the entire 12 mile section, and is actually a bit longer than the standard put-in to the three day run.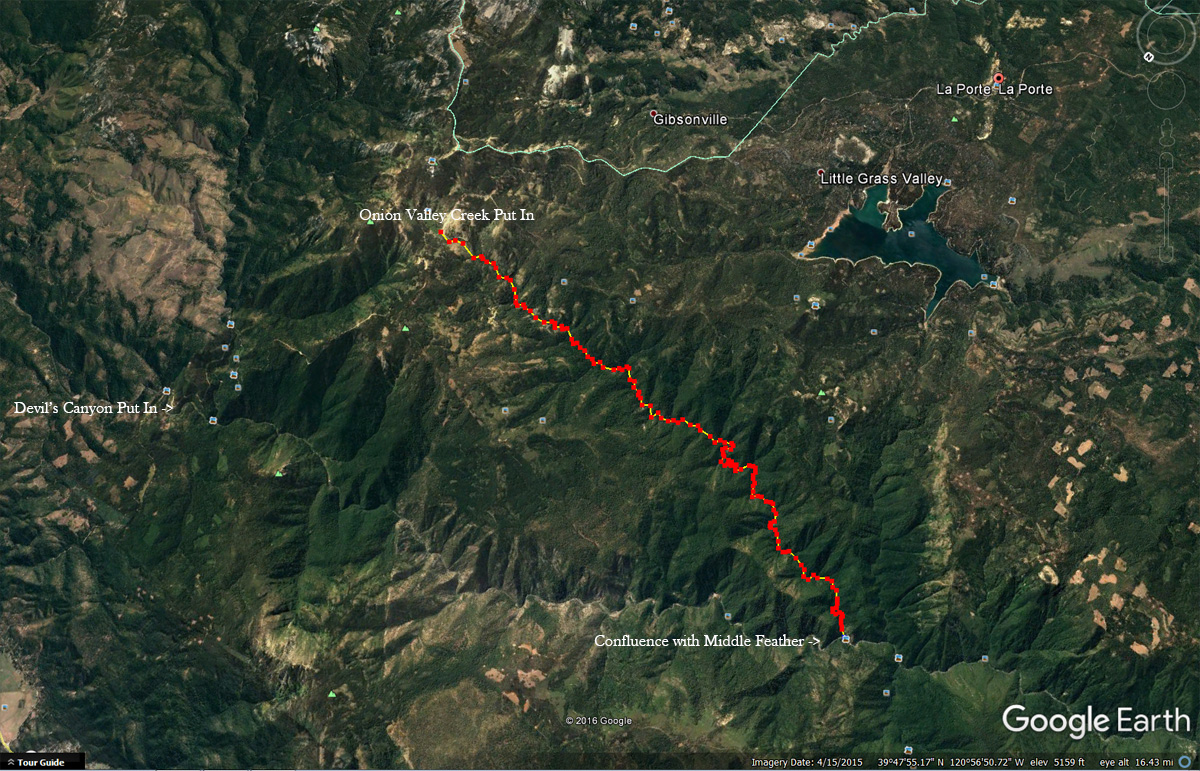 Fast forward six years and we're finally ready for Onion Valley Creek, thanks to Seth Dow. He and Cody Clayton hiked a good part of the canyon, and reported that it essentially did not look as bad as one would expect for a low volume creek with high gradient in a thickly forested area. At least he wasn't overselling it. We're expecting nothing classic, but all kinds of adventure. Seth has also solved the real problem; his parents have snowmobiles, and will shuttle us to put-in. Flows are 3,200 at Milsap Bar on the Middle Feather. We'll drive up the night before, all packed and ready for an early start.
Pat Keller and I carpool up from Three Rivers. Let's say the LL company rig isn't exactly fleet of foot, and we end up sleeping on the drive north as we hit hour 12 of driving. We finish the last hour of driving in the morning.
Ok, Pat and I are not quite ready, but we throw plenty of food into the drybags and at 7:00am, this is pretty much an alpine start for boaters.