In my short career of paddling, Pakistan wins the prize for the lowest cost of living in country. Being a notoriously cheap kayaker, this motel was right up my alley at thirty cents per person. We never spent a night in a heated building while in Pakistan, so as an added bonus, this one was warm due to its size.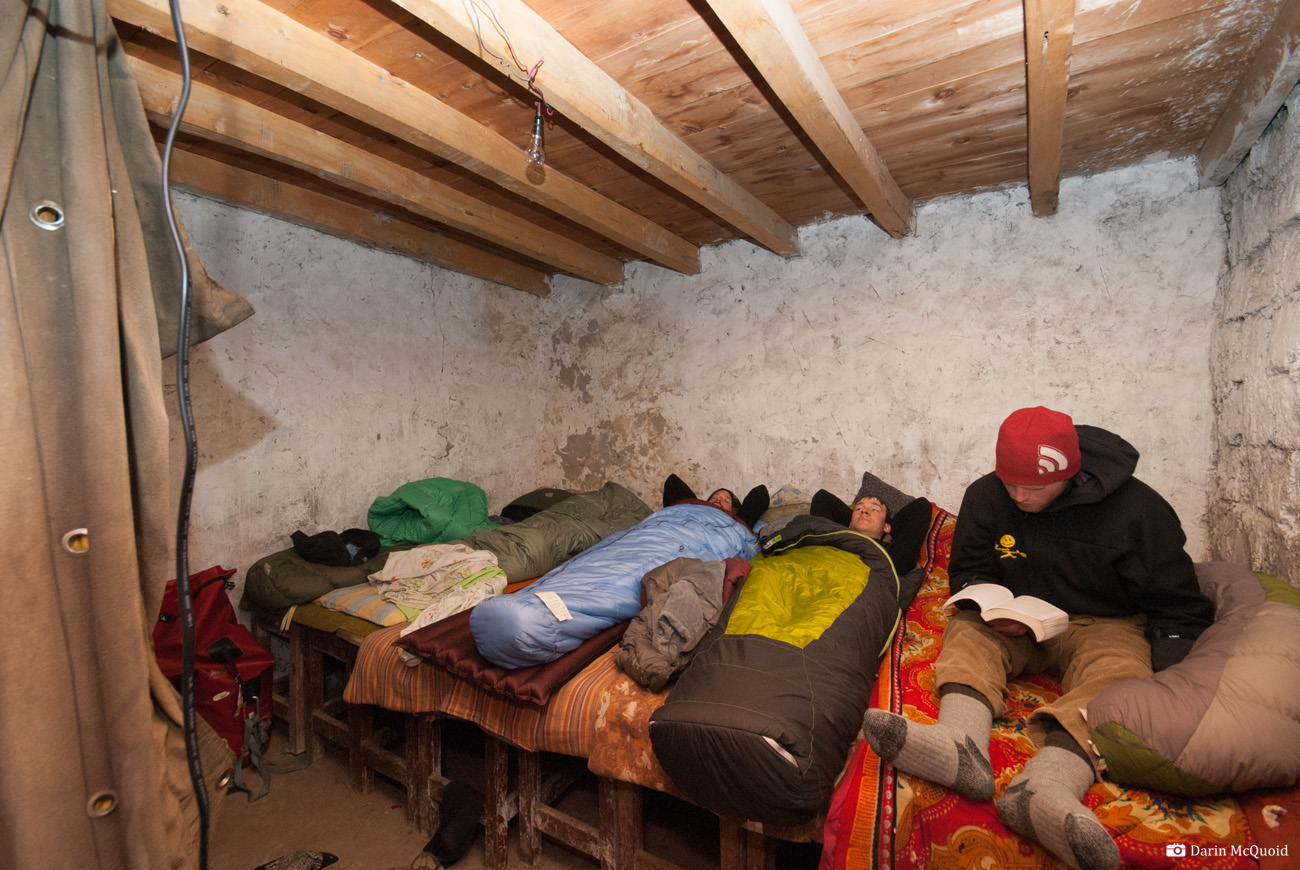 Over cups of chai in the morning Chris decides his stomach still isn't up to par, so he will get media from the road with my old camera. Down at water level we get into the mix of things right away.
The author hiking down to put-in. Just like one of the locals...well maybe not, mutual goodwill was shared.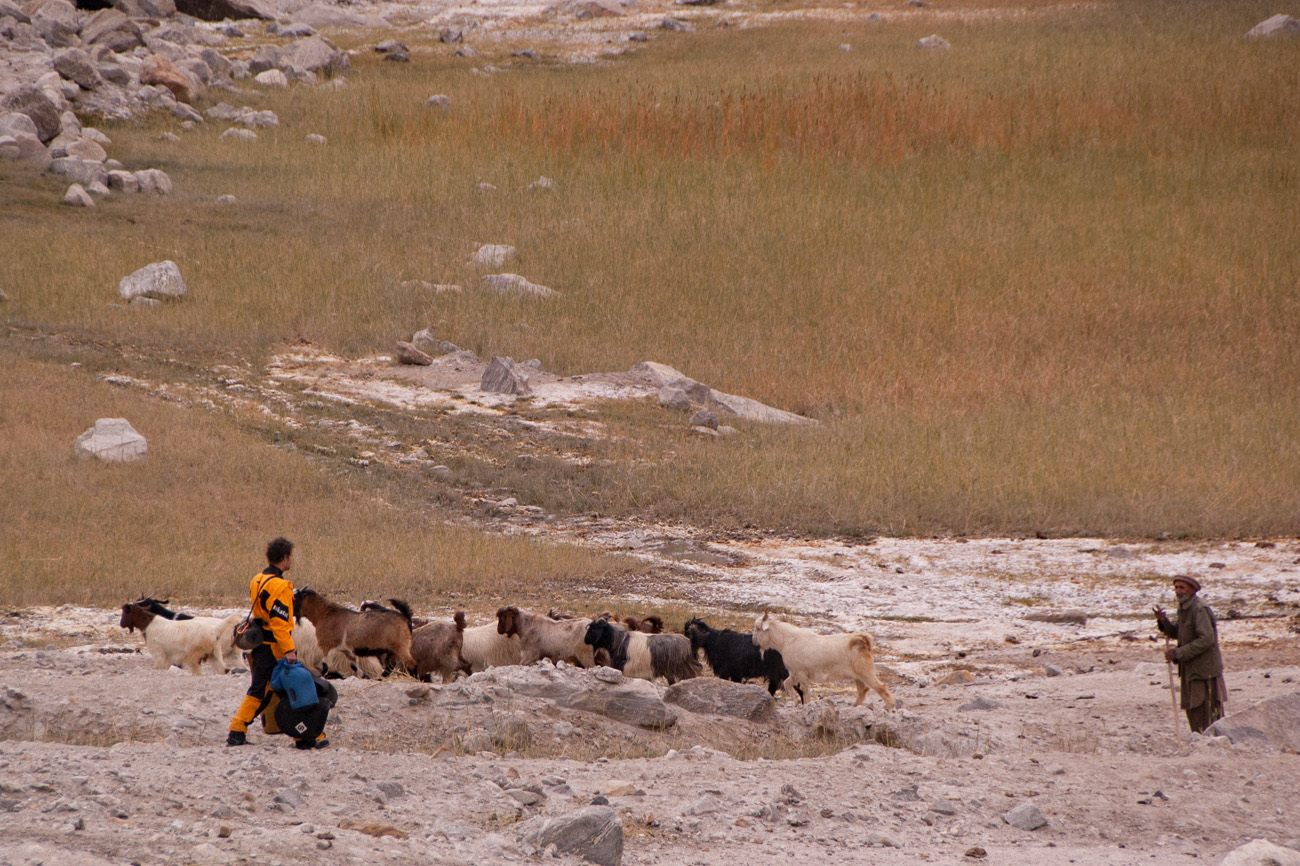 I really thought so many days of similar big water would blend together, and I would write about them in one big summary. So far each day has had its own challenges and stand out rapids, and on day sixteen one of the most memorable rapid comes early in the day.
Ben Stookesberry - the look says it all...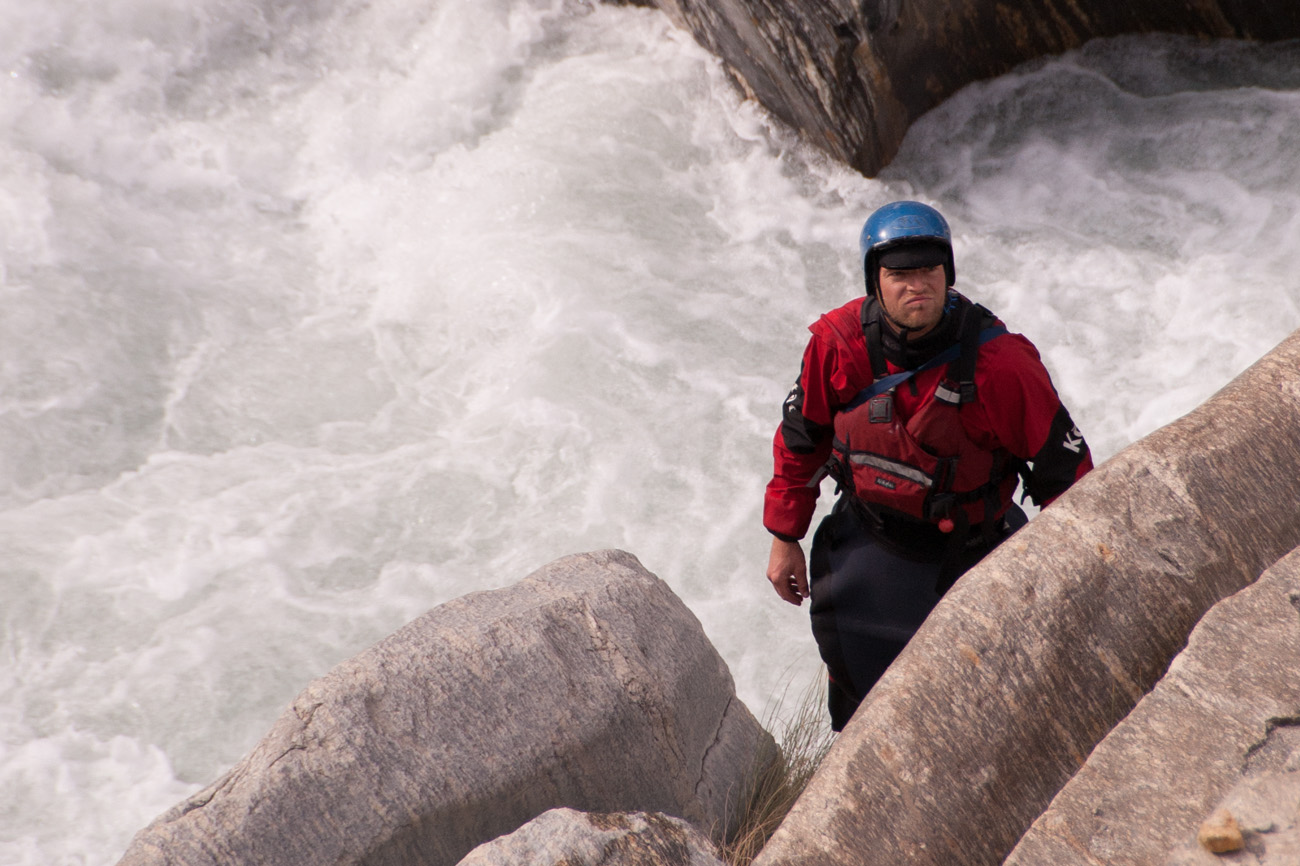 The river splits around a bedrock island, and rejoineds into a maelstrom of waves, holes and folds, all leading into a fifty foot wide hole that could potentially surf a kayaker into a pile of boulders. After that it was simply a hundred yard long run out of monster breaking waves.
We will come down the alley way, wait to pass a lateral ledge, then drive far to river left, completely avoiding the monster hole. At least that is the plan.
The lead in alone is intimidating.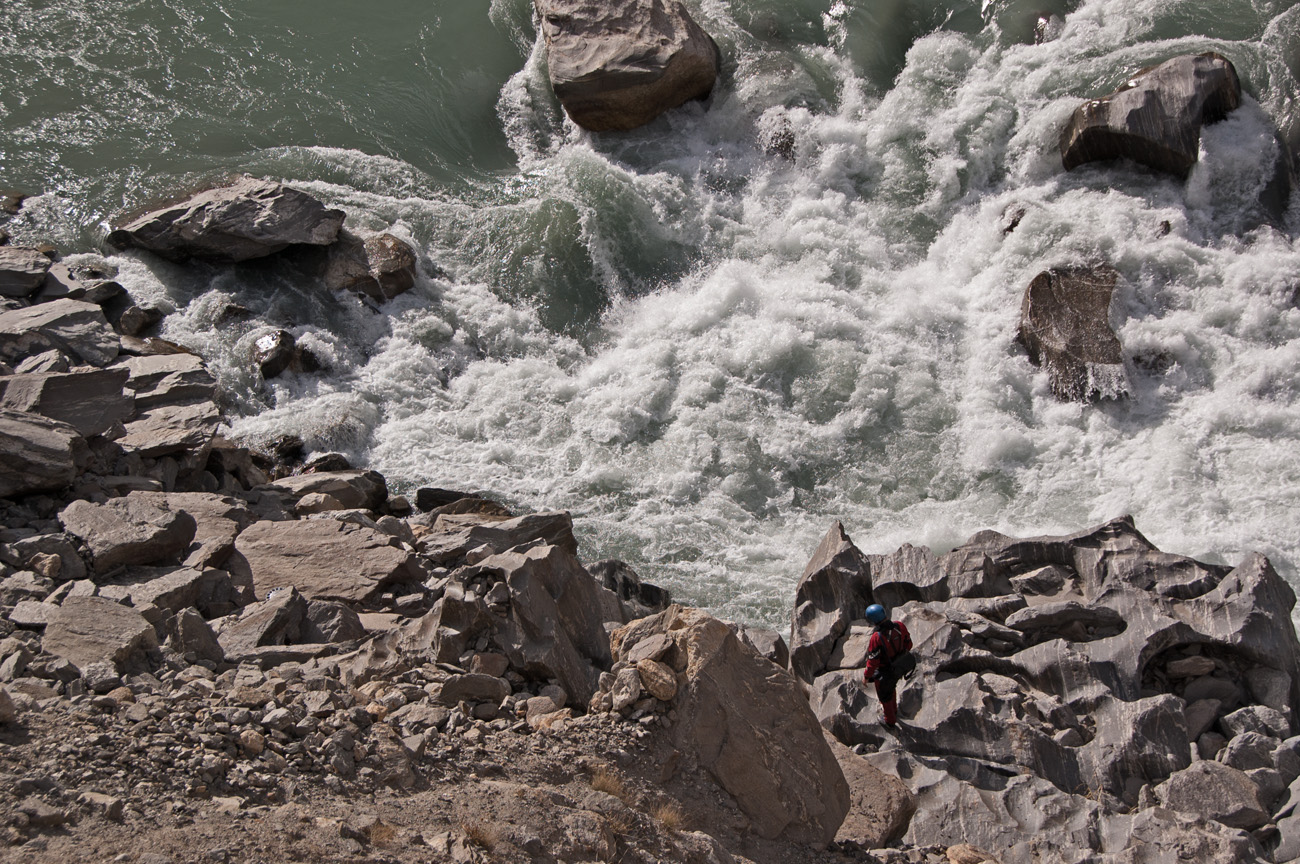 Ben Stookesberry leads the charge under some better than normal light for the Indus.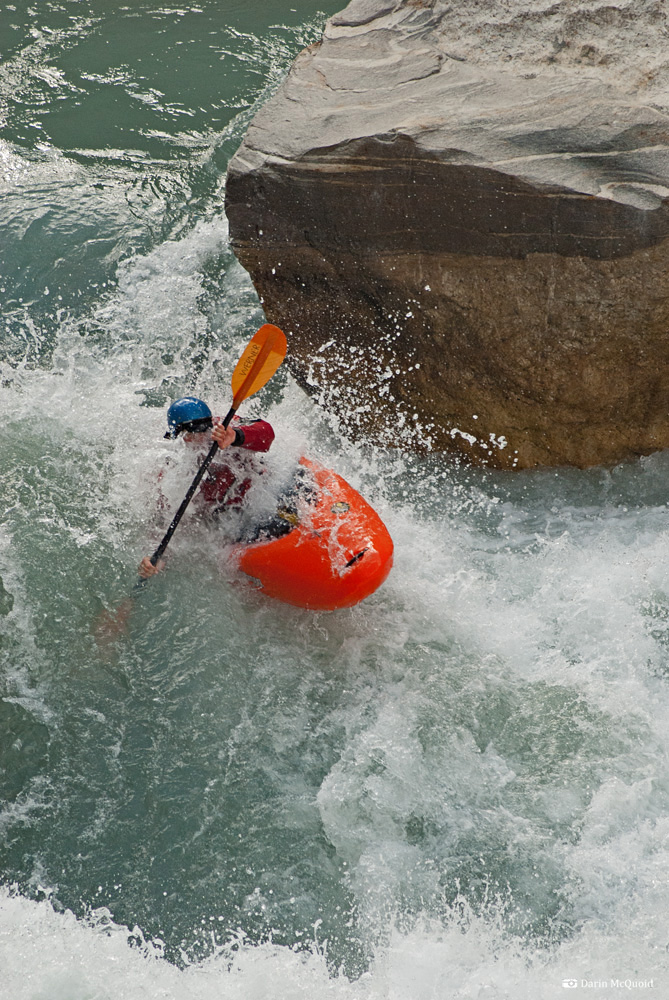 Ben Stookesberry gearing up to cross some currents.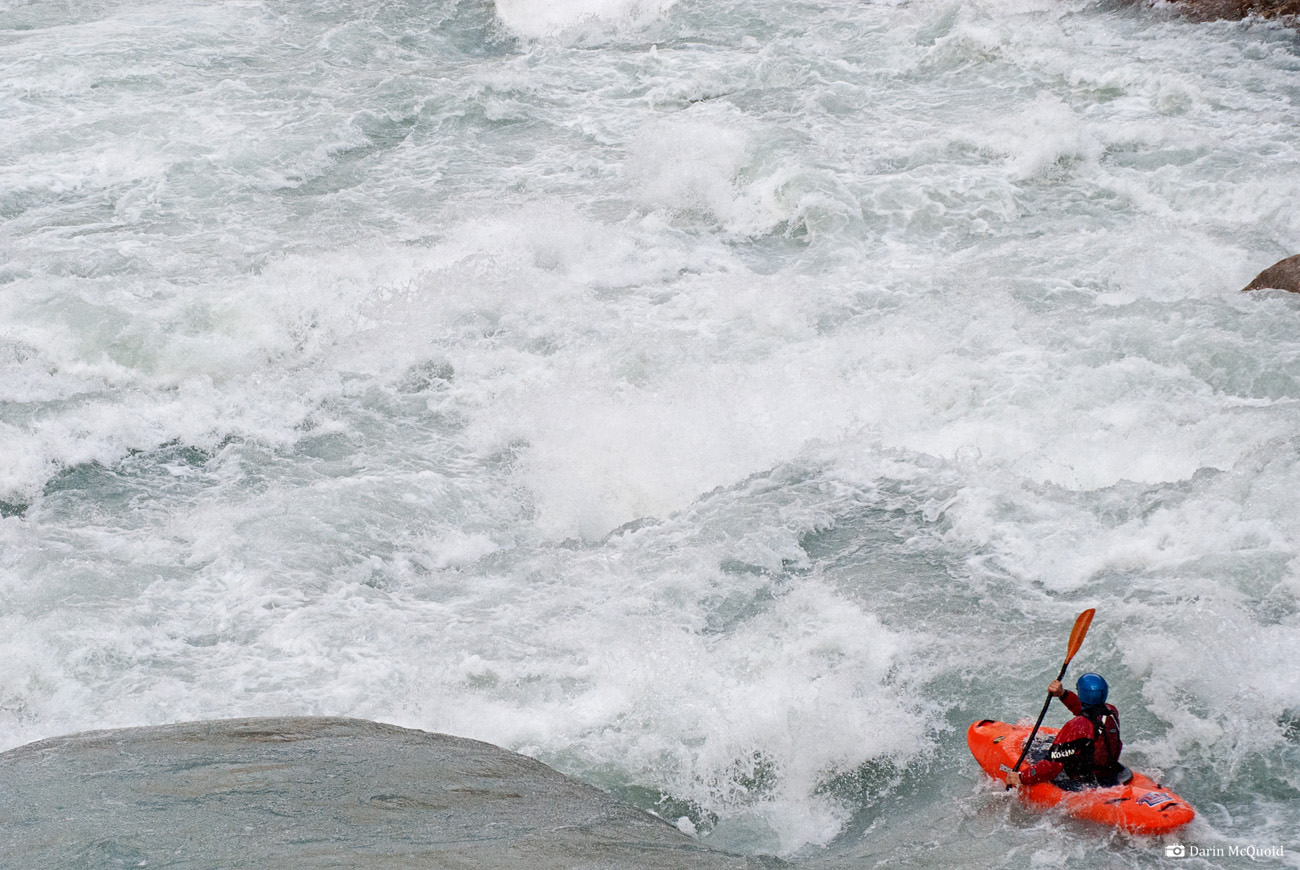 The Indus set the example for the complexity of scouting big water, and Ben quickly realizes he can't get left of the hole, squares up and droppes in, disappearing for a tense moment yet resurfacing clear of backwash.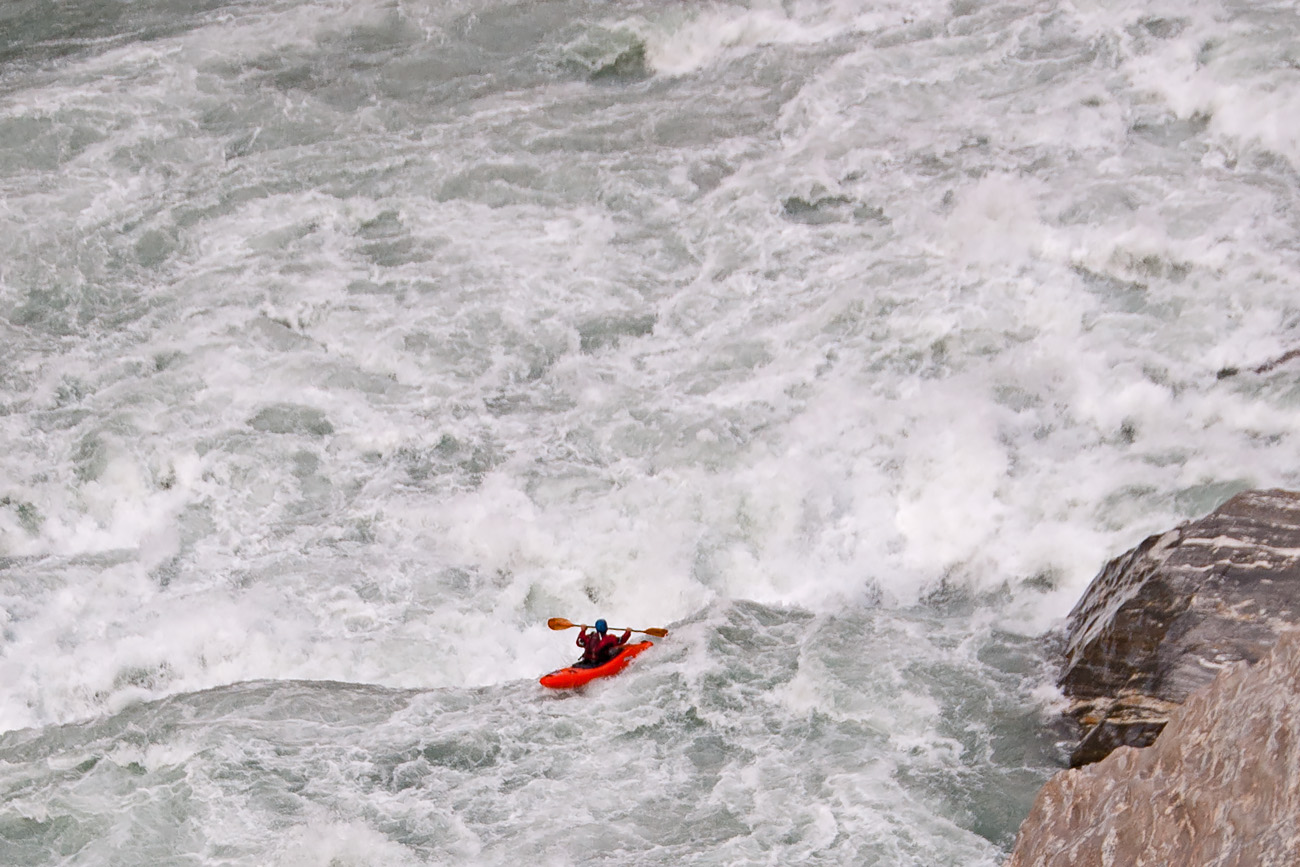 Ben Stookesberry in the run out.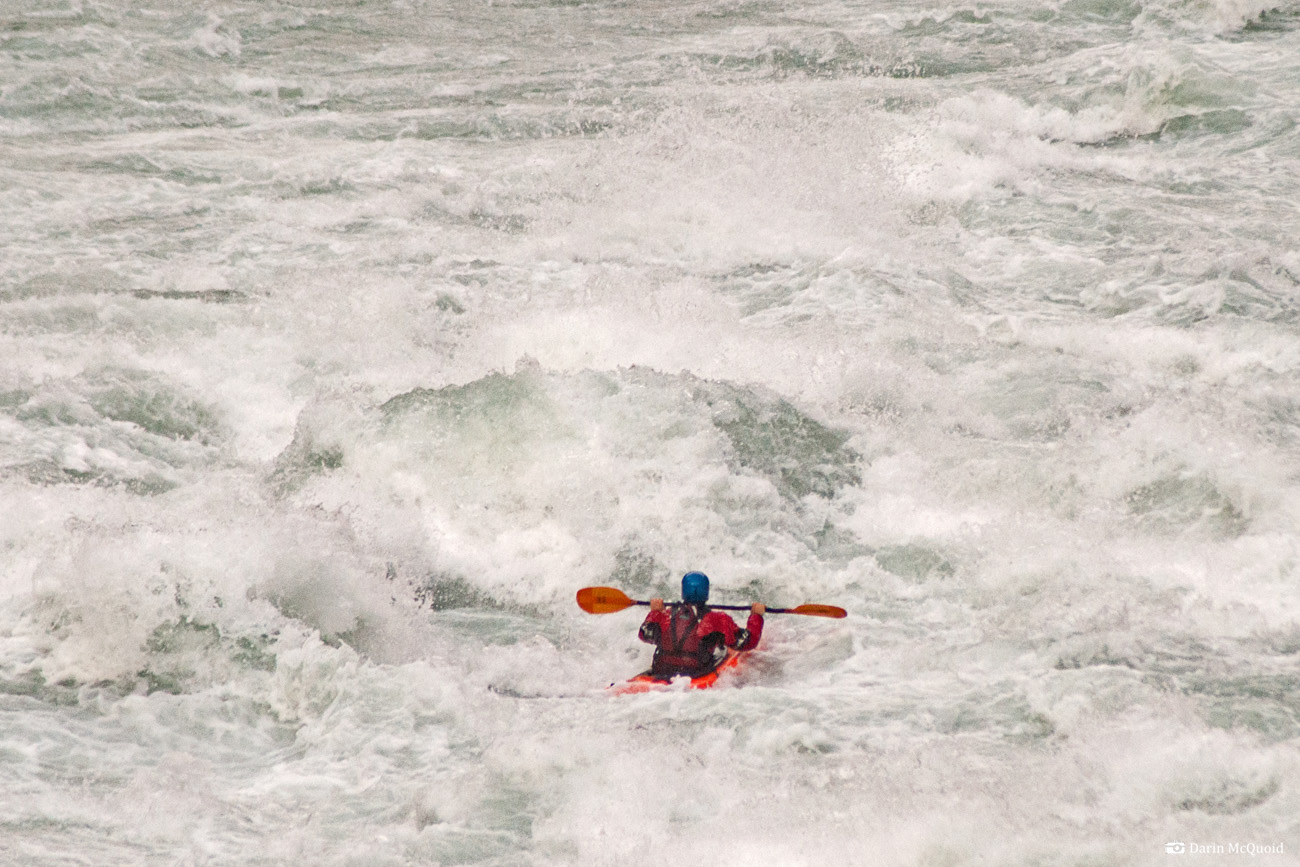 Phil Boyer decides to go next, but opted to cut left earlier rather than later.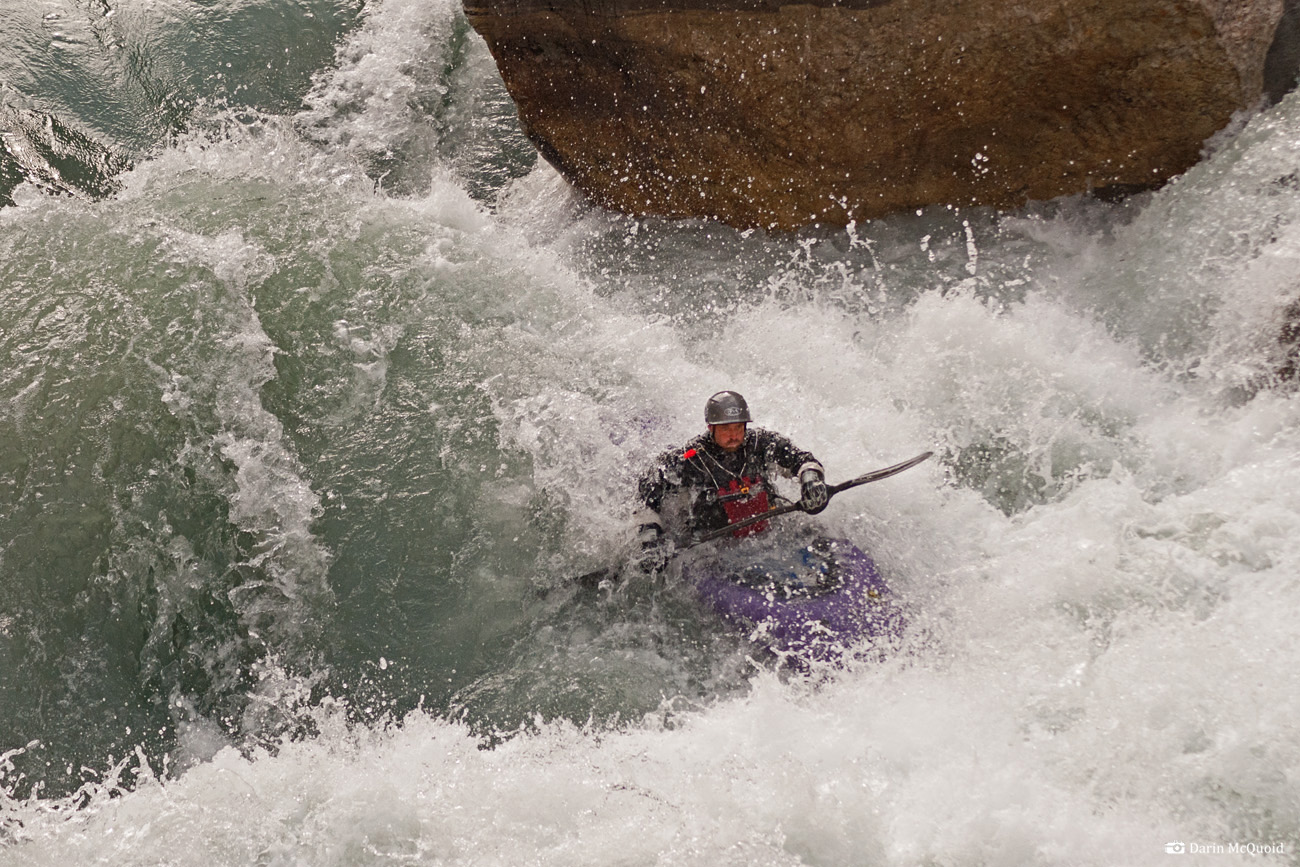 Phil Boyer getting left earlier rather than later.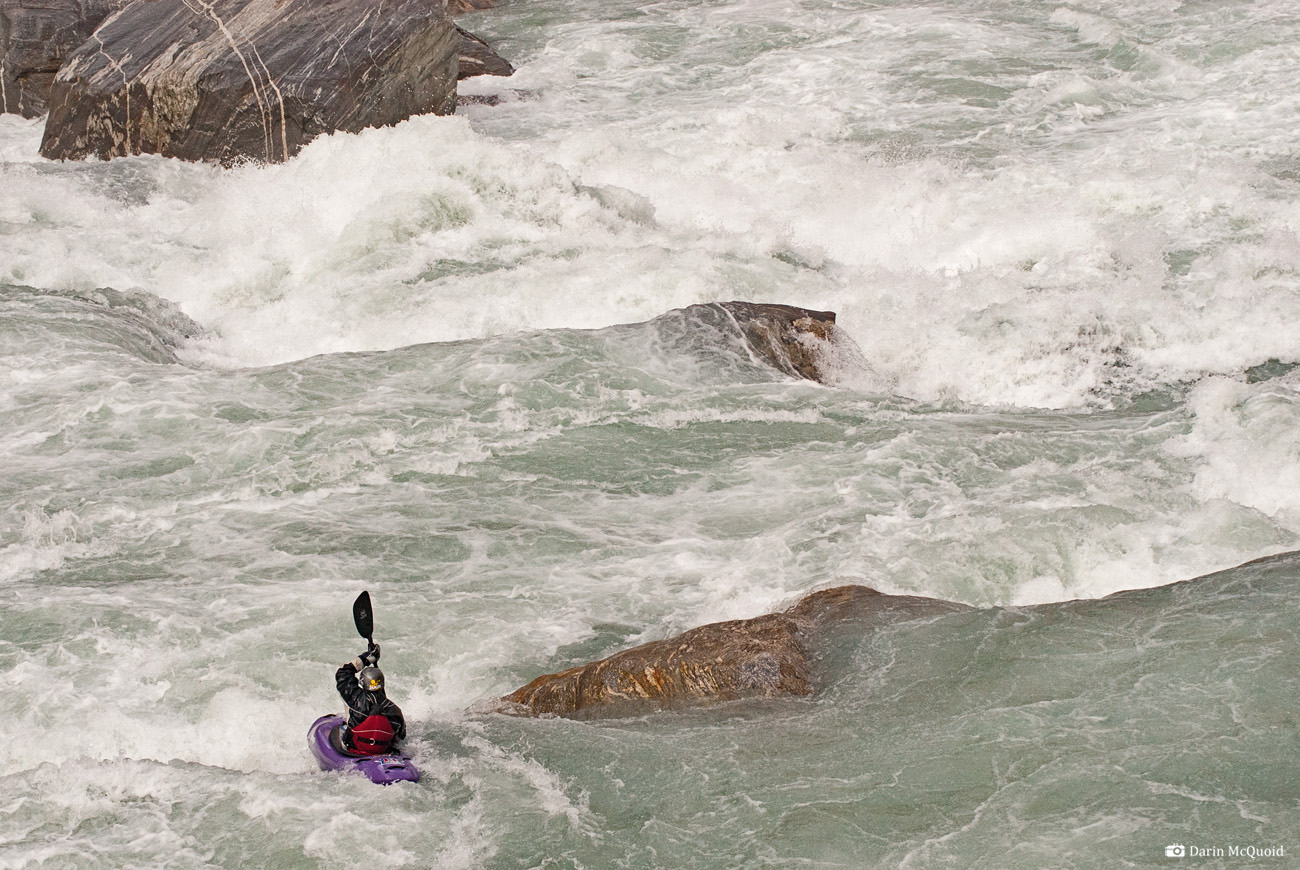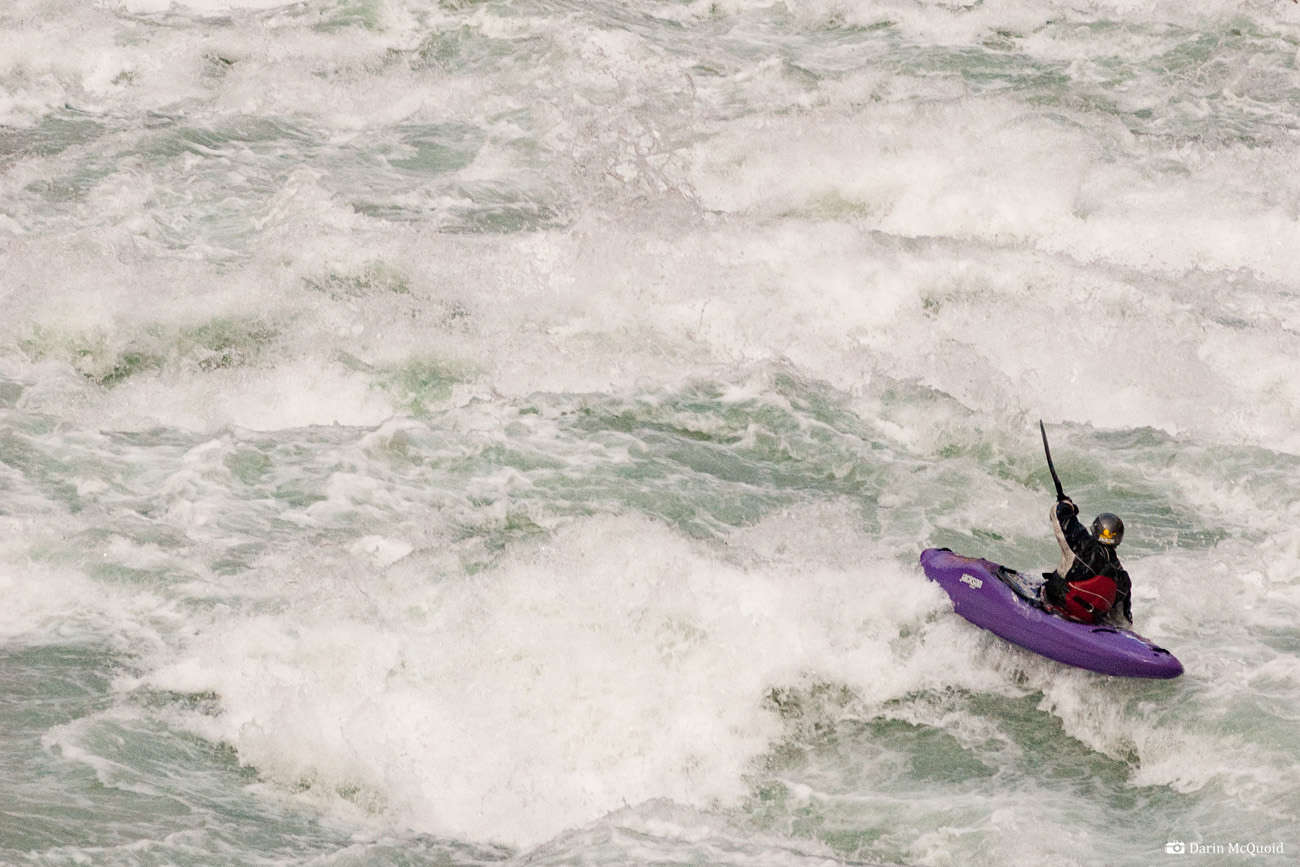 Phil emerges from the hole unscathed, so I tell myself it was really just a big class IV...as long as you don't screw up. I give a thumbs up and hike back to my boat, knowing that it's going to be bigger than it looks and a lot of it would have to be figured out at river level. On a river of these proportions features constantly change and luck can play a large role in lines. I ome into the boof hot and get enough of one to be stable and in control through the alley way. I knew the rapid is too long to paddle at full speed the whole time, and this seemed like a good time for a break and catch my breath. When Phil made the move through the lateral folding hole it looked pretty mellow.
As my bow drops into the fold I realiz it is not going to be mellow at all, and I should have had a lot more momentum but it's too late. I go deep and resurface upright but facing upstream.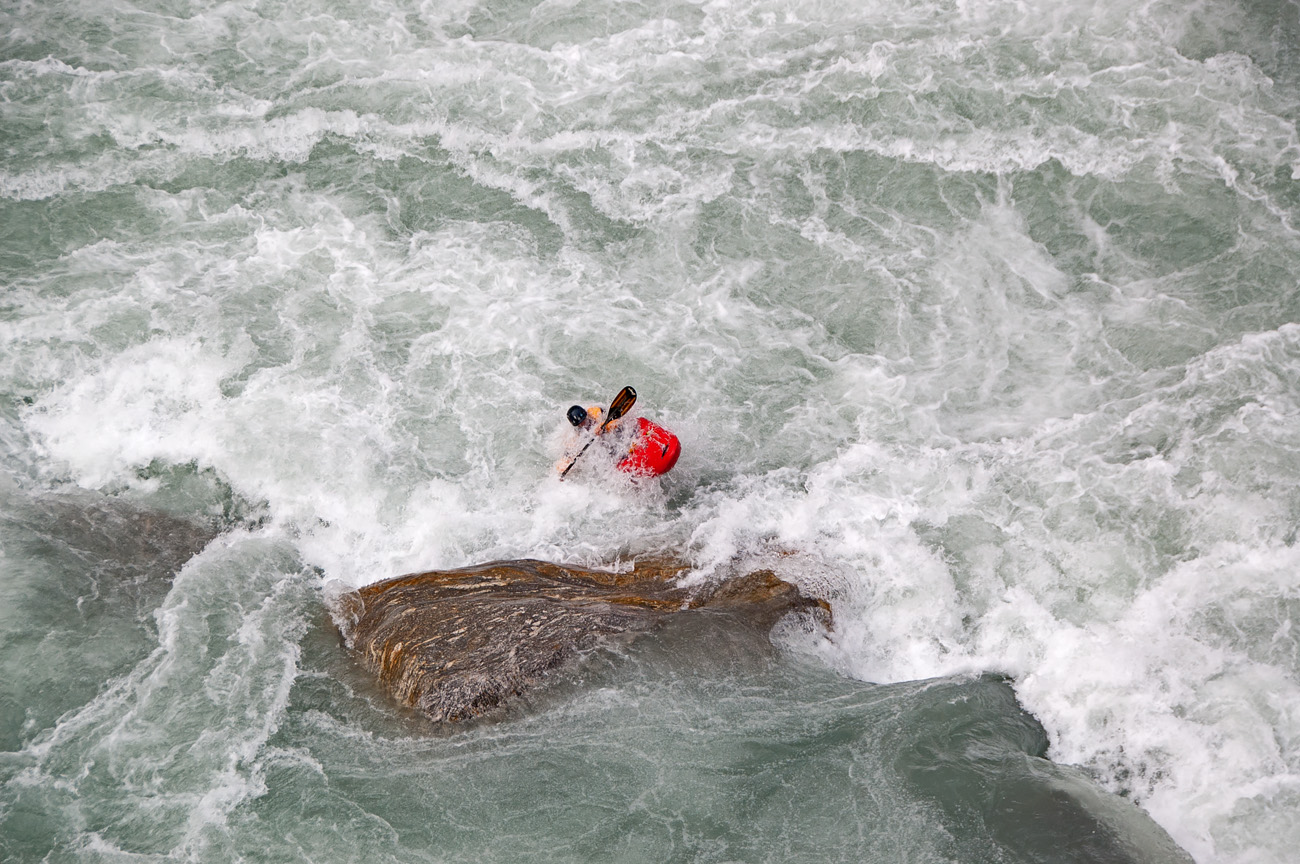 As I turn around a wave brakes over my head and knocks me over, forcing a quick roll. I tell myself it will be ok as I roll up. While scouting I had liked a right of center line where the big hole looked more like a wave, so I line up for the wave train. To my displeasure the first big wave brakes as I came into it, shunting me left and facing upstream as main event approaches too fast.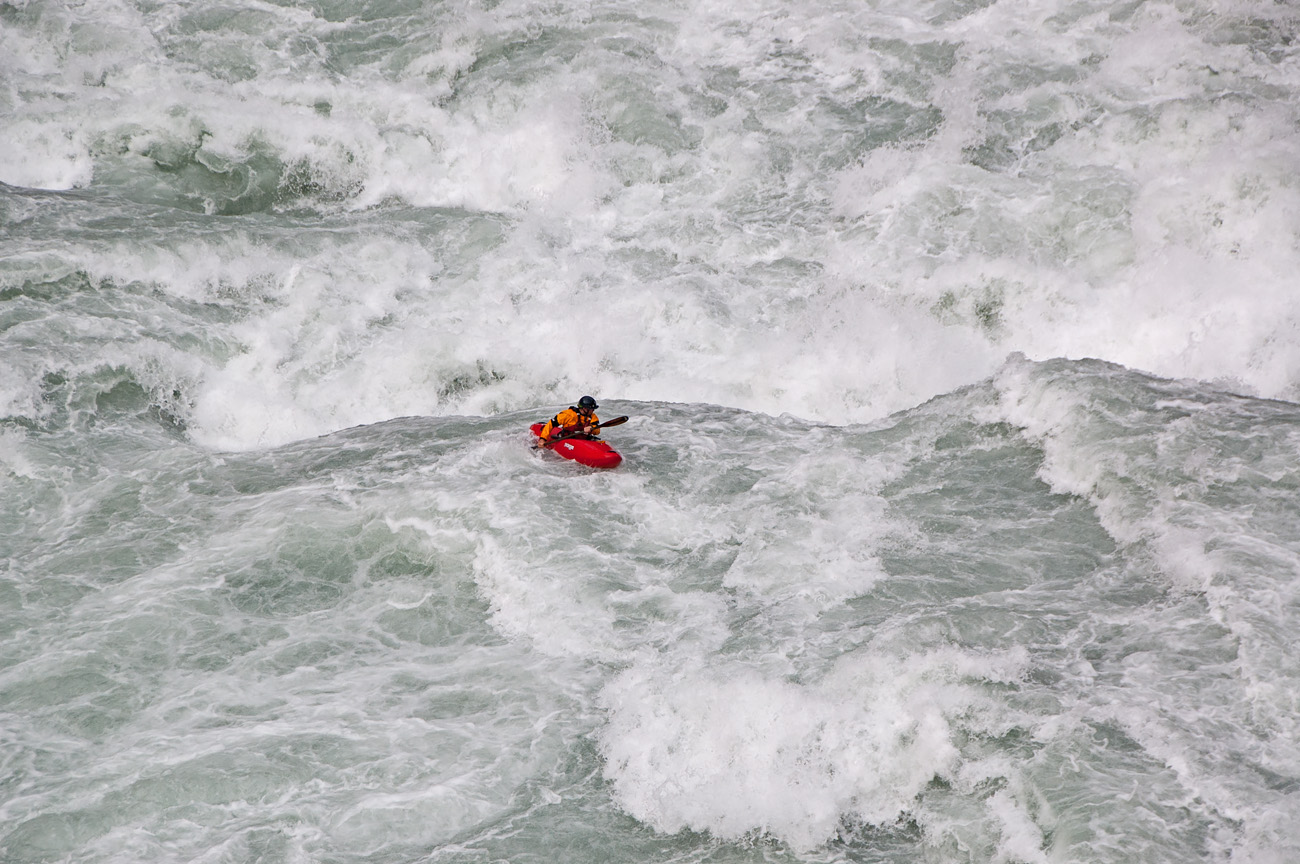 Already short on breath I spin my boat around and get ready for the ride...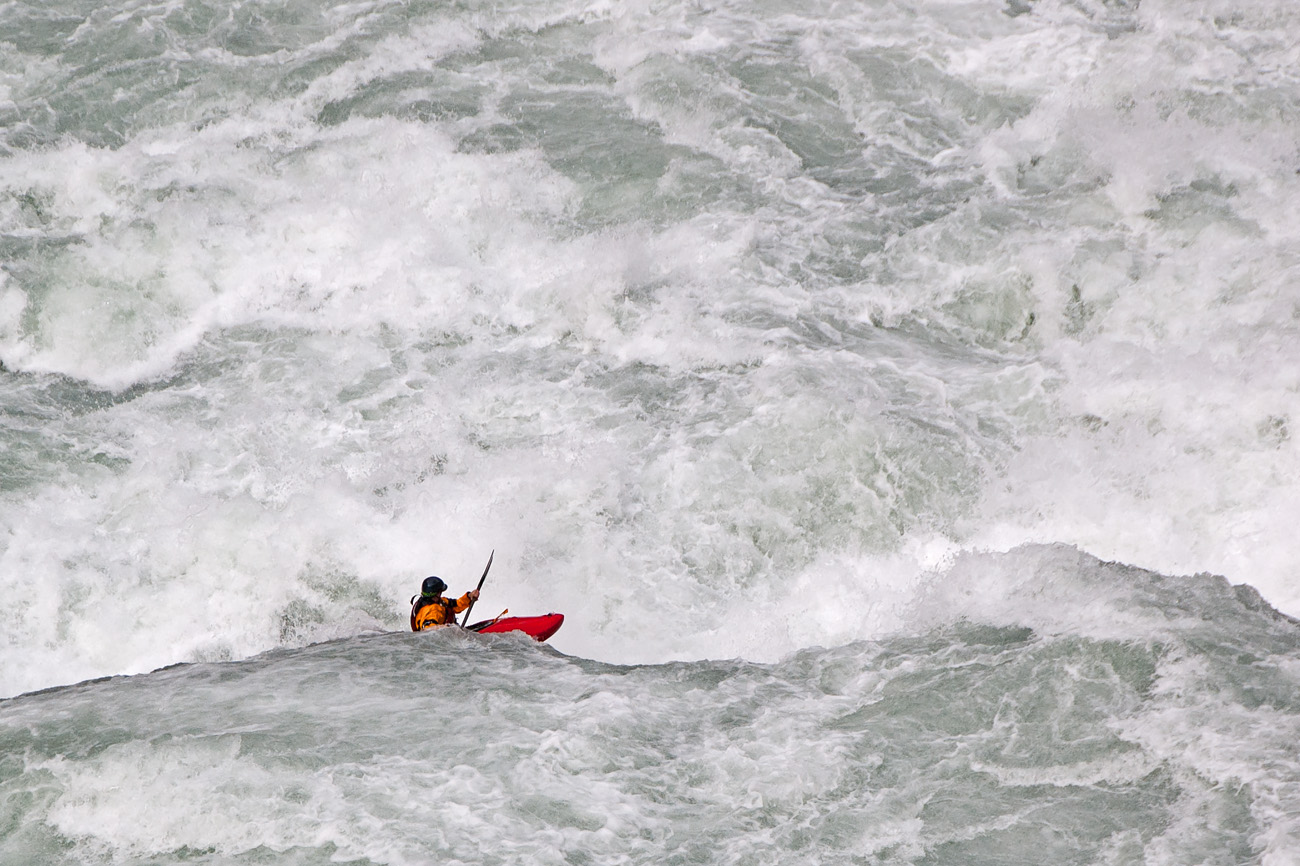 It feels like dropping into the base of a larger waterfall, but I remember what I'd heard from big water veterans; tuck in tight and protect your skirt and paddle.
The author play boating.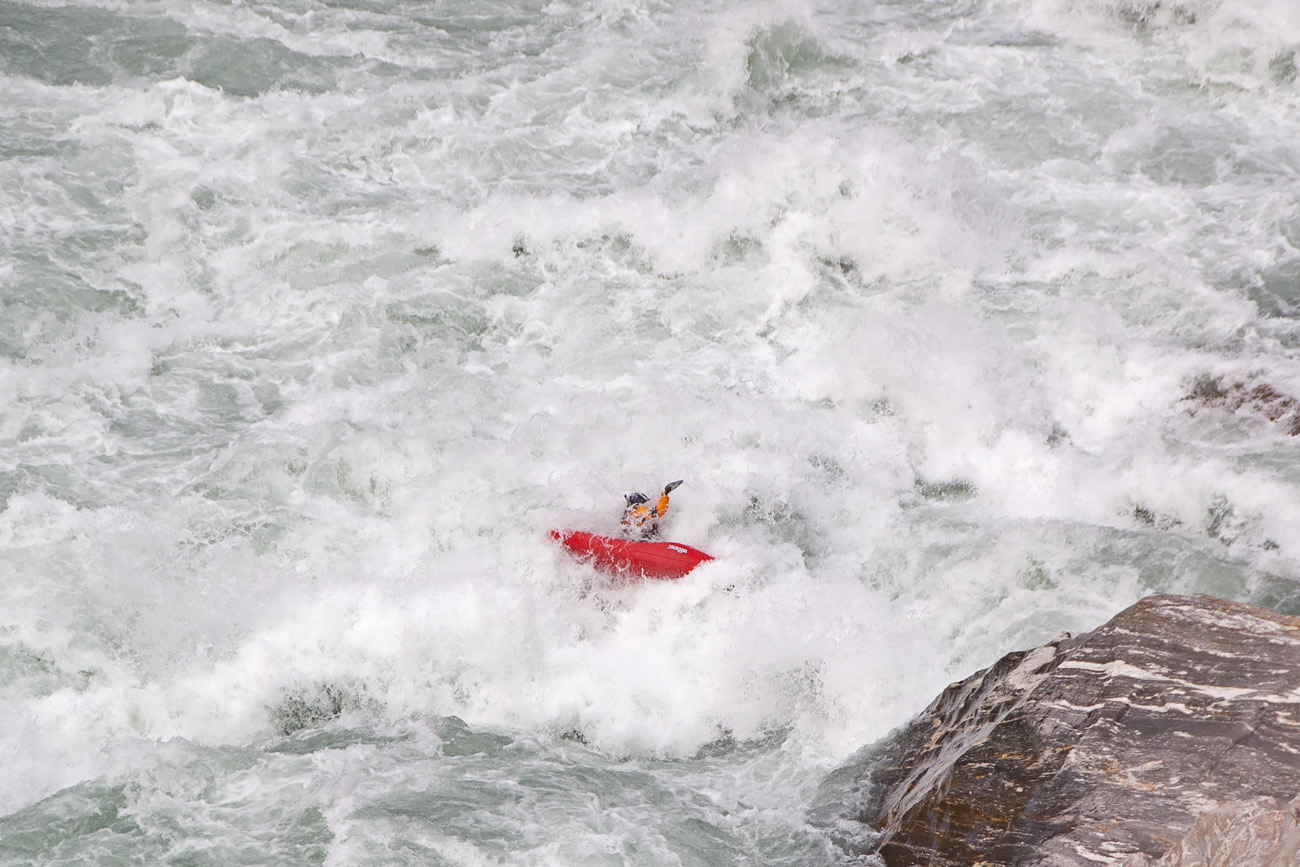 The hole quickly has its way with me, typewritering me to river right where I had planned on to go originally. I feel immense relief as the hole releases me to finish the rest of the rapid, where two more waves knocked me over, but I stayed in my boat and seek the haven of calm water.
Humbled yet again by the power of the "Lion River" we continue on. Ben Stookesberry, Phil Boyer and the author.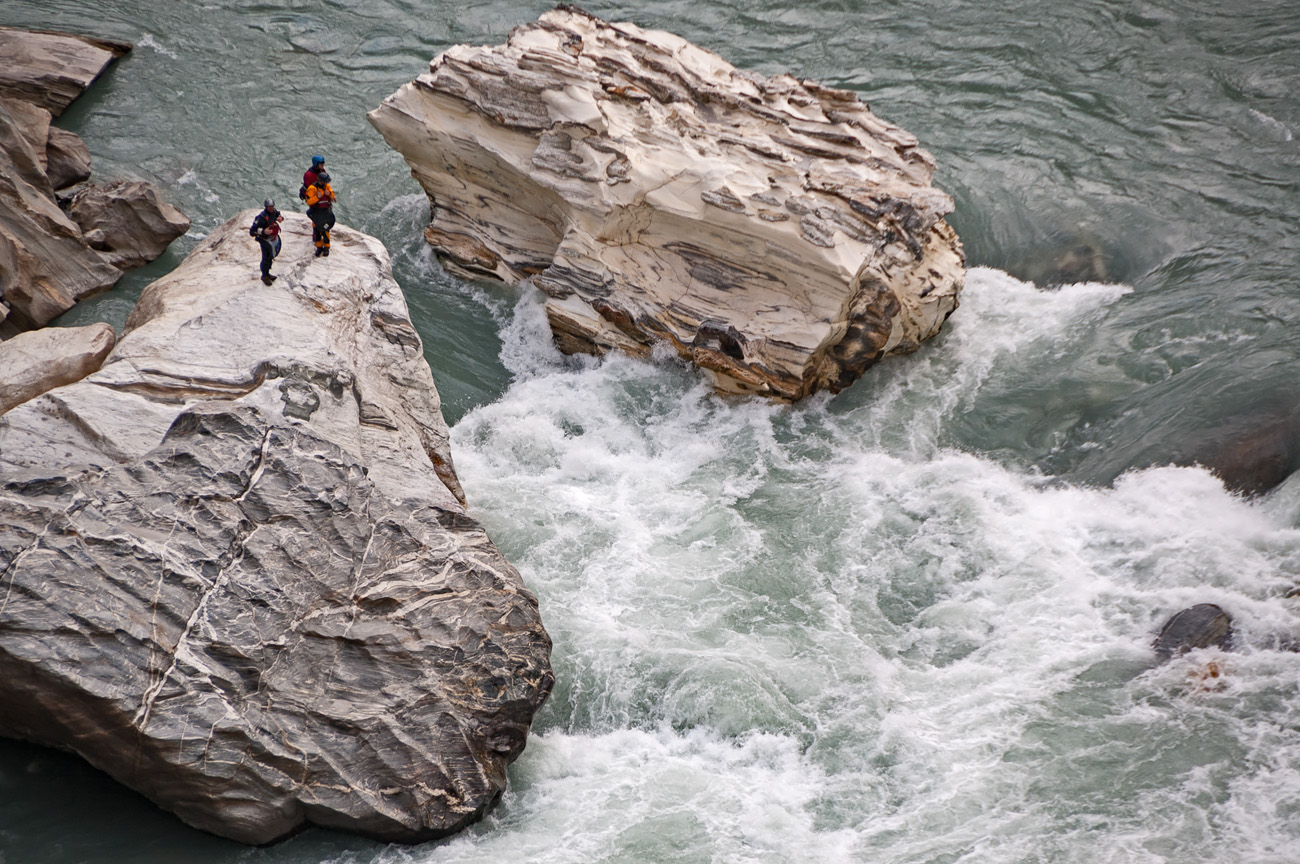 Our next cascade had looked very questionable from the Karakoram Highway, but from river level it looks friendlier than expected. Or perhaps the last rapid had just put things in perspective.
The scale of the riverbed has me in constant awe.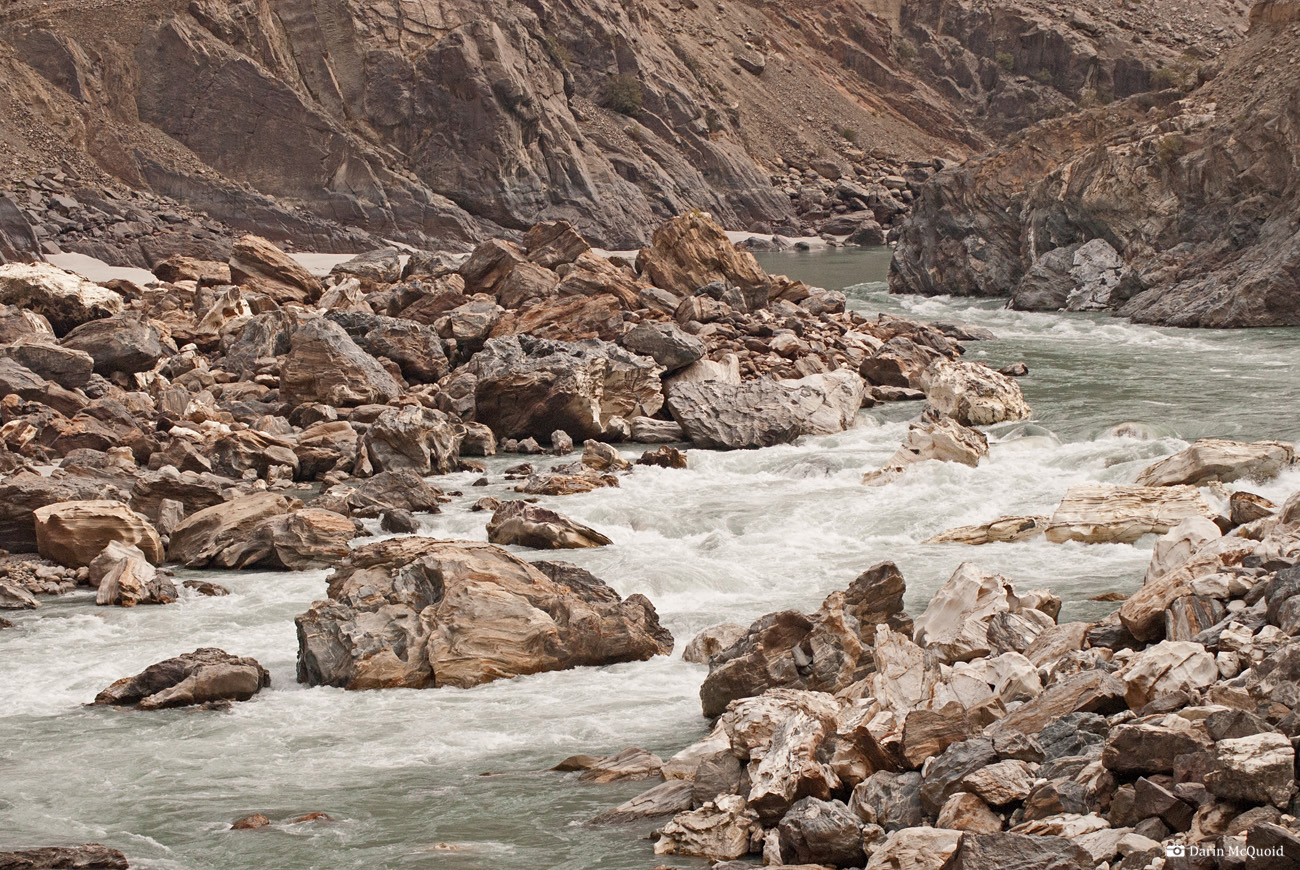 A quick scout and there is no doubt the right side was good to go, so Phil Boyer goes f irst through the beautiful garden.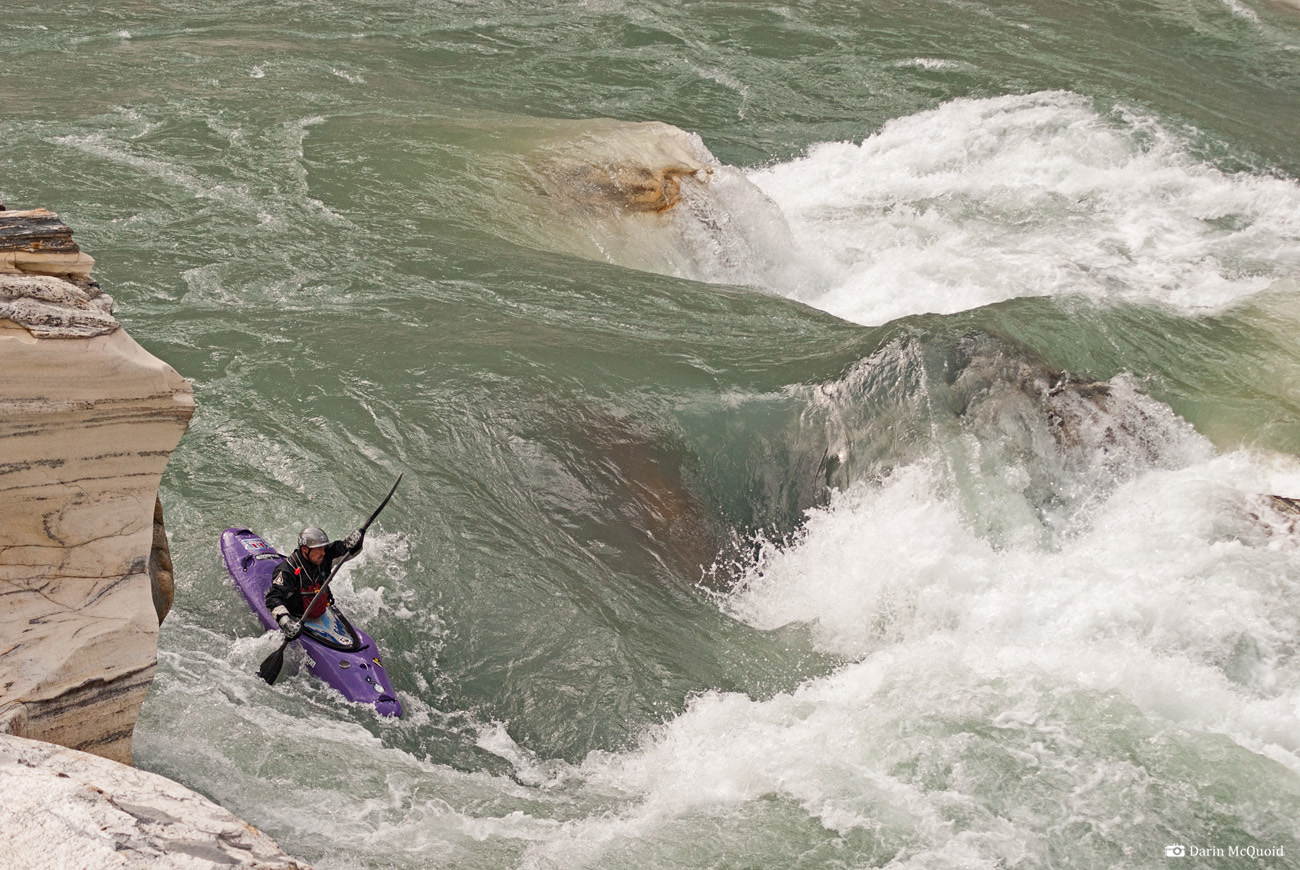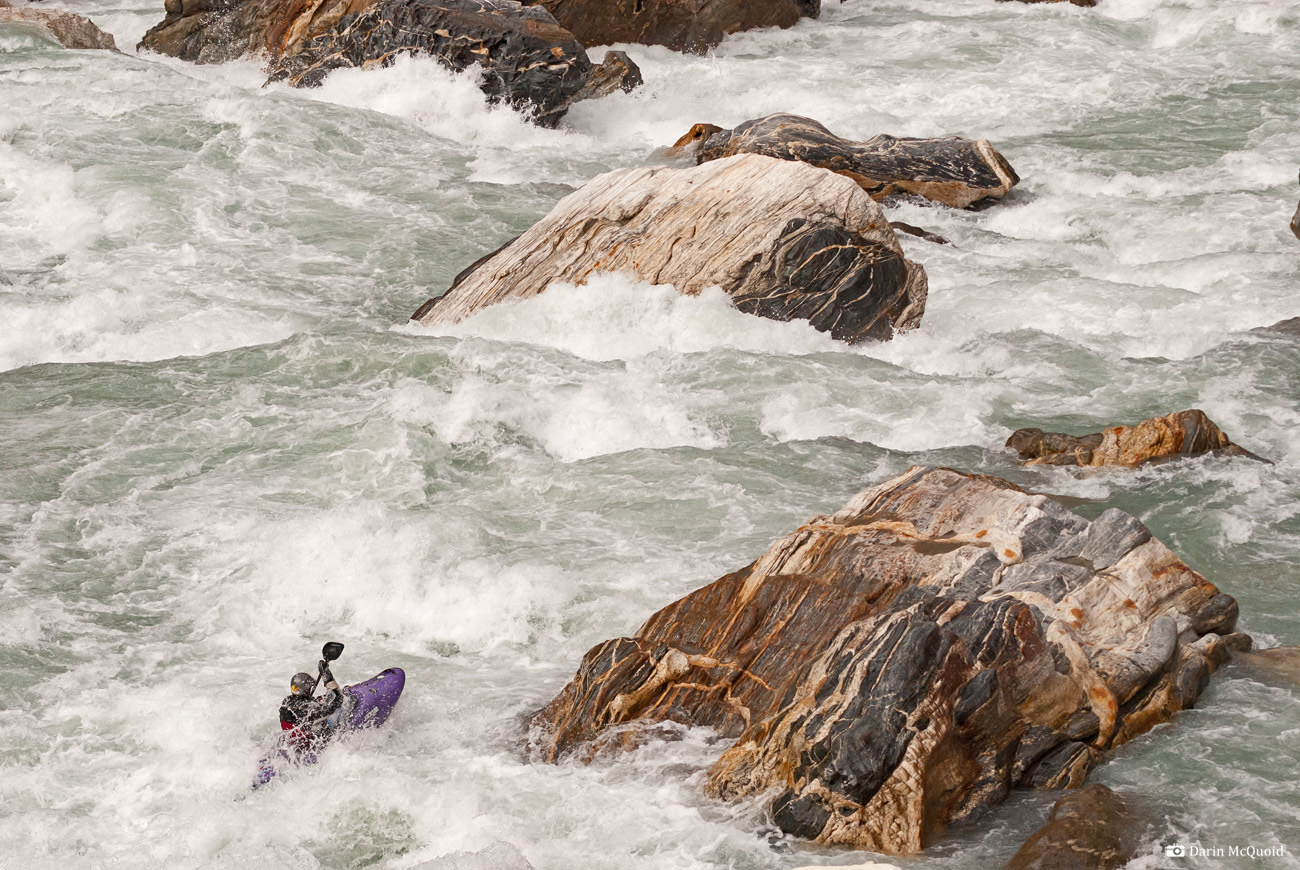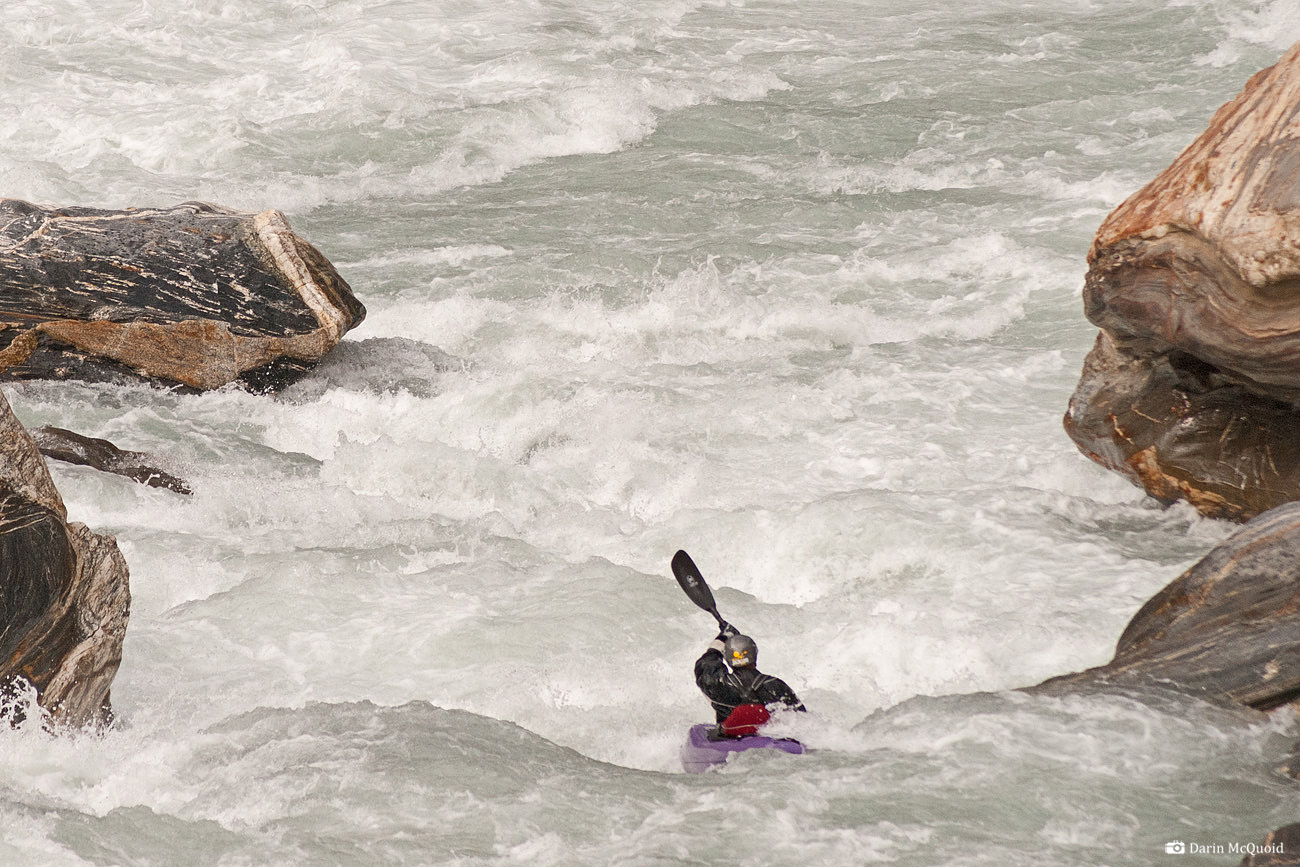 The author in the same spectacular rapid.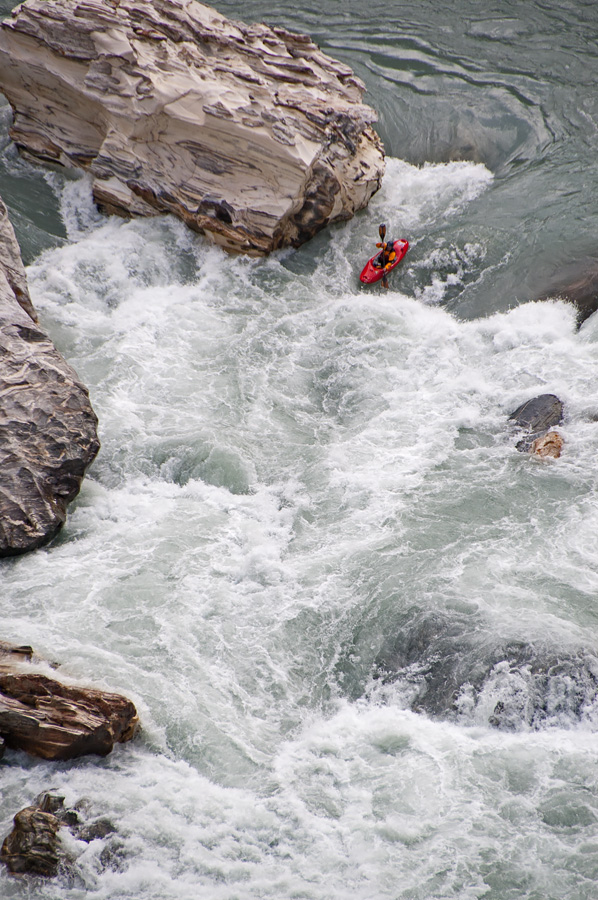 Happy to have two big puzzle peices behind us, we split off from the road. Chris and Roland drive downstream to speak at the school while we finish up the section. The corner reveals one more long scout, and my eyes widen but mouth stays shut as Ben routes Phil through.
Phil Boyer showing his experience and having no problems.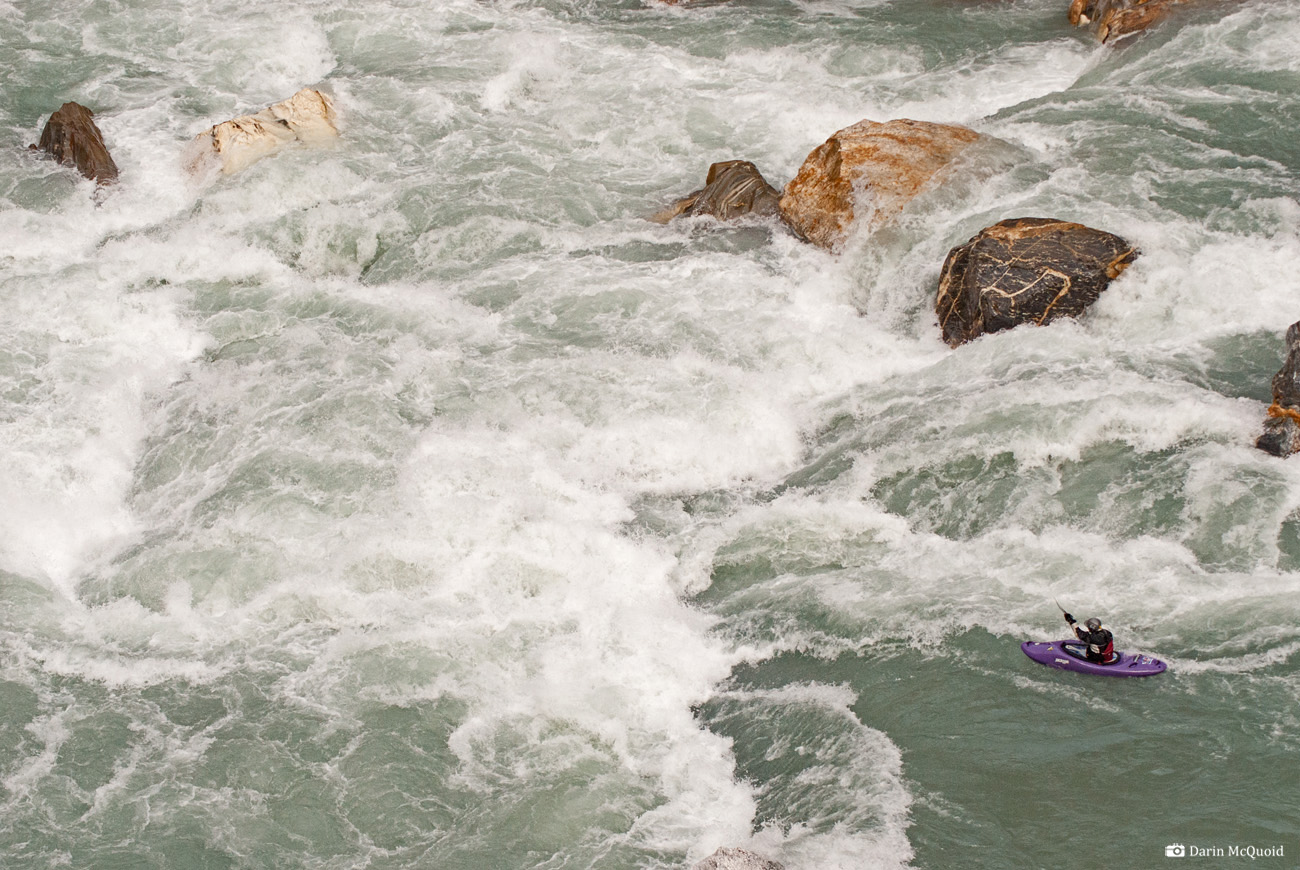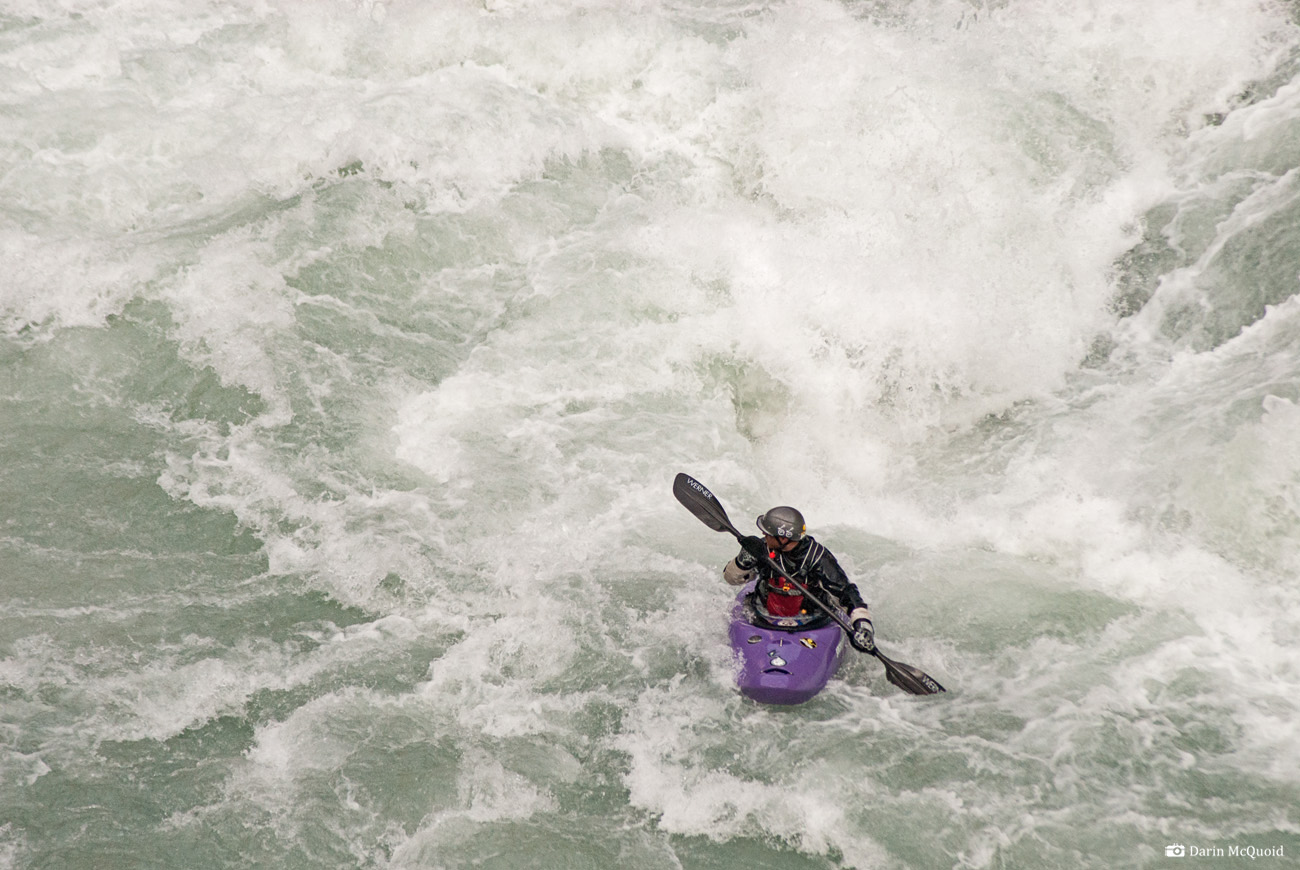 The walls open again, and gradient eased off, letting us get away lots of read and run with the occasional quick scout from shore.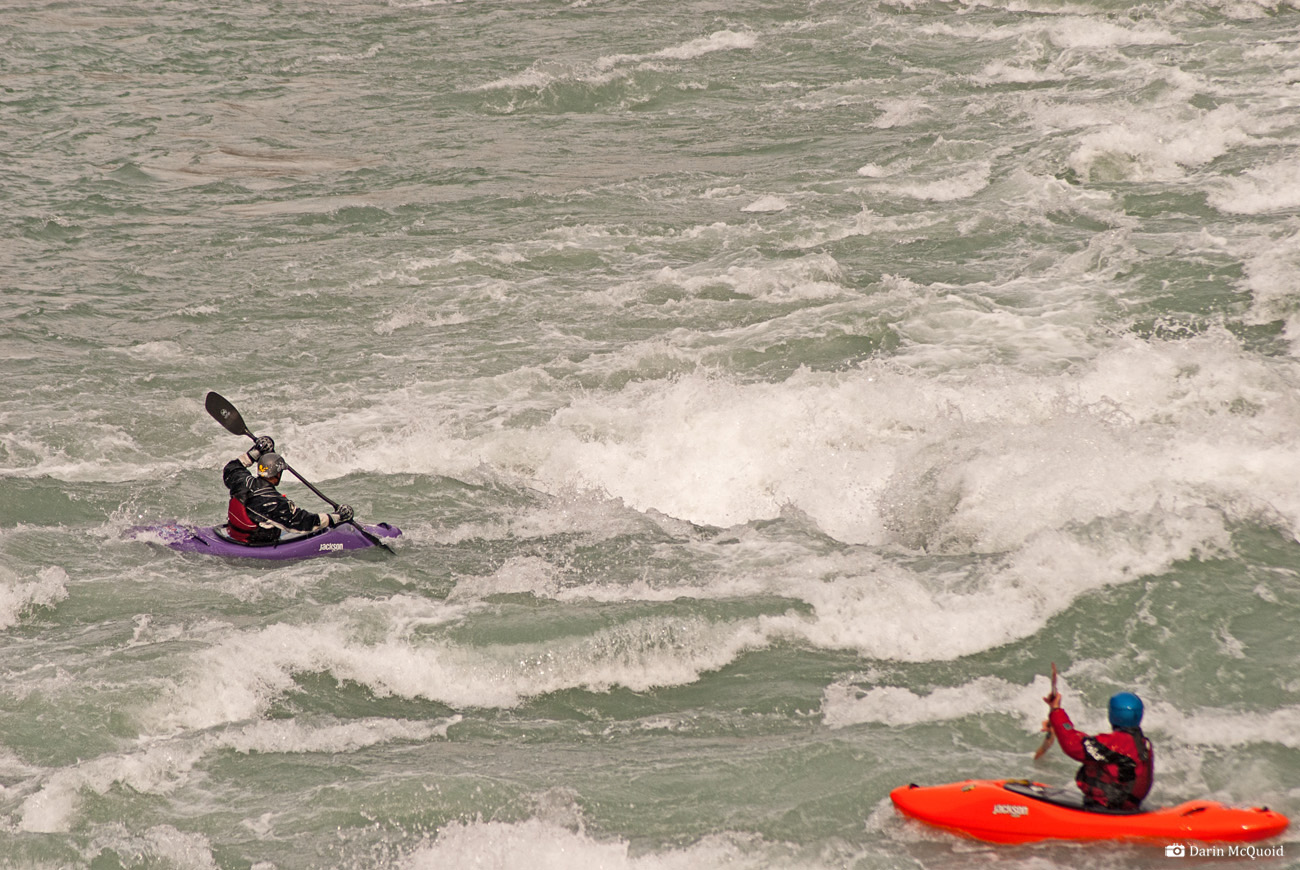 Ben Stookesberry and Phil Boyer enjoying some of the more relaxed whitewater on the Indus.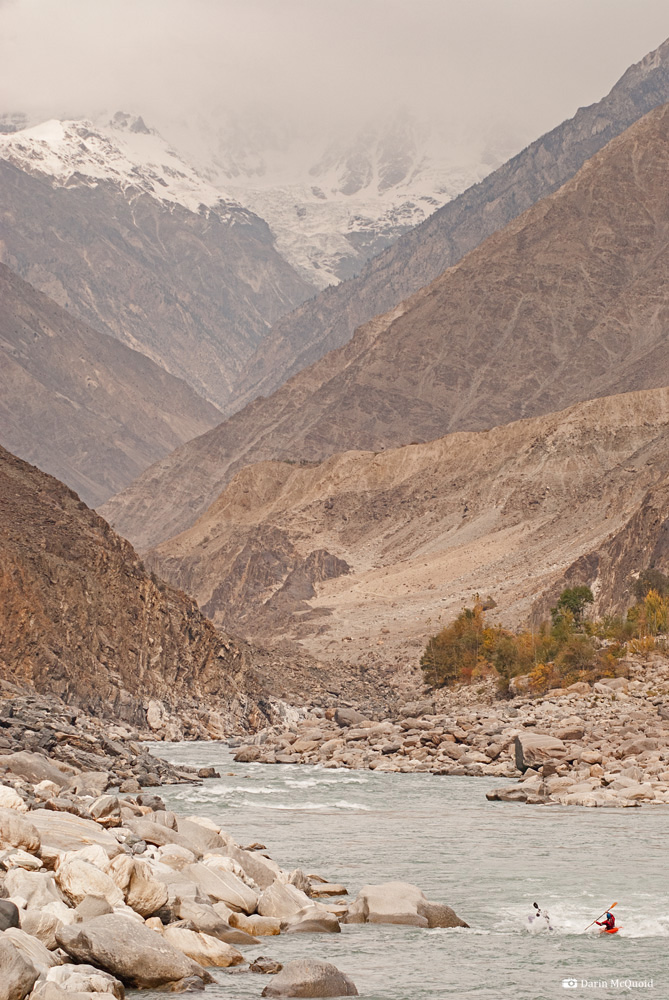 Sometimes we had more spectators than many freestyle events.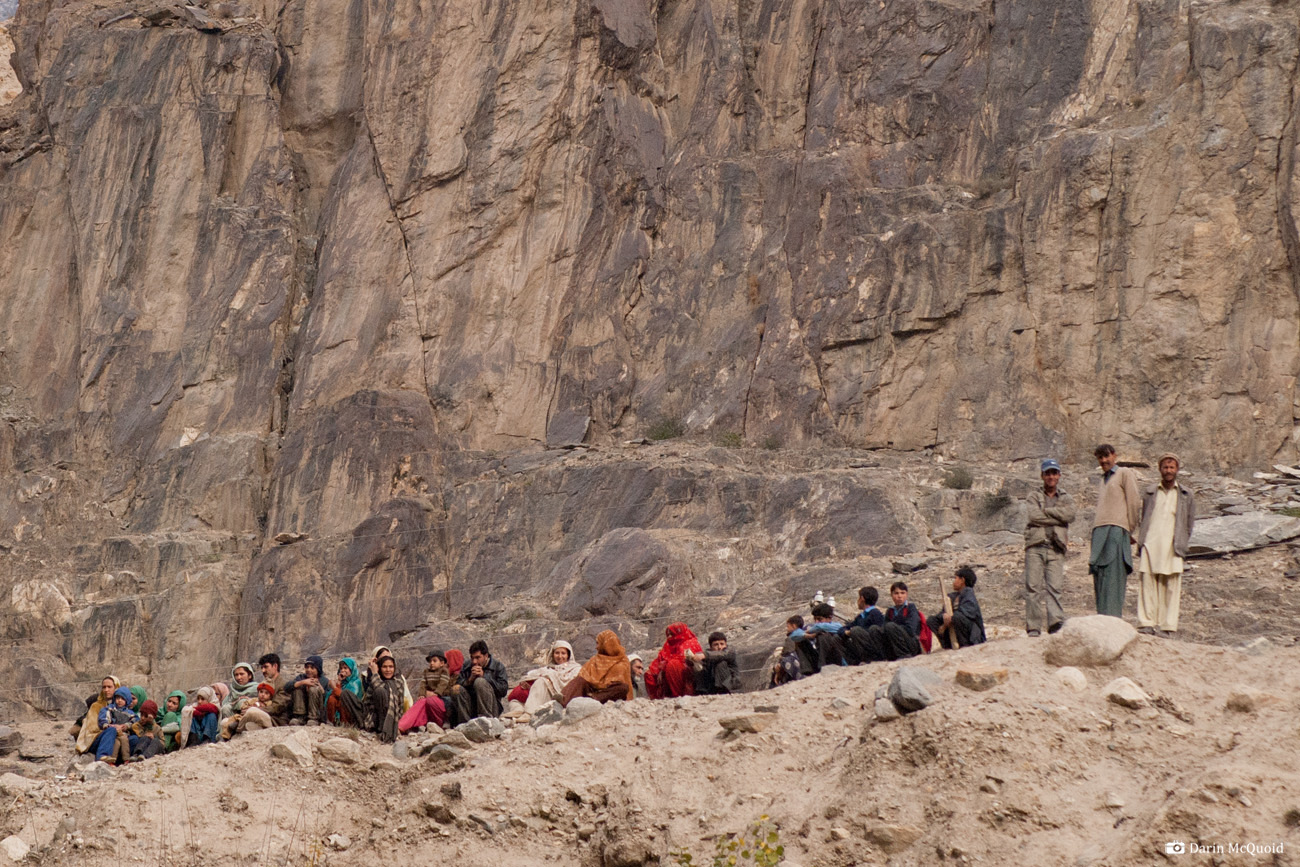 At take out we met our new Police escort. We have just moved from the Skardu police district to Gilgit, and the new officers are friendly.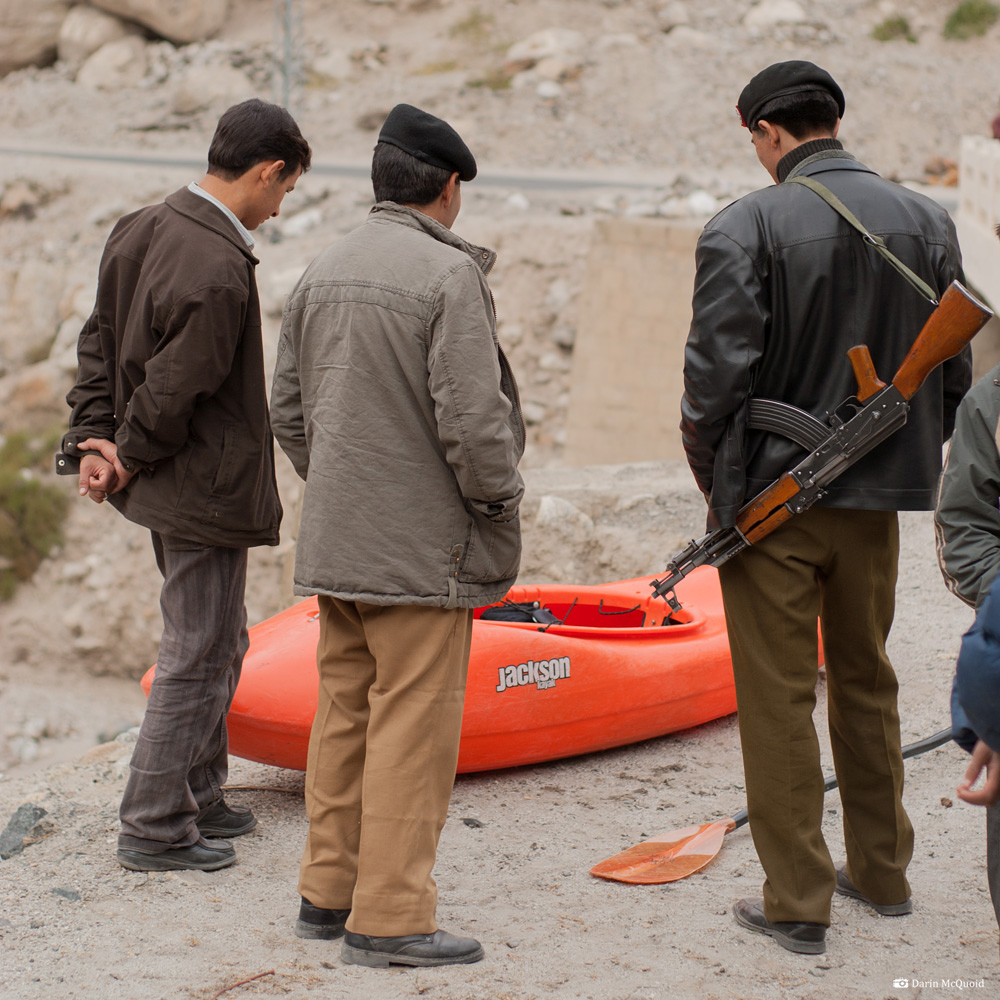 They know there wouldn't be lodgings for quite a ways downstream, so we return to our cozy accommodations of the previous night.