Starting with
Mexico in 2006
I've done at least one international trip every fall as my budget allowed. In 2007 I did a cold weather
Newfoundland mission
, swore I'd never do another cold weather mission and followed it up with a cold weather trip to
Pakistan in 2008
. The trip to Pakistan was my most expensive to date, with the lowest payback because big water images are hard to sell. As late summer 2009 rolled around, my budget was slim and when I got a call about a pretty cheap Mexico trip it didn't take too long to make up my mind, as there was a chance it would be my one trip for the year. We had a potential sponsor but nothing set in stone, and I wanted to get at least one trip in before my bank account was too low.
The plan was both simple and audacious. Fly into Mazatlan, drive to the top of one of the the deepest gorges in North America and put on to a steep, unexplored canyon. Spend a few days on the river, then fly home. Only ten days in country, a pretty cheap flight, and the allure of the unknown - I couldn't resist.
I flew early the next morning, and after a few hours on the plane I was in colorful Mexico meeting the rest of our crew.

It was off season for tourism, so things were nice and quiet while we loaded up. Ben Stookesberry, Jesse Coombs and I had flown down to meet Rocky Contos and James Dusenberry. For some reason we decided to load up Rocky's truck, and once loaded it was apparent we wouldn't be making the many hour drive to the river five deep in his Toyota pickup.
Five people, five boats and assorted gear, no extended cab...hmmmm.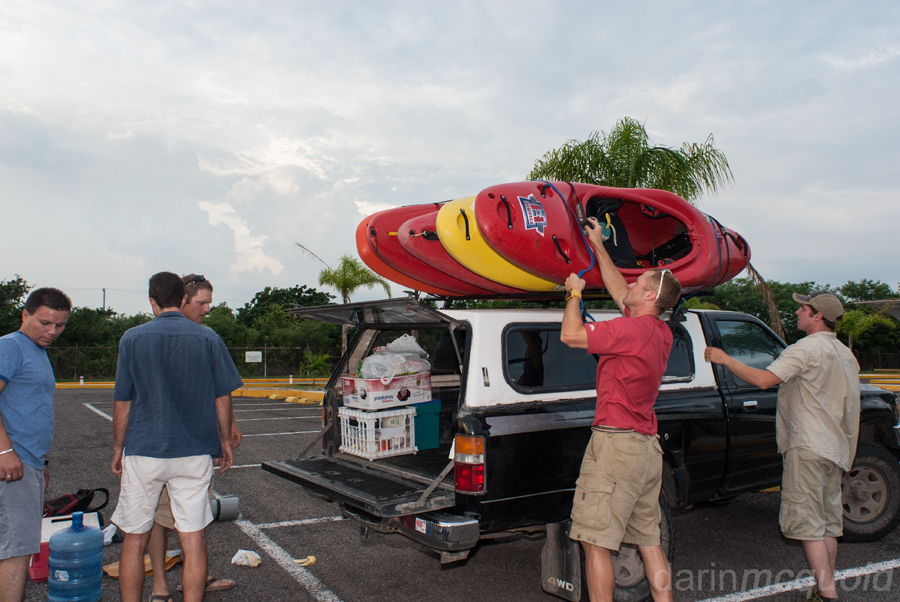 We explored our options, and it boiled down to renting a car, and the only thing with racks was a big suburban.
Gangsta style in Mazatlan, we all had to laugh because it's nicer than anything we own.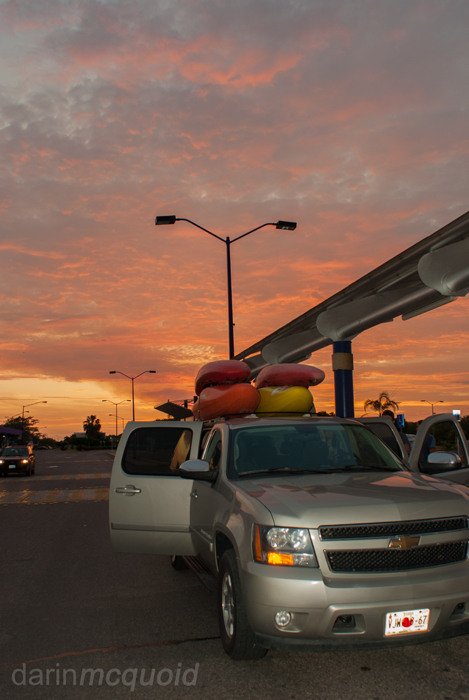 Before flying out I'd also managed to talk Werner into pre-purchasing my images from the trip for the cost of my ticket. Thanks to Jim at
Werner Paddles!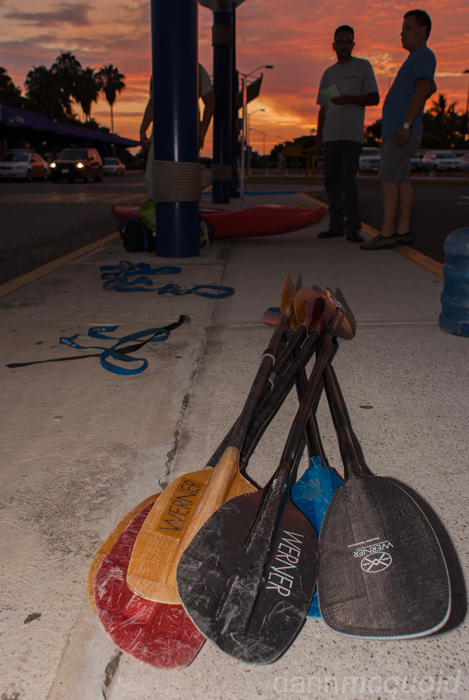 Jesse Coombs ready for good times.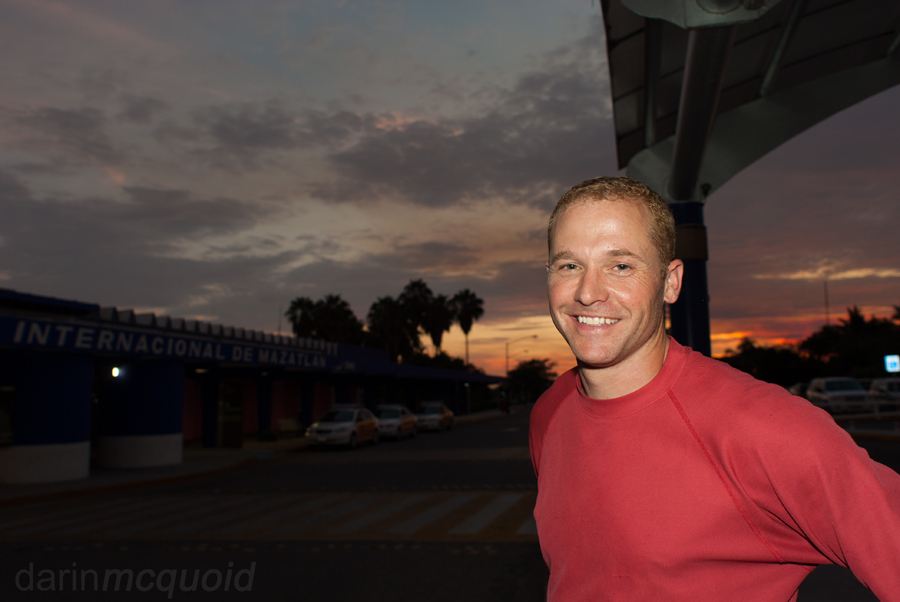 We were on Mexico time and by the time the rental car was finalized it was anything but an alpine start, we left the airport in the dark and got dinner in Mazatlan, enjoying the culture with some blaring loud live mariachi music about five feet away from the street restaurant we chose. I'd never been to this part of Mexico before, and as we drove into the state of Durango I was surprised at how much it looked like Northern California, windy mountain roads and coniferous forest.
Eventually we stopped at one in the morning, 8,000' elevation and shacked up in El Salto at "The Pines".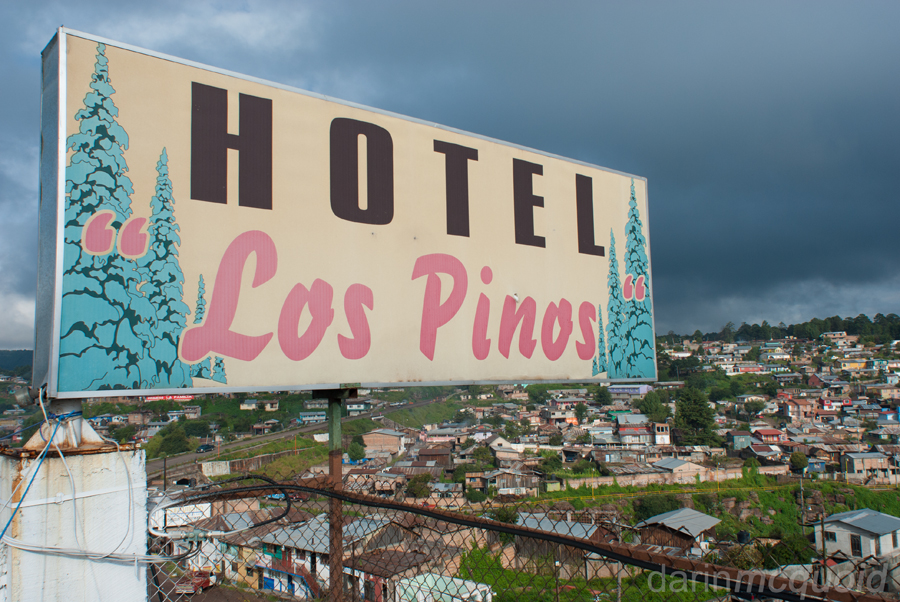 A look at the river.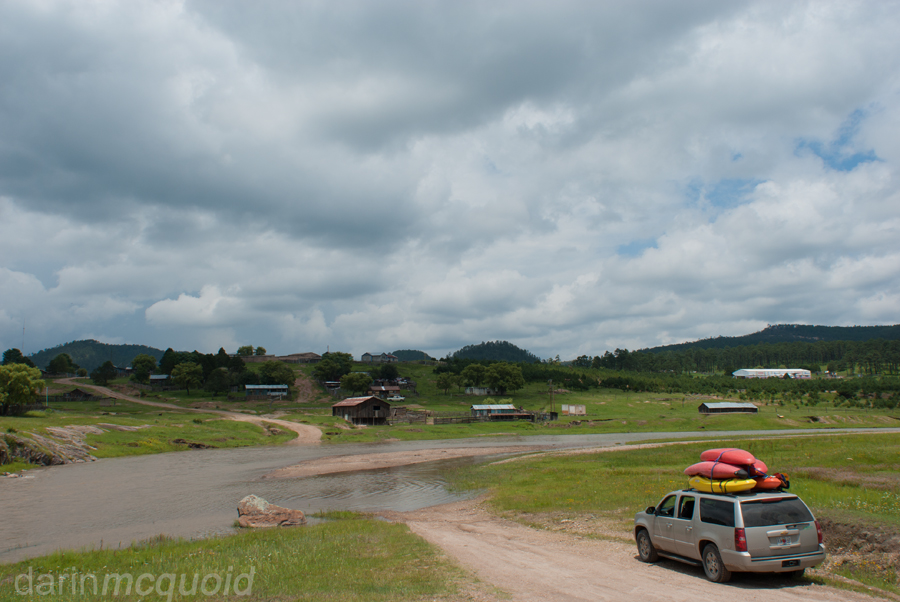 A little more driving from El Salto and we were at the river. A small dirt road led straight into the water, where it could be easily forded at lower flows. We didn't have lower flows. Our maps showed that the river would have mellow gradient for about a mile before dropping into a steep confined gorge, and locals confirmed this beta.
Rocky Contos checking out the water levels.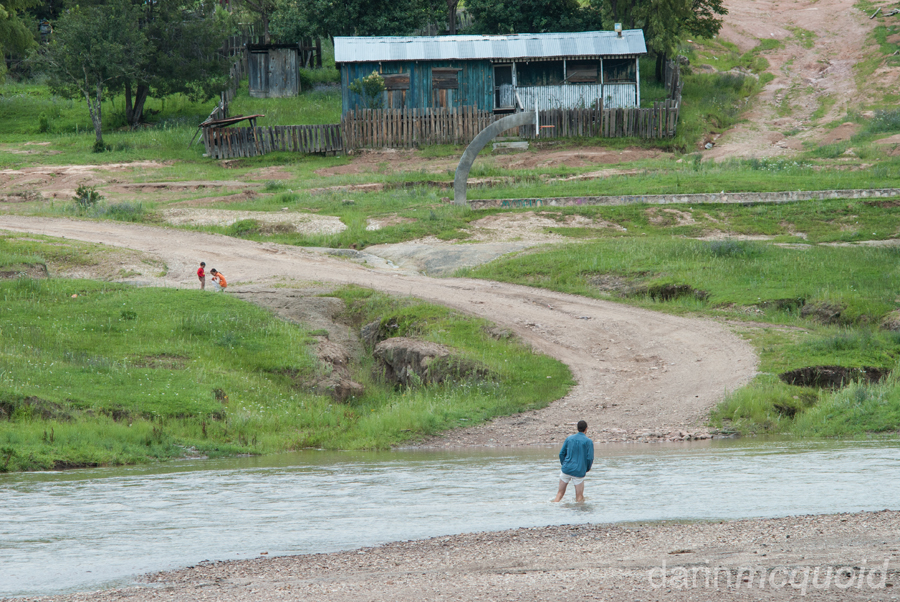 Locals, probably discussing how foolish our plan is.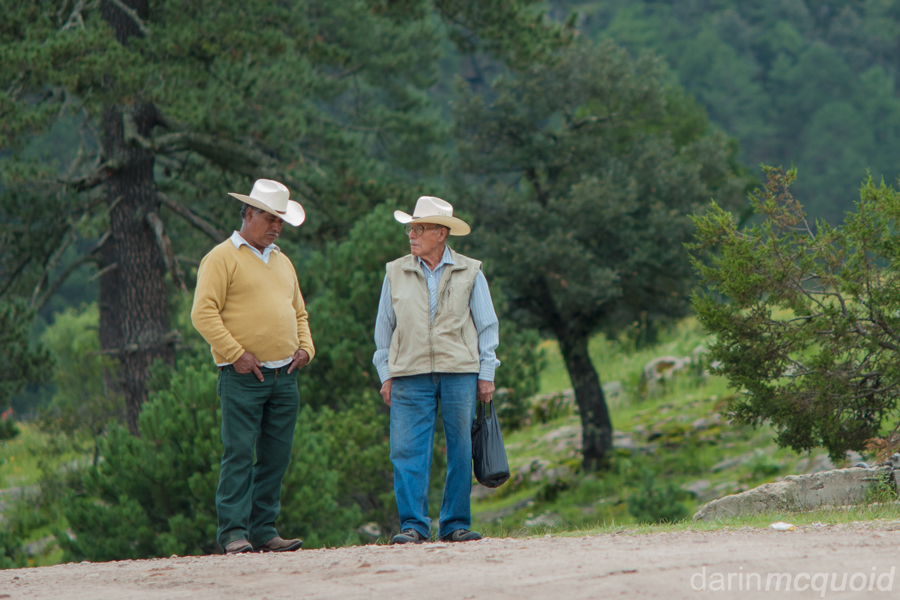 Group dynamics can be complicated on a trip of this nature. Especially when it's a group of people who have never spent time on the water together. Rocky has been doing trips in the Sierra Madre Occidental for years, and has a reputation for doing things his own way. Ben has been doing first descents around the world for many years, and also has a reputation for doing things his own way. Rocky wasn't convinced about water levels, or our ability to navigate the downstream section, which was steeper than anything he had previously attempted in this mountain range. He mentioned that generally when rivers were this steep here, they were sieve piles that generally took a long time to portage. Our planned section was forty miles long, so our quantity of food was in question for such a vast undertaking, if it was full of sieves we'd run out of food long before reaching our destination.
In the name of prudence we drove downstream to a small village that had access to the gorge rim, where we could get a better idea of what we were getting into.
Jesse looks up towards put-in.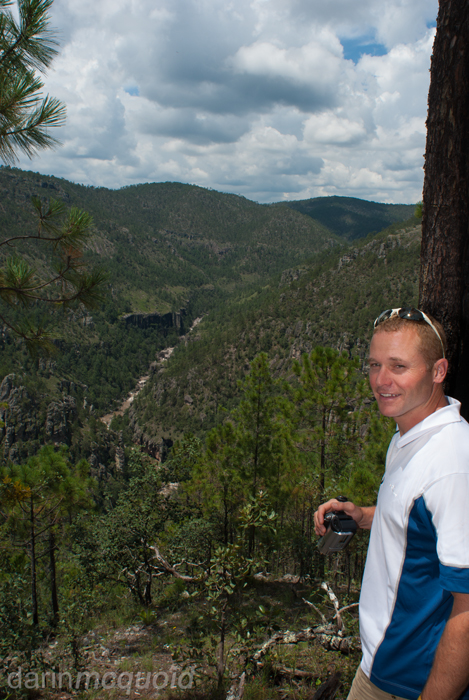 Gleaning information from a friendly local who shows us the gorge.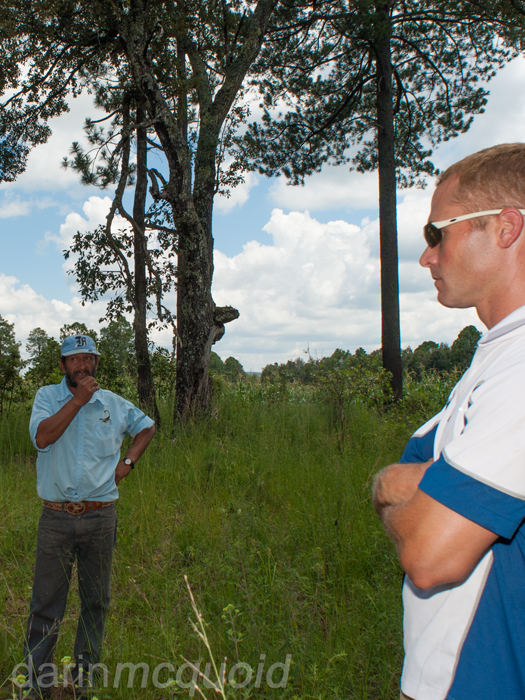 Yes the river is down there somewhere. Very locked into a deep, unique canyon full of spires. Jesse takes it all in.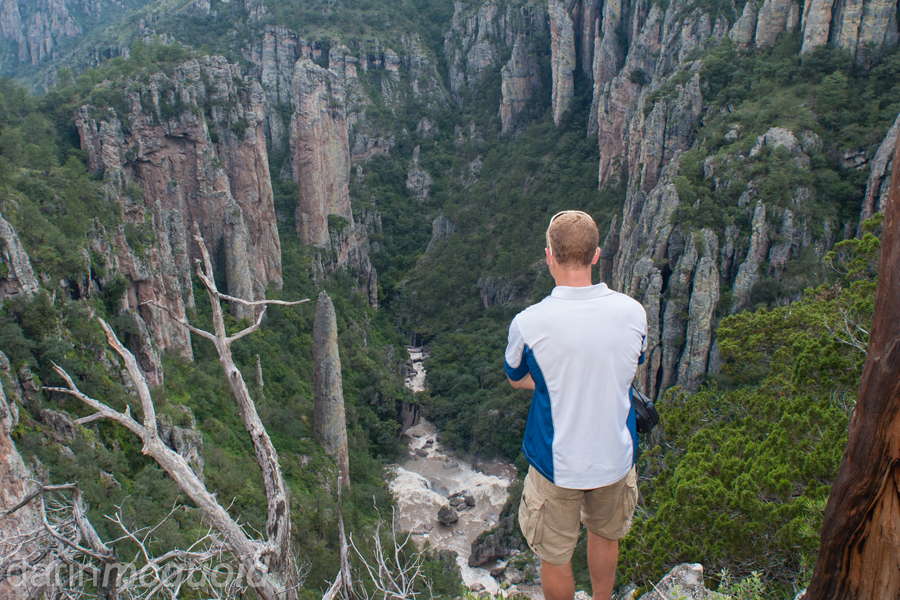 The Piaxtla wraps around the base of this several hundred foot high spire.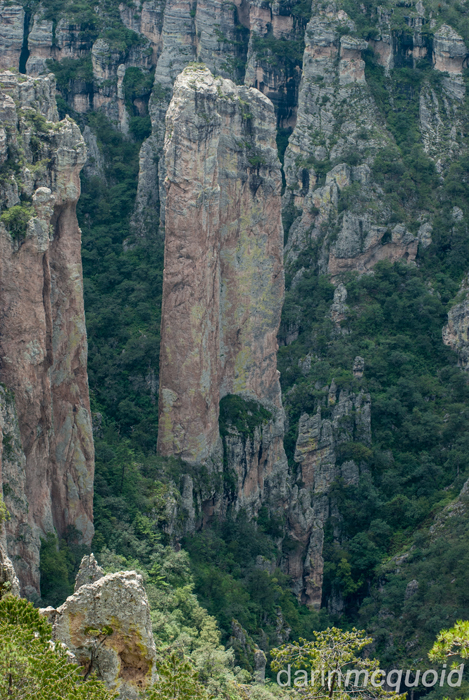 The largest problem wasn't just the gorge we had scouted. It actually looked marginally manageable. The problem was that downstream the river plunged over a thousand feet in a half mile, right in the heart of the gorge. With this on our mind we piled in the car and got some dinner in the next town over.

High on the Durango plateau it's not the cliche Mexico scenery, it's more like Colorado.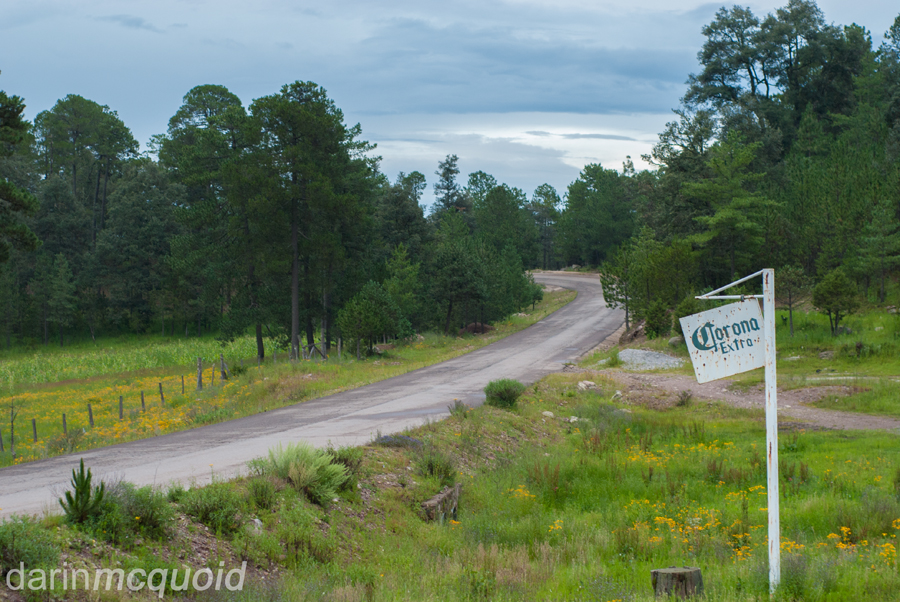 Dinner didn't settle anything but our appetites. We had two options for the following day: Put every bit of food we had in the boats and put on, or drive downstream to "the confluence" below the steep section, find a way to the river and paddle fifteen kilometers of first descent through mellow gradient. Uncommitted to either plan we found a nice hotel with in room heat, and eventually tentatively planned to put-in up top in the morning.
On these trips I always try to be game for whatever is best for the group. Putting in up top sounded good to me, full of adventure and in reality, what we came there to do: get into something very challenging. On the other hand, putting in below the confluence sounded much easier and safer, and we'd still paddle through the deepest canyon section of the Piaxtla. I was glad we'd picked the adventure course, and warmed by fire we packed eight days of food into our drybags knowing we'd be getting deep into it tomorrow.