Danny Salazar heads down the trail.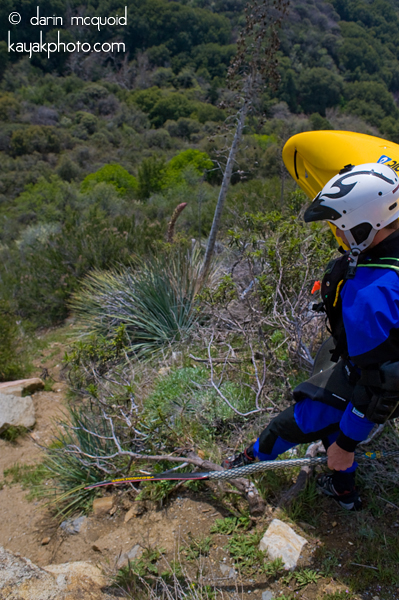 The second southernmost large drainage in California, the South Fork Middle Tule bears a striking resemblance to
Bridge Creek
in the uppermost end of the state. Super clean drops interspersed with steep abusive mank. We put on with low flows, certainly the creeking category of whitewater. Gradient is such that another inch of water would have been nice, and two inches would have started to get scary.
An early portage on the South Middle Tule.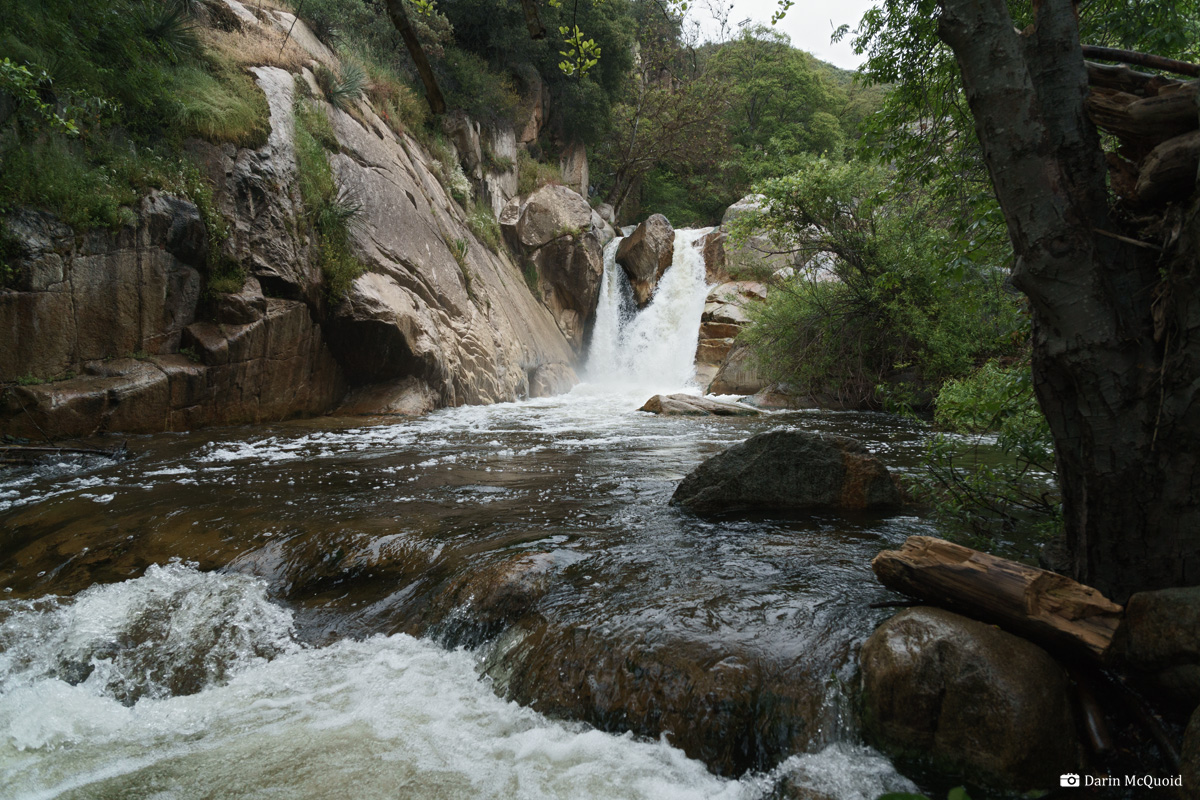 Putting on with a large group we made quick downstream progress through rocky channels and lots of brush, before a quick scout for the first bedrock drop, which ended up being a fun affair run down down the left.
Just downstream of the first piece of bedrock was an unusual drop, a slide where we all drove right to narrowly miss an overhanging stalactite. I wish I had a picture but we were in go mode and I was one of the last to run the said drop.
From the looks of the river during the drive up I was expecting slippery granite, but at water level it was travertine and very sticky, but thankfully it channelized well for the larger rapids.
Jason Hale enjoying the first larger drop, a slide in the twenty foot range.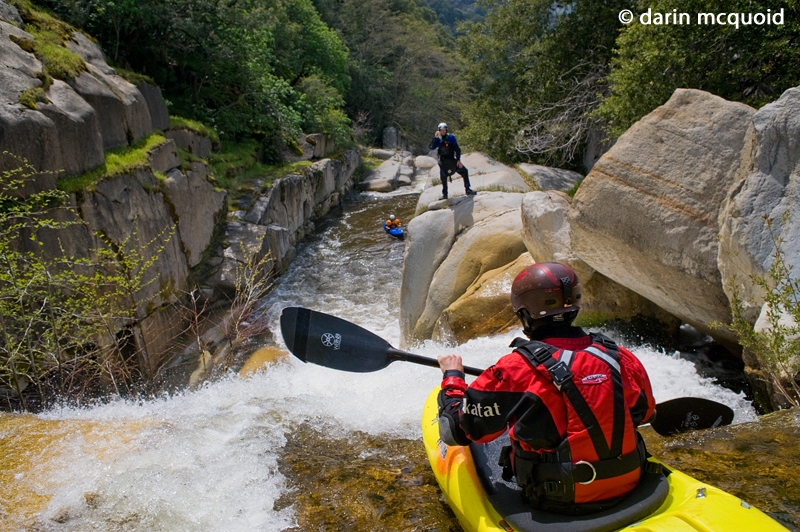 Will Pruett on the same, the at water view makes it look small.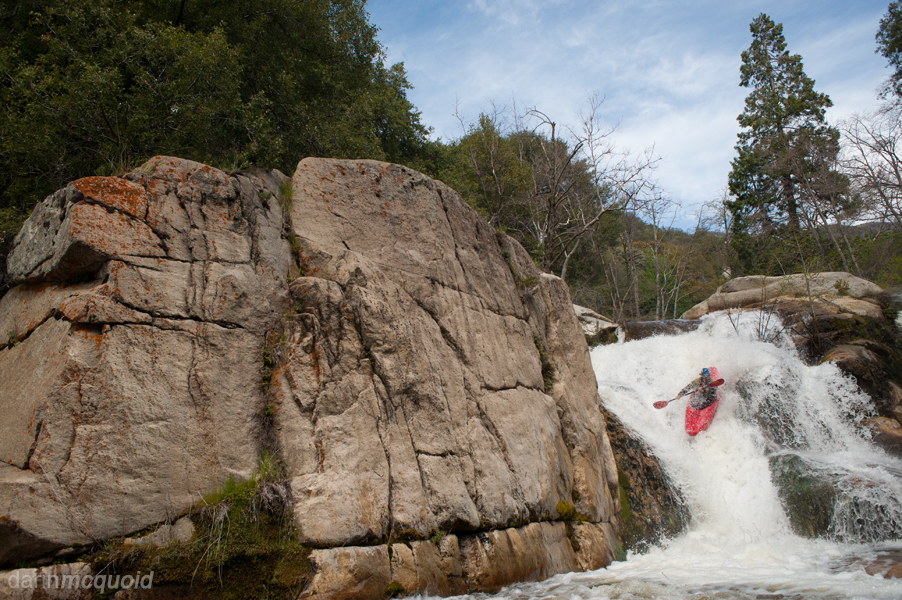 Many years later with much more water, Wes DeWitt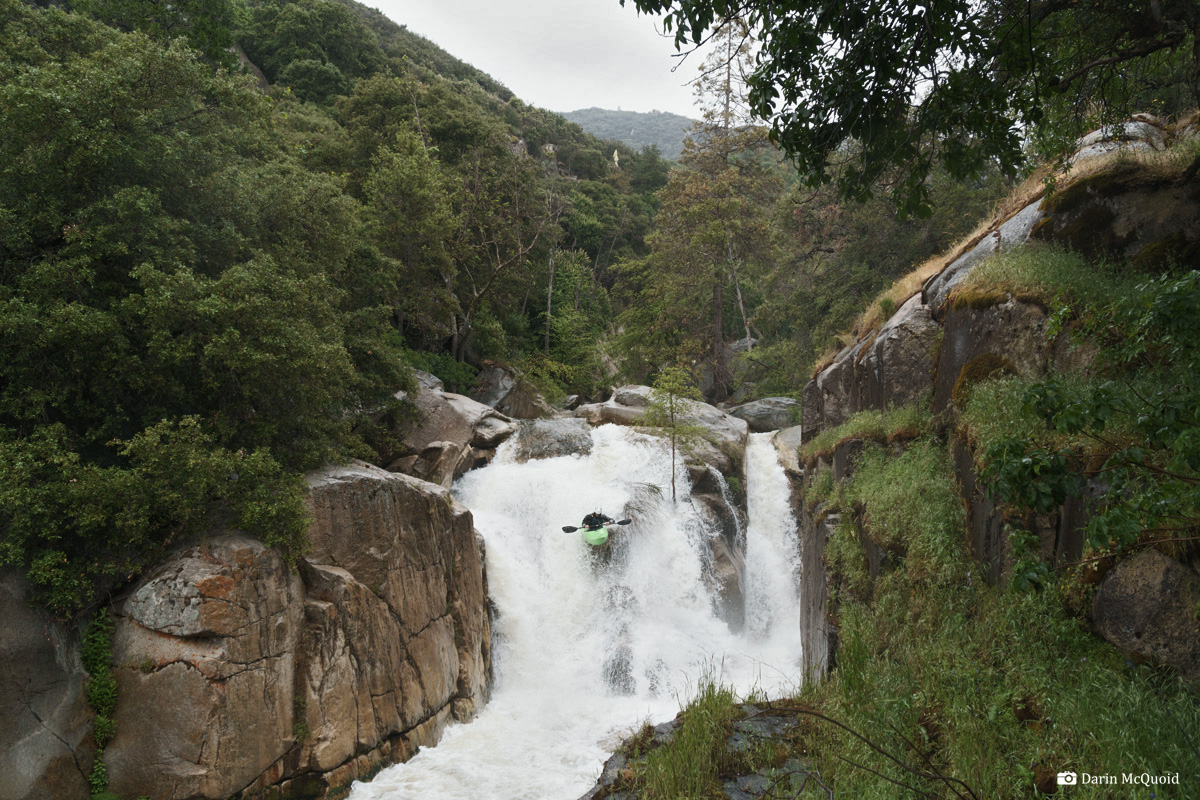 Our day continued on a predictable path. Run or portage a manky rapid or two, enjoy a clean bedrock drop, rinse and repeat.
Wes DeWitt in a nice series of drops that can be seen from the road if you pull over in the right spot.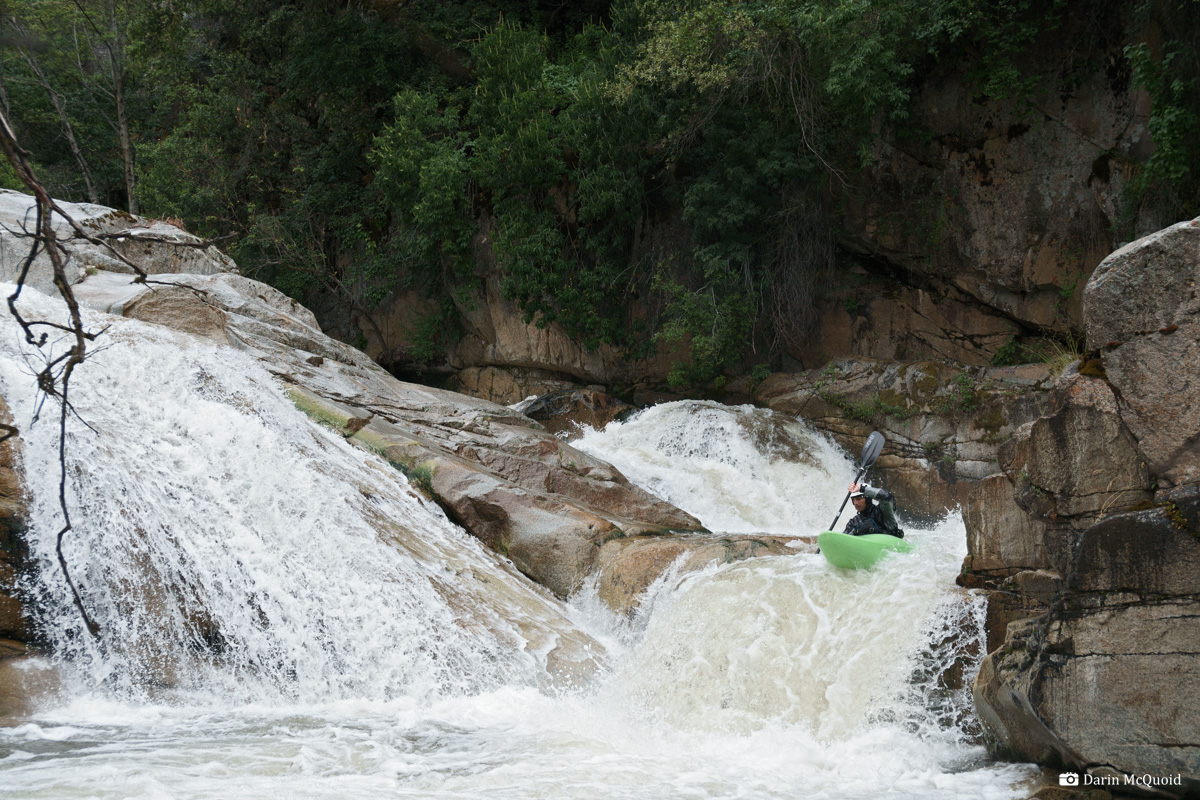 Will Pruett runs a not quite as clean drop the rest of us portaged.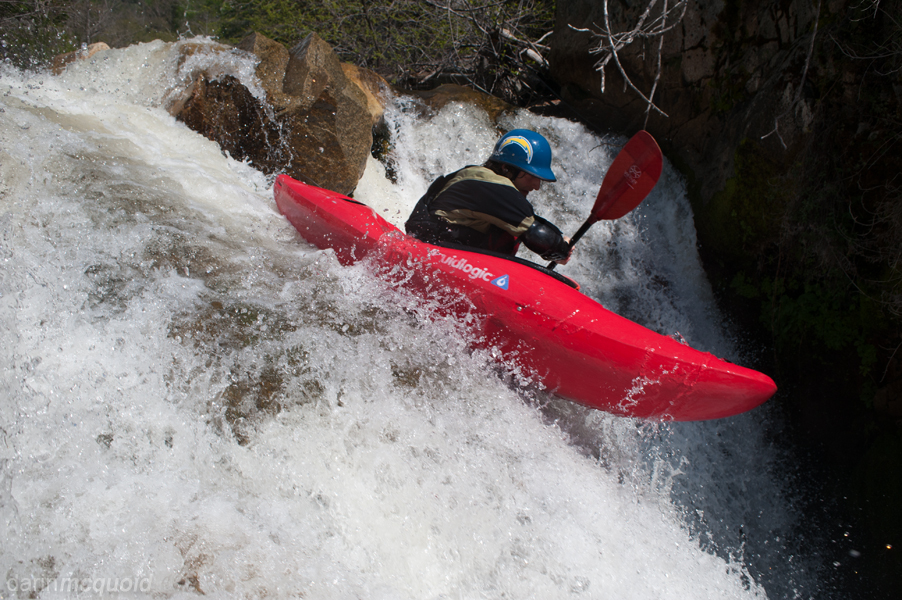 More boulders and a portage here and there led us to one of the more marque drops run here by Drew Duvall.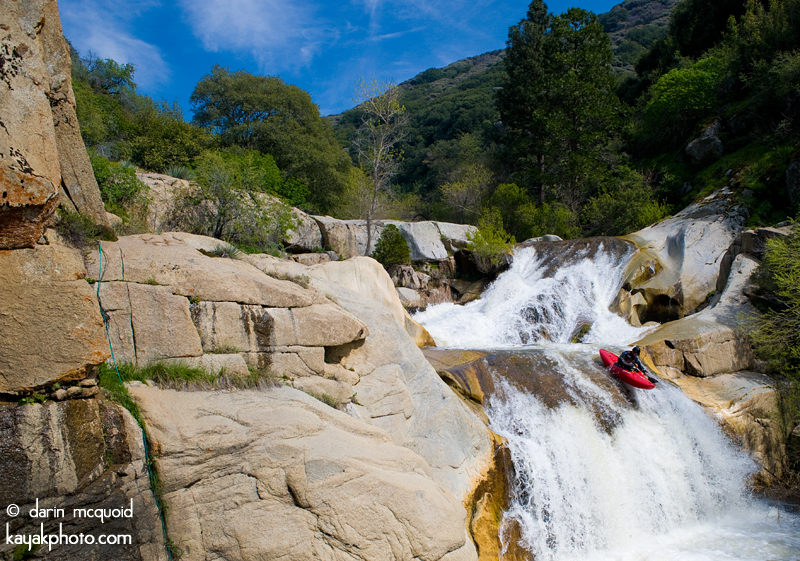 The same is quite exciting at higher flows, Wess DeWitt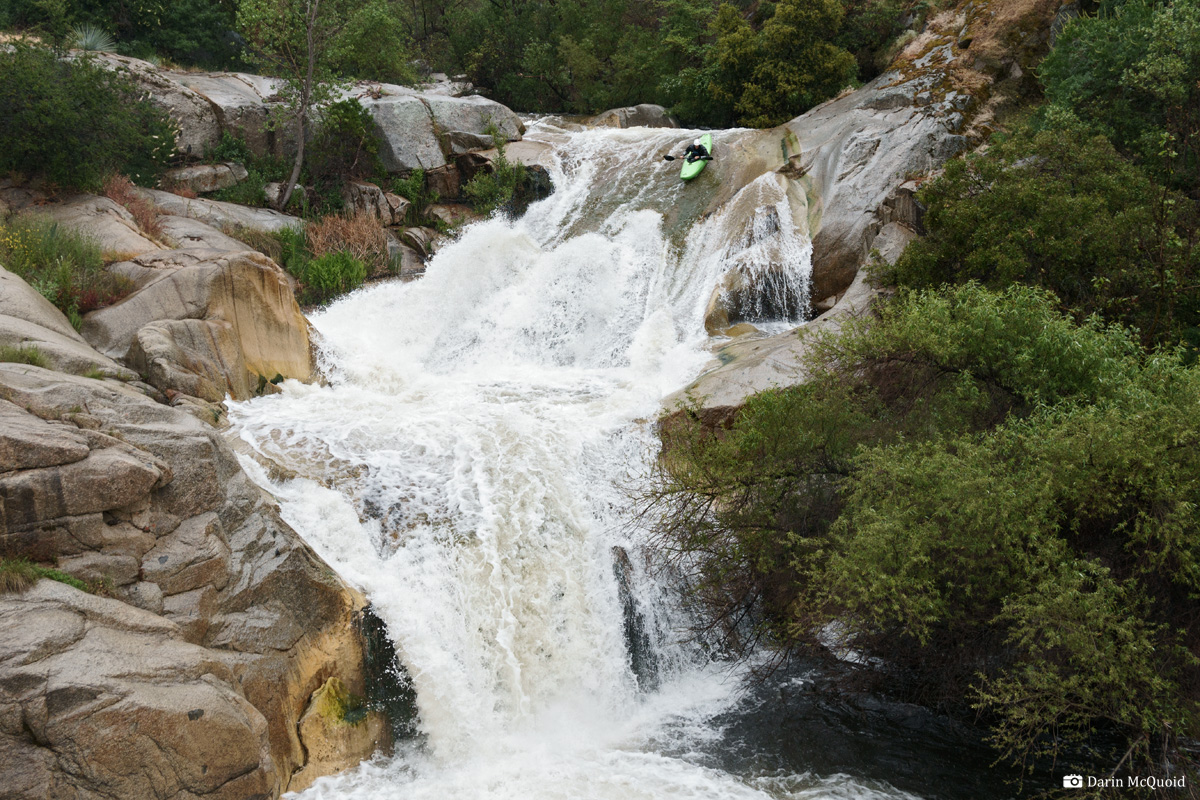 More mank and then we were above what we all expected to be a sweep double drop, which was actually a narrow triple set of sliding falls.
Taylor Robertson and Jason Hale getting left.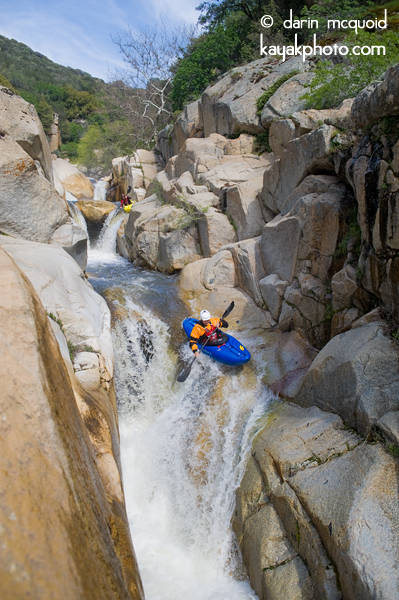 A short ways downstream we got out above the largest single drop of the run, which is very obvious from the shuttle road. It looked like higher flows would have made it much better, and Taylor's story of taking a big hit and breaking a camera on the falls dissuaded any of our group from running it. After a ten foot climb there is a nice portage trail on river right, and we continued down past a manky gorge that lies below the falls.
It's been run...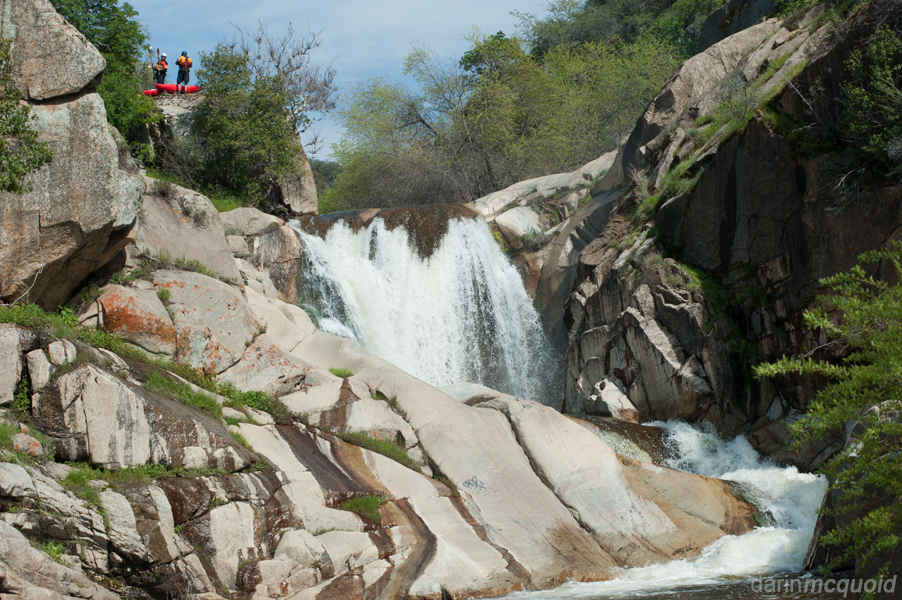 We returned in 2017 with much more water and found it fun to run - Trevor Tanhoff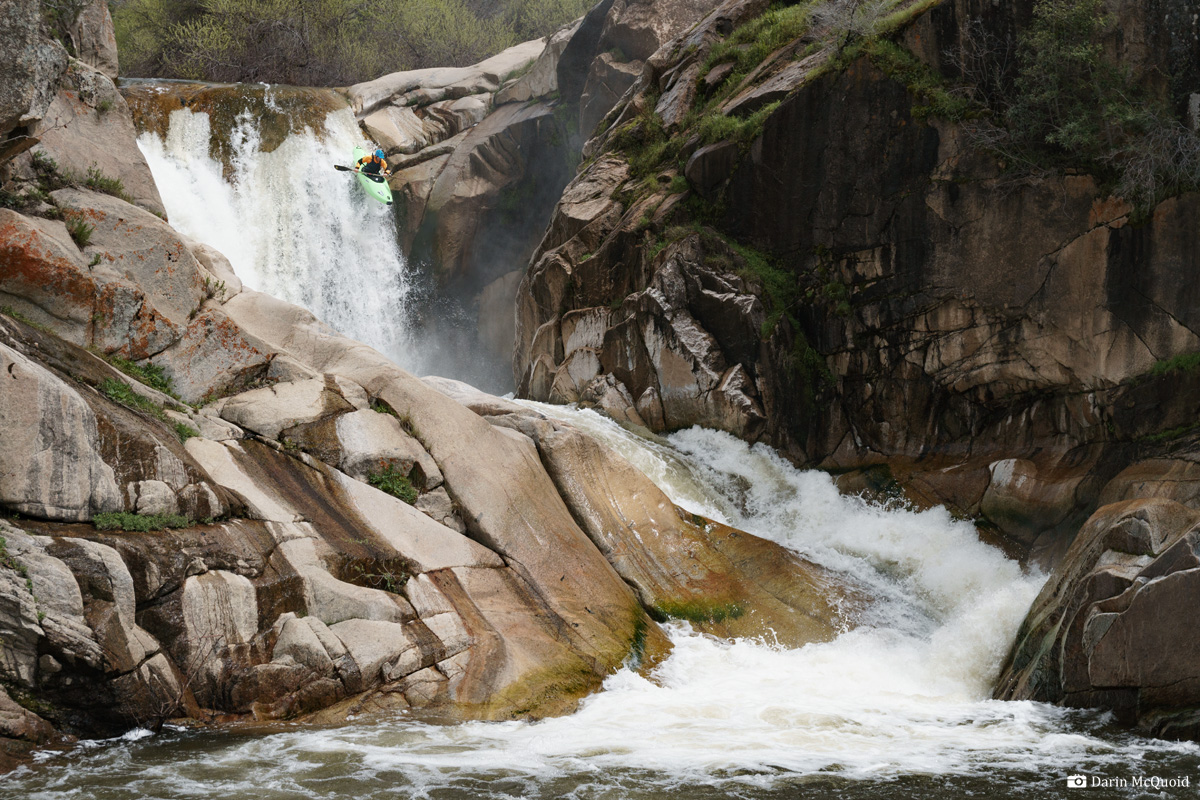 Many more boulder piles led to a nice clean one where I took the lazy option and shot from my boat. Hale having fun while Pruett hops out.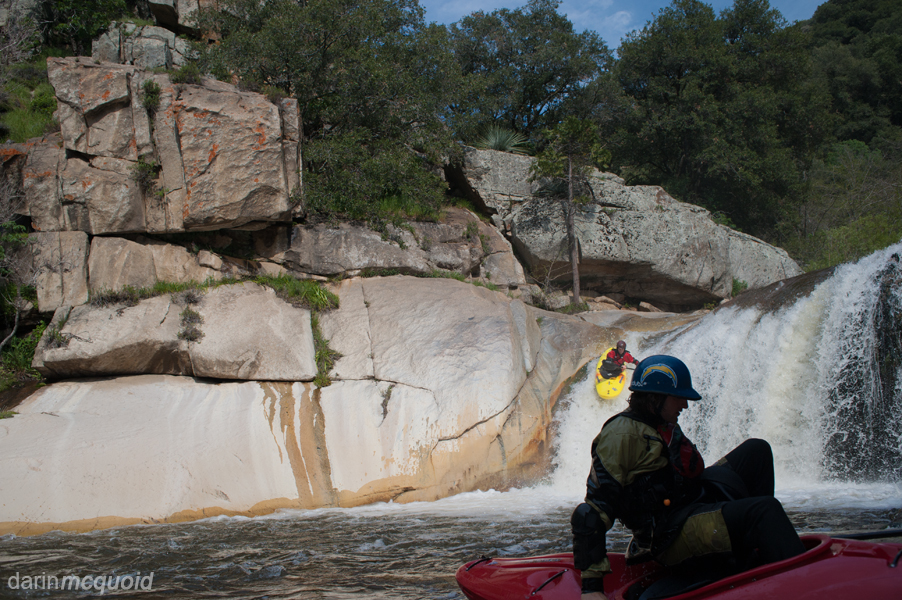 Taylor told us the lines on the largest set of the run, a nice slide to falls both run down the right, so I quickly probed and hopped out for pictures.
Drew Duvall enjoying the best of the South Middle Tule.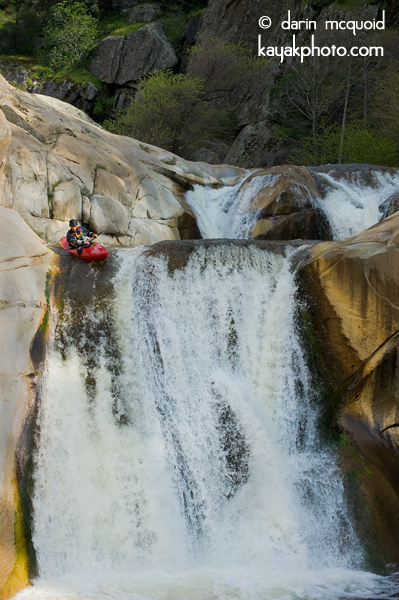 Taylor Robertson and Danny Salazar peel out from the pool below the fun waterfall.
Below the final falls the river had just one more slide, which wasn't quite as clean as others, and many boulder piles before we reached a small diversion dam. From the diversion dam we portaged a few hundred yards into the North Fork Middle Fork Tule and put on, running it into the true Middle Tule and kayaking about half mile downstream before taking out at a nice, well marked access point.
Is the South Fork Middle Tule worth kayaking? Undoubtedly yes. It will also take at least a year for me to forget all the mank and get in there again. Returning with more water surprised me, it's really quite classic. The South Middle Tule has unique rapids that require a lot of work, but are rewarding enough to justify the effort.
We had about 300cfs on the
gauge at Springville
and I think around 400 would have been ideal. in 2017 about 425cfs did seem ideal.
Gradient by mile according to Google Earth:
393
475
261
Great free camping up the North Fork Middle Fork Tule.