The Upper Alseseca had been stuck in my mind ever since I saw the exploration of it in
No Big Names II: AMPED
. I never really thought I would have a chance to paddle this stretch of water, and earlier in our trip when we couldn't explore the Middle Alseseca due to rain making water levels get too high, the group paddled the Upper Upper but I was too sick and very disappointed in missing it. After day four of exploration on the Middle Alseseca we all enjoyed sleeping in, and then strolled down the street to meet up with Eric Jackson, Jesse Coombs, Heather Herbek, Thayer Walker and Lucas Gilman. With a current group size of six, these additions made our group large for one day on the Classic Alseseca. Unfortunately Jesse Coombs dislocated his shoulder the first day, and Phil Boyer's back wasn't recovering from a strain he picked up earlier in the trip, and both had to head home before planned. Thayer and Lucas were on assignment from Men's Journal so they wouldn't be on the water with us, although Thayer did paddle with us a few days and surprised us all with his proficient paddling ability. So in short our total group size was only up one, and due to high flows we set out to do another run of the Upper Upper Alseseca.
The group checking out flows for the Upper Alseseca, where fog would rule the day.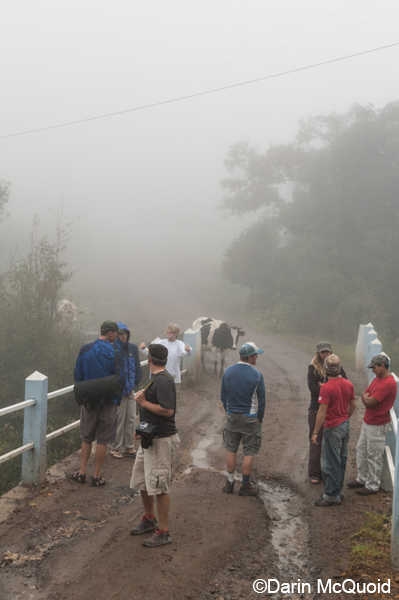 We then proceeded down the hike in trail that's about a mile and a half long, mostly downhill. The put-in here is absolutely epic if you hike a short ways upriver from where the trail hits water level.
Eric Jackson and Nick Troutman put in below the two to three hundred footer.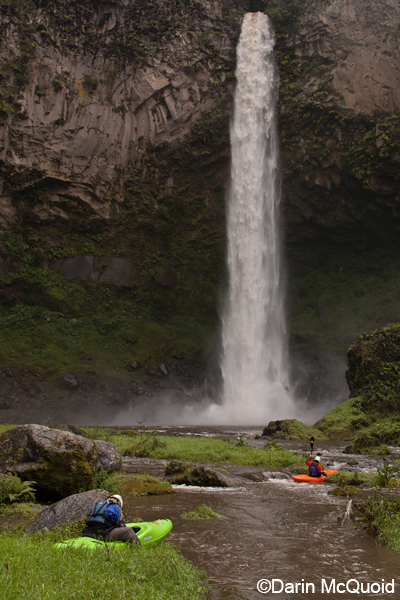 The upper section has some rocky rapids in between the bedrock drops, so it was a little different getting a warm up dodging rocks, but we made quick time to a tree spanning the river that marks the first portage. Don't go into any blind corners or you'll end up getting the first descent on this sixty footer that lands in a very, very small pool.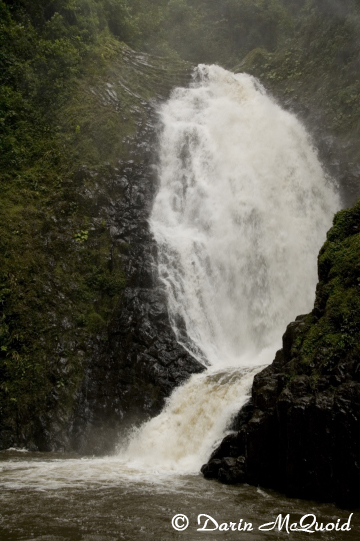 Finding this portage route must have been quite an adventure on the first descent, it involves a steep climb up about sixty feet, steep enough to need a train or rope to move boats up it.
The group, grouping up as groups tend to do, before the portage.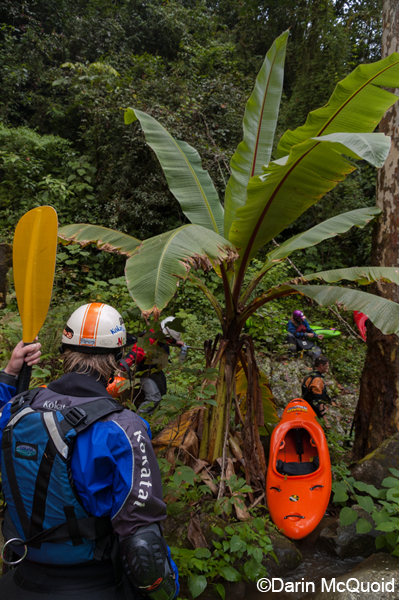 On the earlier trip the guys had cut a nice trail through the jungle making the portage a lot easier, after climbing up we moved about a hundred and fifty feet downstream on a trail. Then the going got steep, we setup a rope and spread the team out to different points. Getting down the steep, slippery jungle required a rope assist to climb down, followed by lowing boats through two full pitches, into the water where someone had to swim the first one across in a pool above a fifty footer. We made quick time on this day since some of the group was experienced with the portage.
Right after the portage is another portage, this time on river right, or "The Rib". The Rib is a fifty foot waterfall with a funky rib sticking out a little bit in the bottom feet. In the
trailer from No Big Names II
it's the drop after the rafting clip, the one where Ben hits the rib and bounces upside down.
With the higher flows Ben and Nick liked it, so we portaged to get pictures and video. Deep dark canyons are known cause problems with enough lighting for photographers, but the thick fog made it absurd. Right before Ben went the fog rolled in, but he was still visible on The Rib.
Ben Stookesberry, redemption on The Rib. It's the first rapid run in the
Hotel Charley II trailer
.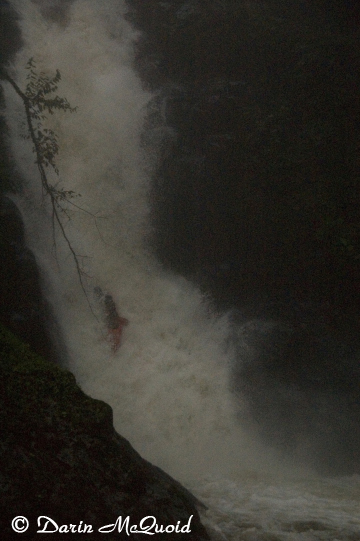 Only five minutes passed between Ben's run and when Nick was ready to drop in, but somehow the fog multiplied and we could hardly see the waterfall from forty feet away.
Nick Troutman, smooth run on The Rib.
To our amazement, the fog continued to get worse, and soon enough we couldn't even see the bottom of the waterfall we were standing above. I'd been dreaming of this drop since NBN II, it was the slide into a twenty-five footer that likes to auto boof people. We were all focused on getting our bow down, and I somehow managed to not get my bow down and land completely upside down, a rather painful experience. Nick and Heather both broke their paddles on this drop, and we were a little dismayed to see we only had one breakdown with us. Nick came to the rescue with some amazing C-1 skills through class IV-IV+ rapids. Things in the middle blurred a bit for me, but I remember some rocky rapids that it was nice to have high flows on, and soon enough we were at "the pooper" and it was raining.
If you think the pooper looks a little crazy in video, it looks even crazier in person. The slot after the initial ten-foot drop is so narrow it looks like a boat might just stop in it. Thankfully kayaks do fit through, so Eric, Nick and myself ended up running it with a minimal degree of clean lines, no pictures taken due to heavy rain. Class IV-V boogie water continued down to the put-in for the
Roadside Alseseca
, out take-out for the Upper.