of British Columbia. Early on in the history of Rodger's Creek beautiful photographs circulated around magazines and industry posters, putting it on the dream destination list of a generation of up and coming paddlers. For years I had a poster that featured a Charlie Munsey photo of the last falls on Rodger's Creek. I'd heard a variety of stories about this small creek; from classic, fun, not too hard, to terrifying or too manky and not really worth doing. After hearing such disparity of opinion there is only one way to find out. Having enjoyed the
and Soo it was time to see something new so we asked around about water levels as the creek has no gauge. We're told it's too low. Then again if it's not near flood stage everything is low according to locals. We know Rodger's Creek is all about running a triple set of twenty foot waterfalls that garnered all the attention, and they'll go even with low water. Camping at the Cheakamus we're able to glean good beta from
. This is good because things grow fast in BC and the put-in beta has changed over the years.
For some reason it sounded like a good idea to do a Cheakamus lap in the morning before driving out to Rodger's Creek. Hitting road construction on the lonely dirt road we start to regret this decision, it's lunch time and we're yet at take out for a run we don't know. The construction is a bit unorganized and we're able to head through after a brief wait. Soon enough we are high above the creek trying to mesh the beta with what we see. Moderately confident we're on the right track we scramble down the steep hillside trying to stay left as the terrain attempts to force us right. Eventually we are on a small ridge line, and soon enough see the river. This is a big relief for us as we've heard some horror stories of hiking to impassable cliff bands.
At river level flows are low but certainly enough to float on. Water quality is just what we would hope from a high mountain stream. Flies attack so we prepare.
It's tight but just wide enough, Daniel Brasuell launches out away from the wall.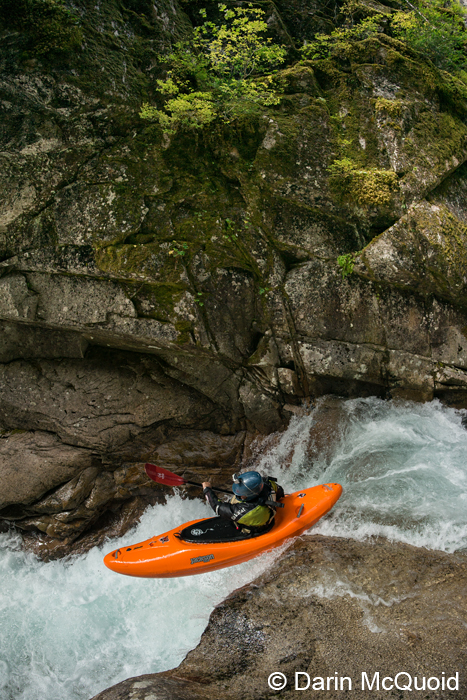 The gorge opens up a little and the river is full of smaller rocks. It's still steep but the low flow makes it perfect for us to boat scout aggressively. There are some hazards to dodge here and there due to wood in the river, eventually forcing us to walk around a log choked rapid before a unique cascade. It's a true slalom move, two demanding eddies, one that's a bit elevated from the rest of the river. Quite unique and fun to run.

Daniel Brasuell in the seam after the last eddy.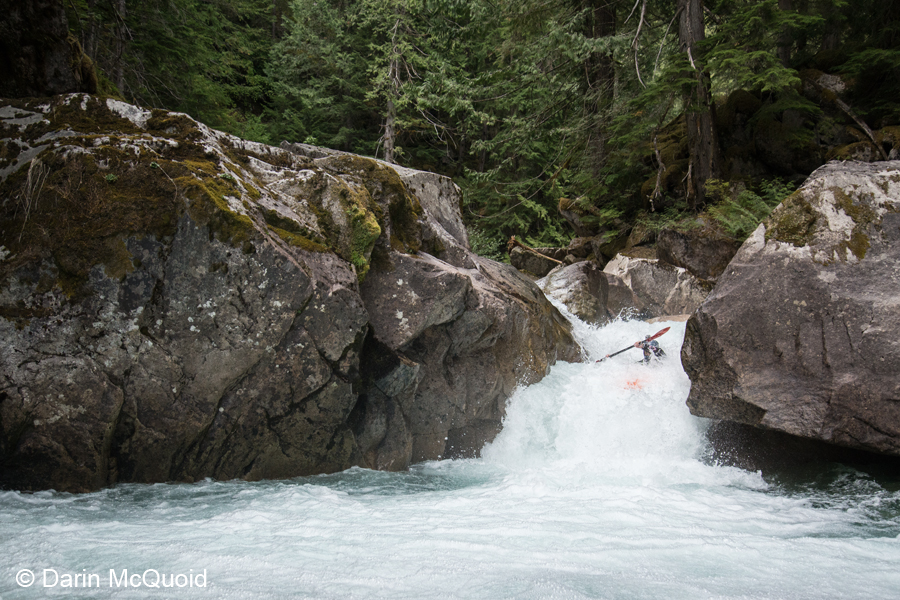 More mundane boulder gardens lead us to a distinct but easy ledge. We comment on how it would probably be more notable as flows increase.
Daniel Brasuell lines up the ledge.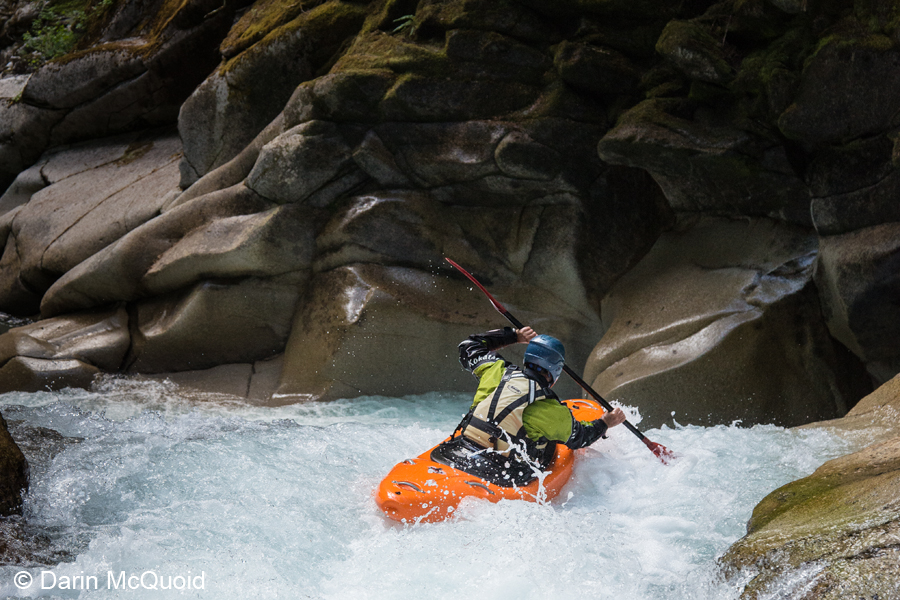 Geoff Price and Jordan Bastin on a return trip.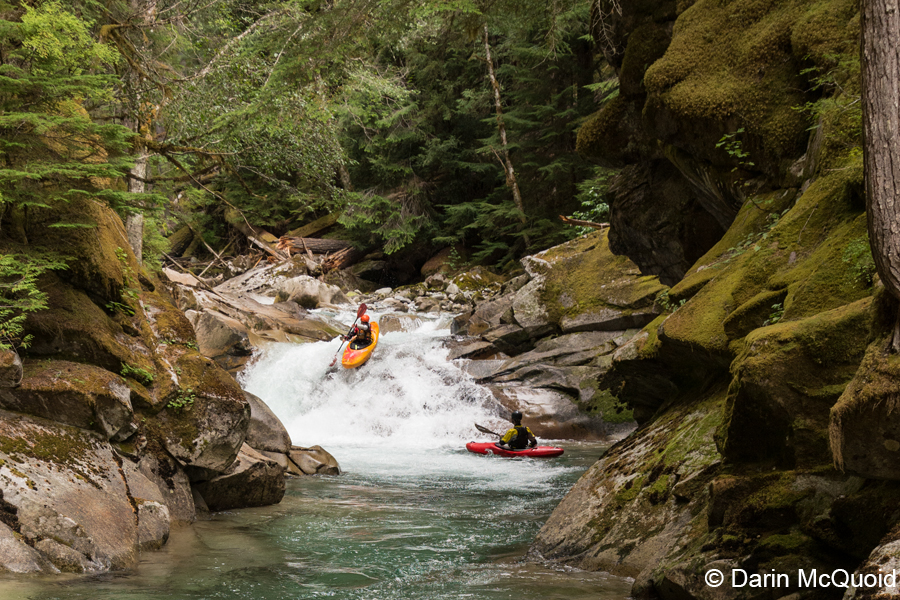 Geoff Price and Jordan Bastin enjoying the water quality.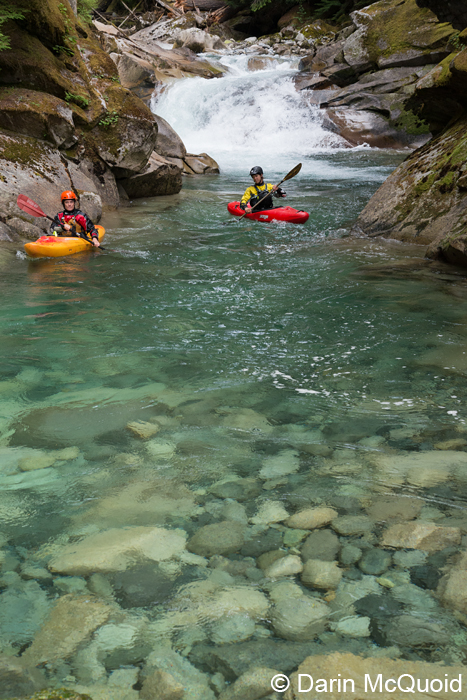 Just below the ledge is the largest boulder garden yet. We proceed down in steps, taking turns to scout. The exit from the boulder garden ends with a pool but that's all we can see. We all make it down safely and it's obvious that we're above the falls and this is the infamous rapid. At low flows the bottom hole isn't too bad, but at higher water it can obviously get nasty and it's only a short, fast moving pool to the waterfalls. It's well worth having the first person down ready with a rope in hand, just in case...

It's possible to scout all three falls high on the left with some extra exercise, but we decide we've had enough and have a good idea where we're going. Still it's strange to commit to series of drops without actually seeing the lines.
It's quite a horizon line that Jordan Bastin drops into.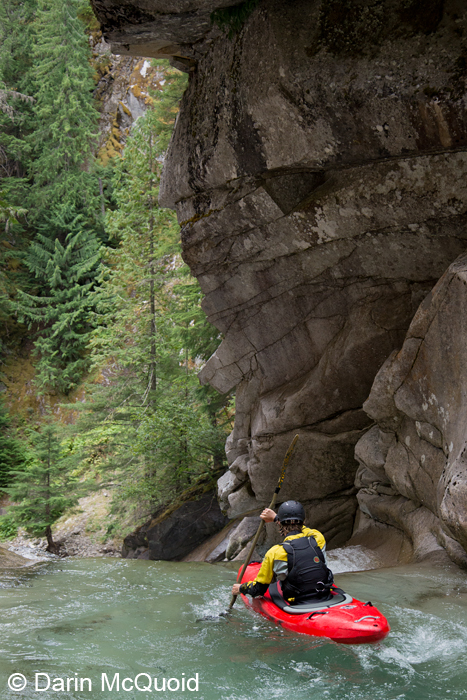 Daniel Brasuell obtaining the day's intent.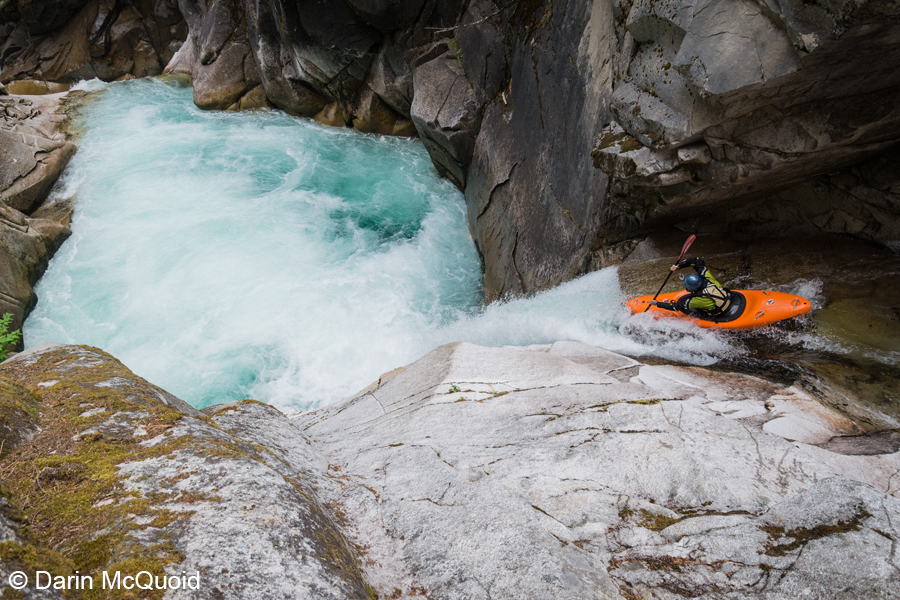 Geoff Price lines up the decisive stroke.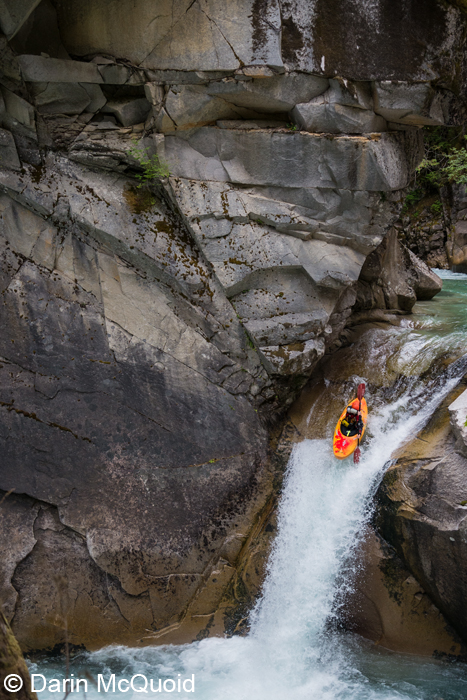 Daniel Brasuell heads into the second frolicking free fall.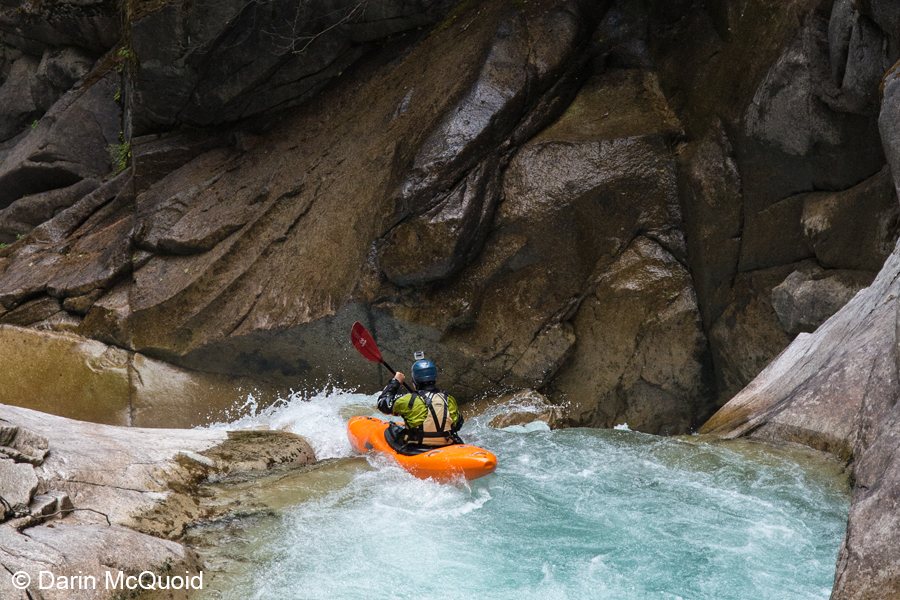 Jordan Bastin at the edge of vertigo.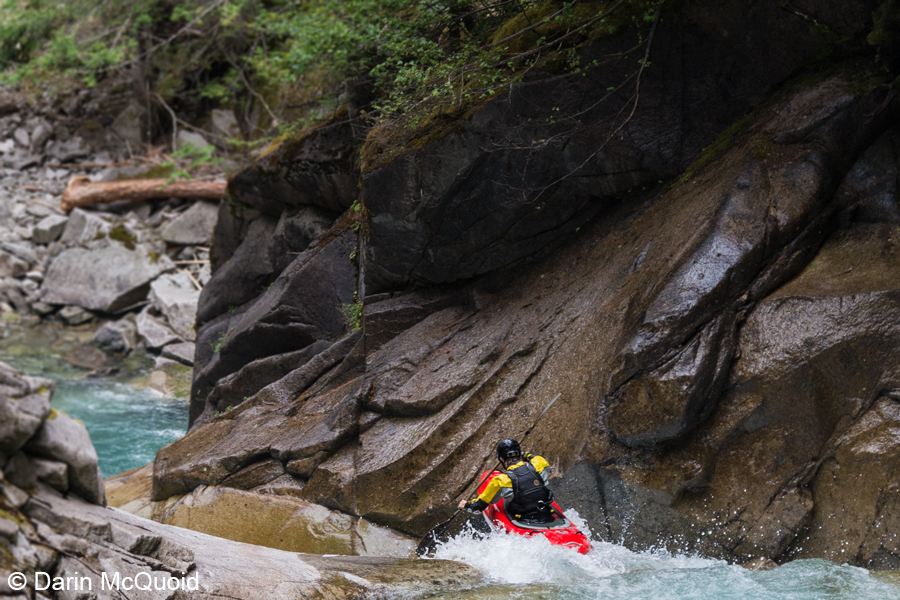 Geoff Price plants a golden stroke.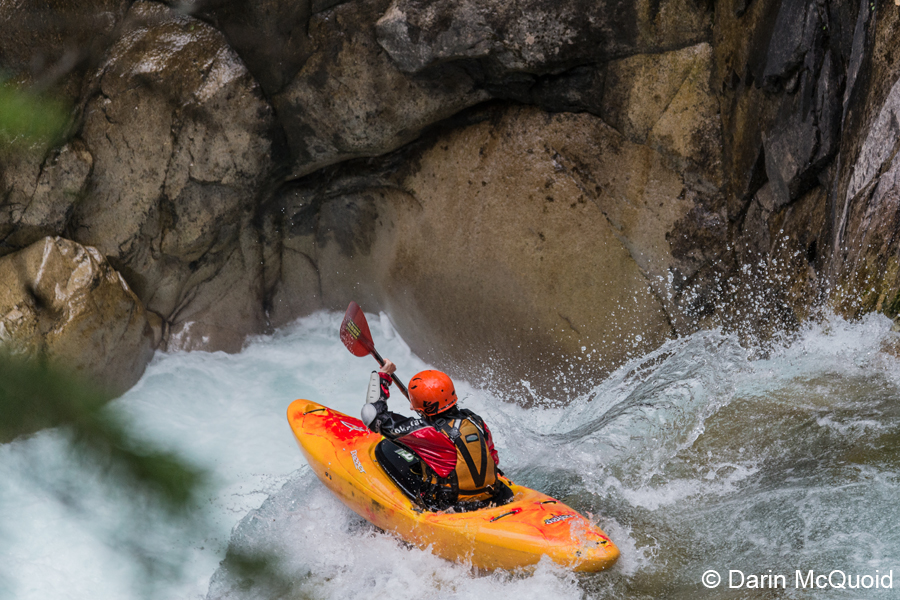 We made Diane Gaydos wait up top the whole time we ran the drop, hiked around and found new angles. Hopefully it was worth it.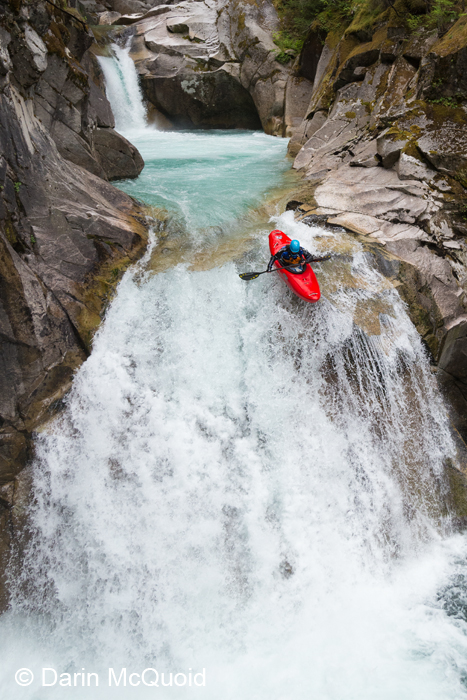 All three stacked up and a bit distorted due to using a fisheye to capture it all. Diane Gaydos takes the final plunge.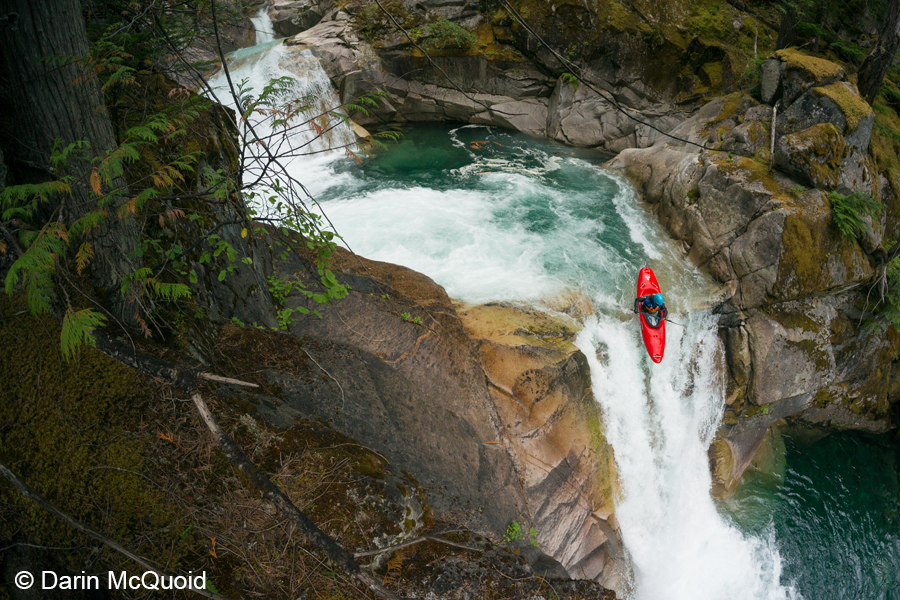 Wood forces us to make a quick portage below the falls, and soon enough we're at the last good rapid.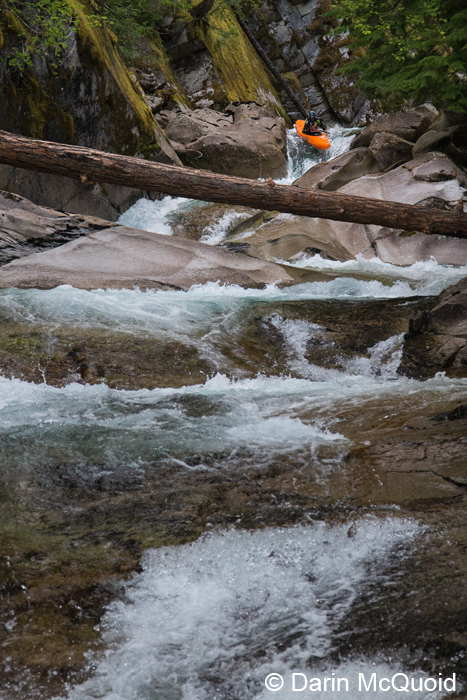 Daniel Brasuell, all smiles after a rewarding day on Rodger's Creek.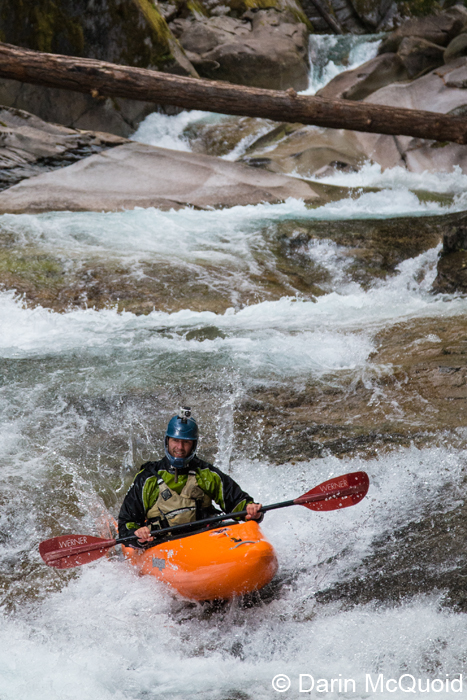 Once done with the last rapid our beta is to hike out once the right canyon wall drops close to the river. We bash through some low water boulder gardens for about a half kilometer before the wall starts to get close to river level. Sick of the low water, which is really only an issue here in the paddle out, we take out. Amazingly we're dead on with where Daan and Jess took out, and follow their tracks up five meters to a flat mossy area of forest. We strike across here in the general direction of the road and end up just where we'd hoped to take out. You can't complain about beta working out like that!

Retrospectively we put in a bit lower than a lot of people. For us this worked out perfect, it was enough time on the water to not be a park (hike) and huck, but we were tired of the boulder gardens at the end so it was just right. Returning we might just go to try and lap the falls, but that's a whole different story. The place is certainly worth a visit, more so than the fabled Dry Meadow Creek. For more detailed beta Daniel has done a good job at
A Wet State.