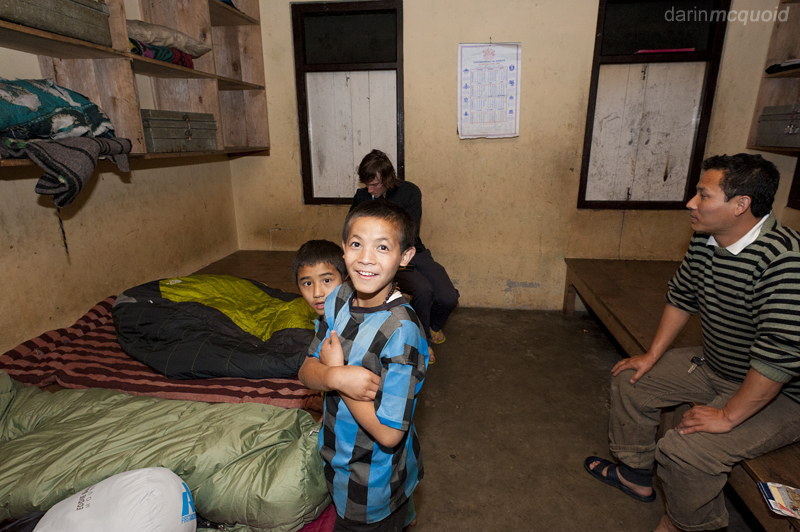 Good morning remote corner of India.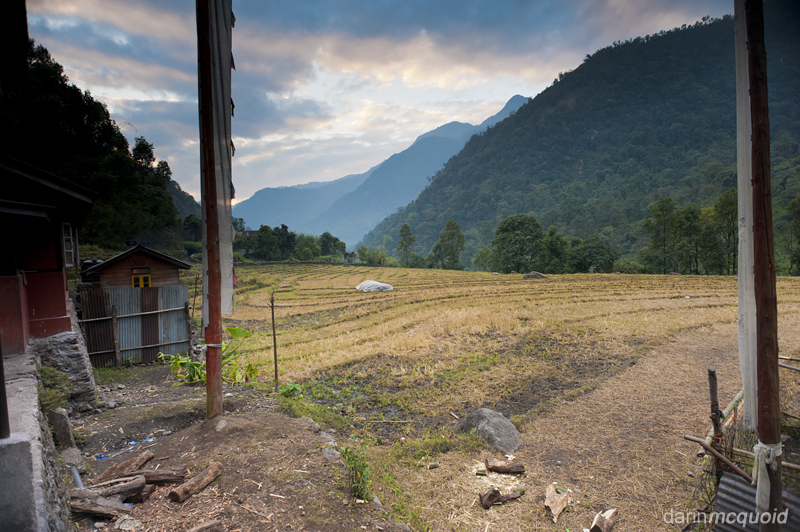 I rise early with the sun and enjoy the pastoral setting.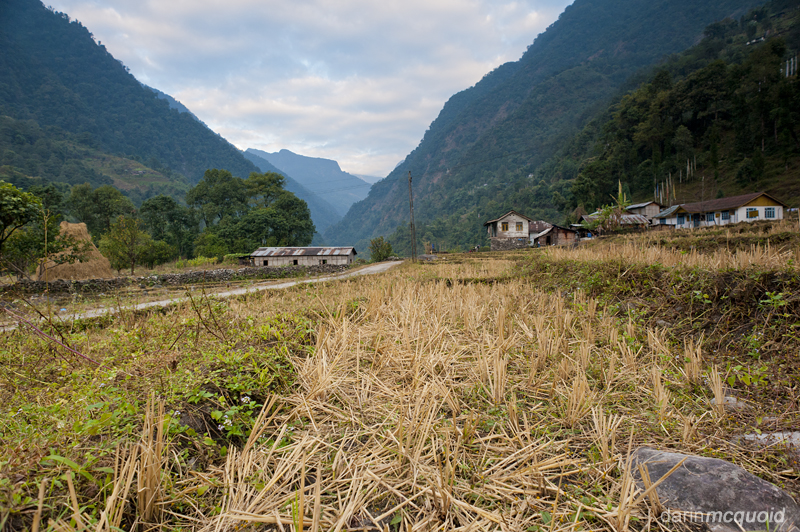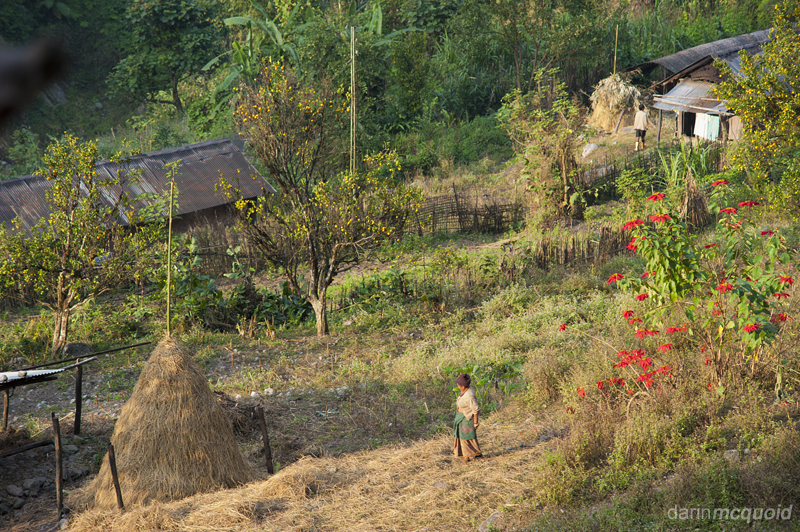 Industry marches ahead. Despite the status of the land, it looks like the power needs of India trump the indigenous area status. The project was just getting started while we were there, but without a doubt it will change Lingza.
We drove upstream from Lingza. The narrow one lane dirt road climbed the canyon walls, making the notorious Cal-Salmon road look like I5. It was just wide enough for our Tata jeep and rough as can be. The road ends at Be, a small village on the other side of a tributary of the Talung. There is only a footbridge to town, and eight miles futher up the trail is the actual Monastary associated with the school we are staying at. Unfortunatly it's in the park and would taking a trekking permit to go see. The tributary below Be isn't looking good, so we, aka Targain, asks around and gathers beta. Apparently there is a waterfall just above a footbridge crossing the Talung between Lingza and here. Somehow we'd missed the trail on the drive up but it should be easy to find. We hop in the car and crawl back down the road.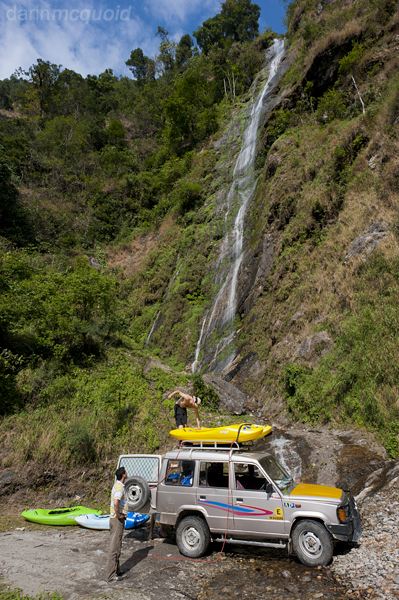 There is a nice trail down the steep canyon wall. A town lies high on the other side and this is the only access. Hiking our boats down the stairs seems like a lot of work. Until we get passed by locals carrying way more weight on their head. I guess it's all in perspective. We are at the edge of where the jungle turns to forrest and the feeling at the footbridge is quite surreal.

Somehow the beta had gotten mixed up and the waterfall was just below the bridge.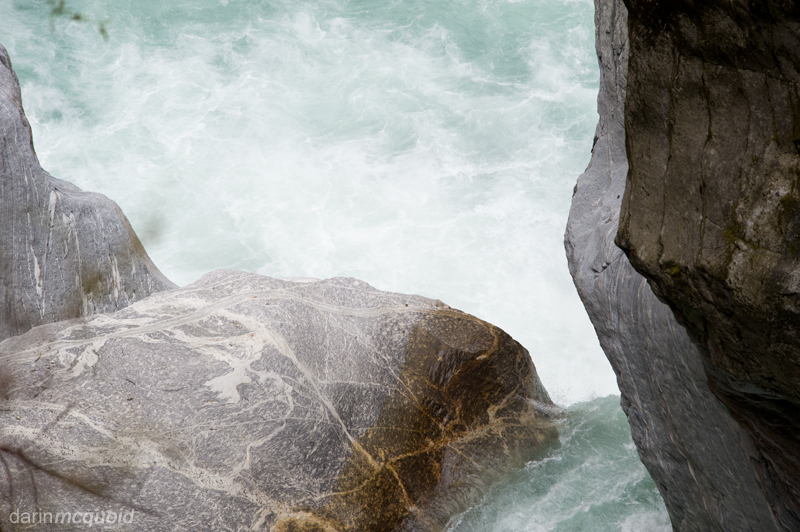 From the lip it looked tricky, but like it just might go. The canyon walls were vertical, slick and wet. At attempt is made at scouting on the left but we can't see anything but the lip. We cross the bridge, find a potential route and set up our throw ropes. After a short near vertical section the jungle gives way to an open scree field. It's steep but possible. Breathtaking, one of the must beautiful falls I've seen. The lip of the waterfall isn't a problem at all. Too bad the landing zone is a no go, it's a true pothole drop that looks impossible to escape.

Very unusual geology for the Himilaya.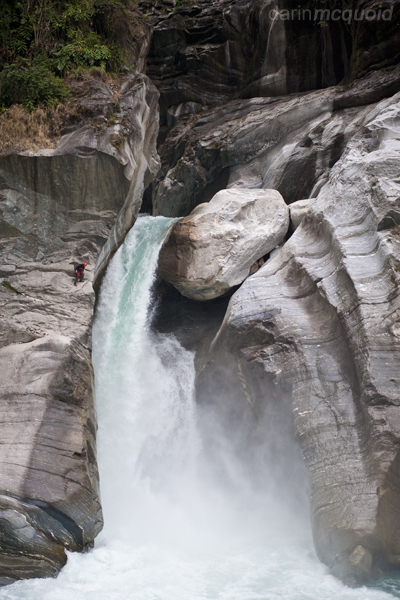 The cave is simply out of the question. Somehow it's already late in the day, so we grab our boats and climb down to below the falls.