Weekly Wallpaper, Jesse Coombs running the Siang in Arunachal Pradesh, India.
Photography can lie. In whitewater it's often use to make a drop look larger than it is. The flip side of that is that things can look smaller than they really are too. In the above Jesse Coombs is at the bottom of a rapid that lies right on the disputed border of Arunachal Pradesh and China. Both countries claim the territory is theirs. We drove as close to the border as possible and got lucky. The one constant in India is that things are never constant. Sometimes people get turned away by the military a kilometer back down the road, but on our day we were lucky enough to drive to the end of it without being stopped. From there we walked down to the river and hiked another kilometer upstream. At the top of the rapid we paddled upstream for ten minutes, just to be able to ferry out into the middle. Yep it's that big. Wide lenses are great for lying about the near/far relationships of objects in the photograph. They make the background look further away than it is in reality. Thus we end up with what looks like some scenic class II where the Tsang-Po River crosses the border to India and becomes the Siang.
It's big enough to make Jesse Coombs look serious at put-in.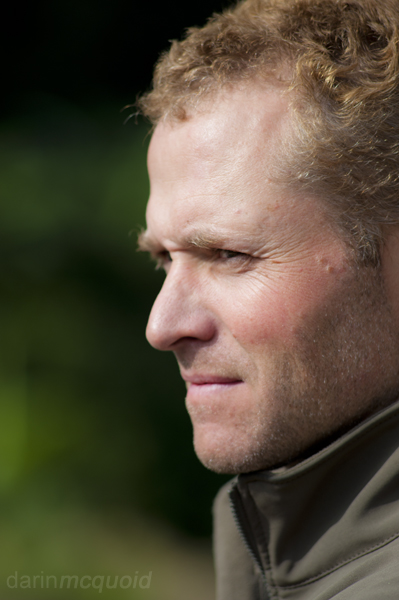 Nikon D700, Nikkor 200mm f4 AIS @ 1/1250 f4 ISO 200
The author in the same rapid, quite out of focus unfortunately. Shot on my camera courtesy Chris Korbulic.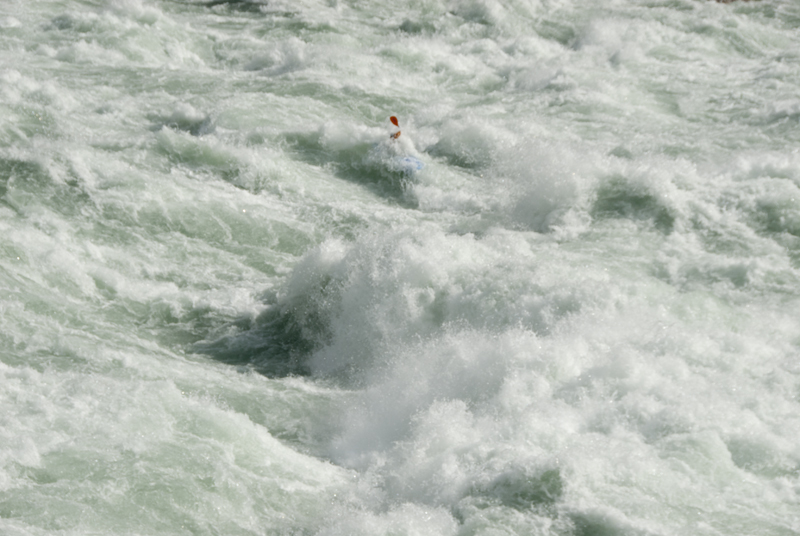 Enough of that, on to the actual wallpapers.
It was a busy summer in California's High Sierra this year. Notable trips were recorded by many groups and picked up in the kayaking media, but one slipped under the radar; In my mind one of the greatest accomplishments of the year. I love kayaking alone. It's frowned upon and mis-understood by many. It's dangerous. It's like nothing else. Clarity and focus while kayaking alone is unparalleled. This summer
Dan "Skippy" Simenc
took that to the next level and embarked on a solo Middle Kings expedition. He completed the river alone in five days, only to be followed up by hitch-hiking the massive eight hour shuttle with his kayak. Truly a great, bold accomplishment with rewards I am sure only Dan knows the full extent of. I had to ask him what the hardest part was and his response "The hardest part was lacking teamwork for scouting and portaging. I didn't really know any of the lines so I had to scout a lot, and I had to rope my boat around two portages which was somewhat tricky to do on my own."
Real content that you can sink your teeth into is disturbingly rare in the world of ego driven kayaking media. If you're looking for something with a bit more depth check out
Seth Dow's blog
. Not promoting it because I'm mentioned in there, but because Seth has an articulate ability to say what we feel while not making it sound too cheesy. It's best to start from the beginning of and move forward.
In the world of photography it's easy to be overwhelmed by the amount of gear used by professionals. Perhaps it's as ego driven as kayaking, and instead of showing off what they run, photographers love to show off what they own. Take that to the tenth level for strobist work, where many use thousands of dollars in lighting equipment for one shot. I found this
video of Nick Fancher at work on The Strobist
quite inspiring. He creates some amazing work with three speedlights and no light modifiers, just great understanding of light and a vision of what he is looking to capture.
Today I got back my first roll of film. Shot Kodak Provia 400 in a Nikon N6006 for a river trip and other imagery. The look is really more different than I expected. Some keepers. Stay tuned for more on that.
Still for sale:
Nikkor 200mm f4 AIS - 100
Samyang 85mm f1.4 - 250
Tamron 70-210 f3.5 "19AH" - 200