Standing at the edge of the Upper Klamath River I feel lucky to be here. Growing up in a time and place where people can have "disposable income" is just pure luck. But being here is a combination of that luck and years of small and sometimes large choices that have enabled me, and everyone else here, to be outside enjoying nature and the river with quintessential western scenery. It's rather amazing really, no one person here has come from an affluent background. Several come from poverty level and may still be there financially. But we're all happy. It's not disposable income that's gotten us here. It's sanity income.
Many Americans would call it crazy, camping out and kayaking in the cold weather of the middle of December. It's not just about kayaking. It's about being outside in the elements. Reminding ourselves that we aren't fragile. That discomfort won't kill us. Comfort and convenience really are the true enemies of adventure. Leaving these behind for a weekend, it feels good to be alive.

High desert, Mount Shasta and an Italian.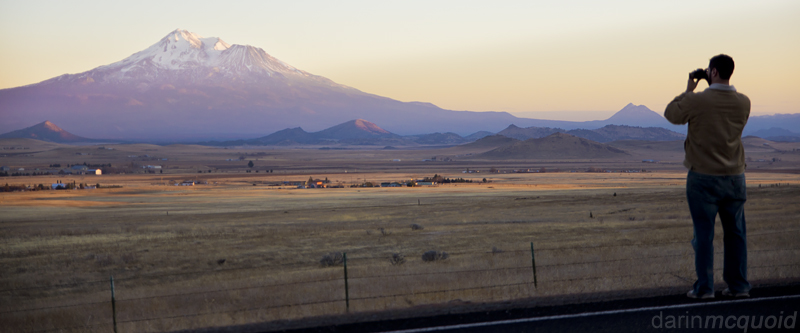 I've shot a similar shot before in the summer, but early darkness means houselights are on illuminating the foreground trees.
Sony NEX-5N, Samyang 85mm f1.4 @ 10" f1.4 ISO 3200
Under the misletoe part two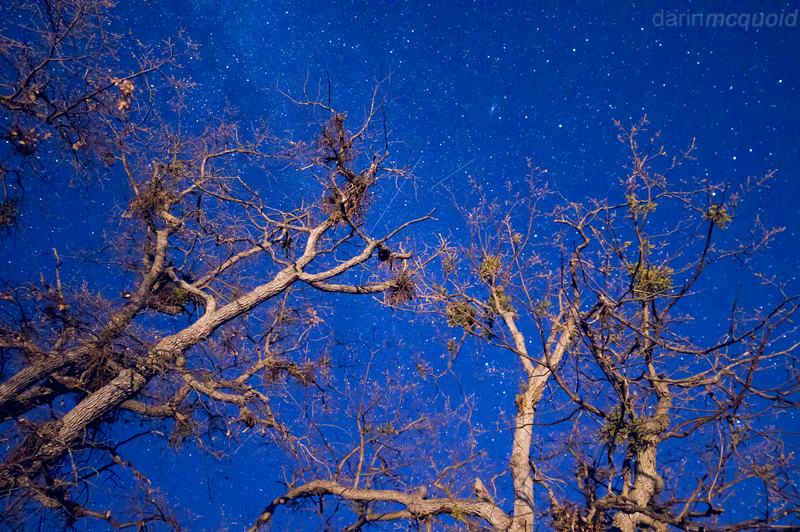 Sony NEX-5N, Samyang 14mm f2.8 @ 15" f2.8 ISO 6400