In the last year I came prefer using an EVF over OVF. So much so that I was considering switching to the Sony A99 from my Nikon D700 for paid work. Except that the A99 comes in as an underwhelming camera that is too expensive for what it is. Of the big three camera makers (Canon, Nikon, Sony), Sony has by far the least developed system. Their lens selection is limited compared to competitors, and they tend to be more expensive than comparative Nikon/Canon models while lacking stabilization and or weather sealing. On the other hand, I can see the advantages of having in body image stabilization, especially because I have a soft spot for legacy lenses, but it has been shown that in lens stabilization is more efficient so that comes out as a wash. The battery life of an EVF camera is lower than an OVF for obvious reasons, but once again that's a trade-off I was willing to make. Let's just say going into the announcement I was ready to pre-order the A99. Until the announcement.
Four years ago I bought a Nikon D700 for $2,800. It's a 12mp camera that does well in low light settings and shoots at 5fps with incredible AF. Add in a battery grip or a
short burst work around
and the D700 shoots at 8 frames per second. Today the Sony A99 will cost $2,800, and is simply
weird
about frame rates. It can shoot at 6fps with metering and af, or 8fps in a high speed burst mode with no control, or 10fps in APS-C cropped mode. The last time we saw this technology in a camera was the Nikon D2X which came out in 2004. So basically a very outdated method to achieve a decently high frame rate. At least the D2X had a large 60 frame buffer, the A99's is said to be smaller than the already anemic A77 buffer. The A99 does have considerably higher resolution at 24mp and good video specs. I buy a SLR for photographs. That all sounds like it might be a nice upgrade, well, minus that it falls short of the
usable
8fps of the Nikon D700, which can be had used for under $2,000. The icing on the cake for me is the AF sensor location on the Sony A99. I lament how centered the AF points on the D700 are, but apparently I am in heaven compared to Sony's AF centering on the A99. Why have 102 Af points in the center of the frame? Why bother having fast AF if you'll have to focus and recompose to get decent framing? Such things I don't understand, and unfortunately this seems to be the kind of things that happen when cameras get designed by engineers not photographers.
The A99 has what I'd call one massive center AF point. Image from
dpreview.
Now another interesting camera is being introduced with the same 24mp sensor, the Nikon D600. The specs come out incredibly close to the A99: 24mp sensor, 5.5fps and a slight step down in video, because the A99 will shoot full HD in 24/60p while the D600 is limited to 24/25/30p in full HD. Yes there is no pointless burst rate here either, but the camera system is better. Currently the estimated price is at $2,700 which I find baffling. If you can get 36mp D800 for only $500 more, why wouldn't you put down a little extra cash at that point and get a far superior camera? Time will tell what the actual price will be, but right now the D600 looks like a nice sensor upgrade to the D700, and a downgrade in all other respects.
Canon. I'll be interested in Canon cameras the day they figure out the correct location for the on/off switch: around the shutter release. With a Nikon or Sony you can pick up the camera in one hand, turn in on and be shooting by the time you bring it to your eye (at least with a Nikon, the Sony will probably still be booting up). Why Canon still makes photographers use two hands to flip awkward on/off switch that changes locations on different camera bodies, I'll never understand.
Sony needs to win over Canikon users, and the A99 just isn't the camera to make this happen. To win people over that are invested into a camera system Sony needs to make the best product on the market, or give the consumer more camera for less $ than Canikon. Matching offerings like this just wont work.
No problems here with the D700 AF performance, tracking a runner at full sprint with shallow depth of field: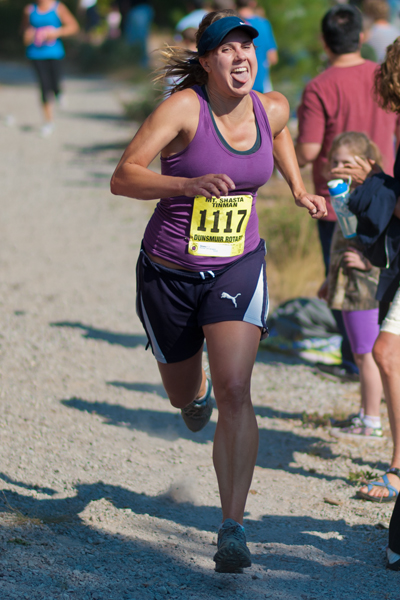 Nikon D700, Nikon 85mm f/1.8 @ 1/8