Olympus OM-D E-M5, Panasonic 12-35mm f/2.8 and the Nikon D600 with the Nikkor 24-70mm f/2.8G
Last night my Olympus OM-D E-M5 arrived. I had enough time to get the camera setup, and the menu system is as bad as everyone says, while the camera is very customizable. It's smaller than I thought it would be, and the controls are very cramped. I wear size small gloves and feel like Andre the Giant when using the E-M5. That said the external controls are extensive, and with some practice will be great. In dark light the EVF does not seem to be on par with Sony's NEX-6/7/FDA-EV1S, but more time and real world use will tell. Auto focus speed is fast, far and away better than the Sony NEX contrast AF. Too bad Olympus is in the Canon camp of "can't figure out where to put the AF switch". Nikon, Pentax and even Sony have it figured out these days. It's a shame the Panasonic lens is at the opposite end of the aesthetics spectrum as the retro E-M5, it would look more at home on a Sony NEX-7.
Speaking of which Sony announced a new lens yesterday showing just how
in touch they are with
don't understand serious NEX users. A 20mm f/2.8 pancake at $350. Perfect for competing with the great $150
Sigma 19mm f/2.8
? Now Sony will have three lenses that cover 20mm and all within 2/3 of a stop of each other, yet no fast zooms and questionable focal length choices for their faster primes. I say faster because they still lack even one f/1.4 prime.
With my much abused EVF attached to the NEX-5r the Olympus is oh so slightly shorter.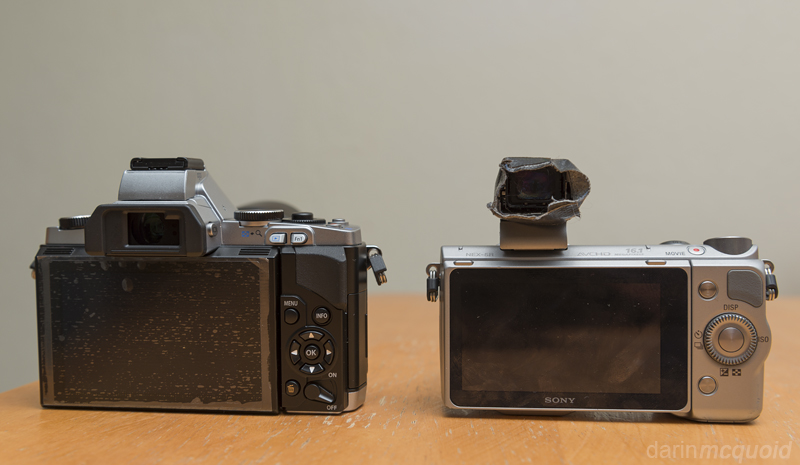 Just not that much larger than the NEX-5 series.