Capturing reality is often cited as a reason for disdaining photoshop. Yet even a simple picture like this is totally deceptive. The above image has only seen the most minor color enhancement in photoshop, yet it tells nothing of the reality of the scene or emotion at the time. It's a peaceful, serene image. You'd have no idea I'd just sprinted a hundred yards through a muddy fields to get the last bit of light, and am having a hard time controlling my breathing to get a steady shot. If you don't know the area, you'd also never guess that Interstate 5 is only a hundred yards away, with a rest area and municipal airport behind me to boot. Just something to think about. Personally I don't mind when people do extensive photoshop work on an image...if I can't tell. When I can, it looks over done and makes itself obvious, and I do tend to dislike that look.
Howling at the Moon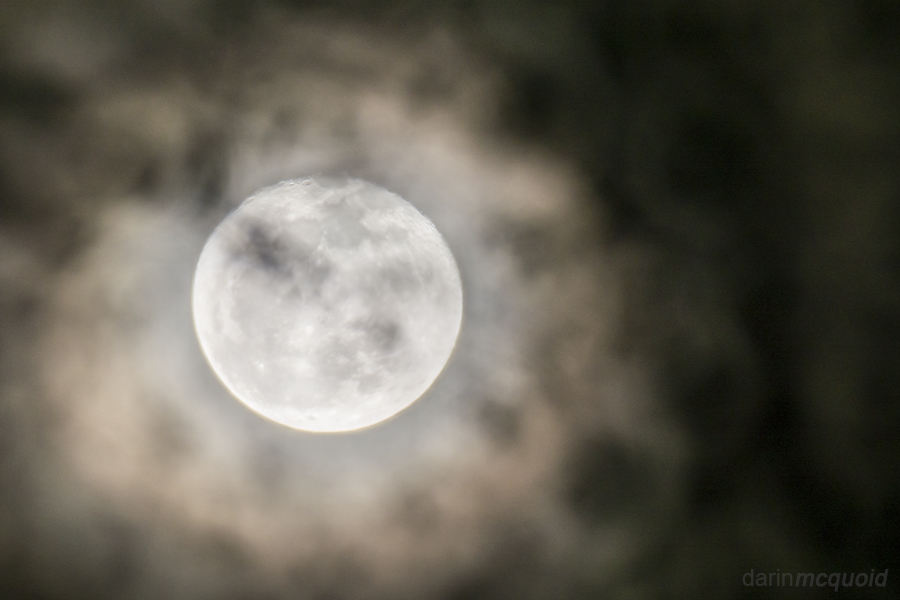 Olympus E-M5, Tamron 500mm Mirror, 1/8 f/8 ISO 200
.
It's easy to ignore the moon on a partially cloudy night, but that's what it took to disperse the light for this special feel. Exposure pushed one stop and highlights pulled back.