At Outdoor Retailer I had the pleasure of meeting Dagger's designer, Mark "Snowy" Robertson. Why is the Nomad is so heavy? I had to ask. While (for me) the Nomad lifespan averages four times the length of some other kayaks, it's also apparent that a lot of the weight is in the outfitting. This is a big deal for hiking out here in California, where an empty Nomad 8.5 may weigh as much as other boats while loaded for a summer overnight. The rotomolded seat and front pillar are a big part of the weight. Rotomolding makes them heavy. Are they really necessary? Several manufacturers save weight by using thermoformed seats and pillars (lighter but not as strong).
Nice rotomolding summary here.
Snowy explained to me that they have chosen to stick with rotomolded outfitting because the interaction of the seat and pillar are key to maintaining not only longitudinal integrity but torsional integrity. In real world use I've seen several brands of kayak fold just behind the seat; just from running waterfalls. Never enough to hurt anyone, but a visible marks have been present.
Then I thought back to the end of the California season. The Devil's Postpile section of the Middle Fork San Joaquin is an incredible wilderness run with challenging whitewater. The rapids are not nice, friendly or forgiving. Two of us were lucky enough to be here for our fifth time. Our group was five and the two of us had been tag-team leading the whole way down, enjoying what had so far been our first problem free trip. Past the infamous Crucible my friend hopped out to scout a rapid that was not so nice at low water. We had plenty of water (at least 1,500cfs) and decided to run it on verbal from his scout. I followed him into the drop, where he got slowed by a small hole that put us side by side. We bumped kayaks and laughed. Then he was gone. A complete underwater pin. The three other team members came though, one thought he saw the stern of his kayak. Too much time passed before he came out swimming. It was a terrible scenario pin, the force of water pushed him forward as he tried to escape. It took dislocating both knees and breaking a leg to escape. As close a call as they come.
At minimum flow I backpacked in to see what happened and hopefully find his kayak. Six months later and the kayak was in the same spot. He pinned bow down where the arrow is pointing. The kayak remained stable for over a minute while his skirt was pulled but he was unable to exit the boat. Eventually he escaped while the kayak's integrity prevented it from folding/twisting and going into the siphon. Looking back at this I won't be complaining about the extra weight of the rotomolded outfitting. The structural integrity is worth it, as one can imagine what would happen if the boat had folded quickly and slid in.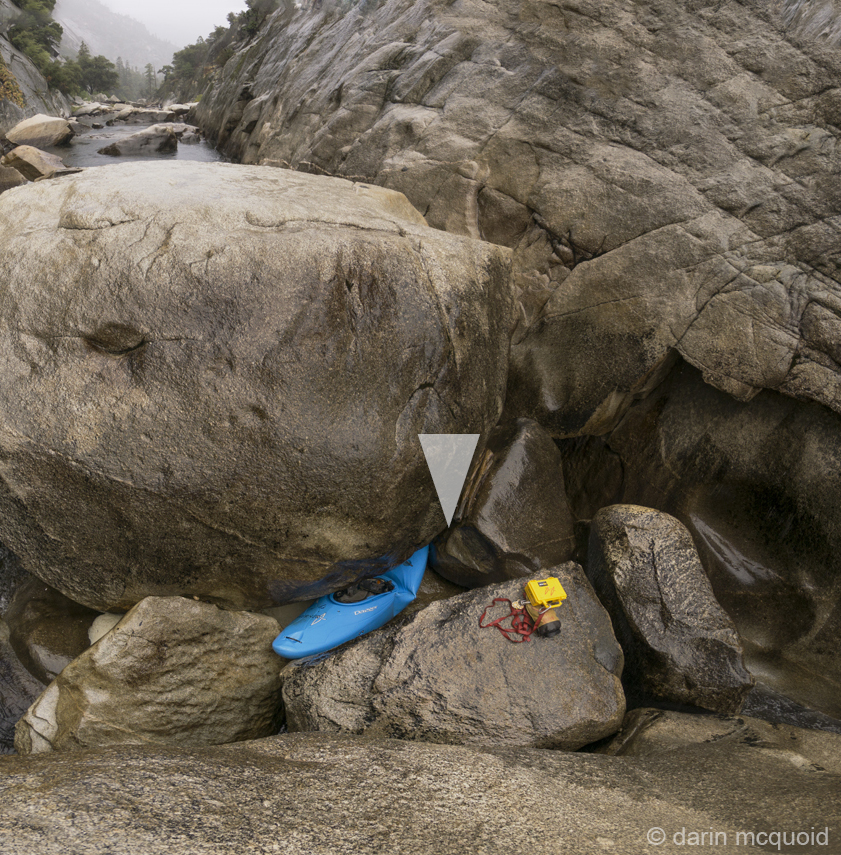 Now take this with a grain of salt. These are the manufacturers stated specifications. In my experience all are 10% accurate at best. Except Fluid, I've seen them off by over 15lbs. I'm curious to see what they weigh in the real world, if you own one and are willing to measure it empty and report back it would be appreciated. Feel free to drop the specs
in an email
if you'd be so kind.
| | | |
| --- | --- | --- |
| Make & Model | Mfg Spec Weight | Real World Samples |
| Dagger Nomad 8.5 | 50 lbs | 50.2, 48, 48, 48 |
| Dagger Mamba | 47 | 48 |
| Waka Tuna | 46 | |
| Fluid Bazooka S | 43 | 41 |
| Fluid Bazooka M | 45 | 52 |
| Fluid Bazooka L | 47 | 51 |
| Jackson Karma M | 45 | |
| Jackson Superhero Gen 2 | ? | 46 |
| Liquidlogic Flying Squirrel 85 | 49 | |
| Liquidlogic Flying Squirrel 95 | 51 | 55 |
| Prijon Pure M | 46 | |
| Pyranha Shiva M | 48.5 | |
| Waka Tuna | 46 | |
| Wavesport Diesel LG Gen 1 | ? | 43 |
| Jackson Superhero Gen 2 | ? | 46 |
| | | |
| | | |
| | | |