I've come to hate the routine seeing an interesting scene while hiking only to be forced to drop a camera backpack to the ground to access the camera and lens desired. This process kills creativity, and often by the end of the day I find myself ignoring opportunities because of the hassle. Especially so when hiking with other people and forcing them to wait. Compound this hassle by ten while doing adventre sports like skiing or mountain biking.
For too long there has not been any considerable change in camera backpacks. More shapes and sizes, but always a dichotomy; the comfortable to carry but hard to access backpack, or the easy access sling bag that don't carry well on extended hikes.
It would be easy to use today's over applied cliches like game changing or disruptive technology. A backpack won't change your life; in the end it is just a backpack. On the other hand it might improve your photography. That's a bold statement. On rare occasions you come across a product that solves an old problem in a simple, elegant manner, making you wonder why it took so long to appear.
MindShift Gear. It's a good name for camera backpack maker who is taking a new approach to the access/comfort issue. Their packs use what is basically fanny pack intigrated into a high end backpack. Flick open a quick release catch and rotate the waist bag around. No need to take off any shoulder straps, and with some practice easy enough to do in mid-stride while walking. It's the adventure photographers dream. Having used one it's hard to imagine going back to a traditional pack. The quick release catch is true genius, using a powerful magnet to guide it back in place.
There are three sizes, the large Professional, medium Panorama and small Trail. The professional is certainly not what you want to take skiing unless you are there specificly to photograph. It can hold a full sized pro SLR, attached 24-70mm f/2.8 and another lens and flash in just the waist bag. The optional main compartment can hold a whole lot more. This one is really geared to photographic outings. It does well with a heavy load, I've had over 40lbs in it with no issues on long outings. A few times I've used it for quick backpacking trips where I can travel light and want the camera handy. Recently on a kayaking trip to Mexico I took it as my only bag. Whitewater gear in the kayak and everything else in the backpack. The main compartment had all my clothing, a sleeping pad and sleeping bag while a Sony A7, 24-70mm f4, NEX-5R, 10-18mm f/4 and a Nikon 75-150mm f/3.5 all in the waist bag. It fits in an overhead bin on a 747.
The medium Panorama is the jack of all trades. It's possible to get a smaller full frame SLR and 24-70mm f/2.8 in the waist bag, or the Sony A7, 24-70mm f/4 and two other lenses. With an even lighter setup I can get the Sony A6000, 10-18mm f/4, 16-70mm f/4, 55-210mm and 35mm f/1.8 squeezed in. It's a nice pack for skiing and biking, I've put in a couple hundred miles of mountain biking in while wearing the Panorama.
Panorama in action.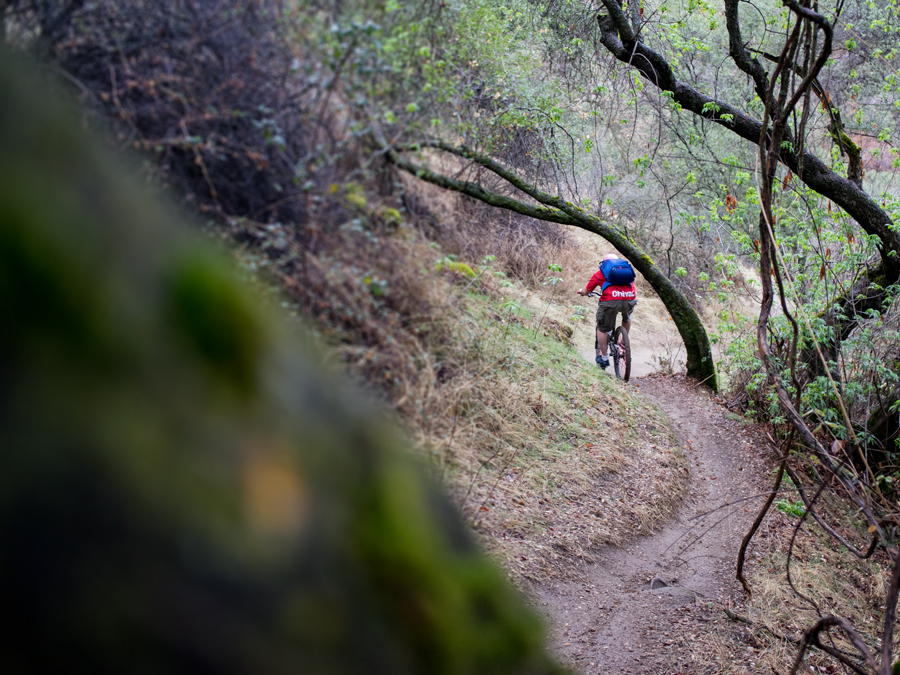 The most recent addition is the small Trail. It's considerably narrower and thinner than the Panorama. Size wise it's comparable to a DaKine Heli II sized pack. Perfect for adventure sports where you really don't want the backpack to interfere with performance. It's not SLR and 24-70 f/2.8 friendly. I can fit in the A7, 24-70mm f/4 and small prime, or the A6000, 16-70mm f/4, 10-18mm f/4 and 35mm f/1.8. It's my go to pack for mountain biking, and will be the same for winter sports.
These packs are specific to on the fly adventure. It's not my pack of choice for shoots that are staged in one location, where easy access to all the gear is paramount. All three sizes of packs came into my possession via a camera pack review for Outside. Although I can't imagine buying three separate sizes of bags that do the same thing, I do find myself using each size at least once a month. If you're an adventure photographer you owe it to yourself (and your friends) to check out
Mindshift Gear
. I'm not sponsored or in any way connected to the brand. I can say that using these backpacks has been a joy. If you like to combine adventure and photography they are worth checking out.
The MindShift Trail, a perfect size for mountain biking.