This is a two part review, if you missed the first part
click here
to jump to it.
Part 2.

The initial permanent marker I used to measure abrasion resistance on the Adventure Technology Hercules didn't last too long. As an alternative I used a sticker to mark wear. This wear is from a few low water runs on Hospital Rock of the Kaweah, Cherry Proper, West Cherry and Upper Cherry. All told ~10 days of kayaking. Although it looks like a lot of wear, it's less than I would expect from a Werner after the same runs, especially West Cherry at low water.
On the other hand this is something I would not expect to see from a Werner fiberglass paddle. It's strange, the blade is still stiff and usable yet not something I'd have faith in. It's nothing near as drastic as the first cracked blade, but still of concern.

The Hercules is one of the most flexible paddles I've ever used. For someone with joint issues, doing light duty paddling, it might be a good choice as it does have good wear characteristics for abrasion. On the other hand for serious whitewater I can't give it two thumbs up, the blades are not strong enough and I personally prefer a stiffer paddle for more grab on boof strokes.

Part 1.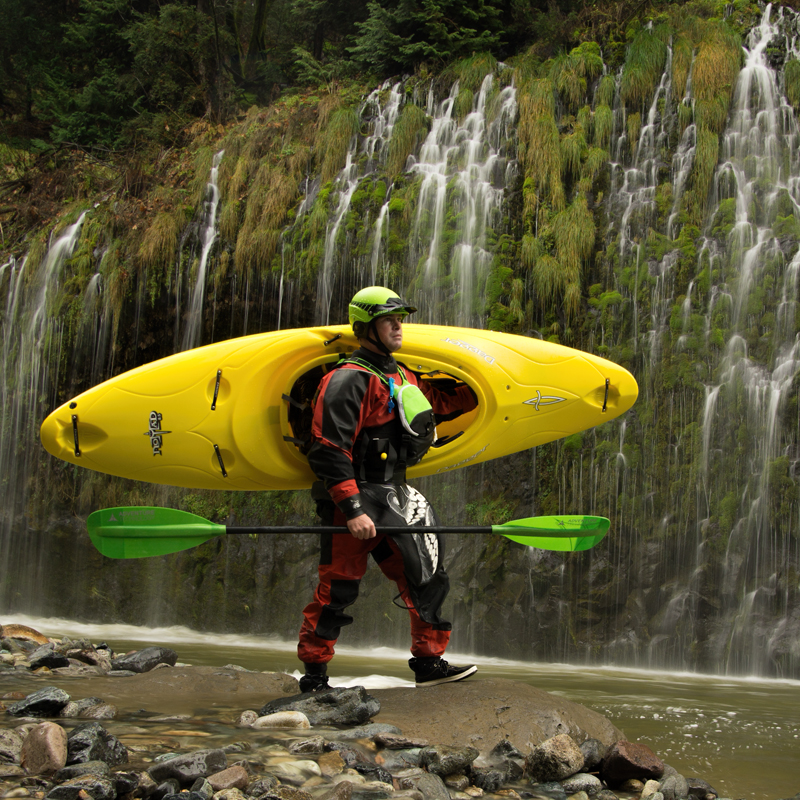 One really cheesy pic of your's truly.
This is the beginning of a review of the Adventure Technology Hercules. In full disclosure I'm in no way affiliated with Adventure Technology, but they did supply the paddle for review. I'd like this to be done all at once, but a good review takes time. So I decided to go with a rolling review in progress. After consideration my standard for a paddle is no problems for one full season of paddling, which for me is 100-200 days depending on the year.
It's impossible to give a credible review of this paddle while ignoring the elephant in the room; the Werner Sherpa. These two straight shaft paddles are both fiberglass and fit in their respective line-ups the same way; a blade just a touch smaller than their largest, making them ideal for river running. I like this size of blade because it's a little easier on the shoulders and joints but still large enough for creeking. The Werner fiberglass paddles have a great history of durability, but at the same time a reputation for wearing down quickly. In my personal use I'd start with the larger Powerhouse because after a few months of use it would be worn down to the Sherpa size.
The only surprise here to me is that it's taken Adventure Technology so long to move into this segment of the market. Why the name choice I'll never understand, every time I hear Hercules
The Nutty Professor
comes to mind. AT says the use of Innegra and Duraweave fibers in the blade makes it more resistant to wear, unlike straight fiberglass which chips away in small pieces. In light of that I've put a scale on one blade to keep track of wear over the year.
This is Adventure Technology's first year making straight shaft fiberglass paddles, and there are going to be some growing pains. Eight days into testing my blade cracked. AT has since modified the blade shape to resolve this issue and I'm now a few days into testing the updated version.
So far I've used the paddle on the Upper Cheakamus, Balls to the Wall section of the Cheakamus, and Box Canyon of the Ashlu in British Columbia. In California I've used it on the South Fork of the Feather River, North Fork of the Feather River, Salmon River, South Fork Salmon and Box Canyon of the Sacramento.
The feel is certainly different than with a Werner, as there is more flex in both the blades and the shaft. In use I've found the paddle to be very nice for river running with a smooth catch and release. While the flex is nice for the joints, it just doesn't have that same bite on boof strokes. I'll have more to update on this as I continue to use the paddle and monitor wear.