Thanks to Gareth Tate and Adventure Technology who will award a paddle of choice to the champion.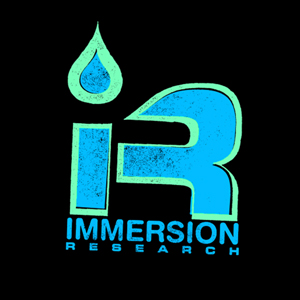 The results of round 2. Read between the images for commentary.
Bracket 1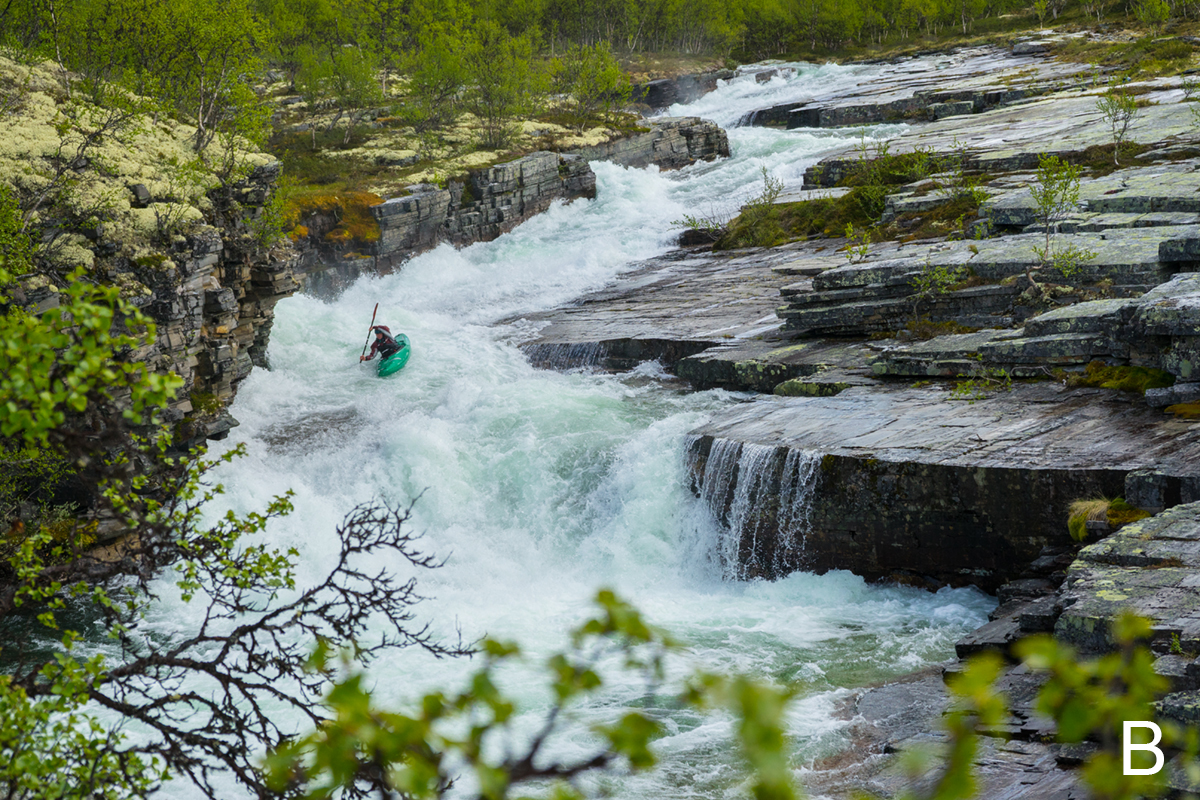 Clay: 1st photo (B) just won the contest I think. phenomenal zig zag of water and colors .. soft moss and hard blocky rock.. wish the paddler had a red boat and was booting but it's OK. Not touchable by I even with that much ICE at big brother.
Darin: I agree with Clay that a red boat would really pop here. Still I like Daniel Stewart's paddling position, the zig zag of water, but more than anything the inclusion of foreground elements to give the image depth. I shot a
similar image
last year, but B just has an incredible amount of depth thanks to that foreground. I like the image I a lot too, the ice is simply incredible, and the orange boat pops from the blue scene. A tighter crop would help it pop even more if you got rid of the sunlight in the top right. I love that there is space for the paddler to move into, some question of unknown, especially with the nasty ice undercut lurking downstream. In the end B is an image that makes me want to go kayaking, and gets my vote. I thought this was much closer than the public vote indicated.
VS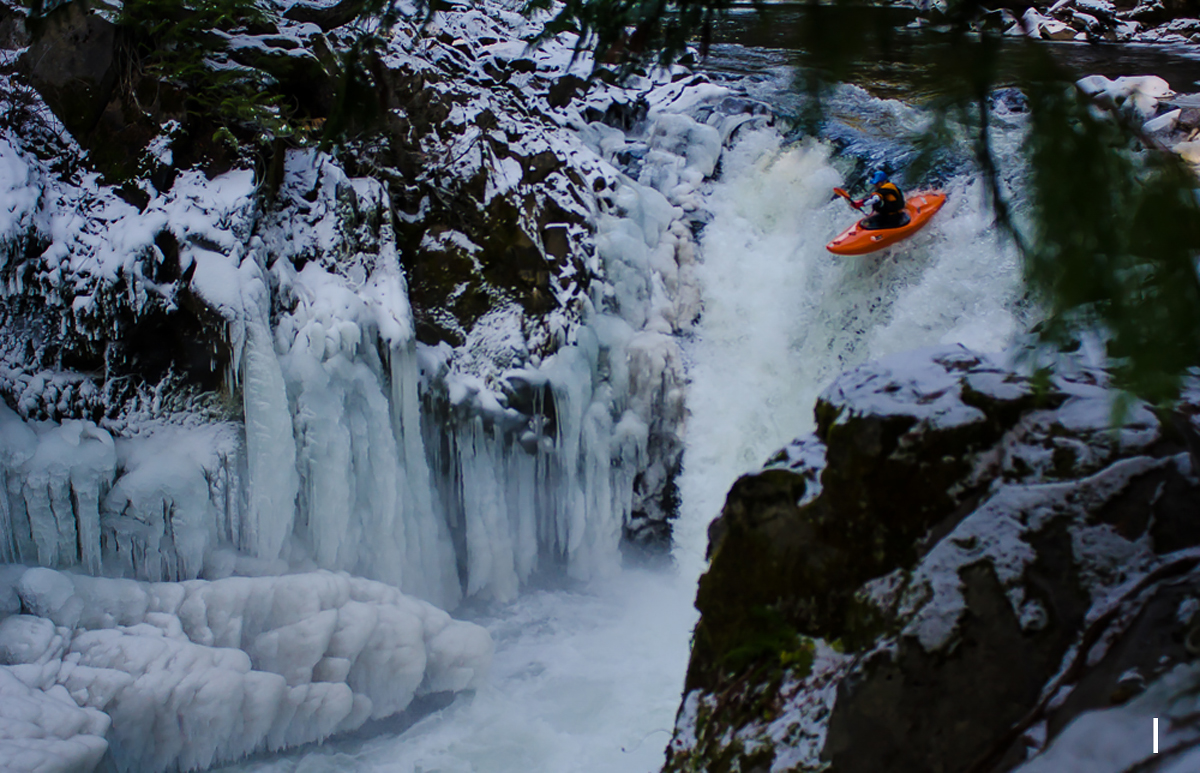 B advances with a unanimous vote.
Bracket 2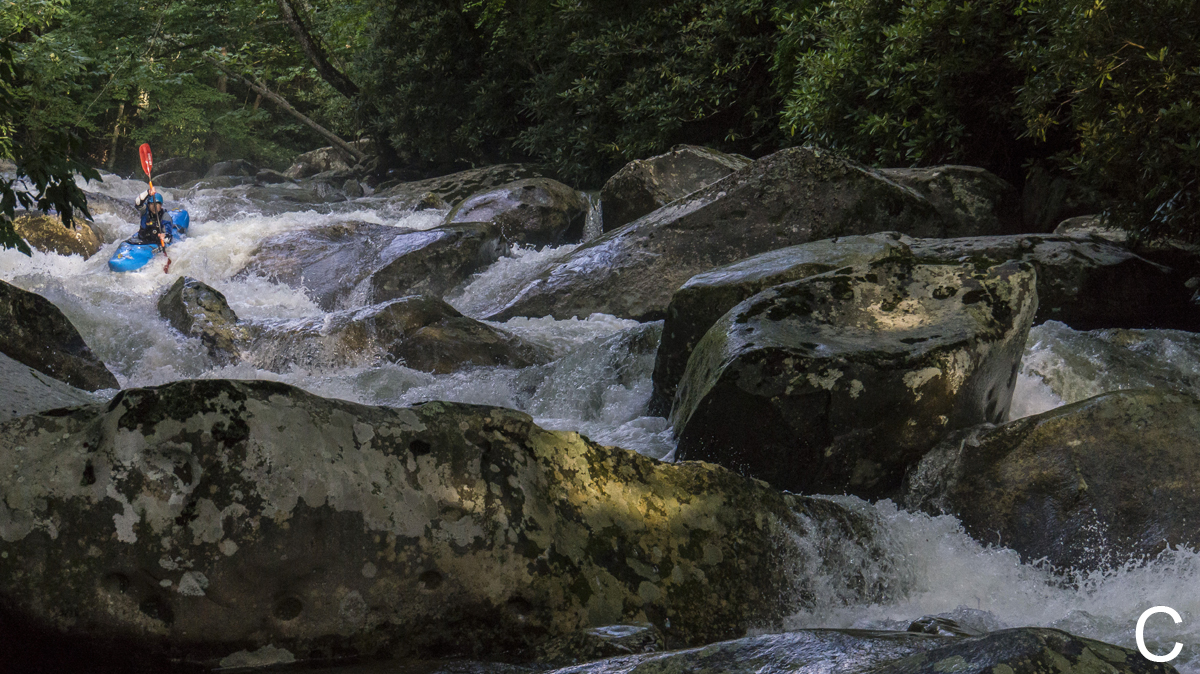 Clay: C winner and is amazing .. complex drop with laurels and SE looking rock but I can't place the rapid.. West Prong really low? Love the tight exit and wondering what the front of that rock looks like plus the paddler is lit up and on a nice hard stroke.
R is good, love the dog, the can on the ground, the happy feeling despite miserable weather and obvious swim. Hate the tarp shading the bottle drinker but love the feeling it gives.
Darin: C does a fantastic job defining SE boating, and I love the spotlight of sun on the kayaker. It's a shame their paddle is blocking their face, but I'll take that over a poor paddle stroke. Lots of space to move into, the expectation of the unknown and good light. R: In Norway this year Olli Grau taught us the oldschool method; the swimmer buys everyone else in the group a beer. I'm way more into that than the whole bootie beer thing, and the crop at the bottom drives me crazy. It does capture emotion as Clay says, but not enough to surpass C.

VS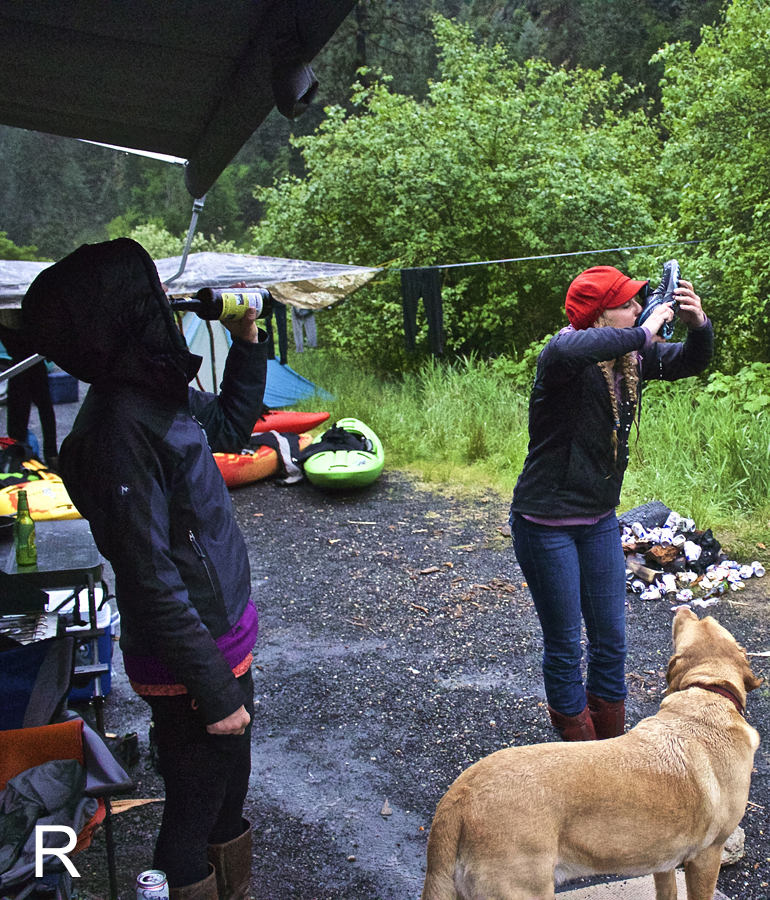 C advances with a unanimous vote.
Bracket 3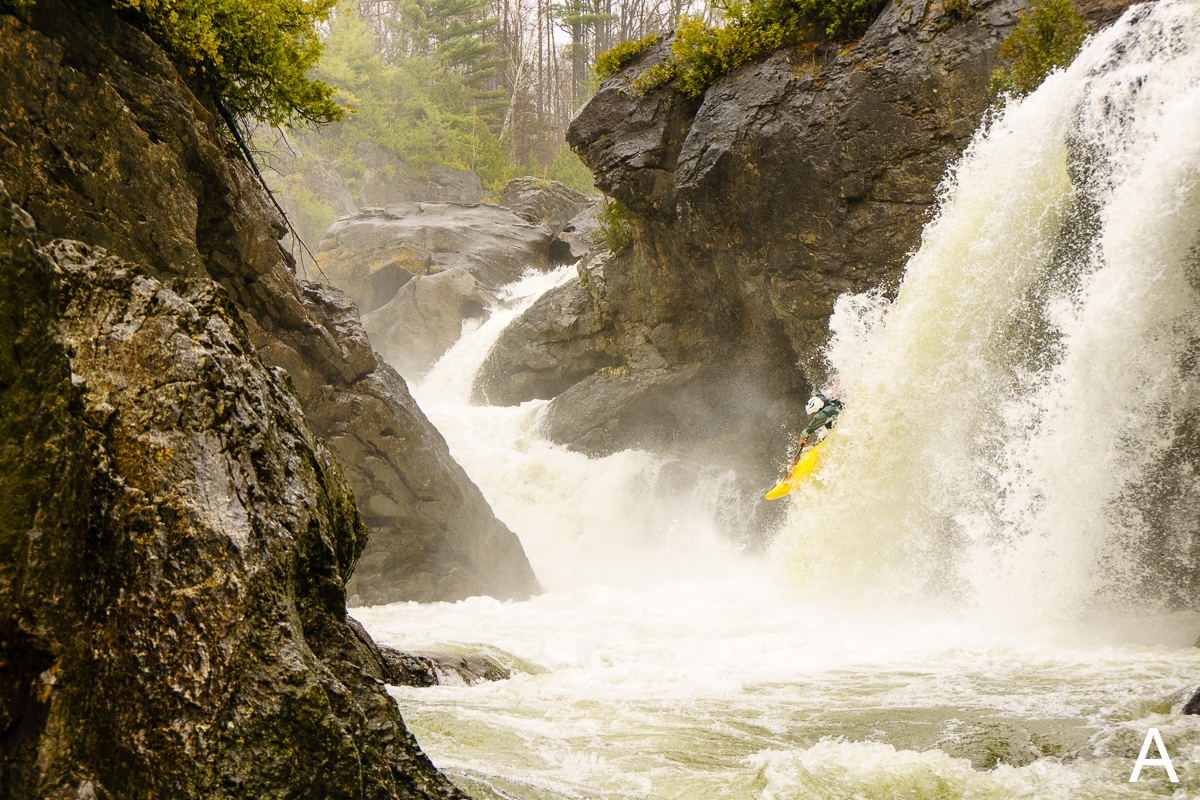 Clay: A is winner! Hot damn that looks stout! Sorry the focus on the paddler blurred that cool left foreground rock a bit but love the composition as well as wanting to run both lines and wondering what is just out of the frame that made him fall in so steeply. Wish it were a red / orange boat but it works. H is lovely - Jason's pan am textbook and the photographer killed the shot, just black boat, Skook shot, fuzzy background (though love the foreground) can't compete with fresh hard whitewater unless it was BIG trick and colorful and had something in the back ground like a seal / orka / tug boat.
Darin: A: This image captures the feeling of creeking so well. Personally I'd crop it as a 16:9 to get rid of the busy trees up top. Still it makes me stare and wonder, especially about the lead in which must explain why he isn't boofing further river left. It also alludes to there being some run-out in a gorge. Just an incredible feel, and nice to see an image from somewhere new (to me at least, where is this?). H is a beautiful image with a lot of feel too. Judging from the light on Jason Craig I'm just not convinced the flare is organic, it looks photoshop induced. I'd be happy to be proved wrong with a raw file :) Still it's a beautiful, captivating image but it doesn't draw with me with questions like A does.
VS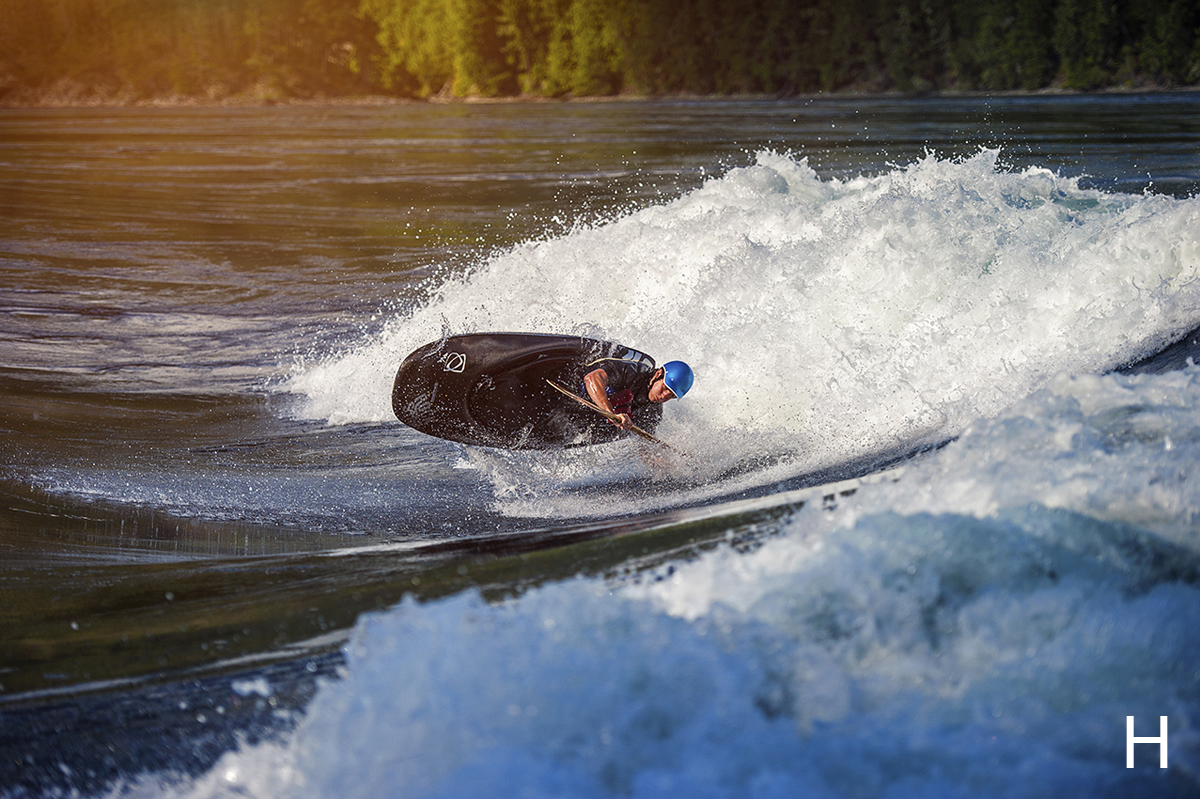 A advances over H two to one.
Bracket 4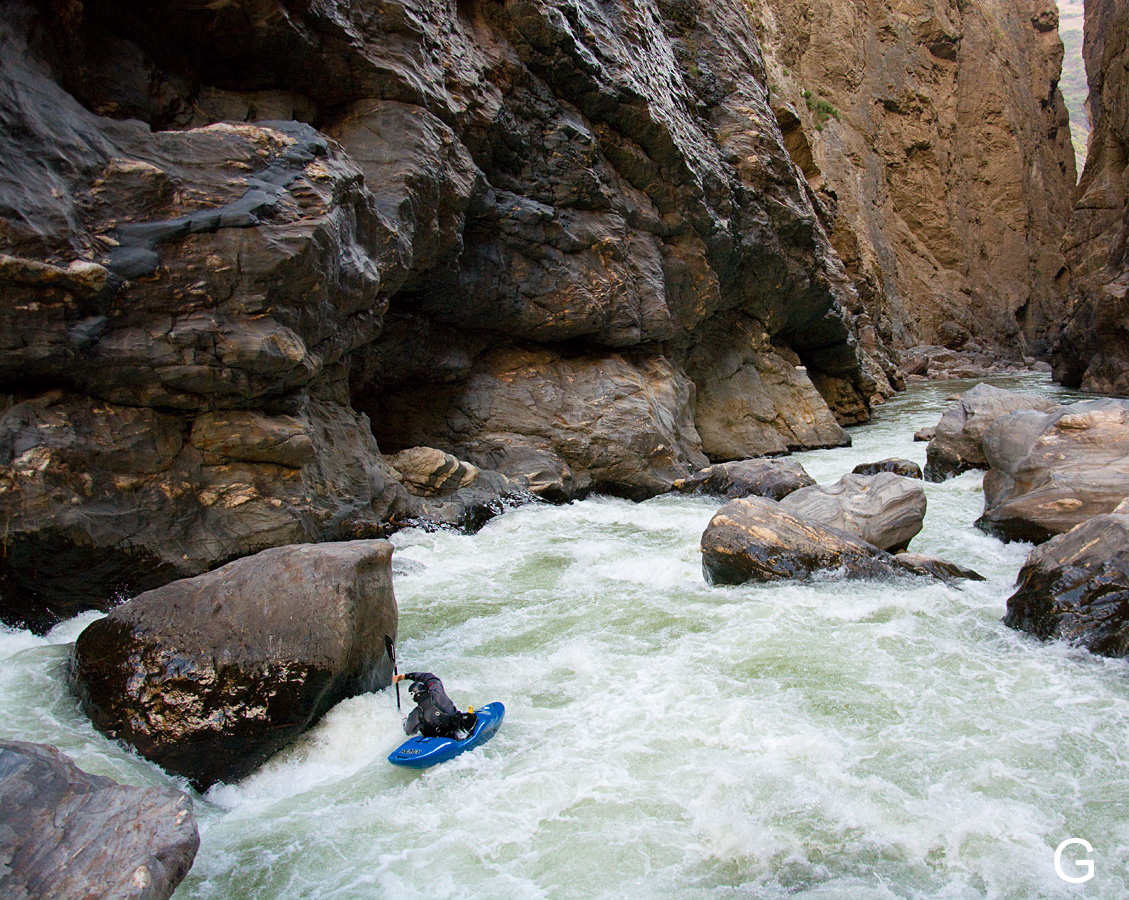 Clay: M is the winner - nice Yule shot showcasing the crazy shale ditch that it is while some lucky soul drops in at a primo level on the new right line instead of the old ''ow! my ass'' left one.
G is great light and amazing rock - better lit too - but that jumble downstream is less enticing and the paddler's position and colors can't make up for it.
Darin: G is my favorite shot of the competition. This shot captures the best kind of expedition paddling, a remote gorge and tough multi-move rapids. The gap in the gorge downstream just shows how far the team has to go to complete the river, and makes me wonder what's down there. Louis Geltman's aggressive draw stroke on this move is great too. At least I think it's Louis. The rock texture, gorge, big rapid, a relatively unmanipulated image, this one has it all. M has a lot of merits too, the dark share of Yule Creek give it a forbidding feel. I like the left to right movement of the paddler, but not his paddling position as much as G. It's not bad, but it's just not as active. The bright orange gopro is a distraction, as well as the excessive vignetting and subtle edge softening applied to the photo. I'd swear this image was processed to look like it was shot with a 24mm f/1.4 but it feels processed, just not quite an organic feel. A great image, but G is my favorite of the whole competition so far.

VS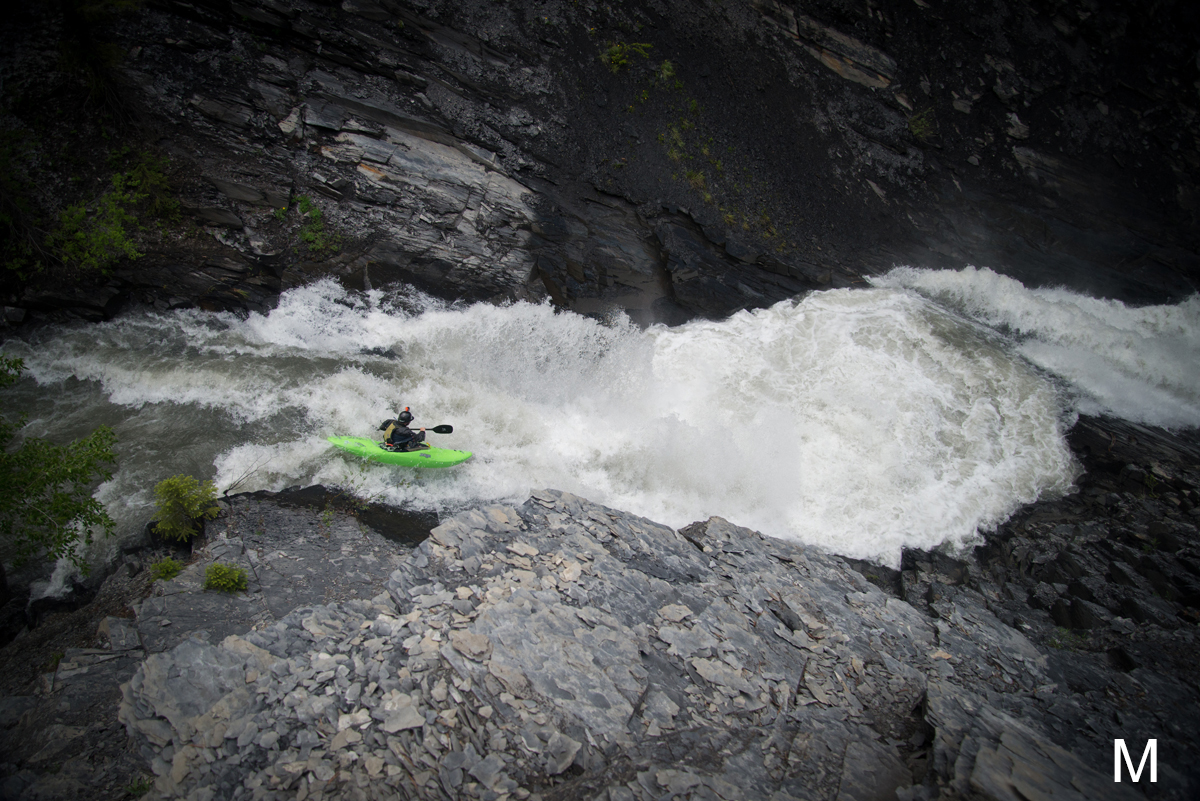 G advances over M 2 to 1.
Bracket 5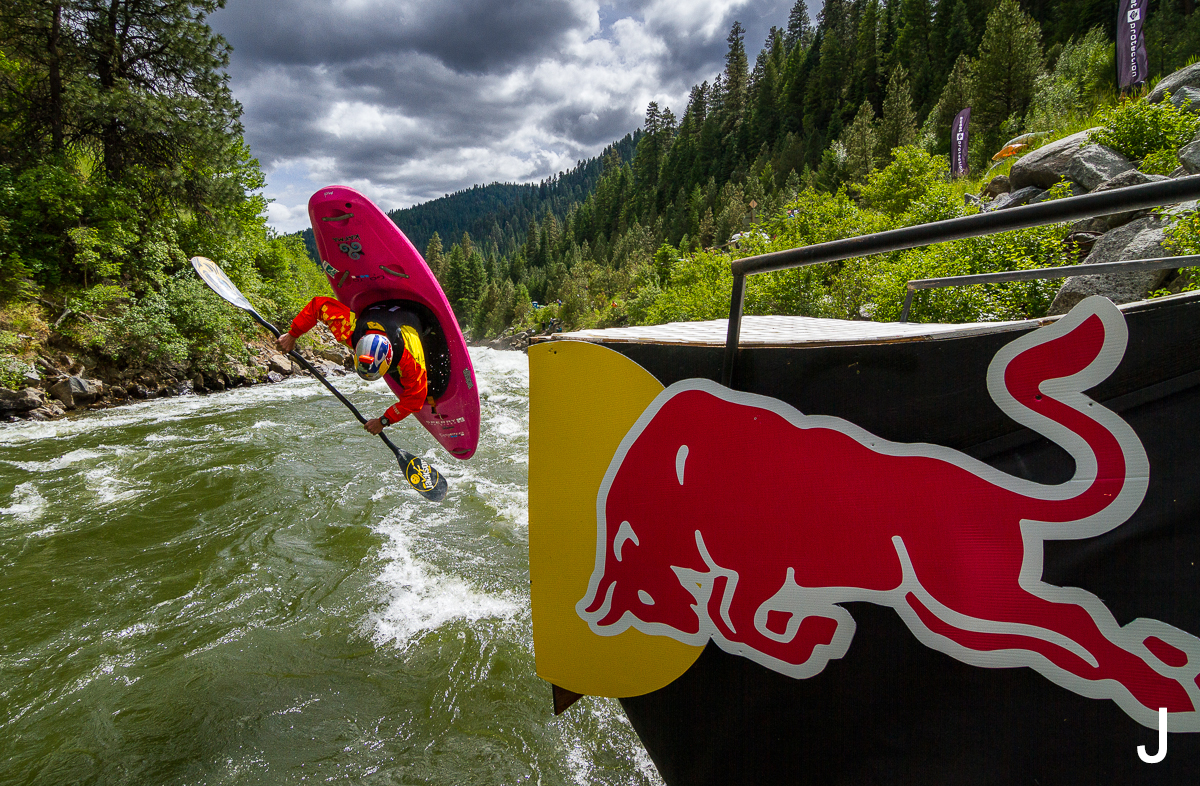 Clay: T hat's not fair! Dane's kick flip off the ramp, the amazing colors he brings to the green sunny scene with cottony dark cloudy Idaho environment, knowing that Gerd swam doing this last year, and knowing that it's right above Jakes.. If this is Tait Troutman or Matty B or Mike Leeds I wouldn't be surprised. Apologies to O - I love the drop (where?) and paddler diving into the curling spray but it's blown out one side, dark on the other, cropped just a touch too tight to see the landing. And his paddle is out of the water.
Darin: J is incredible but for my taste is a little too processed. It looks like HDR which I'm not a fan of. In this mid day light the only way to get an image like this to really work is with lights, and that's expensive and a hassle. Still it has a fantastic feel and captures excitement, certainly if you know what's downstream. That's one issue though, while a lot of people know what's downstream, not everyone knows what is downstream, and if you have to explain something the photograph isn't doing its full job. Still, the kickflip off the ramp is big enough to speak for itself, regardless of Jakes being downstream. O: Rio Escondido in Argentina? No matter what the river, the blown out water just kills this image for me. This looks like one of the most incredible rapids in the world that always has terrible light.

VS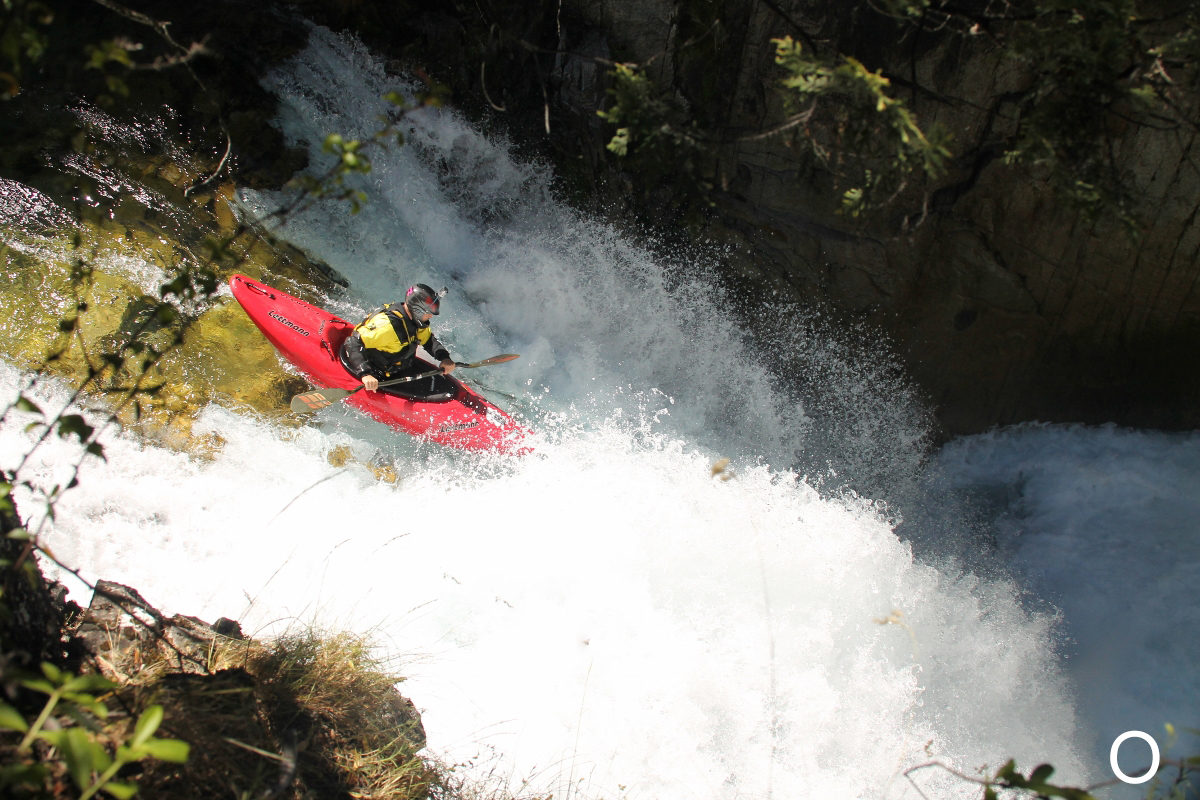 J advances with a unanimous vote.
Bracket 6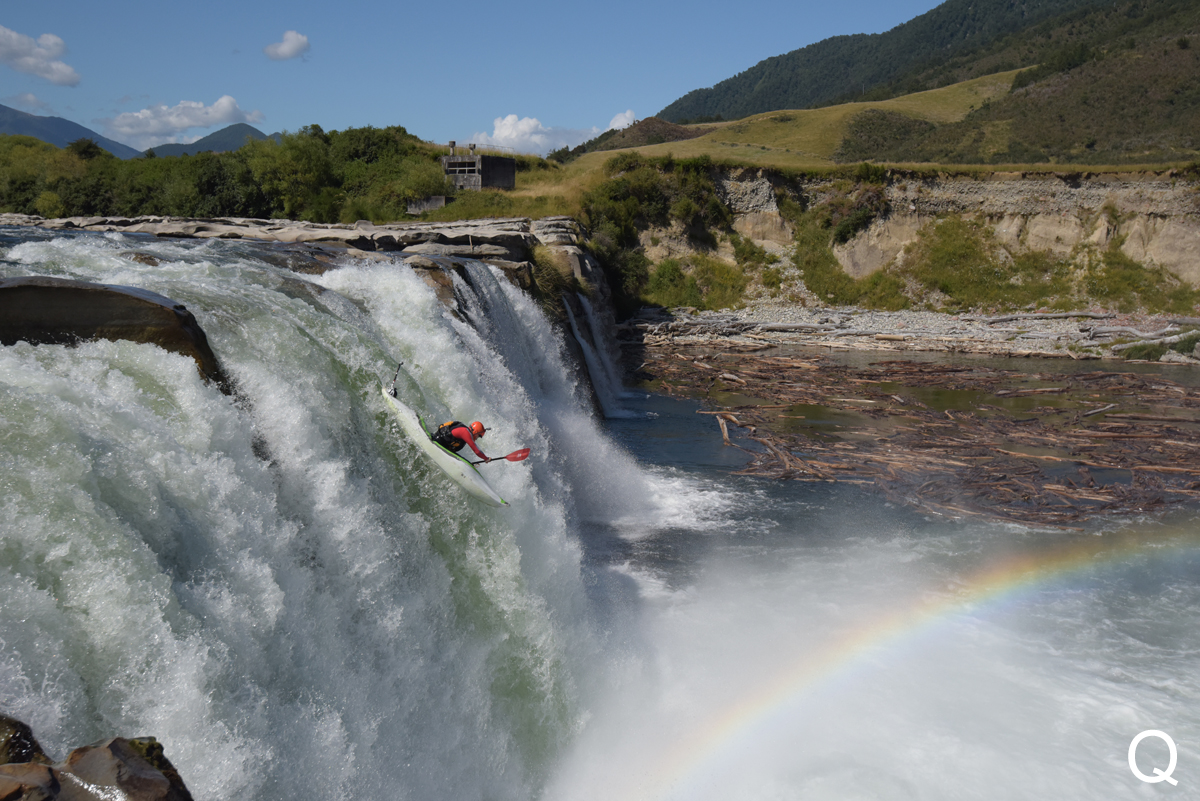 Clay: Q it is. While the white boat is horrible and just about kills the shot the rainbow and logs and solid body position add so much to this classic Maruia Falls shot. Should be done even better for top honors but got lucky on the draw. F is a beautiful lead in drop to a red boat driving for something… kinda cool that we don't know what but not quite enough height to the bottom drop to make me really care. I want to boof that top drop - right on the sunny spot instead. Good shot just nothing to really bring me back to that amazing boof above as the paddler is going out of the action instead of into it.
Darin: Well this is the weakest bracket in this round. I'm torn between the images. On Q I like the rainbow and paddlers position. The building in the background kind of adds ambiance, but I don't like all the wood on the right, nor the double gopro, or the white boat. I think this one just wasn't quite shot from the right angle. I end up asking is it about the scenery, the place, the paddler? F: Like Clay I find my eye wandering to the top boof instead of the paddler. This would be a much more engrossing shot if the paddler was running the top boof. Still I like the image, because I like multi-move rapids. It's just like the popular vote, a very close call. In the end I go with F because there are less distracting elements overall.

VS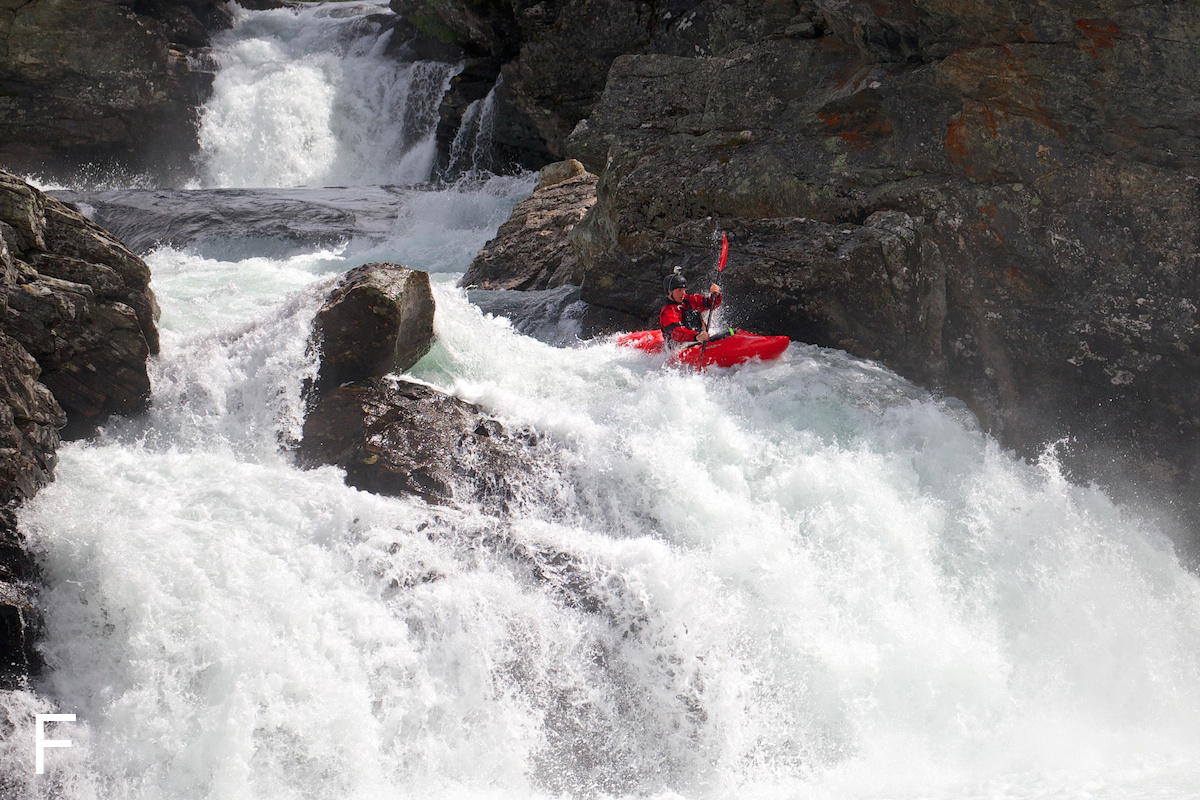 F just barely squeezes by Q 2 to 1.